Putting together favors for your wedding or bachelorette party is the perfect way to show your appreciation for your friends and family. Even so, when it comes down to actually giving a gift to each attendee, things can get overwhelming quick.
So, we put together these DIY mason jar cocktail kits. Whether you're a margarita maven or cider connoisseur, these kits are a super simple way to make your guests feel warm and welcome – we mean before putting them to use!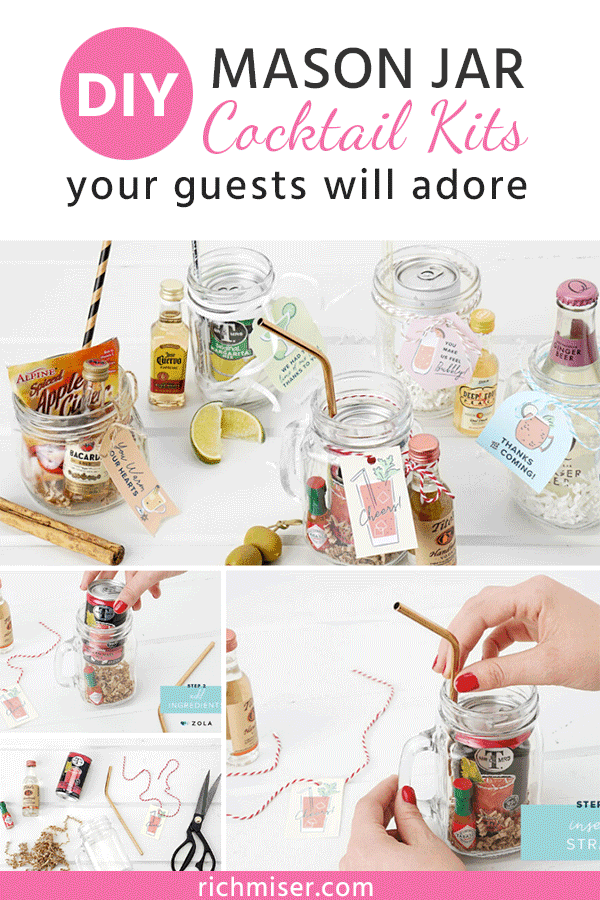 Note: This is a syndicated post from Zola, republished with permission. You can find the original here.
How to Make a Mason Jar Cocktail Kit
Before you start, make sure to get an accurate count of the number of guests you expect to attend. It also never hurts to have a few extra. Then, gather your materials: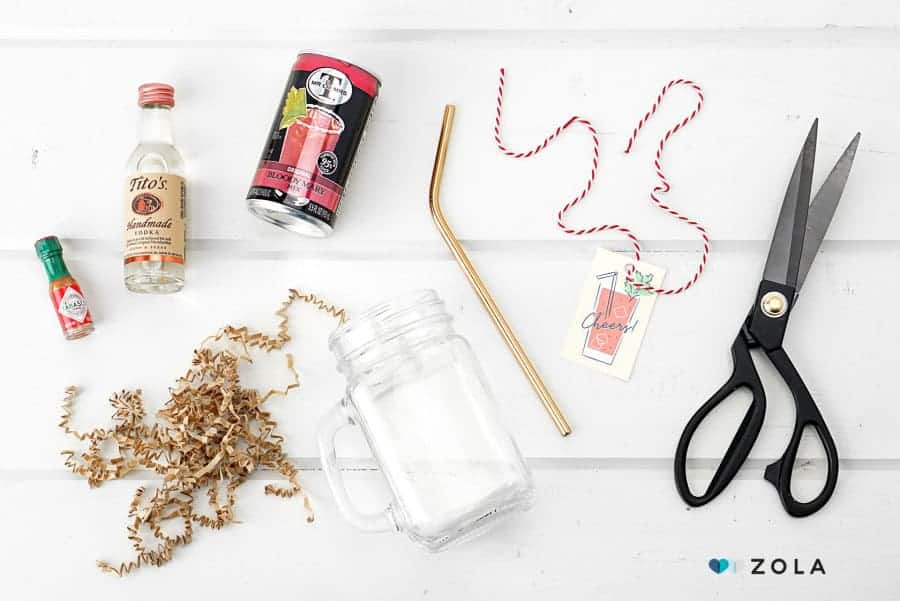 Mason jar: You can go large or small, but at least a pint or quart-sized jar will be perfect for most cocktails.
Straw: Match the straw with the cocktail, or provide a straw in a contrasting color for a vibrant pop.
Scissors: You'll need scissors to cut the twine or string, as well as any gift tags you may attach.
Twine: Use twine, string, yarn, or even a ribbon (for a more refined look) to tie on the tag and mini liquor bottles.
Drink tag: Attach a tag to thank guests for coming, and let them know how to make their kits. We made printable tags for you!
Mixers: Some drinks will only require one ingredient, while others may need extras like simple syrup or tabasco. Depending on your cocktail, you may have to get creative to fit everything in the jar.
Liquor: The smallest bottle you can find at the store, typically 1.7 oz or about 50ml will be just the right size to tie on the outside of your kit.
Step 1: Add some small accents like paper filling or confetti for a stylish flair.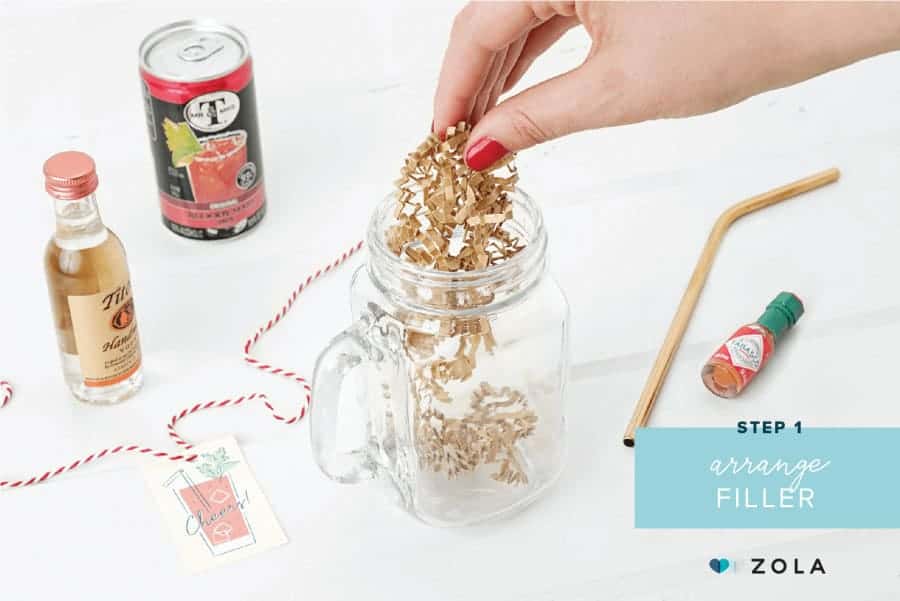 Step 2: Place your mixer and any extra ingredients like Tabasco inside the jar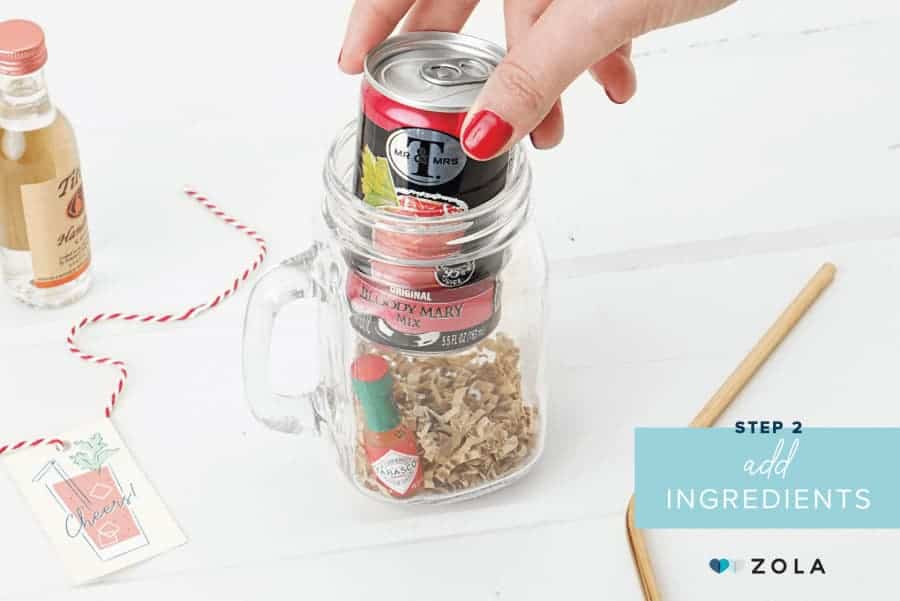 Step 3: Insert the straw, securing it in a position where it will stay put.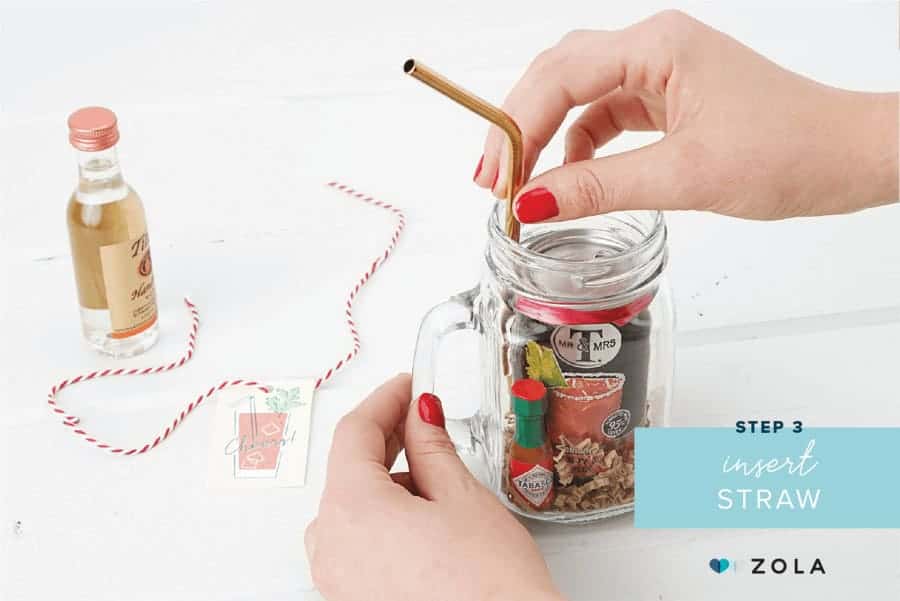 Step 4: Attach a gift tag around the grooves of the jar and tie a knot.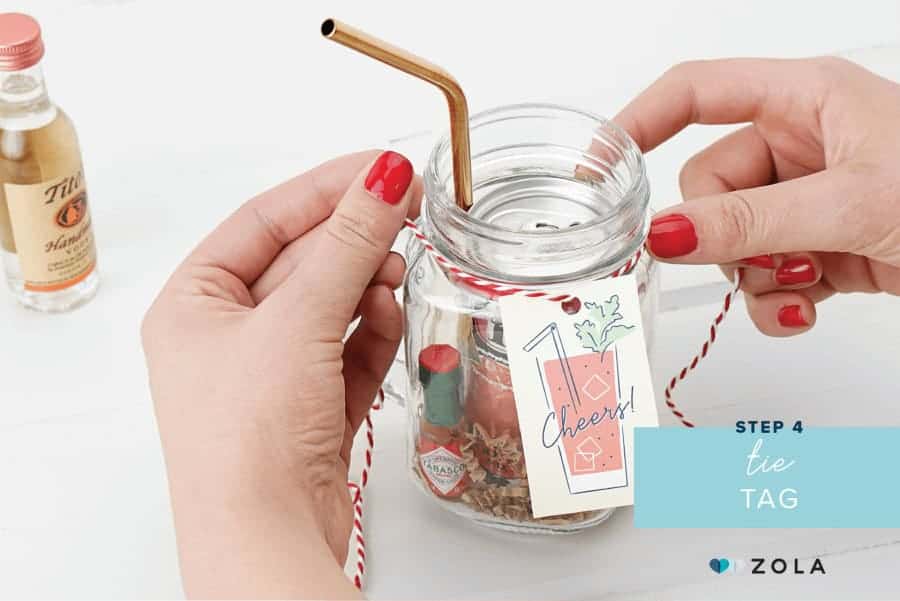 Step 5: Hold your liquor to the knot and tie it just below the cap.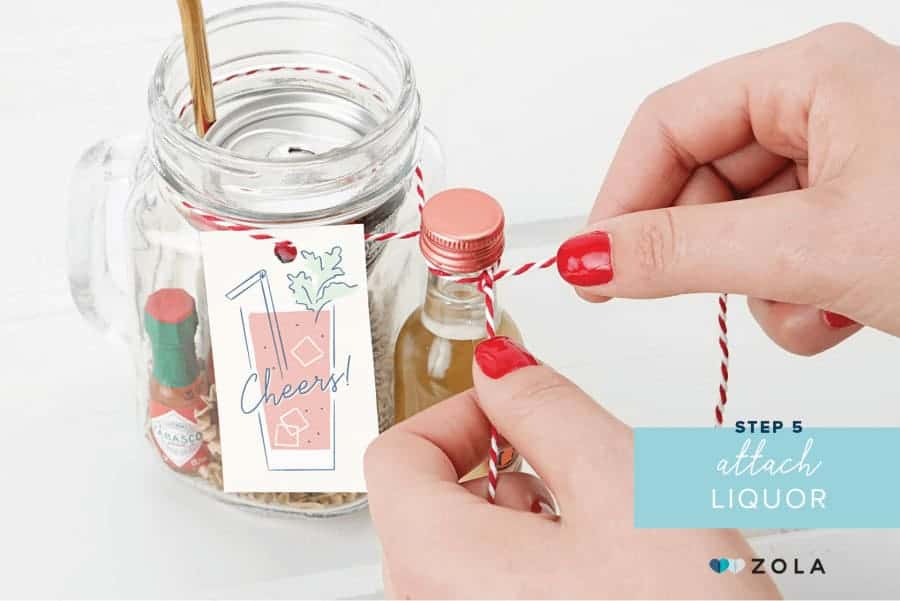 Step 6: Admire!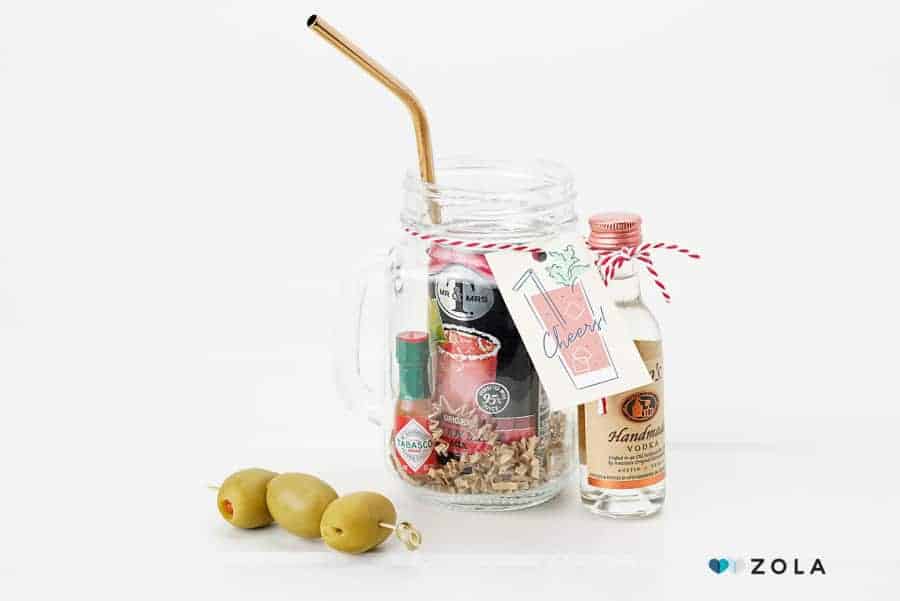 It's that simple. Just repeat the process for the number of guests, and you'll have charming party favors for everyone in no time.
Try out your personal favorite cocktail! Or, check out these recipes:
Awesome Cocktail Recipes
Bubbling Bride
This lime-less take on a Moscow Mule is perfect the perfect sparkling drink for an outdoor wedding. The light flavor and fizz of the ginger beer will be a welcome refreshment on a warm afternoon. For a clever ode to this cocktail's usual copper mug, try tying in a copper straw.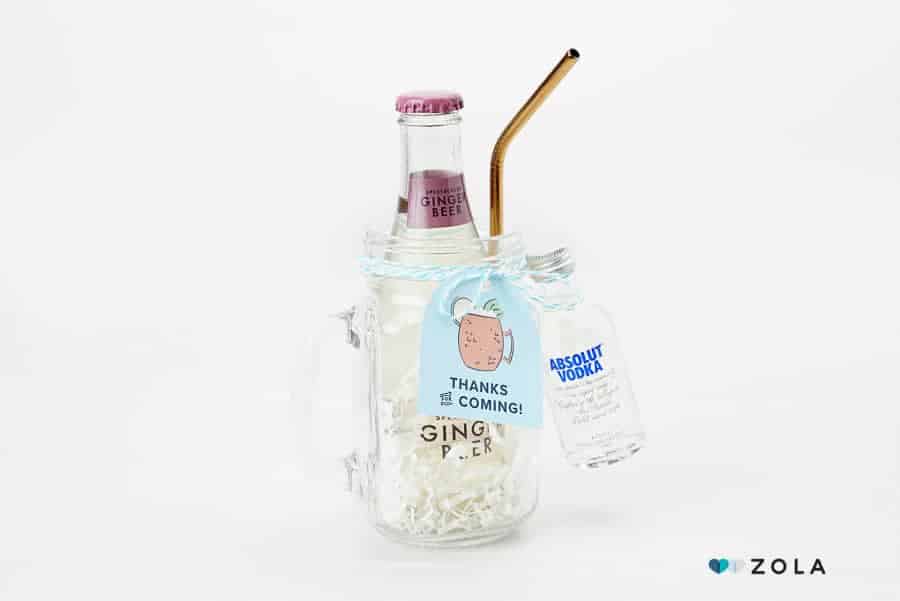 What you'll need:
Mason jar
Copper straw
Scissors
Twine
Drink tag
Ginger beer
1.7 oz mini vodka
Mix it up: Not a fan of vodka? You can swap out the liquor for any other. Tequila makes a Mexican Mule, and bourbon makes a Kentucky Mule. Gin and whiskey also work! For a refined flair, try adding sprigs of lavender and a little container of lavender simple syrup.
For a bit more of a splash, you can include a powdered drink flavor packet. Cranberry and watermelon work especially well!
Apple of My Eye
Planning a winter occasion? Warm your guest's hearts and hands with these spiked hot apple cider kits. Throw in a cinnamon stick, and you have the perfect cool-weather treat.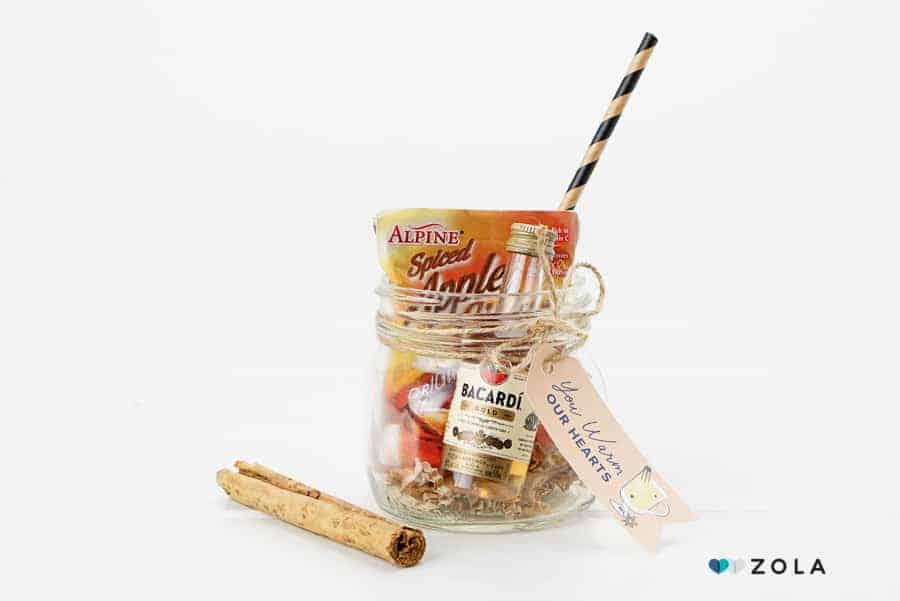 What you'll need:
Mason jar
Straw
Scissors
Twine
Cinnamon stick
Drink tag
1.7 oz spiced rum
Hot apple cider packet
Mix it up: Supply a bit of caramel flavoring, and you have yourself the liquid equivalent of a candied apple. Another fall favorite, maple syrup also pairs well with hot apple cider, lending it a decadent spin.
Blissful Mary
Start your union off right with this uncomplicated take on a Bloody Mary. Still packed with plenty of spice, this kit is sure to impress even the most discerning guest. The jar contains everything you need to achieve this satisfying cocktail, with way less prep.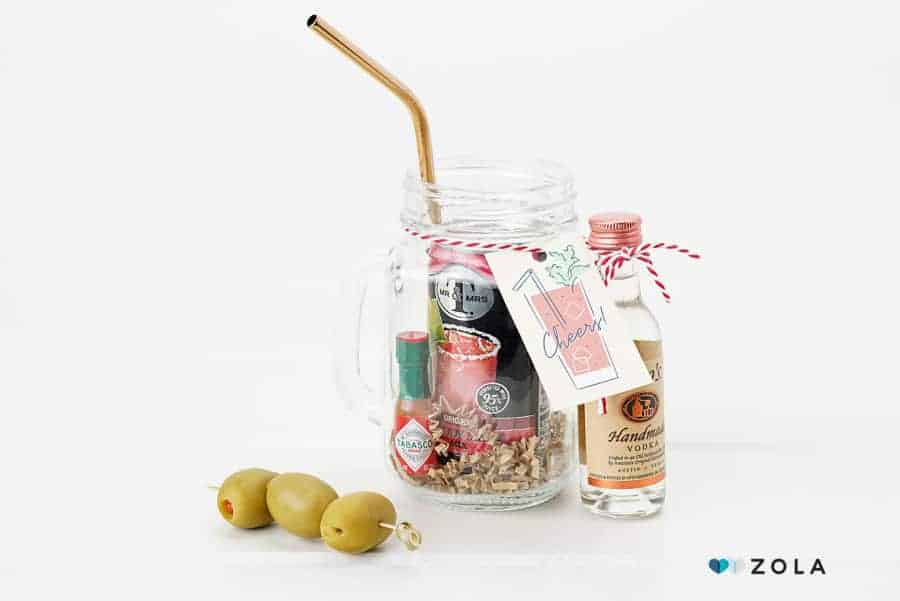 What you'll need:
Mason jar
Straw
Scissors
Twine
Drink tag
Mini tabasco
V8 vegetable juice
1.7 oz mini vodka
Mix it up: As garnishes go, the bloody mary has seen it all. From celery to bacon, to full-on burgers, this cocktail goes great with anything savory. Swap the tabasco for Sriracha for a Thai twist.
To transform this cocktail into a tropical treat, skip the heavy V8 vegetable juice and pick up V8 Splash instead. Pair it with a little bottle of Malibu and your guests will be able to hear the ocean in their jars.
Mason Mar-jar-ita
Nothing beats the sweet and sour combo of a tasty margarita. This margarita in a jar will fit right in at a springtime party or wedding.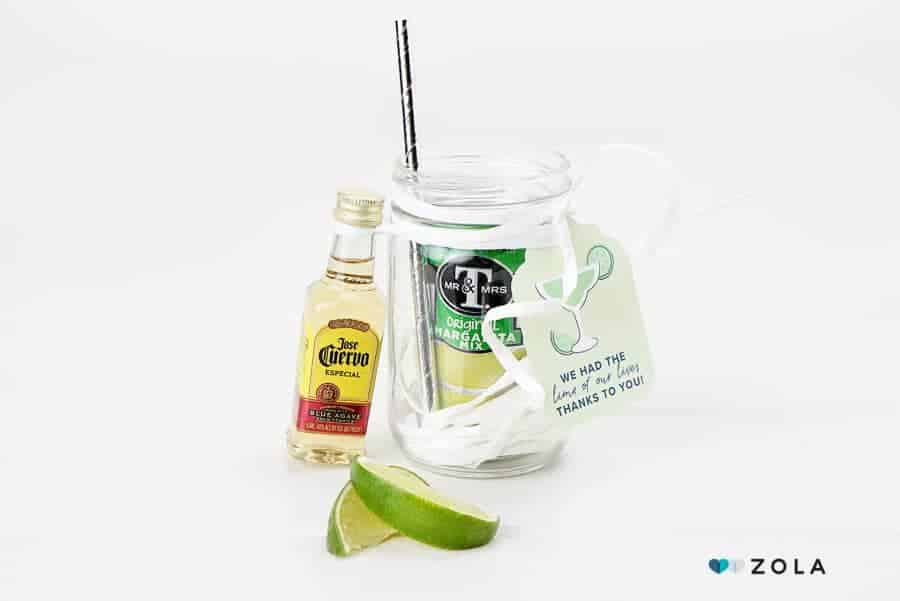 What you'll need:
Mason jar
Straw
Scissors
Twine
Drink tag
8 oz margarita mix can
1.7 oz tequila
Mix it up: As one of the most re-mixed drinks around, there's no shortage of creative ways to do something new. Shake things up by adding some flavor packets in strawberry or raspberry.
Pop the Question
If you're a fan of brunch drinks, this Bellini-inspired cocktail is perfect for you. These are the perfect favor for a bachelorette party or girl's day. Just pop the tab on some sparkling wine, add in peach-flavored vodka, and you and your besties can enjoy a bubbly beverage any time of day.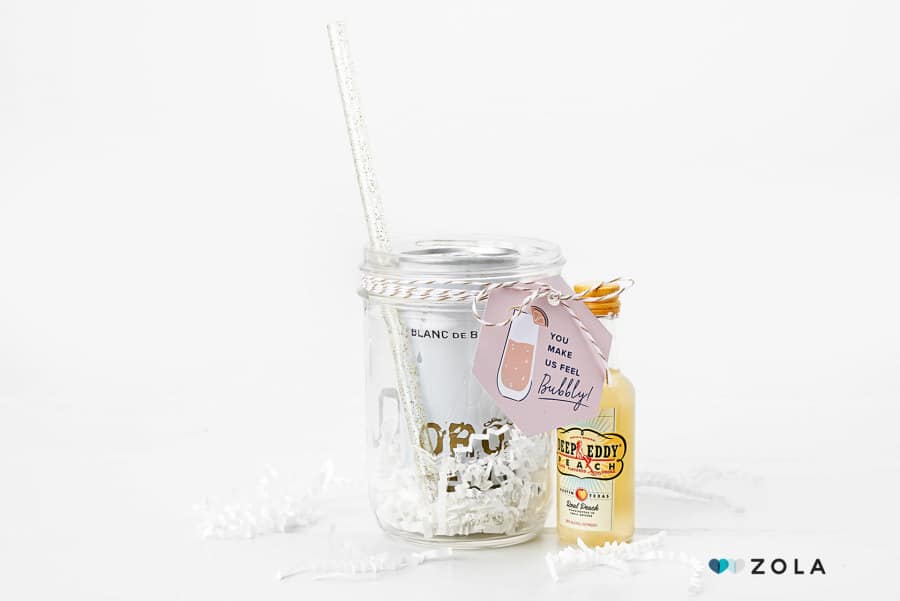 What you'll need:
Mason jar
Straw
Scissors
Twine
Drink tag
Can of sparkling wine
1.7 oz Peach flavored vodka
Mix it up: Here's the secret to sparkling wine: you can add any juice to it (or none!). Substitute the vodka for orange juice, pineapple juice, grapefruit juice, or peach juice. If you prefer bubbly beverages, swap the white wine for champagne or rosé!
Cocktail Kit Gift Tags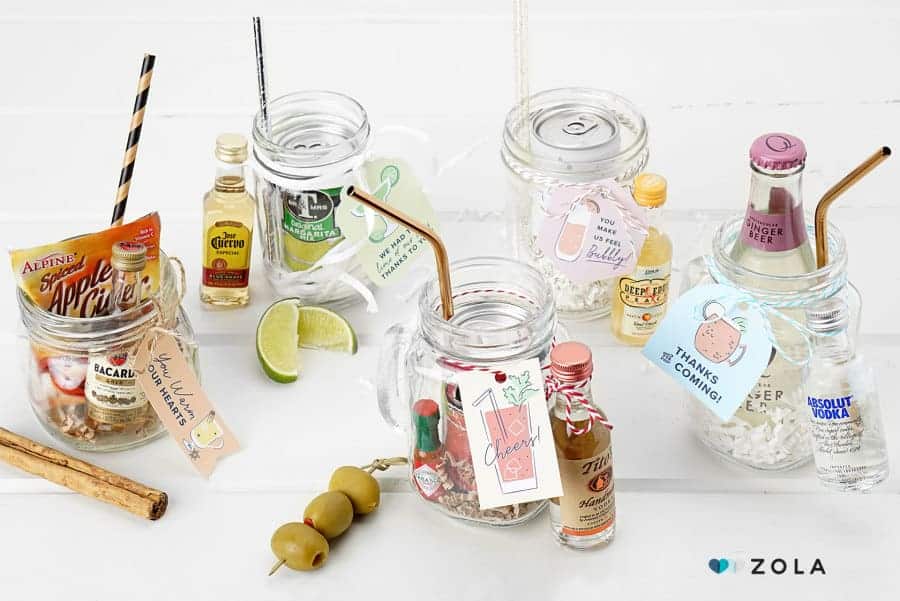 After you've collected your ingredients, packaged everything, and tied it all in a nice bow, there's still something missing: gift tags. Take your mason jar to the next level with a gift tag that lets your guests know how much you care about them!
We went ahead and made them for you!


Cocktail Recipes (Infographic)
If your wedding or party date is still far off, save a copy of these recipes so you can whip them up when it's time. They make a great touch for backyard or birthday parties, or even just as a personal treat. Here are all the recipes again below:


---
What's your favorite cocktail?