Welcoming a baby into the world is an exciting experience, and there's no better way to congratulate the new parents than with a thoughtful card! It's important to come up with the perfect message to write inside your card, so we've put together a collection of meaningful ideas and quotes to include for different scenarios, plus printable ones to make it easier.
Additionally, sending along new baby flowers with your card will make your message go the extra mile and help inspire the new mom. From what to say to a new baby boy or girl to funny messages, these new baby wishes and printable cards are the perfect messages to send along to your friends and loved ones.
51 New Baby Wishes – And Printables!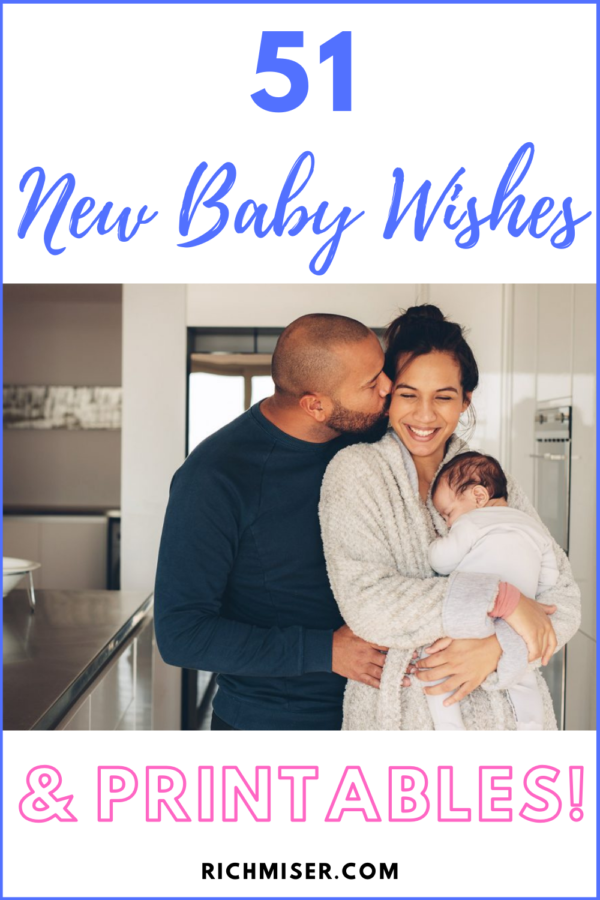 What to Write in a New Baby Card
Note: This is a syndicated post, republished here with permission.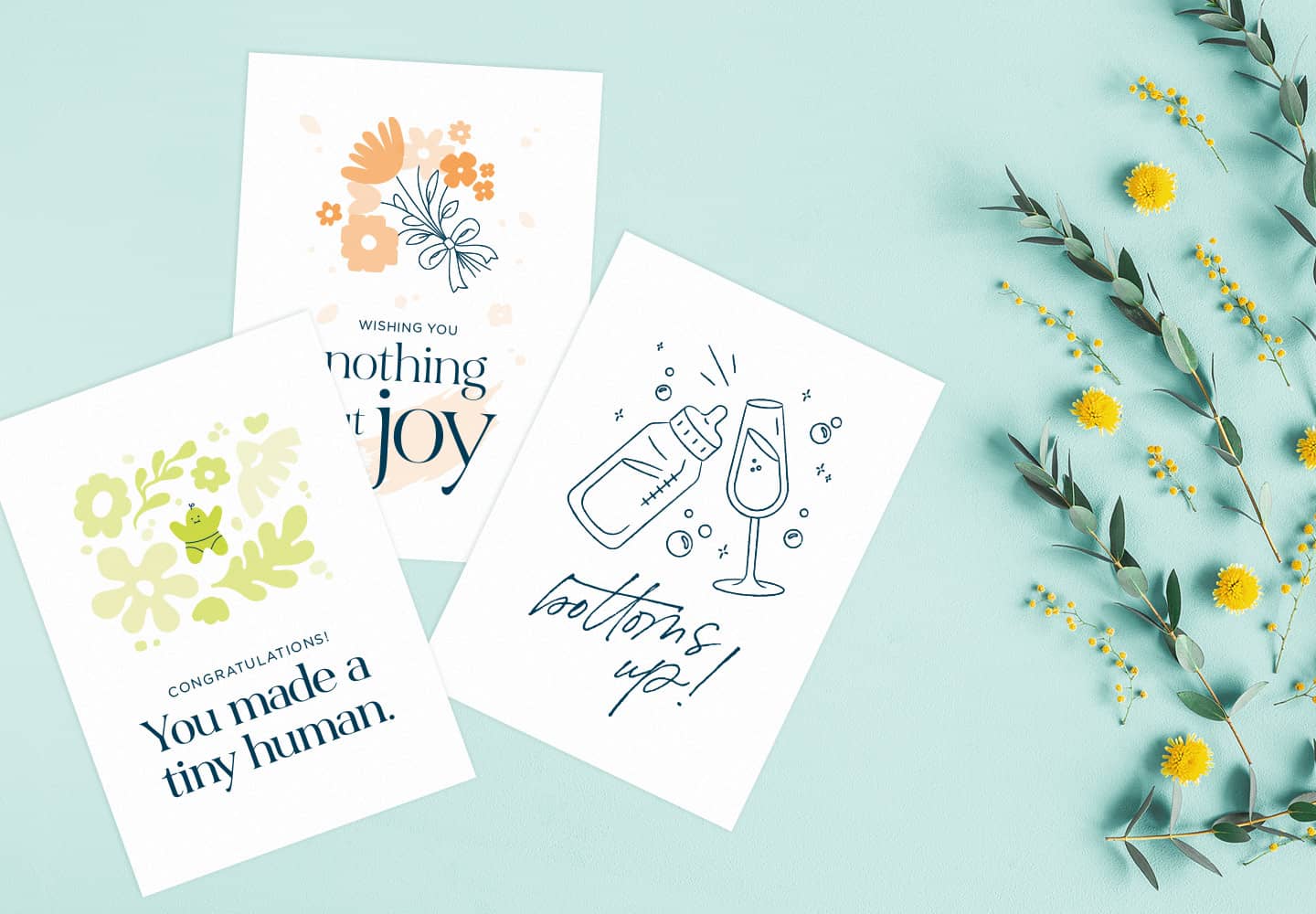 If you're not sure where to start when crafting your new baby card, here are some general tips to make your card and well wishes stand out from the crowd.
Include the parents: Be sure to remember to wish both the parents and the baby well in your card.
Address both the parents: If you're sending the new baby wishes to the parents, be sure to include both parents if applicable.
Avoid touchy subjects: Make sure you avoid details about the birth, parenting advice, or mention the possibility of future children in your card.
Send a bouquet or gift: If you know the parents well, feel free to send along a bouquet of flowers or a gift with your card for an extra sweet touch!
Simple New Baby Wishes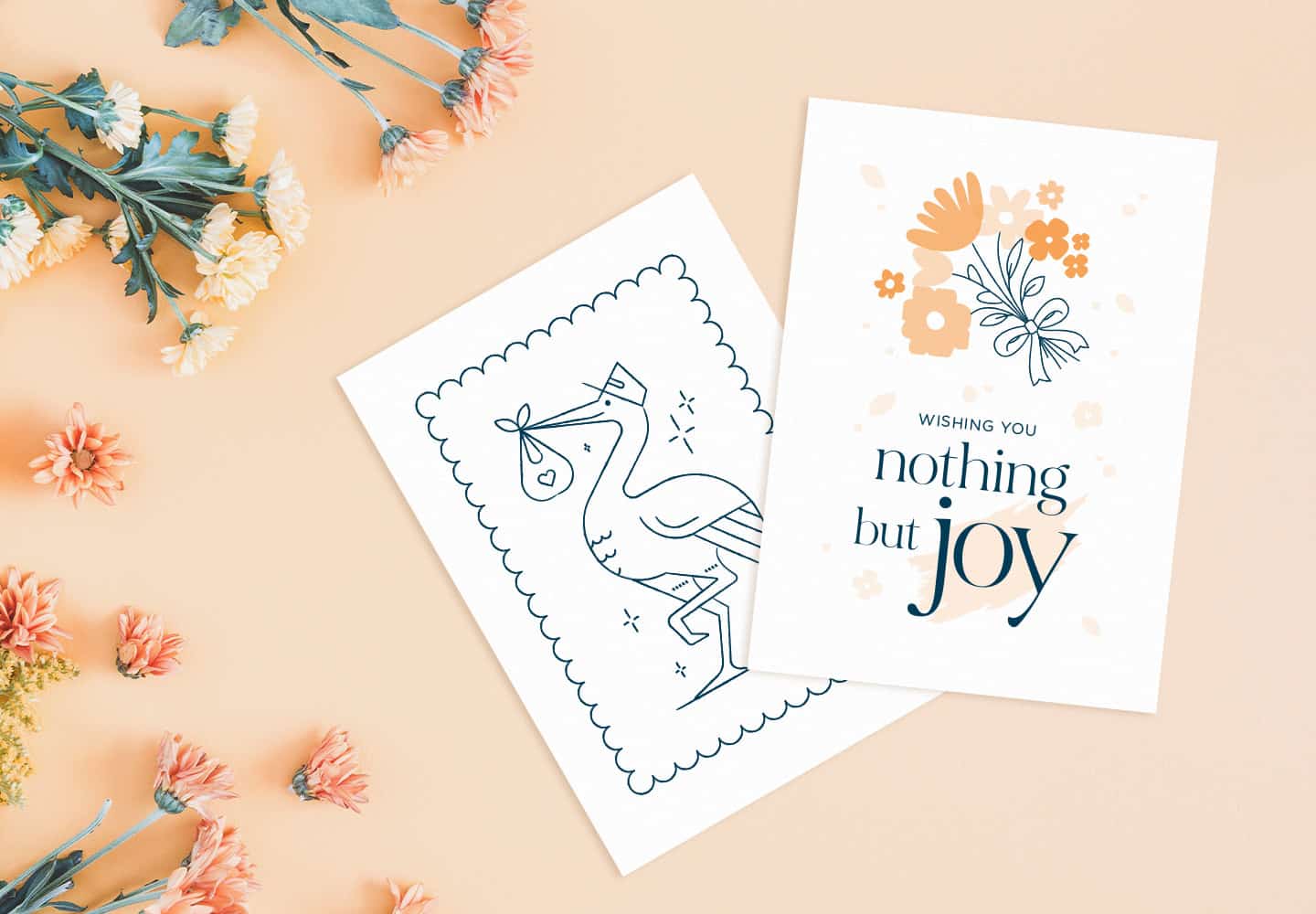 If you're unsure how to express your sentiments, going with a simple new baby wish is a good start. Whether you're sending the card to a close friend or a colleague, these simple sentiments are great for any occasion.
"So happy for you three. That's going to be one lucky baby!"
"Congratulations on your new arrival. Good luck with your next great adventure."
"Wishing you many congratulations on your new bundle of joy."
"Wishing you many congratulations on the birth of your daughter/son."
"What a very lucky baby! I can't wait to see her/his beautiful smile."
"Well done on creating a mini human being. Let the noise begin!"
"Really happy for you both. Bring on the dirty nappies and sleepless nights!"

New Baby Boy Wishes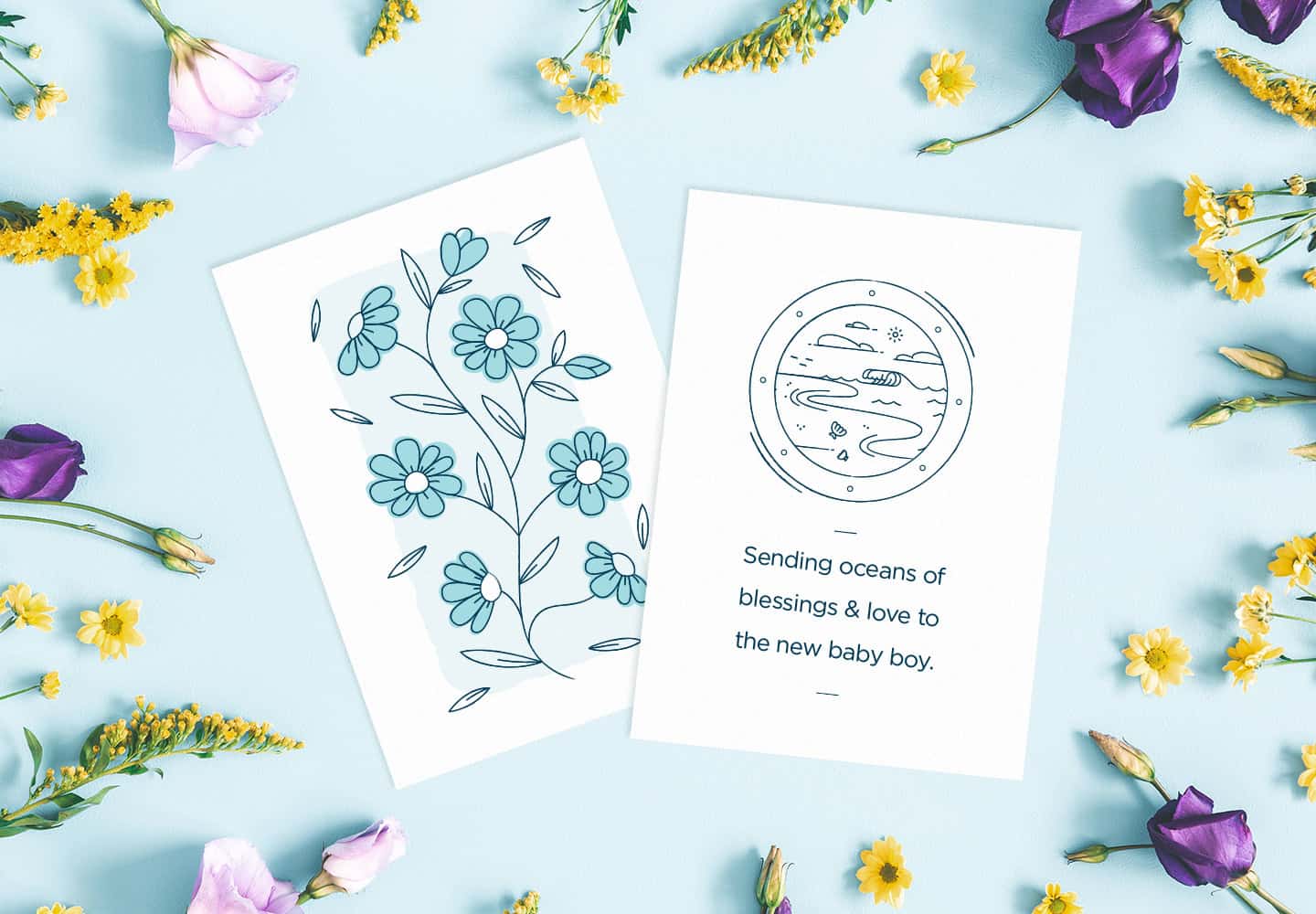 Celebrating a newborn is a big deal! These cute well wishes and congratulations are great examples of what to say to someone who has just welcomed their newborn baby boy. Pair your card with a sweet baby boy bouquet to send extra love.
"Congratulations on the arrival of your son! At last, all your wishes came true. May the little guy be blessed with good health, happiness, and prosperity throughout his life."
"I know you couldn't wait to see your baby boy, and finally he is here. Congratulations on becoming a mom to such a cute little boy."
"Congratulations on becoming parents; he is indeed a cute and healthy boy."
"Buckle up for those sleepless nights, diaper changes, and the endless joy of parenting. Welcome to the club and congratulations on the arrival of your baby boy."
"Welcome to the latest addition to the family. He is the first boy in the family, and we cannot wait to pamper and spoil him with all our love."
"Hey there, new mom! Congratulations on the arrival of the little guy. Heard he is the cutest baby in the hospital. Cannot wait to see him."
"As soon as I saw your baby boy, he gave me a big smile. Then itself I realized he is a spitting image of you. Congratulations buddy."
"Hooray! It is a baby boy. I am so happy for you guys and cannot wait to see the little guy. Congratulations!"
"Sending you loads of good wishes and endless love for your little prince. Congratulations on becoming a father."
"Just heard the news, congratulations and all the best to you both. May your little boy grow up to be great and successful."
"Finally, the day has come and your baby boy is in your hands. I am sure you will be extremely happy. Congratulations and hope to see the little prince soon."
"The most amazing part of becoming a parent is being blessed to see a little of yourself in your baby boy every day."
"Good wishes to you and your family on the birth of your baby boy."

New Baby Girl Wishes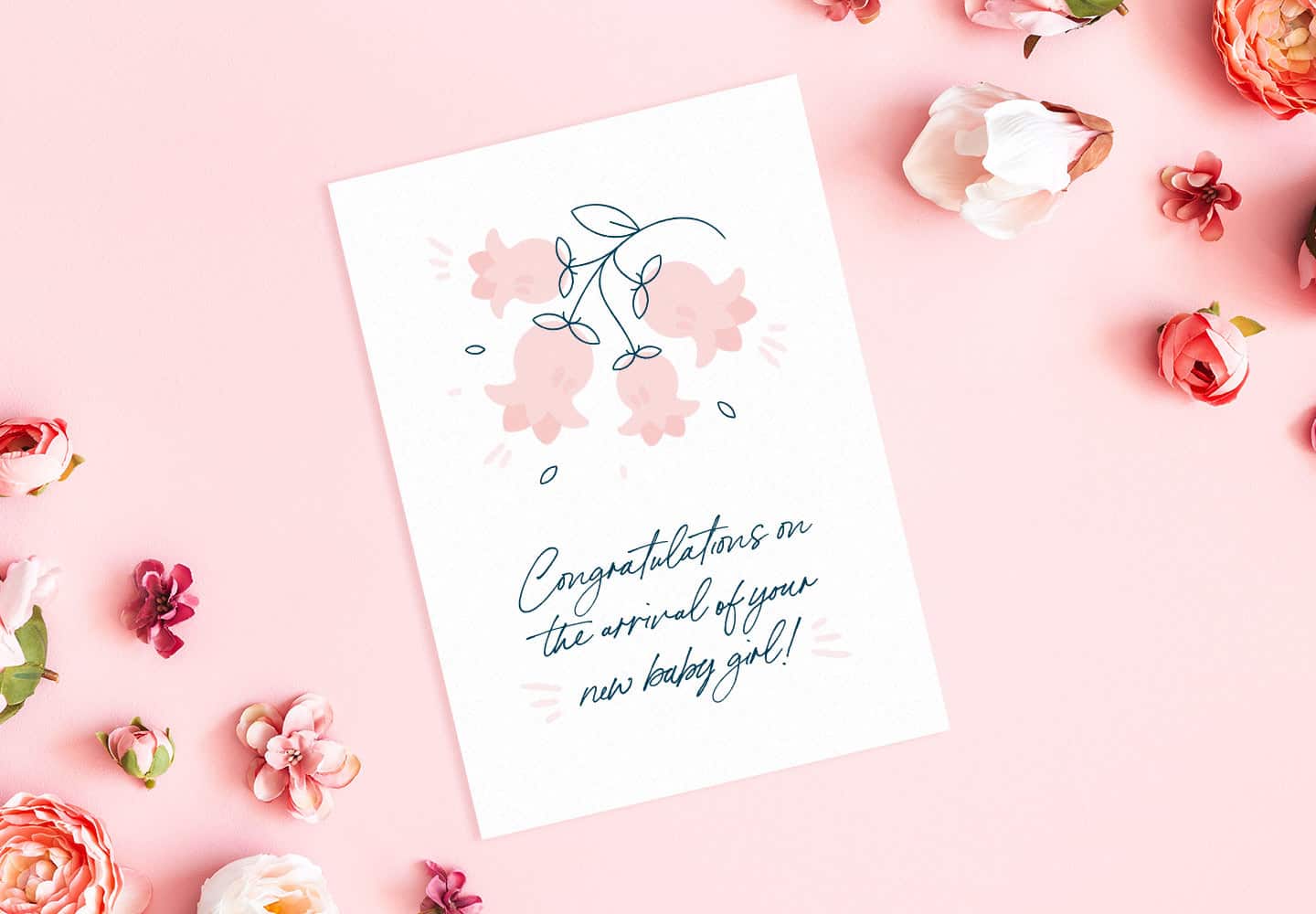 Did someone close to you welcome a new baby girl? Send them your well wishes with these heartfelt and cheery messages. Also, consider pairing your card with a baby girl bouquet for a unique touch.
"Finally the princess has arrived. I still remember how anxious you were to meet her, and I am also sure she will become your best friend. Congrats!"
"May your life become colorful and filled with happiness and joy because today your best friend for life has arrived. Congrats on the birth of your baby girl."
"Wonderful news about your new baby girl! I am sure she will bring tons of joy and happiness in your life. Congratulations and lots of love to the little princess."
"So happy to hear the arrival of your baby girl, we are excited to be able to watch the little girl grow up and become a remarkable woman. Congratulations once again."
"The boss lady has arrived! Can't wait to see her grow up and take over the house. She will be the apple of our eyes."
"Start the magical journey of parenthood with your baby girl, cherish every second with her. Congratulations on becoming parents."
"Daughters are always special; she will also be a daddy's little girl and mommy's best buddy. Congrats on being blessed with such an angel."
"The long wait is done, and your baby girl is in your hands. Never miss a moment of her life, as they are the epitome of joy and happiness."
"Congrats brother! You are now a father to a cute little angel."
"Get ready for the journey of a lifetime. Becoming parents for a baby girl is the most blessed experience. Congrats to you and your family."

Funny New Baby Wishes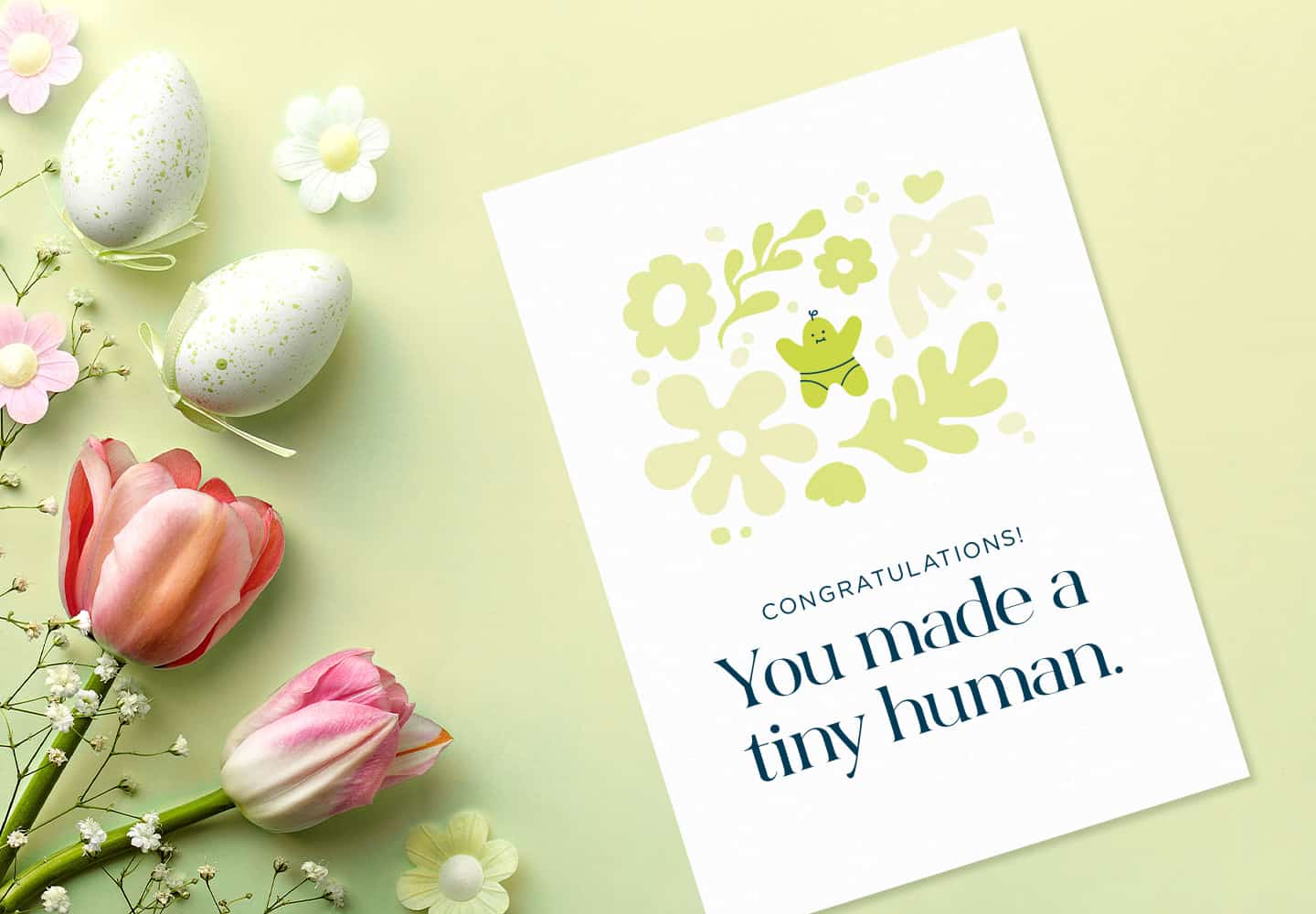 Welcoming a new baby is an exciting time for a parent, but it also can be stressful. Lighten the mood with a funny message to make them laugh.
"The most precious jewels you'll ever have around your neck, are the arms of your children."
"A toddler can do more in one unsupervised moment than most people can do all day.
Now your world is about to change. A new baby will make your love stronger, home happier, days shorter, nights longer and bank account emptier. Best wishes for the future!"
"Congrats! Your baby is cuter than the other babies."
"You made a tiny human. Congratulations!"
"Sleep is overrated, babies are not. Congrats!"
"Congratulations on your new baby! We can do something fun together in 18 years."
"Raising kids is part joy and part guerrilla warfare. Have fun and congrats!"
"Goodbye tummy – hello mummy!"

New Baby Quotes
Looking to switch things up in your new baby card? Here are some thoughtful quotes that are perfect to include for the occasion.
"Children have neither past nor future. They enjoy the present, which very few of us do." — Jean De La Bruyère
"You know what the great thing about babies is? They are like little bundles of hope. Like the future in a basket." — Lish McBride
"Having a baby is like falling in love again, both with your husband and your child." — Tina Brown
"What good mothers and fathers instinctively feel like doing for their babies is usually best after all." — Benjamin Spock
"Welcome to the world, little one. So thrilled that you arrived safely! See you soon!"
"Children make you want to start life over." —Muhammad Ali
"You can learn many things from children. How much patience you have, for instance." — Franklin P. Jones
"A child enters your home and for the next twenty years makes so much noise you can hardly stand it. The child departs, leaving the house so silent you think you are going mad." —John Andrew Holmes
"Sleep when your baby sleeps. Everyone knows this classic tip, but I say why stop there? Scream when your baby screams. Take Benadryl when your baby takes Benadryl. And walk around pantless when your baby walks around pantless." — Tina Fey
"A baby changes your dinner party conversation from politics to poops." — Maurice Johnston
"People who say, they sleep like a baby, usually don't have one." — Leo Burke
"Make no mistake about why these babies are here—they are here to replace us." — Jerry Seinfeld
If you're looking for the right words for your new baby card, these thoughtful wishes and quotes will help parents feel celebrated for bringing their little one into the world. Additionally, sending along a bouquet of flowers or push present with your card will make them feel extra special for their achievement