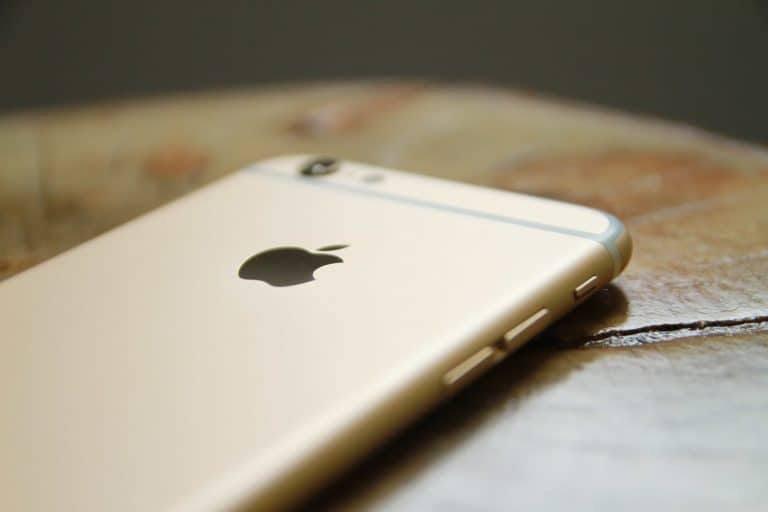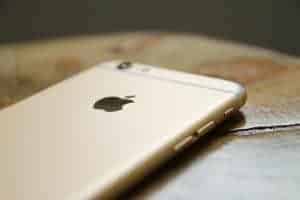 I'm always looking for neat, low-effort tricks to get refunds, rebates, and discounts. For example, I have my beloved online shopping portals.
Today, I want to talk about yet another opportunity to get some extra cash without putting in much sweat equity: autopay discounts. This is just what it sounds like: discounts you get for putting bills on automatic payment, whereby each month's payment is automatically deducted from your payment method (such as a credit card). I think one of the best examples is the awesome T-Mobile autopay discount.
What Is the T-Mobile Autopay Discount?
Just what it sounds like: a discount you get for signing up for the automatic payment of your bill every month (it can be with a credit card). In my case, I have a family plan for my wife and I, and the discount is $10 every month (a cool $120 per year; practically a free month of cell service). Take a look: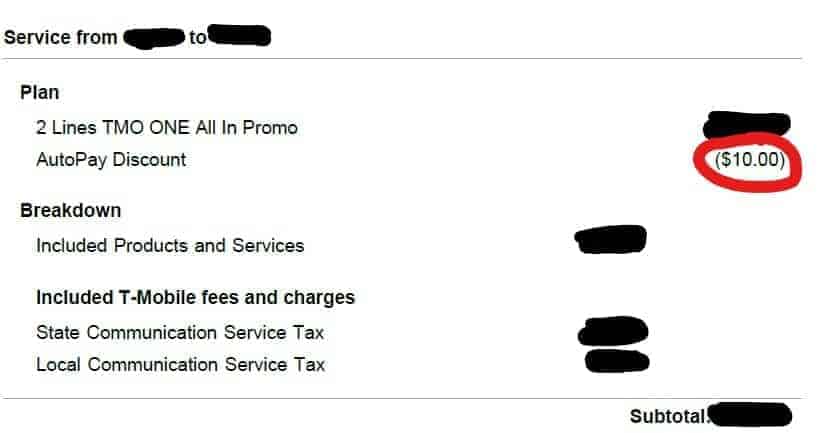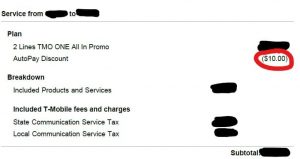 Not only is this beneficial because you pay less, but it also takes one more monkey off your back; one less task to remember (and possibly forget). So, it's a great idea all-around to check if any of your monthly bills can be reduced with an autopay discount.
Disadvantages of Autopay
I love autopay, but, like everything in life, it's not all peaches and cream. It does have its drawbacks.
The biggest is probably that, if your autopay method (credit card, bank account, or what have you) is changed or cancelled (such as if your credit card is stolen and you get a new one), you have to remember to change it on every autopay you have, or else risk missing a payment. If you do miss a payment, that could potentially affect your credit, so it therefore becomes critical that you don't miss an autopay. That's why I recommend using one card or bank account for all autopays, so that if such card or account changes you can just try looking at your past few statements for the autopays that you have to update.
A second drawback of autopay -and I'm guilty of this- is that you can forget to check your auto-paid bills once in a while to make sure that they continue to be accurate. It's easy to miss small mistakes or unexpected charges that can wind up costing you money.
Summing It Up
Despite the drawbacks, I'm a big believer in autopay, especially when there's a discount involved. Not only does it save you money, but it also frees you from having to worry about paying the bill each and every month. I'd suggest you give it a try, but just remember to update the payment method if it changes, and check the bills from time to time to make sure than nothing is amiss.
H/T: Kiplinger