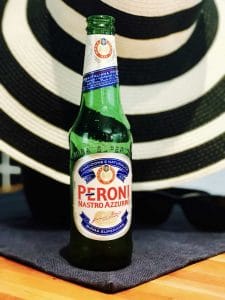 Note: This is a series I call Caveman Beer Reviews, because I like to drink beer but am a caveman when it comes to beer knowledge. I know only the basics, and do not have a refined palate. I'll review the beers on price and what they look, smell, and taste like to me.
Beer: Peroni
Bottom Line: A tasty beer with a wonderful, refreshing bitterness. Well-balanced.
Price: About $14.99 for a 12-pack of 11 ounce bottles. Expensive.
My Rating: 5 out of 5
Details
Oh, Italy. The romance, the seduction, la vita bella. The food. The food! Why am I not there more often? I've got to make some reforms in my life…
Ok, back to reality. I picked these up at my local Total Wine on a whim, even though they're some expensive bottles. But, once I saw them, I had to have them.
Origin: The fabled city of Rome, Italy
Alcohol: 5.1%
Looks: A handsome green bottle. Very Italian-looking, with the colors of Italy: green bottle, white labels, red text. Has some medals and an eagle on it, and says Nastro Azzurro (I don't know what that means). It's got an air of glamour; I can imagine drinking it on a sailboat in the Italian Riviera. The beer itself is pale yellow.
Smell: Normal medium-bodied beer smell.
Taste: Man, I love this brew. It looks and tastes premium, with a bitterness that's bold enough to be felt but not so much as to be in your face. It's very gaseous, which balances out that bitterness.
The Peroni is medium-full bodied beer with a bitterness that lingers on the sides your mouth, but not so much as to stop it from being refreshing. The taste reminds me a bit of Heineken.
Hangover Factor: Normal for a non-light beer; nothing unusual. I'm a male in reasonably good health born in 1983.
Final Thoughts
Peroni's some good stuff, though, like prosciutto, it's premium and expensive. I suggest enjoying it from time to time.