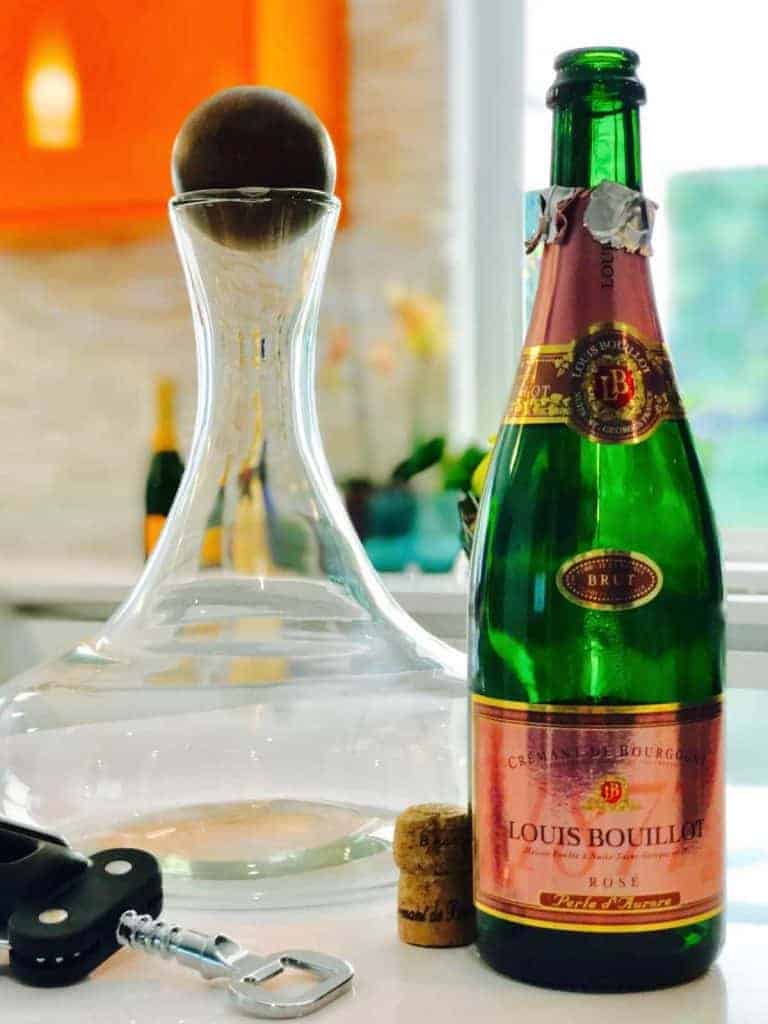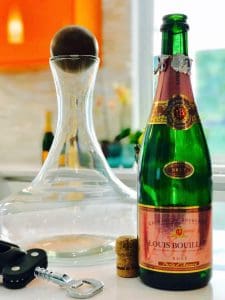 Note: This is a series I call Caveman Wine Reviews, because I like to drink wine but am a caveman when it comes to wine knowledge. I know only the basics, and do not have a refined palate. I'll review the wines on price and what they look, smell, and taste like to me.
Wine: Louis Bouillot Perle d'Aurore Rose
Bottom Line: A sweet pink sparkling wine that's easy to drink and great tasting.
Price: About $18.99 per 750ml bottle.
My Rating: 4 out of 5
Details
This is a French pink sparkling wine that I bought to restock my home wine supply, for getting silly during a movie or TV night. It says it's from St. Georges, France, from the estate (or vineyards, I guess) of Louis Bouillot, whoever that is (or was). It also says something about "Perle d'Aurore", which my high-school French tells me has something to do with pearls. There's no vintage year on the bottle.
The Total Wine website quotes a publication called "Beverage Dynamics" as giving it 91 points and saying "Burgundy, France- A sophisticated Rose made using the Champagne method from Pinot Noir grapes. Pale rose in color with a medium-body and fine bubbles. The bouquet and palate feature cherry and strawberry notes with a dry creamy finish. Superb with salmon, shrimp and lobster". It's expensive, at almost $20 per bottle.
Origin: France (but apparently not from the Champagne region, since it's not classified as Champagne, but rather just sparkling wine). 5/17/2017 Update: The winemaker has reached out to me to let me know that the wine is "Crémant de Bourgogne (same method but grapes from Burgundy)". So it is indeed French, made using the same method as Champagne.
Alcohol: 12%
Looks: A dark green bottle that distorts its pink color, and a kind of hologram-looking label. I think they could have done a better job with the bottle.
Smell: Somewhat sweet.
Taste: I really liked this rosé. It's a plus for me that it's pink, and had a sweet, pleasant taste that made it easy to drink. I'm not refined enough to confirm the description from Beverage Dynamics of "cherry and strawberry notes with a dry creamy finish", but I can say that it tasted sweet and fruity, without it being so sweet as to taste like juice. It seemed refreshing enough to be suitable for day-drinking.
Hangover Factor: Good. I slept quite well and did not have any issues. I'm a male in reasonably good health born in 1983. I did not pair this with anything. It seems to me that it would pair well with almost anything that's not a heavy meat dish.
Photo by TigerLilyEdition