Feeling uninspired? I know, it happens to all of us. Life can feel like a neverending uphill battle; after all, virtually nothing worth attaining comes easy. And those who are at the top can seem as if they coasted there in a flash. So that's why I like to read celebrity inspirational stories from time to time, to remind myself that even many of the rich and famous had an incredibly tough time before they got where they are.
In that spirit, I recently saw a reddit thread (NSFW) on this very topic, and was inspired to write this post. It features six celebrities that overcame tough times and circumstances to become the stars they are today. Let's see who they are!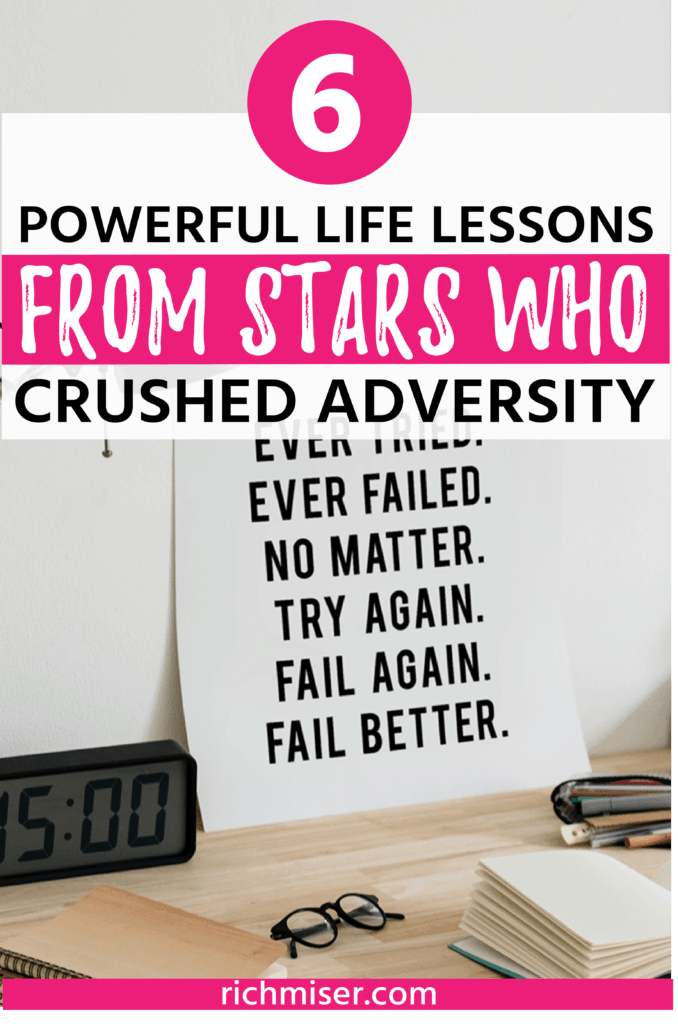 6 Powerful Celebrity Inspirational Stories
Overcoming Severe Trauma – Charlize Theron
When she was 15 and at home in South Africa, Charlize Theron witnessed her mother shoot and kill her father, who had attacked her mother while he was drunk. Despite that trauma, she moved to Milan, Italy to work as a model at age 16.
But it was not all peaches and cream from then on. A couple of years later, she went to New York City to be a ballerina, but that career was cut short by an injury. She then tried, unsuccessfully, to become an actress.
Her big break finally came when she moved to Hollywood and, one day, made a ruckus at a bank which refused to cash a check. At that point, a film agent who was there discovered her, and set her on her movie star career. The rest is history!
Lesson: Even a severely traumatic experience doesn't have to define your life. Focus on recovering and moving on, and don't be afraid to seek help.
Here she is in Atomic Blonde:

Sources: Encyclopaedia Britannica 
and 
Business Insider
Perseverance – Mark Ruffalo
Today, Mark Ruffalo is a household name, perhaps best known for playing The Hulk in several Avengers movies. But did you know that his acting career got off to an extremely slow start?
Yes, it turns out that he first took 6 years to finish a 3-year program in acting school. Then, he worked as a bartender while auditioning, and had to go through more than 600 auditions to land his breakthrough role in You Can Count on Me.
But that wasn't all. While his wife was pregnant, he was diagnosed with a brain tumor. It turned out to be benign, but corrective surgery left his face half-paralyzed for almost a year!
Lesson: Perseverance pays off. Don't give up on your dreams.
Here he is in The Avengers:

Source: CBS News
Getting Past Life in A Cult – Joaquin Phoenix
Her and Gladiator star Joaquin Phoenix didn't have an easy childhood, being born into the Children of God cult and traveling with it for some years through South America with his parents and siblings. An "apocalyptic sex cult", life within Children of God reportedly included (at least for some members) horrendous activities such as child rape, and a demand that members give up earthly possessions.
To make matters worse, Joaquin's brother (River Phoenix) died of a drug overdose in 1993.
In spite of all this, he was able to follow his brother Phoenix into acting, and got his first big break in Parenthood (1989).
Lesson: Nothing is forever – your circumstances can change, even if you're going through hell right now. Don't lose your hope or your will.
See him in Gladiator:

Sources: Fox News
, 
Entertainment Tonight
, and 
Biography.com
Beating Addiction – Fergie's Inspirational Story
From the world of music we have megastar Fergie, who bounced back from drug addiction. In fact, she was so hooked on crystal meth that she suffered from chemically-induced psychosis and dementia, and hallucinated every day.
Even after she quit using, it took a year for her brain chemistry to settle down.
Lesson: Sometimes you can be your own worst enemy, but even then, you can triumph. Also, substance addiction doesn't have to be for life, and can be overcome.
Here's Fergie in You Already Know:

Source: People
Got his Start in Adult Film – Jackie Chan
Way before Rush Hour, Jackie Chan did some steamy scenes in an adult movie, acting in All in the Family in 1975. As he told China Daily, "I had to do anything I could to make a living 31 years ago, but I don't think it's a big deal, even Marlon Brando used to be exposed in his movies…the porn movie at that time was more conservative than the current films".
And, he's not the only one. Per the Entertainment Times, other now-famous actors who apparently did adult films include Sylvester Stallone, Cameron Diaz, and Arnold Schwarzenegger.
You've got to start somewhere, right?
Lesson: Great things can come from humble beginnings. Sometimes, you've got to do what you've got to do; swallow your pride if need be.
See Jackie Chan in Rush Hour 3:

Sources: China Daily 
and 
Entertainment Times
Turning Your Life Around – Danny Trejo
Danny Trejo is a true turnaround story. Born in Los Angeles, he initially led a life of drug addiction and crime, and was in and out of prison for 11 years.
Then, he went through a 12-step program that successfully broke the pattern. In fact, it started his rise to stardom since, in 1985 (when he was over 40 years old), a fellow he had met at a Cocaine Anonymous meeting called him, asking for support. Trejo met him at the set of Runaway Train, where he was initially offered a role as an extra. From there, he was able to get additional roles and launch his acting career.
Today, Trejo gives back, including by serving as a drug counselor. He's been sober for over 48 years.
Lesson: It's never too late to turn your life around. Even when you've been making big mistakes for decades.
Here he is in Silencer:

Sources: IMDb, The Hollywood Reporter
Summing It Up – Inspirational Stories from the Stars
As these megastars' inspirational stories show, it is more than possible to go from harsh adversity to smashing success. So, if things are not going your way right now, check out how they did it, get inspired, and start making change happen!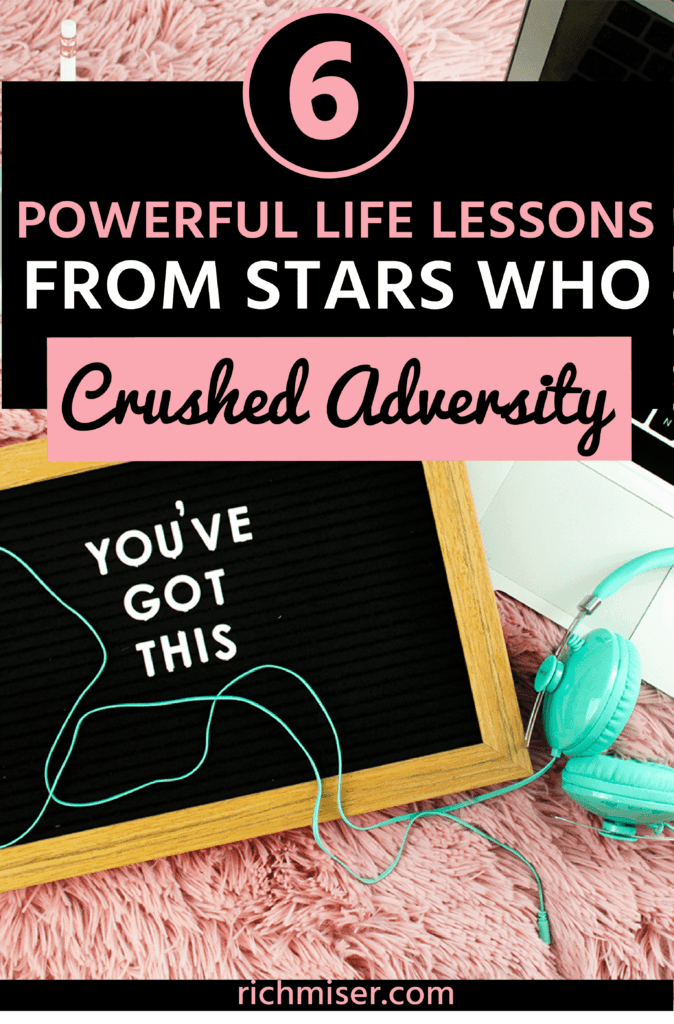 What celebrities inspire you?
---
Last update: 12/31/2018