Bottom Line: An OK hotel in the Colorado Springs, Colorado area. A decent room and bed, but not much more.
Good For Business Travelers: Yes, if you can get free breakfast or are not paying for the breakfast.
Good For Leisure Travelers: Not really, unless you can get free breakfast.
Parent Hotel Chain: Hilton
My Rating: 3/5
The Details List
Room: A large room with a bathroom and a little countertop area leading to the bathroom.
Price:
About $212 per night on a weekday night.
Expensive
.
Location: In a strip mall area about 15 minutes from the Colorado Springs airport.
Important In-Room Amenities: Hair dryer (without changeable tips), iron, ironing board, mini-fridge, microwave, and coffeemaker. I used the iron to take the wrinkles out of my Jos. A Bank work shirt, and it was good.
Important Amenities:
Gym and pool (I did not use any of these; I got them off the
hotel website
).
Free Parking: Apparently yes.
Free Breakfast: No, unless you are Hilton Honors Gold or above.
In-Room Cellphone Charging: Standard power outlets on both sides of the bed and on the desk. No USB power ports.
WiFi: Yes. As a Hilton Honors Gold member, I was given a code to use at check-in. The internet was relatively fast for hotel wifi. Download speed was 5.72 mbps, upload speed was 5.29 mbps.
TVs: One. I was upset that the HGTV channel was not hi-def, and I had to watch House Hunters in standard definition. I could not make out the details on the house tours!
Pillows: Two soft and two firm, and some extras.
Closets: One.
My Comments
The Room
This DoubleTree featured a large room with a desk, fridge, and microwave, as well as a balcony overlooking an indoor patio. The entire hotel decor was dated, and there was a musty smell everywhere. Cleanliness was questionable; there was some dust/debris in the toilet when I arrived, and there was bird poo all over the balcony.
The room also had a very hard, uncomfortable couch.
The Bathroom
A standard-issue hotel bathroom. I'll let the pictures speak for themselves, but not before mentioning that the bathtub drain did not work well and was very slow.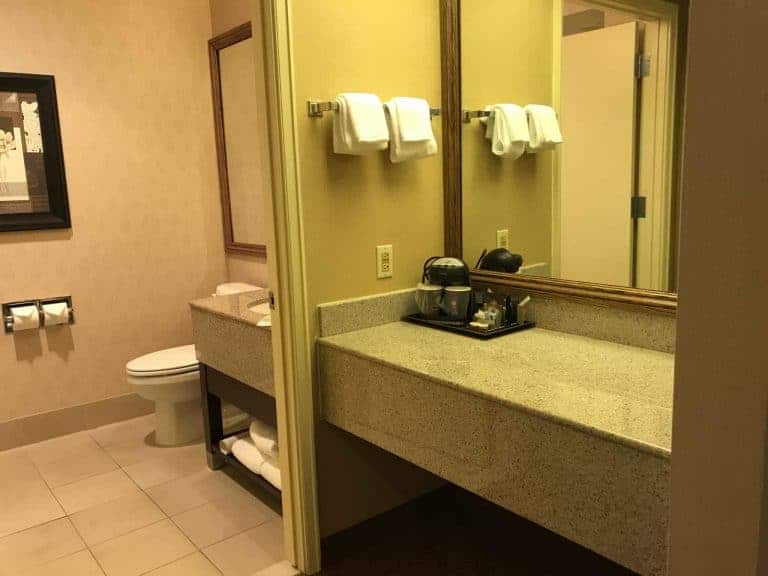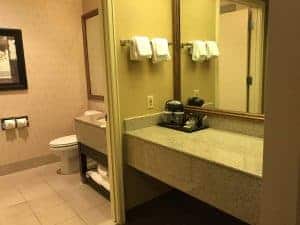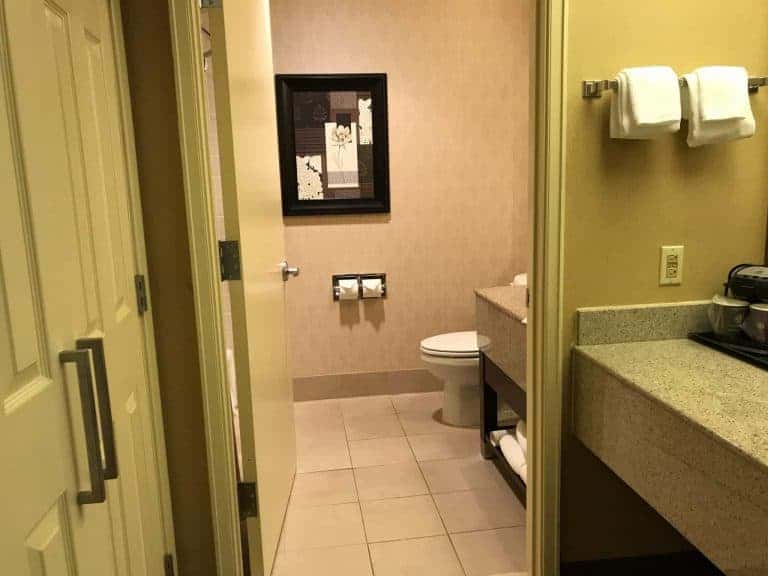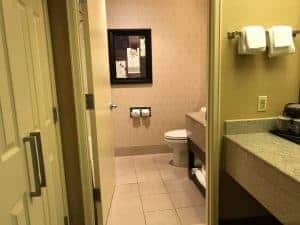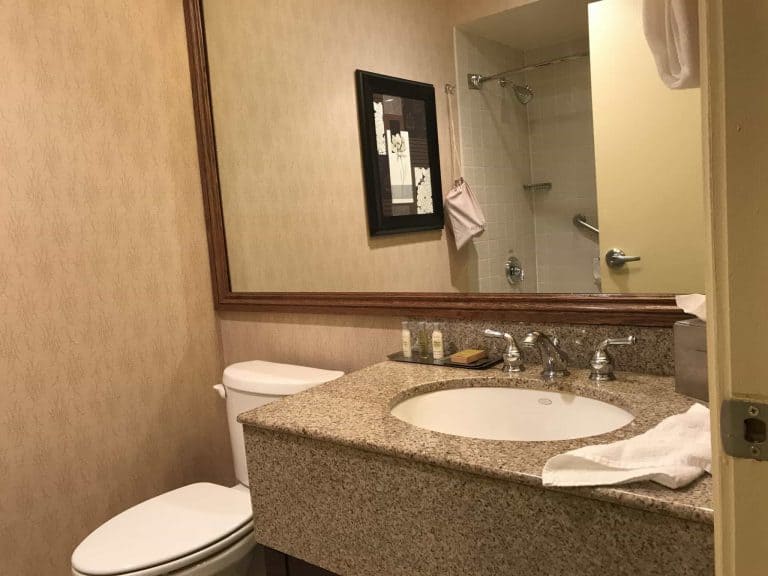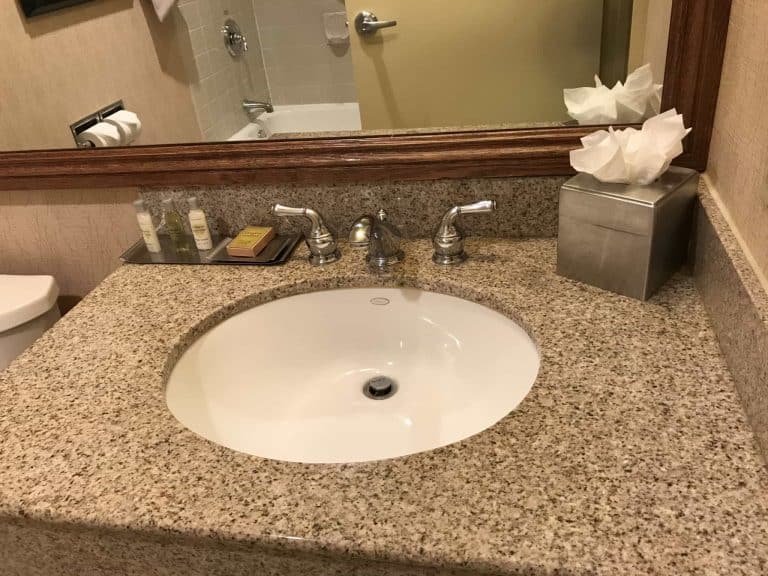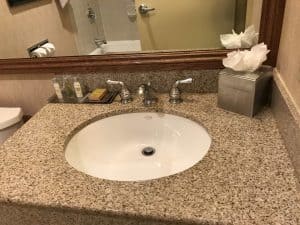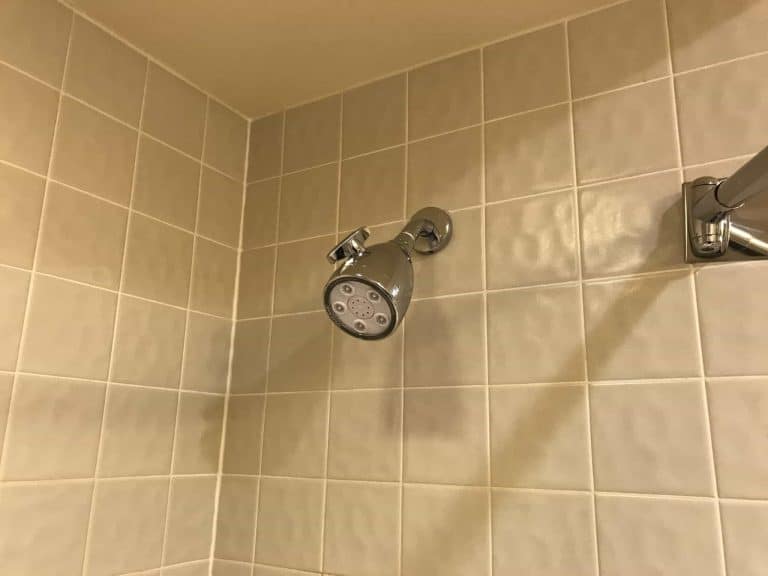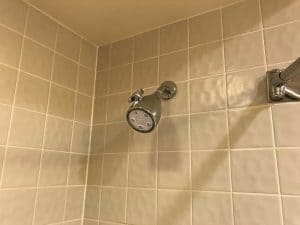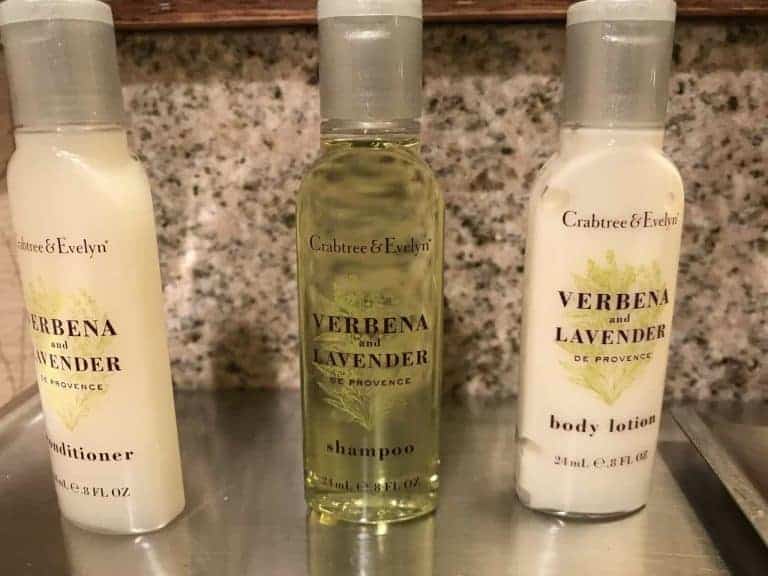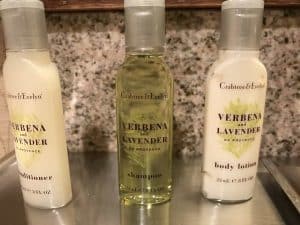 Breakfast

I got breakfast for free because I am a Hilton Honors Gold member. It was standard, full breakfast fare with on-demand omelettes. No complaints, but it wasn't great, either.

Summing It Up

This hotel was OK. It did have nice and responsive staff, and I did get the signature DoubleTree cookie at check-in, which was delicious. They also gave me one bottle of water, which I thought was really stingy; I had to buy three more at the lobby shop, spending $9.

I do want to commend the room service. I ordered some dumplings and a salmon fillet, which were very good. Nothing special, but a solid, tasty meal with generous servings.

In conclusion, I would check out other hotels in Colorado Springs before staying here again. I mean, it was not terrible, but not terribly good, either.

A meeting on a Saturday. That's how I wound up alone on a Friday night at this hotel on a business trip, for a meeting Saturday morning. But hey, that's life and it could be worse. In any case, I took the opportunity to review the place; here goes.