"How Work Became an Inescapable Hellhole". I was living my life when I came across that article from Wired, and it got me thinking. Technology has certainly enslaved many of us by making work and personal chores ever-present, but how about if we turn that around? By using technology to balance things out and escape excessive work intrusion?
How? I'm glad you asked. As I'll show you, technology isn't just a way to extend the workday to a 24/7 commitment. Indeed, embedded within many of the technologies we use every day are features that let us carve out some personal time and make our lives easier and more relaxed. Let's take a look.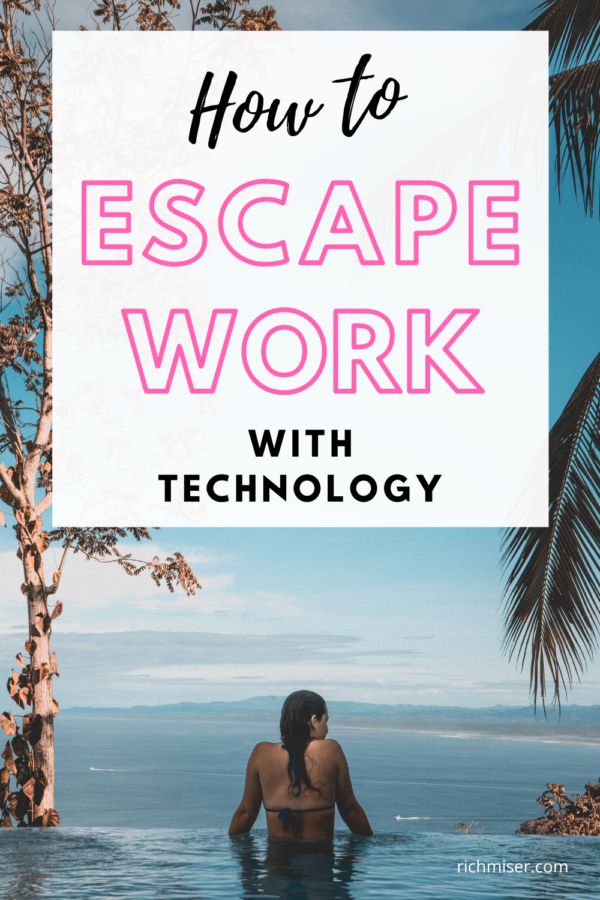 You Need to Have Pursuits Outside of Work
So the first step to escaping work is that you must have hobbies and pursuits outside of work. If you don't, you may feel compelled to fill up your free time with -you guessed it- work (especially if you have a Type A personality).
It can be anything, but I suggest at least one hobby or pursuit that is challenging. I can be the physical challenge of a sport or the intellectual challenge of a more tranquil hobby. But whatever it is, you need to have something so you don't "default" to work.
Ways to Escape Work With Technology
Use Delayed Email Delivery
Imagine it's 4:50 PM and you just wrote an important work email. The problem? If you send it right away, you're likely to get a quick response that starts a conversation or a new assignment; in other words, it will prolong your workday. But if you don't send it, it'll be in the back of your mind for hours.
Here's how to escape that dilemma: use delayed delivery. Set the email so that it's sent first thing next morning. That way, you put it out of your mind, but don't generate a new workflow at the end of the workday.
It's easy in Gmail. Just click on the arrow next to the Send button:
A menu will come up that'll let you set the email for automatic delivery at a later time of your choosing.
Snooze Your Email
This neat little feature lets you escape work by removing a message from your Inbox, and putting it back at the top when you want. All you've got to do in Gmail is open the message, and click on the little clock icon near the top of your screen to set the snooze.
Out of sight, out of mind.
Have a VOIP Phone Service Like Google Voice
Some work contacts need your personal cell phone number. But many don't. So, I recommend that you don't give it out indiscriminately.
What's the solution, especially if you work remotely? Get a free second phone line with a service like Google Voice. It takes just a few minutes to set up, and lets you separate your personal phone from your work phone.
I set mine to "Do Not Disturb", so I only get texts (and all calls go straight to voicemail). It's not that I leave it unattended, but it lets me avoid having my phone ringing at random times with work calls. That way, I can concentrate on what I'm doing and attend to things in an orderly fashion.
Escape Work by Disabling Your Work Email on Your Phone While on Vacation
It's easier than it sounds. Just disable your work email account on your phone while you're away, and set an out-of-office message.
After all, is it really a vacation if you have to constantly deal with work calls and email? I think not. Emergencies are emergencies, but unless you're a spy or something, 99% of stuff will not be a true emergency that no one else can handle.
Don't Answer the Phone or Email After-Hours
Escape work by disciplining yourself not to answer your phone or email after hours for work stuff, save for true emergencies. Don't worry – you won't miss anything. Your calls will show up as missed calls, and your emails will be waiting for you the next morning!
But what if your boss expects you to respond at all hours? Then start by taking, say, one hour to respond. After all, you could be taking a shower or pooping. Then, gradually extend that to two hours, or as much as you can get away with. It may not completely eliminate the problem, but at least you can mitigate it.
Always Have Your Phone on Vibrate
You'll notice calls and notifications anyway with that buzz buzz buzz. But, you won't get jolted or interrupted when you're concentrating. This is an easy solution that will make you more focused and less irritable!
Summing Up the Ways to Escape Work With Technology
Technology can be a curse that enables work to follow us around constantly, at all hours. But, within the same technology are some super useful tools to escape work!
You just have to use them – don't be shy; all of the above take just a few minutes to set up.
Here's to a more relaxing life!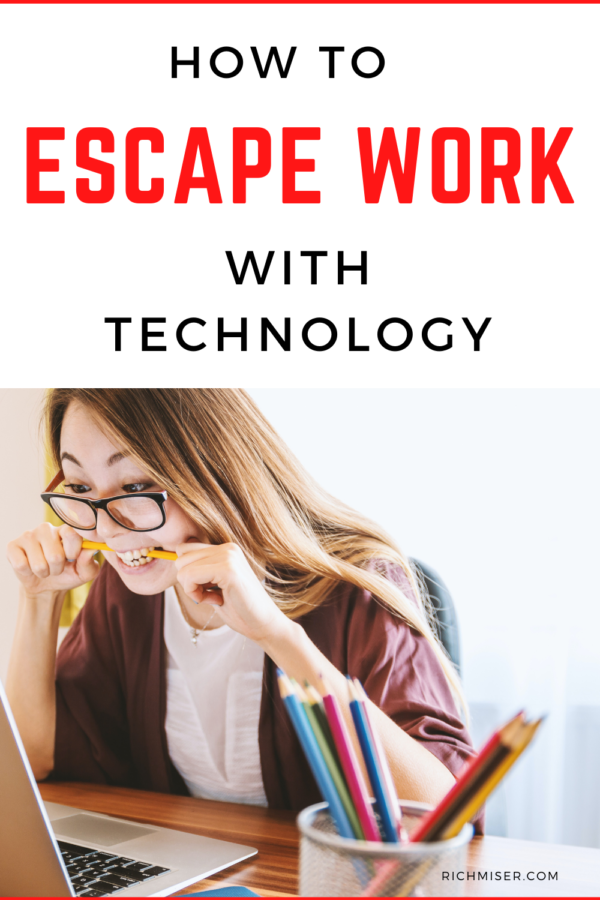 How do you escape work with technology?