Bonjour! France is one of those dream destinations we all want to visit, right? I know I do! To plan a trip, it's always a good idea to get some information first. So, I wrote up this cool list of interesting and fun facts about France that will whet your appetite for some adventure. From French culture to food and architecture, there's lots to see and learn.
Let's dive right into this bucket-list destination.
Interesting and Fun Facts About France That Will Make You Want to Travel!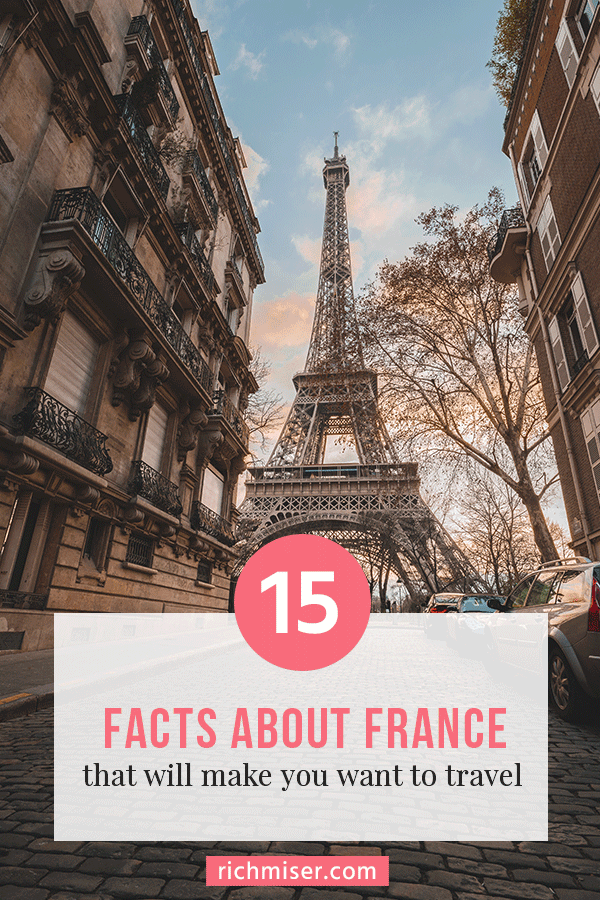 France is the Most Popular Destination in the World
Did you know that France currently ranks as the most popular tourist destination in the world? In fact, the country recently broke a record and welcomed a whopping 89.4 million tourists from all over the globe in 2018.
Currently, European visitors make up the bulk of France's tourists (79 percent, to be specific). However, France also saw a significant increase in Asian visitors in 2018 with 7.4 percent growth from the previous year.
Many people visit France to relax and have fun with their loved ones. However, business travel has increased as well. Indeed, France is currently a top-ranked destination by the International Congress and Convention Association. Paris alone hosted 212 international business conferences in 2018 and is on track to host more in the future.
Spring and Summer Are the Best Times to Visit
France is popular all year round. However, at certain times of the year, tourist numbers tend to be higher. The spring and summer seasons are especially popular, and many people consider them to be the best times to go and see what the country has to offer.
During the spring (especially the months of April and May) blossoms begin to emerge and la France is full of new life. This is a great time to enjoy outdoor activities, from park strolls and picnics to day trips and outdoor attractions. During the summer, things warm up and there are even more outdoor opportunities, including a variety of free festivals and other events for the whole family.
Because spring and summer are peak tourist seasons, you'll need to plan ahead when it comes to booking tickets and finding a place to stay. The extra work is worth it, though, if it allows you to enjoy the best of France.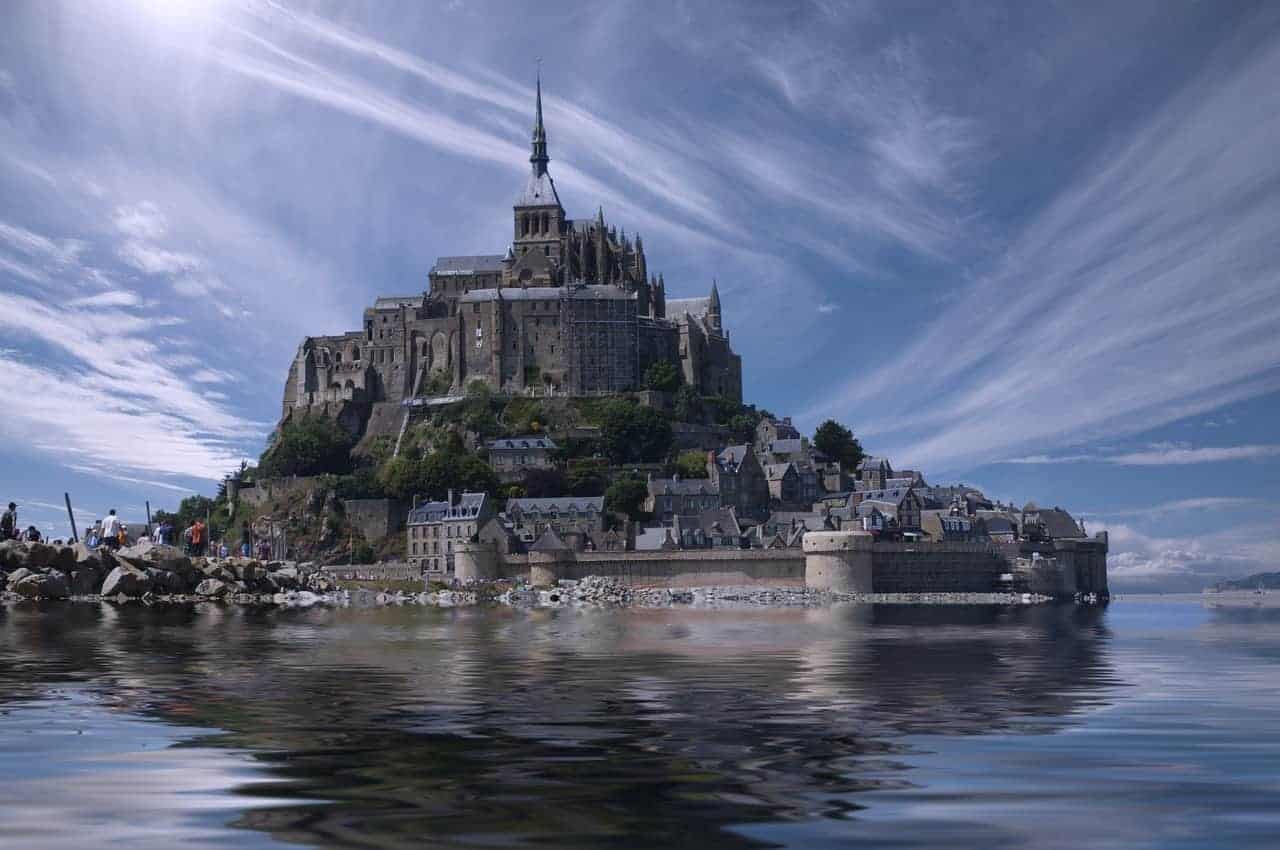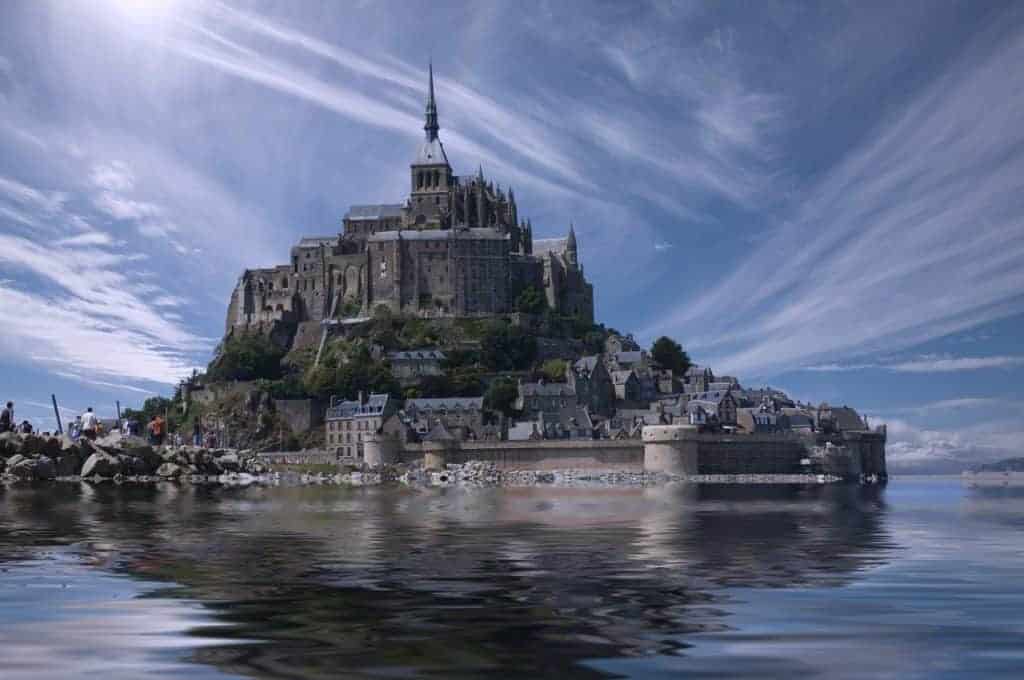 What About the Crowds?
According to Rick Steves' Europe, there are 3 tourism seasons to visit the continent (including France):
High season: Summer (though note that "…Paris is relatively empty in July and August but packed full in June and September for conventions and trade shows").
Shoulder season: April to mid-June and September to October. (Though Southern France can be crowded during these times).
Low season: November through March.
I suggest that you plan carefully, and research your specific destination before buying any plane tickets. Are you going just to Paris, or also visiting other parts of France (or even other countries)?
Spending your vacation waiting in line at popular attractions is no fun. So, be sure to do your research!
Don't Forget Christmas
If you can't make it to France during the busy spring and summer, don't despair. The country really is beautiful at any time of the year. Keep in mind, too, that the Christmas season is another popular time to take a trip.
France, and especially the city of Paris, light up around Christmastime. While you're there, you can enjoy special parts of French culture, such as visiting a variety of stunning Christmas markets. For example, there's Colmar, which runs from November 22 to December 29, and Amiens, which runs from November 23 to December 31.
You can also enjoy the seasonal fare at restaurants that can be hard to get at other times of the year. This includes delicacies like boar, foie gras, truffles, and venison.
There are lots of opportunities to ski and enjoy the snow if you visit France during the winter as well. It becomes a true winter wonderland that's fit for a postcard, and you'll get to enjoy fewer crowds as an added bonus.
Fact About France: Cross-Country Travel is a Breeze
Here's an interesting, fun, and practical fact about France: when you visit, it's easy to get from one part of the country to another. France is known for having Western Europe's most extensive railway system, and train travel is easy and affordable. In fact, the cost of a rail pass can be as low as $11 USD.
Traveling by train is comfortable and efficient, too. You can get wherever you need to go with ease. Plus, especially if you're traveling outside of peak tourist season, you'll have enough space to relax and enjoy your journey.
There are plenty of other travel options to get around France if the train isn't your thing. Buses are a good alternative that allows you to see plenty of the country's most famous landmarks while on your way to your primary destination.
In French Culture, Businesses Can Be Very Laid Back
Business hours (and businesspeople, by proxy) in France can be much more laid back than they are in the US. For example, it's common for businesses to close for a couple of hours around lunchtime.
Many museums also have a designated day during the week when they close to the public. In the case of the Louvre, for example, it's on Tuesdays.
It can be a bit of a shock at first to arrive in France and find businesses closed during the middle of the day or the middle of the week, especially when you're used to having access to most things 24/7.
With a little research, though, it's easy to work around these closing times and still have an enjoyable and productive trip. Most businesses post their hours somewhere on the exterior of the building and/or on their website.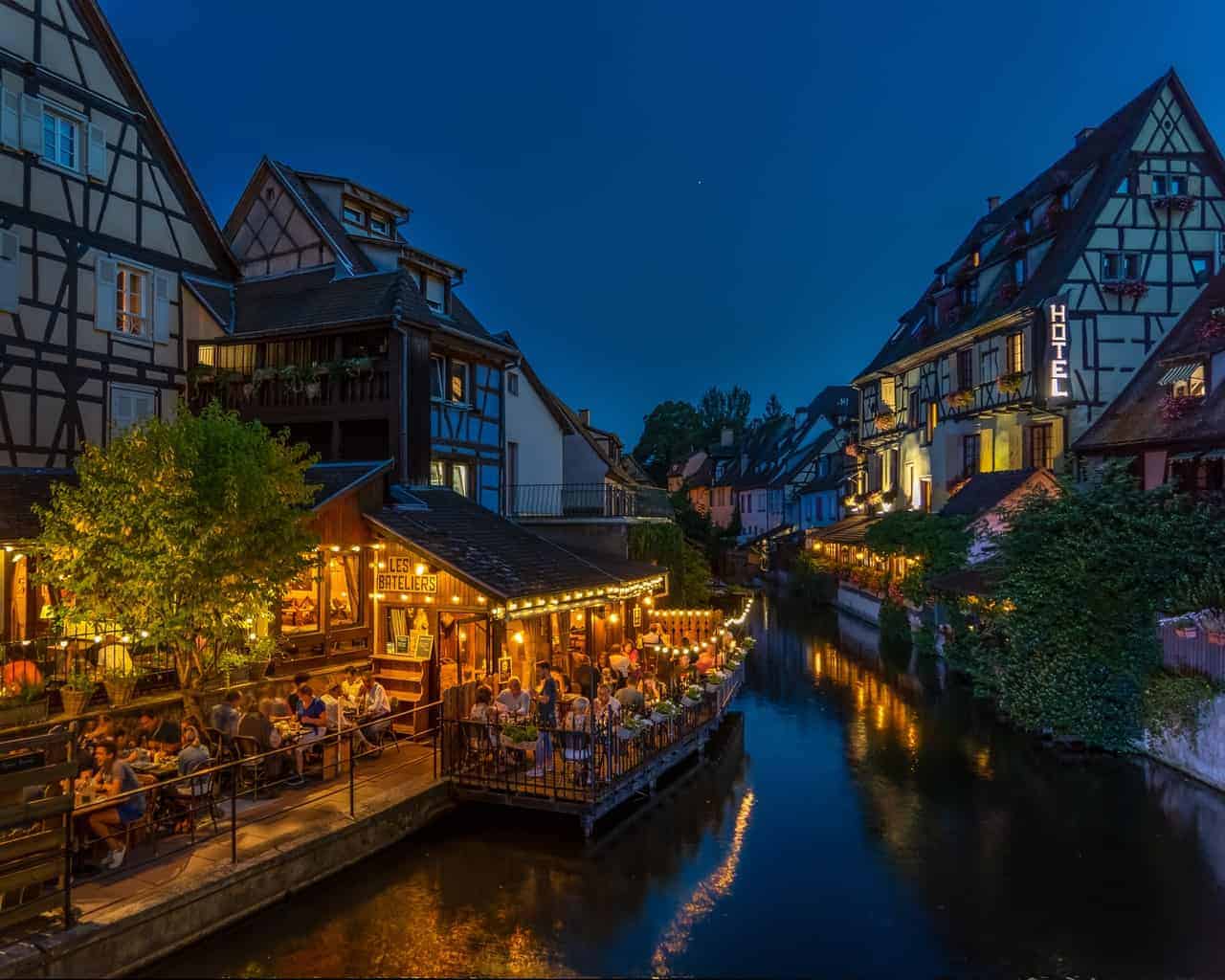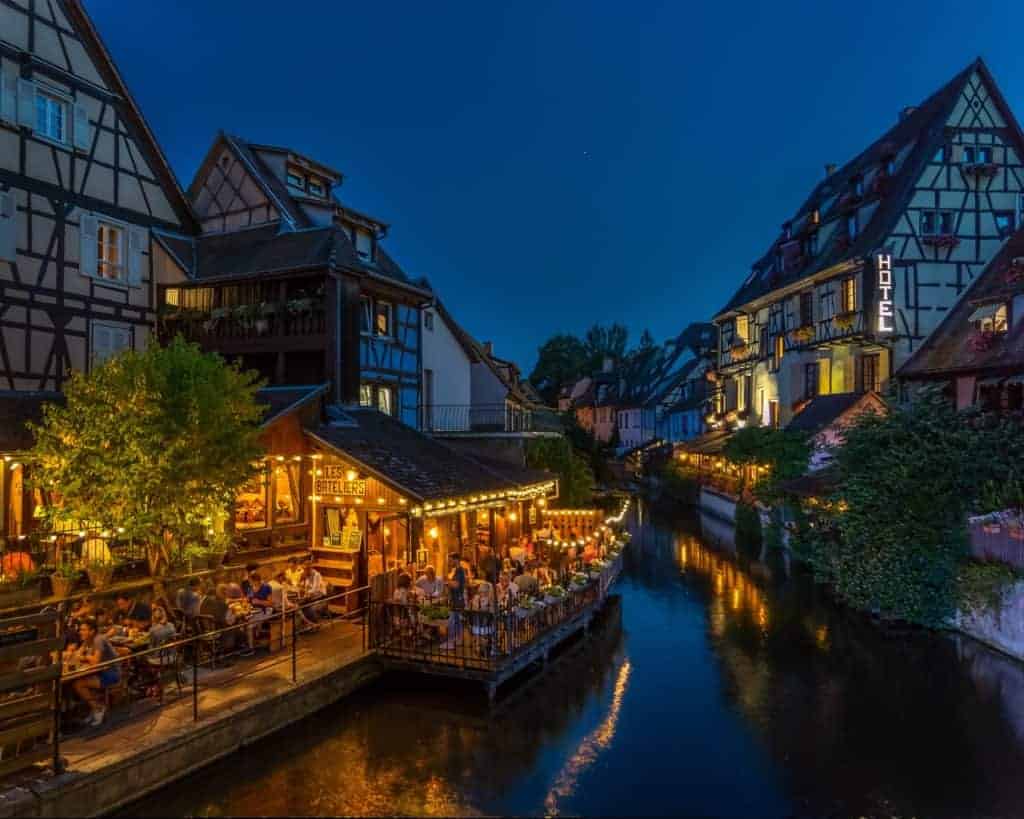 Plan for Long, Luxurious Meals
The laid-back nature of the country extends beyond museums and shops and applies to restaurants as well. When you enjoy a meal out at a sit-down restaurant in France, plan on it being a long and luxurious one. This is especially true if you decide to eat a multi-course meal, as is common in French culture.
Unlike places where restaurant staff sometimes usher people in and out as quickly as possible, it's expected that you'll take your time to really enjoy the meal. A multi-course dinner can easily last several hours, and you won't have to worry about cutting your conversation short to make room for someone waiting for your table.
Keep in mind, too, that the French like to eat late. Eating dinner at 5 or 6 p.m., which is common in the states, is not an option at a lot of French restaurants. Schedule your meals accordingly so you're not starving by the time dinner rolls around.
Fact About France: You'll Have Your Pick of Restaurants
In France, you can enjoy almost any type of cuisine imaginable – French food culture is amongst the best on the planet. Indeed, the country is one of the food capitals of the world, and for good reason.
If you need some ideas on where to eat, consider one of these top options:
Comice (Paris)
Comice is a husband-and-wife-run fine dining restaurant that features simple, elegant, and inventive French cuisine. The restaurant has an incredible wine list, too, with many lesser-known but tasty wines from all over the world.
Restaurant La Nautique (Marseille)
If you enjoy Mediterranean cooking and delicious seafood at mid-range prices, Restaurant La Nautique, which is located in Marseille, is a great place to visit. It has a warm and inviting atmosphere with incredible harbor views.
Grenier Au Pain (Paris)
For those who want to enjoy a tasty meal without draining their bank account, Grenier Au Pain is the perfect spot. At this bakery, which actually won an award for "Best Baguette in Paris," you can have a delicious sandwich for lunch and an incredible pastry for dessert.
Ask Your Concierge for Recommendations
If you happen to be staying at a hotel with a traditional concierge, don't be afraid to ask them for restaurant recommendations. These people really know their city, and can provide better, more personalized suggestions than review sites.
If there's no concierge, try asking front desk staff or your Airbnb host.
For Even More Scrumptious Advice, Check Out These Videos
Top 10 Things to Eat In Paris
First Time Trying Traditional French Food
French Food Tour
Set Aside Plenty of Time for Museums
Here's an interesting and fun fact about France: there are about 1,218 museums throughout the country. You might not be able to fit them all into your trip, but you can fit in quite a few if you prioritize ahead of time. The following are some of France's most popular museums:
Musée du Louvre
Located in Paris, the Louvre is one of France's most famous museums and a center of French culture. It's home to some world-famous attractions, including Da Vinci's Mona Lisa and Michaelangelo's Dying Slave. It's open daily from 9 am to 6 pm (or 10 pm on Wednesdays), but closed on Tuesdays.
Now the Louvre is gigantic and overwhelming, so coming in with a game plan is crucial. Here's a video with some suggestions:

Centre Georges Pompidou
Also found in Paris, Centre Georges Pompidou features unique architecture and tons of one-of-a-kind modern works of art — including about 245 different pieces by Matisse. It's open daily from 11 am to 9 pm and is closed on Tuesdays.
Palace of Versaille
Located in Versaille, the Palace of Versaille is a stunning museum that ought to be on your list of must-sees when you arrive in France. One of its most famous attractions is the gorgeous Hall of Mirrors. The museum is open daily from 9 am to 5:30 pm and is closed on Mondays.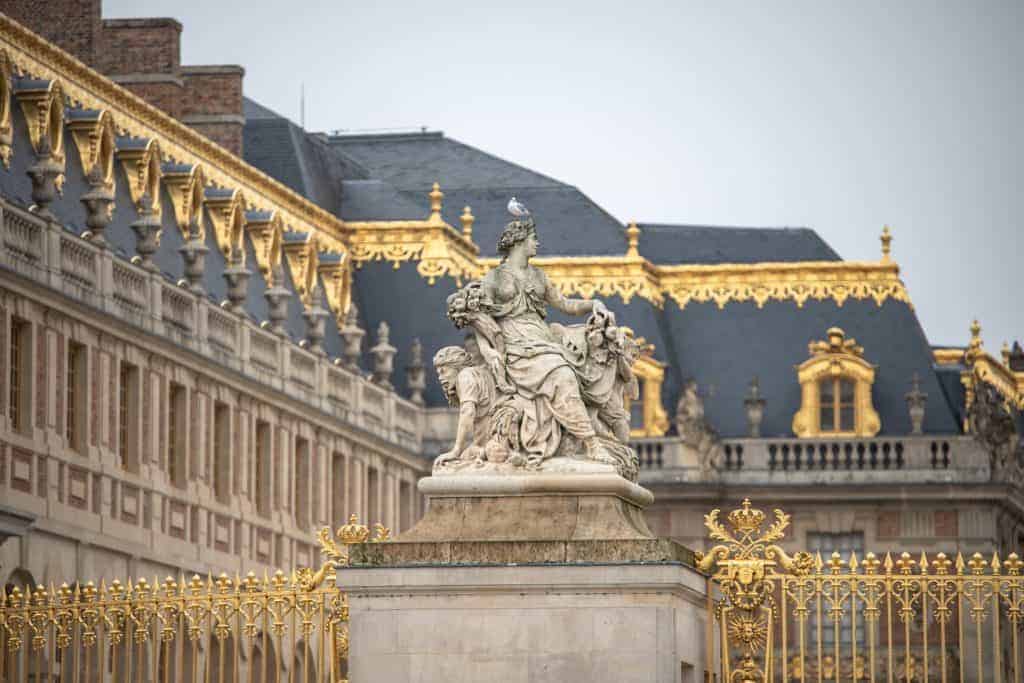 There's some incredible history behind Versailles, which holds a special place not just in French culture and heritage, but also world culture and history as a whole. Here's a video with more:

Galerie Tapiezo Contemporary Art Gallery and Museum
This museum, found in Roussillon, France, is a special museum that exclusively features the work of the French painter Francois Tapiezo. The museum is open from 11 am to 5 pm and is closed on Mondays.
There Are Tons of Free and Low-Cost Activities
If you're worried about seeing all that France has to offer while sticking to a strict budget, keep in mind that there are lots of free and low-cost activities and attractions available to you. Some good options to keep in mind include:
Free Museums
Many of France's museums offer free main exhibits, such as the Musée Carnavalet, which has a free exhibit all about the history of Paris. The Maison Victor Hugo also offers a free glimpse into the home of the famous French author.
Strolls in the Park
France is home to a variety of gorgeous parks as well. They are great places to go if you want to enjoy the fresh air and or have a picnic with a loved one.
The Jardin du Luxembourg is one of Paris's most popular parks, and the Jardin des Plantes is an excellent spot to visit if you want to take a stroll and learn about fascinating plant life.
Walks in Other Areas
Myself, I think walking a city extensively is one of the best ways to take it in and get a feel for its rhythms and "personality". So, take a stroll! To give you some ideas, here are some "walking videos" of several parts of Paris:
The Latin Quarter
Avenue des Champs-Élysées
Montmartre to Sacré-Coeur
Kids Can Enjoy Paris, Too
Fellow traveler Jacqueline de Montravel of Ducks Goose has many recommendations. Among them:
Take your kids for a treat at a Parisian chocolate shop.
Let them enjoy the sites and street performers at plazas and other open areas.
Take them to the top of the Eiffel Tower for an amazing city view.
Interesting and Fun Facts About France: Paris Is Shaped Like a Snail's Shell
Many people don't know that the city of Paris is shaped (roughly) like a snail's shell. This knowledge can help when it comes to navigating your way through it. (It's also just an interesting fact to keep in mind during your trip).
Paris is broken into 20 different districts (known as arrondissements). The first is located in the center of the city. The rest spiral out in a clockwise direction from the center.
The Eiffel Towel Is the Most Popular Attraction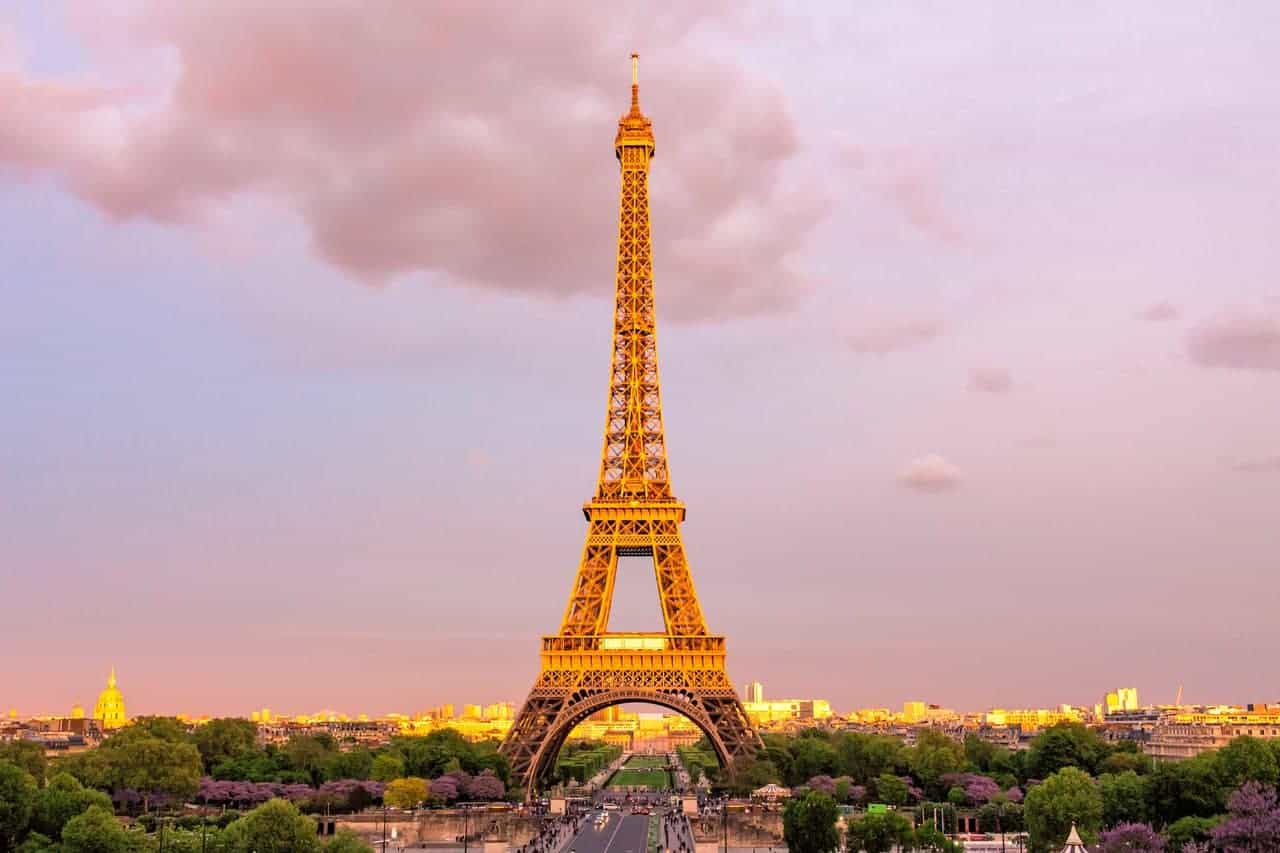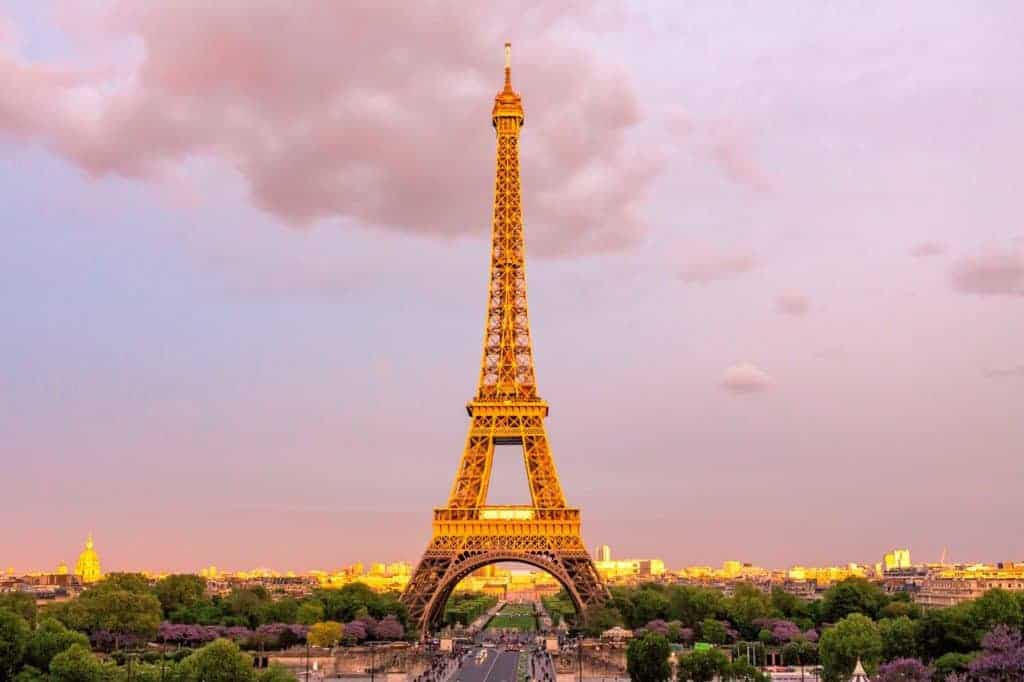 It shouldn't come as a surprise that the Eiffel Tower is France's most popular attraction.
A very interesting and fun fact about France, though, is that when it was first constructed in 1889, it was loathed by critics! Since then, it's become a favorite and a must-see if you're visiting France.
Be sure to book your tickets in advance if you plan to check it out — they cost around 25 euros for adults, 12.5 for those aged 12-24, and 6.30 for children aged 4-11 and those with disabilities.
But Don't Forget the Montparnasse Tower!
Explains Chris Michaels, the blogger behind Frugal Reality: "Instead of fighting the crowds to go up the Eiffel Tower, go to the top of the Montparnasse Tower, the second tallest building in Paris. It has the fastest elevator in Europe with an unforgettable observation deck".
"The observation deck includes an additional flight of stairs that takes you to an open-air rooftop surrounded by glass. The 360-view offers amazing views of the Eiffel Tower, from above, along with Paris' iconic views. The open-air rooftop has green faux grass, picnic tables, music, and an open bar. It's the most amazing rooftop party you'll attend in the city".
"Pro Tip: At 10 pm and 11 pm the Eiffel Tower sparkles for five minutes. Get a front-row window seat and have your camera ready to view the amazing show. Visitors will not forget the experience and the views of the Eiffel Tower and the city's lights".
You can see the Montparnasse Tower in the background of this photo:
Consider Visiting the Latin Quarter in Paris
Lauren Grech, CEO of LLG Events and Adjunct Professor at New York University, knows some great facts about France – especially Paris. She suggests that "If you only have one day to explore Paris, be sure to visit the Latin Quarter.
Roam the streets for the most authentic cuisine, such as delicious crepe stations. Stop in the many cafes and bookshops for a leisurely afternoon, including the iconic Shakespeare & Company, which was once a boarding house for aspiring writers and was featured in Ernest Hemingway's memoir, A Moveable Feast.
History buffs can continue on through the National Museum of Natural History and the Pantheon, which holds the remains of Voltaire and Marie Curie, before dining at Le Procope, a restaurant adorned with author-signed pages where great philosophers used to gather.
For those who prefer to stroll outside, Le Jardin du Luxembourg gardens are nearby, with over 106 statues, an orchard full of apples, an apiary for beekeeping and greenhouse for orchids, as well as the Medici fountain. And if you still have time, skip the crowds at the Louvre Museum and instead travel up the Left Bank of the Seine to the Musee d'Orsay".
There Are Lots of Other Hidden Gems
In addition to tourist staples like the Eiffel Tower, there are lots of other hidden gems you can check out while in France.
Barcolennette, Provence is a wonderful place to visit if you love French culture, and especially music festivals (particularly during August).
Also, Grand Site des Deux Caps, Nord-Pas-de-Calais features a stunning sandy beach, as well as gorgeous meadows, ash woods, and dunes.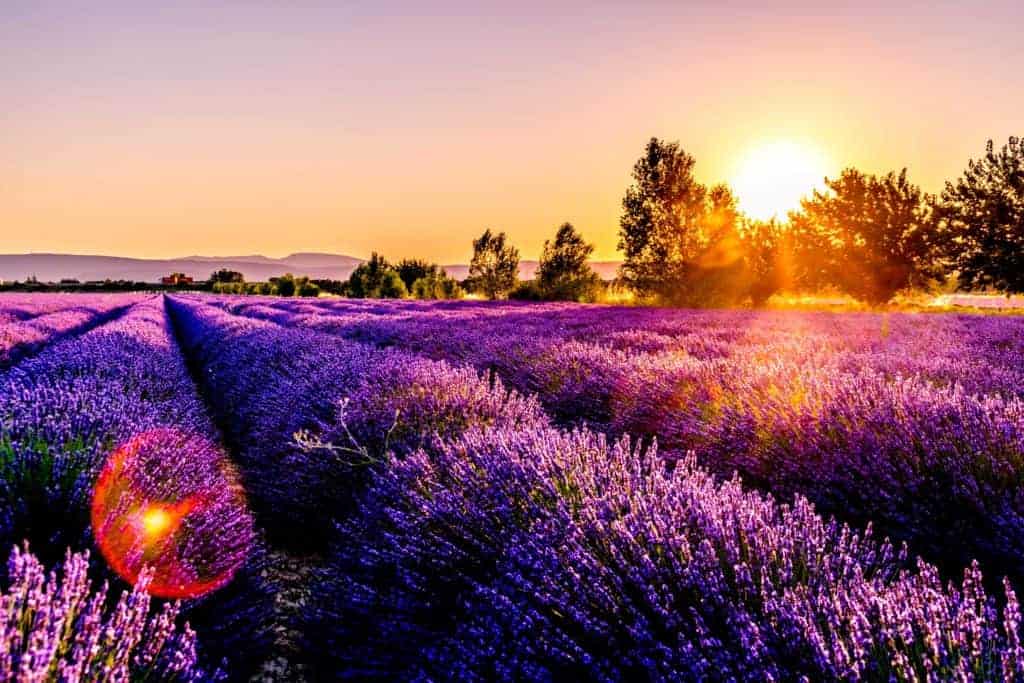 Interesting and Fun Facts About France: It's One of the World's Biggest Wine Producers
France produces more than 50 billion hectoliters of wine every year. Never heard of a hectoliter? Trust me, it's a lot.
While in France, you can enjoy a variety of fun and educational wine tasting events. After all, wine is a world-renowned part of French culture.
One of the most popular events is hosted by Rustic Vines and takes you on an exciting trip to the village of St. Emilion. While there, you'll enjoy a variety of wines as well as lunch while being educated on the history of the area and the contribution it's made to France's wine industry.
Tickets for the tour start at around $110 USD. The tour begins at around 10 am and lasts for seven hours.
France is Home to Over 1,200 Types of Cheese
If you're a cheese lover, you've got to plan a trip to France. The country is home to over 1200 different types of cheese, with more than two million tons produced each year! Talk about an interesting and fun fact about France!
French people eat about 25 kilos of cheese each year. You might not be able to fit that much cheese into your trip, but you sure can try.
Emmental is the country's most popular cheese, with over 146,000 tons sold each year. Camembert is second with 52,500 tons sold on an annual basis. Personally, I also love Brie.
If you want to enjoy the greatest number of cheeses during your trip, consider signing up for one of the country's famous cheese tastings.
A tasting at a private cheese cellar in the Marais district of Paris is an especially popular option, with the opportunity to try seven different cheese and two wines, along with bread and fruit. This tasting lasts 1.5 hours, and tickets start at around $78 USD.
Facts About France: How to Avoid the Crowds, Even During High Season
Taking in French culture and the wonderful sights, sounds, tastes, and smells of France is incredible. Standing in line for hours is not. So, even if you visit during high season, use these tips to reduce those waits.
Use Google Maps to Pick the Best Times
Even if you go during high season, you can still take advantage of technology to mitigate the effects of overcrowding. One of my favorite hacks is to use Google Maps to check how busy a specific place is expected to be at a particular hour and day of the week.
For example, to check the Louvre, look it up on Google Maps on your phone, and then scroll down. Soon, you'll see a graph for each day of the week, and how popular it is each hour: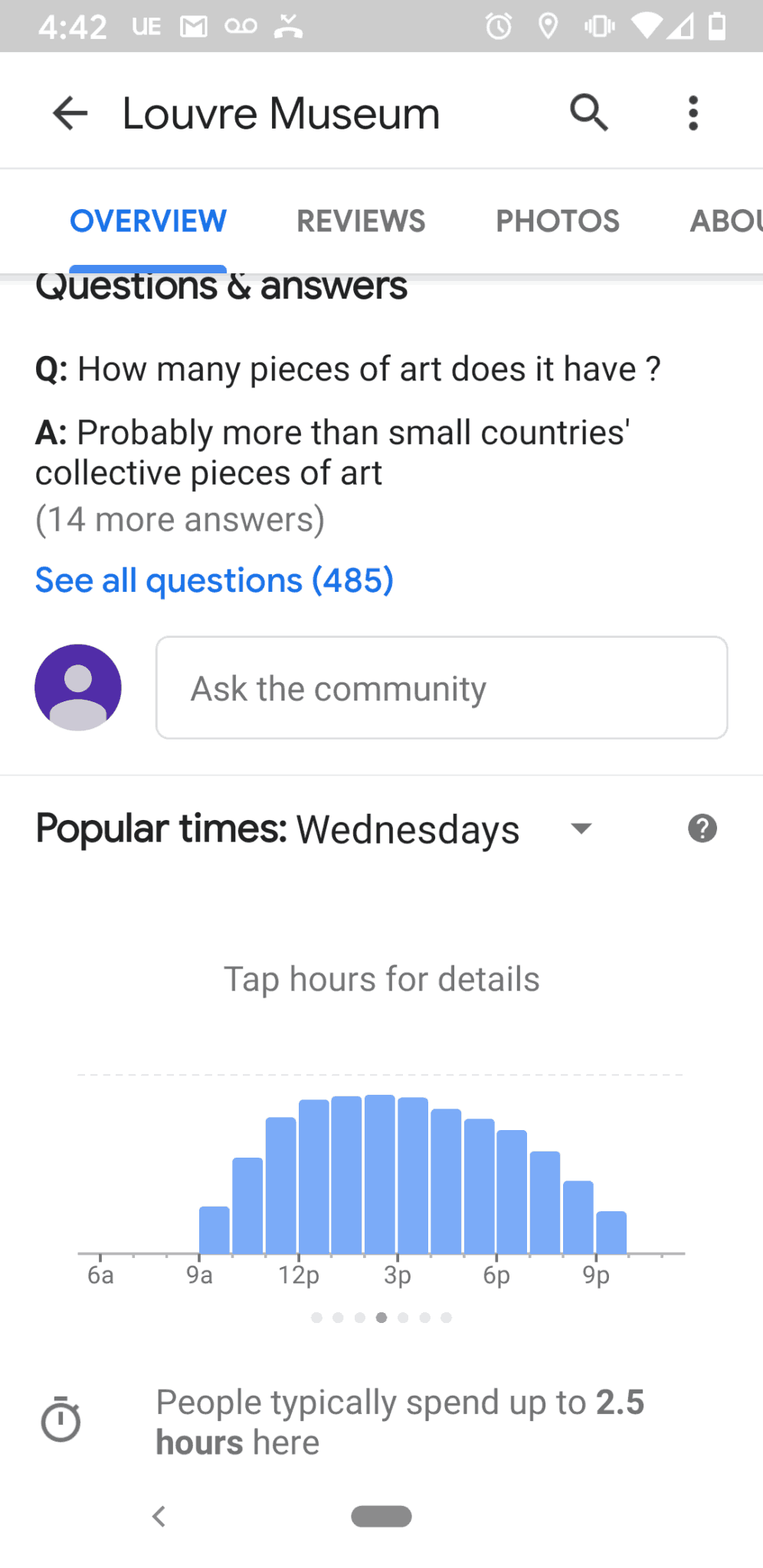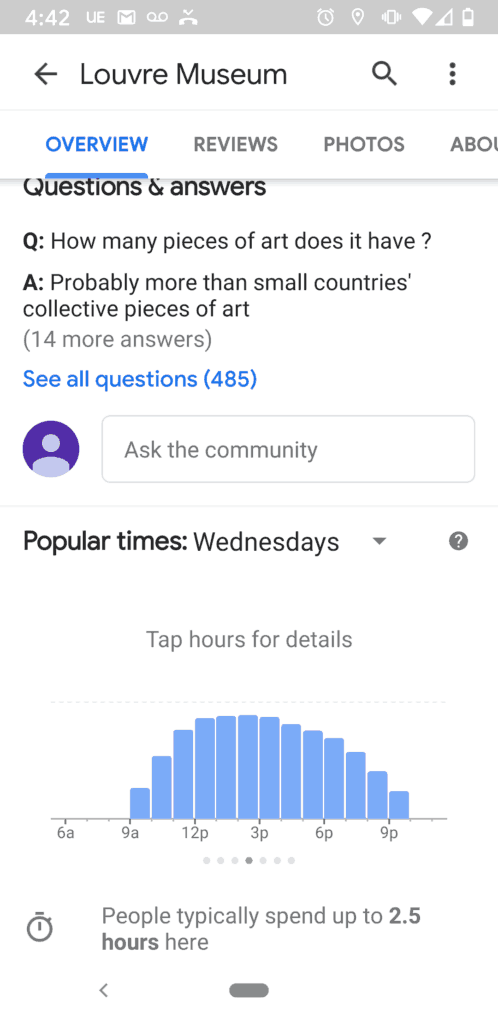 This shows that, if you're going on a Monday, your best bet is to arrive at 9:00 AM or around 7:00 PM!
Pay More
Facts about France, facts about everywhere: money talks. As in other crowded destinations like Disney, you can usually arrange for VIP tours and treatment pretty much everywhere. It's expensive, but you won't have to wait.
If you can afford it and want to spend the money, look into it.
Summing It Up: Interesting and Fun Facts About France
France is an incredible country – no wonder it's the world's top tourist destination! As we've seen, there's so much to see and do that it's definitely worth visiting, and should be one everyone's bucket list.
My only hesitance is the crowding, since one of my biggest pet peeves is to go on a hard-earned vacation only to spend hours in line. So, pay special mind to the time of the year you go, and the sequence in which you visit places.
And that's a wrap! See you in Paris!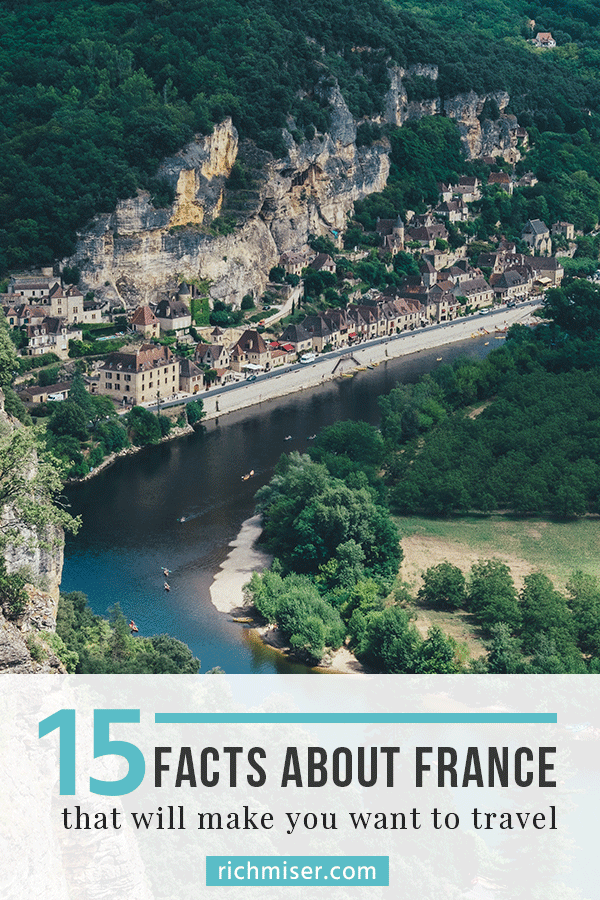 What interesting and fun facts about France would you add? Are you a lover of French culture and cuisine?