You know how it goes about death and taxes, especially this time of year. Taxes are complex, inevitable and painful. Ouch! Unless maybe you're getting a tax refund, in which case tax time can be a cause for celebration:
Anyways, today I'm going to go on about a misconception I hear all the time, all throughout the year: that you can spend on something without a care just because it's tax deductible. The sad reality is that tax write offs aren't free money – they just reduce your taxes and possibly make things cheaper. Let's see how that works.
Tax Deductible Means It's Cheaper, But You're Not Getting it for Free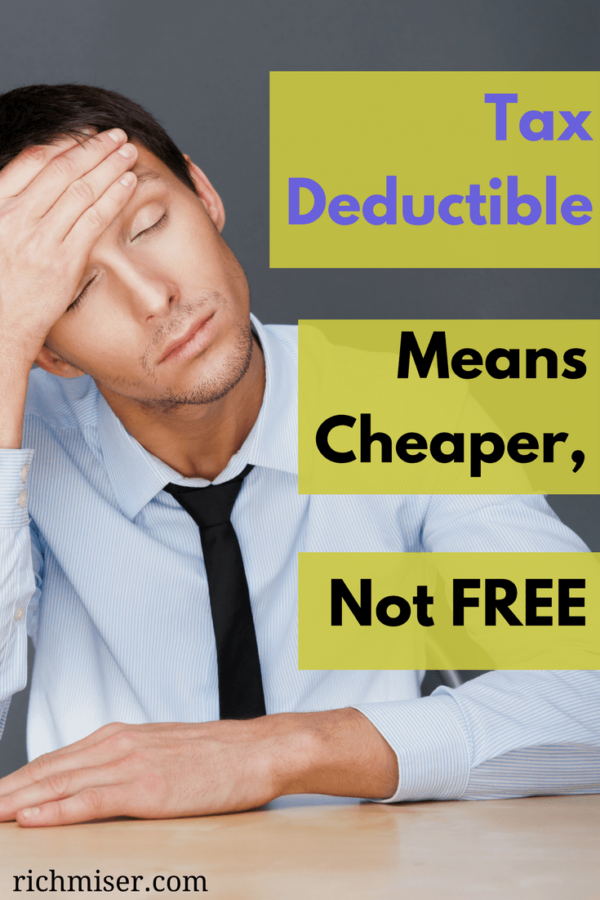 What Does Deductible Mean?
The best way to explain this is with an example. Let's say you made $50,000 last year and, to make the numbers simple, let's pretend that there's a flat federal income tax of 20%, and your state doesn't tax personal income. That would mean that your taxes are $10,000 (20% of $50,000).
If you get a tax deduction (also called write off) of $10,000, that doesn't mean your taxes will be $0. You don't subtract it from the federal income tax that you owe (your tax liability) (which is basically how credits work). What it means is that your income becomes, for tax purposes, $40,000. Therefore, you figure out your taxes by starting with $40,000, and taking 20% of that ($8,000). In other words, your tax liability will be $8,000.
So, the end result is that a $10,000 deduction saved you 20% of the deductible amount, in real dollars ($2,000). It's functionally the same as getting a 20% discount on whatever you paid for with that money, assuming you actually wind up taking the deduction.
What's My Federal Income Tax Rate?
In real life, Uncle Sam taxes your income progressively. That means that, the more you make, the more you pay. A simple made-up example would be 20% on the first $50,000, and 50% on anything above that. That means that if you made $100,000, you'd pay $35,000, since you'd owe $10,000 on the first $50,000 of income, plus $25,000 on the second $50,000.
(By contrast, under a flat tax system, all income is taxed at the same rate).
You can find the real tax brackets under the new law (for income made in 2020) here.
What Is Tax Deductible?
Lots of spending is tax deductible. For example, under the new law, the following may be federal income tax deductible (depending on your particular tax situation, and subject to rules and limits):
Medical expenses
State and local taxes
Mortgage interest
Business expenses, especially if you don't have a c-corporation
Tax Write Offs Can be a False Hope
The big caveat with all of this is that, when you file your federal income tax returns, your deductible spending might not even matter. That's because the new law automatically gives you a standard deduction of $12,000, or $24,000 if you're filing jointly with your spouse (or $18,000 as head of a household). The thing is that you normally can't take any other deductions if you take the standard deduction.
That means, for example, that if you take all of your tax write offs and add them up and get $10,000, you're probably better off taking the $12,000 standard deduction. You can't add them up for $22,000; you have to choose one or the other (either the standard deduction or itemized deductions).
And that's why I say that deductions can be a false hope. Don't think that just because you're spending money on something that's deductible, you're actually going to benefit by taking the deduction come April. It might be better to just take the standard deduction, meaning you didn't get a "discount" at all.
Don't Spend Just Because It's Deductible
So this is why my head explodes a little bit when I hear people say something like "I'll buy this huge house and pay $30,000 in mortgage interest this year, but it doesn't matter because it's deductible", making it sound as if the government is paying it. Nope. In reality, you're paying for it and -at best- getting a discount, if you can take the deduction.
So even if you were able to fully deduct those $30,000 in interest, the most you probably saved (assuming the 37% federal income tax bracket) is $11,100 (37% of $30,000). However, you're still paying $18,900 in interest, after the "discount"! Oh, no – like Master Yoda might say, get away with it, you didn't!
The Exception
Life is full of exceptions, right? I can think of one rare instance when you might actually come out ahead by buying something you couldn't afford were it not tax deductible. And that's if you can only afford something because it's tax deductible, and that thing is going to increase in value.
For example, let's say you're an art dealer and investor. You get the chance to buy a painting that you're confident will dramatically appreciate, and you can only buy it because it's a legitimately tax deductible business expense. Were it not tax deductible, you wouldn't be able to afford it. But if you buy it, it'll appreciate, and you'll later sell it at a juicy (taxable) profit.
In that case, it might make sense to get it because you can write it off. But I believe this is an exception. Outside a similar scenario, I don't think you should buy something just because it's tax deductible.
Summing It Up
So indeed, dear readers, it's still good news when something is tax deductible. It means that there's a chance that you'll eventually get a discount for that payment in April, because you'll pay less taxes to Uncle Sam and/or your state. But it definitely doesn't mean that the government is paying for it – you'll save more by not spending the money in the first place.
Don't get me wrong, though. I'm not saying don't buy things. If you want a big ol' mansion and can afford it, by all means get it. Just don't think that Uncle Sam will pay for your mortgage interest, or that you shouldn't pay off your mortgage early because you'll lose the deduction. That may or may not make sense in your situation, but you're still paying interest, year in and year out, even if you get a "discount".
How do you handle your tax deductions?