Yes – the PB&J in the name means peanut butter and jelly. Indeed, this beer is called Funky Buddha No Crusts Peanut Butter & Jelly Brown Ale. Odd, right?
Anyways, I've always had a love-hate relationship with peanut butter. As a young'un, I hated it. In fact, I even hated the smell, to the point that if a kid regularly ate the stuff, I'd regularly walk the other way.
Later in life, I learned to tolerate it, and even like it. In college, I ate Fluffernutters – Fluff and peanut butter, sandwiched between two Eggo waffles. They were heavenly, mmkay?

That's all I have to say about Fluffernutters. But I do have more to say about this beer.
In A Nutshell
Beer: Funky Buddha No Crusts Peanut Butter & Jelly Brown Ale
Bottom Line: An oddly flavored beer with a somewhat rancid grape taste that somehow manages to work wonderfully. It's great!
Price: About $13.99 for a four-pack of 12-ounce bottles. Expensive!
My Rating: 4.5 out of 5
Details
Origin: Oakland Park, Florida
Alcohol: 6.4%
Looks: A common, dark glass beer bottle with some awesome label art. It features a barbershop where a peanut barber is shaving the crusts off a tough-guy sandwich. Take a look to see what I mean: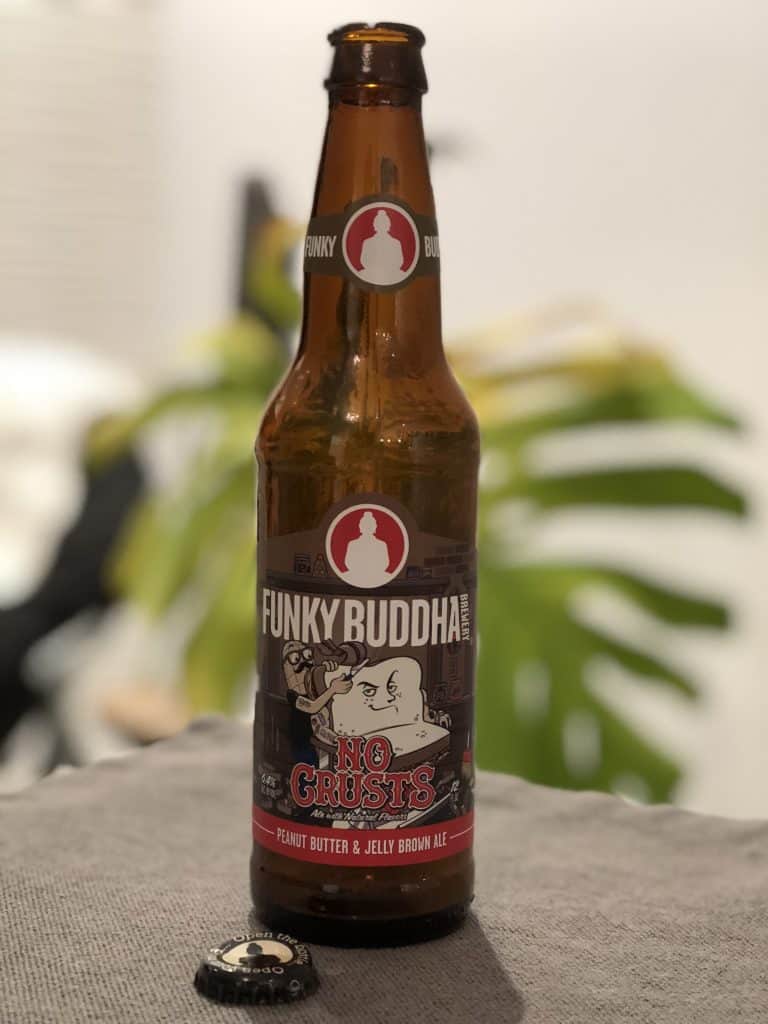 The beer itself is a dark brown color.
Smell: Very odd smell – a bit like grape jelly, but not as sweet.
Taste: The Funky Buddha No Crusts Peanut Butter & Jelly Brown Ale is one of the weirdest brews I've ever had. It's got a very unique flavor in that it tastes like diluted, sour grape jelly with a rancid element, and hints of chocolate. Surprisingly, it works very well, coming together in a strong and pleasant symphony that'll appeal to those that like strong and unconventional brews.
It's also got a dull, sweet-and-sour aftertaste that sits in the sides of your mouth for a good while. As well, it's got medium body and medium-high carbonation.
Hangover Factor: Nothing unusual. However, the high alcohol content kept me tipsy longer than anticipated. On a weekday, no less (I go through the sacrifice of weekday beer drinking to bring these reviews to you, dear readers 😉 .
Final Thoughts: Ok, this is a really expensive beer, so I wouldn't buy it that often. That said, it just comes together very, very well, and is strangely satisfying. It's a bit heavy for day drinking – I'd recommend having it at a hipster bar or party where the men have undercuts and big beards.
---
Note: This is a series I call Caveman Beer Reviews, because I like to drink beer but am a caveman when it comes to beer knowledge. I know only the basics, and do not have a refined palate. I'll review the beers on price and what they look, smell, and taste like to me.