Do you have one of those "high-powered" jobs? You know, one of those jobs serving (or being) those people at the top of the power structure in your city? Maybe you're a lobbyist at one of the "top" firms in your town, or perhaps an investment banker or a corporate executive.
If so, you've probably noticed something that often happens in those worlds: as you climb the career ladder, your coworkers, bosses, friends, and maybe even parents may come to expect that you abandon your frugal ways and indulge in some luxury living. We used to call it the "golden cage" (or golden handcuffs) when my wife Lily and I were in the corporate law firm world. Here's how it can work:
3 Ways to "Fake" A Fancy Lifestyle When Your Boss is Pressuring You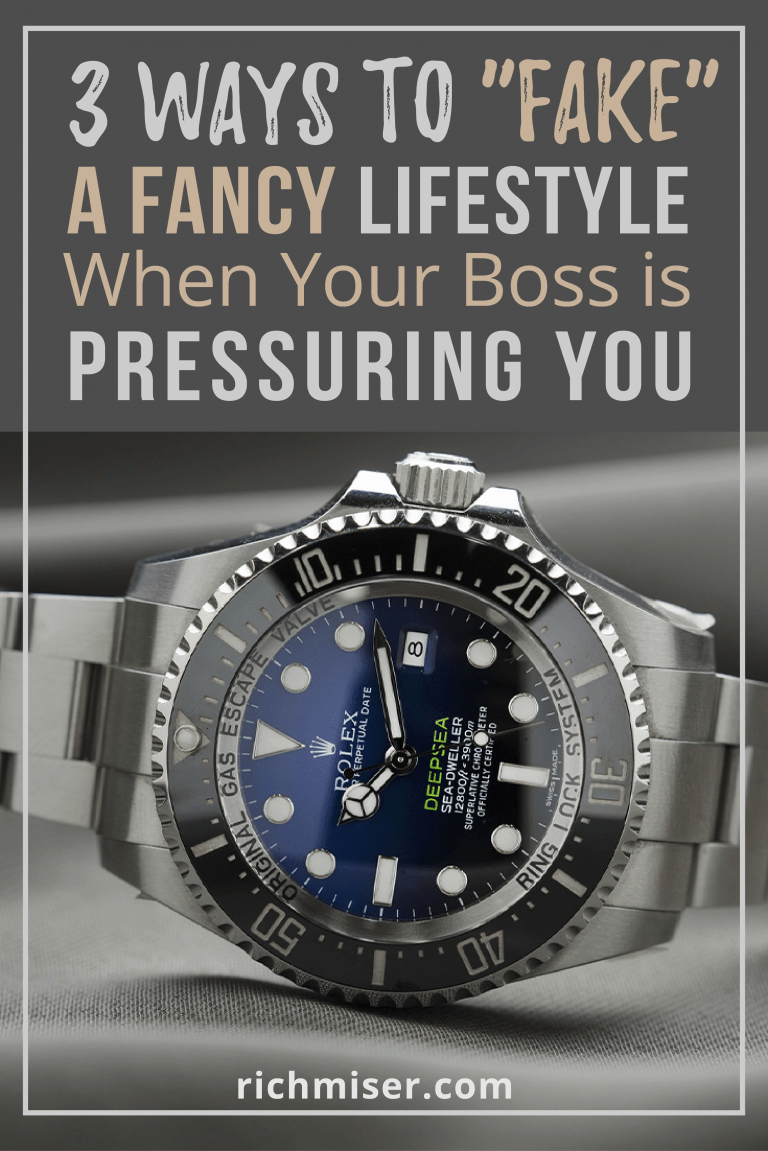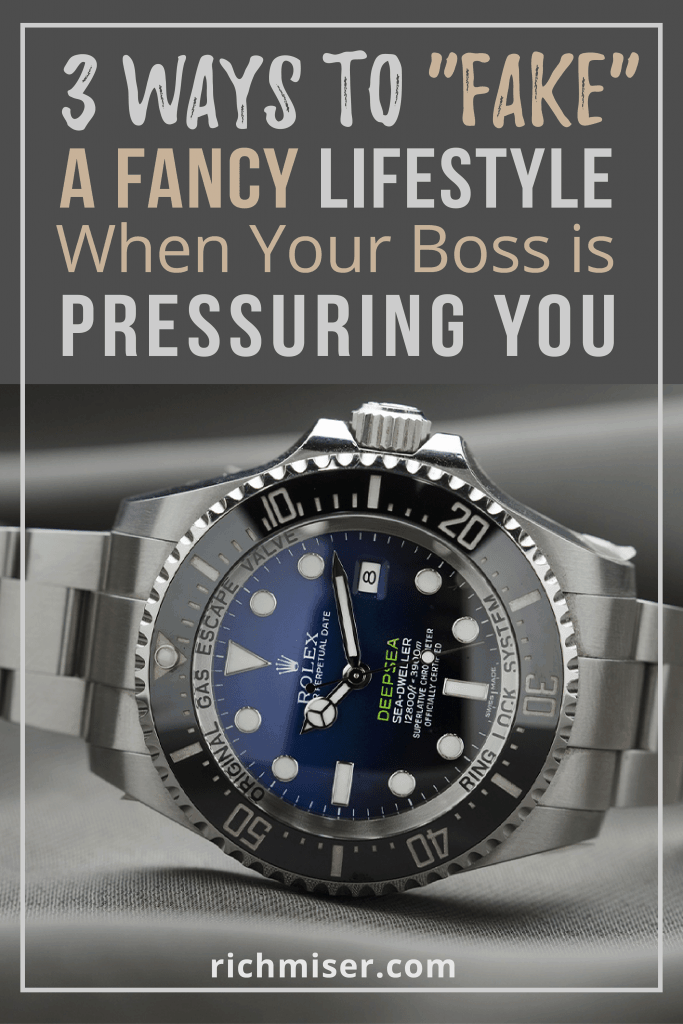 Luxury Living, the Golden Handcuffs, and Lifestyle Inflation
Take a young man. I'll call him Adam Bitious. So Adam doesn't come from money, but he's got a lot of ambition and wants to "go places". He does well in school and gets into Harvard, eventually getting an MBA and a management job at a big, national bank in Los Angeles.
Still, Adam is a down-to-earth young man, and has not let his fancy degrees or "status" job get to his head. He's frugal and a long-term planner, and looks forward to meeting his soulmate, starting a family, and being financially secure. He's not into fancy cars, watches, or clothes; Adam just wants to be the best he can be at work and in his family life.
Things hum along well for a few blissful years, until Adam notices a disturbing trend.
The Pressure
It turns out that Adam's coworkers are getting into luxury living, using their high salaries for all sorts of lifestyle inflation. They start showing up to work in an Audi or Lexus, and suddenly there's a Rolex on their wrist. And there's nothing wrong with that; after all, it's their money, and they can spend it how they wish. The problem comes when Adam starts hearing the comments; not just from his peers but from his boss: "hey Adam, when are you going to change out that jalopy"? "Don't you just love a Rolex"?
They just slapped the golden handcuffs on Adam.
The Golden Handcuffs
So here's how this works, in one of the ways I've seen it: fancy workplaces expect you to become a fancy person, which you demonstrate in part by getting fancy things. Why do they care? Here's why:
It shows them that you've made financial commitments that you depend on your high salary to meet. In other words, they feel you need them, which makes them feel like they have control over you.
It's important to them that you look like a "member of the tribe".
Some people are just snooty and look down upon those who aren't perceived to be PLUs ("people like us").
They believe you need to be a fancy person to interact with fancy clients. They want someone that "looks rich" to court rich clients, politicians, etc.
So when this happens, what do you do?
Should You Give in to Lifestyle Inflation and Luxury Living?
In my opinion, only to a moderate degree and if you enjoy it. I don't think there's anything wrong with getting fancy cars and watches, but I do think that you should only do it if you actually like fancy cars and watches, and if you can fit them within a responsible, long-term budget and financial plans.
In other words, I'd advise that you save every month, fully fund retirement accounts, and then use some left-over income for luxury purchases (if you like luxury). Find a good balance.
But what if you feel pressured to buy things you don't want or can't afford? Should you just resist the pressure and live your way?
Well, some people can (and wear the "office cheapo" label as a badge of honor), but if that's not you, here are 3 ways to look like you're wearing those golden handcuffs, but in reality not be spending nearly as much as it looks like you are.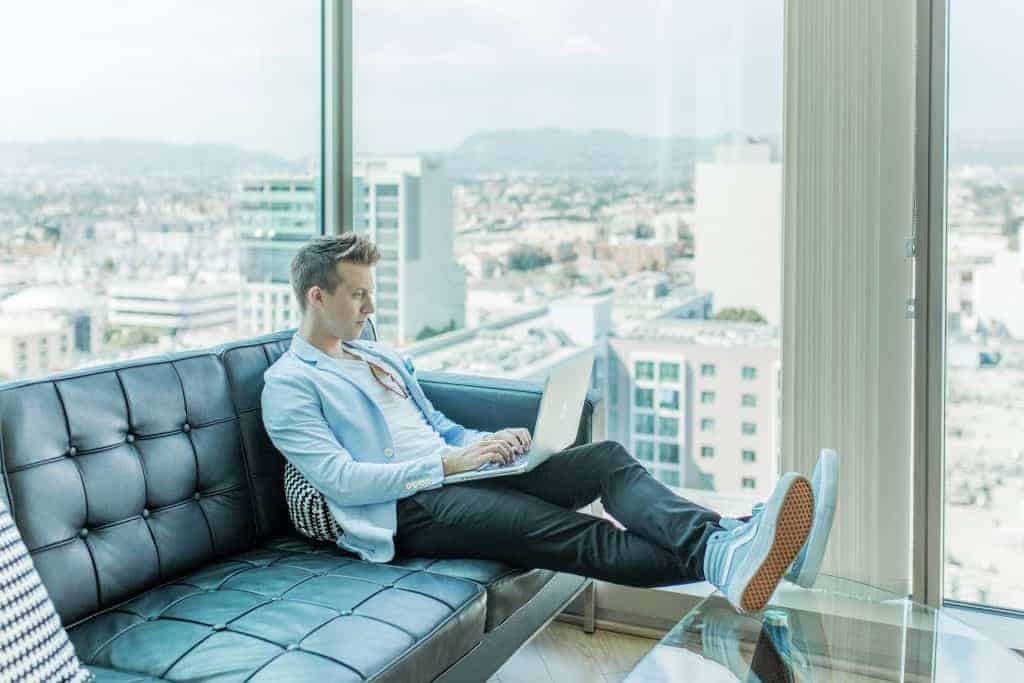 1. The Car: Lease an Acura or Alfa Romeo (or VW), or Buy Used
There's no need to buy a new Mercedes-Benz. If you want to minimize your car spending but still drive a luxury car, you can either buy a used one, or lease. I think that Acura and Alfa Romeo are good brands in terms of getting luxury for less. You can also get a VW, which is not really luxury but still has European flair and something of a "cool" factor.
Let's compare some prices for some base-model sedans:
These are new-car prices for the sake of comparison, but you can see that the Mercedes costs almost twice as much as the VW!
So, if you want (or "need") a luxury car but don't want to spend too much, I'd say start by looking at a leased or used Acura (or VW).
2. Fine Watches: Buy a Used Rolex or TAG Heuer
You know I once knew this jackass who liked to ask people what time it was, right as he shoved his Rolex in their faces? As in "hey, read the time off my Rolex"? Ugh, some people…

Anyways, if you gotta wear fine watches, a new automatic Swiss watch from a fancy brand at an authorized re-seller will run you around $2,000 to $3,000, at least. Take these TAG Heuers from Tourneau, for example: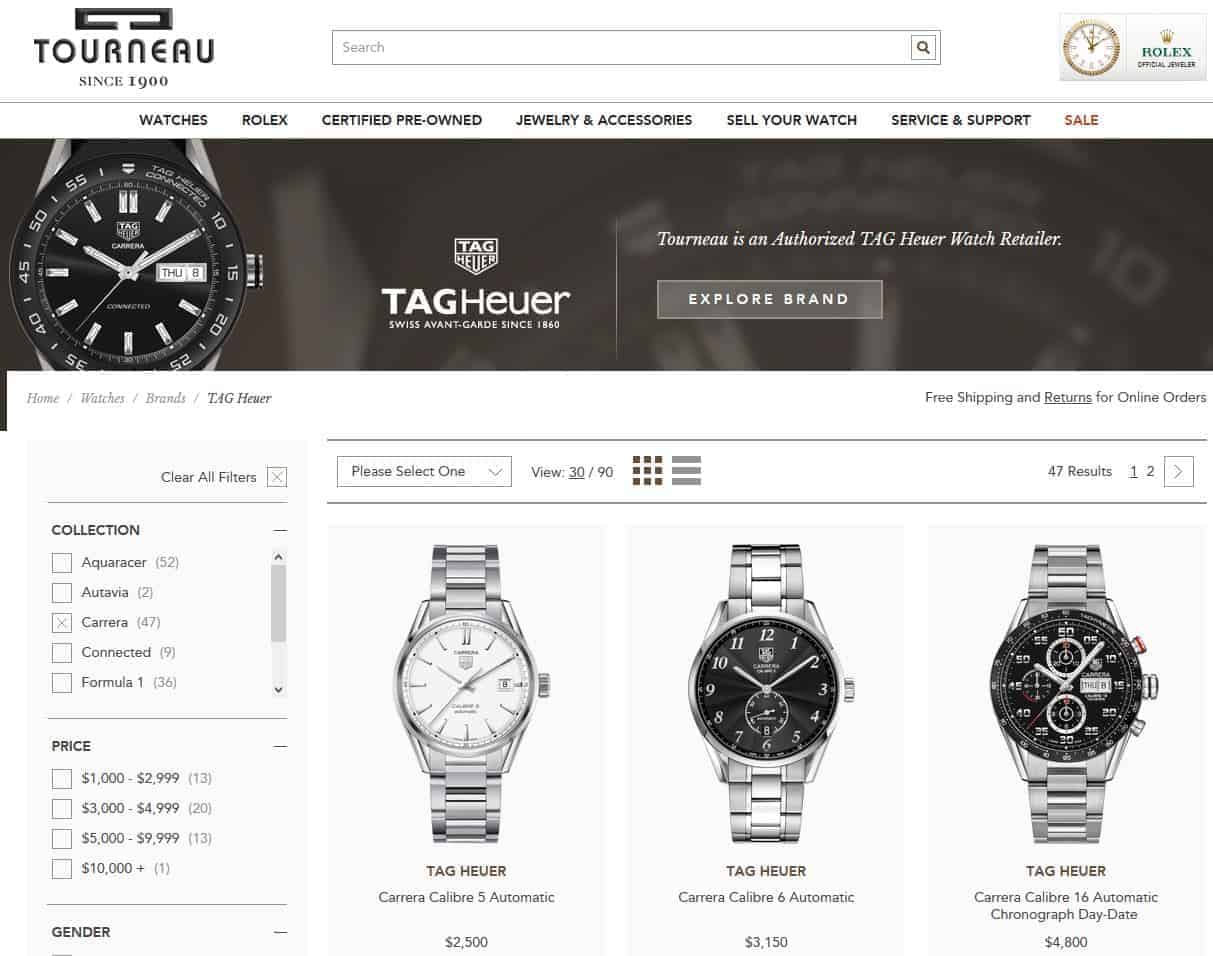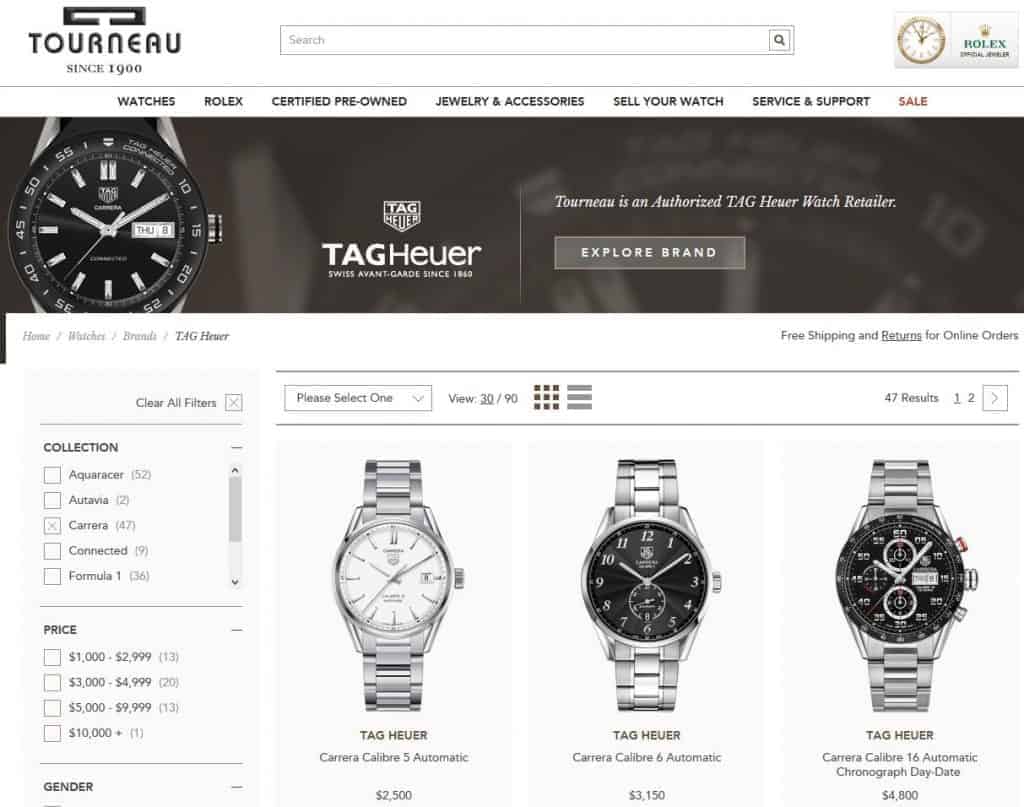 Why not save yourself a bundle and buy your fine watches used? After all, the first time you wear a new watch, it becomes a used watch. Compare the prices for these two TAGs, which to me look almost identical.
New:
Certified Pre-Owned:
That's $600 off, which I think is some solid savings!
A word of caution, though: you can get these kinds of fine watches for less, but watch out for fakes and other issues. For a product like this, I'd recommend going for certified pre-owned from a reputable store. After all, the last thing you want is to think you're wearing the real thing, only to find out it's an impostor!
Also, I don't recommend you buy quartz. Since they're battery-operated, at some point you have to go through the expense and hassle of swapping the battery. Just spend the extra cash and buy automatic. Moreover, your snooty boss will know the quartz movement (stop-and-go) from the smooth automatic.
I also recommend you go with a simple, basic, and elegant model like some of the TAG Carreras or a Rolex Oyster Perpetual. They're fine watches that look really elegant and classy and are great for most occasions, unlike something like a Rolex Submariner, which can look out of place in some settings:
3. Men's Suits: Buy Pick-Stitched From Joseph A. Bank
Despite the sometimes-cheesy ads, I still find Joseph A. Bank to be one of the best values in menswear. I buy all of my work clothes from them, except for a few ties and shoes.
I recommend that you wait for one of their frequent sales and/or check the clearance section for the best prices, and then buy their higher-end suits. For example, check out this pick-stitched Signature Gold suit on clearance for $238.80:
Now look at what Brioni asks for:
Now yeah, I know Brioni is probably better quality, but does it look that much better? Will it really last that much longer? It's over 20 times more expensive; is it 20 times better?
All I can say is that I've been buying Joseph A. Bank for close to 10 years, and they make really good-quality suits, especially if you buy Signature Gold or better. I've even had people much fancier than I complement me on them.
Oh and as I've been hinting, make sure you buy something with pick-stitching (where the lapels are stitched together, rather than glued). Your snooty boss will see the difference right away.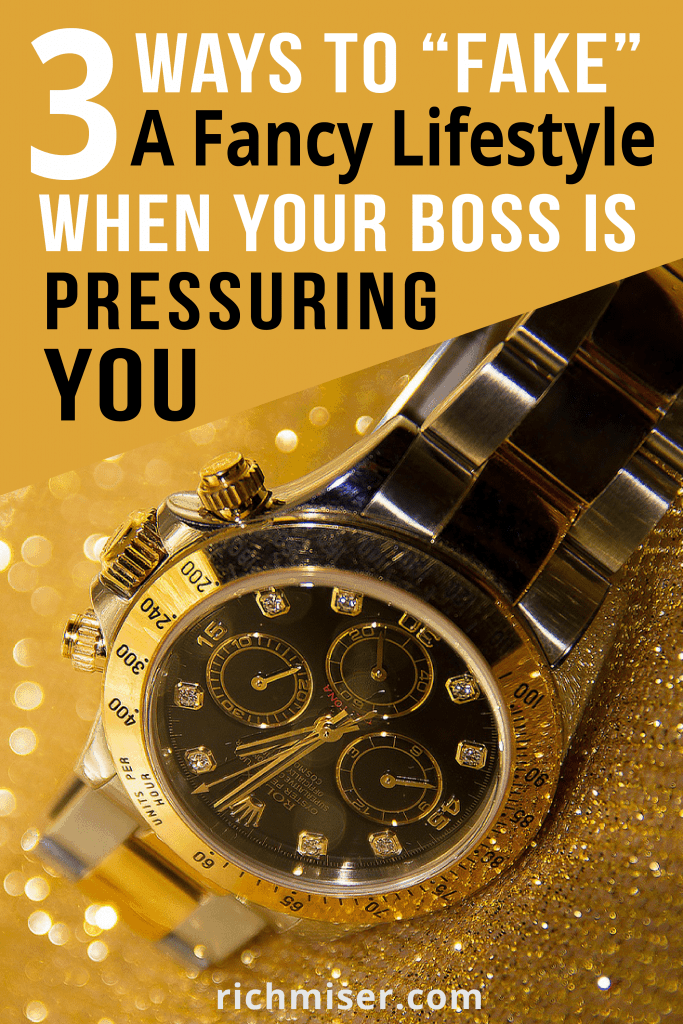 Summing It Up
With lifestyle inflation and the golden handcuffs, sometimes you don't have a real choice, or a choice you're willing to make. You may not be in a position to resist some luxury living (or may actually love it), but you are always in a position to spend less on it.
With what I've covered here, I think you should be able to greatly reduce the sticker shock of these three common aspects of a luxury lifestyle. In sum:
For cars, lease a new (or buy a used) Acura, Alfa Romeo, or VW.
Buy your fine watches used, and lean towards simple, elegant, and automatic Swiss models.
For menswear, go with Joseph A. Bank.
See you on the golf course…just kidding! I'm not there yet!

What do you think of lifestyle inflation, golden handcuffs, and luxury living? Do you feel that pressure at work?