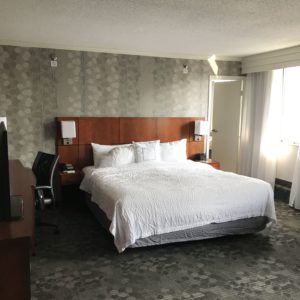 As regular readers know, I'm a Hilton man. However, I had a business trip recently where I had no choice as to my hotel, and had to stay at the Courtyard Marriott New Haven at Yale. Here's what I thought of it.
Bottom Line: A middling hotel in a rough-looking neighborhood in New Haven, Connecticut.
Good For Business Travelers: Yes, if you get a good rate and are willing to pay for breakfast, and won't need to come or go after dark.
Good For Leisure Travelers: NO. The surrounding neighborhood looked rough.
Parent Hotel Chain: Marriott
My Rating: 2.5/5
The Details
Room: A large room with a tiny bathroom and a couch area. I was disappointed because I had booked a "suite" and expected a two-room suite, but just got one big room. I booked it that way because there was a small chance that I would need to hold a business meeting in the room, so I wanted a traditional suite with closed-off sleeping quarters. I did not wind up having to meet in the room, but it would certainly not have functioned for a meeting anyways.
The room had standard-issue hotel decor; nothing special. It did show some wear-and-tear, such as worn-down edges on some of the furniture.
Cleanliness was fine. I saw some dust here and there, but nothing major.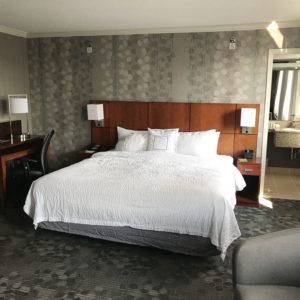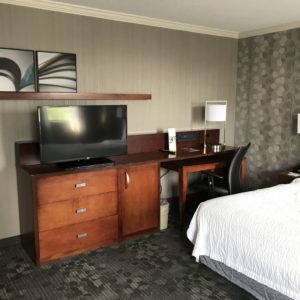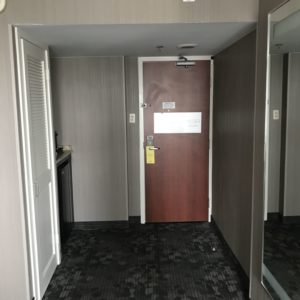 Price: About $199 per night on a weekday night. Expensive.
Location: This was the worst aspect of this hotel. It's in a rough-looking neighborhood where I was afraid to leave the hotel, especially at night.
I say this because the surrounding blocks had the hallmarks of a sketchy area. First, most buildings looked run down, including stores. Also, I saw lots of people milling about on the streets and on building stoops during business hours, with seemingly nothing to do. Finally, some folks looked deranged, like one dude that I saw from my window crossing the street repetitively, back and forth.
The hotel itself felt safe, but I did not feel like I could walk the surrounding area, or even drive it at night.
Ominously, and for the first time ever, the room came with free earplugs: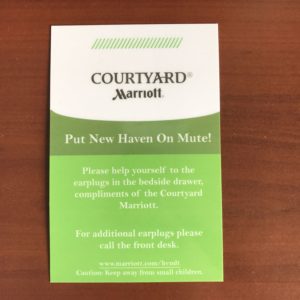 Noise was not a problem during my stay, but I assume they put those there for a reason.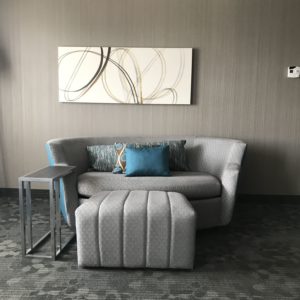 Important In-Room Amenities: Hair dryer (without changeable tips), iron, ironing board, mini-fridge, and coffeemaker. I used the iron to take the wrinkles out of my Jos. A Bank work shirt, and it was decent.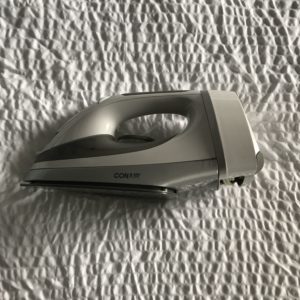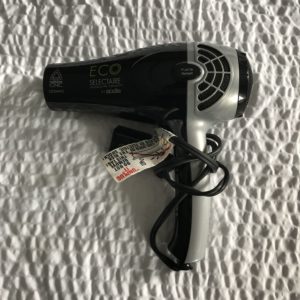 Important Amenities: Gym (I did not use it).
Free Parking: No, $20 per night.
Free Breakfast: As far as I could tell, no.
In-Room Cellphone Charging: Standard power outlets on both sides of the bed and on the desk. One USB power port coming out of the clock radio on the right side of the bed.
WiFi: Yes, and free. It was slow, though, coming in at 3.04 mbps download and 1.23 mbps upload.
TVs: One. I did not like it because I could not find high-definition channels on it. This upset me because I like to watch TV on business trips.
Pillows: At least four. I found them comfortable.
Closets: One.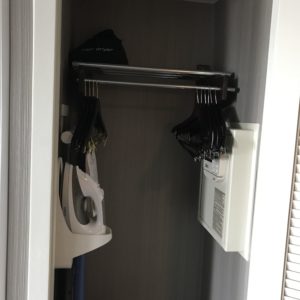 Toiletries: Paul Mitchell.
Breakfast
I did not like that the breakfast was not free, despite the fact that I am a Marriott Gold member (which I got by status-matching from Starwood Preferred Guest Gold, which I got from my Amex Business Platinum Card).
You had to order breakfast at a counter at a Starbucks-type place in the lobby. They had full breakfast and it was brought out quickly, but was merely ok, not great. There was no buffet breakfast, and they did not have whole-wheat bread.
Overall, barely adequate breakfast.
Summing It Up
This hotel met the minimum standards of a business hotel, but did not stand out at all. I did not like it very much because not only was it in a run-down area, but the breakfast was not very good, and I did not really get a "suite" despite booking one. I would stay elsewhere.