While tagging along on one of my wife's business trips, I wound up at the Embassy Suites West Palm Beach (FL) Central, for one night. Here's what I thought of it.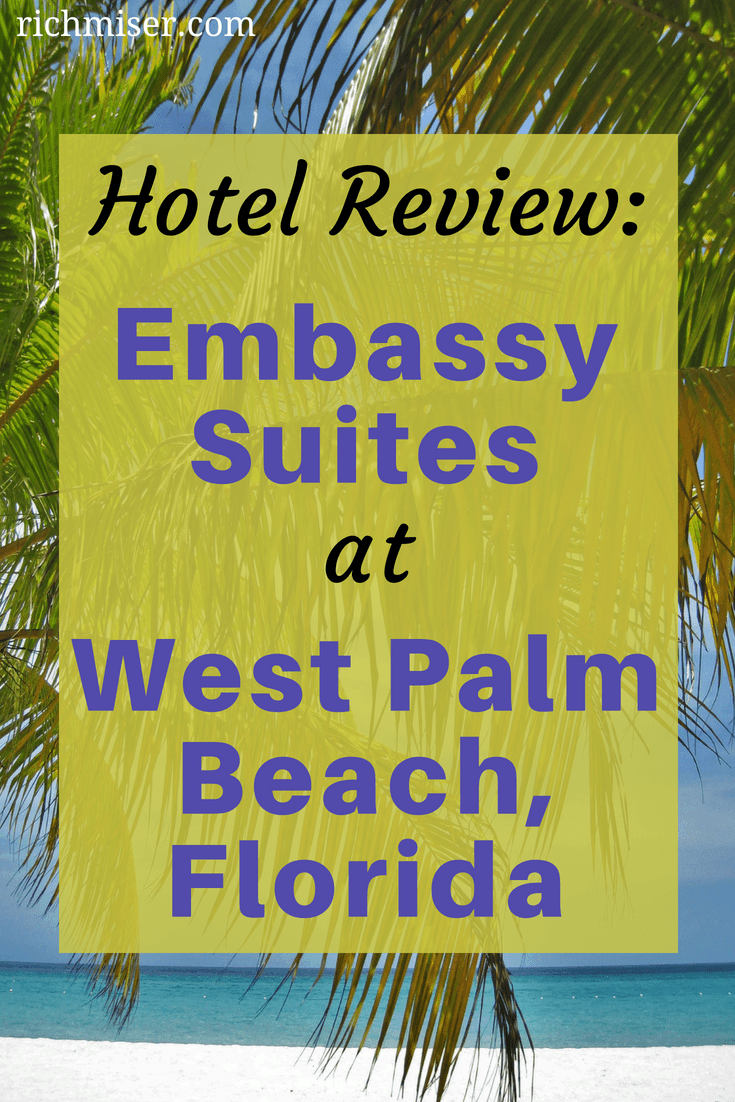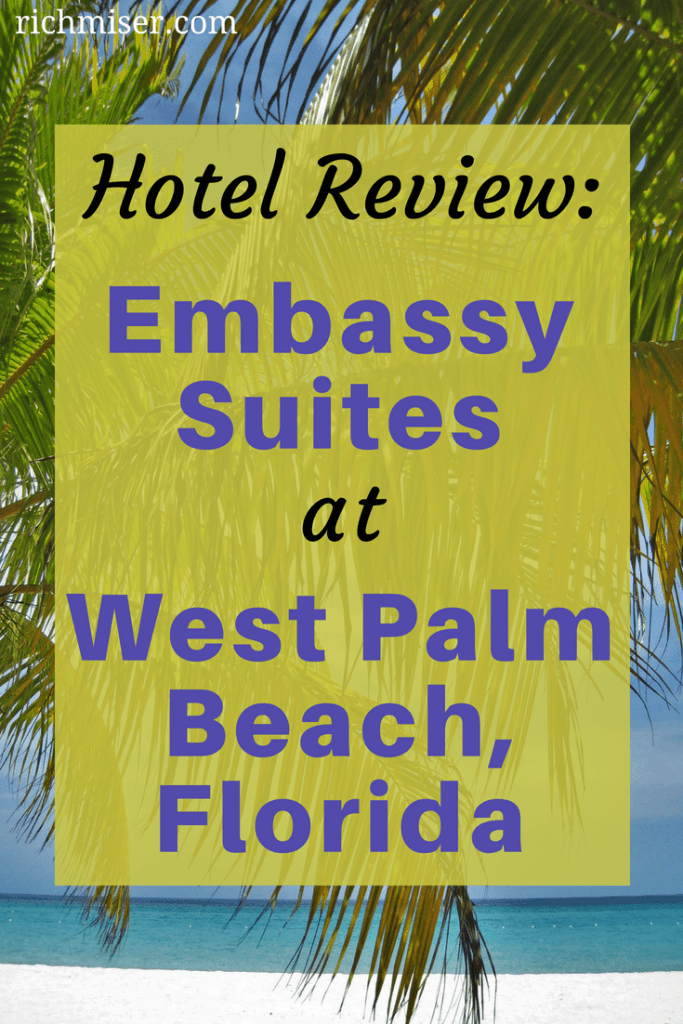 Bottom Line: An above-average hotel in the West Palm Beach area. Not extraordinary, but not bad, either. A great value for your money considering the free parking, free breakfast, and all-suite configuration.
Good For Business Travelers: Yes
Good For Leisure Travelers: Yes
Parent Hotel Chain: Hilton
My Rating: 2.5/5**
The Details List
Room: A suite comprised of a living room, a dining room, and one bathroom.
Price: About $130 per night on a weekday night.
Location: In a drab, low-density commercial/industrial area. About 10 minutes from downtown West Palm Beach and 5 minutes from the airport.
Important In-Room Amenities: Hair dryer (without changeable tips), iron, ironing board, in-room safe, two closets, two sinks, mini-fridge, microwave, and coffeemaker.
Important Public Amenities: Fitness room, pool, sauna, tennis court, business center (I did not use any of these; I got them off the hotel website).
Free Parking: Yes.
Free Breakfast: Yes (full American breakfast).
In-Room Cellphone Charging: Standard power outlets on both sides of the bed and on the desk. No USB power ports.
WiFi: Yes. The cheapest service's speed came in at 3.89 mbps download and 1.92 mbps upload, using the standard Google speed test. It was free for me, as it is for all Hilton Honors members.
TVs: Two (one in the living room and one in the bedroom).
Pillows: Two soft and two firm, and some extras.
Closets: Two.
My Comments
The Room
Like all Embassy Suites that I know of, this is an all-suite hotel. Each room/suite has, at minimum, a living room and separate bedroom, as well as one bathroom. I love this about Embassy Suites, since one person can do something in the bedroom while another can do something else in the living room. For instance, on this occasion, my wife went to bed early while I stayed up in the living room (with the lights on) working on this blog for you, my dear readers.
As you can see from the picture above, the living room has a large, L-shaped couch where someone could conceivably sleep. I don't think it would be the most confortable night (I know I would definitely fall off mid-slumber), but I guess you could do it if needed.
The suite did have an awkward layout in that the bathroom was accesible only from the living room, and the bedroom and living room were separated only by a frosted glass sliding door. This means that not only does noise bleed over from one room to another, but you need to slide the door over to go to the bathroom in the middle of the night. Worse yet, the door was real squeaky and noisy, so I was all worried that I would wake up my wife when I went to the bathroom like at 2:00 AM (luckily she didn't wake).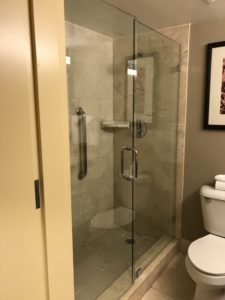 Breakfast
Moving on to breakfast, the hotel had the standard, free full breakfast. It was well-stocked, and featured a chef to make your omelettes on-demand. The coffee was standard weak-ish commercial coffee.
The breakfast area was in the atrium, which nearly all Embassy Suites have. However, the rooms were not arranged around the atrium, but were instead off to the side, in a separate part of the building. This means that this hotel had standard hallways, and not suites arranged around the atrium, as with other Embassy Suites.
Summing It Up
In sum, I thought that this was a perfectly decent Embassy Suites, at a good price and with a good location. It's not trendy or beautiful, but it is a solid value. I would definitely stay here again.
---
*Image from hotel website
**I am taking off a full point because they forgot my wife's 4:05 AM wake-up call. Although she got up because of her backup alarms, I think this was a major screw-up by the hotel. It can cause someone to miss a flight or an important business event, and is unacceptable.