Are you looking to revamp your closet with versatile pieces without spending much? If comfort and versatility are what you want, then you're going to love these easy pieces to build a mini capsule wardrobe in minutes. The key to a successful mini capsule wardrobe is getting pieces that are in harmony with each other and don't clash.
The most wonderful thing about building a mini capsule wardrobe is that you don't have to spend much and you get staple pieces that look good together or on their own. The result is a mix of outfits for work and play, without overspending. It's also a good way to pack when you have a weekend away.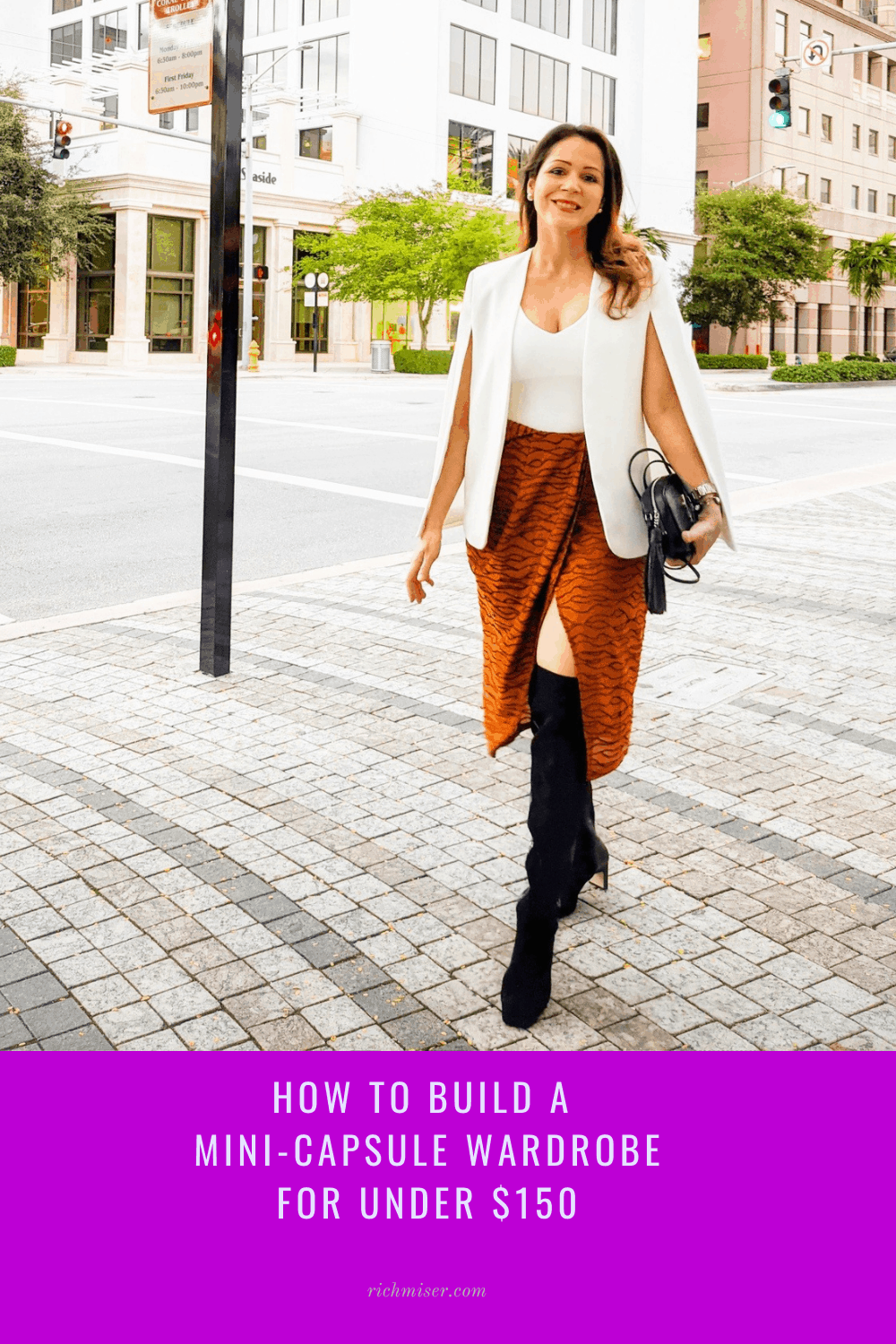 Keep in mind that when you're creating a mini capsule wardrobe, it's important that you look at what you currently own and see what basic things can be incorporated into outfits you plan on potentially creating with what you'll buy.
An example of this is sorting through your basic undergarments like camisoles, bodysuits, and button-down shirts. Making sure you have any of these basic items in either black, white, or nude will help you create even more outfits by mixing them with the new items in your mini capsule.
4 Things You Need to Build a Mini- Capsule Wardrobe
Note: The Rich Miser is a participant in the Amazon Services LLC Associates Program, an affiliate advertising program designed to provide a means for sites to earn advertising fees by advertising and linking to amazon.com.
Mini-Capsule Wardrobe Staple: Ribbed Sweater Dress in White
In the new era of work from home life, comfort goes a long way. Wearing a dress can also mean being comfier when sitting down for a while and simplifying your bathroom breaks, if you know what I mean (which I'm sure you do).
A ribbed sweater dress is comfy enough to wear and be able to move and breathe in. It is also polished enough to look good in any videoconference or meeting, without sacrificing style for comfort.
How To Wear It
With sandals for a lunch out.
Or with heels for a dressier dinner.
With pumps and a blazer or cape blazer for work.
With sneakers and a denim jacket for running errands.
Tucked in inside jeans or a skirt with volume, for a completely different outfit.
Mini-Capsule Wardrobe Staple: Ribbed Cross-Over Sweater Dress
The idea here is the same; however, a black dress is a timeless staple in your closet that can be the best companion for any activity, plan, or engagement you have pretty much every week.
It can also become your uniform when you don't know what to wear. You can never go wrong with a black dress. Depending on the occasion, you can dress it up or down, with pumps, sandals, or sneakers.
This black ribbed sweater dress has a criss-cross detail in the waist that gives the illusion of a smaller waist and because the fabric is interrupted, is also more forgiving with the tummy area if you are self-conscious.
How to Wear It
On its own with any type of shoes.
With a sleeveless dress over it, or something that serves as a base layer if it's cold.
You can add a skirt over it if it has volume so that the top part of the dress remains nicely tucked in as a blouse.
With a white button-down shirt, open and belted, for instant modern sophistication.
Under a long sleeve tunic or shirt dress, worn completely unbuttoned. The end result would look like you're wearing a trench coat over your dress.
Mini-Capsule Wardrobe Staple: Cape-Blazer
A cape-blazer is a blazer where your arms are exposed and the back of it connects with the front of the blazer, resembling a cape. It offers an elegant and modern approach to the traditional blazer that is often associated with a business setting but has been tailored to more modern scenarios by adapting the colors, prints, and fabrics used.
This piece can quickly become a staple in your closet for its versatility and simple elegance. For maximum options to style it, your best bet would be to get it in either white or black. It can be worn with dresses, skirts, pants, and jeans. The combinations are endless, and it's almost a guarantee that you look polished and elegant when wearing it.
There are many options to choose from depending on your budget. This one here is a good option to get the look for less.
How to Wear It
A no-fail look is to wear it with jeans and a simple camisole in the same shade or a natural shade underneath.
It goes well over dresses, too; just make sure the lower part of the dress is fitted or straight. The idea is to stay away from anything that adds volume such as a fit and flare skirt to offset the volume from the cape.
You can also wear it with trousers (slim or wide leg) for a modern look.
Mini-Capsule Wardrobe Staple: High-Rise Jeans
A classic wardrobe staple, high-waisted jeans are comfy and keep everything nicely contoured. When worn in darker shades they can have a slimming feel. The details and embellishments in the jeans will dictate where and when can you wear them. For instance, in many office settings where jeans are allowed, distressed denim or holes are forbidden as are lighter washes. A safe bet if it's a dark shade without holes in it, or any dye to make the jeans appear old or worn in, making for dressier jeans.
No matter the style you choose, you can pair your jeans with the other pieces in this capsule wardrobe.
Here's How to Wear Them
With your cape blazer in any shade.
Over your ribbed sweater dress.
Depending on how you feel about it, and how tall you are so that you don't have too much excess fabric to deal with, you can opt to tuck the bottom part of the dress inside your jeans. This will create the look of a fitted bodysuit worn with jeans. Put your cape-blazer over it, and voila!
Extra Things…
Layering
Like I mentioned before, this mini capsule wardrobe assumes that you already have one, two, or three undergarments such as bodysuits, tank tops, or camisoles (preferably in neutral colors) that you can wear underneath your cape blazer. If you don't, don't fret, you can find some for cheap anywhere from your local department store to places like Amazon. Even resale websites like ThredUp are a good place to find camisoles and bodysuits for any budget.
I am linking some of these pieces that I like here, in case you need some recommendations.
Don't Show Your Underwear!
Last but not least, I would be remiss if I didn't mention the importance of wearing the right underwear with a sweater dress. I'm not saying go all the way and wear a Spanx, but try to avoid showing your underwear or lines indicating what type you're wearing. Nothing throws off and cheapens a beautiful look like underwear lines. It's an unfortunate distraction, which you want to avoid.
You can accomplish a seamless, no-show look, by wearing boy shorts to help conceal your underwear. It doesn't have to be anything fancy or expensive, but you'll be glad you did when you look at the end result. A good trick is also to get a Spanx in a larger size; that way you can move and breathe while enjoying how your dress will glide softly over it.
I am linking some here and here, in case you need recommendations.
The Lowdown
So, there you have it! If you're on the lookout for a mini capsule wardrobe without spending much, get these four things and you'll have outfits for days.
What is your favorite piece from this mini-capsule wardrobe? Have you ever worn a cape-blazer? How about a ribbed sweater dress? Try them! You will look lovely!
That's my take!