Have you ever had a bad day at work? Yeah, me too. You know, that day you think you're on the verge of losing it. You Google "how to calm down", you walk around, go to the bathroom…you try anything to reduce your stress level. But you're still in a bad mood. Well fear not, for here are some simple ways to power through and make it through the day without any casualties!
13 Ways to Keep Your Cool at Work When You're About to Snap!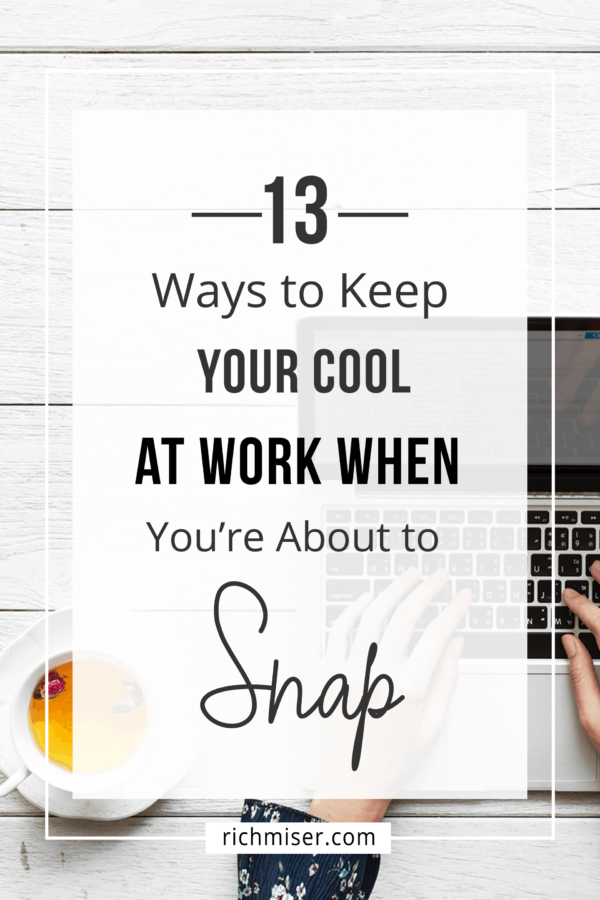 Draft an E-mail, But Don't Write Anything in the "To" Box
If you are infuriated and need to vent, try "writing" an e-mail to put into words your frustration with whatever the situation is. Yes, this is the classic unsent angry letter. This will help you calm down and reduce stress by letting you "vent" in a safe way. Just make sure you do not write any names, especially in the "To" field, to avoid any accidents. You can delete it completely once your're done writing, or from your drafts folder later in the day. But remember to delete it from the recycle bin too! You might also choose to tone it down later and send it.
I know firsthand this can be liberating, since just putting it into words can be therapeutic. It might even help you put things in perspective and perhaps, when you read it later, it doesn't seem like such a big deal.
Let Cold Water Run Through Your Hands for a Minute or Two, or Splash Your Face
I've done this many times and it always yields good results; the contrast with the cold water helps me pause and calm down. I actually found this article on cold water remedies that talks about it!
Think of an Upcoming Vacation or Your Plans for After Work or the Weekend
Take a Post-It and start writing stuff down related to your leisure plans. Such pleasurable, detailed thoughts help you gain perspective and show you that you have other great things going on for you.
Go to a Funny Website and Get a Quick Laugh
You're almost certainly going to laugh when you open any of these websites. You might even go down a rabbit hole and forget you're pissed.
Go For a Walk
It's one of the most common recommendations if you search for "how to calm down"! If you can go for a walk outside where the sun hits you or you see trees, even better! I know some people manage to squeeze in a workout during their lunch break. That's too ambitious for me, but I always admire those who do!
Take a Nap (If Allowed to Do So During Lunch or in a Designated Area)
This is a lifesaver when you're exhausted and need a break in your day. It's also a great way to reduce stress because you wake up refreshed. I've taken a 15-45 minute nap during my lunch break and never regretted it.
Put on Your Headphones
Anything from a podcast to music, or even white noise, can transport you to a different place, change your mood, and reduce the effects of stress. I have a friend that had unlimited cellphone data and would put on her favorite movie on Netflix and just listened to it in the background as she worked. I think her idea is brilliant, and a good way to let you focus and relax your mind! So, grab your headphones and carry on!
Get "Busy" With Something Else
Anything from making phone calls to setting medical appointments, car maintenance visits, or anything that guarantees a nice, friendly voice will answer the phone. Owing to the norm of reciprocity, you would most probably be nice in response, and break the bad mood cycle.
Google Positive Quotes
This may sound a bit cheesy, but sometimes you stumble upon some words of wisdom that help you re-frame what you're going through at the moment. You can also check out this article by Fin$avvy Panda to get 9 Irresistible Quotes That Will Help You Achieve Happiness and Success!
Eat Something That Makes You Happy
Did anyone say chocolate??? Okay, I'm not suggesting you do some anxiety eating and inhale a bunch of chips. LOL. It's more like a treat to help break the bad mood. For me, this is the moment when that birthday cake pop from Starbucks comes in!
Do Everything Purposely Slower and Listening to Your Breath
Adopt a slower pace to create awareness of your surroundings. Something as simple as breathing, stretching your arms in your seat, and gently touching your scalp and neck. A quick way to calm down and reboot!
Squeeze in a 3-Minute SOS Meditation From an App Like Headspace
Apps like Headspace and Calm can really transform your day in a matter of minutes.  They're a great way to calm anxiety, reduce stress quickly, and relax your mind; usually, the first month is free. It's also an awesome way to start your day. They have meditation sessions for different purposes and ranging in lengths, so that you can customize them to your needs.
Send Them a "Glitter Bomb"
Okay, not really, just being funny here. 😛
But there's a website (somewhat NSFW) that actually provides this service, as well as other products too vulgar to even mention in this post. I've always wanted to send some people I know a glitter bomb, but never followed through out of fear of getting caught! LOL
The Lowdown
Next time you're at work and a bad mood strikes, take a step back and try to implement whichever of these things help you reduce stress, take your focus off of what's in front of you, and help relax your mind. By delaying an impulse response, you can calm down and see things with a renewed perspective, and maybe even care less about what upset you in the first place. It's not easy, but it's attainable.
That's my take!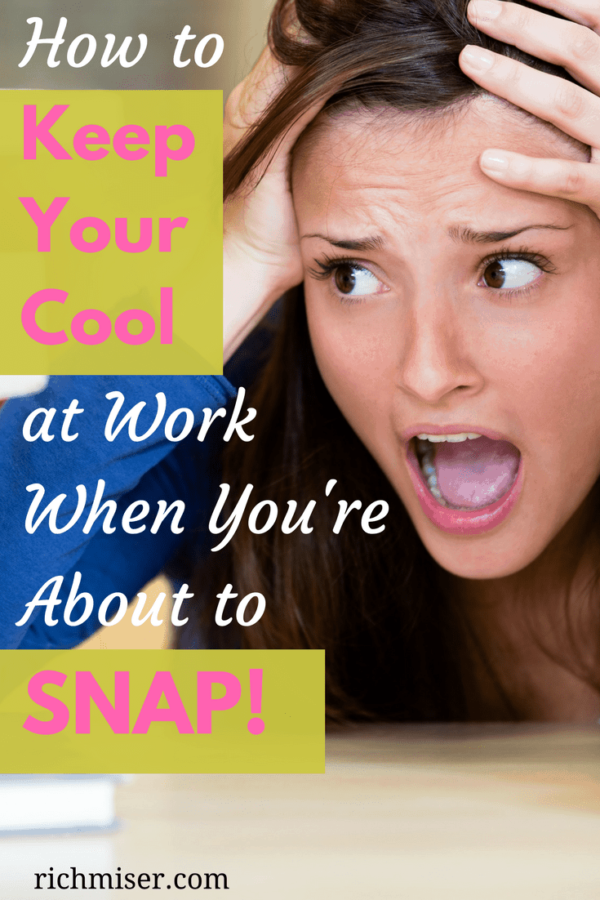 What are your go-to tips to calm down at work or change your bad mood? How do you reduce stress and relax your mind at work, and in life in general? Share your tips and help us all cope! 😉