So this curious wine features a blue, agitated duck on the label. Her feathers have obviously been ruffled by the La Granja winemakers, since they're flying all over the place. In fact, the back of the bottle tells us that this particular duck just wanted to fly to a land of never-ending summers (I've determined that it's the Caribbean).
The weirdest wine label I've ever read also says "suddenly, a flying pig approached him asking, are you ready for the wine fun"? I'm not kidding: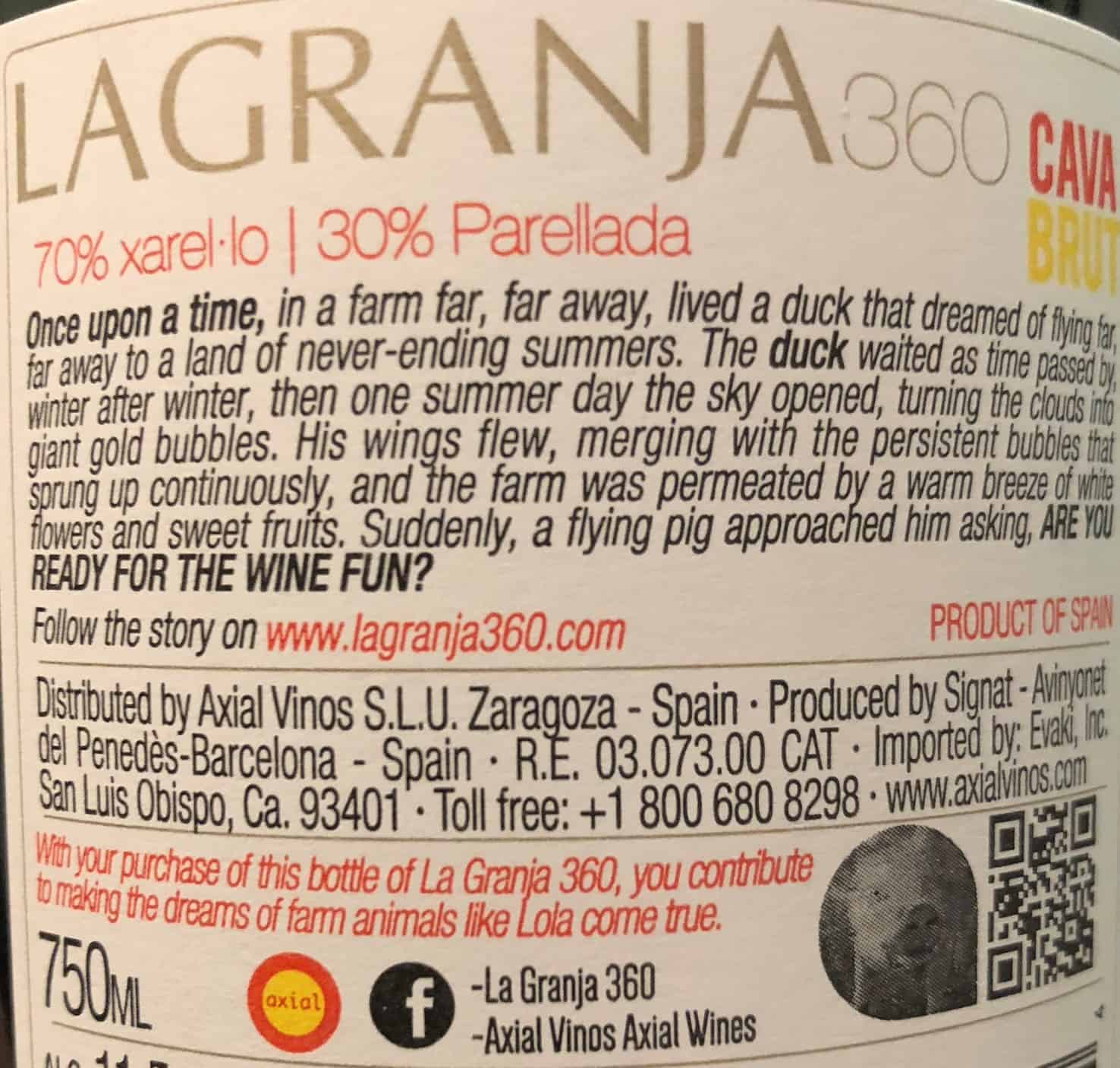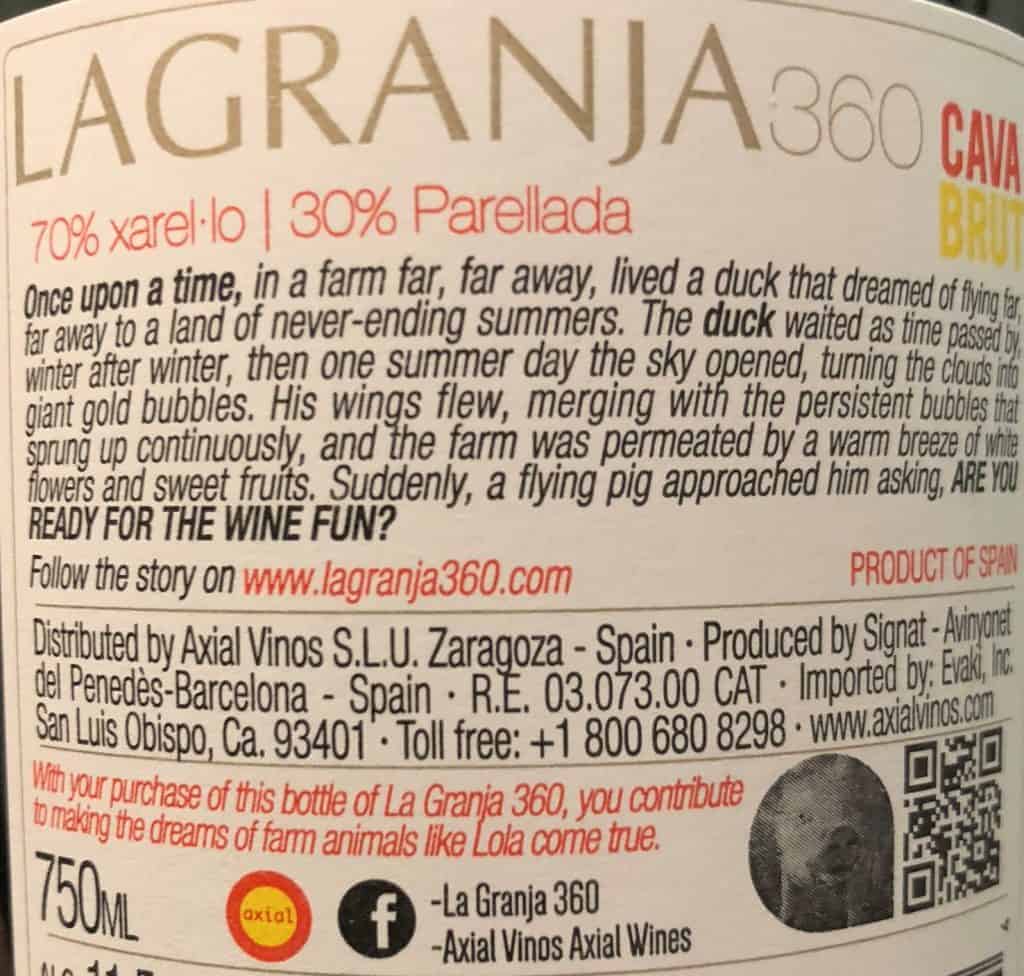 So, of course, I can't see something like this and not buy it! Who doesn't read about this duck and get curious, like this dude?
Summing It Up
Wine: La Granja 360
Grapes: 70% xarel-lo, 30% Parellada. I've never heard of these grapes before. Magical, like Lola the flying duck.
Bottom Line: An OK, middle-of-the-road sparkling wine. Little taste; just a lightly sour and dry flavor.
Price: About $6.99 for a 750 mL bottle at Trader Joe's.
My Rating: 3 out of 5
Details
Origin: Spain
Alcohol: 11.5%.
Looks: A standard sparkling wine bottle with a ruffled duck on the front label and a very strange story on the back.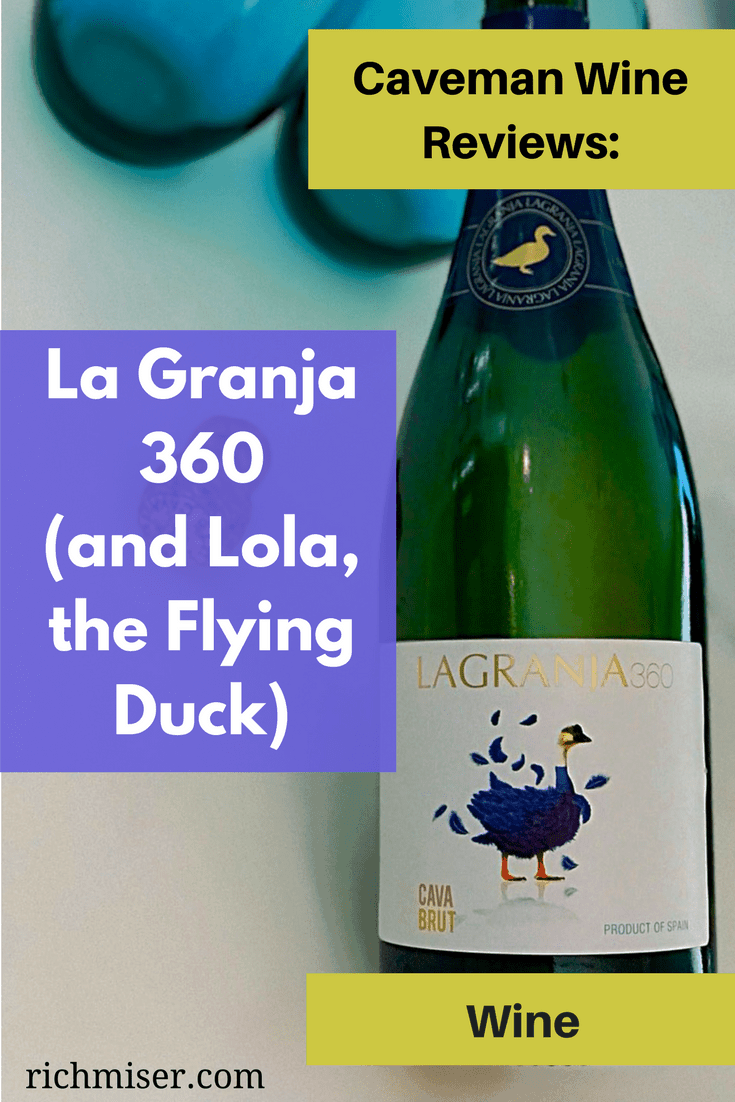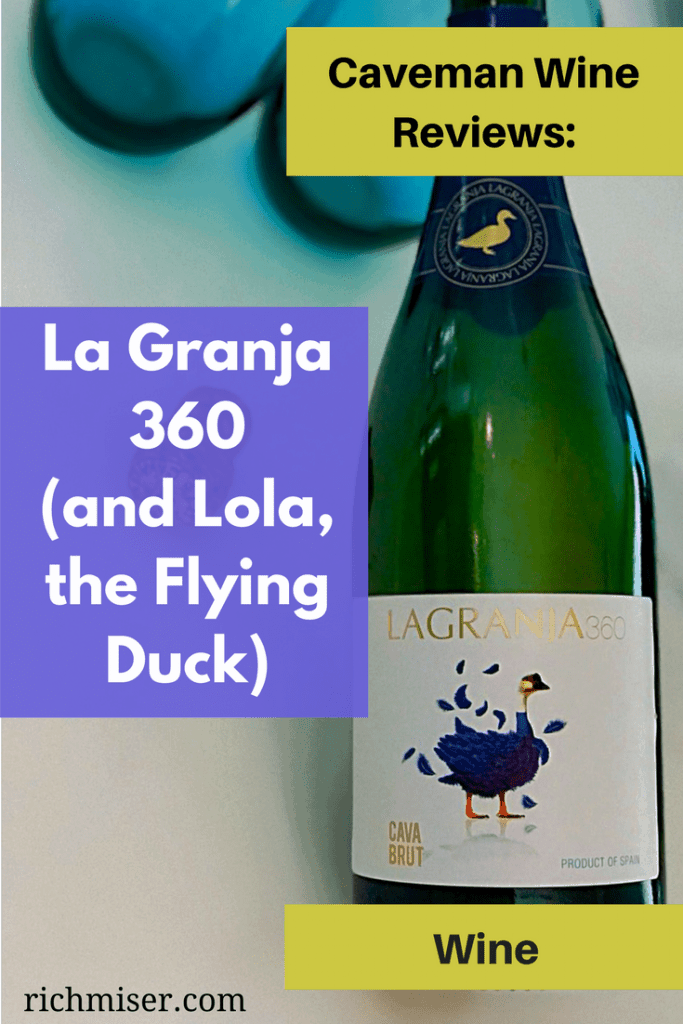 The wine itself is a pale yellow color.
Smell: Somewhat dry, rancid, and sour smell, with a hint of sweetness at the end.
Taste: Despite its unusual labeling, the La Granja 360 is an unremarkable sparkling wine. It doesn't have much taste, but for a lightly sour and dry flavor that's somewhat overpowered by the many bubbles it's got.
It's a bit watery, and has a very slightly dry and sour finish that leaves little aftertaste. I haven't got much more to say – this wine is nothing special. Not great, but not bad, either.
Hangover Factor: Nothing out of the ordinary.
Final Thoughts
Despite my review, I'll probably buy the La Granja 360 again, just because it's so cheap. At $6.99 per bottle for a sparkling wine, it would have to be quite nasty for it to not tempt me to get it again. And I know that I can throw a dinner party and get everyone tipsy on something better, and then serve this stuff for the rest of the night. It's so middle-of-the-road and light flavored that it won't offend, and also isn't a budget-buster. Salud!
I leave you with a GIF of a swimming pig, just because:
---
Note: This is a series I call Caveman Wine Reviews, because I like to drink wine but am a caveman when it comes to wine knowledge. I know only the basics, and do not have a refined palate. I'll review the wines on price and what they look, smell, and taste like to me.