Welcome to Miami! Where the weather's not the only thing that's hot…
Ha! Anyways, my wife Lily and I have been living in Miami since 2015 and absolutely love it. We think it's an amazing place that doesn't get half the credit it deserves. It's a truly beautiful city with all sorts of attractions, from the famous party scene to arts, culture, and sports.
So, my blood pressure rises a bit when I hear people still thinking it's "Miami Vice" and somehow unpleasant. As I'll show you in this Miami neighborhood guide, it's a lot more, and 1000% worth a visit!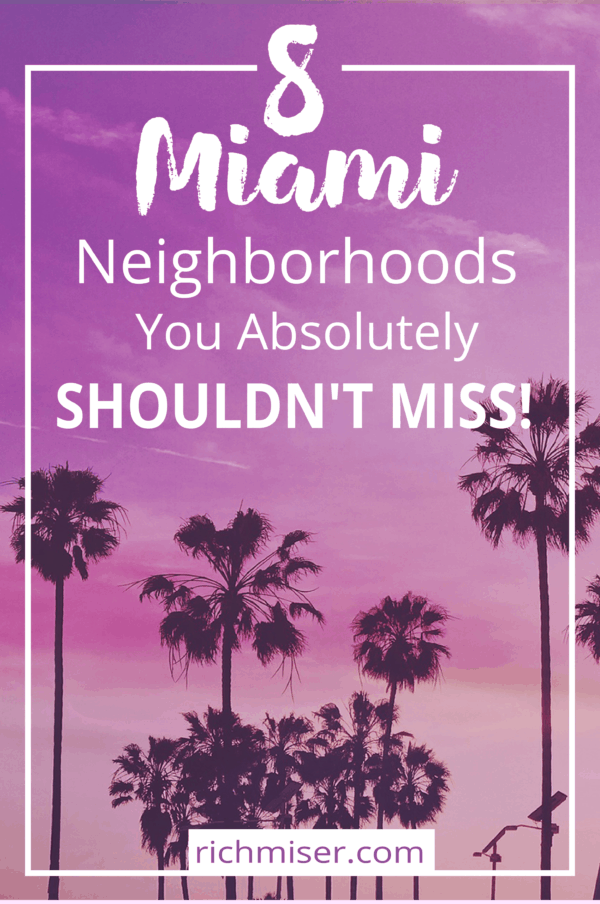 What's My Perspective?
So let me say it outright: I'm not a beach person, and am not really qualified to speak as to South Florida's beaches. What I can speak to is Miami as a city, as an urban area. And within that, my goal here is to give you a general feel for the neighborhoods I think are most worth visiting.
I love Miami and all it has to offer, and hate when it gets reduced to just Miami Beach, Ocean Drive, and partying. Not to say that those are bad parts of Miami; if you're up for a champagne and sun-soaked weekend, by all means come and find it here in the Magic City. But Miami-Dade County is also much more than that, with beautiful, lush towns, high-minded arts and culture, and world-class sports and entertainment.
It's also, simply, a sight to behold. From locals who like to look good and dress well to enviable tree cover and world-class architecture plus an abundance of beautiful cars, I guarantee that this city won't let your eyes down.
Keep in mind, though, that this is my guide – it's not an attempt to cover everything, which would take a book. For restaurants, I'm only recommending those I personally know have great food or an amazing ambiance. Not just good, but awesome.
So, with that out of the way, let's check out the Miami neighborhoods that are at the top of my list.
Miami Neighborhoods You Shouldn't Miss!
Coral Gables
Coral Gables is a wealthy, mid-sized city in its own right, with a great downtown and beautiful residential areas. You can check out the main street (known as Miracle Mile), and eat in the pedestrian-only restaurant area on Giralda Avenue. The main draw, for me, of downtown Coral Gables is just city walking on clean, beautiful, and orderly streets (which were recently redone).
Recommended Attractions
A movie theater showing mostly artsy films, if you're into that.
Exactly what is sounds like. A theater where you can catch a show.
Recommended Restaurants
Divino Ceviche
An awesome Peruvian place on Giralda Avenue. Very casual atmosphere and good prices, plus amazing food. Have the Ceviche Divino (their house ceviche), made low-spicy and with fish only. Also order the tacu-tacu con lomo salteado (Peruvian rice with beef). That should be enough for two people, unless you're starving, in which case I would add the boliyucas (fried yuca balls).
The Local
A bar-restaurant on Giralda that has modern American and eclectic cuisine at decent prices. The ambiance is very bar-like: loud, and with lots of classic rock music. Order the macaroni and cheese, and the steak with fries – it's enough to share between two people.
Bulla
A Spanish-themed restaurant and bar on Ponce de Leon Avenue. It has a hip, festive, hang-out ambiance, with lots of good-looking people of all ages starting out their night. Prices are a bit expensive, but nothing too crazy. Order the pan con tomate (bread with tomato, Spanish-style) and huevos Bulla (their signature dish).
Brickell
The shining center of mainland Miami, just south of downtown Miami.
Start at the stunning, open-air mall called Brickell City Centre, and walk down to Mary Brickell Village (a smaller open-air mall) (you can also do it the other way around). For me, the main draws of Brickell are the architecture of Brickell City Centre and other neighborhood buildings, as well as its general professionals-and-students atmosphere. Full of money and energy, plus beautiful people, buildings, and cars.
Recommended Restaurants
Pubbelly Sushi
Our favorite restaurant in Miami. A hip, sushi fusion place. Try the bigeye tuna with pegao (Puerto Rican sticky rice), tuna pizza, ceviche con tostones, and Japanese patatas bravas. If you like whiskey, I'd order the drink called the Fashionable (their take on an Old Fashioned, with Japanese whiskey). Please, please, please don't skip Pubbelly. They also have locations in Miami Beach and Dadeland, but the best is in Brickell City Centre.
Tacology
Next to Pubbelly. Great tacos and margaritas, party-like atmosphere (but still family-friendly).
(Close to Mary Brickell Village, next to Dolores but You can Call me Lolita). The best pizza I've ever had – it's just different. Order the Birra Moretti La Rossa to go with your pizza.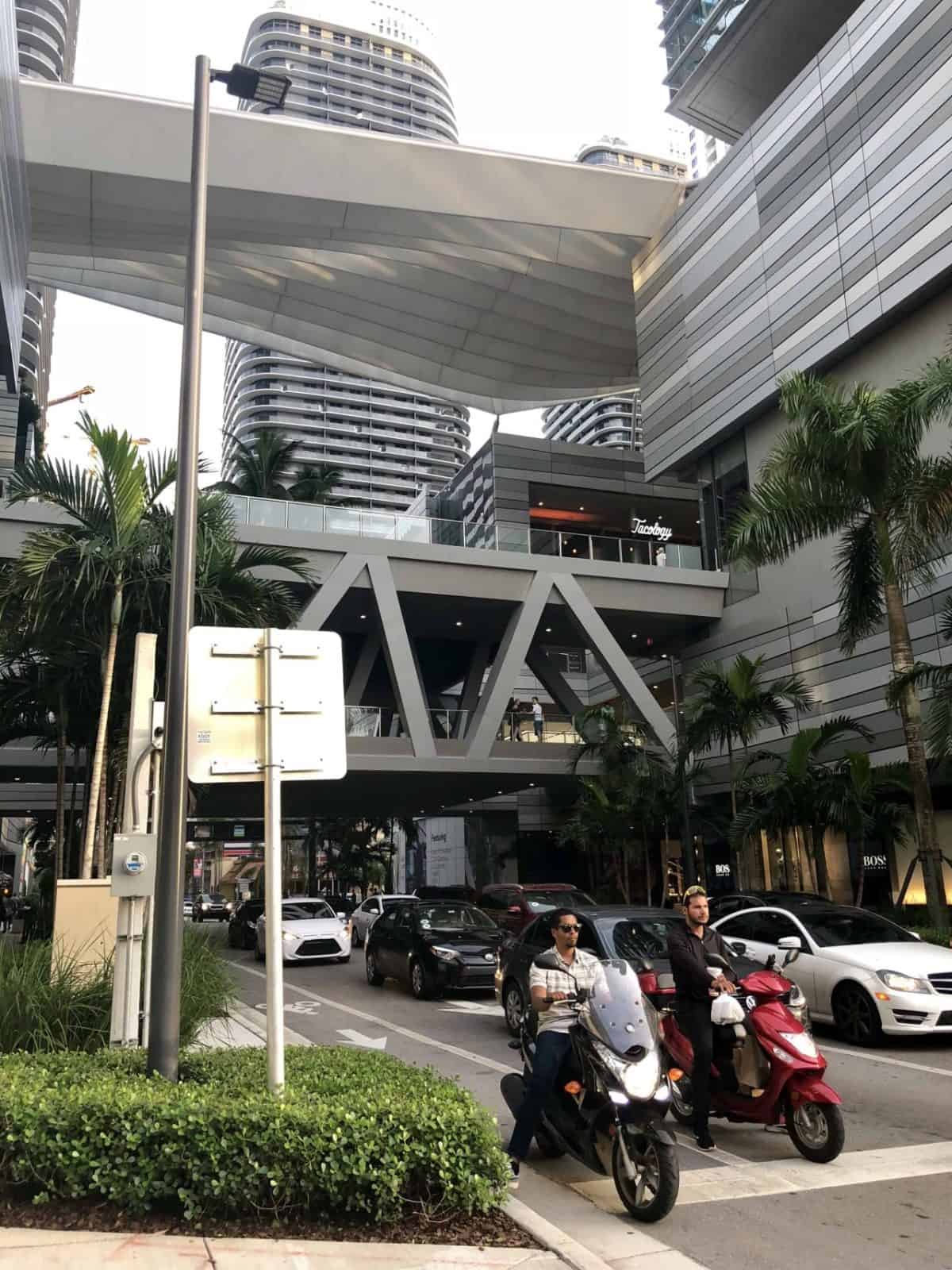 Wynwood
A formerly run-down Miami neighborhood, now revitalized and turned into an arts hub. Check out the Wynwood Walls for a collection of funky street art that culminates in a gallery. A place best visited during the day, especially if coming for the art.
Recommended Restaurants
Coyo Taco
A great taco place with good prices.
Mister-01
Same as the Brickell place, but the Wynwood location.
Design District
Glitzy, designer boutiques close to Wynwood. Rolex, Longchamps, Fendi, that kind of stuff. Worth seeing for the window shopping, and for the free concerts they frequently have on Fridays at around 6:00 PM. The stores are too rich for my blood, but it's still nice to walk around and admire the scenery.
Recommended Restaurants
Michael's Genuine Food and Drink
A hip, trendy new American restaurant that's always full of good-looking people. The food used to be amazing, though in my view, it's declined a bit in terms of taste and consistency. Still, it's way above average and worth a visit.
St. Roch
An air-conditioned food hall with lots of upscale food counters. Take your pick.
Mandoline Aegean Bistro
A very good Greek restaurant. Its main draw is the ambiance, as you get to eat under the trees in a beautiful interior patio. The food is great, but not magical.
Coconut Grove
A very hip Miami neighborhood with lots of tree cover. Very pretty, warm, and inviting, with a hip, laid-back vibe. Unfortunately, the "anchor" (an open-air mall called Cocowalk) is currently being remodeled (as of summer 2018) and is a construction zone. Still, it's worth visiting (start from Cocowalk and walk around), and has some cute boutiques for shopping.
If you're looking for some tranquility, duck into the Vizcaya Museum and Gardens, a big ol' mansion with manicured gardens.
Recommended Restaurants
Le Bouchon du Grove
A classic French restaurant (traditional French food, done very well; I think they also have brunch).
There are other restaurants, such as Greenstreet Café and Lulu (two sidewalk cafés opposite each other) which are have great (but not amazing) food. Go there for relaxing and people-watching.
Miami Beach
Miami Beach is perhaps the most famous of all of the Miami neighborhoods. It's a city and an island, and is the closest you'll find to the "Miami Vice" stereotype. Art deco architecture, loud music, lots of tourist traps. Walk or drive through the famous Ocean Drive in South Beach, and walk through Lincoln Road Mall (a long pedestrian street with lots of shops and restaurants). Nice and very "Miami".
It's a cool place for partying; though not the best if you're looking for a leisurely pace.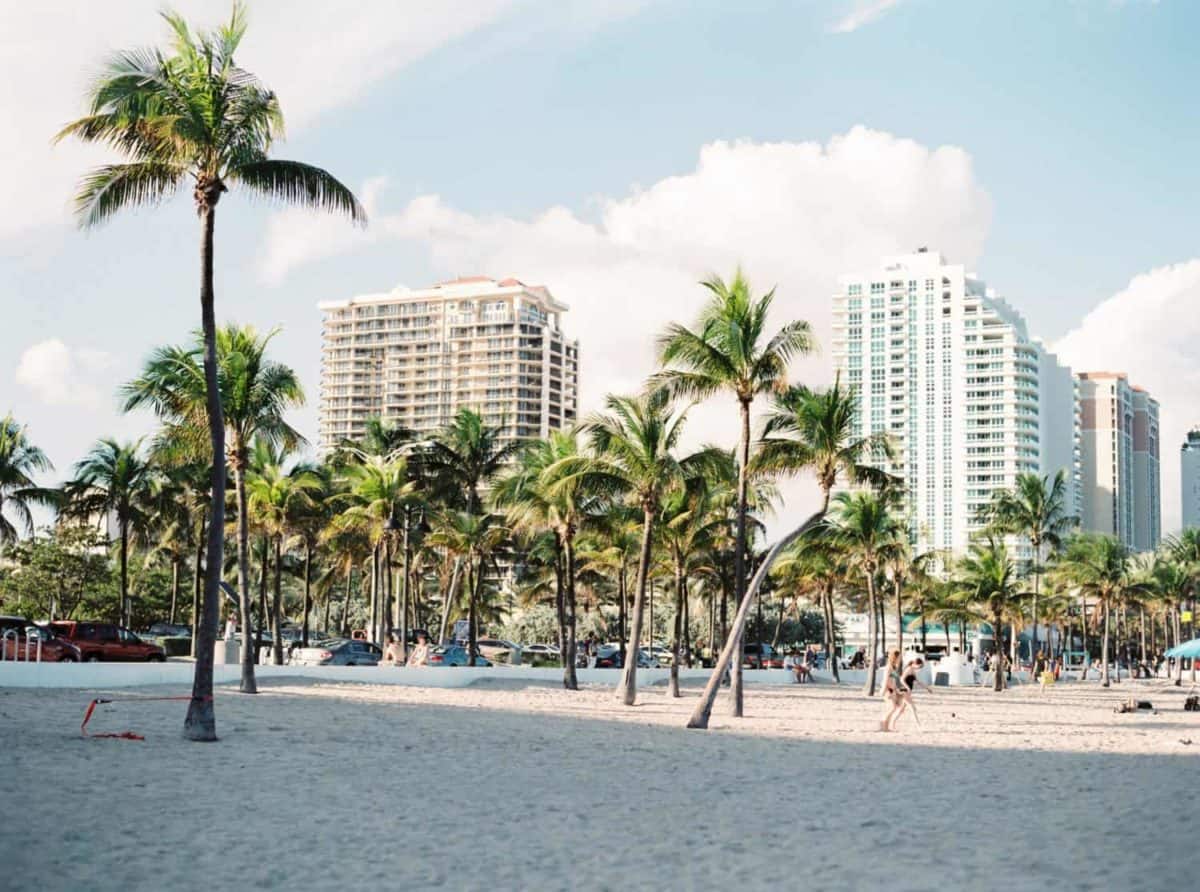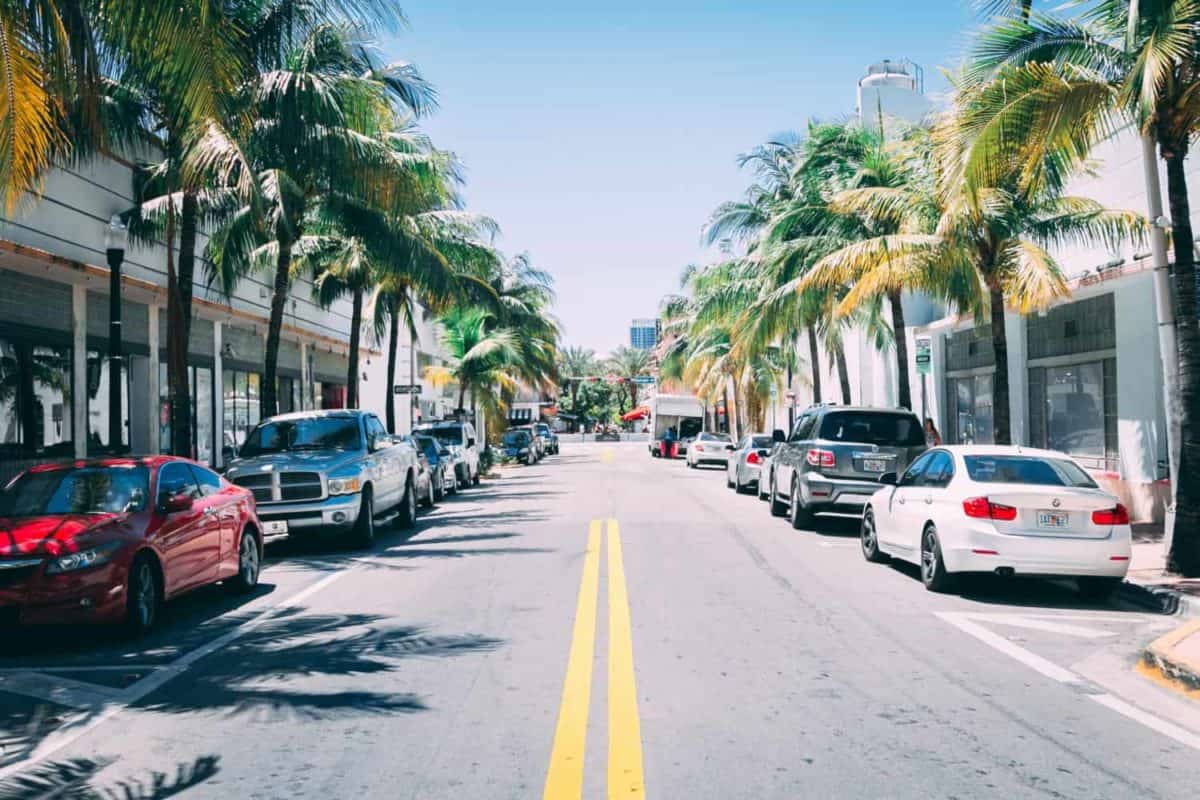 Here's a driving-through-Miami-Beach video:

Be Sure to Check out Lincoln Road Mall
Like I mentioned, in Miami Beach be sure to check out the area known as Lincoln Road Mall. Despite the name, it's a long, open-air pedestrian shopping district. You'll find plenty of shops and restaurants, plus there's often amazing street art.
Downtown Miami
Currently undergoing revitalization. Lots of commerce, but not great to walk around in since it's uneven. One street is nice, the next not so much. I'd recommend skipping it, in terms of walking around (at least until the revitalization is further along).
However, you can visit certain awesome attractions: the Adrienne Arsht Center for the Performing Arts (theater and opera house, if you want to see a show or concert), Perez Art Museum Miami (modern art museum), Frost Science Museum, and the American Airlines Arena (where the Heat play and they do lots of concerts).
You can also take a touristy boat tour from Bayside Marketplace, with the Millionaire's Row cruise from Island Queen cruises. It's definitely "touristy", but cool nonetheless. The last tour of the day is awesome because you get to see the lights of downtown Miami on the way back.
Recommended Restaurants
Zuma
For an amazing (but very expensive) meal, go to Zuma (modern/classic Japanese) at the EPIC Hotel.
Kiki on the River
Somewhat-expensive Greek restaurant on the Miami River. The food is great, and the ambiance better. It's a got a loud, party atmosphere, and is full of good-looking people eating, drinking, and dancing (without feeling snobbish or unwelcoming). Beware of the valet parking: it was $20 when I went there.
Pinecrest
A very pretty residential neighborhood, somewhat similar to Weston in Broward County in that it has good public schools, but the houses are bigger, not as cookie-cutter, and more expensive (and it's easier to get to Miami). The best feature is Pinecrest Gardens, a beautiful, lush park (not just a bunch of grass). It has a very cool farmers' market every Sunday, up to 2:00 PM. You can buy food at the market and eat it inside at the picnic tables. Lots of tree cover; very pleasant. If you're lucky, you might see some roaming peacocks in Pinecrest.
Here's another picture I took in Pinecrest Gardens: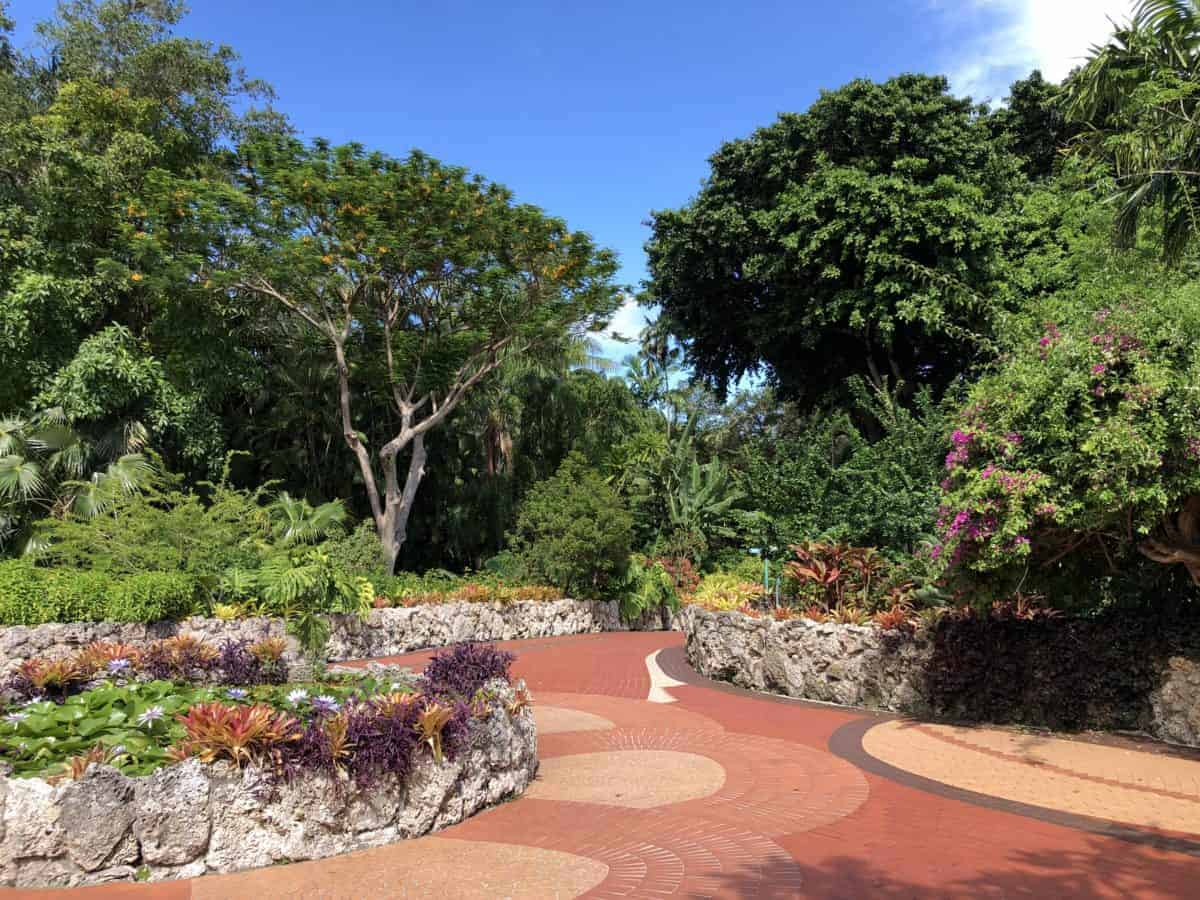 General Miami Facts and Tips
Miami is not a big public-transportation city. Either rent a car, or use Uber or Lyft.
Miami is now more "Miami Nice" than "Miami Vice". Most of the city (really, Miami-Dade County) is safe and well-run (especially touristy areas). Exercise general precautions, but you don't need to be clutching your valuables with an iron grip. At night, you should have no problems walking in most places; if you want to be extra-cautious, keep your night exploration to Brickell and Coral Gables (especially the Gables). You can stroll around the Gables wearing a $25,000 watch and not get a second look.
Rush hours are generally weekdays, from around 7:00 AM to 8:15 AM and 5:00 PM to 6:30 PM. Avoid being on the road at these times, or be prepared to get stuck in traffic.
Miami-Dade County is majority-minority, around 65% Hispanic. You don't need to speak Spanish to get around, though basic Spanish (hola, por favor, gracias) can help at times. In any case, it's thoroughly a big, international city (like New York City), with a distinctly Latin vibe. People are generally very friendly, welcoming, and eager to help, regardless of your race, ethnicity, or language.
Aesthetics are important (one of the richest Miami neighborhoods (Coral Gables) rightly calls itself "The City Beautiful"). Try to dress up – not in any exaggerated way, but just to look well-put-together.
The weather is tropical, meaning it's pretty warm year-round, and hot and humid in the summer.
Don't mess with Pitbull, Enrique Iglesias, or any of our sports teams 😉
Where to Stay in Miami
Stay in Coral Gables, unless you're set on a beach or hard-partying vacation (if so, stay in Miami Beach). Coral Gables is wealthy, beautiful, and safe. It's also a good location from where to get to other places.
If not Coral Gables, I'd recommend downtown Miami or Brickell, or even an airport hotel. The important thing is to avoid staying anywhere north of downtown Miami or south of Coral Gables, because you'd be a little out of the way, making it harder to get around. If you're renting a car, though, you can stay in other areas that are less expensive. For example, you can choose Doral or Kendall, which are non-touristy residential neighborhoods. If you do, though, don't go in or out during rush hour.
Summing It Up
As you can tell by now, I love Miami. It's full of life, energy, and beauty, and promises a great time to all who come. By visiting these Miami neighborhoods, I think you'll get a good feel for those attributes, and enjoy a lot of what this wonderful city has to offer.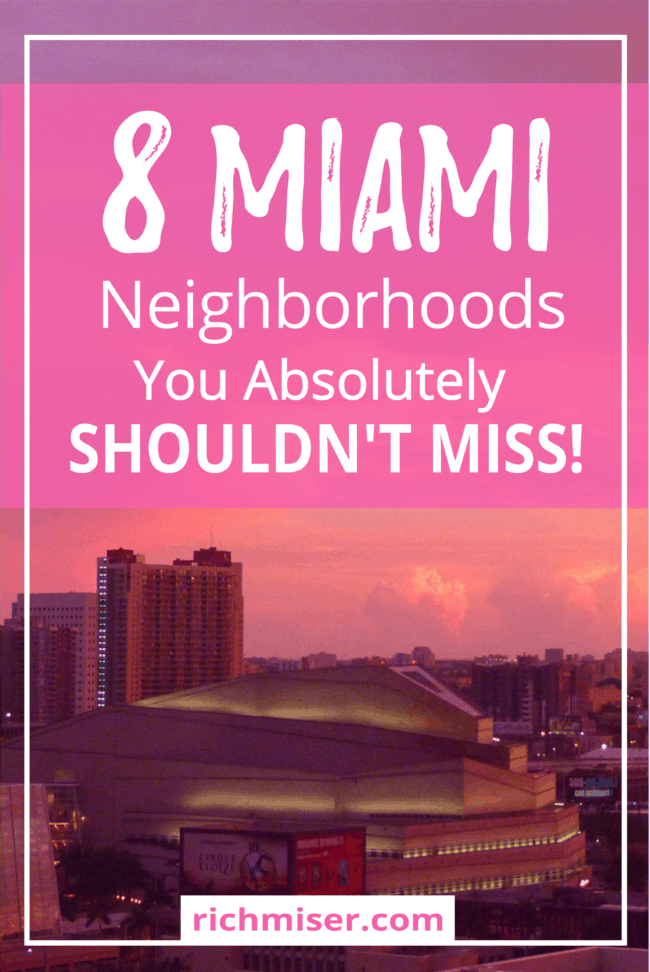 Have you been to Miami? What are your favorite Miami neighborhoods?