The 11th arrondissement of Paris, also known as the Bastille, is a lively and diverse neighborhood that is known for its vibrant nightlife, cultural attractions, and historical significance. Located on the eastern side of the city, the Bastille is a great place to explore on foot and offers plenty of things to do and see.
Let's take a closer look.
Overview of the 11th Arrondissement
Start at one of the most iconic landmarks in the 11th arrondissement, the Place de la Bastille, which is known for its beautiful fountain and its historical significance. The square is home to the famous Opera Bastille, a modern opera house that hosts a variety of performances throughout the year. The nearby Marche d'Aligre is a bustling outdoor market where you can find fresh produce, flowers, and other local goods.
If you're looking for some great food and drink, the 11th arrondissement has plenty to offer. There are many charming bistros and cafes where you can enjoy a leisurely meal or a quick snack. For a more upscale dining experience, try one of the many Michelin-starred restaurants in the area. And if you're looking to experience the lively nightlife of Paris, the 11th arrondissement has a number of trendy bars and clubs to choose from. For example, Rue de Lappe is chock-full of bars, clubs, and restaurants which are active until the wee hours on most nights (even weeknights).
In addition to its many restaurants, cafes, and nightlife options, the 11th is home to a number of interesting cultural attractions. The Musee de la Chasse et de la Nature is a unique museum that explores the relationship between humans and the natural world, and the Musee Edith Piaf is a tribute to the famous French singer. The Parc de la Villette is a large park that features a variety of outdoor activities and events, including concerts and festivals.
Overall, the 11th arrondissement is a lively and vibrant neighborhood that also has the benefit of being less expensive than some of the older, more touristy areas. It's certainly a little rowdier and less polished than those areas, but not enough to dissuade you from going. We went as a family and were very happy with it.
Travel Tips for the 11th Arrondissement
Stay in the heart of the action
The 11th arrondissement is home to many charming hotels, guesthouses, and Airbnb rentals. Look for accommodations in the central neighborhoods of Oberkampf, Bastille, or Richard Lenoir to be close to the action. That said, look carefully and use tools like Google Street View to double-check where you're staying. Some areas can be loud well into the night and early morning, and some buildings are run-down. Personally, we stayed in an AirBnB in Rue de Lappe that was nice on the inside, but the building was in fairly bad shape and it was extremely noisy. Still, we paid a fraction of what hotels in the more expensive neighborhoods cost, and we feel we got a good deal. Here's a picture I snapped from our window: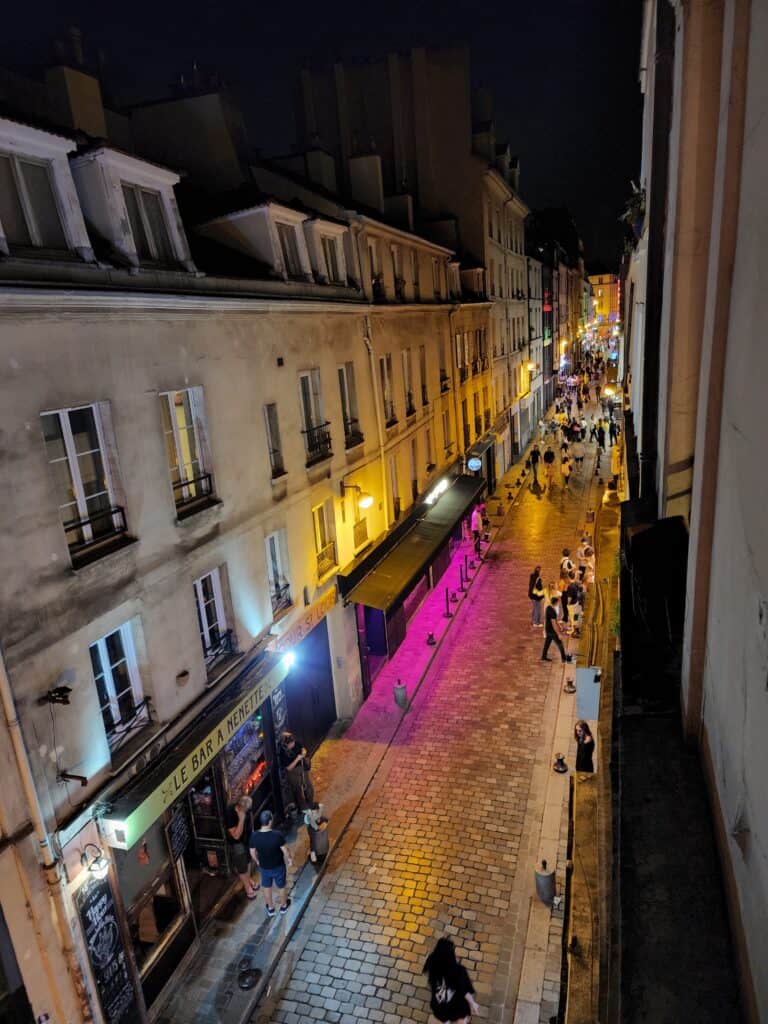 Use public transportation
From our experience, I can tell you that there are excellent metro and bus options, especially from the Place de la Bastille. You'll have no problem getting around, and will be in some of the most popular places in Paris (like the Eiffel Tower) in less than an hour from when you step foot outside your door.
Eat like a local
The 11th arrondissement is known for its diverse culinary scene, with options ranging from traditional French bistros to trendy vegan cafes. Be sure to try some of the neighborhood's famous falafel at one of the many Middle Eastern restaurants on Rue de la Roquette, or indulge in a slice of pizza at one of the Italian joints on Rue de la Folie Méricourt.
Explore the street art
The area is home to some of Paris's most vibrant street art, with murals and graffiti adorning many of the neighborhood's buildings and alleyways. Take a stroll through the streets and see what you can find – you might just stumble upon a hidden gem.
Visit the Marché d'Aligre
This bustling open-air market is a great place to grab fresh produce, artisanal cheeses, and other local specialties. It's open every day except Monday, and it's the perfect place to get a taste of the neighborhood's vibrant culture.
Take a stroll along the Canal Saint-Martin
This historic canal is a popular spot for locals and visitors alike, with its tree-lined promenades, charming bridges, and cute cafes. Take a leisurely stroll along the canal and enjoy the laid-back atmosphere.
11th Arrondissement (Bastille) Video Guide
Here's a video guide I found on YouTube:

Summing it Up
Overall, the 11th arrondissement is a great place to experience the real Paris – vibrant, diverse, and full of life. So, whether you're into art, food, or just soaking up the atmosphere, you'll find plenty to keep you entertained in this lively neighborhood.