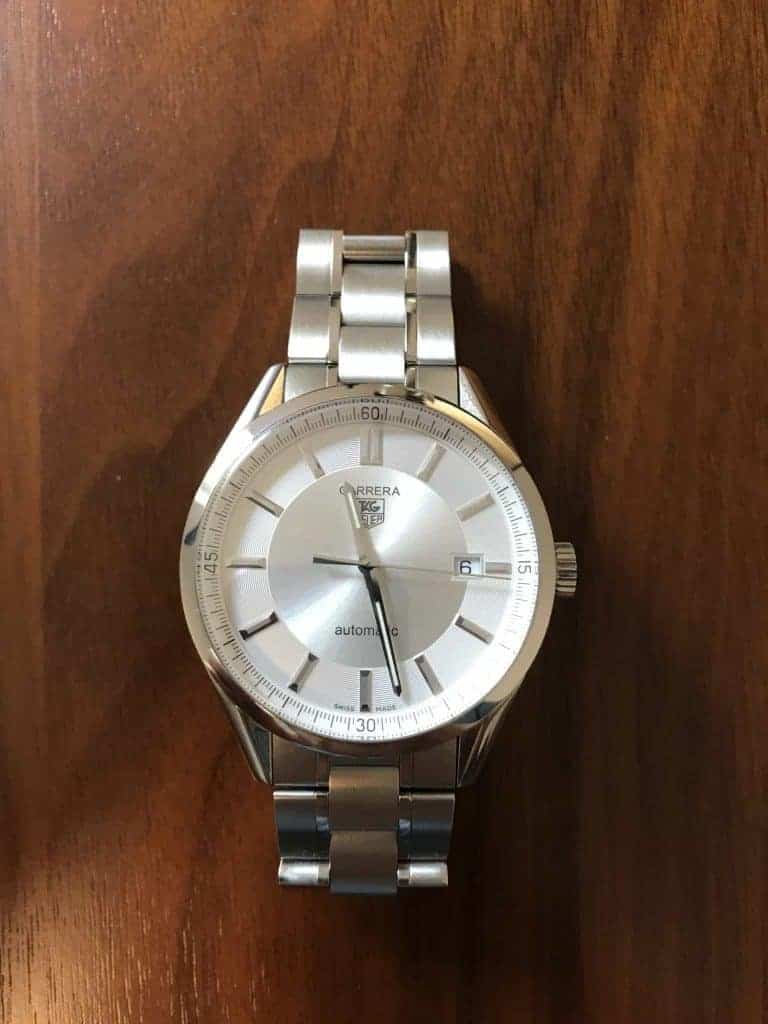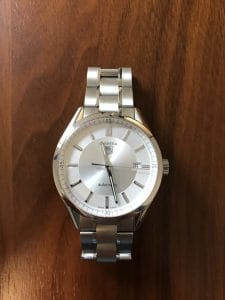 Pros: Classy-looking, great build quality.
Cons: Heavy and thick.
Bottom Line: A nice fancy starter watch, but too heavy and thick for everyday use. 
Price: Close to $2,000 if bought new (currently about $1,702 (same watch or similar) at Amazon)
For many, one of the accouterments of initial professional success is a fancy watch. I was no exception, and, starting my career, succumbed to the temptation to buy myself a nice watch some years ago: the Tag Heuer Carrera Automatic Stainless, WV211A-3.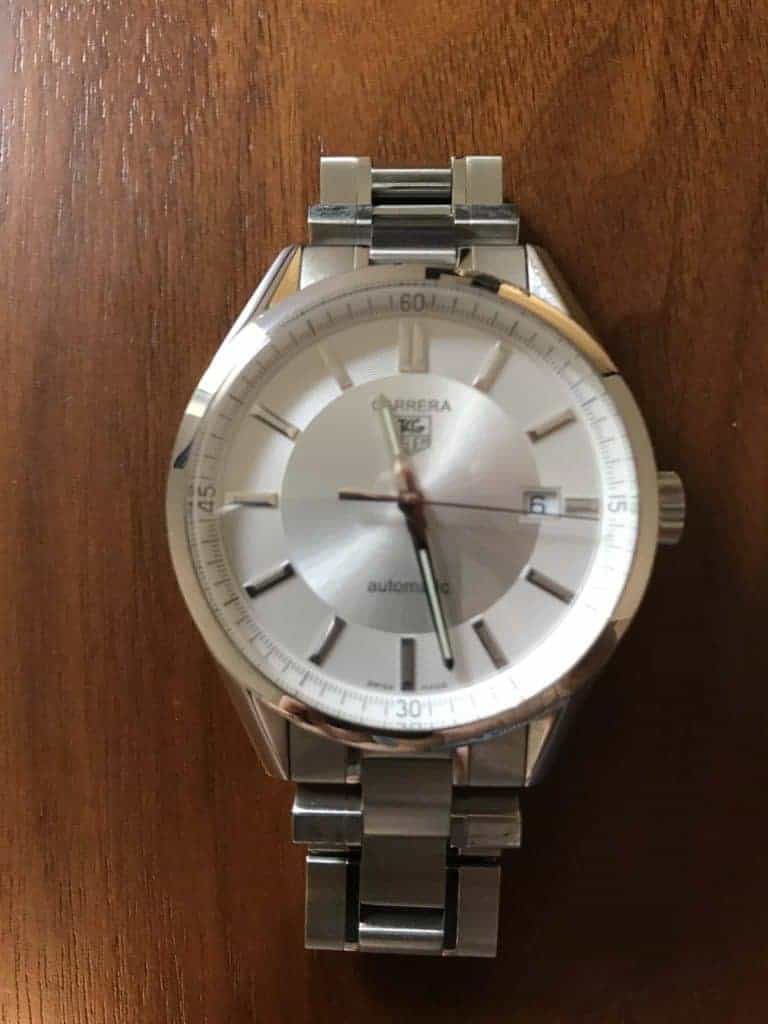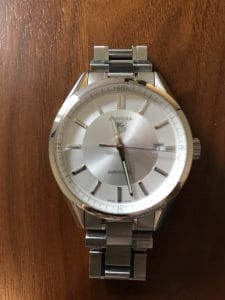 This Tag is a nice, classy-looking watch that, like any other watch, tells time (duh). It also has a day feature, but does not account for some months having 30 days and some 31 (and 28 for February), so you cannot just set it once and forget it. It has automatic movement (recharges itself with the movement of your wrist, instead of using a battery) and therefore does not need battery replacements, ever. One full charge is achieved by wearing it normally for several hours, and will usually last for about one day once you take it off.
I really like that it is a simple, classy, timeless Swiss watch. It is not a "fad" watch with unusual colors, gizmos, or features. It has a simple look that cannot make a bad impression. Its classic good looks mean that it fits in as well at the office as it does at a nice restaurant or bar.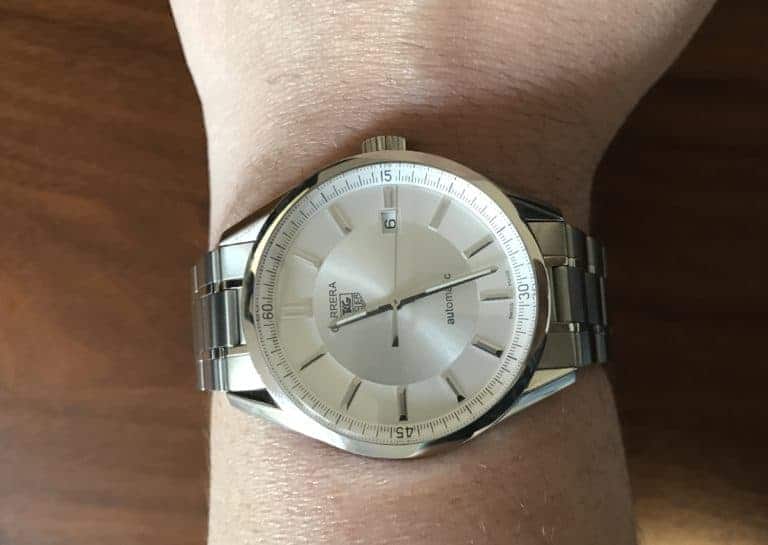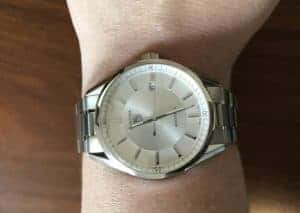 Relatively speaking, it is not very expensive, and is really an entry-level Swiss watch. I paid about $2,000 for it new, at the Tag outlet store in Orlando, Florida circa 2011. As to features, it says on the back that it's water resistant to 50 meters, although I'm certainly not brave enough to test that, and have never gotten it wet. It has scratch-proof sapphire crystal/glass. It seems to be very well-built and has not given me any kind of problem so far. It also has a neat transparent back, so you can see some of the mechanism.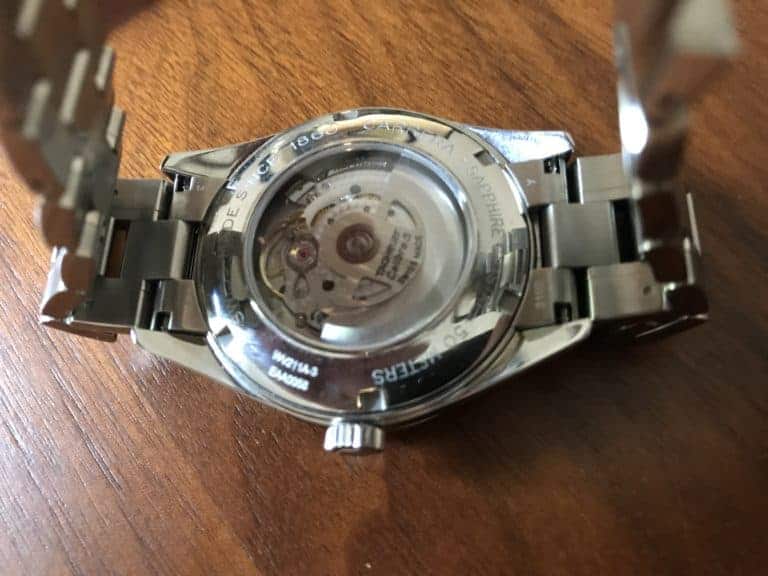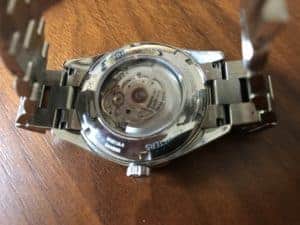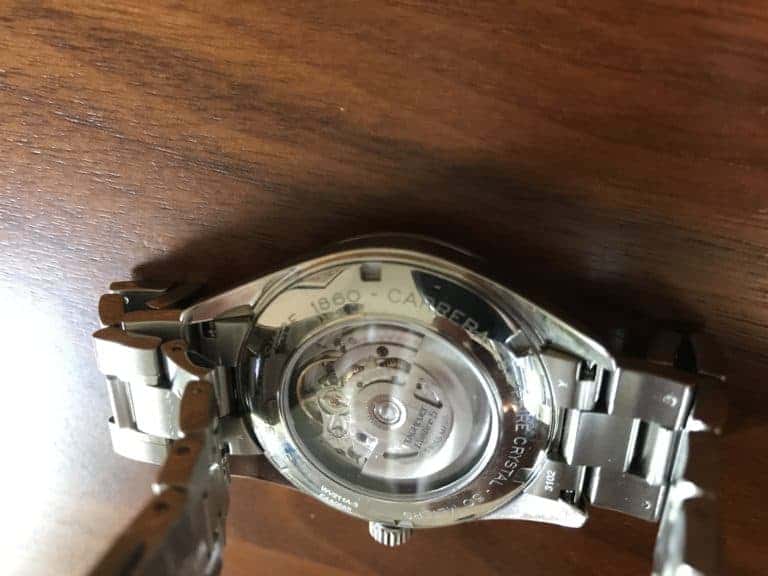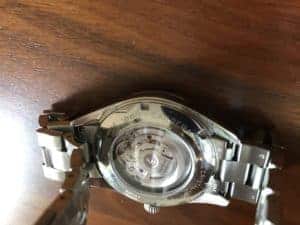 The watch does have some big negatives. This thing is heavy, and boy is it thick. That's why I would not recommend it for everyday use. Although you can get used to it, it is certainly thick and heavy enough to be annoying as you go about your day. Therefore, I only use it when I go out to fancy places or events, or just want to dress up. But, undoubtedly, it's really nice-looking, and fancies up your look.
In sum, this Tag Heuer Carrera is a very nice entry-level Swiss watch with a classic, timeless look. However, because it is so thick and heavy, I do not recommend it for everyday use. If you just want it for nice nights out on the town and occasional day use, go for it. Otherwise, I would try to get something thinner and lighter.