You're sitting at home watching Tiger King on Netflix, getting tipsy off a delicious wine from Sam's Club, and eating scrumptious Moose Tracks ice cream from Target. You think this is the life! As you saunter off to the bathroom, you sit on the toilet and decide you want to own a piece of it; you fire up Robinhood and buy Netflix, Walmart, and Target stock.
But should you have used Robinhood, or another broker? What would Joe Exotic do?
That's what we're about to find out in this Robinhood review.
Disclaimer: This is all my personal opinion and not financial advice or any other kind of professional advice.
Robinhood Review
Note: This post contains referral links.
What is Robinhood?
So let me start my Robinhood review with a short description. Robinhood is a broker that lets you buy stocks, cryptocurrencies, and options. Its claim to fame is that it pioneered the zero-commission model, where they don't charge you anything to make transactions on the platform.
Back in the day, that was pretty revolutionary. Now, practically every broker has moved to zero commissions, which makes you wonder if Robinhood is still worth it. Here's my answer, from about 6 months of use.
What's Robinhood Good For?
Here's the TL;DR. Robinhood has lost its biggest selling point, which was zero commissions. Now, I only recommend it for those who are looking for the maximum simplicity and ease of use, and those that want to hold some of the major cryptos like Bitcoin and Ether.
It has a really, really, really good interface, making trading a breeze. But beyond all this, I can't really recommend it.
Main Pros
Interface
The biggest positive point in this Robinhood review is its interface. It's extremely easy to use, and very attractive. You can buy a stock in about 30 seconds. Plus, it shows you all of your positions and your total gains or losses in a big, beautiful list.
I also love that, as you place an order or navigate the app, it has these little explanations everywhere. For example, if you want to bet on the fall of a stock buying put options, it will explain how to do it, right as you're doing it.
Here's somebody's YouTube video which shows you what it looks like. I've fast-forwarded to the point where she starts showing you the interface:

Fractional Share Investing
This is another big plus that not every broker has. With Robinhood, you can buy tiny fractions of shares, meaning you can invest in dollars. For example, if you want to buy $5 of Netflix, you can do that, rather than having to spend the money for a whole share.
I really like this because it lets me take, say, $50, and buy 10 different stocks. Also, it minimizes uninvested cash in your account, which really belongs somewhere else (like a high-yield savings account).
Commission-Free Cryptocurrency Investing
If you want to buy crypto, you can do it on Robinhood commission-free (which is still something of a novelty). Unfortunately, you can't move it out; you can only buy, hold, and sell.
Main Cons
So here's the part of my Robinhood review where I talk about the big cons of the platform, and why I only recommend it for a limited subset of investors.
Questionable Reliability
During times of market turmoil, Robinhood has had some pretty nasty outages. To be fair, so have other brokers, but Robinhood's have seemed more severe. For example, this is what USA Today reported on March 9, 2020:
Robinhood is currently facing its first lawsuit after its 10 million users suffered a daylong outage on March 2, during the market's surge. The Dow rose nearly 1,300 points, the S&P 500 surged 136 points and the Nasdaq jumped 384 points. The daylong outage resulted in two days of functionality issues and glitches across its app, website and help center. The class-action lawsuit was filed on March 4, in the U.S. District Court in Tampa, Florida. The lawsuit seeks unspecified damages. [My emphasis].
This is probably not that big of an issue for investors who buy and hold for the long term, but it's a huge issue for traders.
(Probably) Suboptimal Order Routing
As has been reported, one of the ways Robinhood makes money is by selling its order flow. This means that "professional trading firms buy [your Robinhood orders] and execute the trades…These trading outfits typically make money from the gap between the bid and the offer. When trading companies buy order flow, they give some of that money (the rebate) to the brokerage that provided the orders" (source: Quartz).
The problem with this is that you may not always get the best execution. This means that when you place a "market" order (asking your broker to buy or sell a stock at the best available price), you may not always get the absolute best possible price. It's probably a difference of a few cents.
This is not the biggest deal for a retail investor making small trades. After all, it's better to get suboptimal pricing on a $5 purchase than to pay a commission on it. However, for big trades in the thousands of dollars, it matters.
(By the way, a lot of brokers sell your order flow. If you want the absolute best execution, you'll probably find it with Interactive Brokers (Pro), which charges commissions).
Few Features or Research
The fact is that Robinhood is pretty bare-bones. Mainly, you can buy and sell stocks, options, and crypto, but you can't do much else. Here's some of what it lacks:
Good research (though you can pay ~5 a month for the Robinhood Gold service and get better research).
You can't bet on a stock's decline by selling it short, though you can with options.
No futures or forex trading.
So if you require advanced features, this is not for you.
Someone definitely messed up. I don't know if Robinhood received undue pressure to limit or stop the purchase of GME, but that definitely should not have happened and probably saved some of the big money at the expense of retail investors like you and I. It was absolutely a failure of the markets and the system.
That said, I think the big lesson to learn is not to stop using Robinhood, but to have a backup broker if possible. System failures and trading halts and limits are all part of the game, and you can't be sure that your broker will not limit your ability to trade at exactly the wrong time. There is no good solution, though perhaps blockchain and its decentralization will bring one in the future.
In the meantime, I would suggest having a backup account with a more established broker and to use that account for risky trades (or split risky positions among multiple brokers). It's a bad solution, but the best I can offer.
Robinhood Review Conclusion
Don't get me wrong: Robinhood is not a bad broker. It's just not for advanced or sophisticated investors, and it has now lost its main advantage, which was zero-commission trading.
On the other hand, the interface is beautiful, elegant, and simple. If you know what you want to buy and want to do it quickly and easily, go for it. It's also great for buying fractional shares and easily keeping track of whether you're up or down in the market. Plus, it makes buying options very easy and explains everything along the way.
In the end, I think it's a limited product that will appeal to the casual investor looking to easily get into the markets. If that's not you, go with someone else.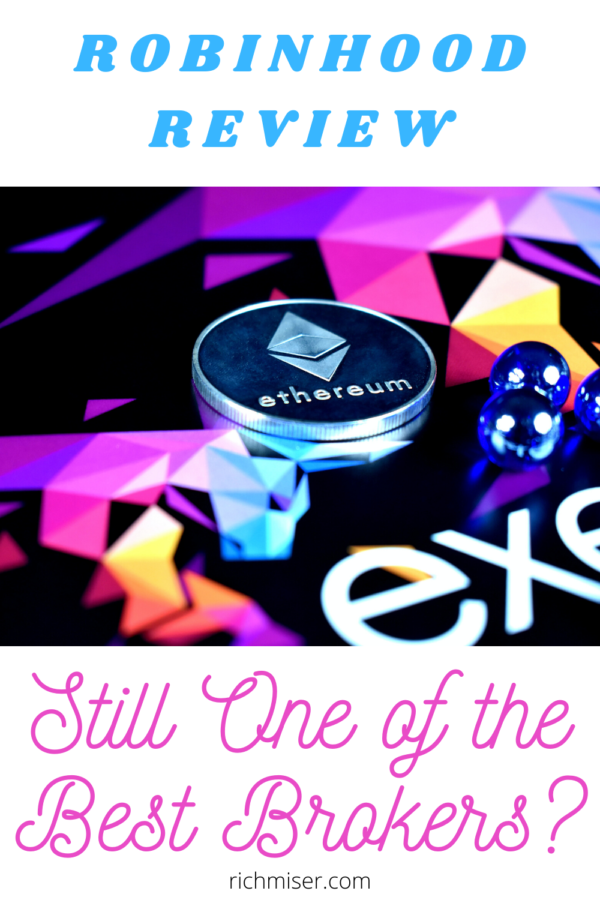 What do you think about Robinhood?