Whether it's one of your favorite hobbies or a dreaded chore, shopping for new clothes is an occasional necessity. For young professionals entering the workforce or those hoping to make a career change, a new work wardrobe is a must.
To help you save money and shop for a work wardrobe on a budget, we've compiled a list of tips and tricks for all kinds of shopping.
Keep reading to learn how to plan and execute a strategic shopping spree that saves you money.
Note: This is a syndicated post, republished here with permission. You can see the original here.
Here's How to Build a Work Wardrobe on a Budget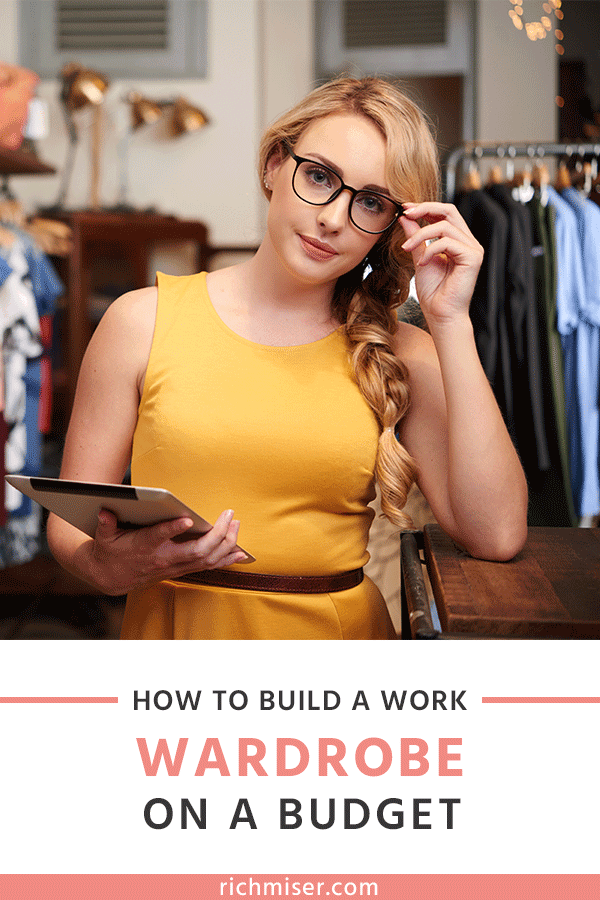 Research Your Office's Dress Code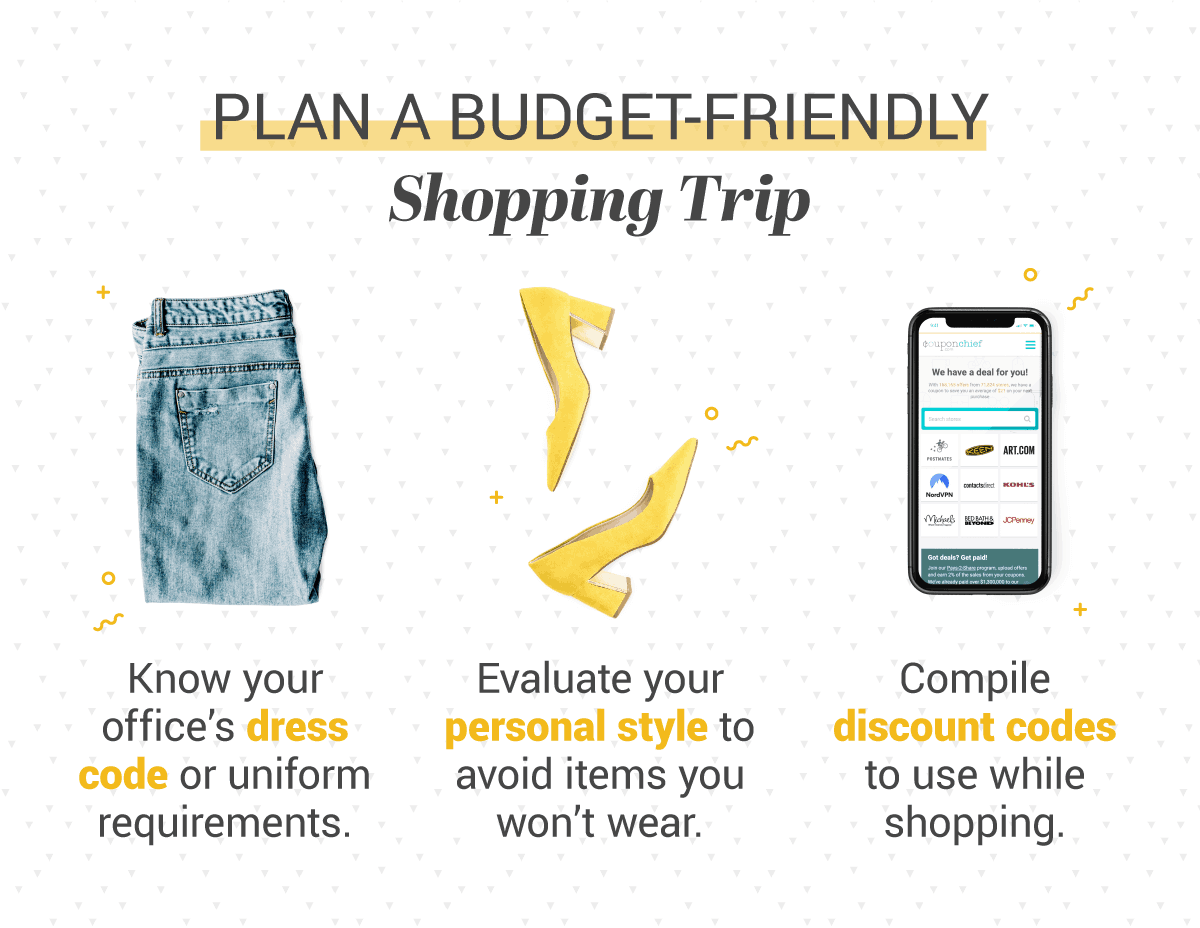 To start the planning phase of your new work wardrobe, determine your office's dress code or uniform requirements. There are typically four levels of dress for business environments:
Casual
In casual offices, dark wash jeans and more casual fabrics like cotton and linen are usually permitted.
Business Casual
This is one of the most common dress codes in North America and allows for self-expression within professional guidelines. Colors and simple patterns are allowed.
Business Professional
Also known as "traditional business" attire, business formal clothing is typically worn for interviews, client meetings, and corporate events. Color usage should be minimal.
Business Formal
For those working in executive offices, law firms, or other high-level positions, business formal is often required. Dark colors, conservative patterns, and minimal accessories are expected.
Plan Around Your Personal Style
Don't buy things you won't actually wear. Many shoppers fall for the choice-support cognitive bias, which encourages you to ignore red flags that don't support your desires. You may really love those sky-high Prada shoes in the window, but if you work in a casual advertising agency, you'd look out of place wearing them at the office.
If you aren't sure what your personal style is, it can be helpful to evaluate your current wardrobe. If you tend to stick to neutral colors, plan to shop for new pieces that will complement what's already in your closet.
Stock Up On Work Wardrobe Essentials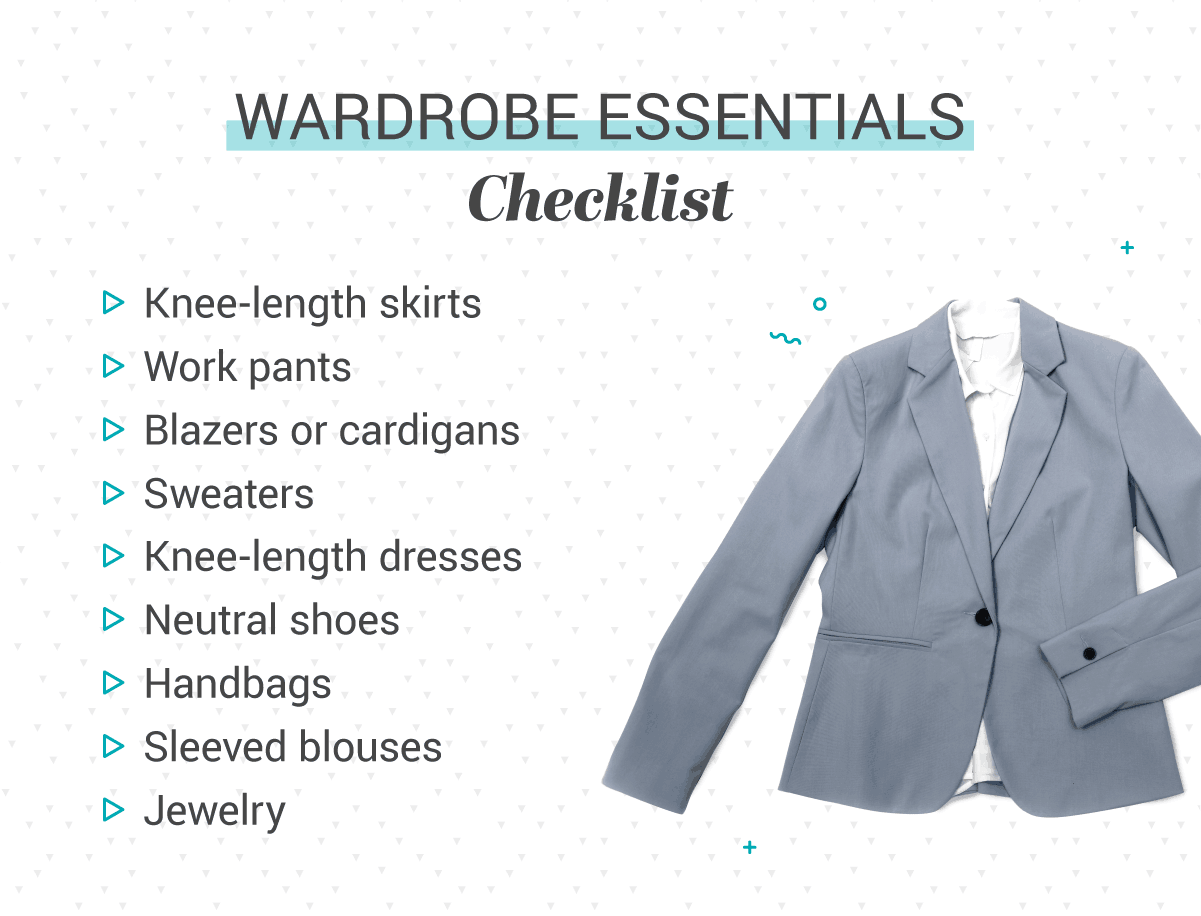 Building a work wardrobe on a budget should include essential pieces of clothing you'll be able to wear in various work environments. Prioritize finding pieces that can be mixed and matched to create several different outfits. Be sure to adjust your list of essentials based on dress code –– more formal work environments may warrant extra blazers, button-down shirts, and dress pants.
Know How Much You Plan to Spend
For those revamping their work wardrobes (or buying work clothes for the very first time), the idea of spending too much money can be daunting. Thankfully, there are plenty of retailers that offer quality professional wear for various budgets.
Depending on where you shop, expect to spend the following on essential items in your new work wardrobe:
Blouses: $15 to $40
Skirts: $30 to $90
Pants: $30 to $50
Blazers: $30 to $90
Dresses: $30 to $50
Shoes: $30 to $60
Jewelry: $15 to $30
Plan to spend more money on a few key pieces of your new wardrobe. Items like shoes, suits, blazers, and statement accessories are worth a bit of a splurge and, when taken care of, will last years. Additionally, try to avoid trendy clothing when possible. Trends don't last long and usually end up at the back of the closet after a few months.
Shop Designer Discount Stores for Better Deals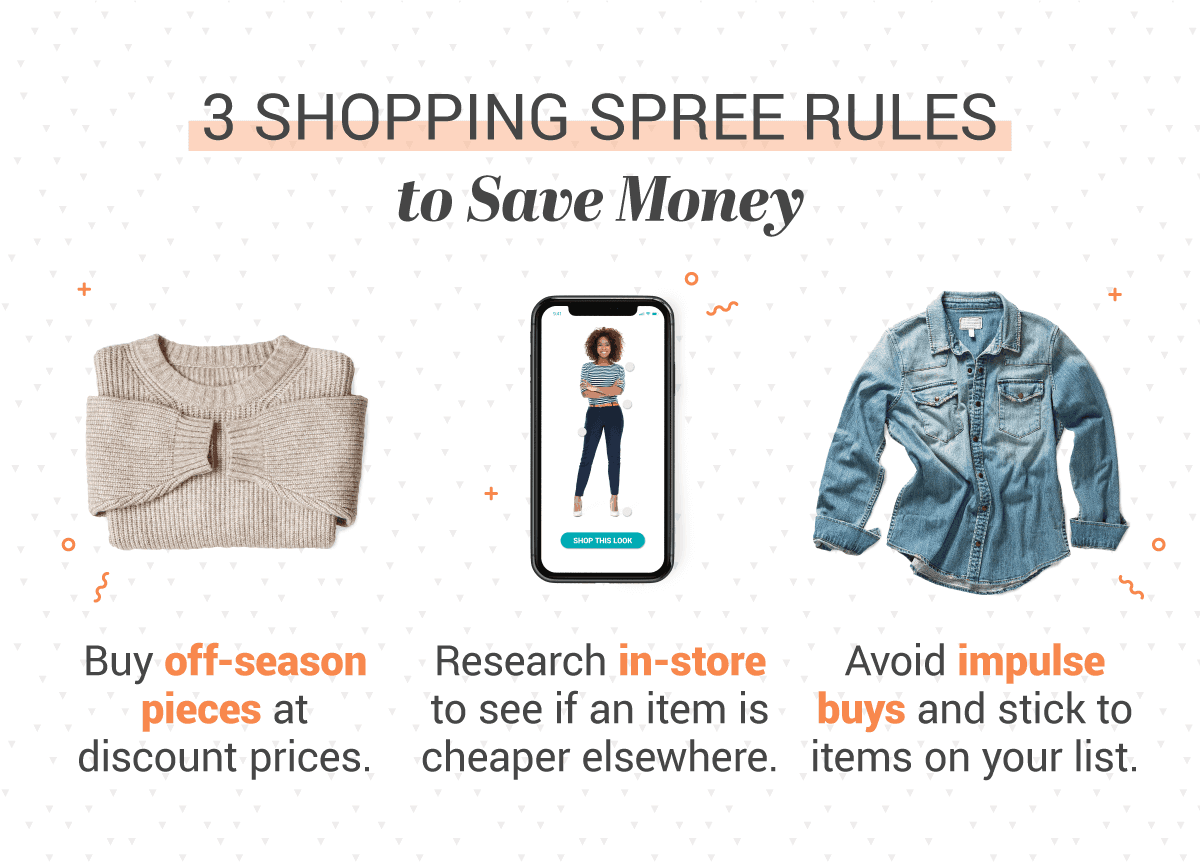 For those who love designer clothing, stores like TJ Maxx, Ross, and Marshalls offer designer brands at discounted prices. Designer jeans, handbags, and suits are often 60–75% off their retail price at these stores.
Here are a few shopping secrets when visiting these stores:
Look for yellow price stickers at Marshalls –– these indicate final clearance prices.
Visit the store on dedicated restocking days to find new items (Wednesdays for TJ Maxx and Fridays for Marshalls).
The latest markdowns aren't always advertised, but sales associates will always tell you where to look if you ask.
Leverage Shopping Hacks at Department Stores
Larger department stores are the best places to shop for key work wardrobe pieces like suits, tailored jackets, and dress pants. These stores often have a knowledgeable staff who can help with fitting and styling needs.
Remember to use these hacks when shopping at department stores:
Check out their social media pages for exclusive deals and discount codes.
Monitor prices after you buy –– many stores will refund the difference if the price drops within a certain period of time after purchase.
Ask the cashier if they have any coupons you can use on your purchase.
Check for online-only discounts that may not apply to in-store purchases.
Buy off-season or end-of-season items for significant savings.
For additional savings from the same great stores, check out their outlet stores (Saks Off Fifth, Nordstrom Rack, Macy's Backstage, etc).
Brush Up on Your Online Shopping
Online shopping can be hit or miss when it comes to buying clothing. To help you find the best pieces at the best price, follow these rules:
Know your measurements. While sizing varies dramatically between stores, finding your size by measurements usually yields the most accurate fit.
Read the reviews from newest to oldest. Most online clothing stores sort their reviews by the most positive to the most negative, but looking at recent reviews will give you a better idea of current quality.
Look for quality materials. Fabrics like polyester and acrylic show wear and tear sooner than higher quality fabrics like cotton and linen.
Check the return policy. While most large online retailers have reasonable return policies, smaller brands or overseas retailers may have strict policies for returning items.
Don't buy things that need to fit perfectly. Things like blazers, shoes, and pants should not be bought online, as these require a more tailored fit in professional environments.
To save additional cash, use these hacks when shopping online:
Collect coupons and discount codes beforehand to maximize savings.
Use cash-back sites to get rewards for shopping online.
Sign up for birthday rewards to get freebies and special discounts every year.
Infographic

Sticking to a budget when shopping for a whole new work wardrobe can be challenging, but by reading reviews, using promo codes, and knowing what to look for, you'll be able to find the perfect pieces to complement your personality and professional skills in the workplace.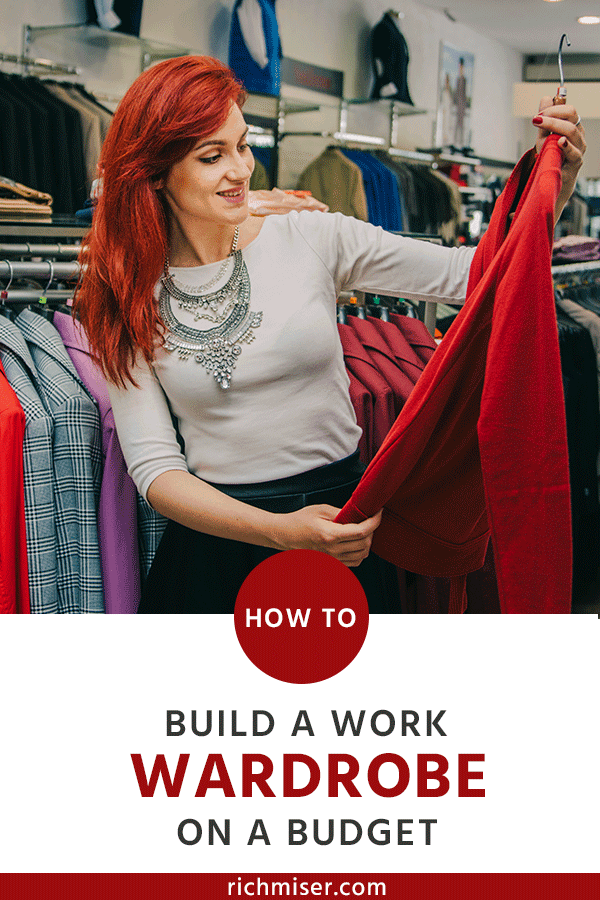 Sources
Business Insider 1, 2 | Corporette | Money Crashers 1, 2 | Money Under 30 | Harper's Bazaar | Financial Post | The Balance Careers | Good Housekeeping | LifeHack | Vault | Inc. | BrightSide | GoodReads | Dave Ramsey | Bustle | Monster | Money | Otterwize