You must be thinking I'm crazy. After all, who spends ten grand on a home gym, unless they're rich and have money to burn (which is not my situation)?!?
Well, I do. I saved and borrowed to make this happen, and don't regret it one bit; this was basically my single biggest purchase, ever (besides a house or car). I don't have a $10,000 watch or anything like that. Not to say that I wouldn't buy a really expensive watch if I were swimming in money, but what I'm saying is that I put more priority on the gym.
Why would I (or you) do something like this? Here are 20 good reasons:
Why I Spent Over $10,000 on a Home Gym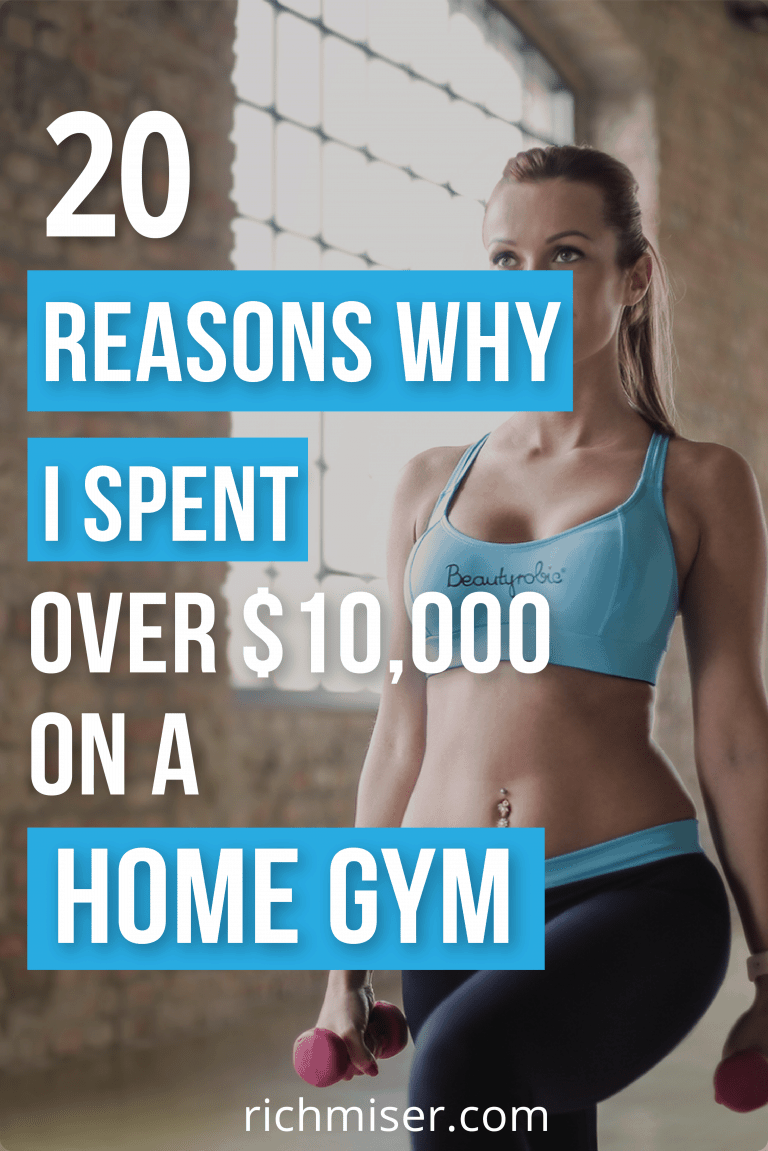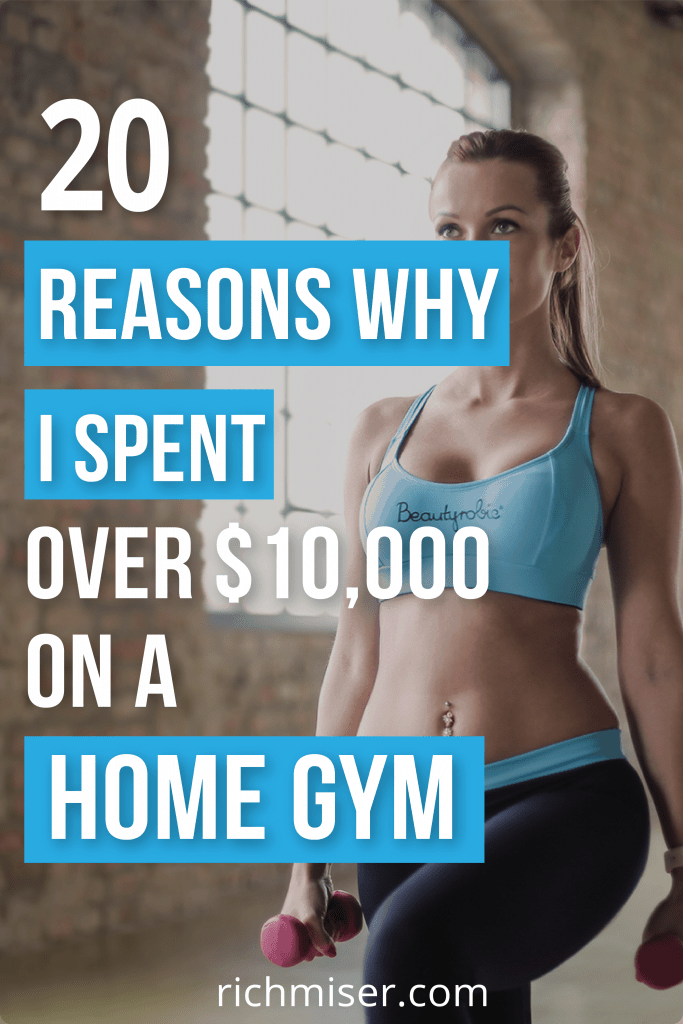 Because You Can Truly Do Your Workout Anytime
Sure, there are 24-hour gyms. But you still have to spend time and effort getting there, plus money on a membership or day pass. Worse yet, if you go during peak times, they can be absolute madhouses. So while you can, in theory, do your workout anytime if you live close to an always-open gym, in practice it's much harder at some times than others.
With a home gym, you never have to wait for a machine or ask a stranger if you can "work in" and have to constantly change the resistance between sets (or change out weight plates). Rather, you can truly do your workout anytime, with zero hassles, distractions, or costs (beyond the initial equipment cost and any maintenance expenses).
Fitness and Bodybuilding are a Priority
If you don't have your health, what's the point of having all the money in the world? Not only that, but poor health costs loads of money in terms of medical expenses, especially if you have a chronic condition. And, you have to deal with an enormous amount of pain and suffering. Diabetes is not something I would wish on anyone.
So, to me, fitness is a huge priority. I like to look and feel nimble and fit, plus I also love to feel strong and "big" (hey, I grew up in the 90s and early 2000s and am still a fan of the Van Damme look, which I've yet to achieve). That means that aerobic exercise is not enough for me – I need weights.
It Ensures I Work Out Consistently
The way my mind works, having a home gym ensures I work out consistently. Over 15 years of bodybuilding, I've perfected a technique to ensure consistency that works for me:
I work.
About an hour before I finish working, I have a pre-workout meal.
The moment I finish working, I automatically change into my gym clothes. I don't even think about it, I just do it as a matter of routine.
I exercise.
Working out at home is much better than a commercial gym in this regard. There's no "friction" or delay – just exercise.
Because I Have a Ceiling-Mounted TV Where I Watch What I Want
One's preferred entertainment during a workout is highly personal – some people just want music; others, like me, prefer TV (I like to stream action movies). Having your own gym means you have 100% control over your entertainment.
You Can Have the Worst Workout Clothes and It Doesn't Matter
At commercial gyms, there can be pressure to wear nice workout clothes, resulting in an expenditure of money. At a home gym, you can wear anything you like. I always wear the same two shorts plus an old t-shirt, and so spend basically zero on workout clothes.
There's No "Gym Pressure"
In your home gym, you won't feel pressured by what the person next to you is lifting, or how fast they're running on the treadmill. You also don't feel like everyone there is more fit than you are, like this individual did:
I've had quite a few gym memberships, and gyms tend to have a certain dynamic where some trainers and customers are the "stars". They're always there, and they look great. If you're not in that clique -and especially if you're starting out and are by yourself- you can feel out of place and even unwelcome.
At a home gym there's none of this, and also no pressure to sign up for personal or group training or classes.
You Don't Have to Waste Time Talking to Anyone
This is highly personal. Some people love the social aspect of gyms, and that's great. Others, like me, prefer to work out in silence and finish as quickly as possible. If you're the silent type, you'll probably prefer a home gym.
No One Checks You Out or Harasses You
Some people like feeling eyes on them; most probably don't. If you don't appreciate it, it's definitely not a problem at your home gym.
No Dealing with Annoying People
You know the types – the showoffs, the loud talkers, the loud grunters, etc. Just look at this jackass:

Or this guy, who is literally stronger than steel:

(I'm kidding, this last guy's not annoying, but I just couldn't resist slipping the GIF in here).
No Gym Membership Fees
Gym membership costs vary widely, and can quickly add up if you sign up for lessons or personal training. Home gyms, on the other hand, don't have many ongoing costs.
No Dealing With Other People's Sweat and Germs
I'm not a germophobe, but still find it disgusting to sit on a machine or bench that has someone else's glistening sweat on it. With a home gym, it's just your sweat.
No Gas, Tolls, or Parking Expenses
With a home gym, these are zero.
No Dealing with the Weather
There's no driving or walking in the rain or snow when you've got your gym at home.
You Don't Need Daycare
You can have your kids close by, and not spend on gym daycare.
No Temptation to Spend at the Gym Bar
Some gyms have bars or vending machines with all sorts of expensive drinks and meals. With a home gym, you're not tempted to spend on anything like that.
No Showering with Strangers Close By
Some people mind this, some don't.
No Gym Bag and Clothes Changes
A home gym simplifies your life in that you don't need to prepare a gym bag.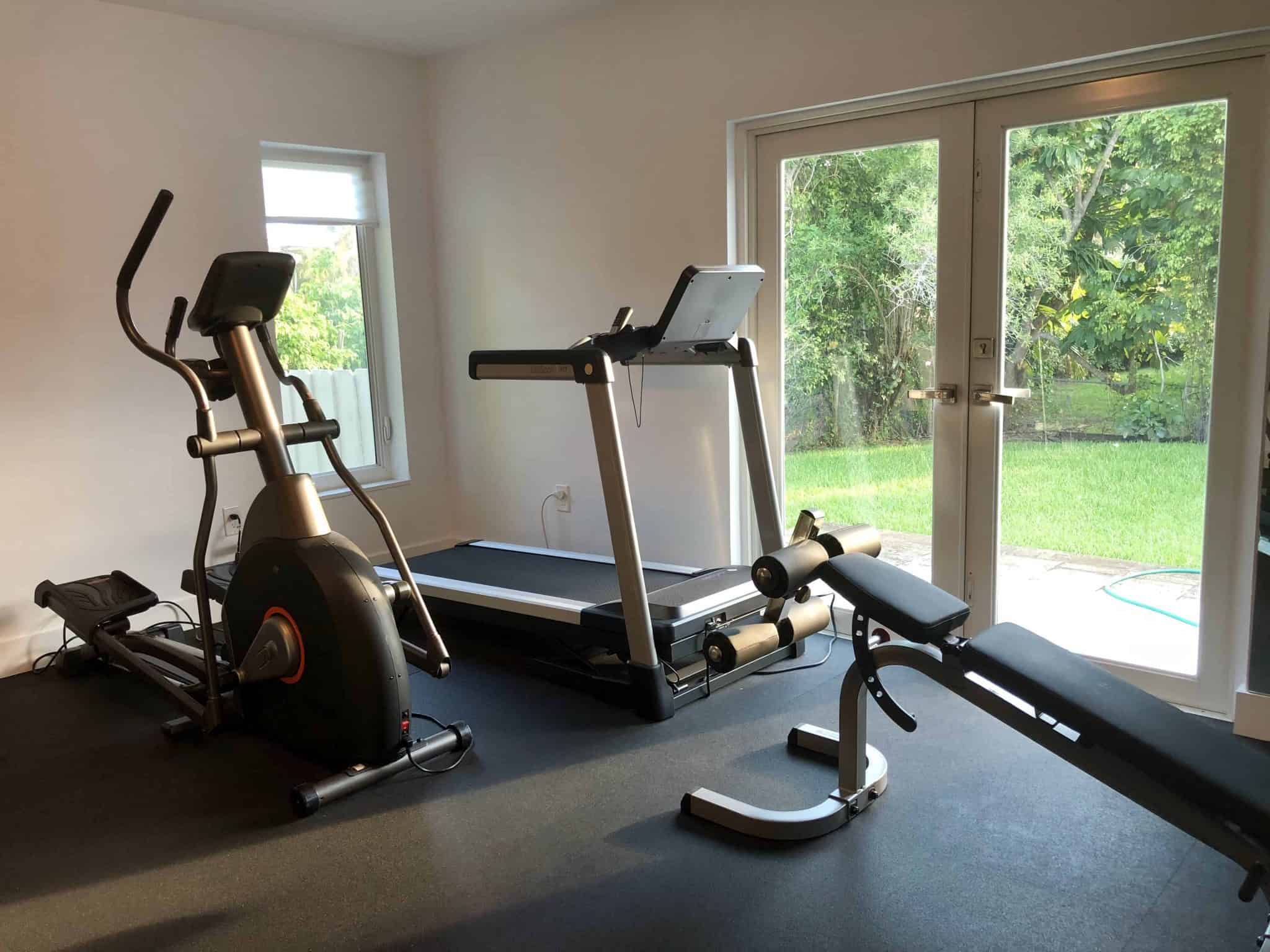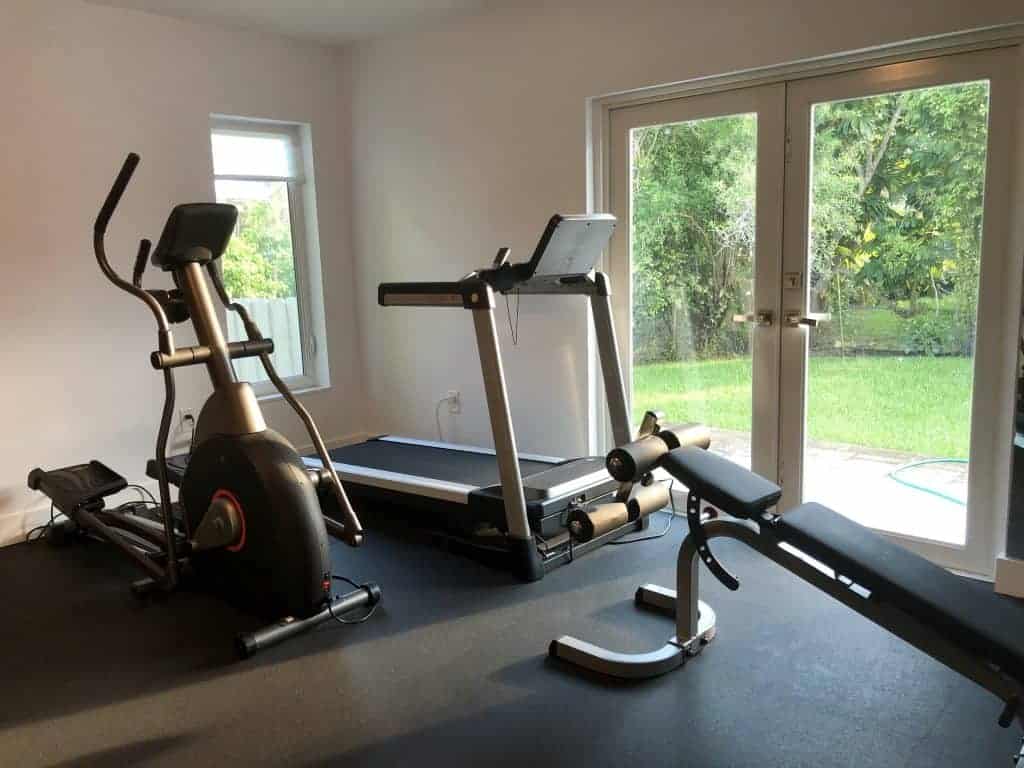 In the Long Run, It's Cheaper
At some point, a home gym will pay for itself in terms of commercial gym membership fees and other expenses that you don't have to incur in. For me, my break-even point is probably in the decades, but for someone with a compact home gym with less equipment, it may be a matter of months.
You Save Time
No driving to a gym and back home, waiting for machines, or being forced into time-wasting conversations.
You Can Exercise Your Dogs at the Same Time
Ha! I don't have dogs, but when I do, they'll occasionally get this workout 🙂
What's in my Home Gym?
So here's what I got for $10,000 plus:
Professionally-installed rubber flooring in the gym room (the second-biggest room in our house).
Some big, wall-covering mirrors.
A TV that hangs from the ceiling (we used an old TV, but had the mounting professionally done).
One treadmill and one elliptical machine.
An incline-decline bench (Body-Solid brand).
A full set of Body-Solid dumbbells and a dumbbell rack.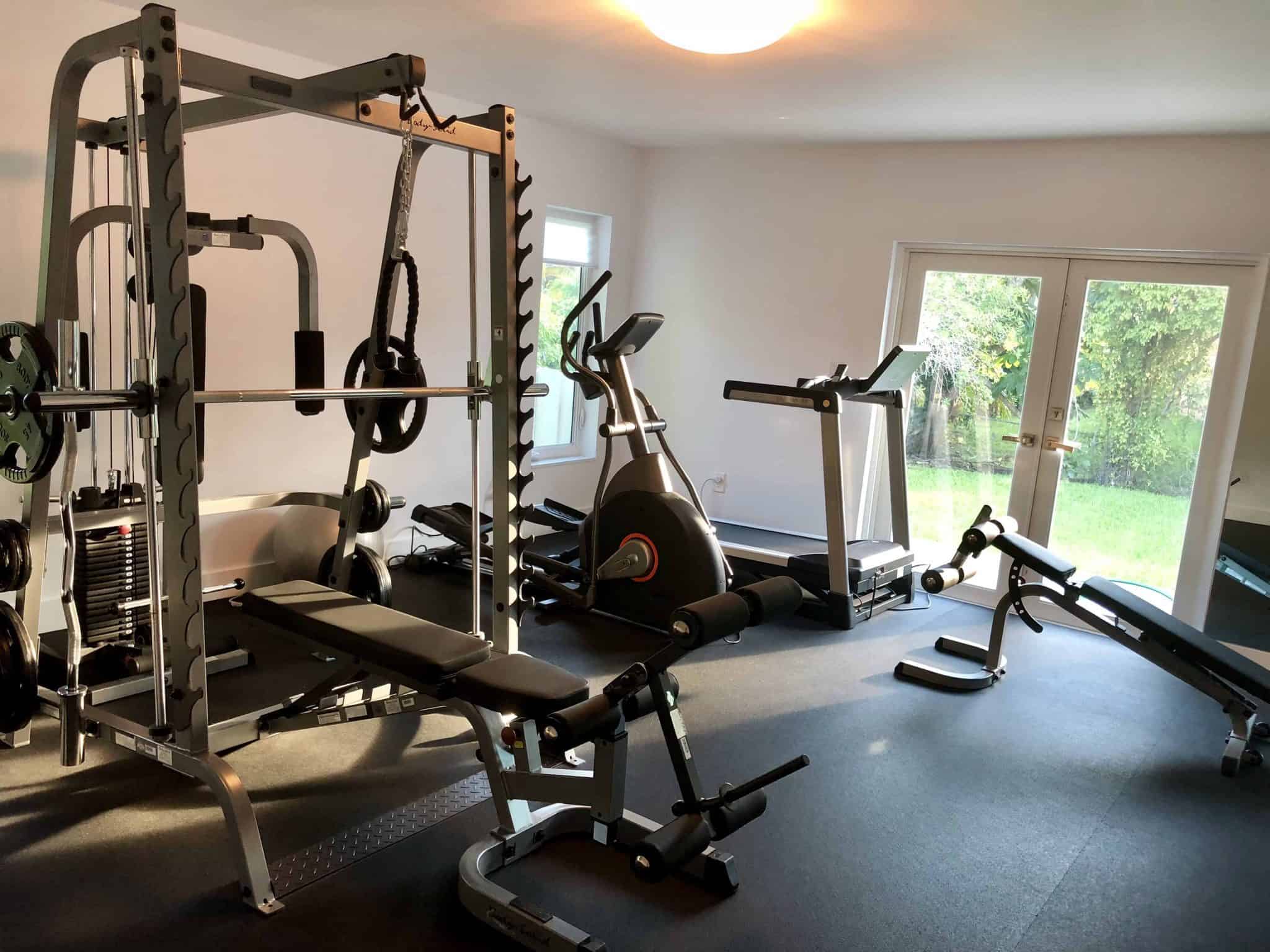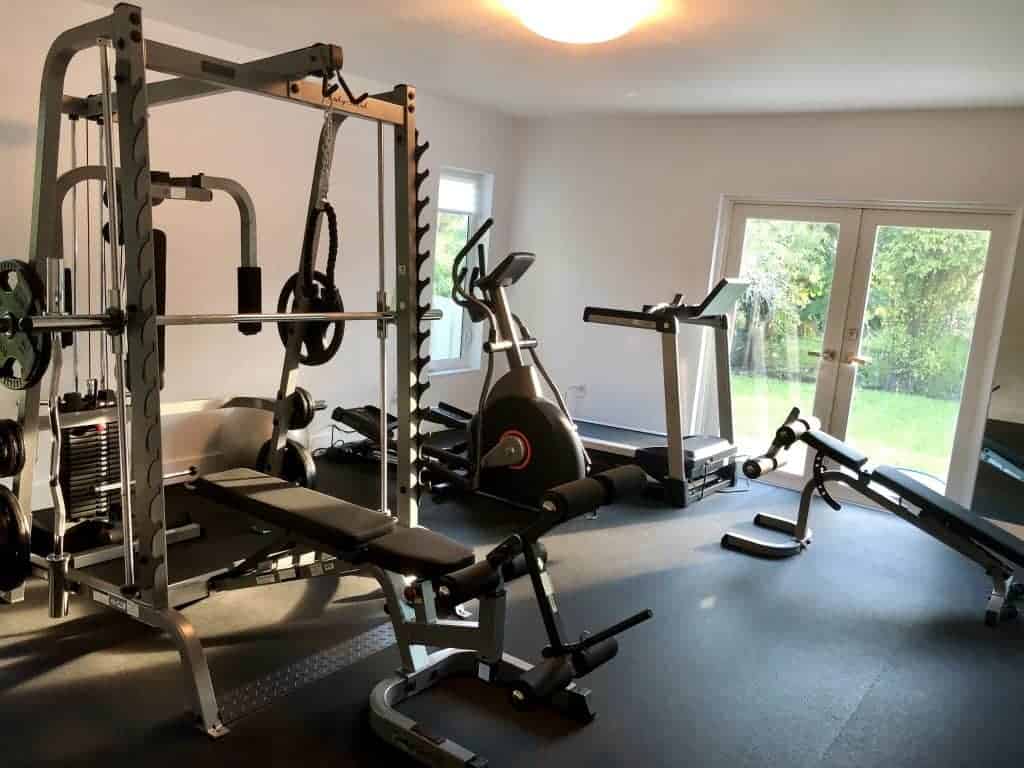 One curl bar (the barbells that have like a zig-zag in them).
A Body-Solid multi-function Smith machine with its own incline-decline bench.
One full set of plates for the Smith machine.
Miscellaneous bits and pieces of attachments and other equipment.
Did I Get the Most Value for My Money?
Looking back, no. It was a mistake to buy everything new; I should have at least bought the dumbbells used. I could have also saved by buying used benches (and cleaning them up really well), and used weight plates. As well, I bought an unnecessarily complicated treadmill and elliptical.
Oh well, live and learn.
Can You Do It For Less?
You can do it for far less. One aerobics machine plus a Bowflex-type machine or some resistance bands or other basic weight-training equipment should be enough for those that don't dream of looking like Van Damme.
I spent 10 large because it was a longtime dream of mine to have a commercial-quality home gym some day. So, when we bought and remodeled our home, I jumped at the chance.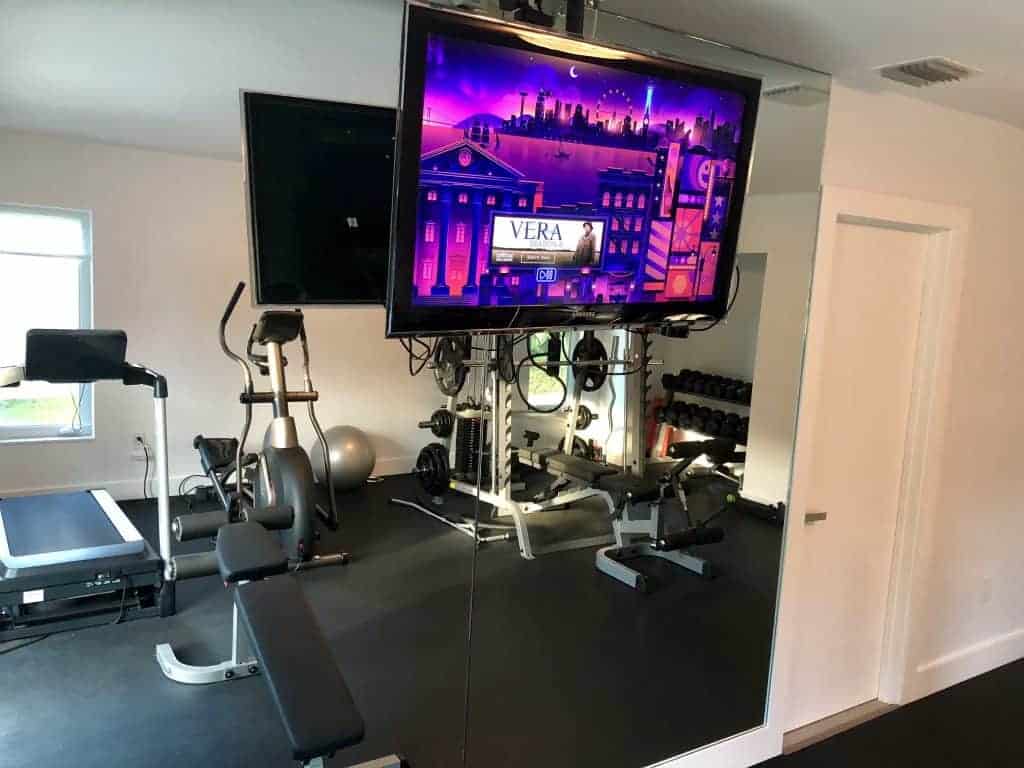 I do use every component of the gym, but some are a bit overkill. For example, at my age (past 35) it would be enough to do chest presses with dumbbells, rather than with the Smith bench press. Still, I do enjoy the gym feeling, and it was worth the spend to me.
Summing It Up – Why I Spent Over $10,000 on a Home Gym
I'm a relatively-frugal dude, but I still think things that are super-important to you are worth the money. For me, my top two priorities in terms of material possessions were (and still are) an awesome house and a commercial-quality home gym. I value health and wellness very highly, and so the gym was worth it to me.
If you're thinking about one (and know you'll use it), I'd say absolutely go for it!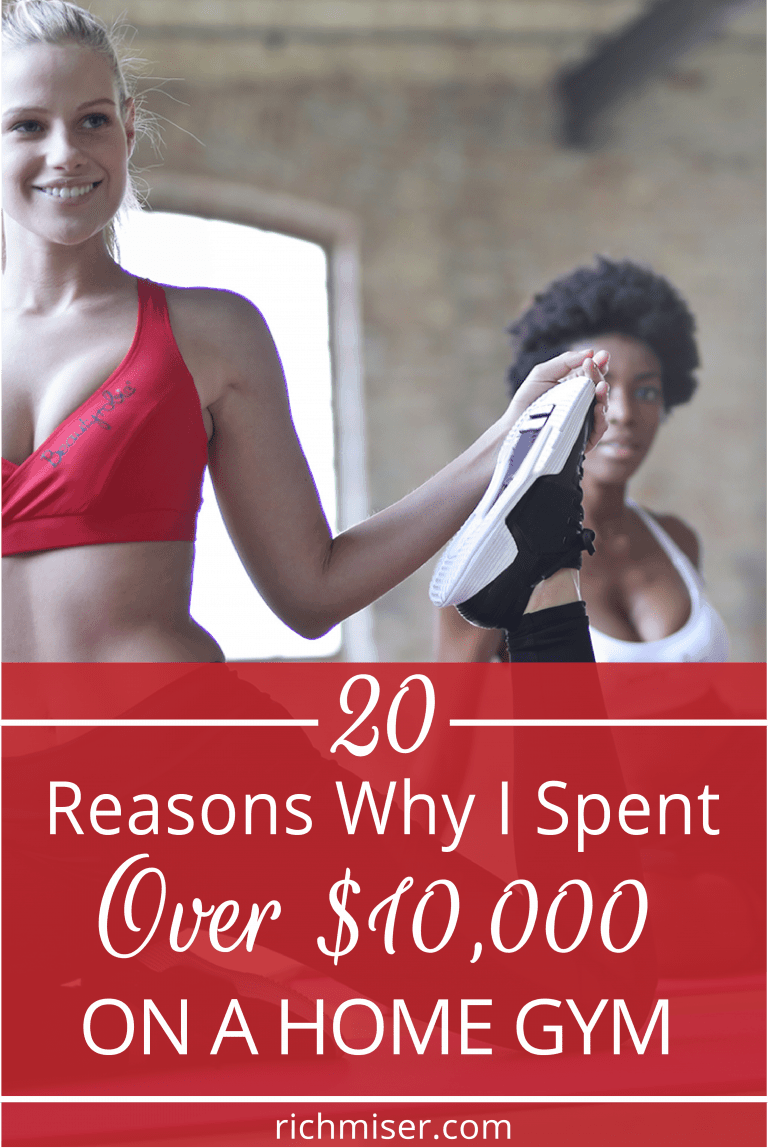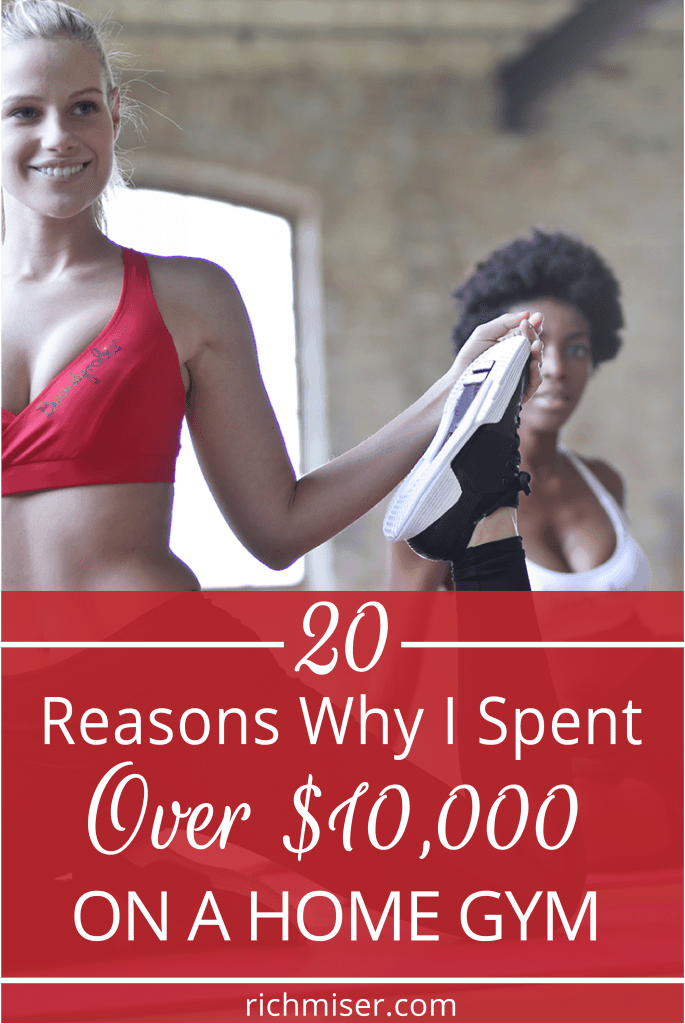 What do you think about home gyms? Would you dedicate an entire room and thousands of dollars to one, or would you prefer a compact home gym (or none at all)?
---
Last updated on March 24, 2019.