Eating a healthy and satisfying breakfast is an important way to start your day off on the right foot. However, finding the time and resources to prepare a nutritious breakfast can be a challenge. That's why we've compiled a list of 10+ easy and affordable breakfast ideas that are sure to keep you fueled and full until lunchtime. From overnight oats to breakfast burritos, these tasty options are all under $1 per serving and can be customized to your preferences.
The Big Idea for Healthy Breakfasts Under $1
So the big idea here is to get a good portion of the macronutrients (carbs, protein, and fats) without overdoing it (after all, you don't want to eat a steak and fries lest you spend the entire day sluggish). We want complex carbs that will provide long-term energy (as opposed to simple carbs like fruit juice), some protein, and some healthy fats. This should provide a healthy and balanced meal that will keep you going for hours.
We're also looking for a cost per person of under $1, and very easy prep.
Disclaimer
I'm not a nutritionist or health professional. This is based on my years of experience with (and research on) healthy eating.
10+ Healthy Breakfasts for Under $1
Overnight oats
Combine rolled oats, milk, and your choice of fruit and nuts in a jar or container. Let it sit in the fridge overnight, and in the morning you'll have a filling and healthy breakfast ready to go. Use whole milk for that extra fat to sustain you. Be sure to skip any sugar or only use a light portion of it, since it's a simple carb that can provide a sugar spike followed by a crash later. (Whole fruits are good because they have fiber to make the simple carb digestion slower).
Banana smoothie
Blend a banana, milk, and a scoop of protein powder for a quick and easy breakfast smoothie. Have a slice of whole-wheat toast on the side to make sure you get enough complex carbs.
Hard-boiled eggs
Boil a few eggs at the beginning of the week and keep them in the fridge for a quick and protein-packed breakfast. Make sure to have whole-wheat toast or another complex carb on the side.
Avocado toast
Mash up an avocado and spread it on a piece of whole-wheat toast, then top with a sprinkle of salt and pepper. You still need protein, though, so add some greek yogurt, nuts, or cheese. Or, top it off with an egg.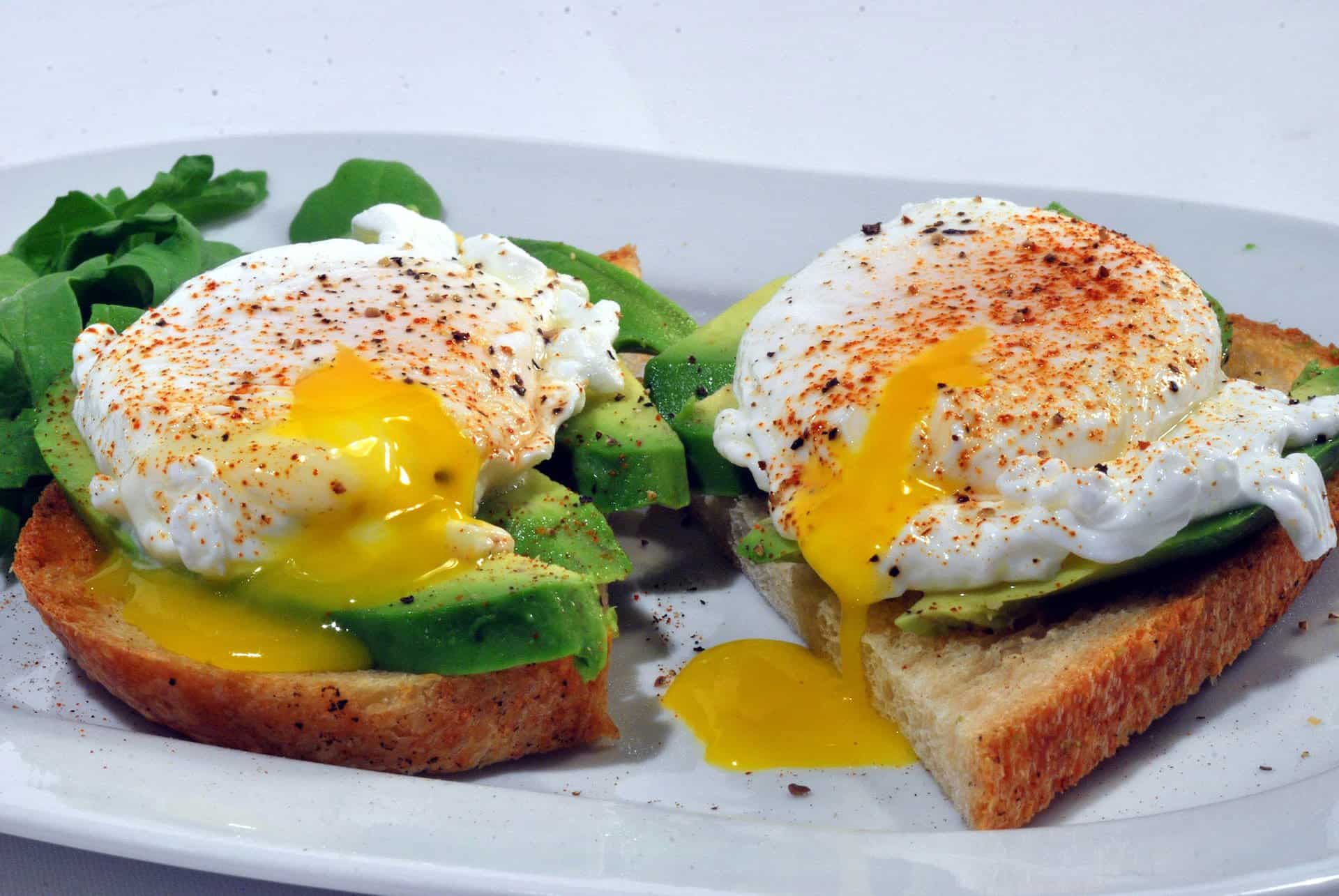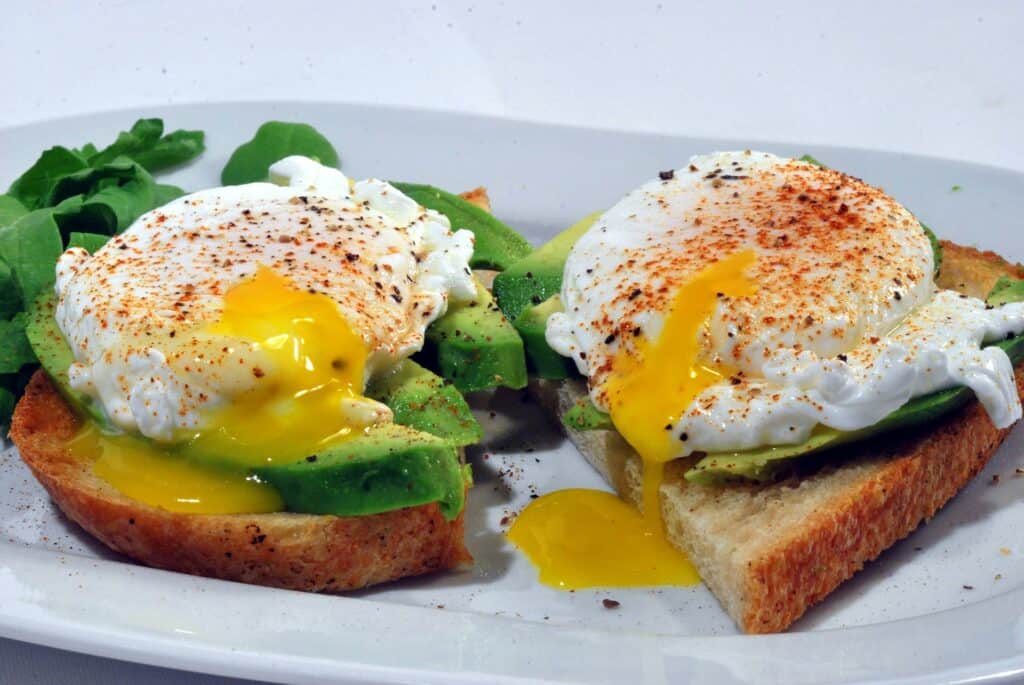 Peanut butter and jelly sandwich – A classic breakfast for under $1
Improve on this classic by using whole-wheat bread and the best peanut butter possible (meaning just peanuts and perhaps salt). Go easy on the jelly since it's a simple carb.
Whole-wheat toast and nut butter
Instead of a peanut butter and jelly sandwich, you can also have just nut butter and bread (I prefer almond butter).
Pro tip: here's how to properly freeze bread so it doesn't rot.
Greek yogurt and fruit
Top a serving of Greek yogurt with your choice of fresh or frozen fruit for a protein-rich breakfast. You can also mix in some nuts or seeds for added crunch. Plus, have some whole-wheat bread to make sure you get enough complex carbs.
Breakfast burrito
Scramble an egg and wrap it up in a tortilla with some beans, cheese, and your choice of vegetables. This filling breakfast can be made in advance and reheated in the morning. As some whole fruits if you need more carbs.
Muesli
Mix together rolled oats, nuts, seeds, and dried fruit for a simple and customizable breakfast. You can eat it dry or add whole milk or greek yogurt for added creaminess, protein, and fat.
Breakfast bowl
Combine cooked grains like quinoa or oats with your choice of protein, such as tofu or beans, and top with vegetables and a flavorful sauce. This hearty breakfast will keep you satisfied for hours.
You can customize this to your liking. For example, rather than sauce, you can use olive oil.
Breakfast cookies
Make a batch of healthy breakfast cookies using oats, nuts, seeds, and dried fruit. These portable treats are perfect for busy mornings when you need to grab breakfast on the go.
Summing It Up
There you have it: healthy breakfasts for under $1.
We hope these healthy, easy, and filling breakfast ideas have inspired you to start your mornings off right. Whether you're looking for something quick and portable or a more substantial meal, there's an option on this list for everyone. Remember, taking the time to nourish your body with a healthy breakfast can set you up for success throughout the rest of the day. So don't skimp on this important meal – choose one of these affordable options and get going! And always make sure to get the three macronutrients: (complex) carbs, a light protein, and fats. Go with the healthy varieties, like nuts and yogurt for the protein and fats.
Video
Let's round this up with a video with another take (from YouTube):