I was living my life the other day, when I checked my mailbox and found a curious piece of correspondence. You see, I got a notice of a class-action lawsuit involving the Takata-manufactured airbags in a whole host of cars, including Nissan, Honda, Toyota, BMW, Mazda and Subaru. So I did a quick read, and smiled when I saw that I may be eligible for a payment of up to $500, because I had an Acura with a defective airbag.
Not bad! I followed the instructions on the notice and spent 10 minutes filling out an online claim form. I'll now continue to live my life, but maybe one day I'll get a check.
Why am I telling you this? Because it can be money that you're entitled to, and all you may have to do is spend a few minutes filling out a form.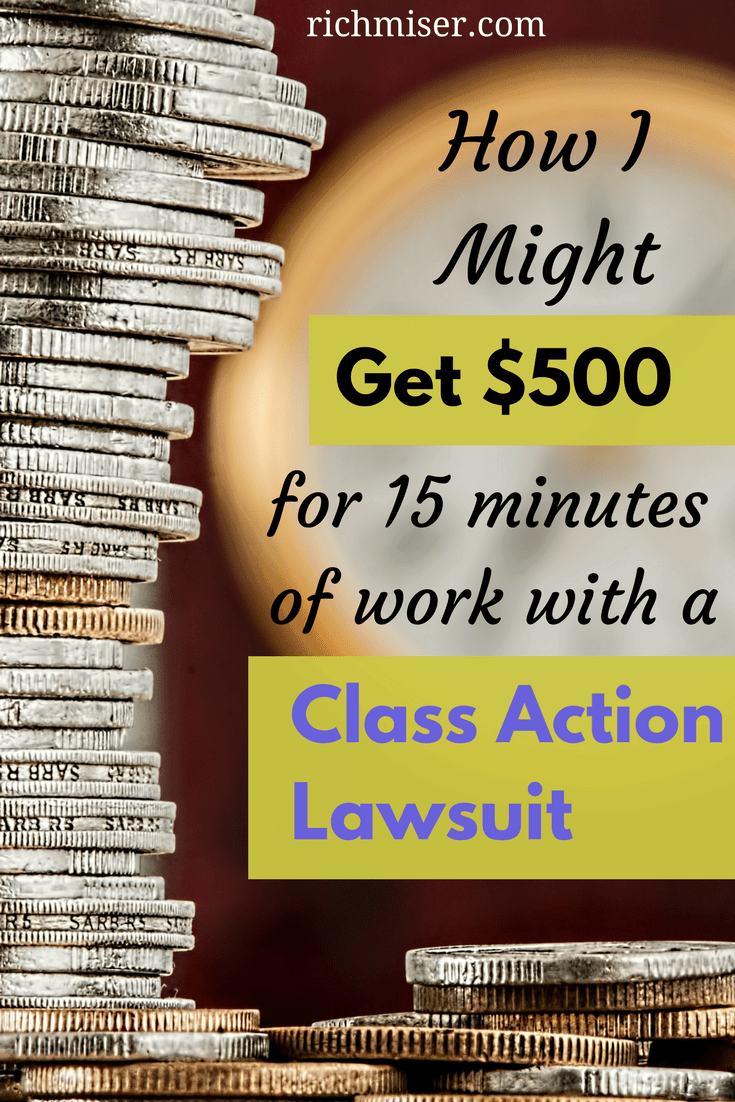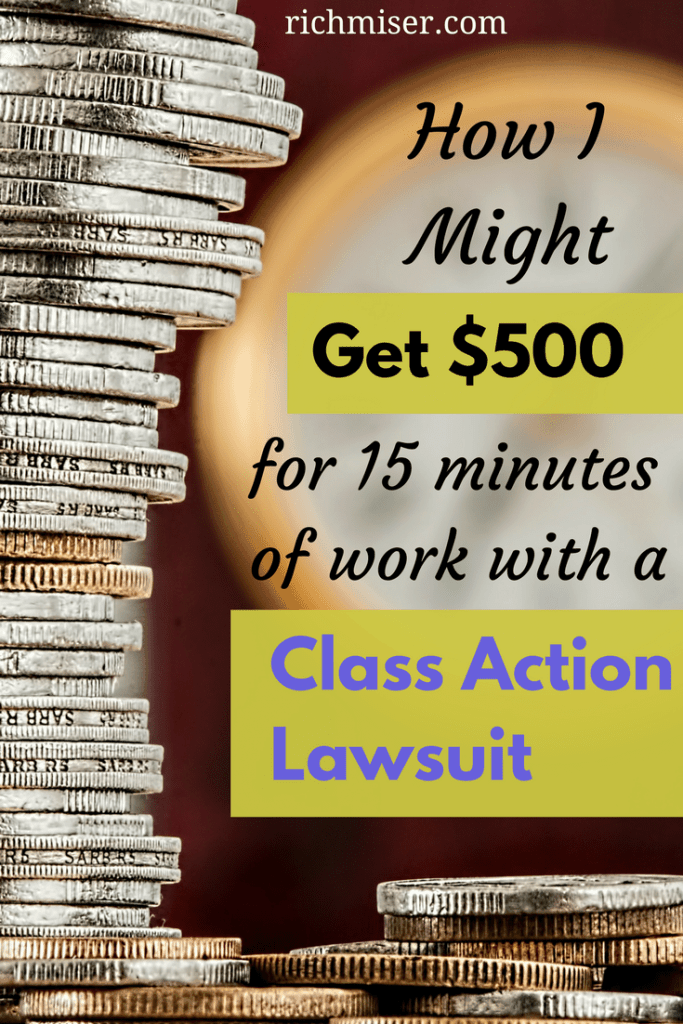 Disclaimer
This is not legal advice. Yes, I am a lawyer, but this is not my legal site, it's my personal blog. So please take this as a friendly conversation (as if you were talking with your non-lawyer buddy) and not as legal advice specific to you, or legal advice at all. It's written from the point of view of me as a blogger/journalist only.
Whew! That out of the way, here's what I got, and what I did.
What Are Class Action Lawsuits?
Generally speaking, a class action suit is just a lawsuit where a huge number of people (like thousands or millions) sue one or more companies. It usually goes like this:
A few people actually file the suit and put their name to it.
They ask the judge to allow them to include everyone else in a similar situation. For example, in the case against Apple for deliberately slowing down iPhones, I'm guessing they'll ask the judge to put every iPhone owner (at least in the US) in the suit.
If the judge says yes, every iPhone owner is put in there, and eventually will get some sort of notice saying something like "hey, you're now in this class of people suing Apple. If you want to stay in it, do nothing. But if you want out, fill out a form to opt-out". Only that it'll say this in much more formal and stilted language.
If you do nothing (and therefore stay in) you might eventually get some sort of compensation, especially if an agreement is reached with the company being sued (a class action settlement).
However, if you opt-out, you'll probably get nothing unless you sue the company on your own.
Some class actions, though, require you to proactively find them and file a claim (more that later).
If I Don't Have to Do Anything, Why Are You Telling Me All This?
Because the notice I got says I do have to do something. Check it out: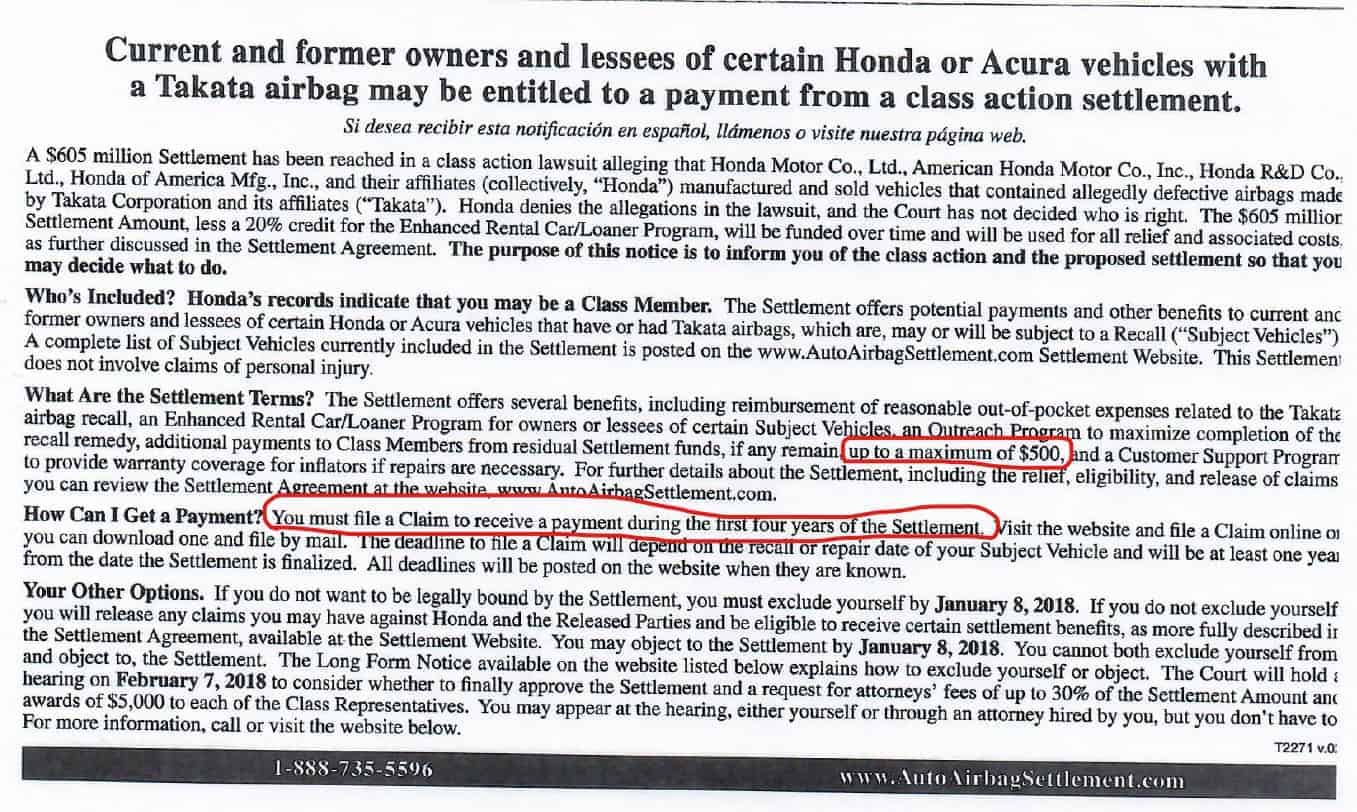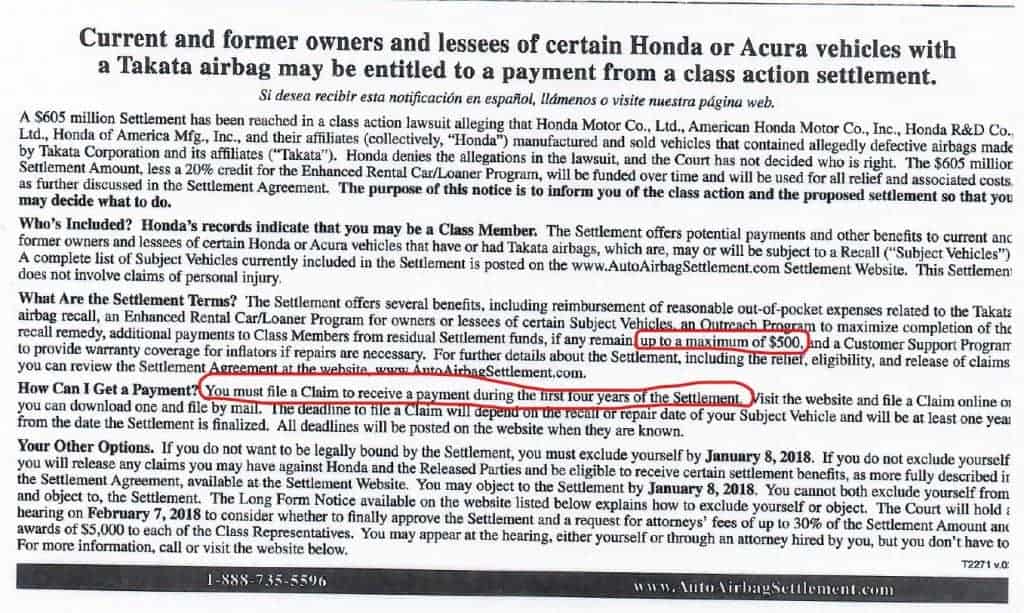 So after I read all of this verbosity, I clicked on over to the claim website to file my claim. After all, I'm not going to let up to $500 just slip away.
How Did I Make My Claim in this Takata Airbag Recalls Suit?
It was easy-peasy, and took me about 10 minutes. First, I looked up my Acura's VIN number (serial number). Then, I went to the claims website and plugged in the VIN to make sure the car qualified: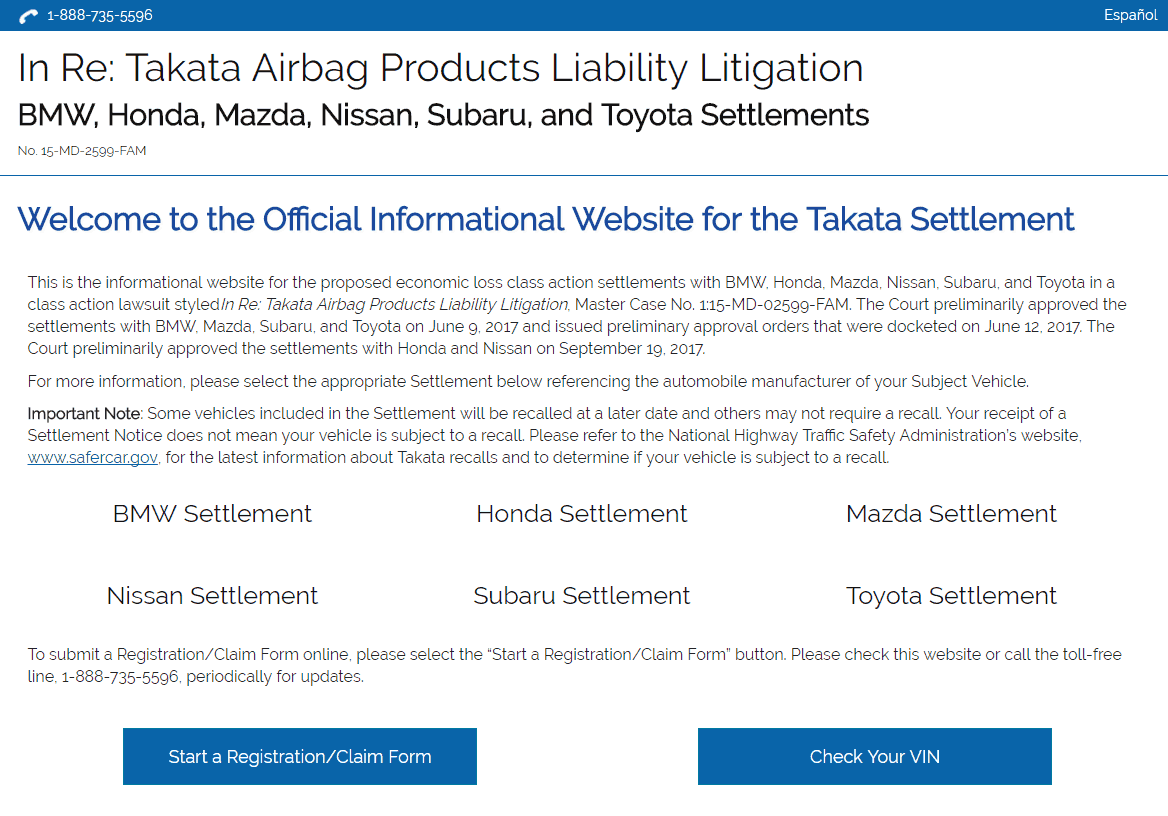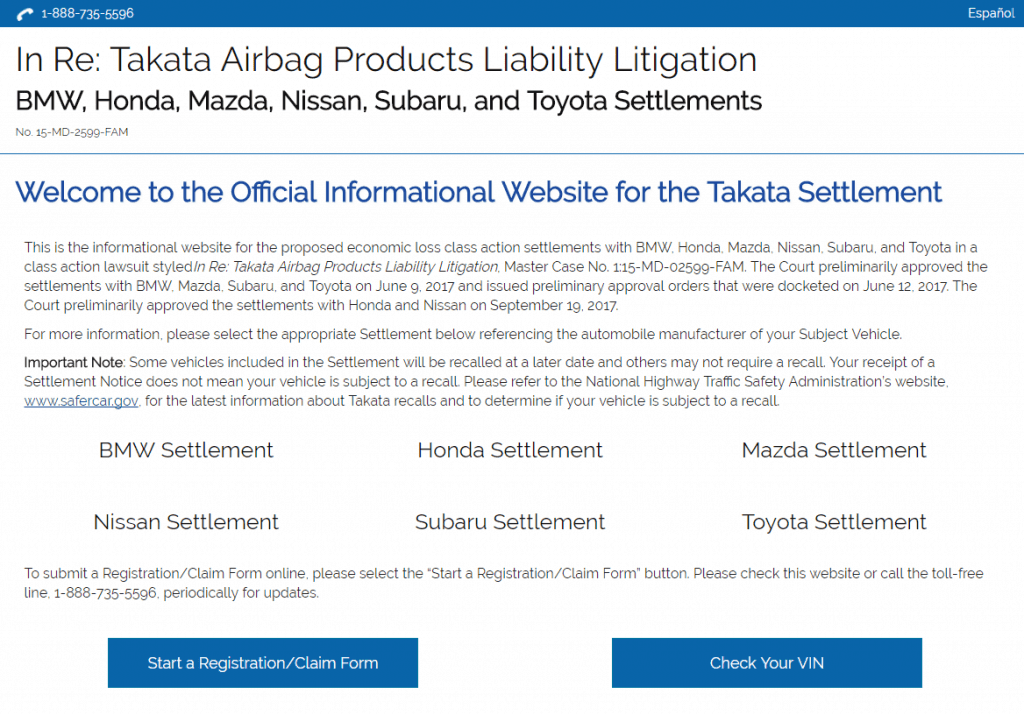 After finding out that it did, I clicked on "Start a Registration/Claim Form", and spent around 10 minutes filling out the form. And presto! I filed my claim in this Takata airbag recalls class action suit. Up to $500 for 10-15 minutes of work.
How About Class Action Lawsuits Where You Have to File A Claim?
So there are some class actions where you apparently have to proactively find them and file a claim. Fortunately, many websites make this easy, including my current favorite, ClassAction.org. All you have to do is check every so often to see if you qualify for any of the class actions there shown. If you do, you can file a claim.
Summing It Up
I'm always on the lookout for these notices of class action lawsuits in my snail-mail and email. Lots of times, they say you don't even have to do anything unless you want to opt-out. Other times (like this one) you have to take some sort of action. Regardless, $500 is a lot of money, and if I get that check for 10 or 15 minutes of work, well that's a winner in my book.
---
What do you think about getting money from class action lawsuits? Are you affected by the Takata airbag recalls? Have you ever received a class action suit notice?