If you don't want easy money, raise your hand. No one? That's what I thought 🙂
Today I'm sitting down at my computer to tell you about one of the absolutely easiest ways to make and save money: with Amex Offers. All it takes is a few clicks, and the money will be yours in a jiffy. This year, I'll make $129 for less than one hour of work.
How to Make Easy Money with Amex Offers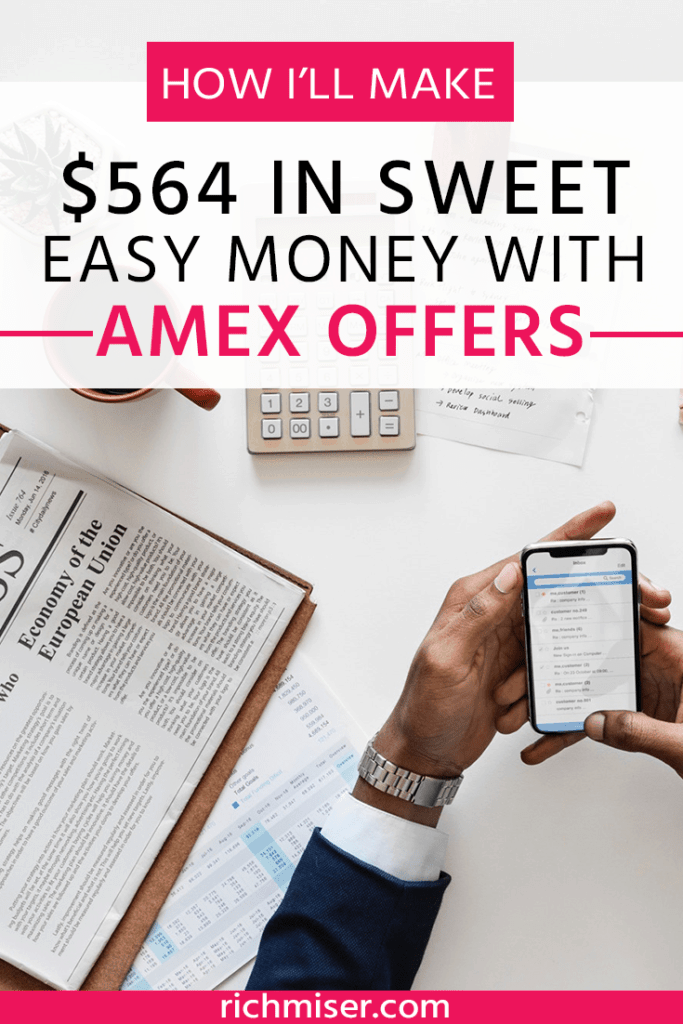 What Are Amex Offers?
Amex Offers are simply special offers that American Express makes to its cardholders, at no cost. How they work is that you simply look for the ones that apply to you, and sign up with one click. Then, once you make a payment at the participating merchant with your American Express card, you'll automatically get the benefit you were promised.
How Amex Offers Work
Here's the step-by-step process, with examples.
Step 1 – Get an American Express Credit Card
The first thing you need is an American Express credit or charge card. Pretty much any card will do – even cards without an annual fee. I currently have one of their Hilton hotel cards, plus a business card (both have access to Amex Offers).
Step 2 – Log in to Your Credit Card Account
Once you have the credit card, log in to your account either on a browser or on a mobile app.
Step 3 – Find the Amex Offers
On desktop, just scroll down to where it says "Amex Offers & Benefits". On mobile, you should see a tab at the bottom of your screen that says "Offers". Each card has its own offers, and not every person will have the same offers available to them. For example, both you and your best buddy might have the same Amex card, but see different offers.
Are Amex Offers Good?
I think so! But see for yourself: here's what some of the offers for my Hilton card look like right now: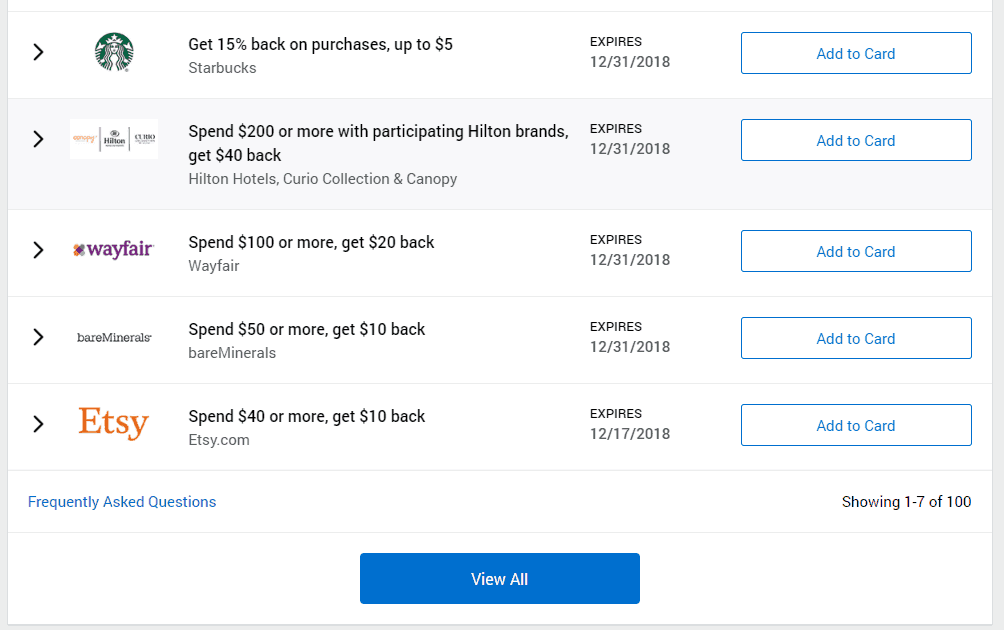 No, your eyes aren't tricking you. All it takes is one click to get $40 back on a $200+ Hilton charge, or $10 on a $40+ Etsy charge. No lie – it's legit, easy money.
Here are the ones I've currently added to my card: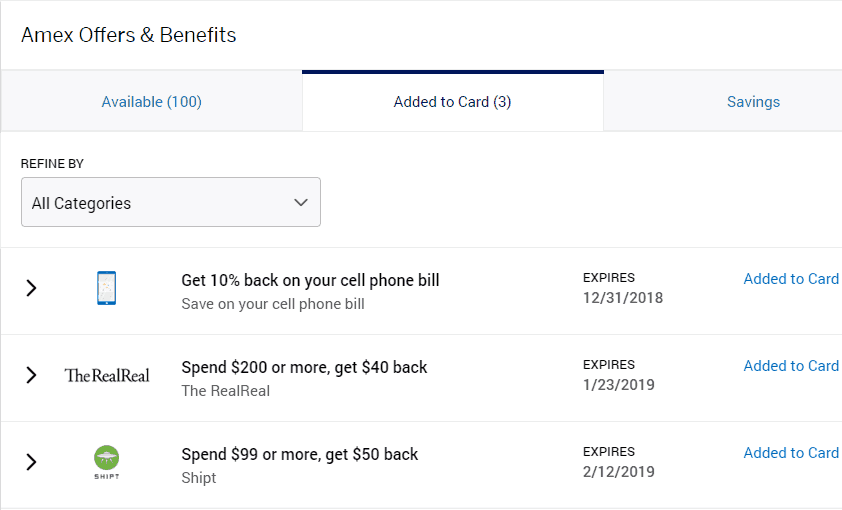 Step 4 – Use the Amex Offers
All you have to do is add them to your card with one click, and then later pay with that card at the participating merchant. You can even add the offer minutes before you swipe. Once you do pay, it should take about one minute (or less) for you to get an e-mail confirming you've used the offer. Then, it might take a week or two for you to get the benefit (usually, cash back in the form of a statement credit, or rewards points).
That's all there is to it!

How I'll Make $129 in Easy Money this Year
So let me show you this year's haul:
February – $50 from Shopping at Shipt
Shipt is a grocery delivery service that brings me groceries to my door from my local supermarket. It's somewhat expensive, but an Amex offer from February gave me $50 back on a purchase I would have made anyways.
November – $19.32 from Paying my Cellphone Bill
This is the one I showed you above, offering 10% back on my cell phone bill. All I had to do was make a payment to T-Mobile with my Amex.
(By the way, I used this one twice – once with my Amex, and once with my wife's, for almost $40 back in total).
November – $10 from Eating at Brio Tuscan Grille
My wife and I were having a date night at our local Brio restaurant, when the idea suddenly popped into my head: check my Amex Offers. Sure enough, there was one for $10 back! So, I added it to my card, paid about 10 minutes later, and got this great news: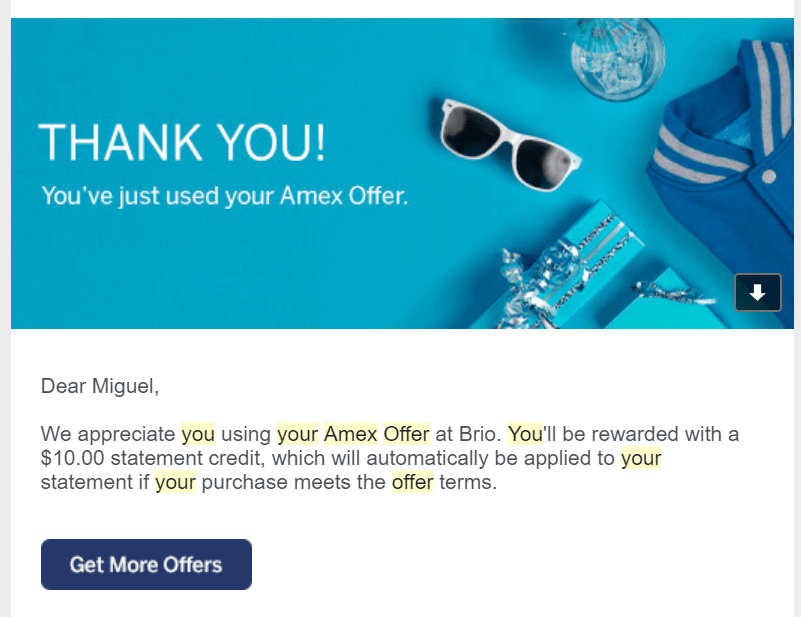 $10 for about 45 seconds of work!
December – $50 from Shopping at Shipt
Incredibly enough the Shipt offer is back, and I've added it to my card. I haven't used it yet, but absolutely will – it's $50 more dollars in free groceries. Adding it to the offer I used earlier this year, that's $100 of free food for the year.
My Lifetime Total is About $564 (Since Late 2015)
After digging through my records, I calculate that, by the end of this year, I'll have made around $564 from Amex Offers (starting in late 2015). That's about $188 per year, though I've undoubtedly missed opportunities to make money simply because I've forgotten to check my offers. In any case, I think ~$200 per year is a pretty good rate of return for almost zero effort.
Be Careful Not to Overspend
My only caveat with Amex Offers is that they can lead to overspending if you weren't going to shop or dine at a featured merchant, but then decided to do it just because of an Amex Offer. In other words, spending $100 and getting $30 back is far worse than spending $0.
Therefore, I recommend only using Amex Offers if you'll really be able to take advantage of them, because you were going to buy the products or dine out anyways.
Yes, You Can Double-Dip
Before I go, let me just say that it gets even better: you can double-dip Amex Offers with many other programs that offer easy rewards; even programs that also work with a swipe of your credit card. For example, I double-dipped on that Brio purchase I was telling you about, since I also got rewards from Dosh (referral link):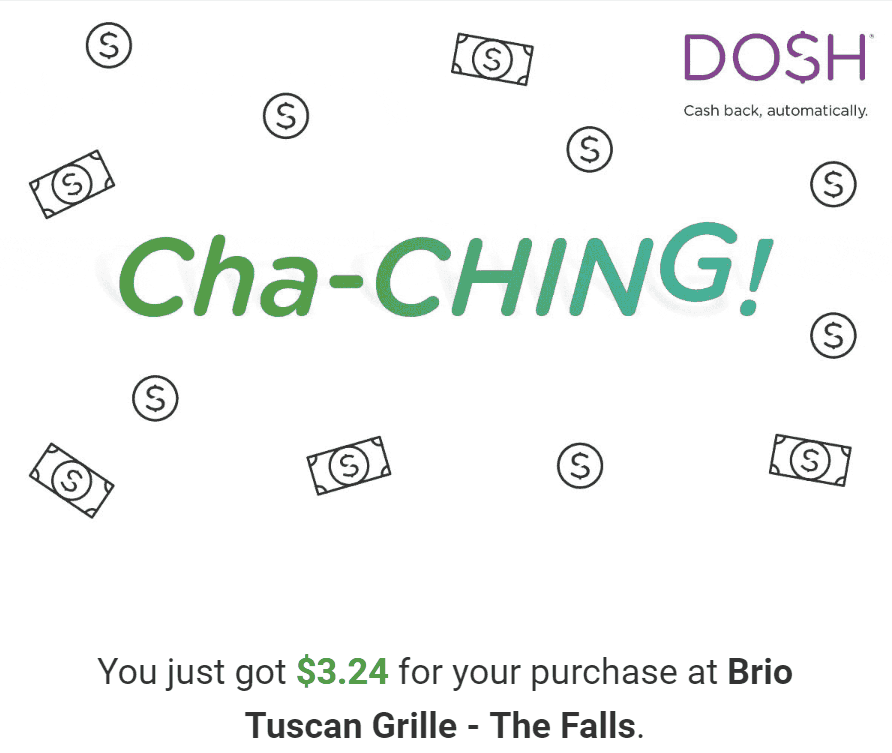 Summing It Up
There's not much more to say, friends. This is free, easy money at its finest; one of the easiest ways to save money at stores. All you have to do is remember to check your Amex Offers every so often (once per month should be enough), and add any that you're likely to use to your card. Then, just swipe and wait for your reward!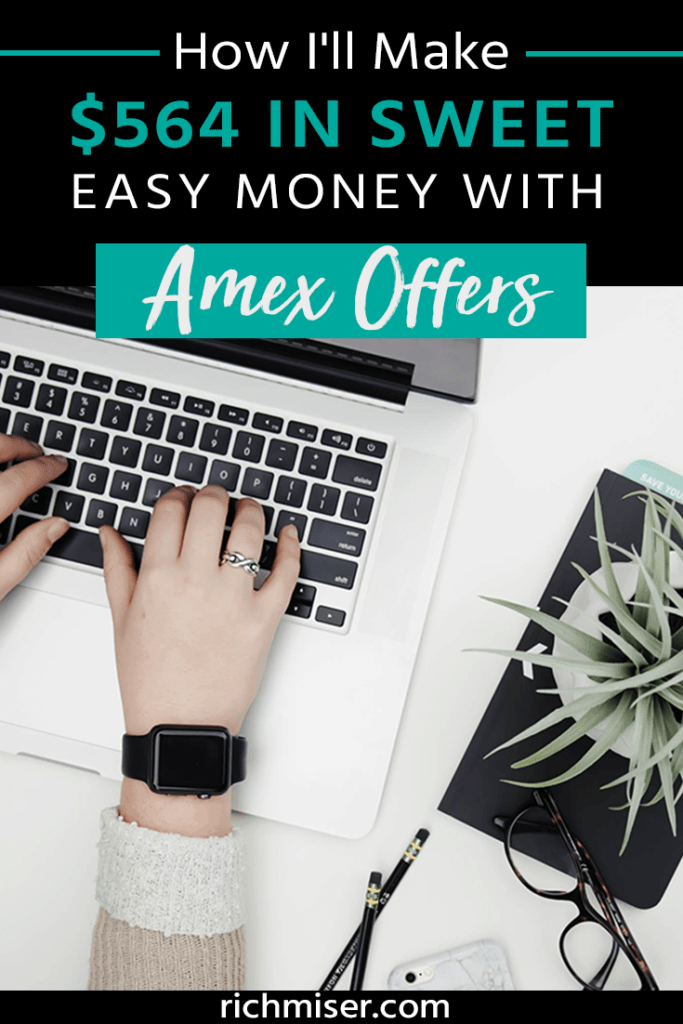 Have you used Amex Offers?
---
Disclosure: If you use my Dosh link to sign up for Dosh, I get a small referral bonus at no cost to you. It helps me keep the lights on and makes me do a happy dance 🙂