As travelers, we can all use hotel hacks to save money.
Indeed, like with airlines and car rental, hotels seem to get more complicated every day, right? I mean from booking to your actual stay, you're often bombarded with a dizzying array of options and, it seems, tactics to get you to pay more.
Still, we often have to stay in hotels for business or pleasure, and want to get our money's worth without being nickel-and-dimed or paying more than necessary. To make this easier, I've racked my brain for my best tips from decades of travel experience all over the world, and come up with a series of hacks to help you maximize your hotel budget.
Let's get to it!
16 Clever Hotel Hacks Save Money During Your Stay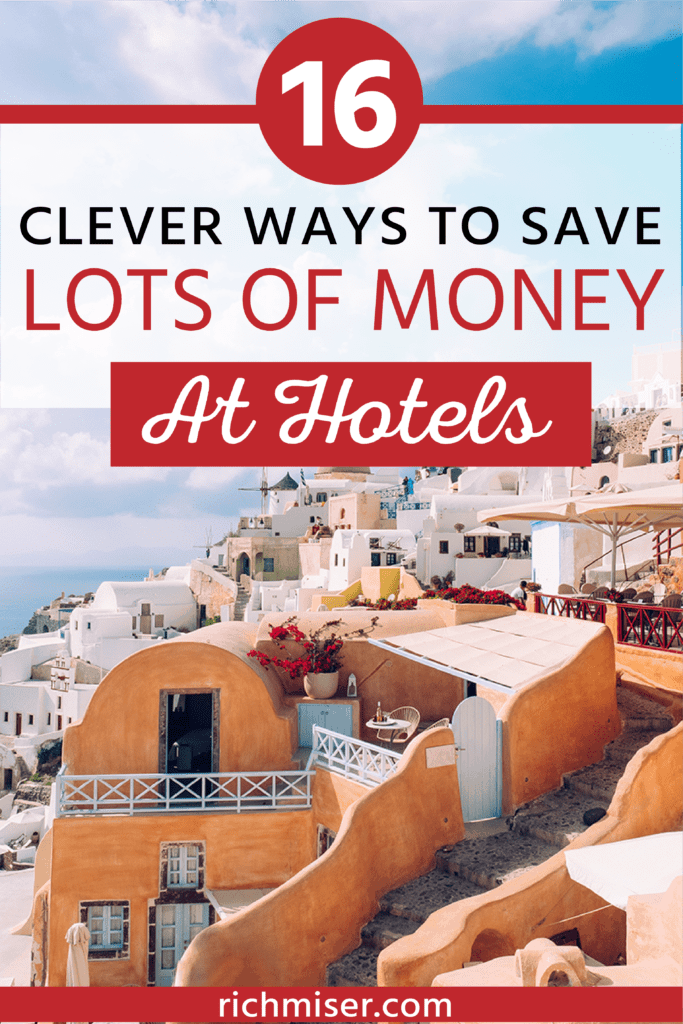 Book Your Hotel Room at a Place With Free Breakfast
In-house breakfast is one of the biggest money drains during a hotel stay. At a decent establishment, you can easily spend more than $15 per person, per day, once you add in tax and tip.
So, try to stay at hotels that have free breakfast, such as Hampton Inns. And learn from my mistakes and don't tell yourself that even if the hotel lacks free breakfast, you'll just walk down to the cheap diner nearby. Unless you're the kind of person that for sure does that, you'll probably just wind up eating (and paying for) the hotel's breakfast, out of convenience.
To avoid that, save yourself the grief, and book at a place with free breakfast.
If You Have A Car, Check for Free Parking
Parking can be a "hidden expense" that you don't really notice until you arrive at your hotel, and by then it's too late. Therefore, if you'll be renting a car or driving your own, check on the parking situation before you book.
Request Late Checkout from Your Hotel Room
This is one of my favorite hotel hacks.
Say your flight leaves at 7:00 PM and you have to check out from your hotel room at 11:00 AM. What will you do from 11:00 to the time you have to leave for the airport?
Spend money, most likely! Whether you're sitting at a Starbucks or lounging around at the airport, chances are you'll at least buy food and drinks, and might even be tempted to go shopping.
So, if you manage to get late checkout (you can stay until 4:00 PM or later, at some places), not only do you get more time to relax, pack, and get organized, but you also remove the temptation to overspend. Plus, you can enjoy amenities such as the pool!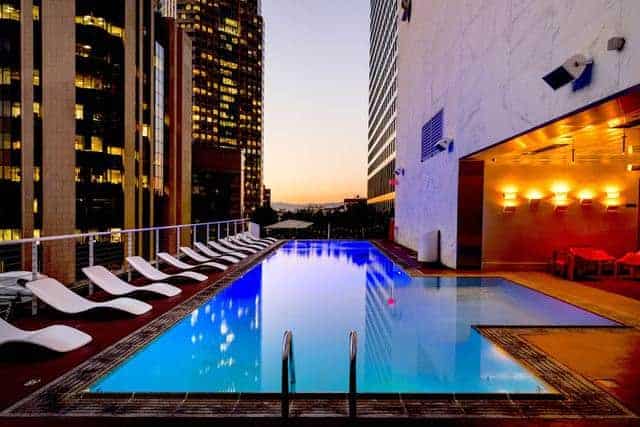 Join the Rewards Program Before You Book Your Hotel Stay
At worst, it won't hurt. At best, you can get discounts, perks, and points.
Perhaps most importantly, many hotel brands nowadays reserve their best rates for loyalty program members. For instance, check out this Hilton search for a stay in New York City: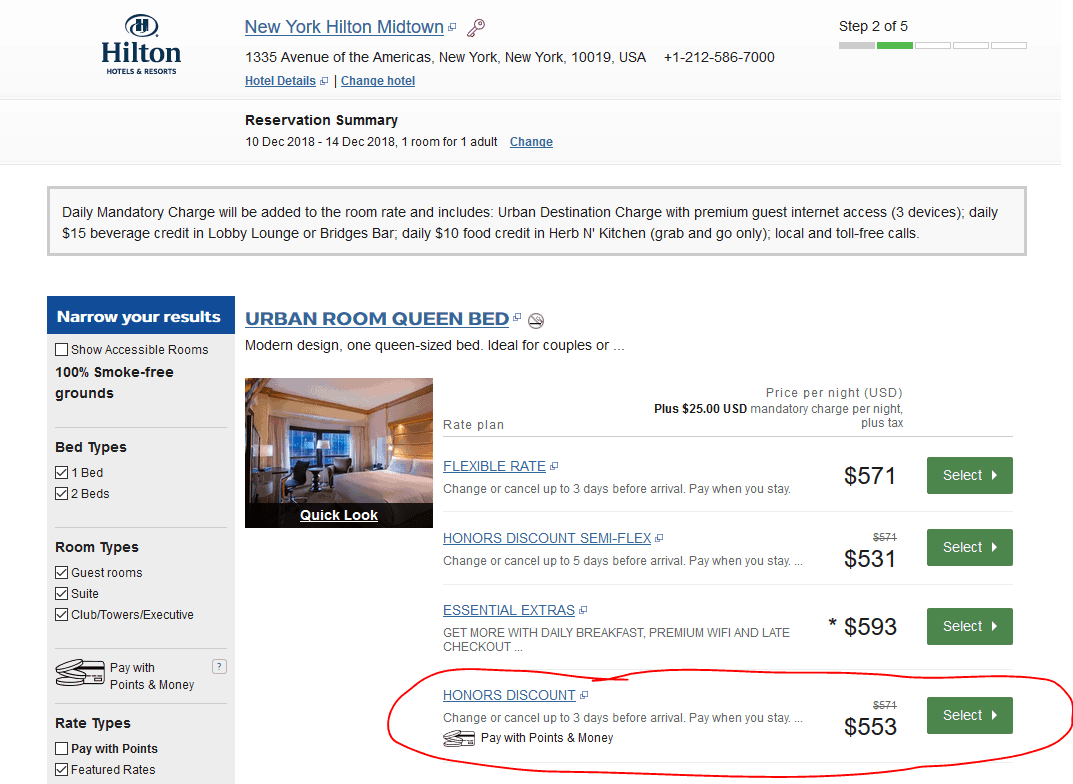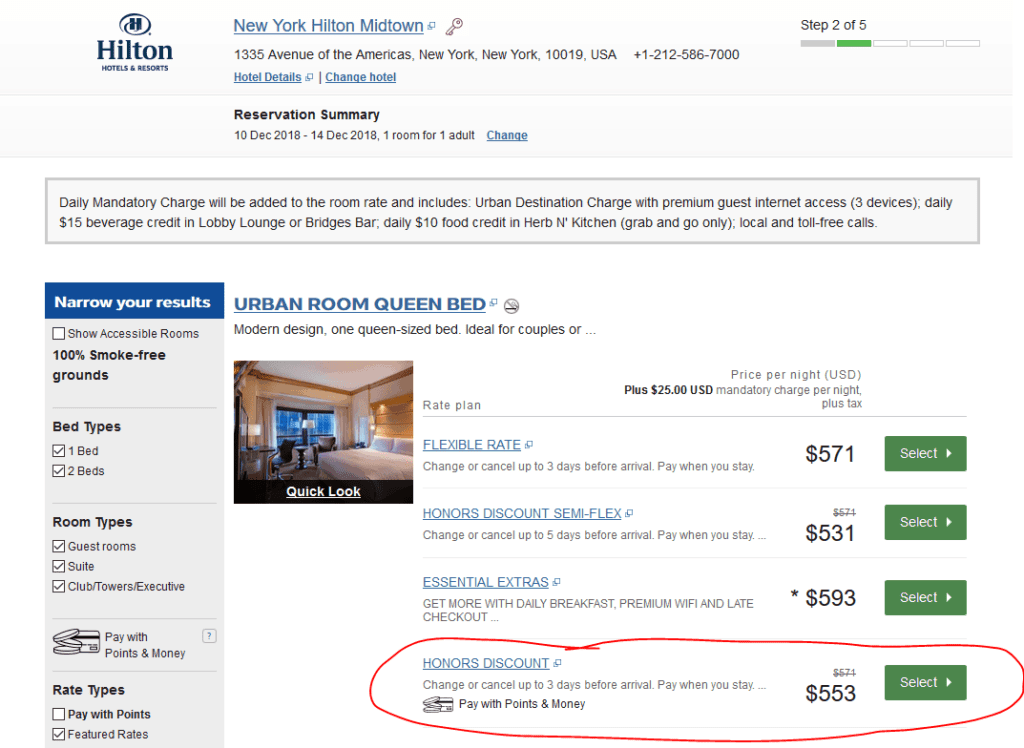 As you can see, the Honors member rate is almost $20 cheaper than the equivalent non-member rate. One of the easiest hotel hacks!
Don't Order Room Service – Use An App Instead to Eat in Your Hotel Room
Gone are the days when pizza was you only food-delivery option during a hotel stay. Nowadays, you can order some grub via apps such as Uber Eats, Grubhub, and DoorDash. Usually, you can find cheaper (and better) food than that available via room service. Plus, I've yet to see a hotel that has a problem with this, so order away!
Be aware, though, that some hotels will make you come down to the lobby to get your food (rather than letting your delivery person come up to your room). If that's the case, make sure you're dressed appropriately for a lobby visit.
Take Advantage of a Best Rate Guarantee
Many hotels have a best rate guarantee wherein they will guarantee that, if you compare their own direct price to that of a third-party site, their price will be the lowest. If you find a lower price for the same room at an online travel agency, the hotel will (in theory) match that lower price, and oftentimes give you some sort of reward (like an extra discount).
In practice, many people have complained that hotels often fail to honor these guarantees, or make it very difficult for you to file a claim. Still, if you find yourself in the position to make one (a claim) and you stand to gain a significant benefit, by all means go for it.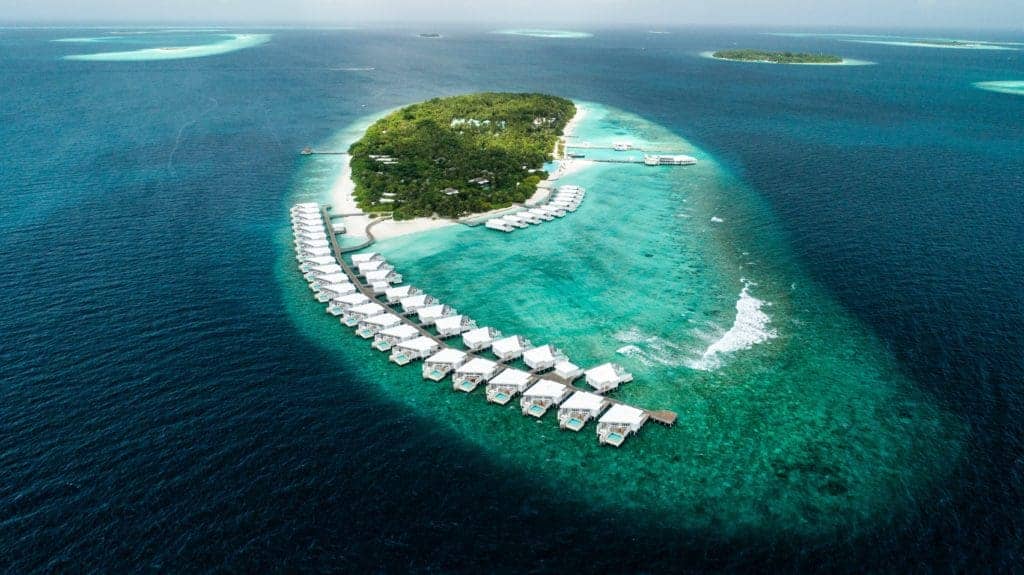 Legitimate Complaints Can Be Crucial Hotel Hacks
Once upon a recent time I splurged and ordered room-service breakfast at a hotel. I filled out one of those order forms that you hang on your doorknob at night, and had a breakfast of champions the following morning.
Cue my surprise when I went to check out, and received a much higher bill than I expected. It turns out that the order form had some poor wording that made it look like some items were included with my order, when they were really charged separately. Since this was an unfair charge, I (politely) made a stink at the front desk and had it taken off.
Don't hesitate to do the same, if you feel, in good faith, that you were treated unfairly or poorly. Frequently, the hotel will either remove a charge or compensate you in some other way. If need be, escalate to the corporate level if you're dealing with a chain hotel.
Figure Out the Nightly Rate and Stay Somewhere Cheaper During Expensive Nights
Often, you'll get an online price for a hotel stay, and will be quoted a total amount. What you may not see is that such amount is the sum of different nightly rates, and that those rates are not necessarily uniform.
For example, if you stay one week, some nights may be more expensive than others. Take a Marriott here in Miami, where I looked up the rate for a hotel room in December. As you can see, I was initially just quoted a price for the entire stay (which varies depending on whether I want breakfast and whatnot):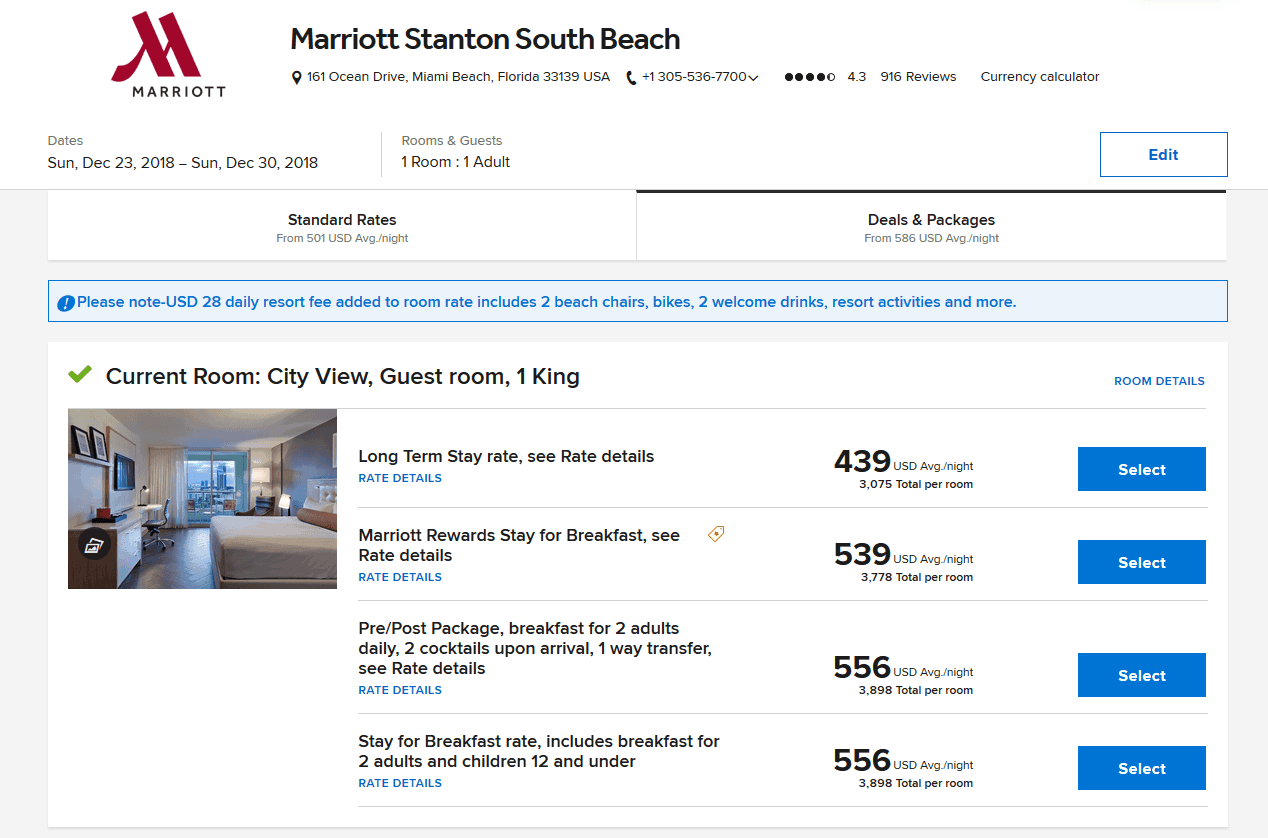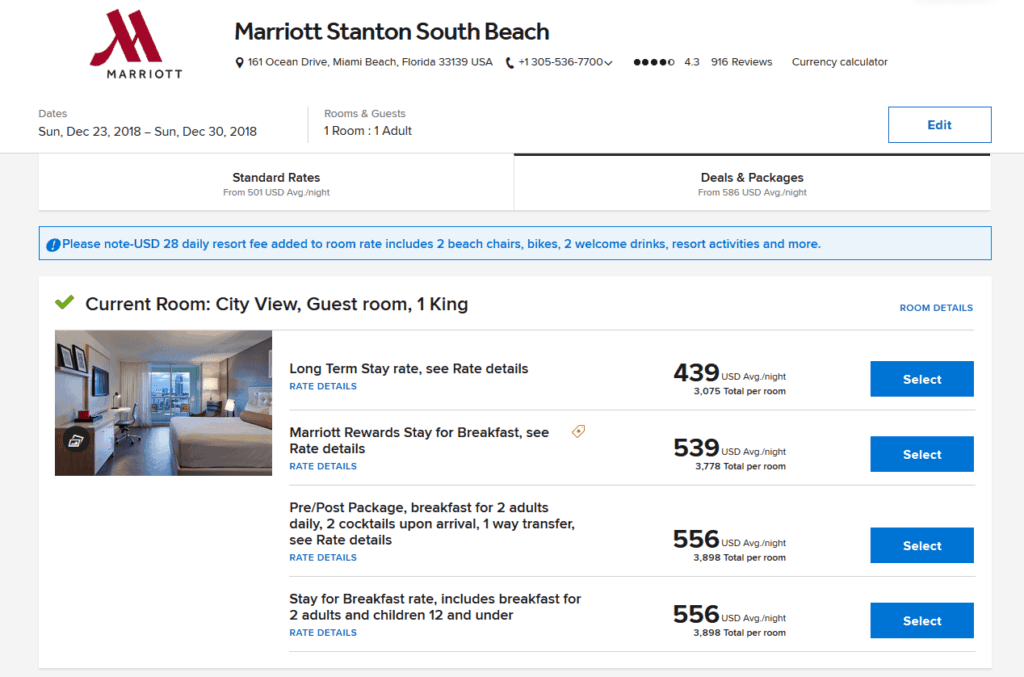 If I select a particular rate and then click on a drop-down menu, however, I can get the true price breakdown, and see that different nights have different prices: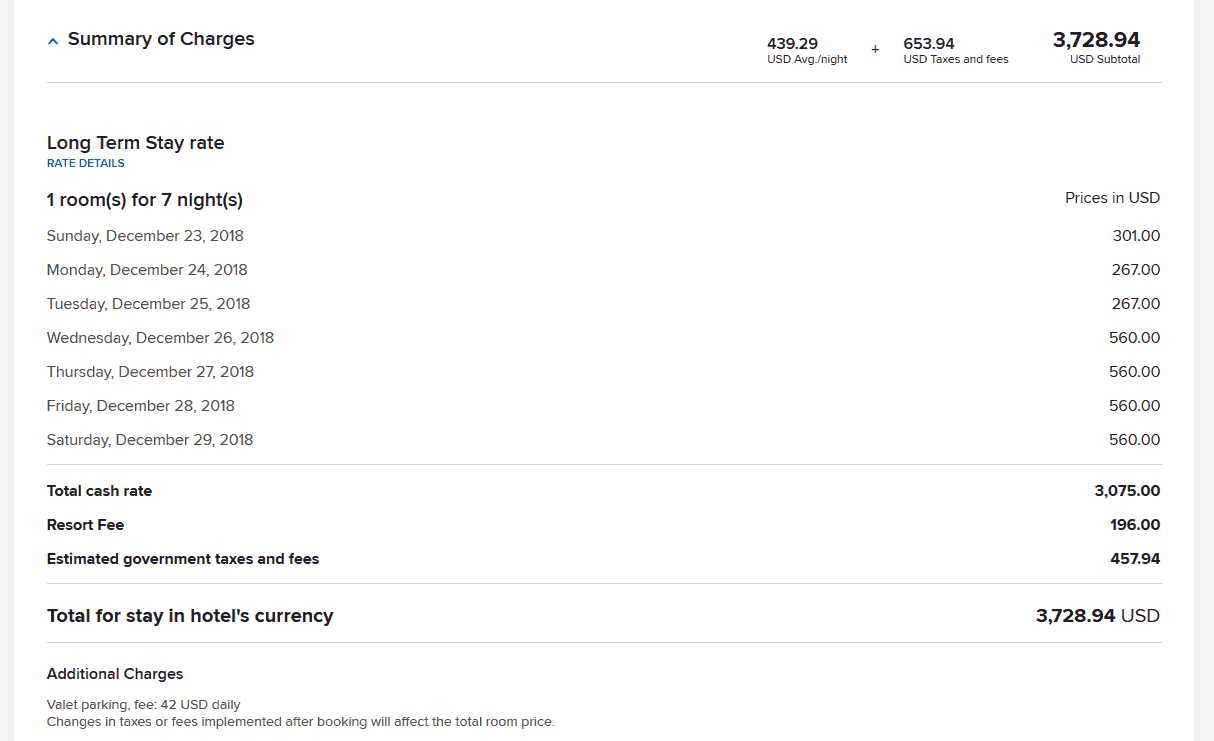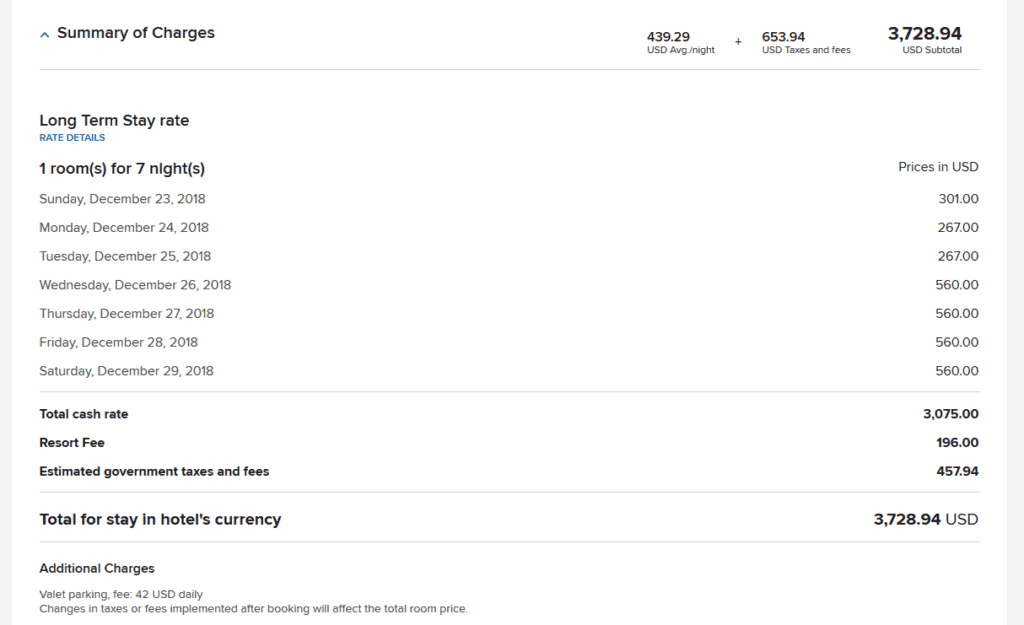 Wow! The rate, for the same room, varies from $267 to $560 per night!
So, be sure to check nightly rates for your next stay – it's one of my "advanced" hotel hacks. It may be worth it to switch hotels mid-trip. (In the case above, I'd probably only stay at that place for the first three nights, if at all).
Bring Your Own Movies (Enough for Your Entire Hotel Stay)
In-room movies can be extremely expensive, sometimes topping $10 each when you include taxes. So, don't order in-room movies!
As an alternative, download stuff on Netflix beforehand and, if possible, watch it on the hotel's TV. I recommend you download it prior to your trip, since hotel Wi-Fi can be finicky, slow, and even restricted in countries that don't have free and open internet access. (Or, the hotel may even block or throttle video streaming services).
One of the Oldest Hotel Hacks – Don't Use The Phone in Your Room
Unless you're absolutely sure the call is free, just use your cell phone. If the call you need to make is not included in your wireless plan, use a free VOIP (voice over IP or phone-call-over-the-internet) service such as WhatsApp Audio. In other words, connect your phone to the Wi-Fi in your room, and make the call over the internet rather than over the cell network.
Some cell service providers include their own seamless VOIP services. For instance, you can make calls over T-Mobile Wi-Fi for free if you are a US customer and call a US number, even if you're in China. In that case, the person on the other end of the line doesn't have to have VOIP.
Bring Your Own Food, Drinks, and Booze
There's no reason to buy non-perishables (like protein bars) or water or booze from the hotel at hyper-inflated prices, unless you absolutely have to. Just go to a grocery store and buy it yourself, or bring what you can from home (especially if you're driving).
You don't have to be super-obvious and roll into the hotel with a big bottle of whiskey under your arm – just put it into a backpack, purse, or satchel, etc.

In terms of water, if you're hardcore, you can just drink tap water or (better yet) bring your own filter bottle to run the tap water through the filter before you drink it.
You can also use Lucky's trick: get free water from the hotel's gym!
This is one of those hotel hacks than can take a little work, but be well worth it.
Choose the Worst Hotel Room (Within Reason)
Don't get suckered into unnecessary paid upgrades. I learned this the hard way when I booked a suite for a hotel stay about 3 years ago, without realizing it was a loft-type room that just had the bed and a bathroom upstairs. Getting there required me to climb a really uncomfortable spiral staircase. Yet, the hotel advertised it as this fantastic suite, and I wound up paying a pretty penny for it.
In reality, most decent hotels won't have truly awful rooms. After all, people that stay in the "worst" rooms are still paying customers, and must be served to a minimum standard. So, don't be afraid to pick the cheapest room within the hotel, unless you have a compelling reason to spring for something more expensive.
Don't Use Bellhop Services
The problem with using bellhop services is that you have to tip the bellhops. Not only does this cost money, but it creates the need for you to carry small bills, which can be a hassle. That's why I try to avoid using them by calling my own transportation (like Uber, Lyft, or GroundLink) rather than have them hail me a cab. I also try to travel with rollaboard luggage that I carry myself at all times.
Brew Their Free Coffee or Bring Your Own Caffeine Pills
If (like me) you need your caffeine, don't waste money buying it from the hotel. Just brew your own in your hotel room using the kit included in many rooms, or bring your own caffeine pills – one of the more unusual hotel hacks 🙂
Don't Spring For Upgraded Internet
It's usually a waste of money. Many hotels nowadays have a base tier of free internet (especially if you're a member of their loyalty program), which should be enough for your needs. Try it out. If it absolutely won't do, only upgrade then, and try to complain a bit to see if they'll give it to you for free. After all, their complimentary internet shouldn't be useless!
Washing and Pressing Your Clothes Yourself is One of the Biggest Hotel Hacks
Hotely laundry can be uber-expensive. So, don't use it unless you absolutely have to. Sure, if it's a really important event and you have a sensitive garment that needs professional attention, you might have to pay. But, otherwise, you can get by with washing your clothes with Woolite in the bathroom, and hanging them to dry (pro tip: in my experience, they take more than one night to dry, even if you strain them).
To press and iron clothes, use the iron in your hotel room (and load up the water reservoir so you can use the steam). To steam up and de-wrinkle a business suit, use the shower method.
Bonus: More Hotel Hacks to Save Money!
Use the Airport Shuttle, if they Have One
Many hotels (especially those that are close to the airport) will have a free shuttle for guests. If you're flying in and they have one, take advantage of it!
Just be sure to call ahead, since some shuttles operate at limited hours or are on-demand only. Also, take a few loose bills to tip the driver, if you'd like.
Summing Up the Hotel Hacks to Save Money
There you have it, dear readers. Follow these hotel hacks to travel better and make your next hotel stay a pleasant and inexpensive one. Have a blast, and don't pay more than you have to!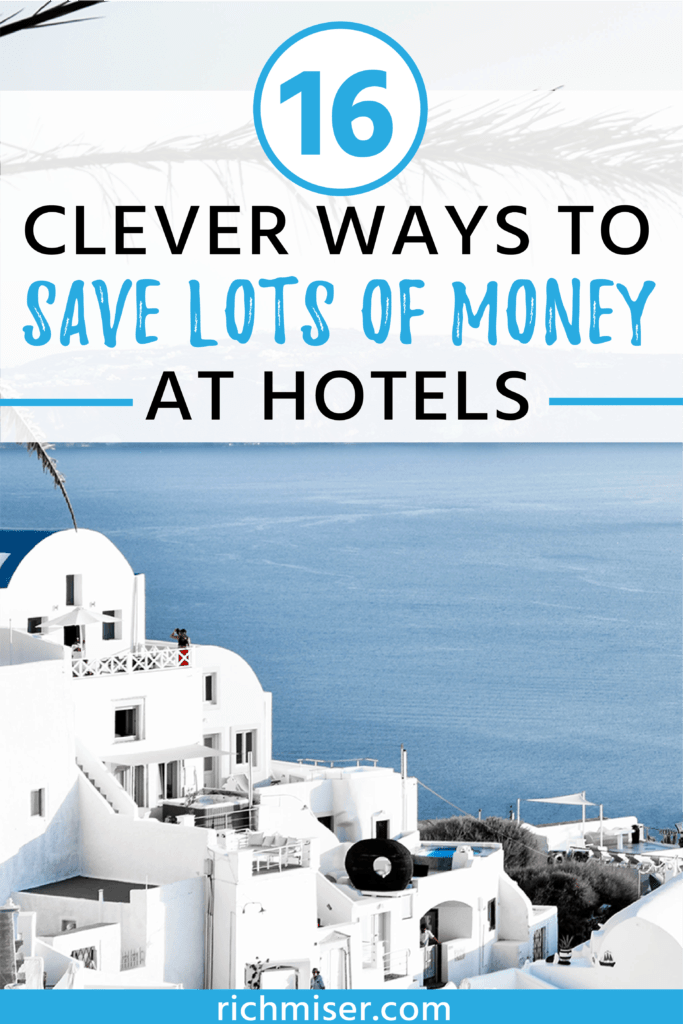 What are your best hotel hacks to save money during a stay?
---
Last updated on September 29, 2019.