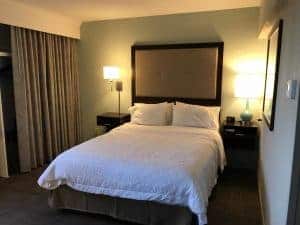 Pros: Cheap, consistent, free breakfast
Cons: Nothing special about them, somewhat drab, not full-service.
Bottom Line: Good no-frills hotels with free breakfast, but don't expect anything special.
I have to travel frequently for business, and somehow, tend to wind up in Hampton Inns a lot. They are part of the Hilton hotel portfolio, and seem to be everywhere. Here's my experience with them.
The Good
Location: Hamptons tend to be located outside central business districts, but not far from them, in inner-ring suburban areas (at least in the US). Therefore, you are usually a short ride away from wherever you need to go
Price: Hamptons tend to be cheap. They usually cost about $150 per night, which is not bad for a chain hotel with free breakfast.
Free breakfast: These hotels tend to have what they call the "Hampton Breakfast", which is an American buffet breakfast. It has all that you would expect: protein (scrambled eggs, sausage, cheese, etc.), bread (white and whole wheat), oatmeal, juice, coffee and more.
Consistency: You get a similar experience no matter where you go. You know what to expect, and there are few surprises.
Staff: I find Hampton staff to be generally well-trained and nice. While you should not expect high-level concierge service, you do get responsive, pleasant staff.
Part of Hilton: Participation in the Honors program means you get Hilton points and benefits, and Hilton customer service should anything go wrong.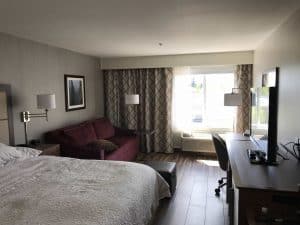 The Bad
Limited service: These are not full-service hotels. This means that you do not get a concierge or even an on-premises restaurant or bar. You basically get a decent room, breakfast, a small gym, and usually a pool.
No "fun" factor, glitz, or glamour: Hamptons seem geared to business travelers and budget leisure guests. While they look clean and somewhat modern, they're not trendy, fashionable, or cool. If you just arrived in NYC, Vegas, LA or Miami for a weekend getaway, they can bring down your mood with their dullness. You won't find a party atmosphere or beautiful, tipsy people milling about, if that's what you're looking for (if so, reach deep in your pocket, prepare to pay, and look for an SLS or something like that).
The Ugly
Well, not that ugly, just drab. Hamptons kind of all look the same. There's no impressive architecture or funky details, just standard-issue road warrior accommodations. Also, I've sometimes found some minor dust inside the guestrooms, which makes me think that housekeeping can be a bit careless (acceptable, but not excellent).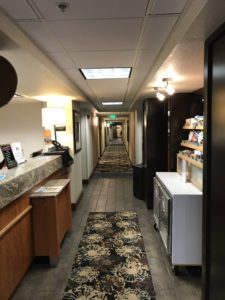 The End
Hamptons are great for business and leisure travelers on a budget. However, if you want the "fun factor" and have the money (or someone else is paying 😉 ) stay somewhere else.