Over the last couple of years of rather frequent business travel, I have learned a thing or two. I know how to drink for free at some airports, and how to pick the best seat on a plane. One thing that I've always found problematic, though, is the way business clothes get wrinkled in suitcases. Here's how to get wrinkles out.
How to Get the Wrinkles Out of A Business Suit When You Travel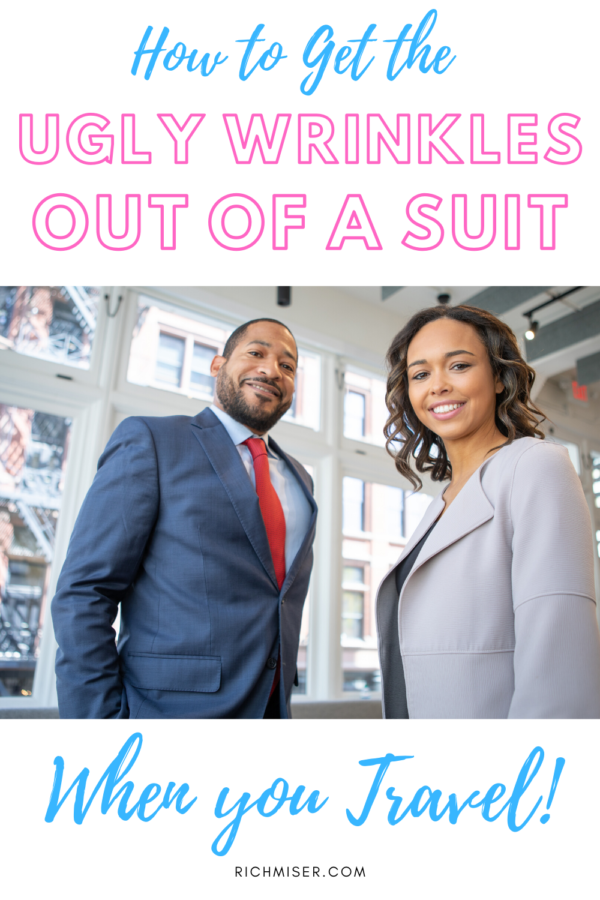 Pack it This Way
So I have one of those carry-on bags that have a special fold-out thingamajig to put business suits in, where you lay the fold-out device on a surface and then secure the suit and fold it back in. Take a look:
This getup works pretty well, and is much better than just folding a suit and stuffing it in the bag. However, it does not work well enough, and the suit does come out wrinkly at your destination. I am not a man who conducts business while wrinkly.
Seeing my dilemma, the original road warrior (my father), taught me a neat trick.
Steam It in the Shower
So here's how to get wrinkles out: a few hours before going to bed in your hotel room, go into the bathroom, and turn on the shower and sink on the hottest possible setting. Then, step outside, close the door, and continue with your engagements. Watch some Property Brothers, reach out and call somebody, or amuse yourself in some other way.
After about 10 minutes, the bathroom should be loaded with steam. At that time, take your suits and hang them on the shower rod, and leave the bathroom again (or you can hang them before the bathroom steams up, however you want). Wait about 20 minutes, and then turn off the water, retrieve your suits, and hang them in the closet for a few hours or overnight.
This is not a perfect solution to remove the wrinkles from a business suit (you won't look like Dapper Dan), but it works pretty well.
Smooth It Out With the Hotel Iron (Carefully!)
You can smooth out the remaining wrinkles with the steam function of the hotel iron (but test and inspect the iron first, because some can be dirty or have gummed-up steam ports). If you need a perfect solution, you'll have to pay for hotel or outside dry cleaning.
You Can Also Bring Your Own Travel Steamer
If you have the space, you can also bring your own trusted travel steamer to get those tough final wrinkles.
Updated on 11/14/2019