For the second time in my life, I found myself taking a trip to Sin City, this time for a birthday weekend with some great friends. (The first time, I got food poisoning from eating buffet sushi -BAD IDEA- and spent most of my trip at Desert Springs Hospital).
Anyways, not wanting to pay for a hotel, we decided to stay at the Luxor Las Vegas (the big pyramid) on the strip, because it was just 12,000 World of Hyatt points per night, which I transferred to that program from my Chase Sapphire Preferred account. (Hyatt has a partnership with the Mlife program, to which the Luxor belongs). Regardless, I still had to pay the ridiculous resort fees, which were about $30 per night.
Here's how it went.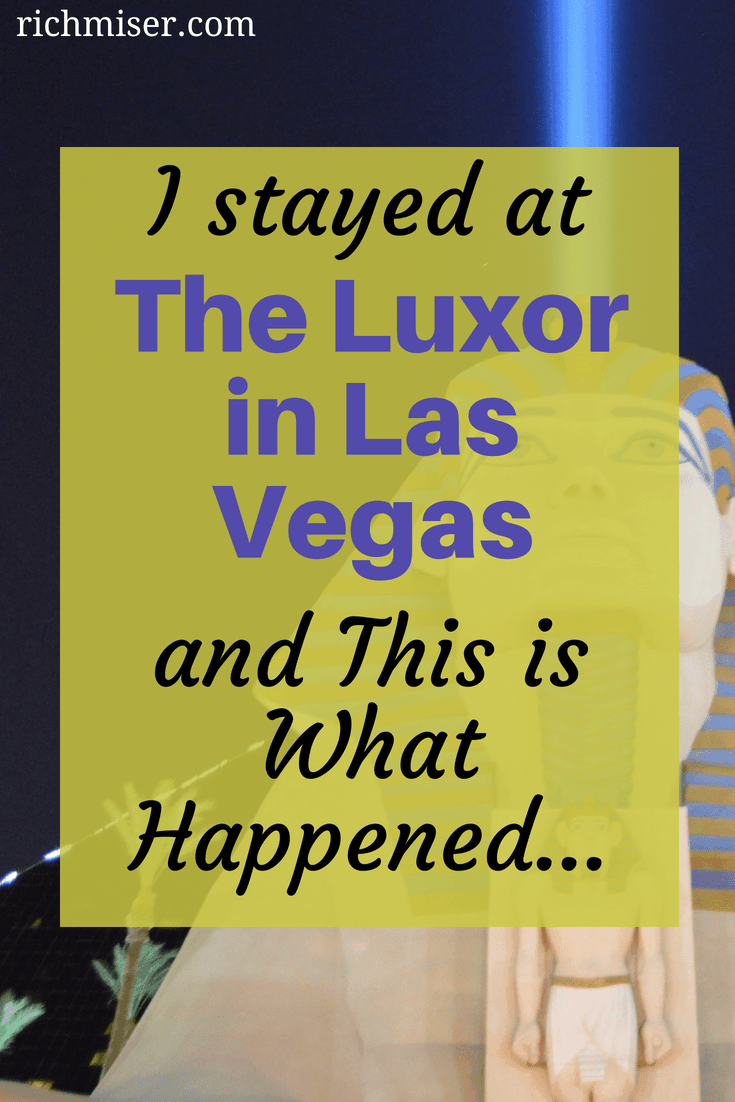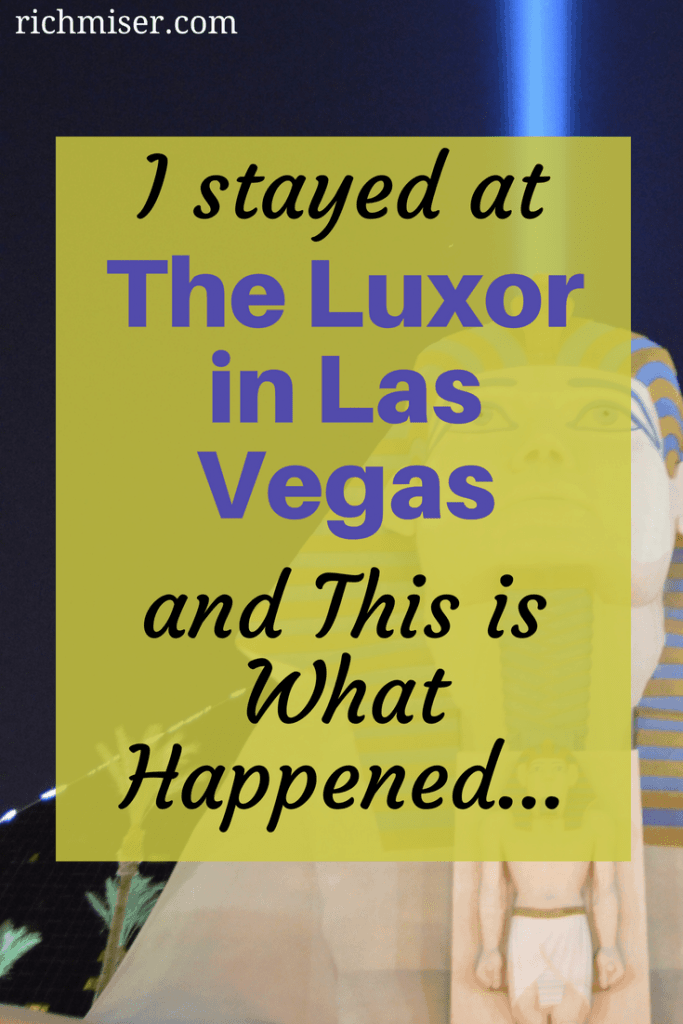 Luxor Las Vegas Bottom Line
A dated hotel that has seen better days. Everything works, but our room was run-down. However, it seemed a good value for 12,000 points per night.
Good For Business Travelers?
No way. Stay at a place with free breakfast and no resort fees.
Good For Leisure Travelers?
Sure, if you get a great deal.
Parent Hotel Chain
MGM Resorts
My Rating
2/5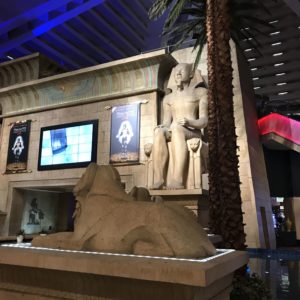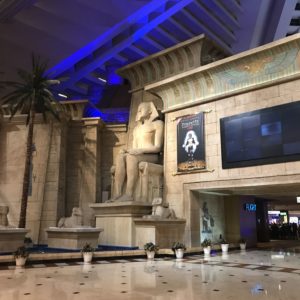 The Details
Room
First, let me say that I was not happy at all to be put in a room in the "west tower". This is a building that is not the main pyramid (which does have rooms), but is rather quite a walk away from the main entrance and front desk area.
Even though I was not paying for the room (except the darn resort fees), I was an Mlife Gold member (which I got via a status match from Hyatt Platinum, when that program was called Gold Passport). Mlife Gold is the third level of five within the Mlife program, but I was still stuck in a room that was not even in the "east tower" (which is closer to the main entrance and front desk), but rather in Siberia, in the west tower. The walk to the room was about 10 minutes each time, including time spent in the elevator.
The room itself was disappointing. It was big, which I appreciated, but everything was dated and looked close to falling apart. It's not to say that this was a roach hotel – nothing that bad. However, there was minor (though noticeable) peeling, cracking, and rust all over. It looked like the room had not been remodeled in 15 years or more.
I did ask for a pyramid room (hoping my Mlife Gold status would help), but the front desk clerk said none were available. I did not really believe her. Maybe she was expecting the ol' $20, but I was not going to even try that because I am not smooth at that sort of thing and would probably have just dropped the cash and embarrassed everyone involved.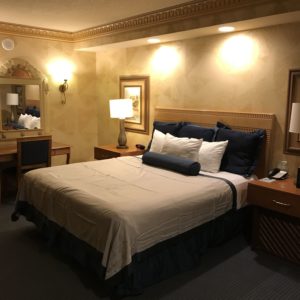 The bed and pillows were comfortable enough, and the room also had two plush chairs and a small table.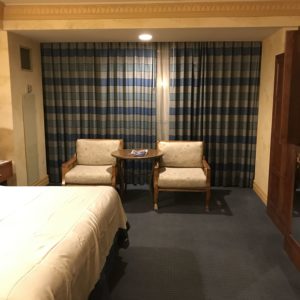 One negative was the air-conditioning control. It worked, but it was not a thermostat. Rather, it was one of those old control panels where you just set a temperature and a fan speed, but it did not regulate itself to maintain an even temperature like modern thermostats. This made it hard to maintain a consistent temperature, and somewhat uncomfortable to sleep.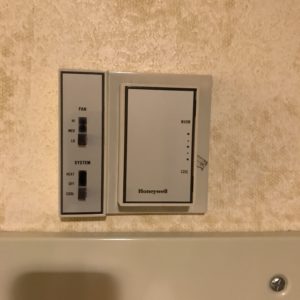 Other aspects of the room really showed its age and the hotel's lack of attention to detail. For example, the fire sprinkler was all rusted out and looked nasty.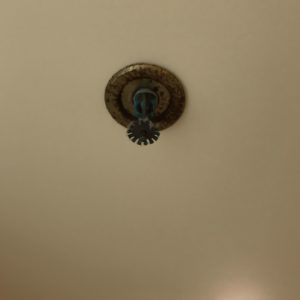 The bathroom was bad. It was run-down, with the worse shower head I have ever seen in a hotel. It seemed to have no settings, and had a light, all-over-the-place flow that was hard to take advantage of.
Cash Price
About $46-$295 per night on a weekday night. The prices vary wildly, depending on the day(s) you want.
Location
Good, but not great. On the strip, but close to one end of the strip. You pretty much have to take a vehicle ride everywhere, and are not in the "middle of the action".
Important In-Room Amenities
I used the safe and the clothes iron. Both worked well.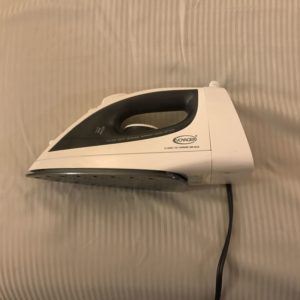 Important Amenities
As a "resort", the Luxor Las Vegas had a casino (of course, it's on the Vegas strip), as well as pools and more. I did not use any of them, because our friends were staying at the Aria, and we always went there (essentially, we just used the Luxor to sleep, spending ~$100 on resort fees, while the Aria was quoting for over $700 for 3 nights when I looked it up).
There was a tourist-trap lobby shop where I bought a cool Anubis figurine, who watches over my living room and kitchen these days.
Free Parking?
No. Parking costs about $10 per day self, $15 valet.
Free Breakfast?
No. We got room service breakfast each day, which cost about $50 each time (for two people).
In-Room Cellphone Charging?
No good. Near the bed, there were only power outlets behind the bedside tables, such that I had to contort myself a little to connect the charger. No USB outlets.
WiFi?
Yes, and free. It was somewhat slow, though, coming in at 4.09 mbps download and 5.67 mbps upload.
TVs?
One standard flat-screen TV which worked fine and had high-def channels. I was happy because the lack of high-def (or hard to use high-def) is a pet peeve of mine.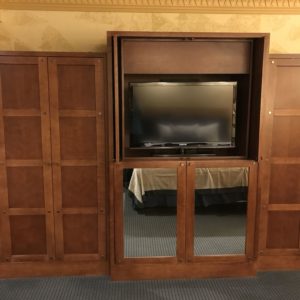 Pillows
At least four. I found them comfortable.
Closets
Two, with plenty of space.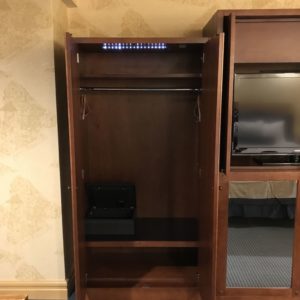 Toiletries
Custom, made for the hotel (I think common to all MGM properties). They were fine.
Breakfast
Like I said, we got room-service breakfast each time. A generous American breakfast for two, with eggs and whatnot, cost about $50-$55, with tip and everything included. I thought the price was pretty reasonable, but the breakfast was nothing special. Just standard fare.
Summing It Up
The Luxor Las Vegas has everything you need and its reasonably well-maintained. However, my west tower room was dated and run-down, with some aspects that were unacceptable, such as the thermostat and shower head. More than other places, I felt like just a number (which is not supposed to be what they strive for, especially if you have elite status with the hotel chain).
Overall, I was not impressed with this place, although I would stay again, but only if I could score a great deal. If not, it's better to stay elsewhere.