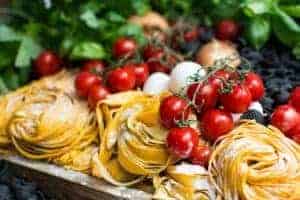 Lead by the man with the plan (Jeff Bezos), Amazon bought Whole Foods, the foodie paradise so expensive as to be nicknamed "Whole Paycheck". As part of his quest for world domination, Mr. Bezos has now lowered prices there.
But that doesn't say much. Are prices now competitive, or did they just go from super-expensive to very-expensive? My hometown paper, the Miami Herald, did some field work and found out.
Comparing Whole Foods Prices with Publix and Trader Joe's
So the enterprising Herald went comparison shopping at the reduced-price Whole Foods, as well as at the always-friendly Trader Joe's and at Publix (which claims that it's "where shopping is a pleasure"). They picked some common goods, and wrote down the prices at all three places. Let's see some of what they found out.
Fruits
Tomatoes (yes, tomatoes are fruits):
Publix: $2.79 per pound

Whole Foods: $1.99

Trader Joe's: $1.59 per pound
Winner: Trader Joe's
Trader Joe's: $1.99 per pound
Whole Foods: $1.99
Publix: $1.38 per pound
Winner: Publix
Dairy
Store Brand Organic Butter, 16oz
Publix: $6.69
Whole Foods: $4.49
Trader Joe's: $2.99
Winner: Trader Joe's
Animals
Salmon
Publix: $12.39 per pound
Trader Joe's: $10.99 per pound
Whole Foods: $9.99 (before the price reductions, $10.49)
Winner: Whole Foods
Overall
So, comparing Whole Foods prices with Publix and Trader Joe's, the Herald shopped a list of 10 items at each store, and found that, overall, it cost $54.86 at Publix, $43.70 at Whole Foods, and $41.50 at Trader Joe's.
What Does This All Mean?
First, the obvious: prices at Whole Foods are down. But second, what about Whole Foods versus other stores?
It seems that, on the whole, Trader Joe's has the best bang for your buck. However, my experience with Trader Joe's is that, while the food and drink are of great quality, the selection is limited (and sometimes they get mobbed by customers and run out of items). In contrast, Whole Foods and Publix tend to have a bigger selection, reducing or eliminating the need to go to multiple stores (especially if you want to make grandma's recipe and are missing that key ingredient).
Speaking of money, the lowest prices I've seen are at WalMart and ALDI. ALDI has no-name brands, but the prices are incredible. Also, Lidl promises prices that are even lower than ALDI's, and is now expanding in the US.
In sum, in terms of comparing Whole Foods prices with Publix and Trader Joe's, you'll generally find higher prices and better selection at Whole Foods or Publix. On the other hand, you'll find lower prices and worse selection at Trader Joe's (or ALDI or Lidl).
Happy shopping!
Credit: Miami Herald, Business Insider