Have you ever tried to have an indoor herb garden and ended up frustrated, with dead plants? I know I have. Not intentionally, of course; I start with dreams of having a fabulous kitchen herb garden and research what the best herbs to grow indoors are. However, I usually end up getting basil and oregano plants from the store, because people say they're among the easiest herbs to grow.
They look nice initially, and I'll remember to water them the first days (though sometimes I over-water them). For the most part, they survive for a month or two before wilting. After that, my frustration resurfaces, and money goes down the drain as I have to throw them out. Sound familiar?
If so, don't fret – I've found a solution!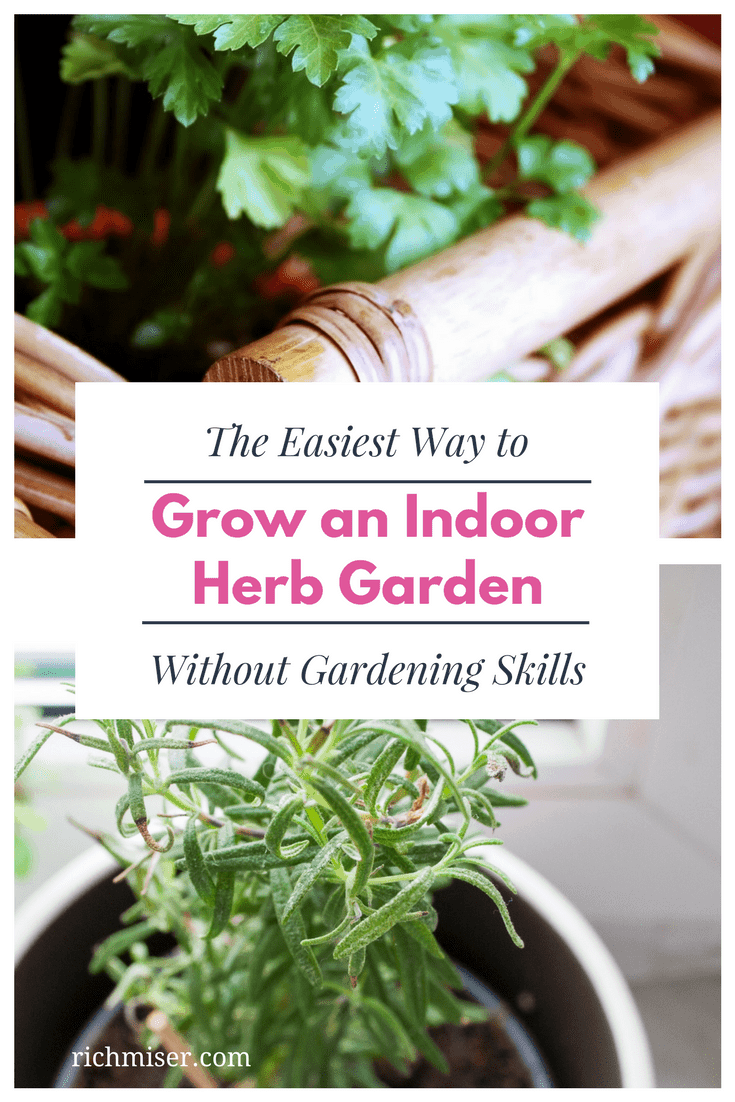 How to Grow an Indoor Herb Garden if You Don't Have a Green Thumb
Click and Grow is a smart garden that provides water and light to multiple plants in an indoor, controlled environment. This creates the perfect conditions to have organic, harvest-ready herbs in around a month or so, without any special skills. You don't even need to remember to water it, because it does it for you…well, you do have to fill up the tank every 2-3 weeks. But overall, you just put the cartridges in place, fill it up with water, and plug it in! That's it!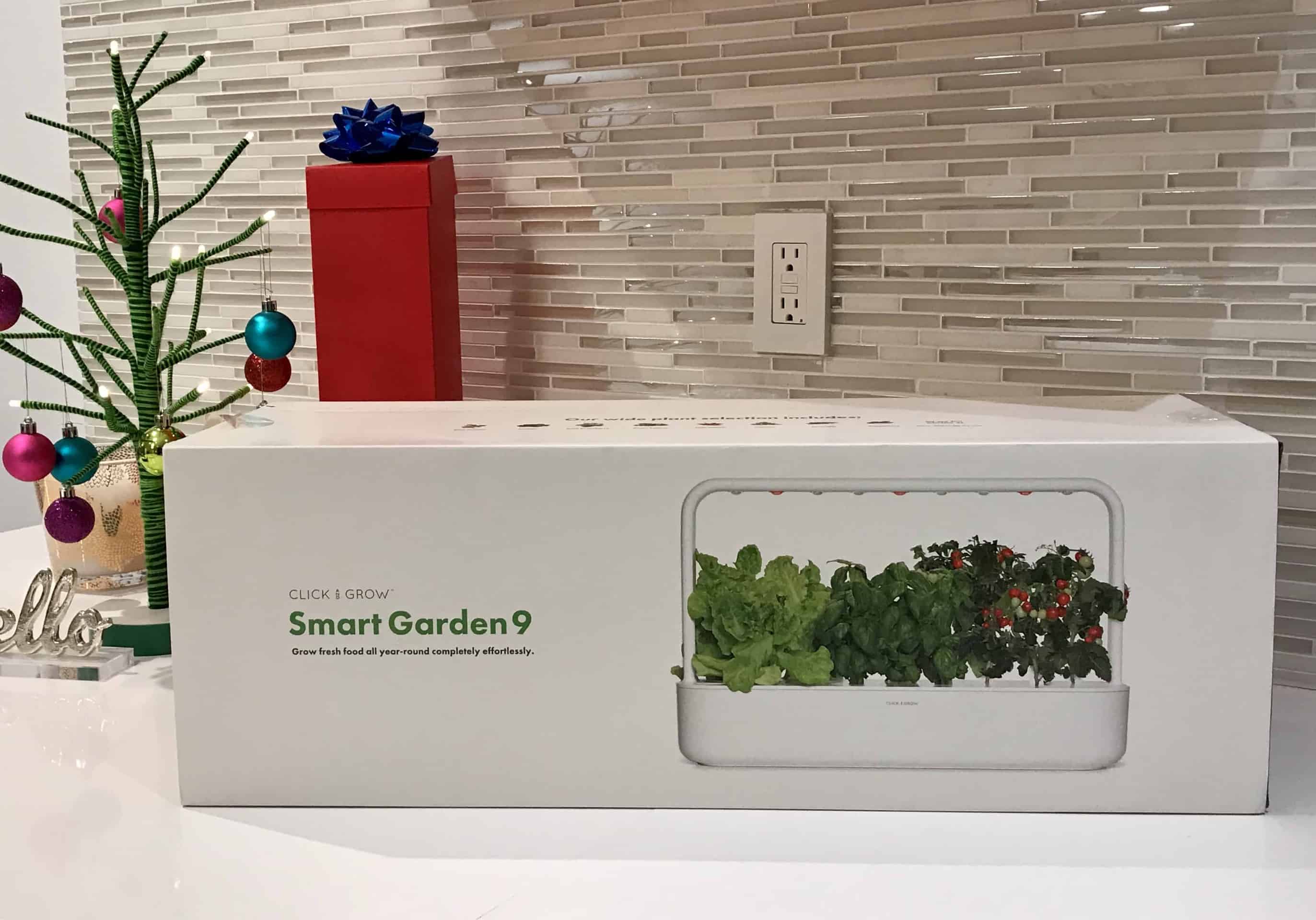 We got the Smart Garden 9, on sale around the holidays for $139.95 (the list price price is $199.95).  The starter kit came with 3 mini tomato cartridges, plus 3 lettuce and 3 basil ones. So, it allows you to grow 9 plants at a time. They also sell the Smart Garden 3, which was on sale for ~$60 (regularly priced at $99.95) and comes with basil only.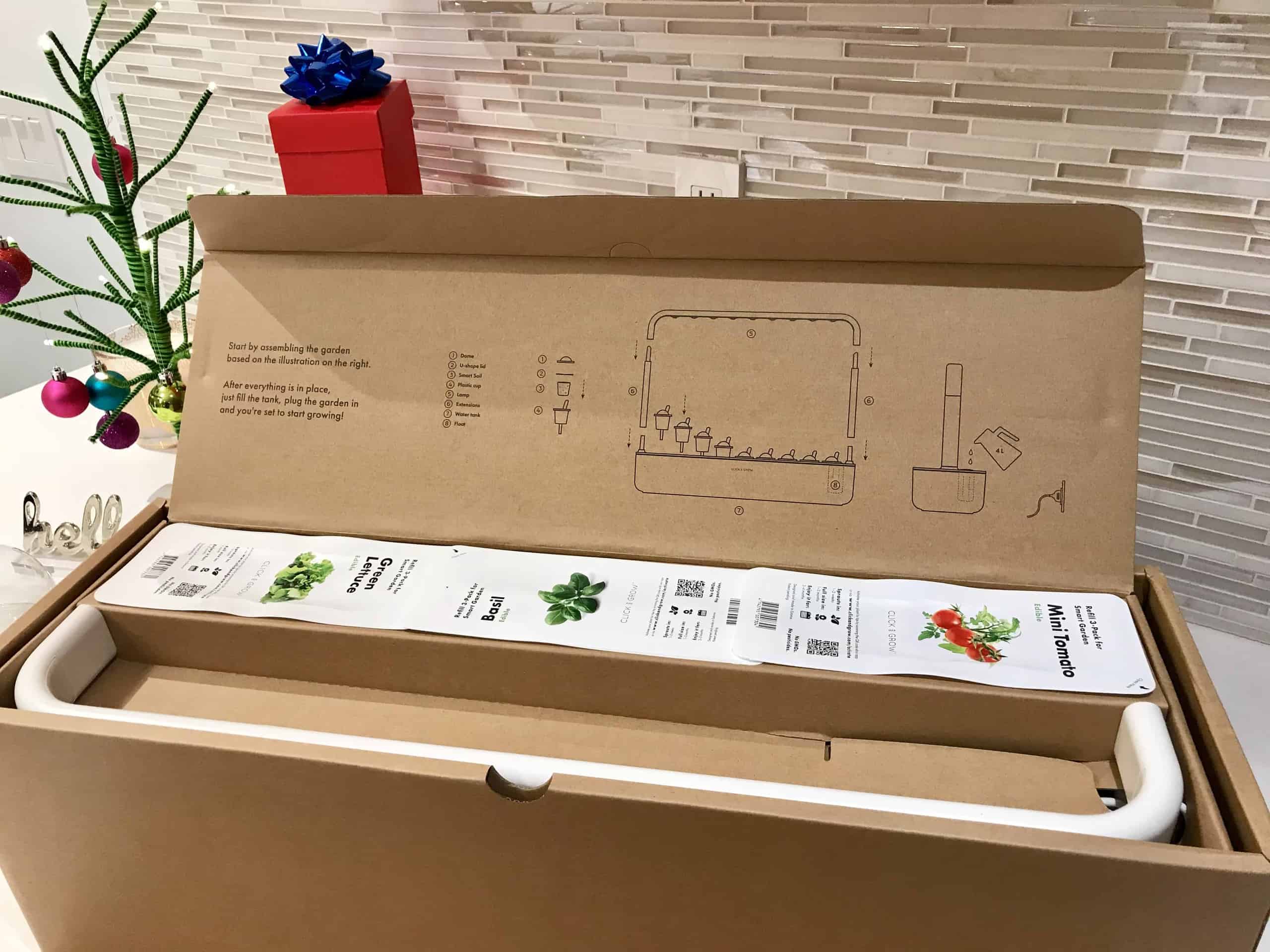 Setting Up your Click and Grow
This herb garden planter is pretty straightforward, even for those who can't follow instructions, or get desperate and start to "figure things out on their own". 🙂 The pods or cartridges with the SmartSoil come in packages of three and look like this: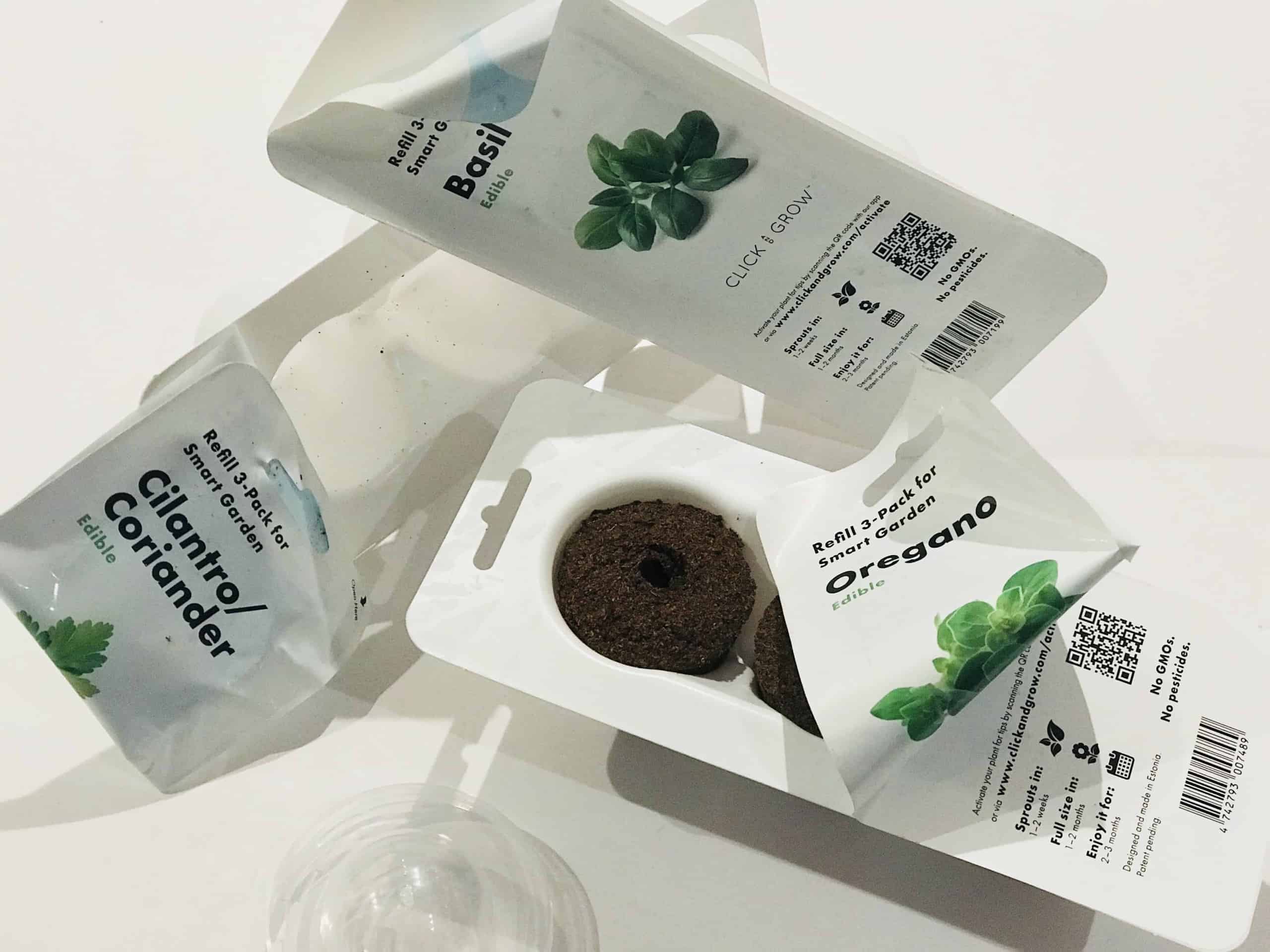 1. The SmartSoil already has the seeds inside, and contains an accelerator to speed up plant growth.  You need to remove the SmartSoil from the package and insert it into the plastic cup (see below).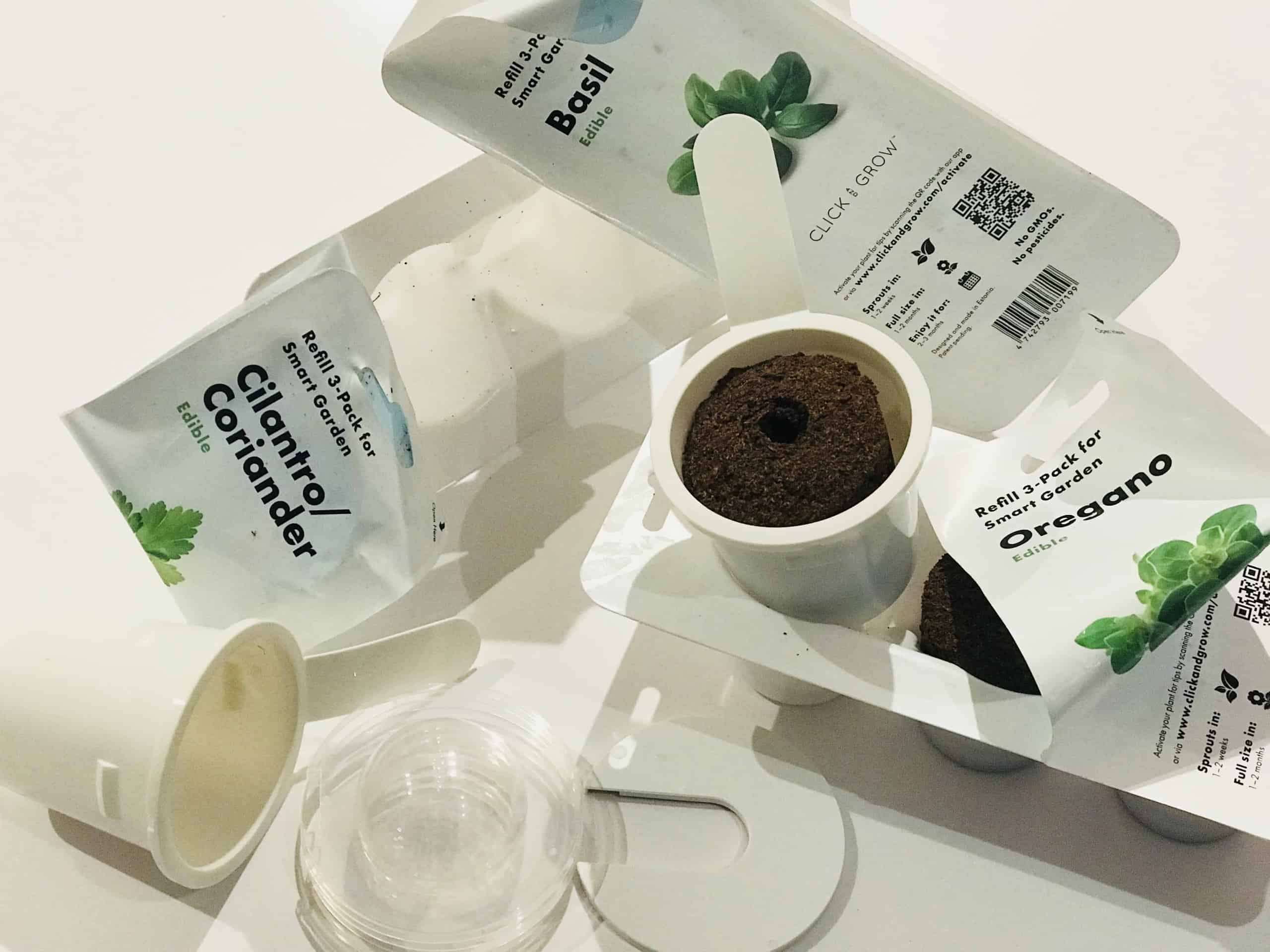 2. Then, cover it up with the lid.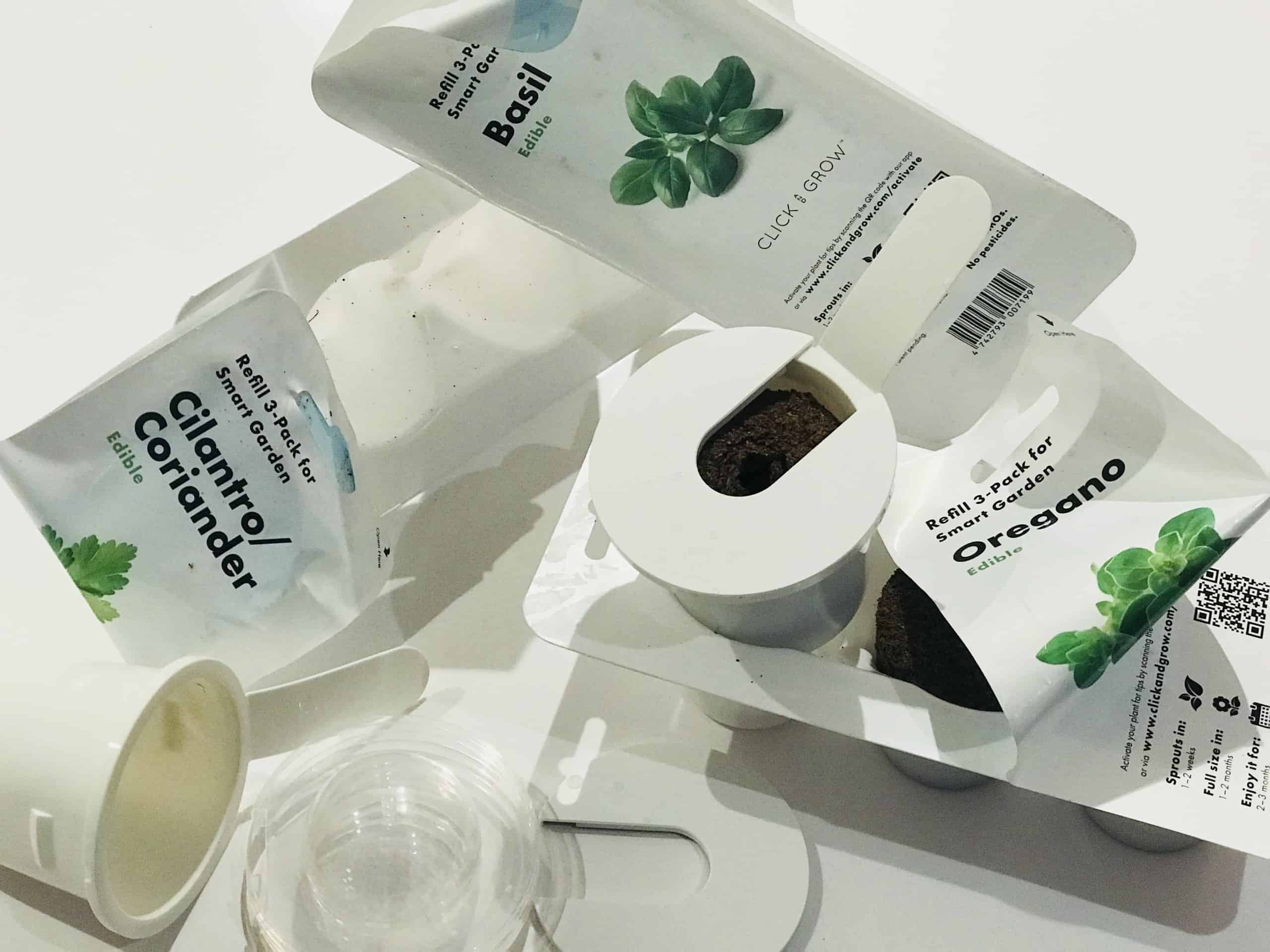 3. Next, place a clear plastic cover over the lid.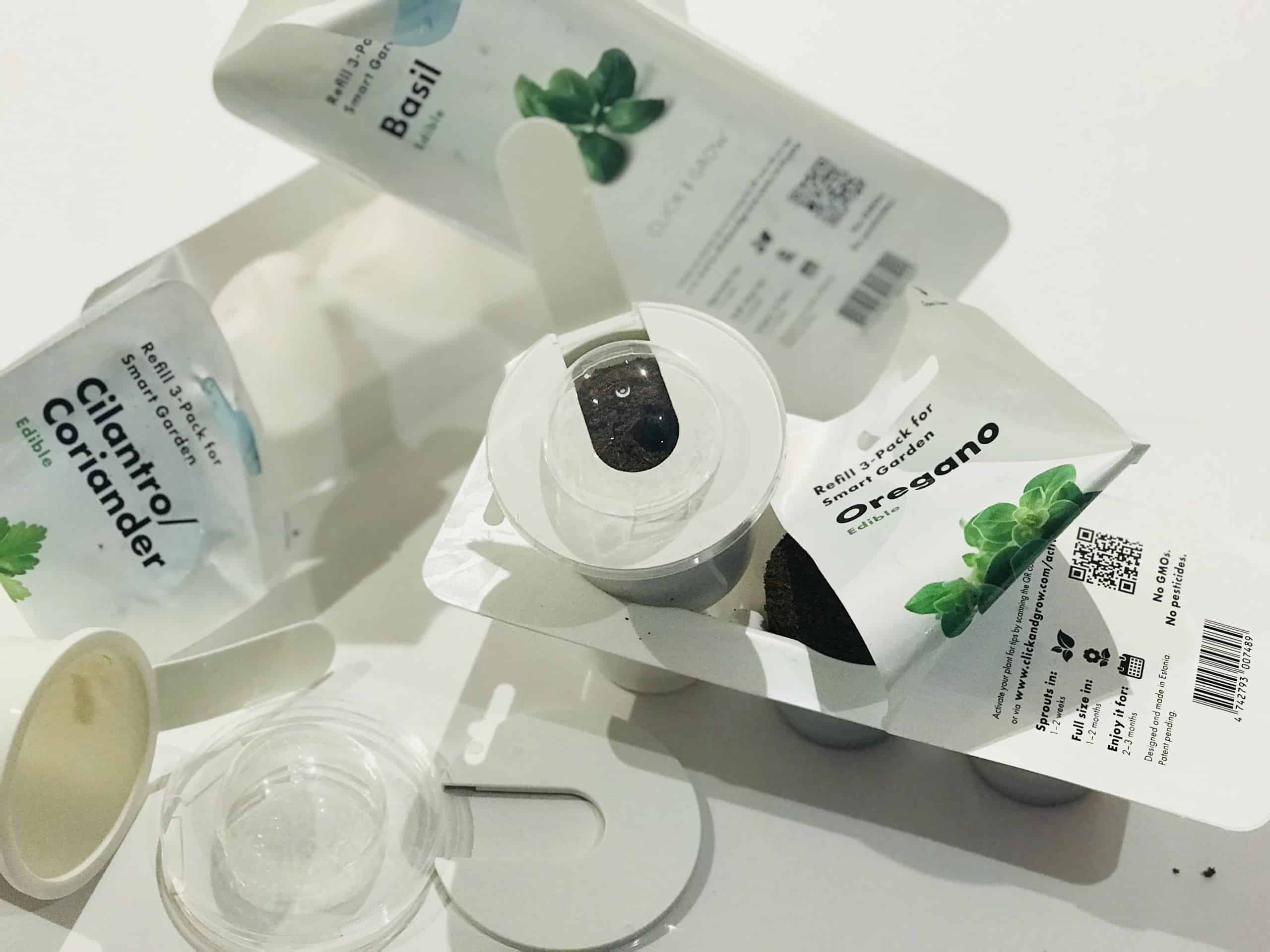 4. Insert the pods in their respective holders, push the lighting bracket into place, and plug it in.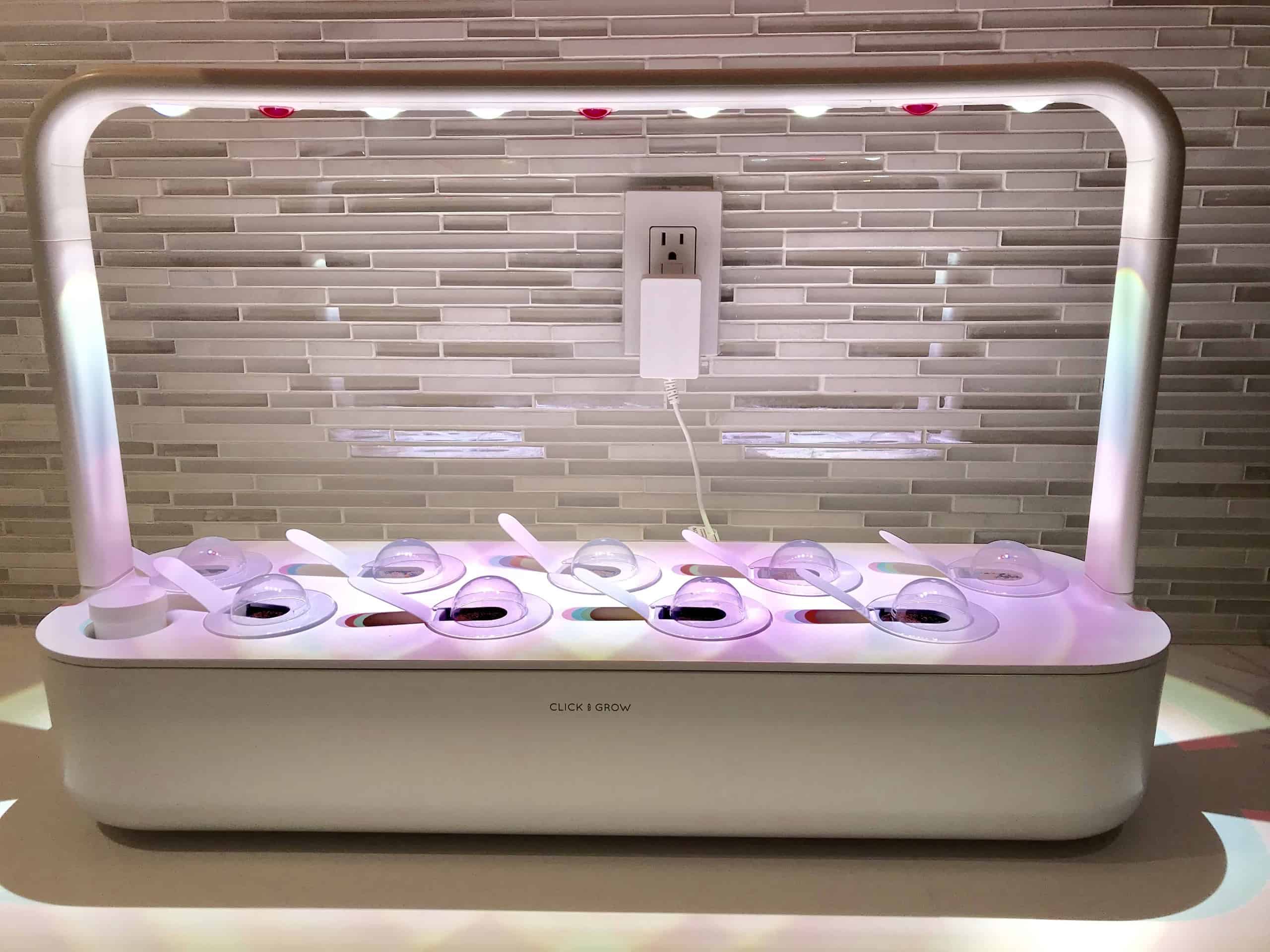 5. And that's all there is to it! The lights will turn on, and then automatically cycle between on and off as necessary.
3 Weeks Later…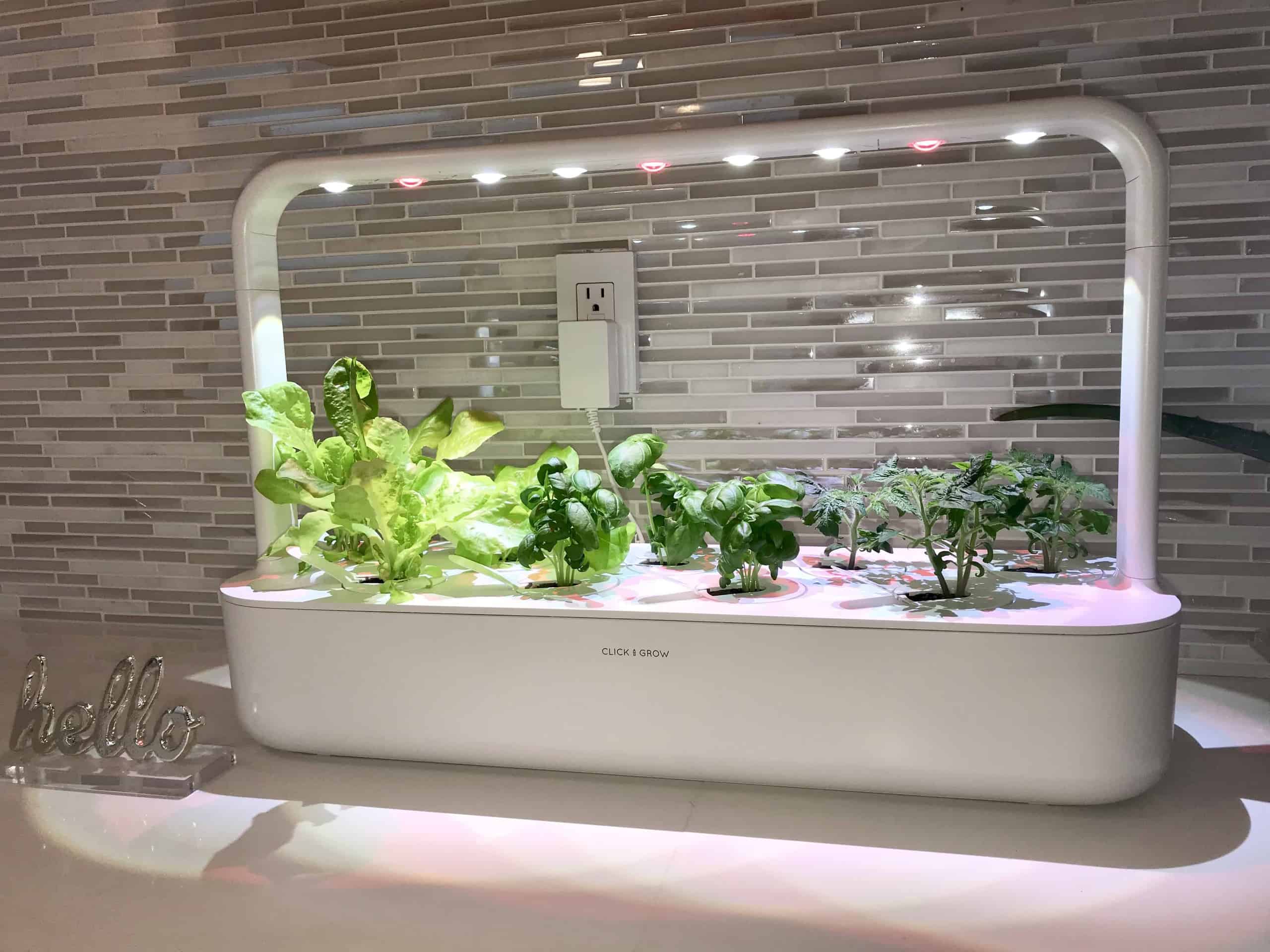 And then 5 Days Later…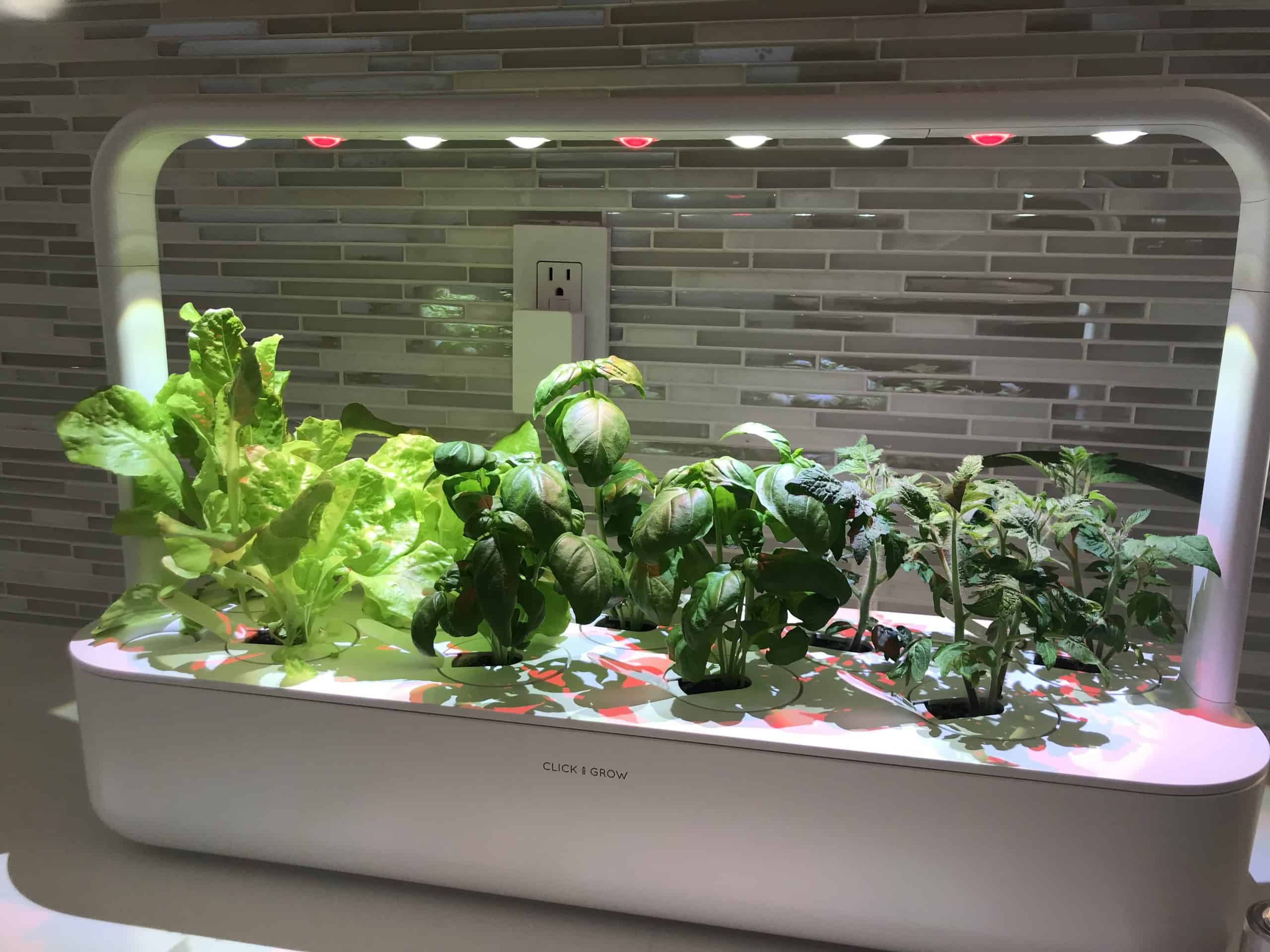 At this point I harvested basil – it's okay to clip the top leaves, as long as you make sure to leave two leaves per stem. I used that basil to embellish my frozen store bought pizza, and it was amazing. The aroma around the house was pretty nice, too!
10 Days Later: More Harvesting!
Five weeks after I started the Click and Grow project, I was able to do my first harvest for lettuce and plenty of basil. I was pleased with the freshness and quality of my basil and lettuce.
At this point I did not have any tomatoes yet, so I researched online and learned that I needed to pollinate my tomatoes (since they're inside the house and insects can't do it). This is easily accomplished by just shaking the top of the stems a bit, with a flicking-like movement. The tomatoes finally sprouted like a month later. They were cute as buttons, small, and sweet.
The Easiest Herbs to Grow in Your Kitchen Herb Garden
Basil!!
I think overall basil is the winner here. Actually, the Smart Garden starter kit comes with basil only, which appears to be the one that does best. I think the lettuce is a total waste of time and space because a month's yield was maybe enough for one salad. One salad after a month!? Same with the tomatoes; maybe I didn't pollinate enough? To me the time and money investment does not justify the tomatoes and lettuce, which by the way look a bit brownish and uninspiring.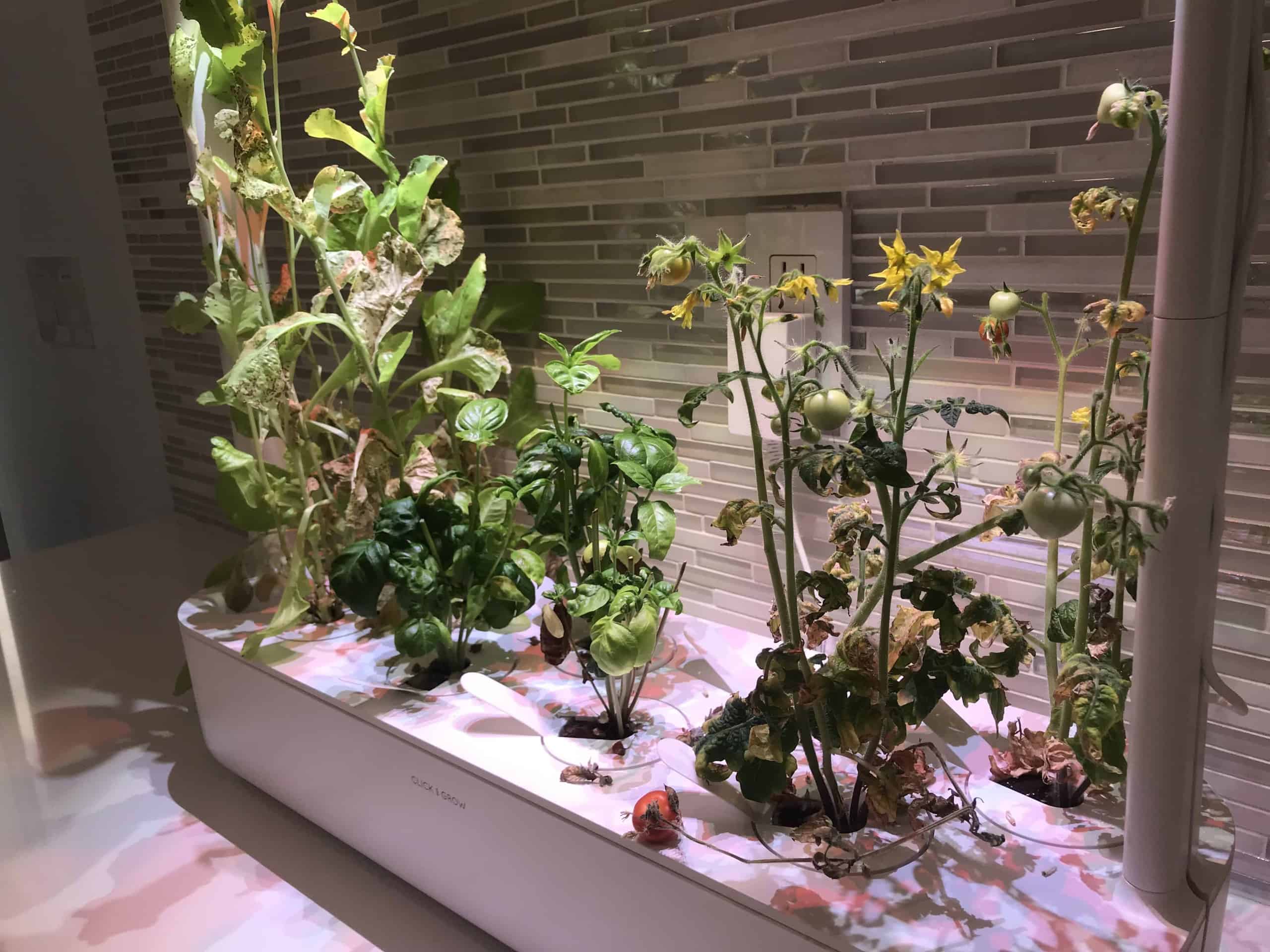 Verdict: Stick with Basil and Other Herbs
I figure that apart from basil, which can be ~$3 a pack at Trader Joe's and goes to waste in a week or so, I'll regularly buy Click and Grow oregano, chives, and cilantro. I decided to go with those options moving forward, and see if my harvest improves.
Is it Worth the Money??
Let's assume you get your organic basil from Trader Joe's at ~$3, and that you do this 2-3 times a month; that's approximately $9 a month in basil! That's insane. A 3-pack of basil pods from Click and Grow goes for $9.95 and lasts you 2-3 months.  So, in a month or so you recover the cost of the pods (depending, of course, on how much basil you consume).
You also have the added benefit of always having fresh basil, rather than wilted, week-old basil from your fridge that you took too long to use. It also makes your kitchen look more vibrant and smell great. I have been inspired to add basil to many recipes that I never thought of, because I have it within eyesight.
So overall, I give it a thumbs up!
The Lowdown
So if you dream of cooking with fresh herbs from the convenience of a kitchen herb garden, and do not have a green thumb, get a Click and Grow. This herb garden planter is foolproof and very low-maintenance. You'll get pesticide-free herbs all the time without even stepping outside, and your kitchen will smell great.
That's my take!
Do you have an indoor herb garden? What do you think are the best herbs to grow indoors? Do you own a Click and Grow?
---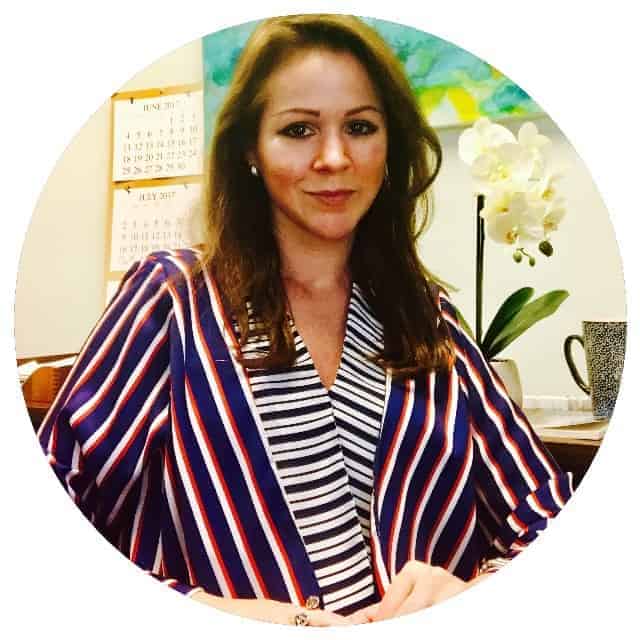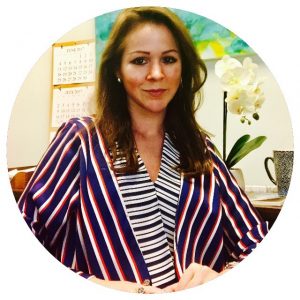 I'm Lily, a lawyer and aspiring Miami fashion entrepreneur sharing life hacks and my favorite tidbits on lifestyle, shopping, and fashion.