I love pizza – basically any kind. I could eat it every day.  Maybe it's psychological, but something about the taste of pizza brings back happy memories from my childhood. Yeah, like every time I managed to convince my parents to let me order a pie.
It was usually on Fridays, and was always a reason for me to celebrate. I mean, even my adult self rejoices at the anticipation of knowing this is coming through my front door in around 40 minutes:
But as much as I love pizza, I know they're not all created equal. There's a whole world to choose from when it comes to varieties, crusts, and toppings. A different one to suit each mood, some tasting better with Coke, beer, or even wine.
Sometimes, I find myself craving a particular taste, like basil or ricotta, which usually means two things: getting restaurant delivery and ka-ching ka-ching! Or sometimes the world conspires and I get the craving when all the places are about to close! 🙁
And you know how it goes once you start getting food delivered on a regular basis: it gets expensive! No wonder it's one of the first things you cut down on when looking for ways to save money. Because, if you're not careful, it can be quite the budget saboteur!
Ways to Save Money: Do This to Turn a Store-Bought Pizza Into a Restaurant-Style One
So, next time you're craving some fancy pizza but want to be mindful with your budget, or just don't have the patience or time to wait for delivery, here's a hack to "make pizza at home". Well, not make it from scratch, but spruce up a store-bought pizza so that it feels and tastes like one you would get from a restaurant.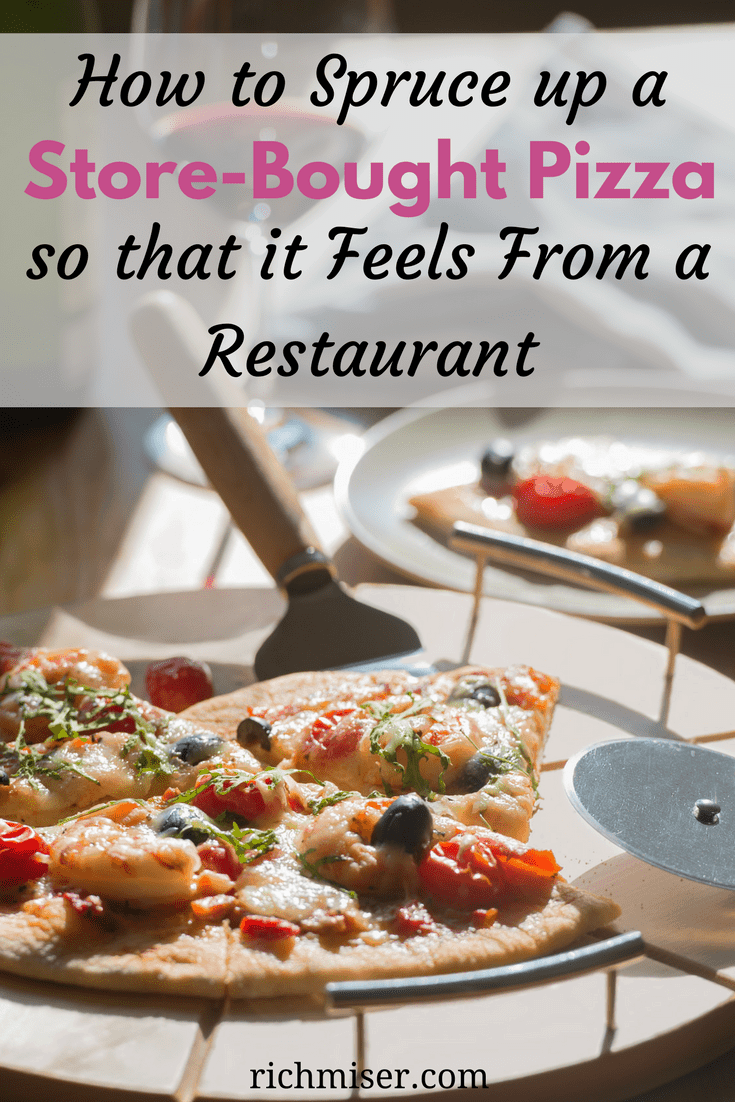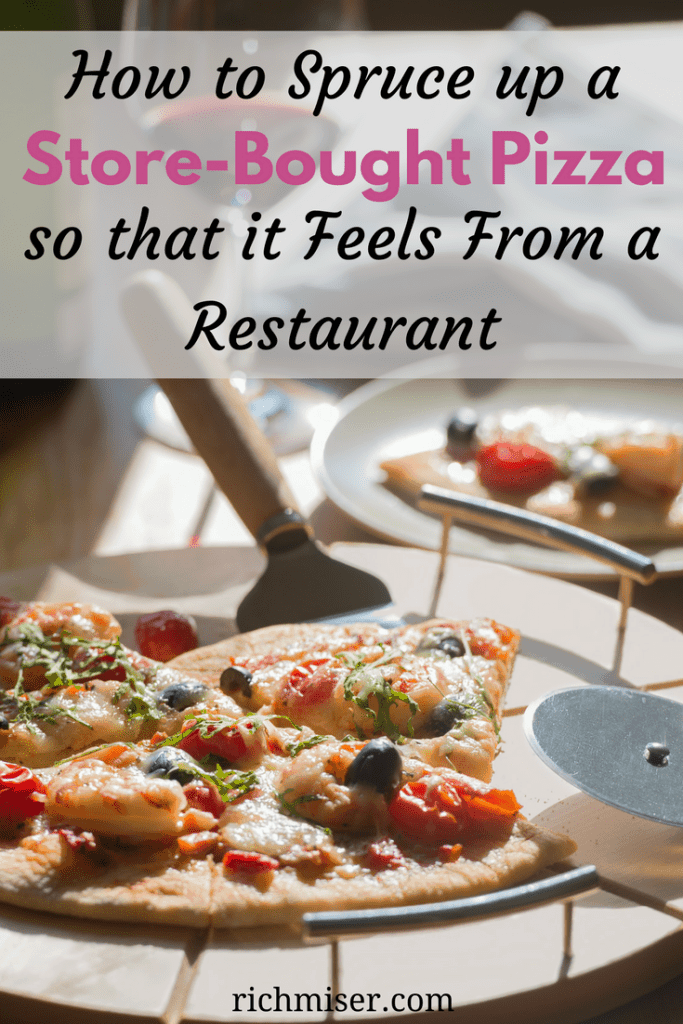 I've discovered the key to great taste is to heat it up in the oven, and add nice, fresh ingredients. (Whenever I go to a restaurant, I look carefully at the toppings they add to get inspiration for my copycat homemade version).
To make it, I like to start with a Trader Joe's Four-Cheese frozen pizza. At only $3.99, I think it's a good deal and one of the best ways to save money for the experience that you get in return.
So the Trader Joe's pie already tastes great by itself, but I like adding basil, arugula, ricotta, and some garlic powder to enhance the flavor. Depending on the mood, I may also mix it up and switch out the ricotta for mozzarella balls like Ciliegine Whole Milk Fresh Mozzarella balls. I've also added Trader Joe's Breaded Mozzarella Cheese Sticks when we're really hungry. They're $3.99 like the pizza, and they conveniently cook at 425 F, for 9 to 10 minutes. This is awesome because you make them at the same time, without worrying about setting different temperatures or heating times!
To cook, first, heat the pizza for almost all of the time the instructions say, but take it out 2-3 minutes before the full time and add the toppings. Then, put it back in the oven to complete the total heating time.
And viola! Enjoy the taste, as well as the low cost! Take a closer look at how the pizza turned out: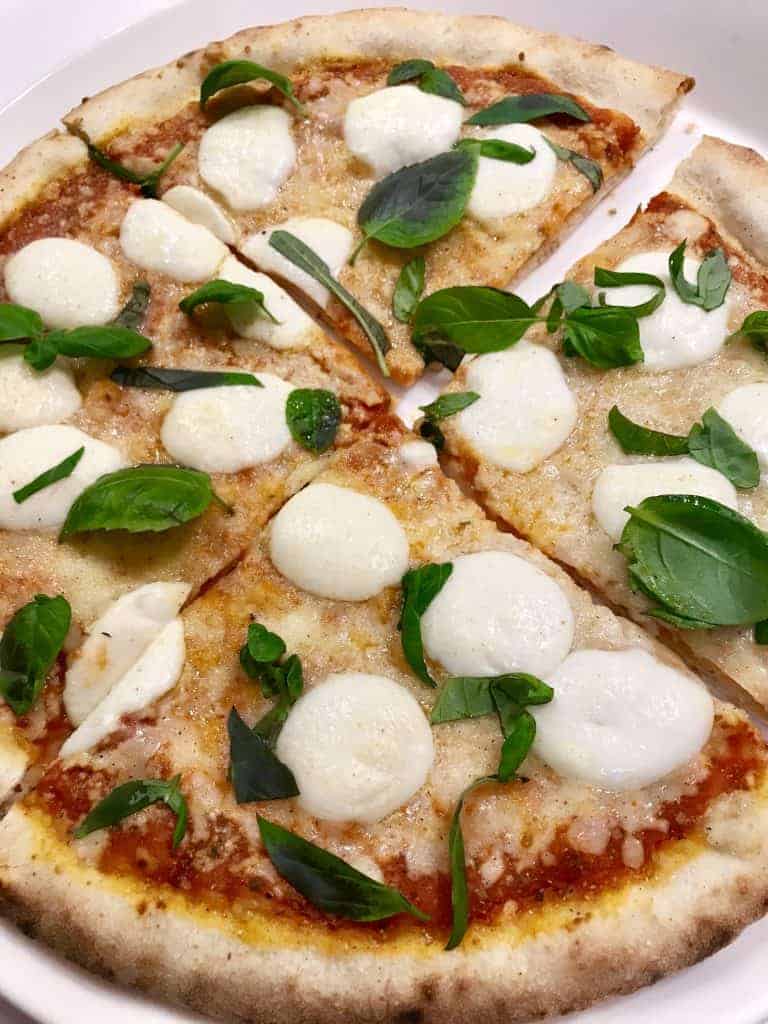 Here Are Some Great Ingredients to Spruce Up a Pizza and Seriously Turn Up the Taste
Mix and match at will! You probably already have most of this stuff in your pantry or fridge:
Your favorite kind of additional shredded cheese
Basil leaves
Sun-dried tomatoes
Fresh organic tomatoes
Pesto
Pre-sliced mozzarella from a log
Ricotta
Dried oregano
Dried Garlic
Bacon
Arugula
Prosciutto
Pancetta
Truffle oil
Garlic butter on the crusts
Hopefully you get creative and come up with a masterpiece, happy as a kid:
The Lowdown
So, make sure you have at least one frozen pizza in your stocks. It might save you next time you have midnight cravings and everything's closed. It's also one of the most overlooked ways to save money. Now that you know these tricks, you can still enjoy pizza that tastes just how you want it!
That's my take!
Are you a pizza lover like me? Do you have any hacks to make pizza at home, enhance a frozen one, or avoid overspending on restaurant delivery? Let me know what other toppings should be on my list to spruce up a frozen pizza!
---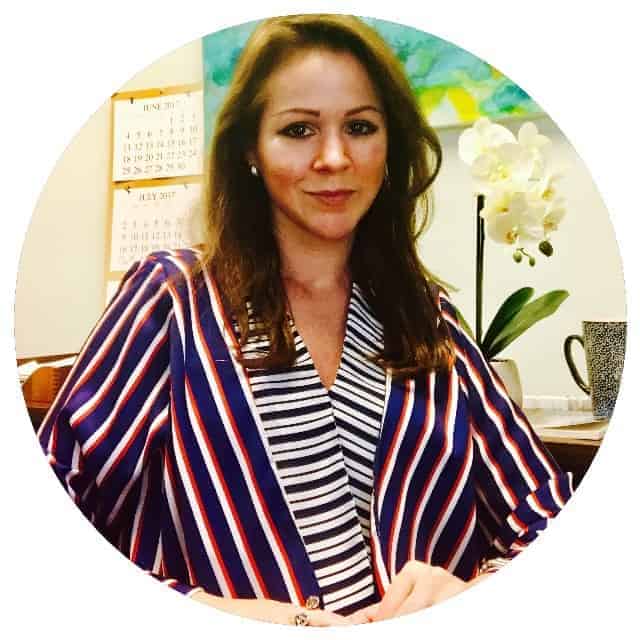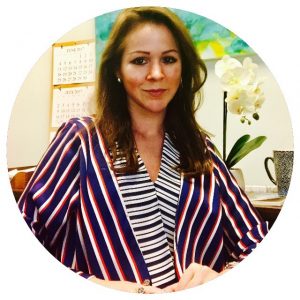 I'm Lily, a lawyer and aspiring Miami fashion entrepreneur sharing life hacks and my favorite tidbits on lifestyle, shopping, fashion, and beauty.