It's time for a new kitchen! You're finally ready to update what you have and can't stop thinking about a white kitchen island, a modern kitchen design, or a "statement" black and white kitchen. You know pretty much what you want: a simple kitchen design that still looks great. But wait, how come it costs so much? Reality sinks in and you get sticker shock.
This is what happened to me almost three years ago. We were ready for a new kitchen but what I wanted was out of budget – to give you an idea, it started in the $50,000 range. However, I wasn't going to give up on the new kitchen of my dreams; I imagined it to be the center of all our gatherings! But, I quickly learned that if I wanted to get a high-end, modern kitchen design look, I'd have to shop around, research, and do my homework.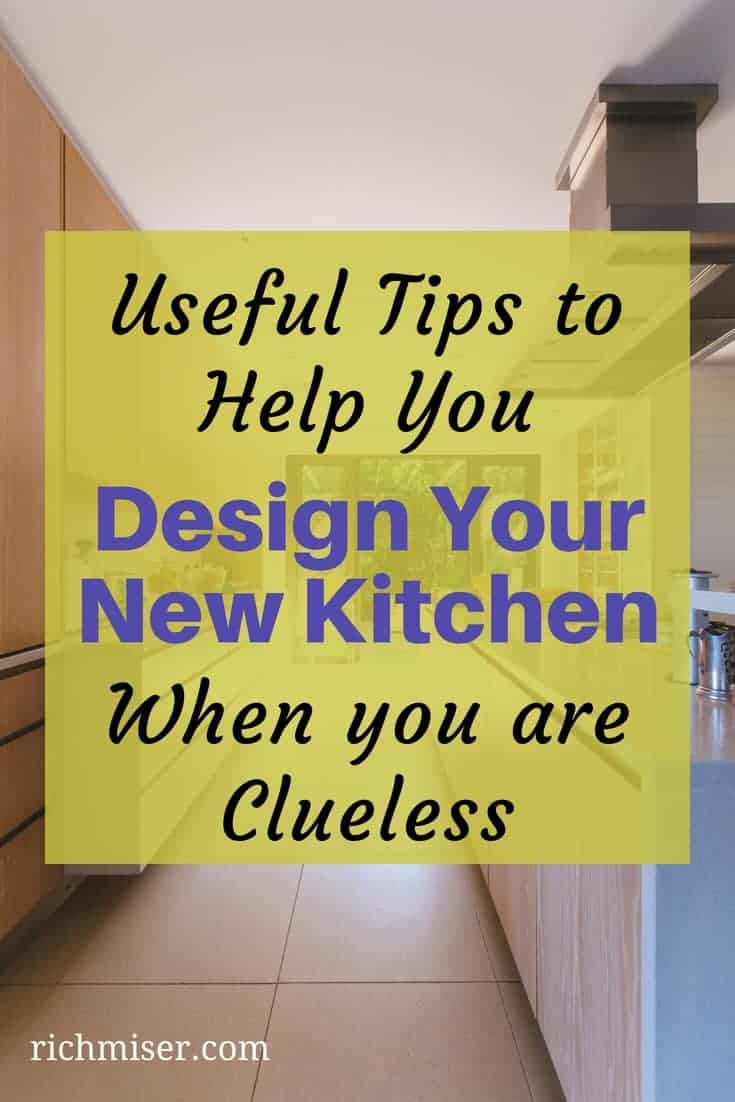 So, I got to work; after over 100 hours of research on Pinterest, I designed the kitchen myself, with zero experience. And, I did it for less than half of the originally quoted price of $50,000, and it turned out just how I wanted it. I learned a lot, and today want to share my tried-and-true tips that'll save the day and some serious cash.
So that's our new kitchen but, in case you're wondering, this is how it was before:
Here Are My 10 Steps to Get the New Kitchen You Want:
1.  Budget for Your New Kitchen
A new kitchen can start at about the $15,000 range if you choose pre-fabricated cabinets and limit the area covered by a backsplash or tile by getting creative with paint or inexpensive materials like laminate. Still, even a simple kitchen design, if custom-made, can quickly put you in the red if you're not careful. Like if you opt for expensive materials such as marble and organizing/dividing compartments inside drawers.
So, be realistic and flexible. Are there things you absolutely want like a white kitchen island, white kitchen countertops, or a farmhouse sink? If so, make sure you factor that in when budgeting for your new kitchen. Oh, and bear in mind that appliances are extra; meaning they're probably not included in any quotes. I know, ouch!
2.  Determine How Much Space You Have
Take a look at the "flow" of the kitchen area. Are there areas leading to a high-traffic hallway? Then, it might not be wise to put the oven there. (Unbelievably, a luxury kitchen store gave me a design that had the oven in a hallway…so if a kid comes running and I'm taking something out of the oven we're probably heading to the hospital).
Also, take note of where the windows, existing plumbing, wiring, and air exhaust are. Bear in mind that if you start moving stuff around, like re-positioning a sink or windows, it'll cost you more. In my case, the sink was by the window, so I knew that to save money, it was wiser to leave it there.
3.   Create Pinterest Boards With What You Like
This is where I spent the bulk of my time. I was thrilled with the idea of getting a new kitchen, but it was also very overwhelming because I wanted to make sure that I loved it. Initially, the idea with creating boards was to clearly define the style I wanted. Pinterest is great for this because you can search for exactly what you want, like "black and white kitchen" or "white kitchen island", and get a bunch of pictures which hopefully give you an idea about what you like and hate. It's very important to also search for kitchens with the same floor color that you'll have in order to give you an accurate look. A good search would be "kitchens with white floor", or whatever color – you get me!
We ended up opting for a gray and white kitchen, and like a month later I added the pop of orange in the pictures to give it some oomph! I took a risk when I decided to put that cabinet in a zig-zag shape, but I wanted it to look playful and modern. I had the cabinets made separately and decided during installation how far left or right I wanted them. It was like playing Tetris. 🙂
4.   Take Into Account Your Needs and Lifestyle
When I started designing our kitchen I knew I wanted a white kitchen island to bring the light in, because our old kitchen felt a little dark. I also wanted a simple kitchen design, with an open concept so that we could entertain and have a game or something on TV, without people in the kitchen feeling left out. In our case, it involved removing a wall, and creating a kitchen peninsula instead. Luckily the wall was not load-bearing and we could remove it without extra cost. Not surprisingly, all of our get-togethers now start and end in our new kitchen!
I also knew I would be cooking a lot, so I wanted an oversized hood; however, if you don't cook much you can get away with a re-circulator (the ones under microwaves) or a smaller (and cheaper) hood.
5.   Take Measurements and Pictures of Your Existing Kitchen Area
I took lots of pictures of our old kitchen, but no measurements. Then, having no idea how crazy expensive a modern kitchen design could be, I went to an Italian luxury kitchen store to look around and get a quote. They did a rough draft of what I wanted and told me to take it home and fill it in with the measurements, and then e-mail it to them so that they could prepare a render and quote. So, save yourself time and measure as much as you can.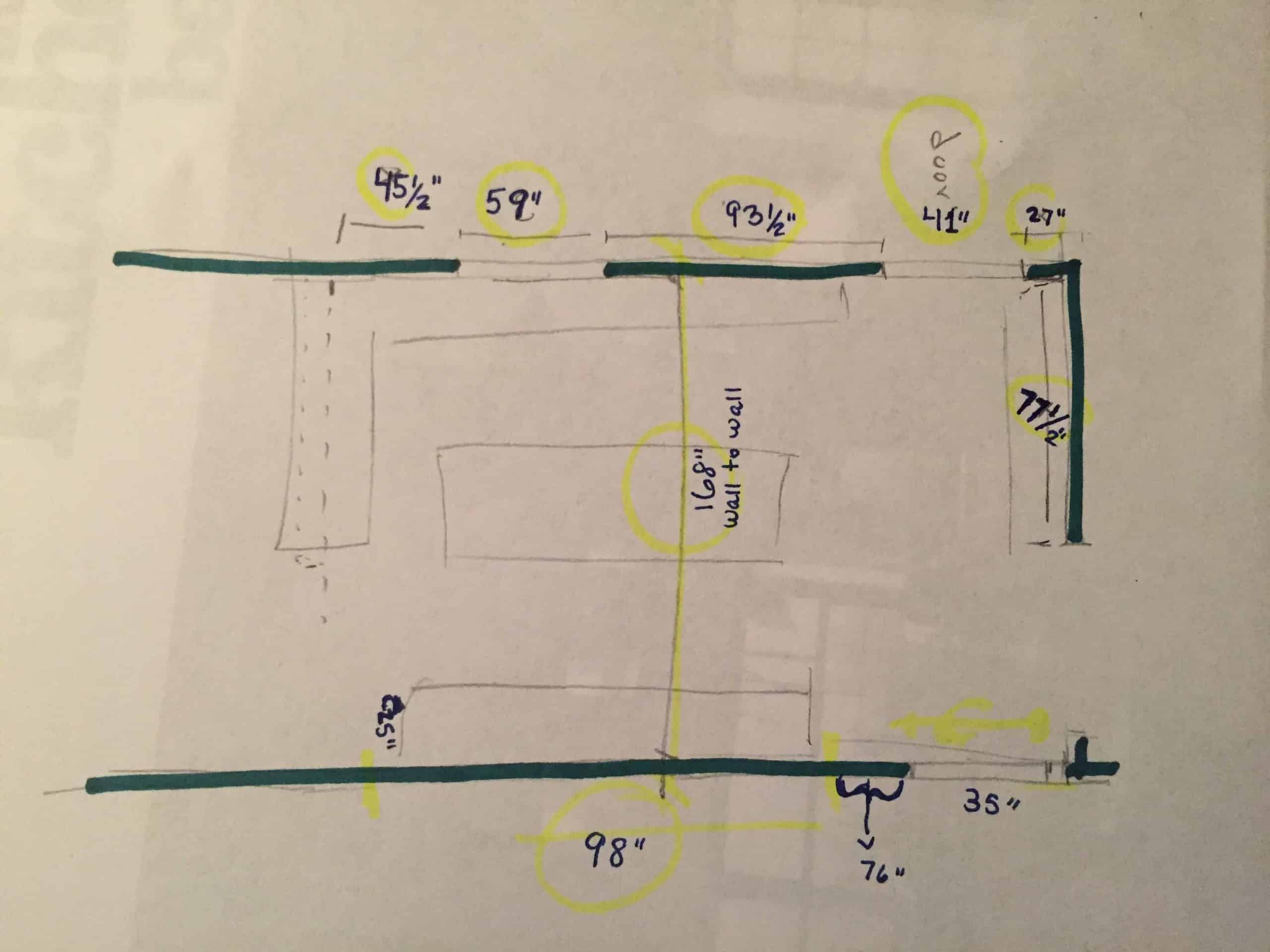 6.  Visit Kitchen Stores in Your City and Get a Free New Kitchen Layout Design
So we visited an Italian luxury kitchen store because we drove past it and I saw a kitchen that I really liked. I intended to buy it from them until they quoted us $50,000!!! Oh, and it came from Italy so we would have to wait at least six months. The other thing I didn't like was that the cabinets were pre-made and you couldn't alter a thing. Luckily, they e-mailed me this render, which gave me a realistic idea of a simple kitchen design that I could work with and alter at will if I got a carpenter.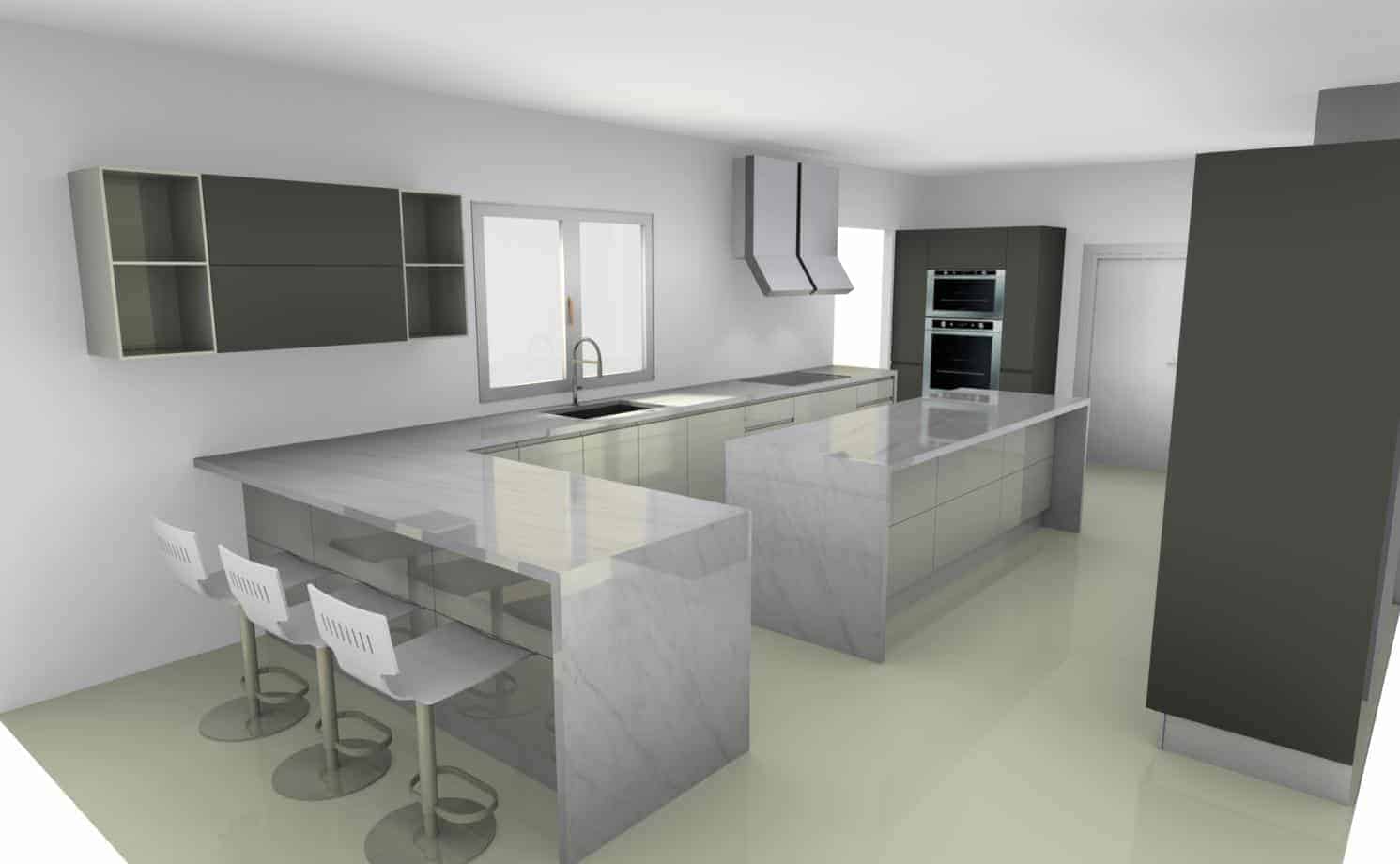 7.  Revisit Your Pinterest Boards to Make Sure You're Satisfied With Your Design. Tweak if Necessary.
After I saw the render from the kitchen store, things started to take a more realistic shape. It was clear to me that I wanted very specific things, like cabinets up to the ceiling to create the effect of a higher ceiling. The render made clear what I didn't like: the oven in the hallway, the stove close to a high-traffic passageway, and the big rectangular cabinet (which reminded me of a pharmacy). To each his own, right? But these were things I clearly disliked and wanted to change.
With the render in hand, I revisited my Pinterest top contenders to alter the design. I printed such top contenders and had them ready for when I finally met with my general contractor, and eventually a carpenter she recommended.
8.  Find a Local Carpenter or a General Contractor, and Discuss the Project and Get a Quote (Repeat If Necessary Until You've Found Someone You Want to Work With)
Meet with your contractor and carpenter IN PERSON to discuss the project in detail. Make sure to bring printed pictures of what you want. If you have a kitchen layout diagram you can also bring it. In my case, I didn't bring the render I got from the store because it varied too much from what I wanted and I didn't want to risk confusing anyone. I did bring printed photos of exactly what I wanted and hand-wrote comments on them; I left them the pictures for reference. The carpenter agreed to prepare a render for his design, plus a quote.
9.  Readjust Your New Kitchen Layout and Determine Exactly What You Want
The carpenter sent us this render, which I printed out and drew on to show clearly what I wanted. I also hand-wrote a bunch of comments later.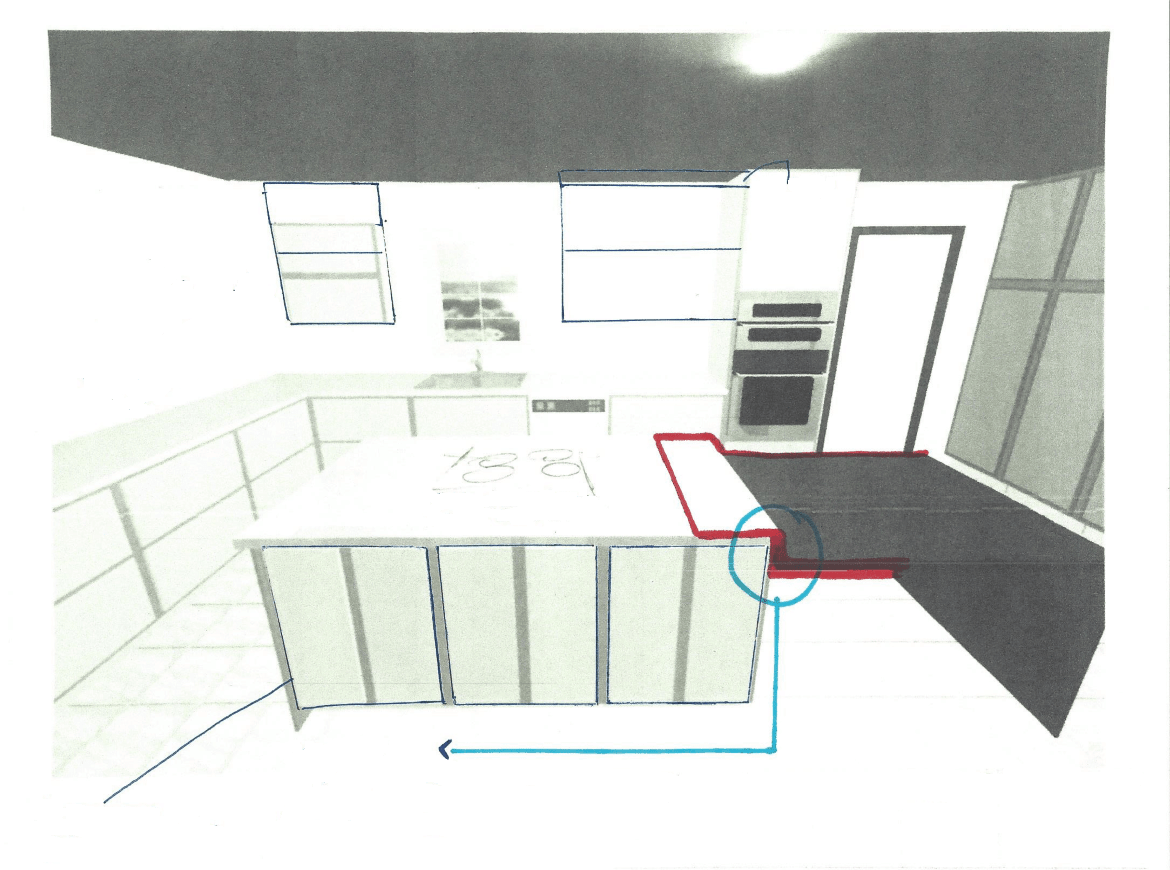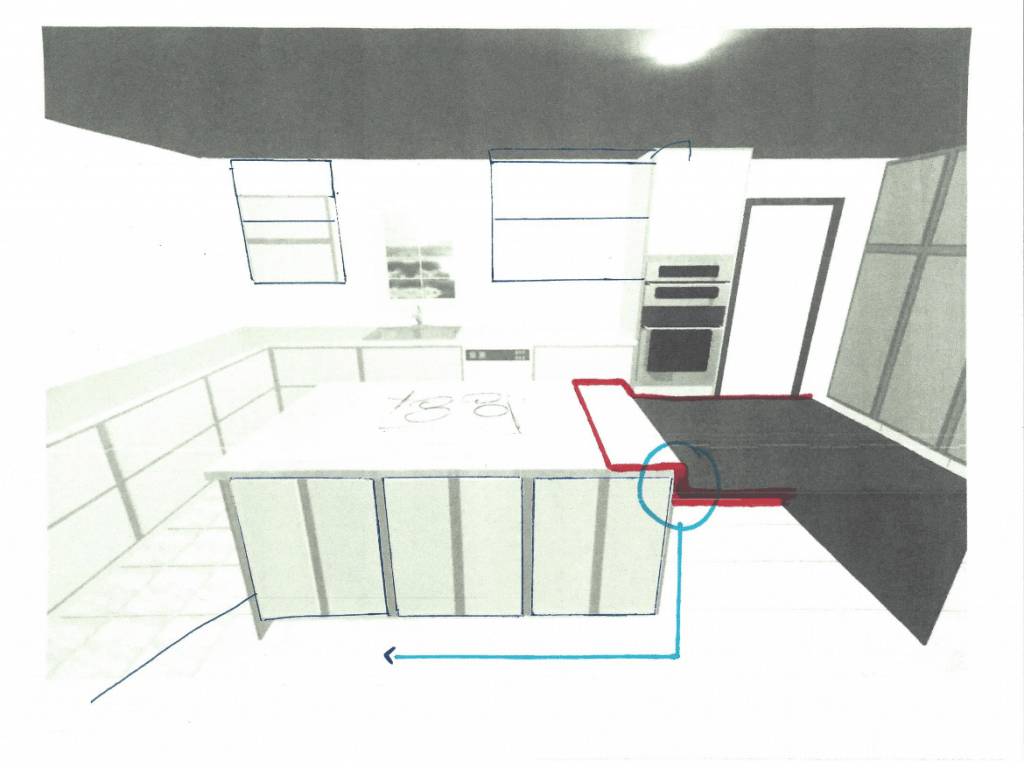 The carpenter quoted us $22,000! I know that's a lot of money; but, considering the size of the kitchen, plus the style and stuff we wanted, it was a good deal. We accepted the quote and gave the carpenter a deposit.
10.  Shop for Finishing Touches Like Stools, Lights, Fixtures and a Mini Herb Garden.
I chose a tall stainless steel fixture from Hansgrohe, which -you guessed it- I got online and on sale after monitoring the price regularly. Other fixtures I got at Home Depot, and they were also a great deal. (Remember that you can monitor online prices with CamelCamelCamel so you never miss a sale!)
I also got a Click and Grow herb garden, which keeps us supplied with oregano, cilantro, and basil.
Oh, and the stools are from Wayfair!

A final note on getting a simple kitchen design when you have no idea what you're doing (like me)
Be patient, watchful, and flexible. Also, once construction begins, visit the project frequently if you're not living-in during the remodel. We visited the project weekly to see the progress and make any final adjustments. As you can see, I changed my mind about having a plain gray and white kitchen, and added the orange cabinet. I then changed it from straight to zig-zag to do a visual trick because the other cabinet on the right side was not the same size and it bugged me. In my opinion, it ended up looking very playful and modern, or at least I like to believe that! LOL. I also straightened the wooden slab; I thought it had a better flow in the end result. Finally, I added a wavy tile to the side of the peninsula, so that I could easily wipe it when people sitting on the stools dirty it up with their feet. 🙂
The Lowdown
Even if you have zero experience like me, you can still have the new kitchen you dream of if you're willing to spend some time on Pinterest to come up with ideas about what you want. Or maybe you're lucky and have a creative friend that'll look at it and just know. In any case, I hope I've inspired you to beat the system and get the kitchen of your dreams for half the price! Oh and hey, there's nothing like responding to a compliment about your kitchen with a: "Really, you like it? Well, I designed it!" 😉
That's my take!
Have you shopped around for a new kitchen and, like me, been in shock with how crazy expensive they are? Have you ever considered any of these tips when getting a new kitchen? Are you up to the challenge of coming up with a simple kitchen design yourself in order to save thousands? 
Like anything you see in the pictures for your new kitchen? Ask me where to get the stuff in the comments section, and I'll be glad to let you know where we scored these deals!
---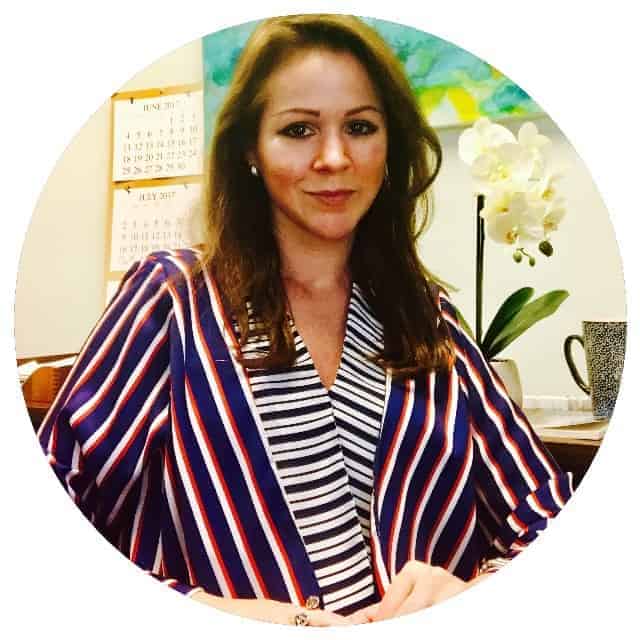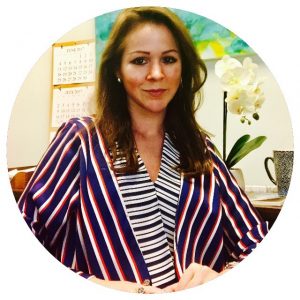 I'm Lily, a lawyer and aspiring Miami fashion entrepreneur sharing life hacks and my favorite tidbits on lifestyle, shopping, fashion, and beauty. GIF enthusiast and lover of making shareable lists.