Stone countertops are probably some of the most expensive items that you can buy for a kitchen. They're also essential, and will have a huge impact on both its look and utility. Within kitchen design, one of the questions that keeps coming up is the dilemma of quartz vs granite countertops. And a dilemma it is: I took a Twitter poll, and the responses were split right down the middle:

So yes, the controversy is intense in the world of kitchen renovations. And that's why I want to take an in-depth look at both kinds of stone countertops, and see what the pros and cons are of each.
Note: For our sources, scroll down to the bottom.
The Pros and Cons of Quartz vs Granite Countertops for Your New Kitchen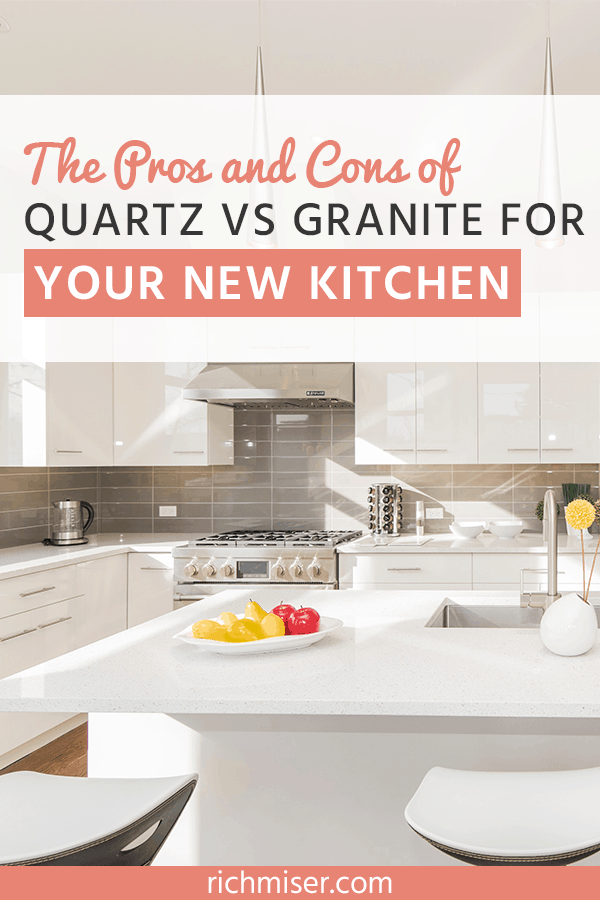 Let's start with quartz, which seems to be more "in vogue" as of late.
What is Quartz?
Quartz is actually man-made, "engineered" stone, made from chunks of stone, mixed in together with resins and coloring. More specifically, "natural-quartz crystals are mined, then ground into a dust or an aggregate that's fused with resin binders under intense heat and pressure to form a solid slab. Pigments added during the process impart color to the countertop" (This Old House).
Here's a video showing the manufacturing process at an Asian factory, step-by-step:

And here you can see the big slabs being cut in the US:

Is Quartz Suitable as a Kitchen Countertop?
Like granite, quartz is highly durable and resistant to heat and impacts. Indeed, in Consumer Reports' tests, both performed very well on cutting, abrasion, and burn resistance.
However, when considering quartz vs granite countertops, it's important to note that quartz is better in terms of its resistance to acidic foods and staining, which are an integral part of life in the kitchen. Consumer Reports tested the stain resistance of quartz and granite countertops and found quartz to be a bit better.
Here's a test of quartz vs granite stain resistance:

Importantly, quartz does not need any processing after it is installed in your kitchen. (Granite, by contrast,
may need to be resealed periodically
.)
Quartz is available in a huge range of colors, from natural cream and white to earthy brown or black, and every color in between. So, if you are after a shiny, spotless white without any of the natural yellow or cream creeping in, quartz is your best bet. If the color palette of your new kitchen calls for a more bold color, like, say apple green, or even red, once again quartz will serve you well.
These are the white quartz countertops in my actual kitchen: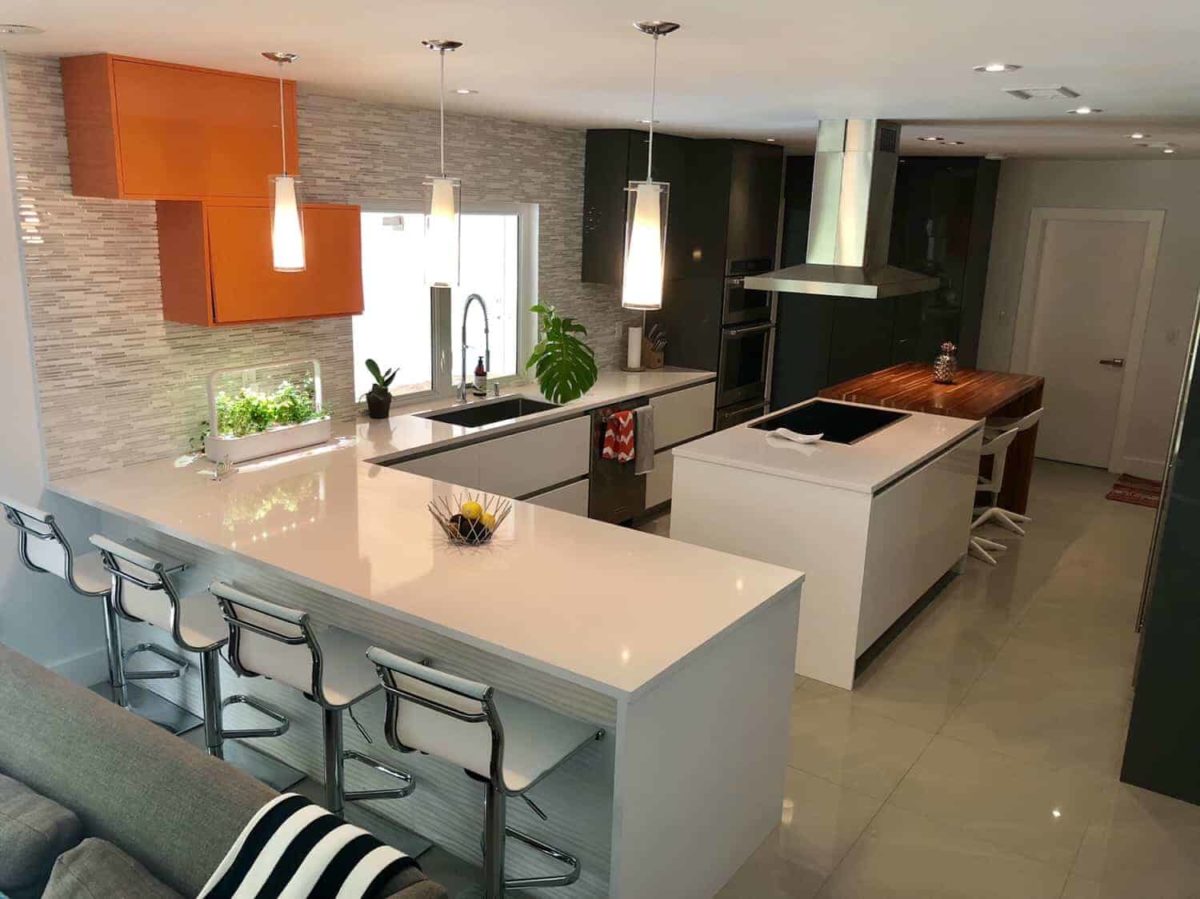 After having them for close to three years, I can tell you that I have not noticed any permanent stains on them, despite spilling coffee and red wine fairly often.
Are Quartz Countertops Too Uniform to be True?
One of the main problems commonly cited about quartz in the quartz vs granite countertops debate is that it looks too uniform, with the flecks being consistent throughout the surface.
In some instances, this may work to your advantage. For example, if the dimensions or shape of your kitchen requires you to join multiple pieces of the stone together, the uniform flecking makes the joints appear seamless. At the same time, the consistency of the flecks can make the quartz appear fake.
However, continuous improvements in the manufacturing process mean that now we can have quartz which mimics natural stone almost precisely, including the variegation of granite or the swirls of marble.
Affordability
On average, quartz countertops, without installation charges, cost about $75 per square foot. Naturally, the price largely depends on the quality of the material. Based on such quality, you can expect to pay around:
$50 – $60 for low quality.
$60 – $70 for medium quality.
$70 – $100 for high quality.
As for installation, there are several factors that affect the final cost of installation:
Leveling of cabinets.
Additional supports to make sure the heavy material is safe.
Fabrication costs include cut-outs for fixtures, the kitchen sink, etc., as well as the edging and, depending on the size of the kitchen, the seam joining.
Having read up on quartz, let's move on to granite.
What Is Granite?
Granite is a naturally occurring stone formed over millions of years from molten rock under the earth's surface. It is very hard and durable and makes for great stone countertops.
But, it is not just the durability that endears granite to home-builders and renovators alike. It is also the smooth, luminous feel of the stone and its dimensional look (because of the flecking) that makes it a highly sought-after material for countertops in the kitchen.
Typically, granite is blasted out of quarries in large blocks and then cut into smaller, workable size slabs using special milling machines. The standard granite slab is about 4 to 5 feet wide and 7 to 9 feet long.
These slabs are then polished into a uniform thickness of around three-quarters of an inch to an inch and a quarter. Polishing also gives the slab a smooth, shiny finish.
Does Granite Need to Be Resealed?
As I mentioned before, some (if not all) granite countertops need to be resealed periodically. This is an important consideration when thinking of quartz vs granite countertops.
A simple test can tell whether or not it is time for a sealing treatment. Drop a little bit of water onto the countertop. If the water beads up, the sealing is intact. If the water soaks into the granite, it is time for a sealing.
Sealing is not as difficult a process as you might think. All you need is a granite cleaner and a sealant that is water and oil resistant. Clean the countertop following the cleaner's instructions and then apply the sealant with the help of a few clean rags.
Just so you know what you might be getting into, here's a video on sealing stone countertops:

Honestly, they make it seem easy, and that may be so. However, sealing looks like one of those things that, in practice, you might keep putting off, and wind up never doing at all.
As A Natural Stone Countertop, Granite Is Unique
Granite is made of interlocking mineral crystals of feldspar, quartz, and mica. This combination of different minerals gives every piece of granite its unique look.
If you are after a unique centerpiece in your kitchen, granite is your answer. After mining from the quarry, granite slabs undergo several treatments. Depending on individual taste, you could go for a rustic, leathered finish to your countertop, or a matte look, or the trademark glossy, shiny finish.
Whatever the style of polish you choose, granite truly makes one of the most handsome stone countertops.
How Much Do Granite Countertops Cost?
Granite is a naturally occurring stone and as such, every slab is unique in its flecking, vein patterns, and color. The price of a granite countertop varies widely based on its color, texture, and pattern.
White or black granite is the most popular and common and on average costs about $40 – $60 per square foot. On the other hand, blue granite is one of the most exotic varieties and can cost anywhere from $70 to upwards of $100 per square foot.
The other factor affecting the price of a granite countertop is the texture of its finish.
Leathered finish, which gives a natural, rustic look and brings out the natural colors of the stone is the most expensive. The honed finish which gives the stone a matte, natural-looking finish is slightly less expensive than the leathered finish. The most inexpensive finish is the one that gives it a glossy, polished look. This is also the most commonly sought-after finish.
Like quartz, the cost of installation of granite countertops depends on the number of cutouts, the style of edging and the number of seam joints involved.
Is Granite Radioactive?
Technically, yes. As the Environmental Protection Agency explains, granite countertops can release radon (a radioactive gas), as well as beta and gamma radiation. Still, the levels are low enough as to make them almost insignificant: "it is extremely unlikely that radiation from granite countertops would increase annual radiation doses above normal, natural background levels".
Nonetheless, some scientists have tested granite samples, and found that some did emit unsafe levels of radiation: "New York State Health Department research scientist Michael Kitto, PhD, says only a small fraction of the granite samples he has tested have emitted radon at levels that were over those considered safe…But he added that a few of his samples showed levels that were high enough to alarm him" (WebMD).
Overall, it doesn't seem to be too big of a concern when considering quartz vs granite countertops, but I'd be wary of cheap granite from potentially sketchy sources.
Quartz vs Granite Head-to-Head Comparison
Now that we've reviewed each of these stone countertops, let's put them head-to-head:
Carbon Footprint
Quartz is an artificially manufactured stone made out of small pieces of natural quartz and other stones put together with resins. The manufacturing process is not as taxing on the environment as that of acquiring granite.
Granite is a naturally occurring stone procured from quarries. From its mining site, the stone needs to be shipped to wherever it is required. Generally speaking, this gives granite a large carbon footprint as compared to quartz.
Chip Resistance
Both granite and quartz are highly chip-resistant. I wouldn't worry about either.
Stain Resistance of Quartz vs Granite
Both feature great stain resistance, although quartz is a bit better. Also, remember that granite is porous and will need to be periodically resealed, while quartz is not porous and does not need resealing.
Scratch Resistance
Both are highly resistant to scratches.
Burn Resistance
Both quartz and granite are very resistant to heat. Indeed, "they persist unscathed after bearing a weighted 400° F saucepan full of heated shortening—no burn marks or surface distortions" (Consumer Reports).
Looks of Quartz vs Granite
Quartz can look fake due to the consistency in the artificially added flecking, though the latest manufacturing techniques allow better mimicking of natural stone like granite and marble by introducing inconsistencies in the flecking and veining.
Granite is a naturally beautiful stone, with each slab being unique due to its individual flecking and veining pattern.
Available Colors
Quartz countertops can be manufactured in bright white, without any blemishes whatsoever. They are also available in a range of colors, including apple green, red, etc.
In natural granite, white and black are the most common colors found. However, rarely, gold or even blue granite can be found.
Overall, there are more colors available for quartz, since granite is limited by what is naturally found in the earth.
Maintenance of Quartz vs Granite
Granite requires more maintenance because you have to reseal it from time to time.
Price
Similar. As Consumer Reports explains, "quartz and granite cost about the same (starting at about $10 a square foot at major home improvement retailers, the average install cost can be from $40 to $100 a square foot depending on your contractor and where you live)…".
Value Addition to Property
Quartz probably wins out here, just because it is more popular nowadays and therefore appeals to a greater amount of home buyers. Per Consumer Reports:
…in the quartz vs. granite popularity contest, quartz wins. When it comes time to sell your home, this could be a factor.

According to a National Kitchen & Bath Association survey, the vast majority of folks installing counters these days choose quartz. So quartz may appeal to house hunters. Granite is a distant second, according to the same industry survey. "Lots of people consider granite to be outdated," [kitchen designer Elle] H-Millard says.
Longevity of Quartz vs Granite
Both granite and quartz countertops will last many years.
Leading Brands
Here are some of the leading brands:
Quartz: Cambria, Silestone.
Granite: Stonemark, allen + roth.
Quartz vs Granite Video Comparison
As you can probably tell by now, I love YouTube videos. So, here's one more, doing an overall quartz vs granite comparison:

Summing Up Quartz vs Granite Countertops
To me, the winner is quartz, though granite is also an excellent choice. Why quartz? For several main reasons:
It has slightly better stain resistance.
You never need to reseal it.
Generally speaking, it's more environmentally friendly.
It seems to be more popular nowadays, meaning it may give you a slight edge when selling your house.
No concern about radioactivity.
Either way, you can design and build an amazing kitchen. Let's get cooking!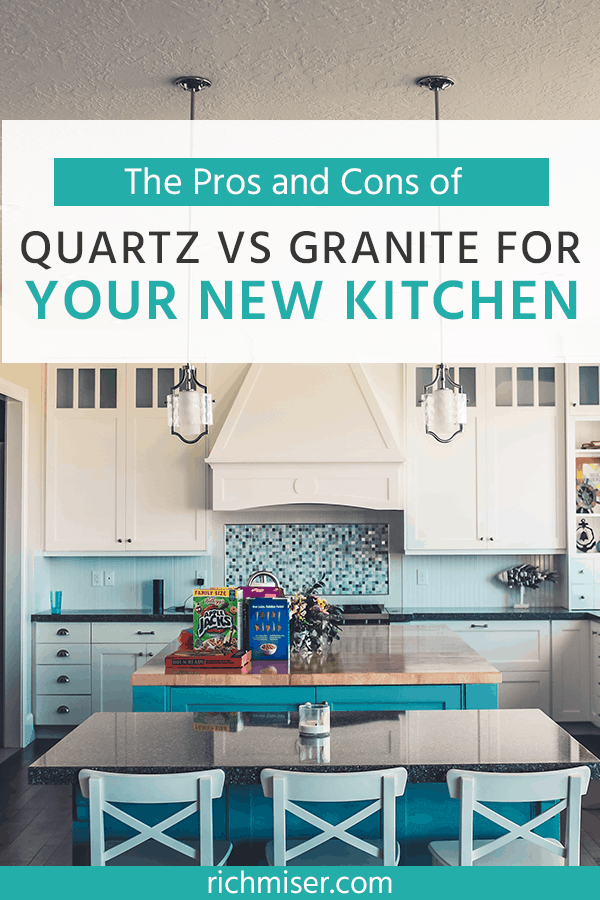 What do you think of stone countertops, and quartz vs granite?
---
Main sources: