Costco is one of those places many of us can't live without. For cheap, quality goods, it is second to none. However, it can be a time-consuming madhouse, especially on busy days and weekends. Google Express for Costco delivery is one way to make your life easier and less stressful.
Let's see what it's all about!
What Is Google Express for Costco Delivery?
Google Express is a service from Google that features Costco delivery. You purchases are delivered in ~1-3 days, in a cardboard box.
It's important to note that this is different from grocery delivery services like Shipt and Instacart, where someone goes to the store in real-time and shops your order. Google Express is more like Amazon, in that your orders appear to be shipped from a warehouse and take at least a day to arrive.
Do You Need to Be A Costco Member?
As far as I can see, do you need to be a member of Costco to use the service (I'm not – I save 10% as Sam's instead). I tried to check out without a membership, and got this message:


Is Shipping Free on Costco via Google Express?
Shipping is only free if you spend $75 or more.
Are Prices Higher than In-Store?
They may be: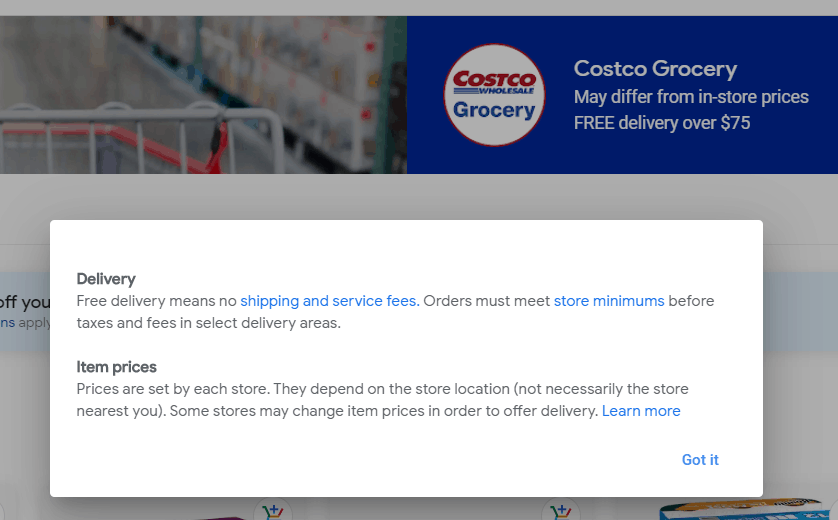 Pros of Costco Delivery Via Google Express
You save time, money, and hassle. Shopping at Costco can be fun, but it can also be an hours-long ordeal. By getting it shipped to you, you save time and gas money.
You also don't have to carry a heavy load, especially if you tend to go to Costco alone. It's awesome for bulky or heavy items like big packs of drink bottles or paper towels.
Cons
You can only buy dried goods (including some breads). This is a huge negative. As far as I can tell, Google Express will not ship you refrigerated perishables, nor alcohol.
Therefore, the available inventory is severely limited. (Instacart, on the other hand, will actually send someone to Costco to shop for you and bring you pretty much anything they have, but at probably inflated prices).
Also, you have to wait 1-3 days for Costco delivery, and therefore cannot use it if you need something now.
Finally, prices may be higher than in-store. This is also the case with Sam's shipping, so it's kind of par for the course when buying online at warehouse stores. In contrast, this is not the case with Walmart and Amazon, where you won't be charged more for buying stuff online.
Bottom Line
I'd say Google Express and Costco are fine if you need big orders and don't have a convenient Costco close by. Though, personally, I prefer to get my stuff shipped from Sam's – I find it's cheaper, and I can get around 10% back by using several apps and discount programs.