Actually, it's 10% plus back (indeed, it's theoretically unlimited) – at Sam's Club! This deal is so good, as a matter of fact, that I've switched much of my shopping to Sam's, from other warehouse clubs. A lot of stuff at Sam's is cheaper, they ship pretty quickly when you shop online, plus I'm getting over 10% back.
Here's how you, too, can get in on this sweet deal.
Note: This post contains referral links*.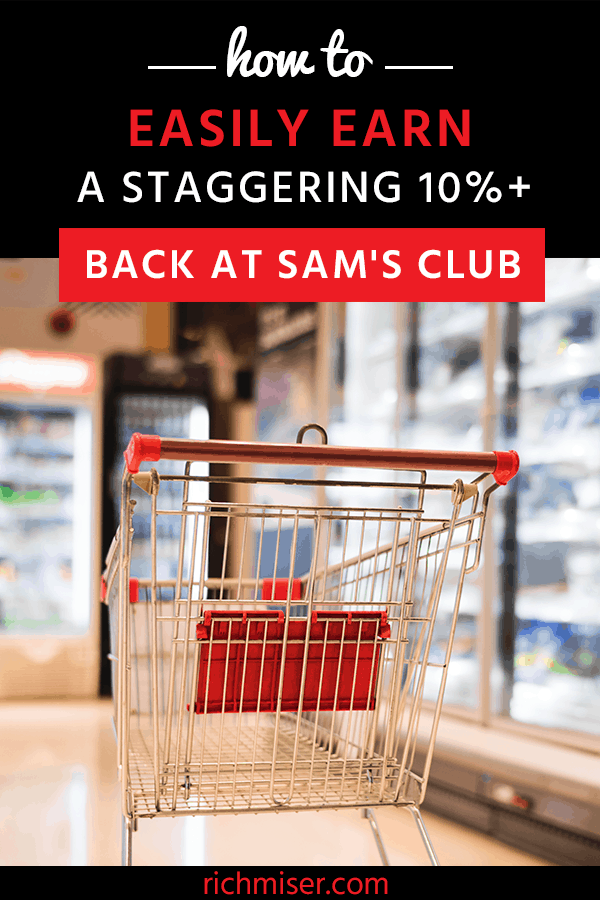 What is Sam's Club?
Sam's Club is a chain of warehouse clubs whose corporate parent is Walmart. Its biggest competitor is probably Costco. Like with Costco, you have to buy a membership to shop there, and they sell a lot of products in bulk amounts, for cheap. For instance, I recently bought a pack of 1,152 baby wipes online for $19.96. All prices are usually low, though on many items they will lower the price even more if you shop in-store (versus online).
A top-tier membership currently costs $100 and a lower-level one $45. For me, the main benefit to the $100 membership is that most online orders ship free, with no minimum purchase. Also, they give you $10 for every $500 you spend on qualified purchases, which is essentially 2% cash back.
Like Costco, Sam's has its own store brand, called Member's Mark (Costco's is Kirkland Signature).
Costco is known for being a little more upscale than Sam's, but so might its prices be!
Does Sam's Club Have the Lowest Prices?
Most of the time yes, in my experience. Let's do a quick comparison for those baby wipes I was talking about:
Sam's: $19.96 for 1,152 wipes (shipped to you), or $17.96 (if you buy it at the store). That's 1.74 cents per wipe if you buy online.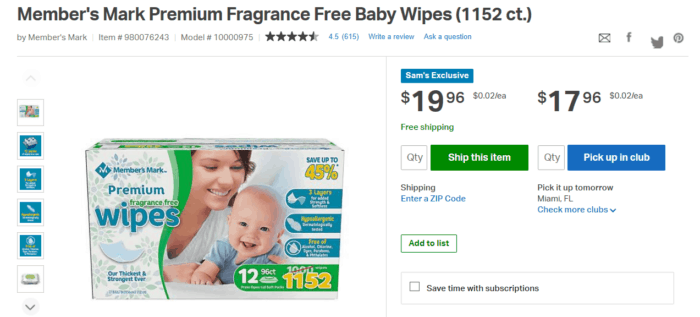 Costco: $21.99 for 900 wipes (currently on sale for $17.99) (online price). That's 1.99 cents per wipe at the currently discounted price.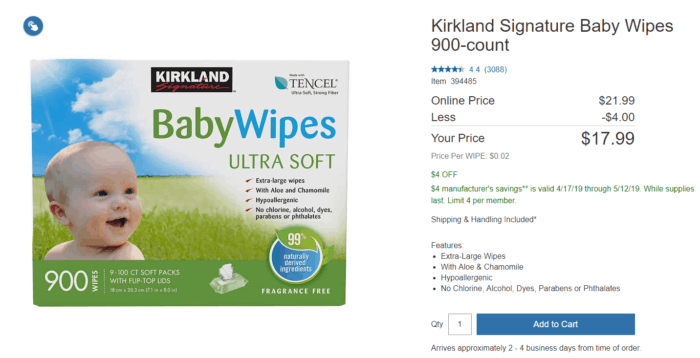 So yes, of these 2 stores, Sam's is the cheapest!
How to Get 10% (Or More) Back at Sam's Club
So to get 10% or more back on top of those already low prices, follow these four easy-peasy steps:
Step 1 – Buy a Discounted Membership to Sam's Warehouse Club
It's not hard to find discounts of $20 or more on Sam's Club memberships. Just do a Google search for "Sam's Club discounts" or something like that, and see what comes up.
Once you find a good offer, go ahead and buy a membership. I personally prefer the premium one since I mostly buy online, and that membership includes "free" shipping with no minimum purchase.
(I say "free" because many products are more expensive when shipped than when bought in-store, although they're still very cheap either way. So, I don't really consider shipping to be 100% "free" with the premium membership, even if you're spared an extra shipping charge that would otherwise apply to some products).
If you go with the premium membership, it essentially includes 2% cash back on your purchases ($10 for every qualifying $500 spent).
Step 2 – Get A Rewards Credit Card
If you don't already have one, get a rewards credit card. For simplicity's sake, I'm going to use the Citi Double Cash as an example, which gives you 2% cash back on your spend.
By now, you're at 4% cash back – from the credit card and your premium membership benefit.
Step 3 – Sign Up for Swagbucks or Another Cash Back Program
Here, your paths diverge, depending on whether you're shopping online or in-store.
If You're Shopping In-Store
You can find cashback apps that work for your in-store Sam's Club purchases. For example, Ibotta often works, as does sometimes Dosh.
Indeed, my recommendation is that you go with Ibotta. How it usually functions is that you first find items within the app that include cash-back offers and then, post-purchase, you scan your receipt, and get the cash back. It's kind of a hassle, but generally worth it.
For example, my wife and I recently spent $168.72 at Sam's, and got $10 back with Ibotta. That's 5.9%!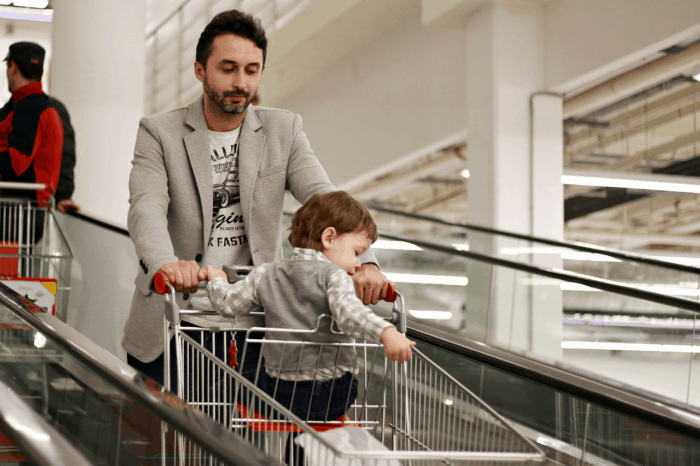 If You're Shopping at Sam's Warehouse Club Online
All you need is a cashback app that works with Sam's Club (online), and many do. I personally prefer Swagbucks because it's super-easy to use with the browser extension and consistently provides high earnings (which can be redeemed for Amazon gift cards and other good stuff).
Otherwise, be sure to check CashbackHolic to see what different programs are offering at Sam's Club.
Returning to Swagbucks, it generally fluctuates between 2-3% back at Sam's. So, by now we're at 7% cash back (credit card plus premium membership plus Swagbucks).
Update: If you're a wild child like me, you can try lolli, which often promises even more than Swagbucks – in Bitcoin!
Step 4 – Get the Bumped App for Potentially Unlimited Rewards
Yes, I've saved the best for last. Bumped is an app I personally use and love, and what it does it give you automatic (and free) stock back at a number of merchants. Stock, not cash!
I value it a lot more than cash because it's something that will probably appreciate in the future, and might even earn a dividend. Its value is theoretically unlimited.
Plus, Bumped connects directly with your credit card issuer, and does not interfere with other rewards programs.
Specifically with Sam's Club, what Bumped currently does is give you 3% of your purchase back as Walmart stock (WMT) in the form of fractional shares, so long as you pay with one of the credit cards you've linked with Bumped. WMT currently pays a 2%+ dividend, which is extra sweet. (Update: Bumped now seems to be paying only 1% back in the VTI ETF, which covers the entire stock market. Not as good, but still sweet).
Note: Bumped may have a waiting list. It took about 2-3 months after I signed up for me to receive my invitation to use the app. Also note that since you get stock, you'll need to open a free brokerage account with them and may have to pay some taxes on capital gains and dividends.
This Adds Up to 10% (Or More) Back on Your Sam's Warehouse Club Purchases
Let's do some arithmetic, and add up all of this money:
Premium membership: 2%
Credit card rewards: 2%
Bumped: 3%+ (1%+)
Total: 10% or more (over time)!
Bonus – Find Additional Savings at Sam's Club With Amex Offers
But wait, I'm not done! Sometimes, you can find further easy savings with Amex Offers.
Amex Offers are offers that American Express makes available to most cardholders, and can be found in your Amex account. You sign up for each offer for free, and then use your card to make a purchase. At that point, you get your reward, which can be extra points or cash back as a statement credit.
With Sam's Club specifically, I recently used an Amex Offer for $5 cash back when you spend $25 or more (so that's 20% back on a $25 purchase). Since I stacked it with all of the above, I earned around 30% back! Yeeeaaah!

Amex Offers are not always available, but when they are, can provide a great boost to your savings. So, do a quick check before shopping!
Summing It Up
Sam's Club is already amongst the cheapest of the cheap. But why pay more than you have to? As I've shown, you can quite easily take an additional 10% (and more) off, just by following some pretty easy steps. Plus, you'll also become an owner of Walmart (with Bumped), and can probably reap the benefits and dividends for decades to come.
Here's a quick review of the whole process:
Sign up for a Sam's Club membership online (I recommend the premium option if you do a lot of online shopping, but look for a deal before pulling the trigger) (frequently, you can find new-member deals at Amex Offers, Groupon, Swagbucks, and other sites).
Get a good rewards credit card, such as the Citi Double Cash.
Sign up for the Bumped app and link your credit cards.
Check for Amex Offers.
So, take an hour and set everything up, and make your life just a little bit better!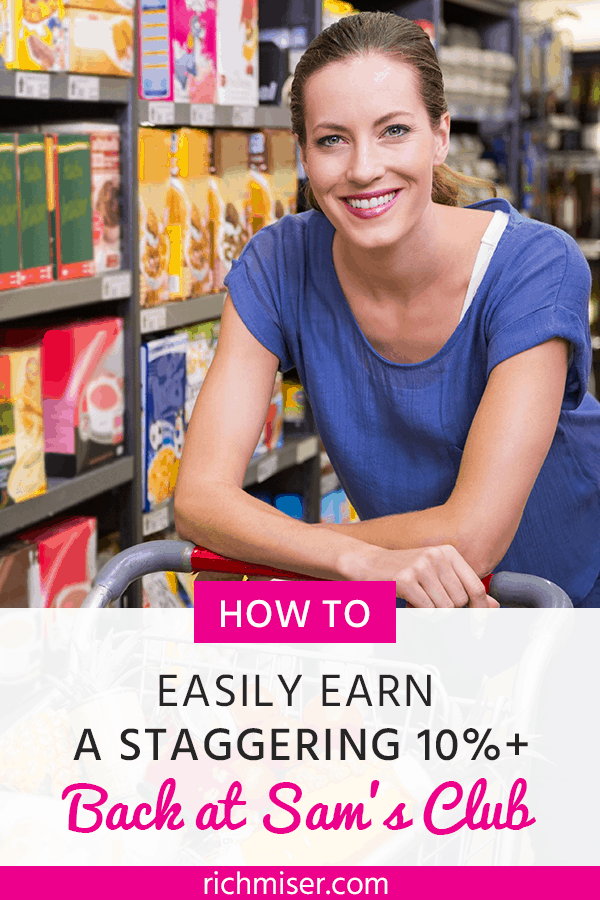 Would you shop at Sam's or another warehouse club?
---
*This post contains referral links. If you sign up for some of the products and services mentioned using the links, I get a small commission.