Welcome to Miami…remember the song? Well, it's only gotten bigger and better. But where should you live if you want to move here? Today, let's take a look at Downtown Miami.
The Pros and Cons of Living in Downtown Miami
So as well all know, Miami is a vibrant city known for its world-class beaches, diverse culture, and exciting nightlife. In its heart is Downtown Miami, a bustling hub of activity, culture, and commerce. However, like any urban area, living in downtown Miami has its share of pros and cons. Now, we will delve into the various aspects of life in this part of the city and help you decide if Downtown is the right place for you to call home.
But before we start, let me clarify: Downtown Miami is the specific area above Brickell, all the way up to Margaret Pace Park. It does not include Brickell or Miami Beach.
Pros of Living in Downtown Miami
Proximity to Amenities
One of the greatest advantages of living in Downtown is the close proximity to a whole bunch of amenities, in Downtown itself and nearby areas like Brickell, Midtown, Wynwood, the Design District, and Coral Gables.
From shopping centers like Bayside Marketplace and Brickell City Centre (in Brickell, obviously) to cultural attractions such as the Pérez Art Museum Miami and the Adrienne Arsht Center for the Performing Arts, Downtown offers a diverse array of entertainment options. Additionally, the area is home to numerous restaurants, cafes, and bars, ensuring you'll never be short of places to eat and drink.
Downtown itself is a bit short on amenities compared to these nearby neighborhoods, but it's location can't be beat: you can be in any of them in less than 10-20 minutes by car, especially if it's not rush hour.
Public Transportation and Walkability
Downtown is well connected by public transportation, making it easy for residents to get around without a car. The Metromover, a free automated people mover system, covers much of the downtown area, while the Metrorail and Metrobus offer connections to other parts of the city. Downtown Miami is also highly walkable, with many neighborhoods offering pedestrian-friendly streets and bike lanes.
For now, you'll want to stick to the more coastal areas, meaning Bayfront Park and the other side of Biscayne Boulevard. The deeper inland you get, the more run-down it is, though it is gentrifying.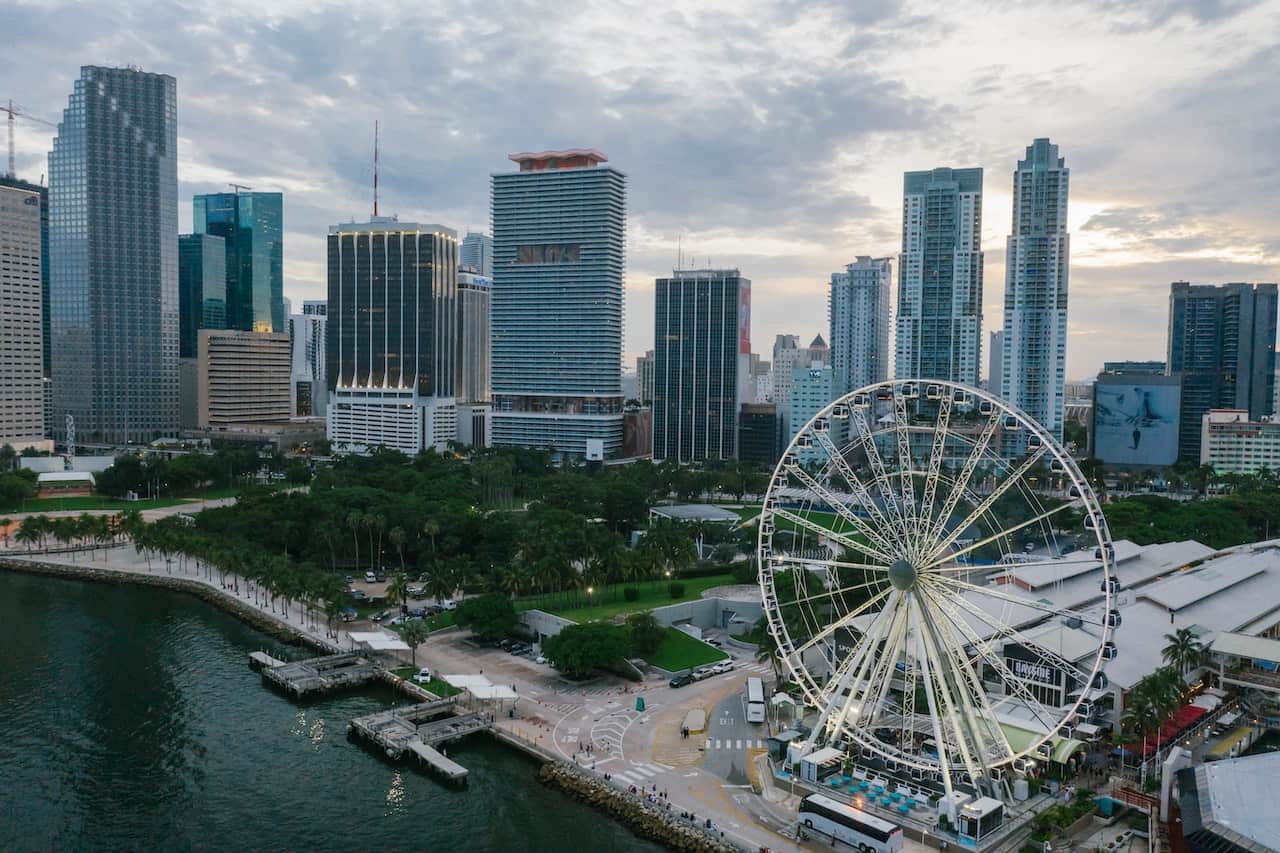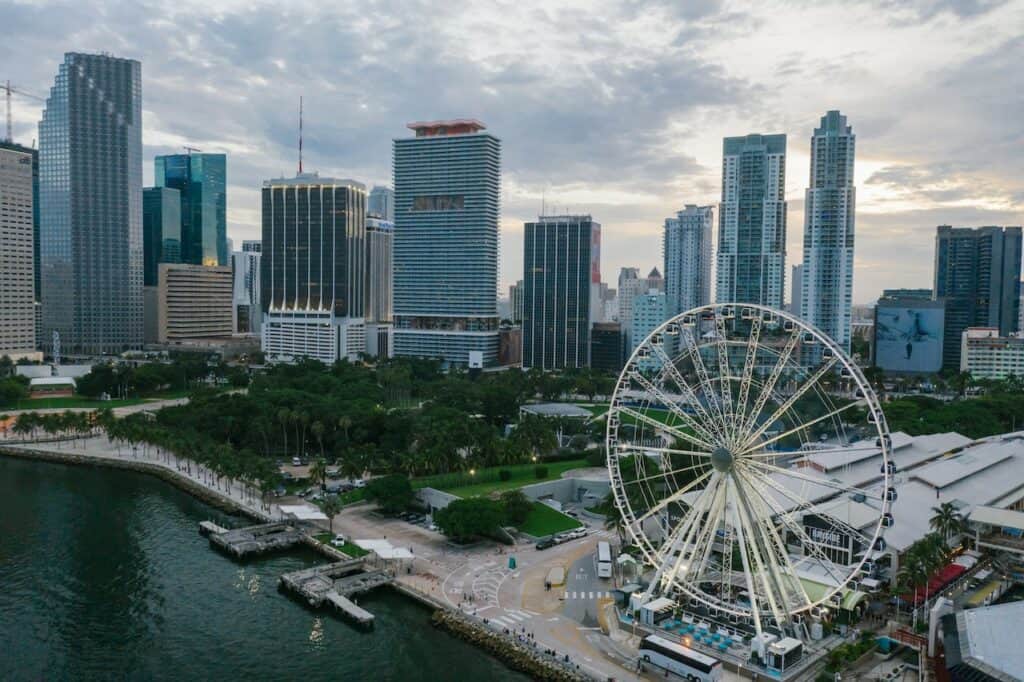 Job Opportunities
As a major business hub, there are plenty of job opportunities in various sectors, including finance, hospitality, and technology. Companies such as Royal Caribbean, World Fuel Services, and Ryder System have their headquarters in the area or nearby, providing ample career options.
Diverse and Cosmopolitan Atmosphere
This is a melting pot of cultures, with residents hailing from all corners of the globe (but mostly Hispanic, of course). This diversity is reflected in the area's rich culinary scene, lively festivals, and vibrant art galleries. Living here allows you to experience a truly cosmopolitan lifestyle, where you can easily immerse yourself in different cultures and traditions.
And as I've been saying, perhaps the biggest advantage is the location, since you can explore not only Downtown itself, but also all those other awesome nearby areas. You can even cross one of the causeways and be in Miami Beach in less than 20 minutes. I don't think there is a more central, favorable neighborhood, with Brickell, Midtown, Wynwood, and Design District being close sends.
Cons of Living in Downtown Miami
Cost of Living
The cost of living in downtown Miami can be high, particularly when it comes to housing. The area has seen a surge in luxury condominiums and high-end apartment buildings, driving up rental and property prices. While there are more affordable options available, you may have to compromise on space or location to find something within your budget.
This is especially true if you want to live on the prime are opposite Bayfront Park (the closer to the water, the more expensive it will be). The buildings are newer, more luxurious, in a better location, and, obviously, more expensive.
And as with most of Florida in general, there is a property insurance crisis going on, which is further inflating the cost of living.
Traffic and Parking
As with any major city, traffic congestion can be a significant issue. The area's narrow streets and limited parking spaces can make driving and finding parking a frustrating experience, especially during peak hours. If you own a car, you may need to factor in the cost of monthly parking fees at a nearby garage.
Even if your building includes parking, many only include one parking space per apartment. So, if you have two or more cars, you'll probably have to pay extra for parking.
Noise and Crowds
Living here means that you're never far from the action, but this can also result in a noisy and crowded environment. The area's bustling streets and ongoing construction projects can lead to high noise levels, which may be a drawback for those seeking peace and quiet. Additionally, large events such as the Ultra Music Festival and Miami Art Week can lead to an influx of visitors, causing even more congestion and noise.
Indeed, events at Bayfront Park, Bayside Marketplace, and other nearby venues are very frequent. So, if you live close by, you'll often have to deal with the noise, crowds, and traffic.
Limited Green Space
While the area offers plenty of amenities, it lacks significant green spaces compared to other parts of the city. If you value access to parks and nature, you may find the concrete jungle of downtown Miami stifling. However, there are a few parks in the area, such as Bayfront Park and Museum Park, which provide some respite from the urban landscape.
Lots of Run-Down Areas (For Now)
The further inland you go, the more run-down it is. This seems to be changing as the area (and Miami in general) gentrifies. But, still, lots of Downtown is just plain ugly and run-down, once you walk a block or two inland.
Over time, I think it will get better, but there's still a ways to go.
Summing It Up
There it is. Like anywhere on this planet of ours, Downtown has its upsides and downsides. Overall, I'd say the pros outweigh the cons, especially if Miami as a whole continues to grow. But, unlike with Brickell, Downtown still needs a lot of work, especially the farther you get from the water. If you move there, keep this in mind.
Videos
Before I go, I leave you with two YouTube videos. Here is the first:
And the second: