Do you like entertaining friends and family at home but get overwhelmed with all the preparations and cooking involved? If you've wondered how to streamline your party planning so that you can spend more time relaxing and enjoying yourself, I've got a solution! I'm talking about roast pork, one of the most delicious meals that is definitely a crowd-pleaser.
A lot of people who know how to make delicious pork are sometimes unwilling to share their secrets when it comes to nailing that delicious, tender, and juicy pork, while at the same time getting crispy skin. Well, not here!
We'll discover how to get delicious roast pork, under 2.5 hours.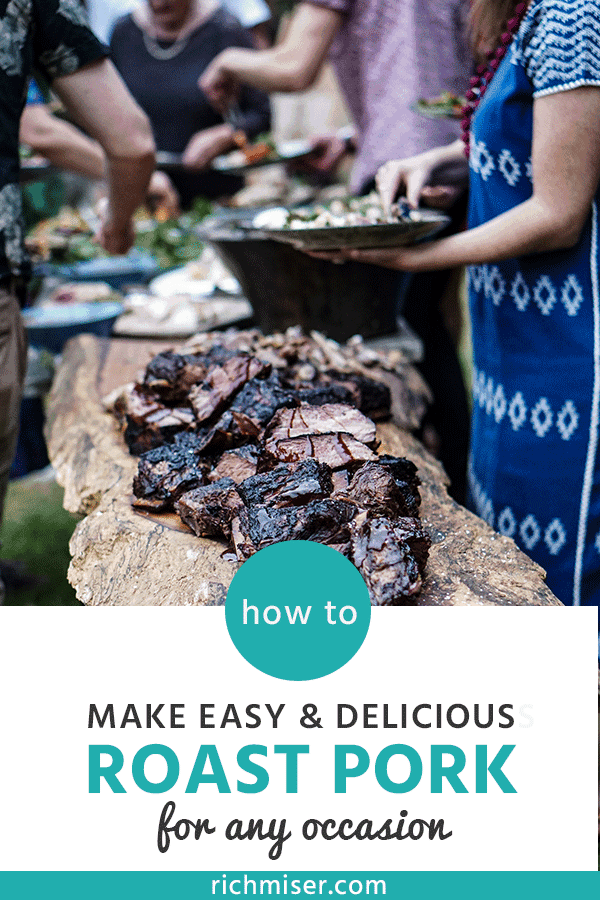 Wondering how to get Awesome Roast Pork in 2.5 Hours?
You can easily cut back on the cooking time of your next roast by a lot -sometimes even by half, depending on what you're roasting- and still get juicy, tasty food made right on the spot, and practically mess-free.
There are Two Ways to Cook the Roast Pork
We'll explain to both so that you choose what works better within your plans, space, and budget.
Way One: Cooking Roast Pork in a Roaster
A roaster is a great energy-efficient alternative to turning on your full-sized oven, or just as extra cooking space. If you don't have an oven, then this is the perfect solution for roasting, baking, slow-cooking, and warming food.
The bad thing is that it takes up storage space, but it makes cooking for a group so hassle-free than I think it outweighs the burden of storing it. It definitely takes away the difficult part of making roast pork, a great meal year-round.
Some have a self-basting lid, which is nothing other than a ring-thing on the inside. It helps re-distribute the liquids that evaporate and moisten the lid. It is quite useful for roasting a turkey because it eliminates the need for basting it or pouring the liquid over it every 30 minutes. Quite a daunting task if you ask me!
If you're not familiar with it, here's what a roaster looks like:
The size and weight of your pork will determine the cooking time – understand that this cooks a lot faster than a regular oven.
For pork shoulder or Boston butt, the recommended cooking time in the oven is, according to Foodsafety.gov, 350°F for 45 minutes per pound. If you're using a roaster, it's the same but 21 minutes per pound.
Preheat your roaster to 350°F. Once it lights up you're ready to place the meat inside. When placing the pork inside the roaster, put the fatty layer (which is the skin) face down, on the rack that comes with the roaster, to make it easier to remove later.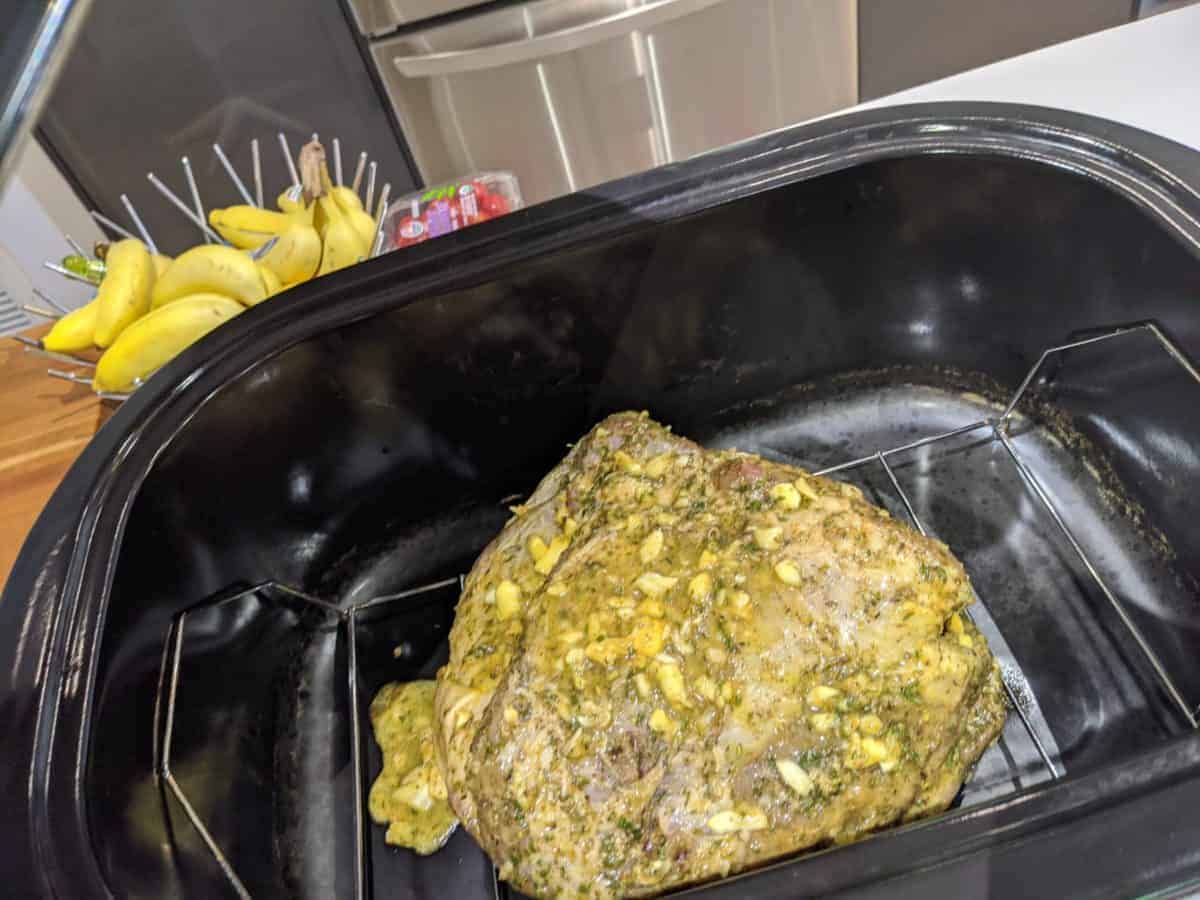 That's it. Set a timer on your phone and come back later.
I cooked my 9.7-pound roast pork at 350°F for 2 hours. I turned the roaster off and let it rest inside the for another 10 minutes. Voila!
(When you're done, make sure that the internal temperature is 145°F and allow to rest for at least 3 minutes. For this, you'll need a food thermometer.)
Way Two: Cooking Roast Pork With an Oven Bag
Have you seen those Reynolds oven bags that some people use to cook a turkey in the oven? Well, they're awesome and they're not only for turkey! They're also great for making roast pork in the oven. You need an oven and you need to spend a bit longer cooking it than what you would in a roaster but, still, the cooking time is under 2.5 hours.
The good thing about using these bags is that they help retain all the moisture and juices in the bag, keeping your roast pork from drying up. They also keep your oven tray clean, making it easier to clean up after your guests leave.
You can find them in the grocery store, or the usual places where most people shop like Walmart, Target, or Amazon. If you get lucky, you might also come across them at a Dollar Tree! Be on the lookout, they look like this:
TIP: Make sure you have flour in your pantry! You'll need to sprinkle the inside of the empty bag and shake it before you place your meat inside the bag. This will stop the bag from bursting. Also, the manufacturer's instructions state that you cannot exceed 400 degrees Fahrenheit. This means NO broiling, which gets the oven at 500 degrees Fahrenheit.
For reference, I made another roast pork in the bag 350° Fahrenheit for 2.45 hours and it came out very juicy.
If time is not a concern and you want fall-apart, slow-cooked pork in the oven, then cook it at 200°Fahrenheit for 6 to 8 hours, until you pinch it and it falls apart.
What to Look for at the Grocery Store
According to Serious Eats, Pork shoulder is one primal cut; the others are the loin, the belly, and the hind leg. The primal shoulder cut is divided into two sub-primal cuts—picnic shoulder and pork butt, also known as Boston butt. Yes, you got that right: the butt does not actually come from anywhere near the rear of the animal.
So, short answer: Buy Picnic shoulder (has a bone) or  Boston Butt.
Before Cooking, Marinate for 2-3 Days
Before cooking, remember to marinate your meat! You'll need to season the pork with all the spices that you want to use, as well as olive oil and some other liquid like bitter orange, orange juice, or broth.
Stab the pork many times all around, and be sure to insert crushed garlic in the slits you create.
I like to use these spices to marinate: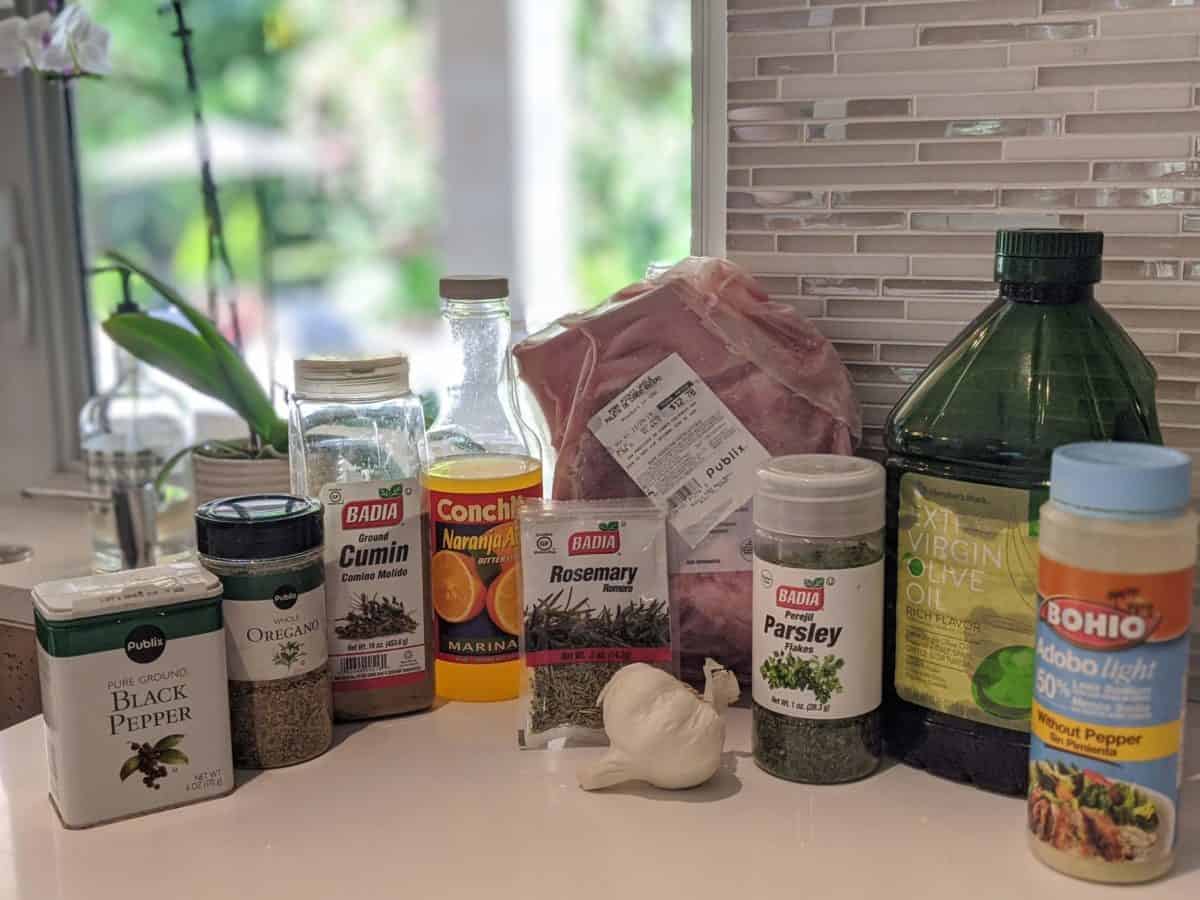 I like to use Big Bags from Ziploc, which are 10 gallons, to put the pork already spiced inside. Once in the bag, add the liquids that you're using and around 1/2 cup of olive oil.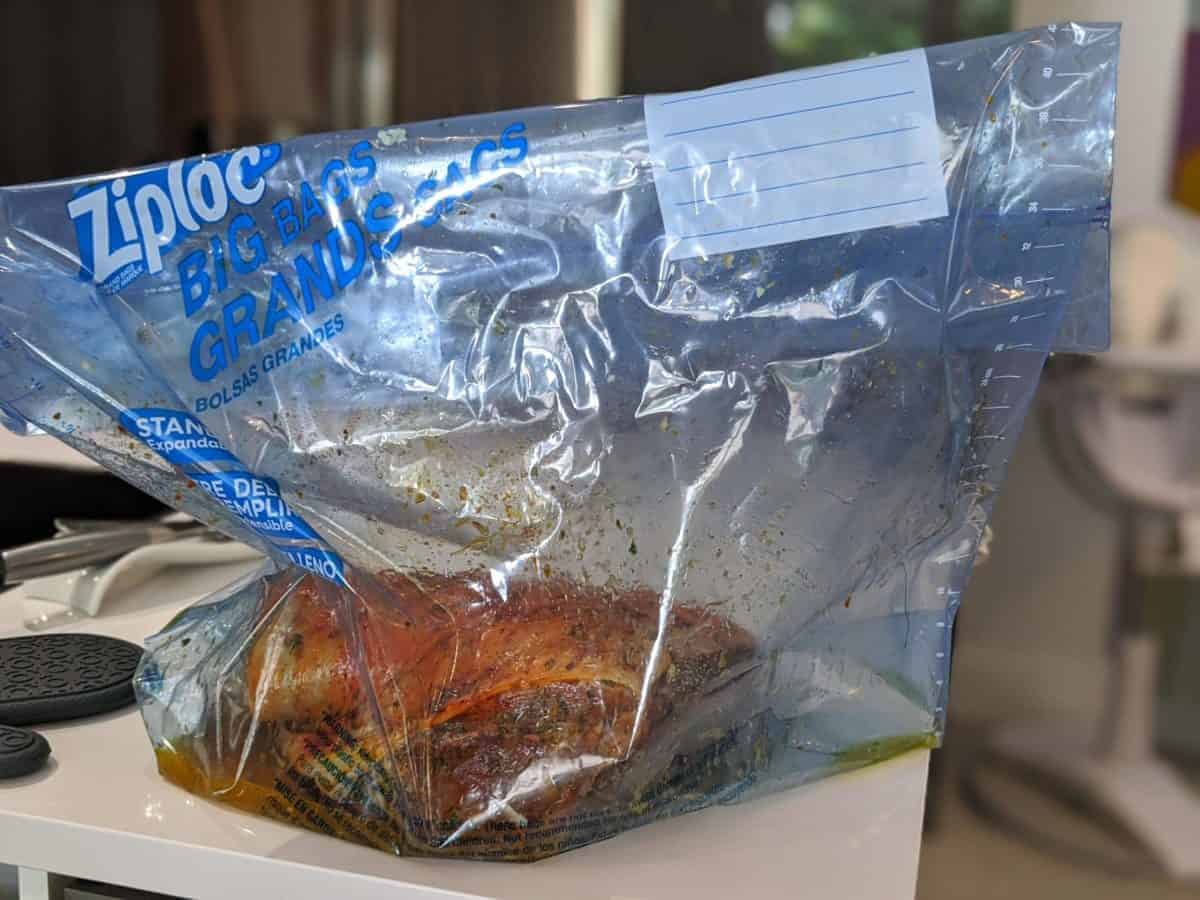 Then, massage it a bit from the outside of the bag. Leave it in your fridge for the next 2-3 days. Every day, I like to flip or turn the bag around to make sure all areas of the pork are soaked in the liquids at some point.
On your last night before the big day when you'll cook, open the bag and sprinkle liberally with Lawry's Garlic Salt with Parsley. Then close the bag and let it all sit one more night. It might resemble this: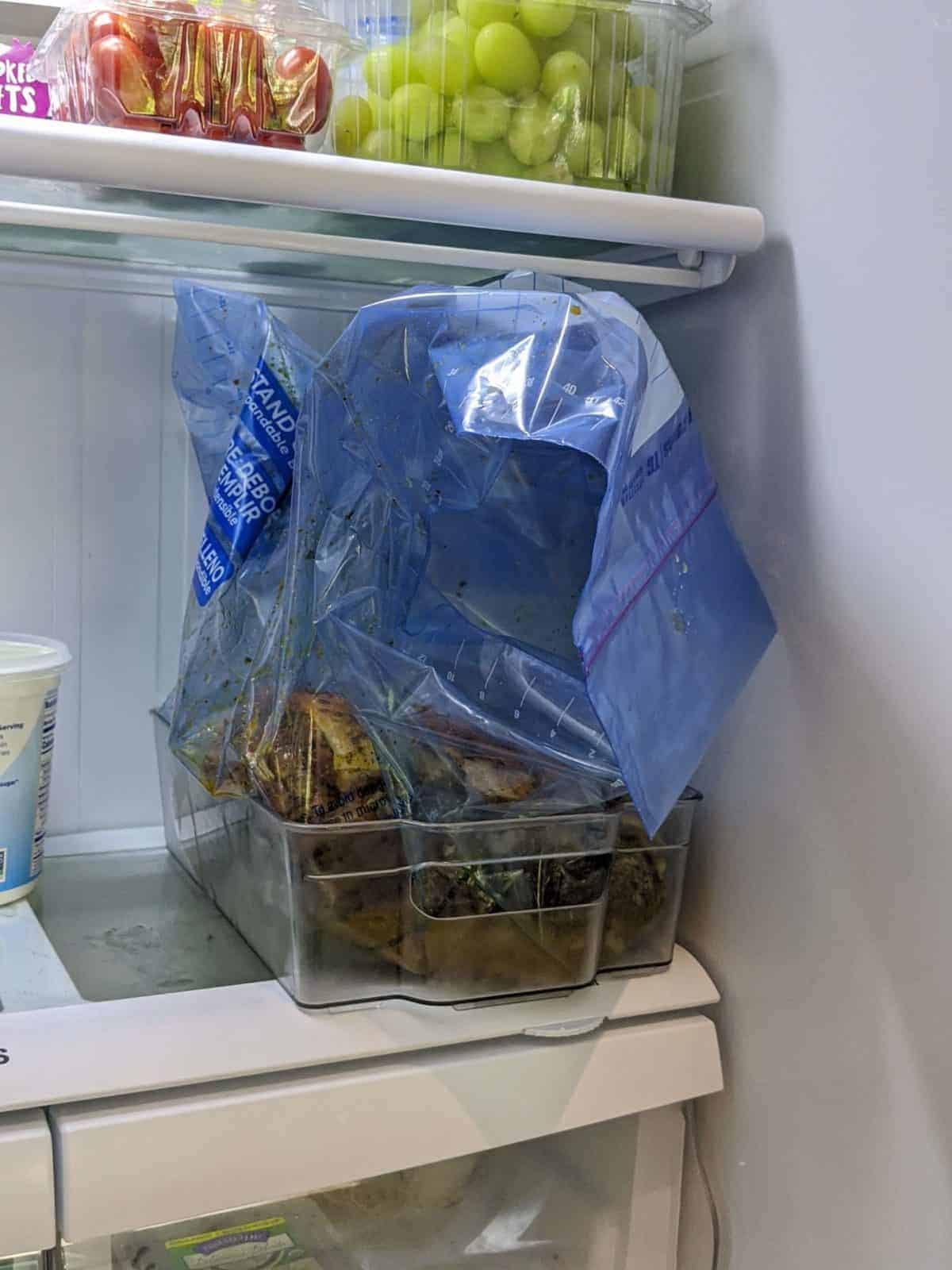 Here's my video of how to season it quickly without the least possible amount of mess. Bear in mind that this was a light seasoning, though. You can use more stuff for fuller flavor.

How to Get Crunchy Skin. Every. Time.
Yes, you can get crispy skin in your roast pork. You only need to invest a good 6 minutes in the process, but the results are well worth it.
The "safest" way to do this without risking burning, over-cooking, or drying up your roast pork is to use a paring knife (yeah, those cute colorful ones that have a sharp edge and no teeth or texture on the sharp side).
If you're cooking your pork in the oven, take it out when the cooking process is completed, and be careful not to burn yourself. Be sure to take it out of the oven bag. You want to gently slice out the skin of the pork as close as you can to the meat. Completely separate the skin from the meat.
(If you're using a roaster, remove the pork from the roaster and follow the same procedure to separate the skin.)
Once you've managed to do this, pour or brush some olive oil and then sprinkle some "Sazón Goya" on the skin, place it in a tray, and put it in the oven on broil, by itself. (Make sure you've pre-heated the oven and it's reached broil at 500°F). Place the rack in the center of the oven and leave it there broiling for 5-7 minutes, but watch it so that it's not scorched.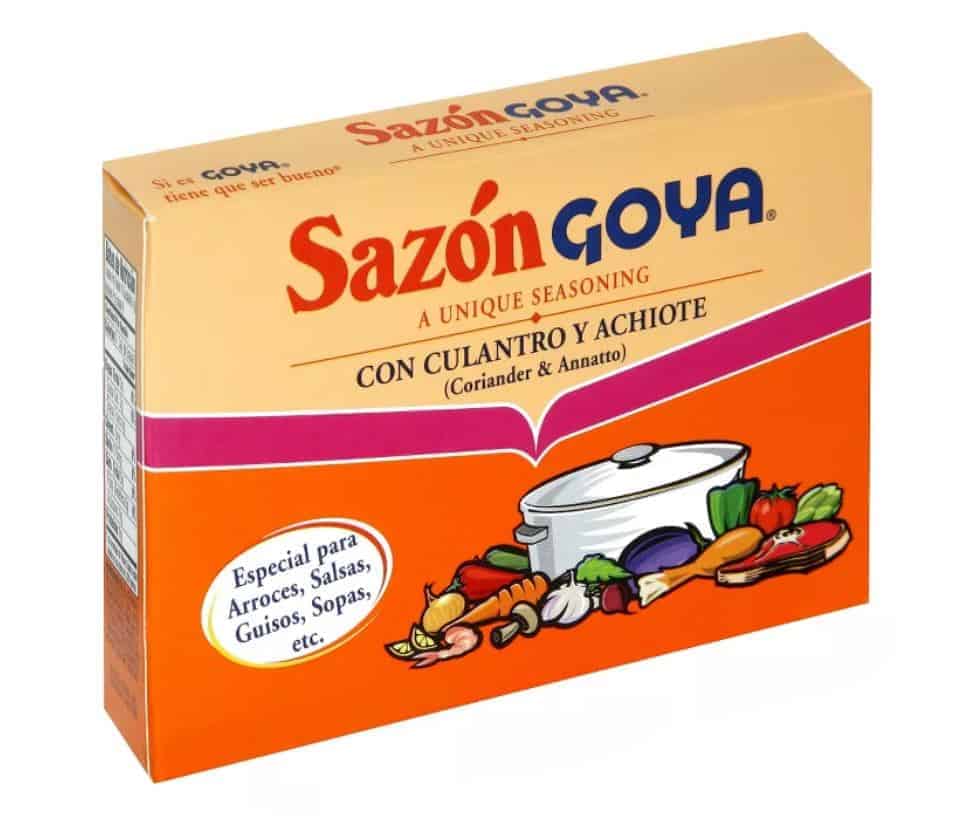 That's it! Enjoy crispy pork skin (called cuerito in Spanish).
The Lowdown on Making Easy & Delicious Roast Pork for Any Occasion!
There you have it. Next time you're entertaining at home or volunteer to cook for your office holiday party (yes, I don't know why I did that! LOL) know that you can tackle it under 2.5 hours. How? With a roaster or in the oven with an oven bag. Just pick what works better for you and get cooking, and relax in the company of friends and family. Cheers!
That's my take!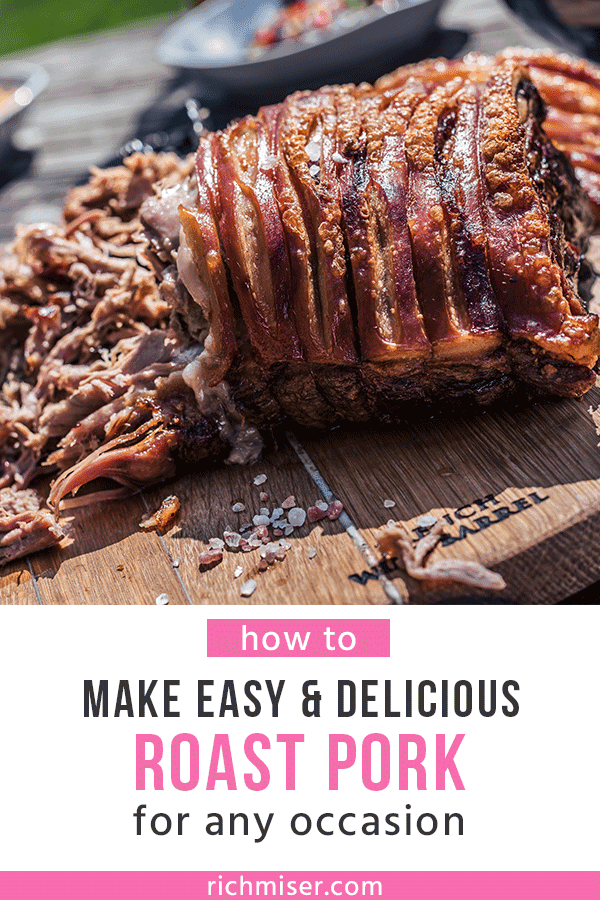 Do you have any tips on making awesome, juicy roast pork? Have you ever made roast pork in a roster or in an oven bag? Are you ready to take over the next holiday party and cook roast pork for your friends and family?
Liked these tips? Pin this article for later, in case you start getting stressed out about cooking for a group of people!