Is Swagbucks legit? Is Swagbucks safe? Can I get a Swagbucks sign-up code?
The answer to all 3 is yes! Let's dive into it and see why.
Note: This post contains referral links.
Is Swagbucks Legit?
Corporate Information
Yes, it is. Swagbucks is a shopping rewards service that is a brand or property of Prodege, LLC, a company that's also behind MyPoints, shopathome, and Inbox Dollars. Its CEO is a man named Chuck Davis, whom you can read about here.
It's headquartered in Los Angeles, CA, at this address:
100 N. Pacific Coast Highway
8th Floor
El Segundo, CA 90245
This is what the building looks like:
Prodege has existed as a business entity since 2005, and is duly registered in the State of California: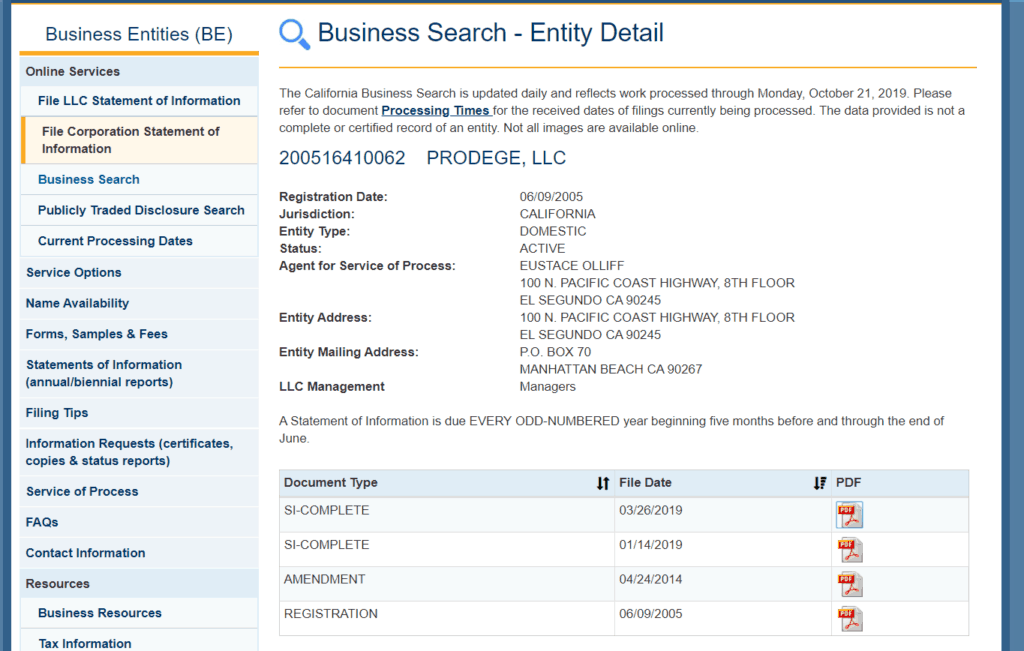 It also has a YouTube channel. Here's a video from it:

Is Swagbucks Legit? – Media Mentions
When asking yourself is Swagbucks legit? another thing to look for is mentions on other sites.
Prodege shows up on Glassdoor as a place to work, and has 3.9 stars. You can also find Swagbucks articles on large sites like Business Insider.
Is Swagbucks Legit? – My Personal Experience
To is Swagbucks legit? I can answer that it is, since I've been using it for over a year with no complaints. Specifically, I find that it works really well at Sam's Club where, in conjunction with other methods, I regularly save 10%+ on my purchases.
In my view, the easiest way to use it is to install the browser extension on a separate browser that you only use for shopping (so it's not annoying you during regular browsing), and click on it when it pops up (I recommend the Vivaldi browser, since it runs Chrome extensions).
The Swagbucks extension will light up when you visit a site that partners up with Swagbucks. Here's an example of how it looks: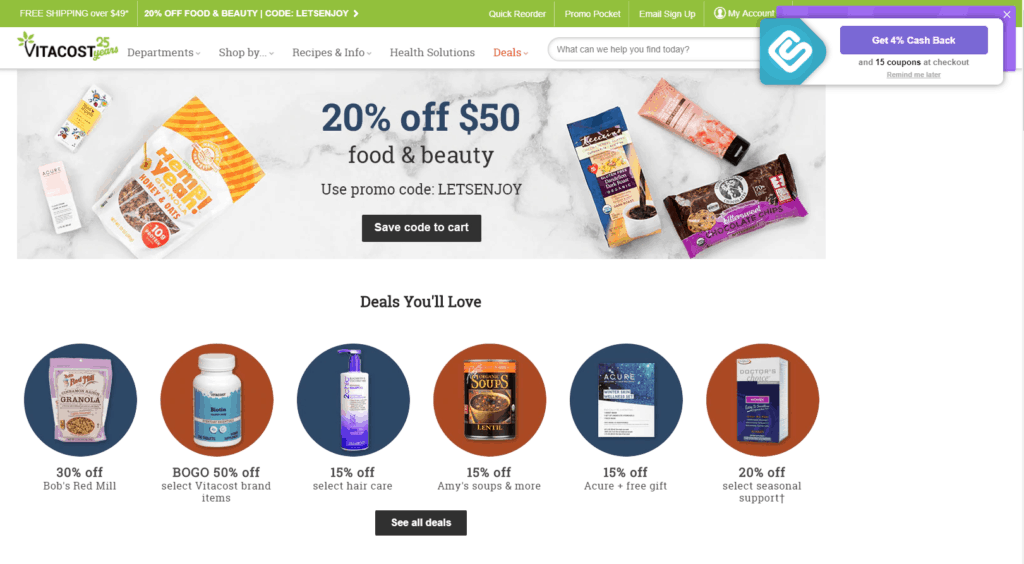 Is Swagbucks Safe?
Listen, nothing in life is 100% safe. Having said that, I think Swagbucks is as safe as any other responsible internet company.
Sure, they're probably collecting information on you (that's another reason why I recommend using a separate browser just for online shopping, and loading it up with your shopping extensions). Still, pretty much all internet companies are doing that nowadays, and I have no reason to believe that Swagbucks is irresponsible with your data.
Plus, it has 4.5 stars on Trustpilot.
Is Swagbucks Safe? – Yes, and Even Safer if You Follow Good Practices
To make Swagbucks even safer, follow good practices:
Give them the least amount of personal info possible.
Do not use the password you use on other sites, and especially the one you use on sensitive sites, like banking sites.
The idea is that if Swagbucks gets hacked, the hackers get very little information that they can harm you with.
Swagbucks Sign Up Code
So Swagbucks is legit, and I wholeheartedly recommend and use it myself. If you want to sign up and get $10, you can use my Swagbucks sign up code via the following referral link:
To get the $10, just spend $25 on a Swagbucks-supported store. Here's the fine print:
*Member must "Activate" the Bonus in the Swag Ups section of your account. Bonus value is earned in the form of points, called SB. Get a 1000 SB bonus, which is equivalent to $10 in value, when you spend at least $25 at a store featured in Swagbucks.com/Shop. You must receive a minimum of 25 SB for this purchase, which you must complete within 30 days of registration. MyGiftCardsPlus.com and travel purchases do not qualify. [Bold added].
One More Thing
I want you to save the most money – even when that means not using Swagbucks, even if it is legit. That's why I recommend that you also install other extensions like Rakuten (what used to be called Ebates), and use whichever gives you the best offer.
In fact, for bigger purchases, go to Cashbackholic and compare all available offers. You can even install their extension on your shopping browser to make your life easier. Here's what it looks like: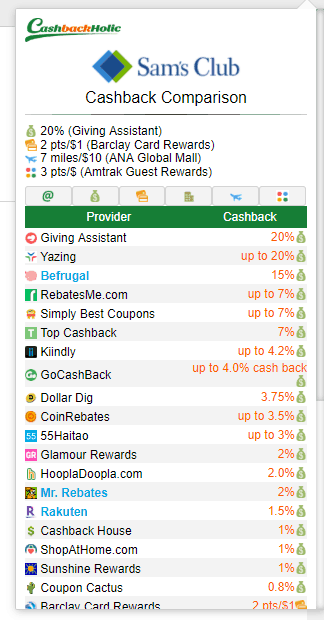 You might ask yourself: why not always go for the highest reward?
Well, I guess you could, but then you'll have a big mess of accounts at all sorts of shopping services. To me, it's not worth the trouble to keep track of all that, and give some of my information to so many sites. You'd probably need to set up a spreadsheet keeping track of point balances, expiration dates, login credentials, and all that jazz.
Therefore, I prefer to limit myself to a few sites or services. So far, some that I've found to be reliable and trustworthy are Swagbucks and Rakuten.
Summing It Up
Is Swagbucks legit? Is Swagbucks safe? Can I get a Swagbucks sign-up code?
I hope I've done a good job answering all three. After doing my research and using Swagbucks for over a year, I can say I'm satisfied with it, and will continue using it and saving money. I hope you do the same!
Cheers!