Every day you probably find yourself multitasking. Even if you don't plan to multitask, you probably do it automatically. It's so ingrained in our system, it's become our M.O. It's only reasonable to expect the most of the things we buy; our phones, for instance, serve so many purposes. So, shouldn't our wardrobe also be more functional? You know, to keep in line with all the multitasking, shouldn't we have pieces that multitask for us? That's where this lace blouse comes in! I guarantee you, it's one of those purchases you won't regret.
Read on to see how you can wear this lace blouse to literally any event!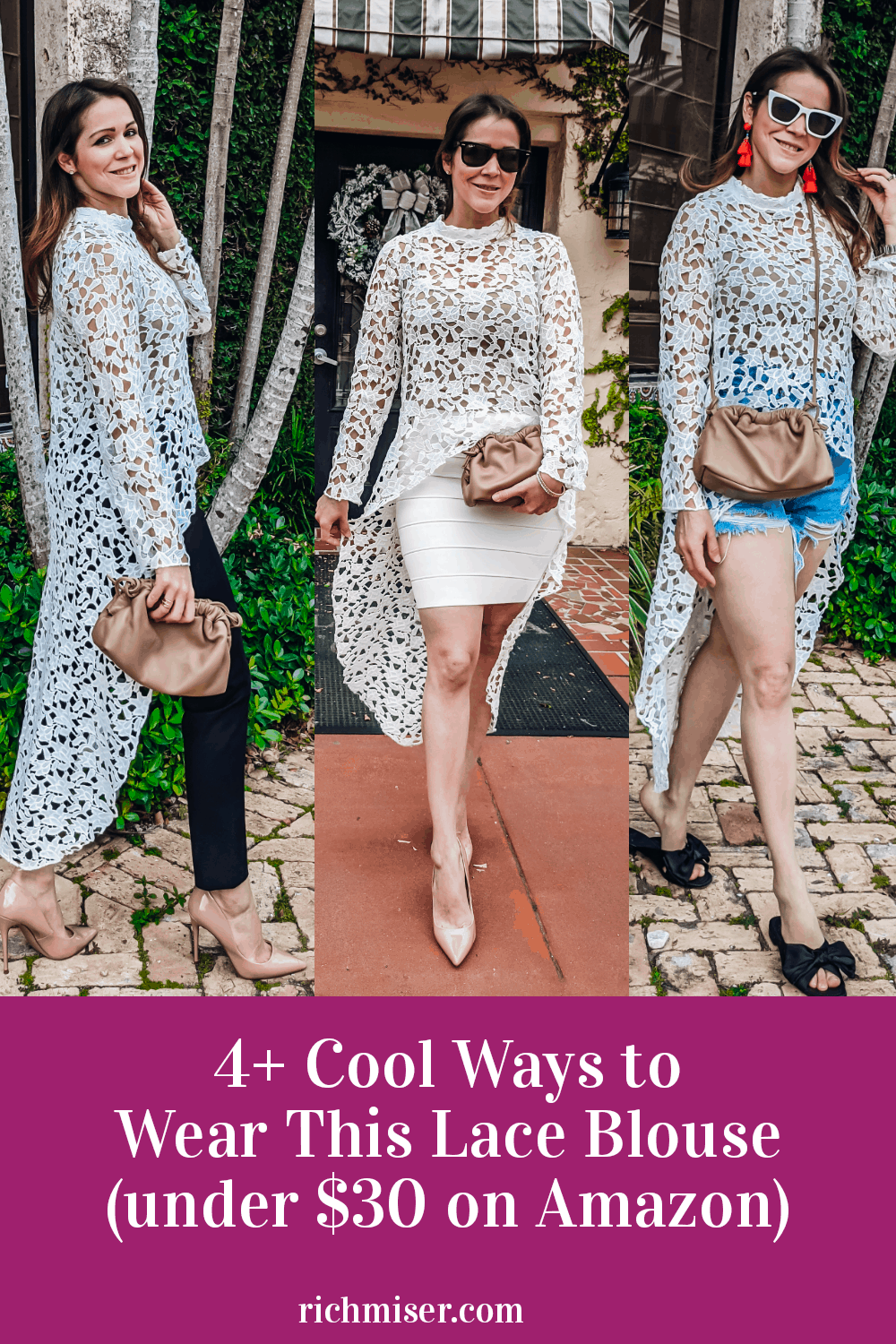 This beautiful lace blouse, under $30, will take you from desk to cocktails, and even will have you covered for a wedding.
Have a brunch over the weekend, your nephew's baptism, or meeting the in-laws? You can wear this embroidered blouse, too. Perhaps you're headed to a local arts festival or a date night? Yep, it does the trick as well.
(The Rich Miser is a participant in the Amazon Services LLC Associates Program, an affiliate advertising program designed to provide a means for sites to earn advertising fees by advertising and linking to amazon.com.)
The Multitasker Asymmetrical Lace Blouse
The blouse is pure white, comes in sizes small thru extra-large, and has a bit of stretch, but not too much. It runs true to size, so you can buy your usual size. I bought it in small and found it to fit like a regular size small top.
It has a high-low hem, meaning it is shorter in the front and longer in the back. It has no zipper, it is a pull-on style, and has a small slit in the back of the neck with one button with an elastic tab that you can easily close yourself, without help. The top is see-thru, so I wore it with a nude camisole from Zara underneath. If you're comfortable wearing it with a nude bra, you can do that, too.
Shop The Look Here!
You can find the blouse by clicking here, or on the image below.
Yes, This Lace Blouse is Comfortable!
I loved that this blouse felt elegant and allowed me to move freely. I consider being able to move in the clothes I wear something very important because, 1) I have a toddler that likes to keep mamma on her toes, and 2) it may sound weird, but wearing uncomfortable, tight stuff, affects my personality and mood.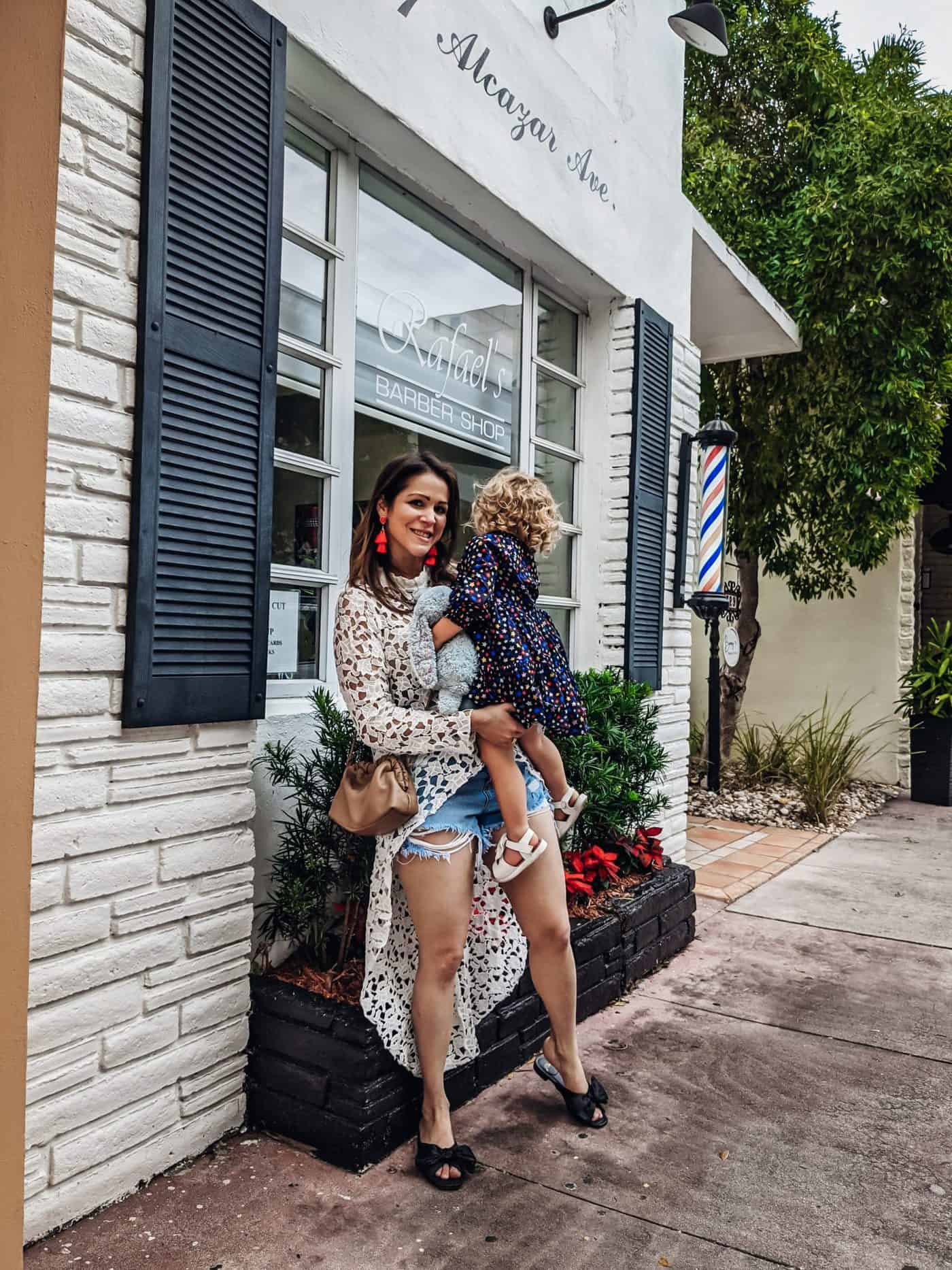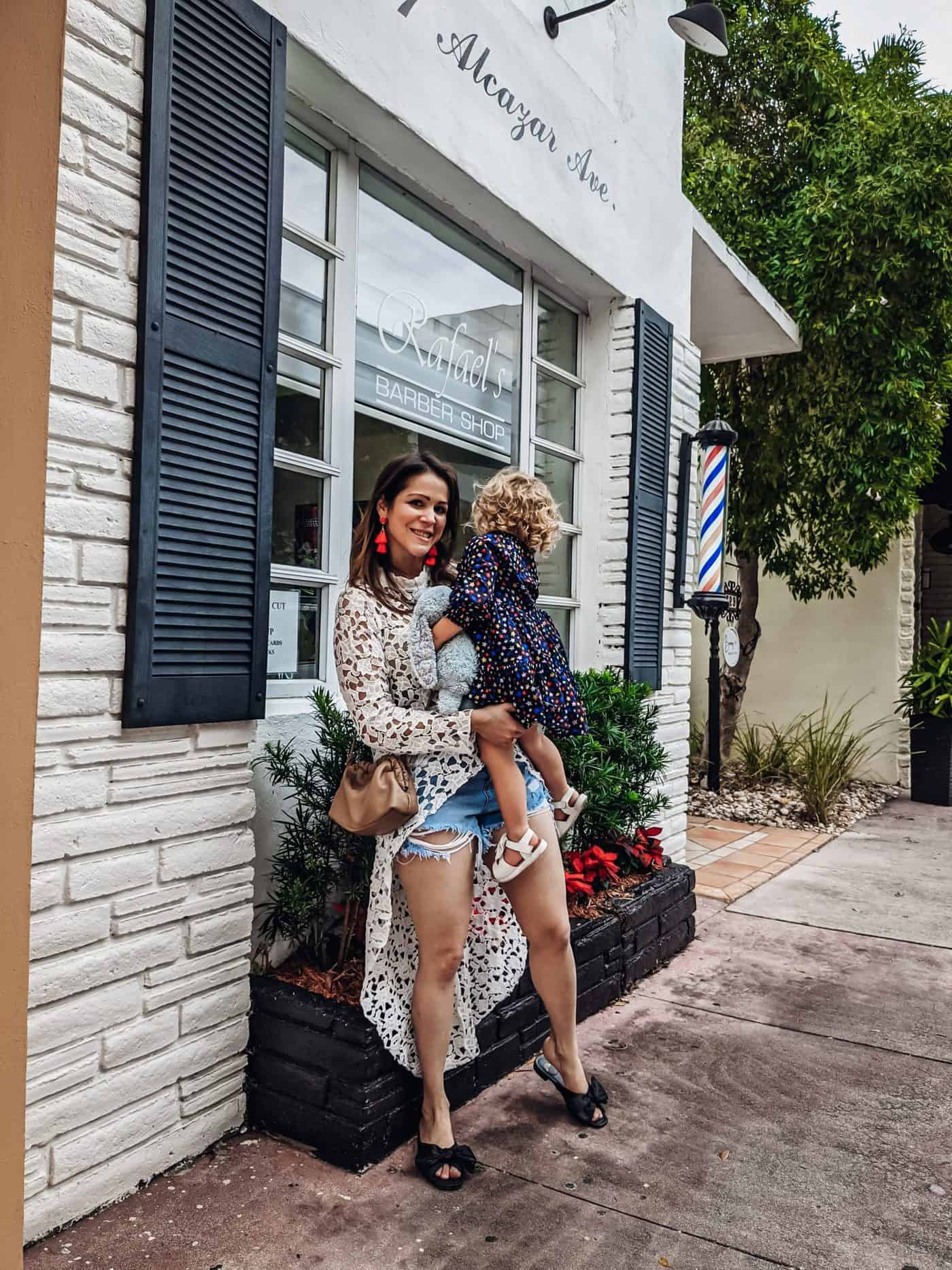 In this blouse I am able to move around, drive, change diapers, eat, hold my toddler, and walk around town. A winner! As far as caring for and washing the blouse, I don't want to spend the extra money on dry cleaning, so I will opt for dry cleaning at home (essentially sticking clothes in a plastic bag inside the dryer machine) with a Dryell kit, or hand washing and laying flat to dry on a rack.
There is another variation of the embroidered blouse, with a solid fabric, if you prefer that; it is available in a bunch of colors, including basic staples like white, black, blue, and navy. You can check it out here or by clicking on the image below:
Here's How You Can Wear This Blouse to Literally Any Event
(Scroll Down for Pictures!)
With a Pencil Skirt
Wearing this top with a pencil skirt in the same color automatically transforms it into a simple, elegant, and sophisticated outfit that you can wear to almost any event calling for something fancy. Wearing the same color head to toe also makes you look taller. I am wearing it with a bandage skirt or "power skirt" from BCBG, size small, which normally retails for over $100 but I got second-hand on Thredup for less than $15.
This look works beautifully when paired with nude shoes, especially closed-toe shoes like pointy heels, almond-toe heels, or peep-toes. This look is simple, inexpensive, and exudes elegance and timelessness.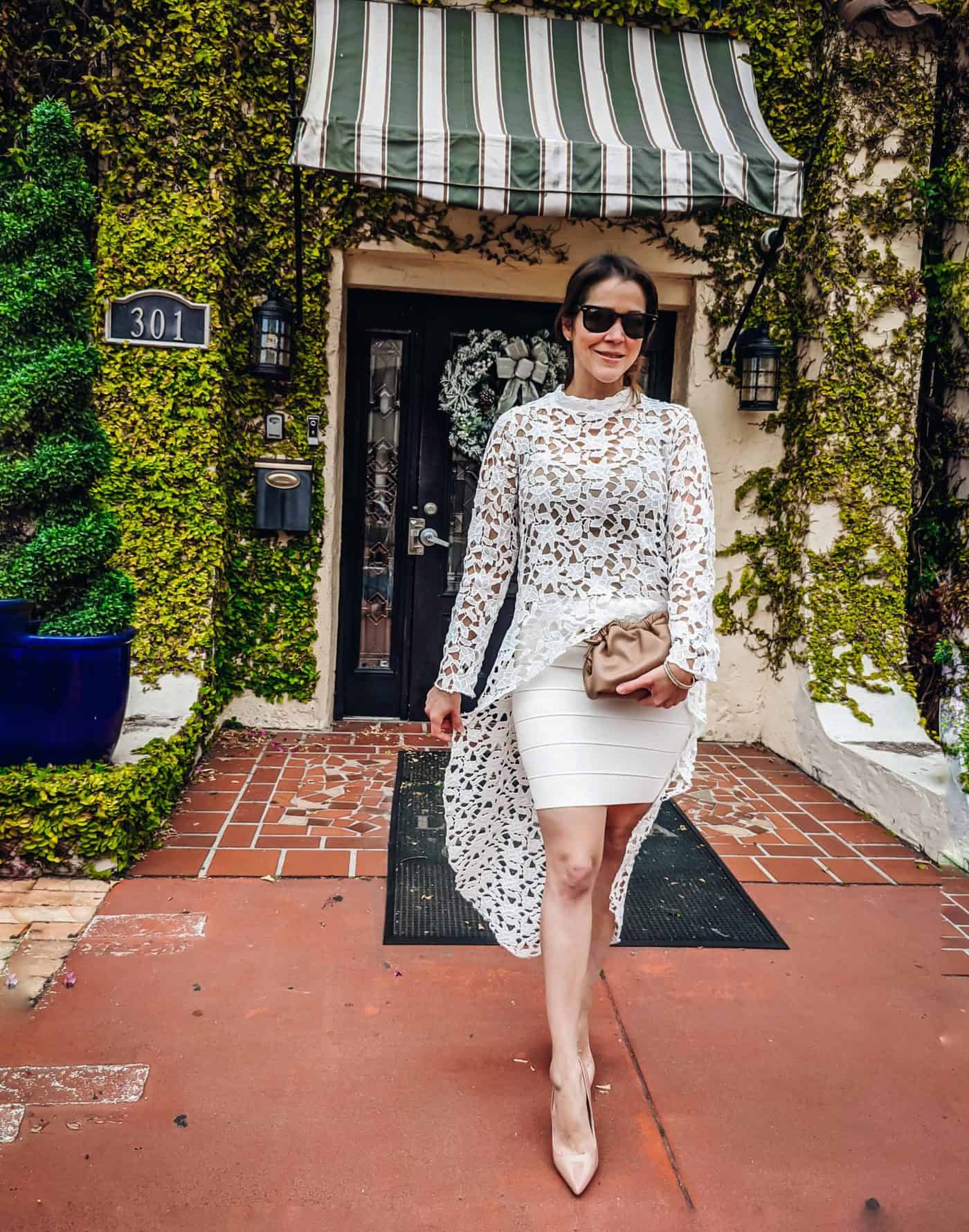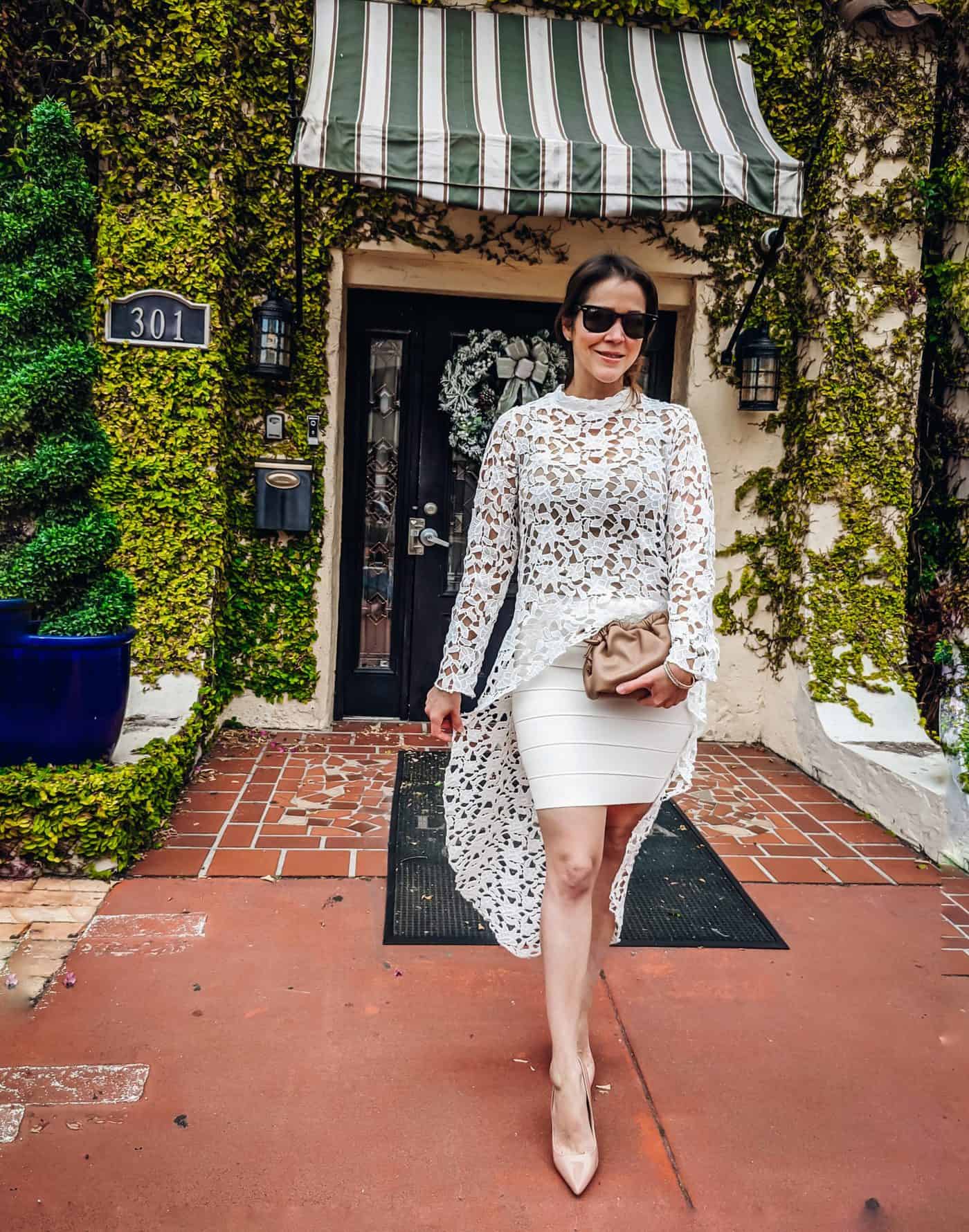 With Same Color Pants
Ideally, wide-leg trousers in the same color as the top would have been more elegant, but I didn't have any at the time so I opted for this look with skinny-cropped white pants. The look is more modern and casual, yet elegant.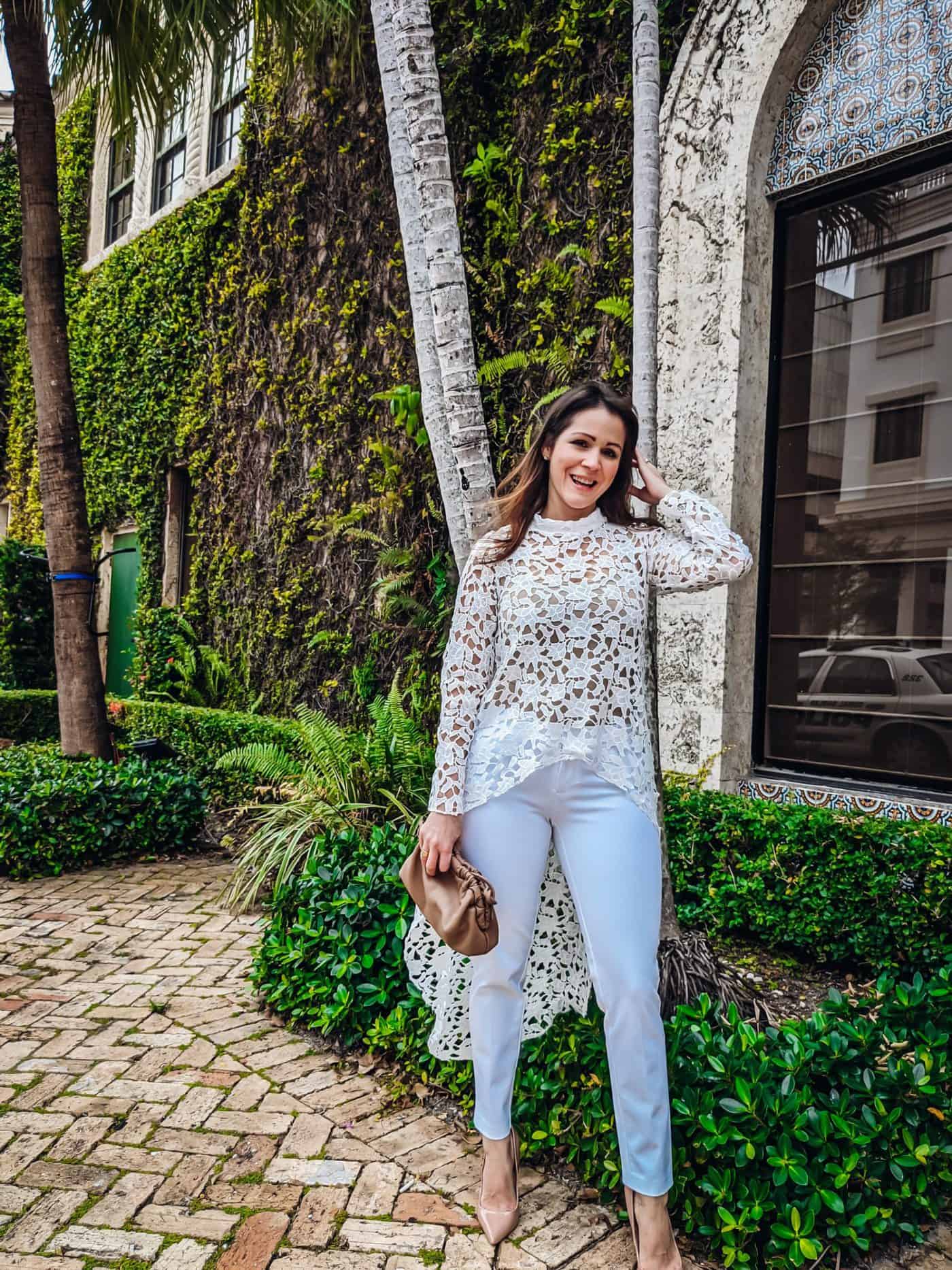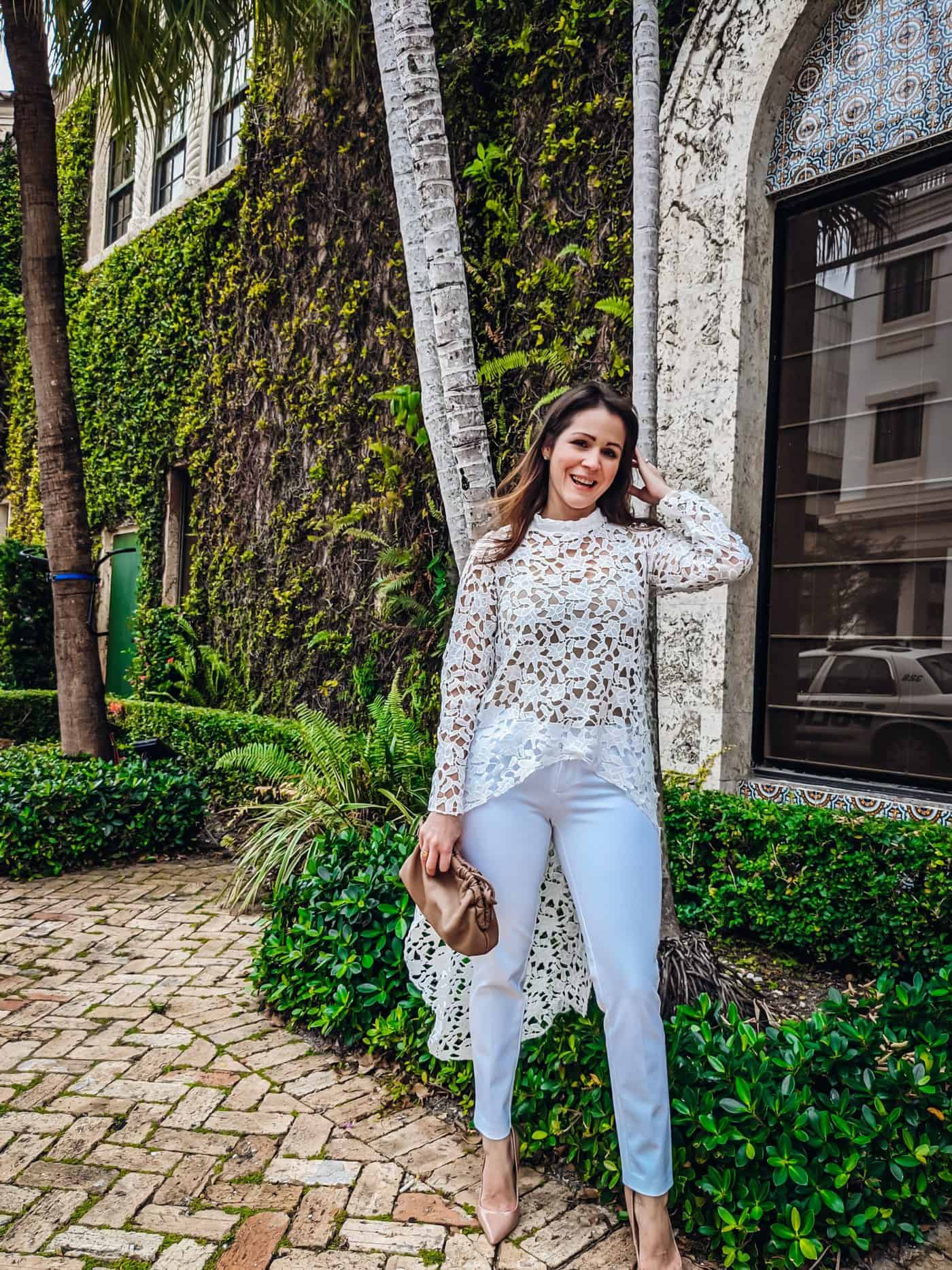 With Black Skinny Pants
This look is also modern romantic, and a bit fun. It's easy to wear, convenient if you're hosting a party, cooking, or will be around people that tend to spill their wine! You know black pants give you that flexibility that no other shade gives you. This pair is called "Devon" from Banana Republic, and they fit amazing and are comfortable.
This look is a good option for an office holiday party because it is dressy and fun, without being revealing or showing anything you might regret having shown on Monday morning.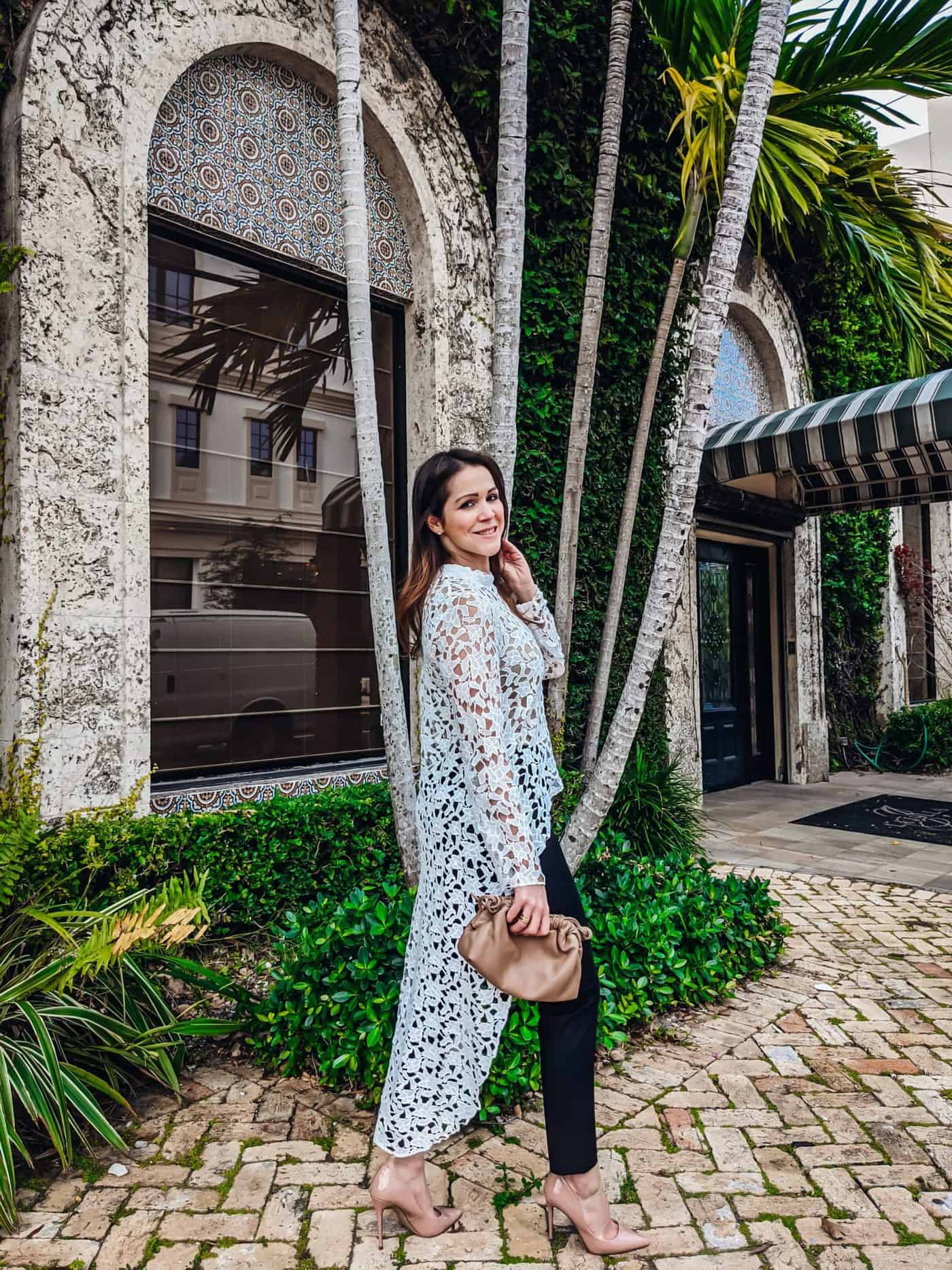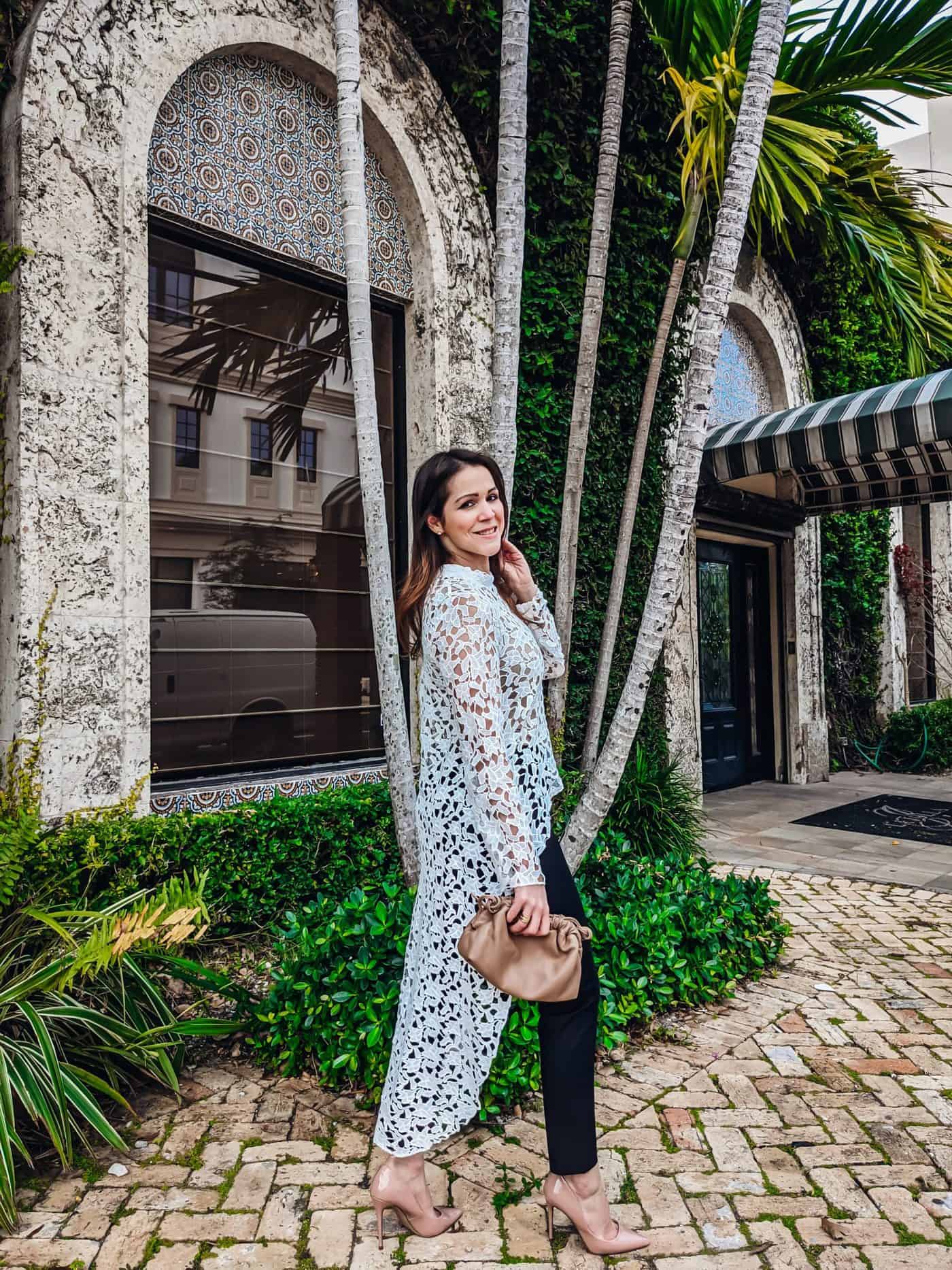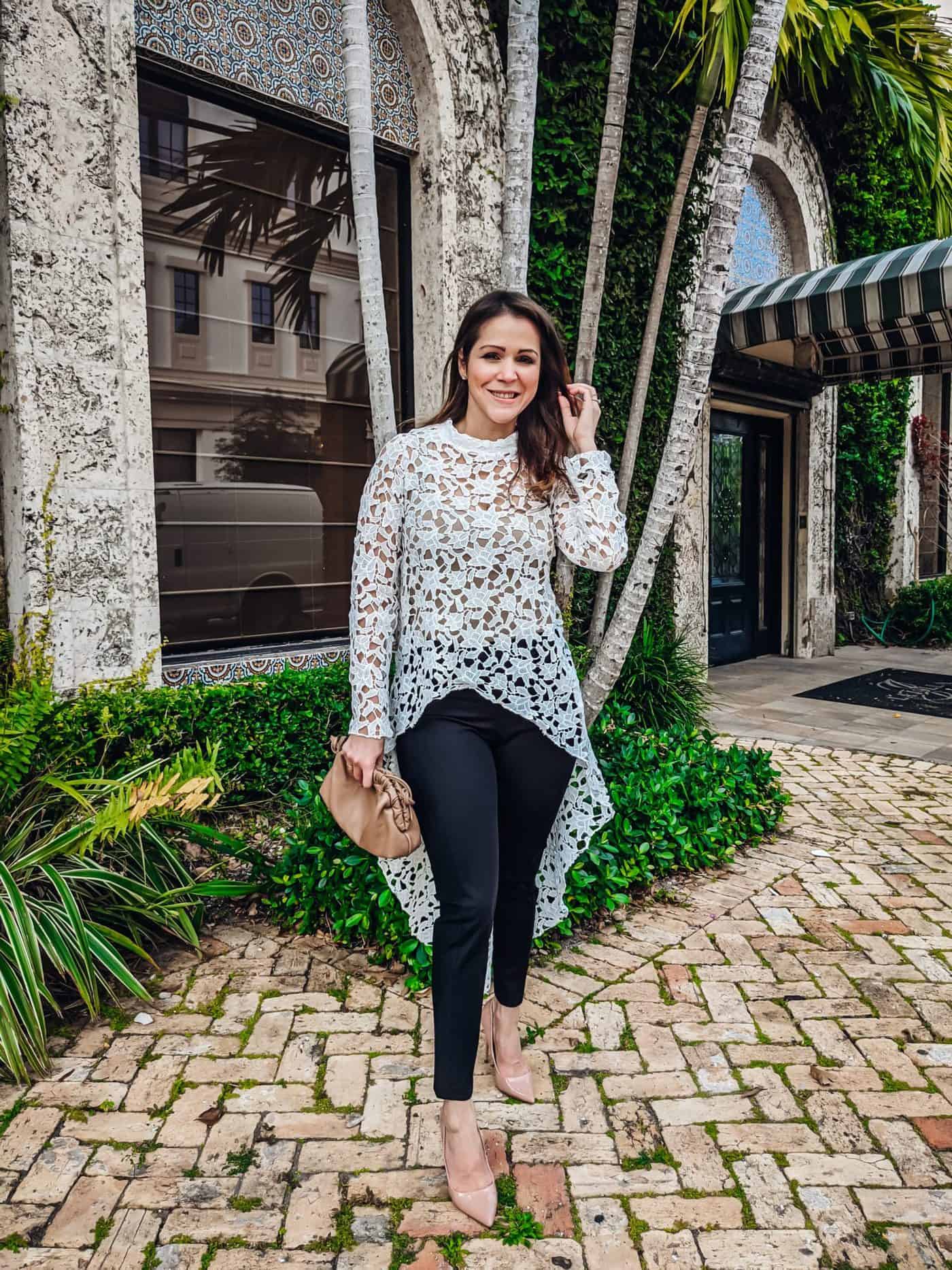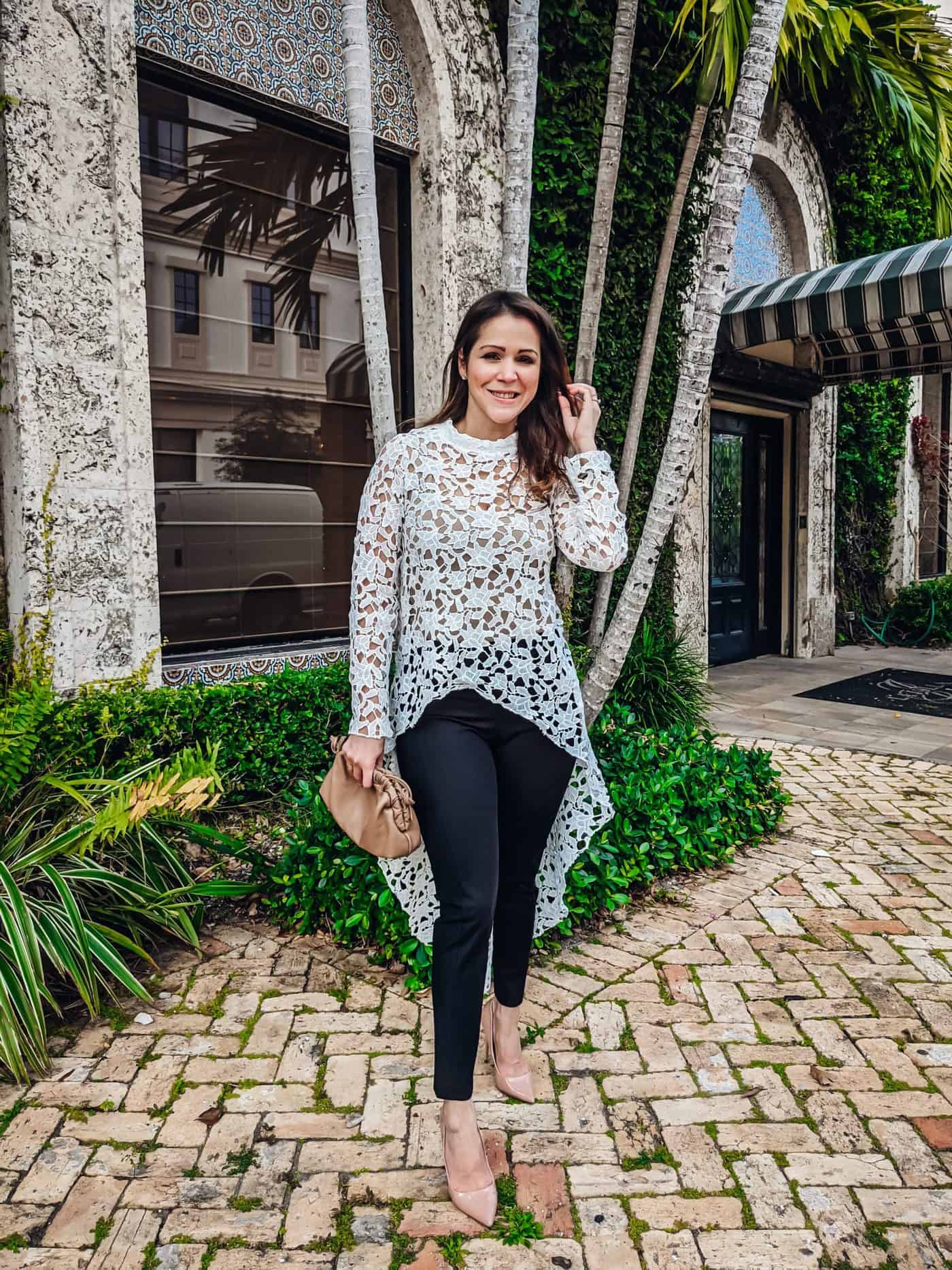 With Shorts
A very different look, this can be worn for a fun day outside. I like to think of it as the perfect look for an outdoor music or art festival. With cut-off shorts and a bandana, it can feel a bit gypsy, a bit artsy, and a bit romantic. A fun and unexpected way to wear it that gives you another opportunity to make the most out of this embroidered blouse.
You can also wear this to a very casual beach wedding, early in the day, with fancier shorts, not cutoffs like the ones I wore.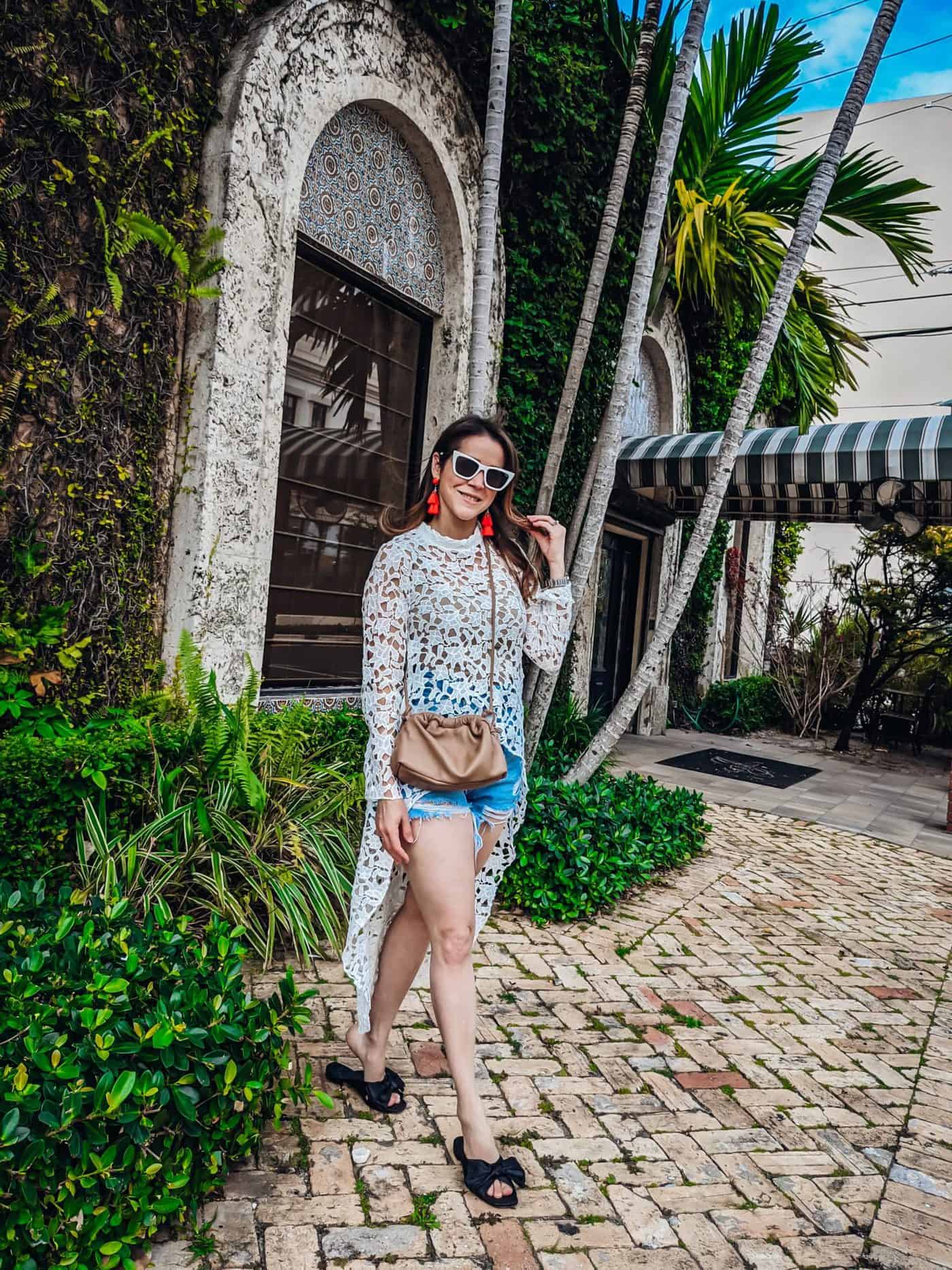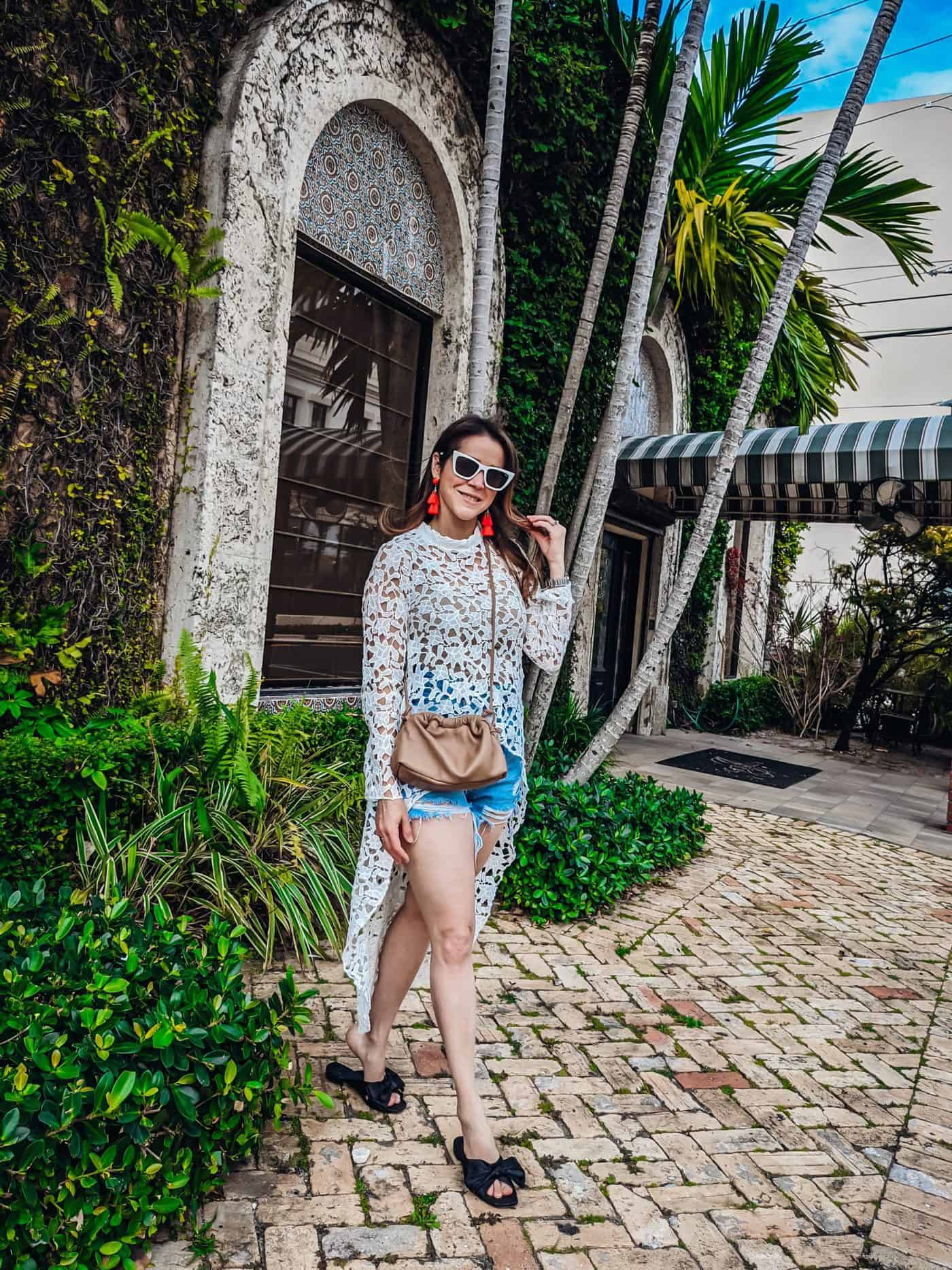 Bonus Looks and Ways to Wear This Lace Blouse
With any wash of jeans and heels, over a strappy black or white dress, with a tiered ruffle skirt in the same color of the top. With a dramatic fit and flare skirt, and belted.
• For a casual look, wear with sandals.
• For a more elegant and polished look, wear with pointy heels. (Even kitten heels, which are around 2 inches in height, will work). You can also wear peep-toe shoes in a neutral color.
• If you want a romantic-grunge or masculine look, wear with combat boots or loafers.
• Craving a more delicate and subtle loo? Then wear it with strappy heels.
• For a very sexy look, wear with black knee-high boots and faux-leather leggings, or a short skirt.
• For a playful, casual look wear with Converse sneakers, and shorts or a tutu skirt. Make sure to belt it with anything; it can be as simple as a ribbon.
• Anything else you can think of!
The Lowdown
There you have it! If you need a blouse to multitask for you, look no further than this. It's beautiful, unique, inexpensive, and versatile; it's a multitasker that is worth having.
That's my take! I hope you got your fix of style inspiration for the day and that you liked these tips for styling a lace blouse.
Remember to stay fashionable, look fabulous, and get the look you want, for less. 😉
How else would you style this lace blouse? Which look was your favorite?
Let's connect on Instagram! Follow me for weekly style reels. See you there, find me here, and watch a video/reel of this look.