Shall we uncork a bottle today? Wine not? After all, I'm writing this during the COVID lockdown and, for better or worse, am having more wine than usual.
But let me zoom out and talk about the kinds of wine out there, and how to choose the best one for you. We've already covered the wine landscape with a broad view. Today I want to get more specific and go into the red wine types in particular.
Let's do this.
How to Choose the Best Red Wine Type for You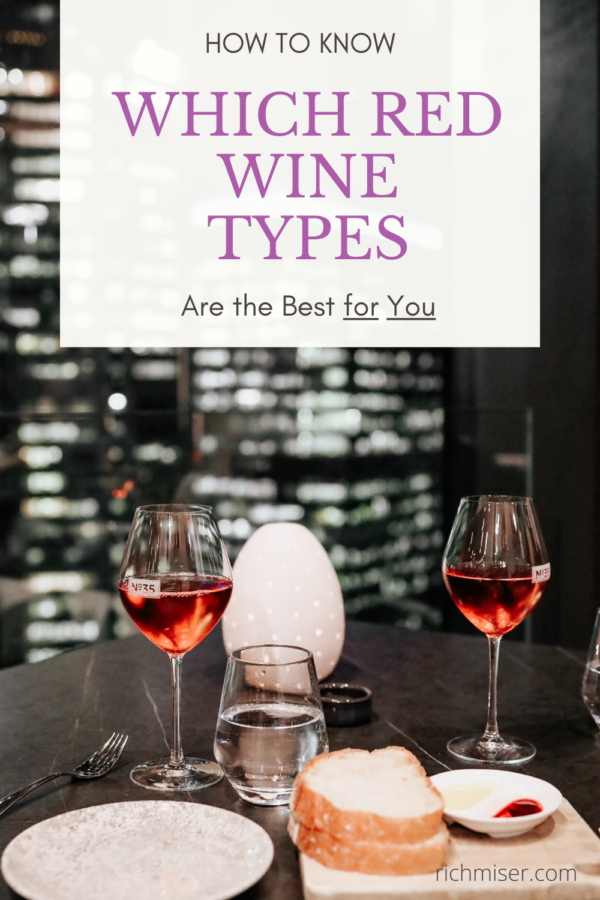 Let's Start With Varietals
If you want to learn about red wine, you first ought to understand the different red wine varietals.
A wine's varietal refers to the specific variety of grape from which it is made. Red wines (and all wines, for that matter) can have very different tastes, scents, textures, and appearances based on the primary type of grape that was used to make them.
Dry Wine vs Sweet Wine
When you're learning about different wines, you'll also hear some described as dry and others as sweet. There's a whole spectrum of sweetness for wines that's based on the amount of residual sugar left in them after the fermentation process is complete.
A sweet type of wine is one that has a larger amount of sugar left behind. This gives it a sweeter flavor that some people might find more palatable.
The drier a wine is, on the other hand, the less sugar is left behind. This means that more sugar has been converted to alcohol during the fermentation process. Dry wines may have a more bitter taste.
Sweeter wines also tend to have a lower alcohol content than drier wines. A general rule of thumb is that wines on the sweeter side tend to have an alcohol content of 10 percent or less. An off-dry wine (one that's somewhat sweet) will have an alcohol content of 11-12.5 percent, and a dry wine is one whose alcohol content is 12.5 percent or more.
There is some stigma around sweet wines, as wine "connoisseurs" often assume that having a preference for sweet flavors makes one amateurish or less refined than those who prefer an off-dry or very dry wine. I say whatever, and am a proud lover of sweet wines!
In fact, there's a variety of high-quality wines that come in all flavor profiles, and one is not better than the other based on dryness alone.
The Most Popular Red Wine Varietals
There are many different varietals available throughout the world. The following are some of the most well-known you'll come across when you start tasting different reds. They're listed in order from the sweetest in flavor to the driest:
Gamay
Gamay is a sweet red wine that features hints of raspberries, cherries, and strawberries. It's made to be drunk "young" (rather than being aged like a Cabernet Sauvignon, for example).
Gamay is often made using a method known as carbonic maceration. This technique gives the wine a distinct effervescence and creates a unique banana-like scent.
Grenache/Garnacha
Grenache or Garnacha is known for being one of the best red wines in Spain and Australia.
It's an early-ripening grape that yields a wine with a slightly higher alcohol content and lower acidity. The resulting flavor is fruity, spicy, and bold. Some wine drinkers compare it to Syrah or Shiraz.
Malbec
Malbec has a medium level of sweetness, but it also has more of a tart and sour taste than other reds, as well as hints of spiciness.
This varietal is known as a blending grape that's very popular in Argentina. There are also a few Malbecs made in Washington and California. Malbecs are often aged in oak barrels before they're sold and served.
Merlot
Merlot is known as the Chardonnay of red wines. It's versatile and more palatable than some other red wines and has a distinct bluish hue similar to that of a blueberry.
Its flavor is less strong and less distinct than some other reds, with notes of watermelon, cherry, plum, and strawberry. It provides a happy medium between drier wines like Cabernet and sweeter options. It's light and soft but still contains a good depth of flavor.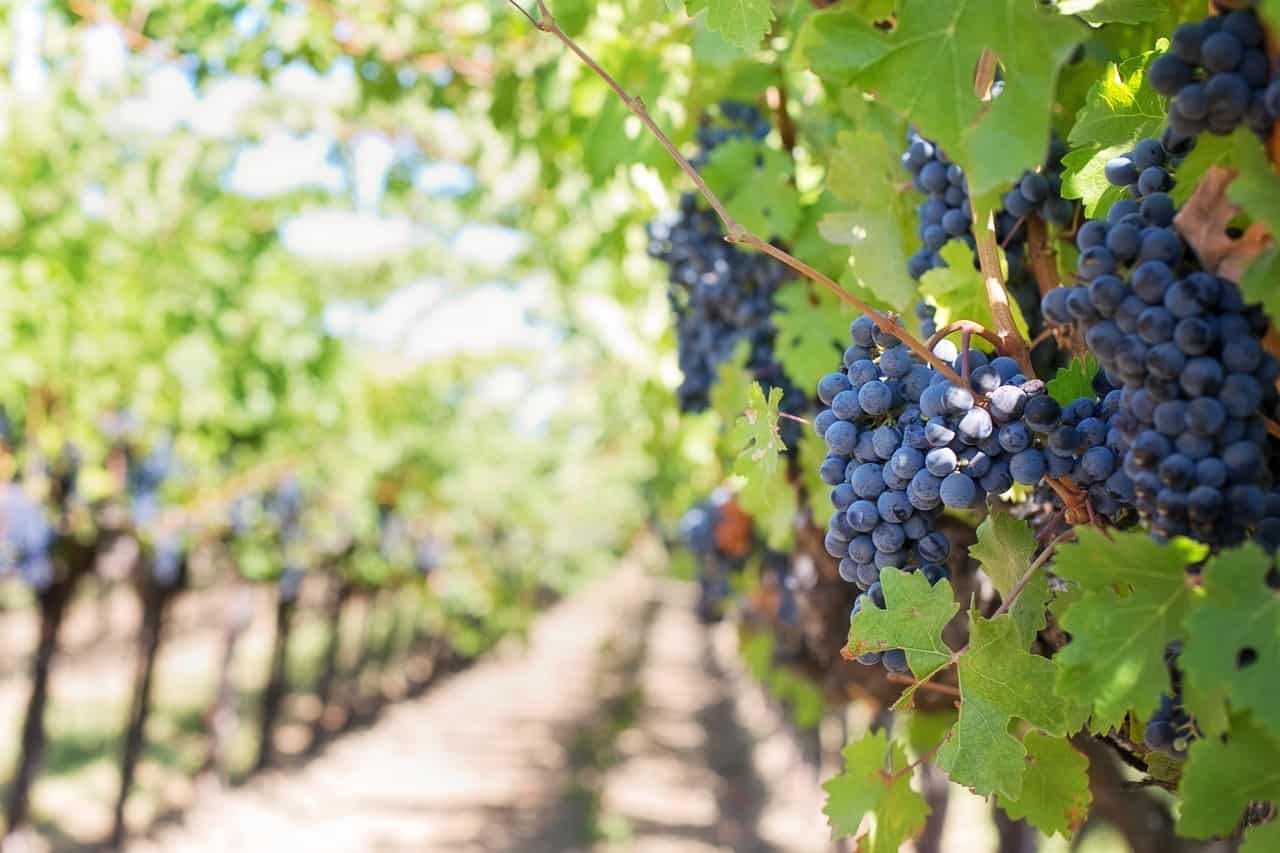 Syrah/Shiraz
Syrah or Shiraz (as it's known Down Under) is a popular wine in California, Washington, and parts of Australia. It has spicy, slightly peppery notes to it and can be developed into a variety of wines, from sparkling wines to fortified ports, which are very sweet.
Syrah has a sweet and spicy flavor, with hints of blackberry and vanilla alongside the spicy and peppery tastes.
Zinfandel
Zinfandel was once known only as a California grape. Now, though, it grows all over the United States' West Coast, as well as in diverse areas like Italy, Australia, and Croatia.
Zinfandel is known for its ripe and sweet flavors with black cherry notes. It's also very strong, with California varieties reaching levels of up to 14.5 percent (or more) alcohol by volume.
Cabernet Franc
Cabernet Franc is a slightly sweeter cousin of the popular Cabernet Sauvignon (more on it in a second). It features notes of violets, blueberries, and black olives, and its tannins create a scent that's reminiscent of freshly roasted coffee.
The majority of Bordeaux wine blends in the United States consist of Cabernet Franc, along with Cabernet Sauvignon and Merlot.
Sangiovese
Sangiovese is the principal grape of the Tuscany region. It's the primary component of Chianti and Brunello di Montalcino wines.
Sangiovese has a light color and a high level of acidity. It's known for having pie cherry, anise, and tobacco flavors, especially in Italy. In other regions, it has a plainer, more mild flavor.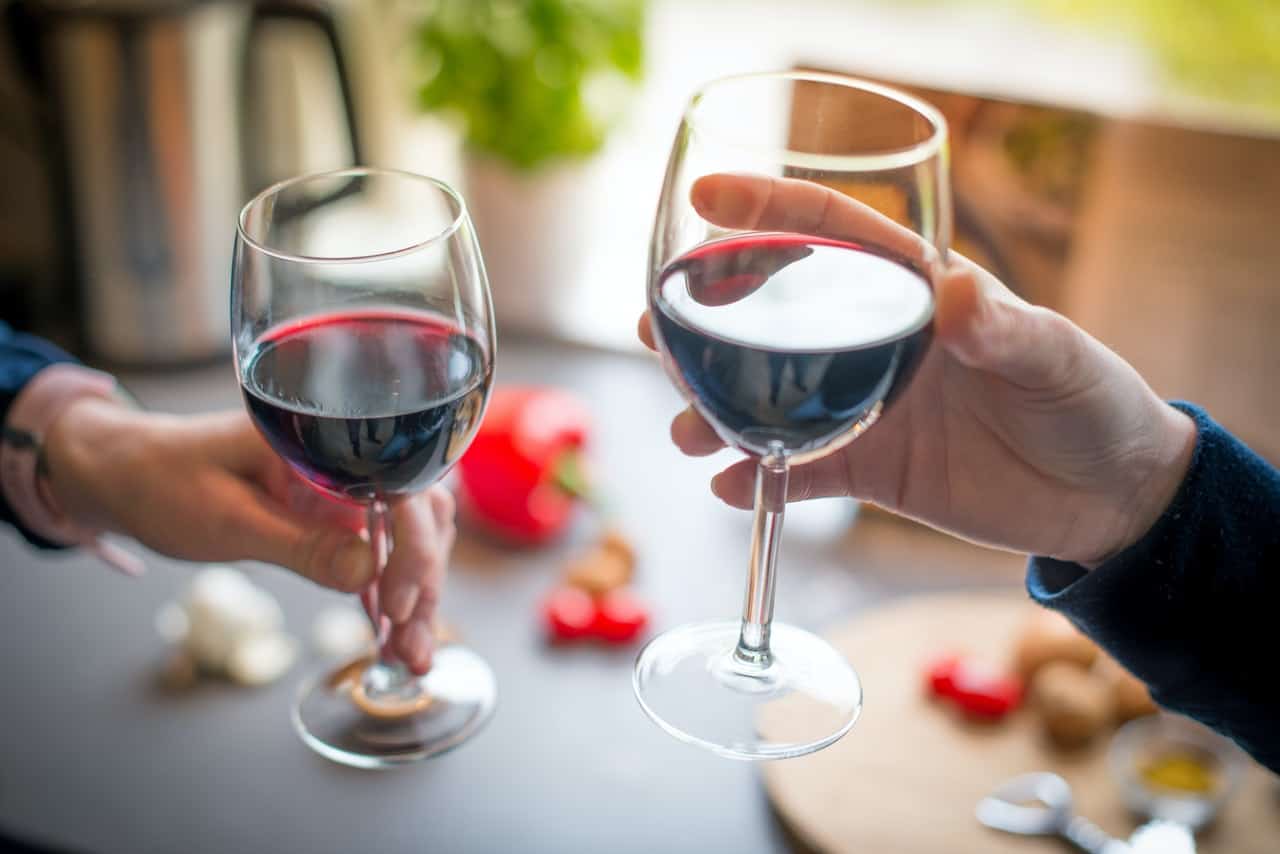 Cabernet Sauvignon
Cabernet Sauvignon is known as the defining grape of California's Napa Valley. It's grown all over the world, though, and features a unique flavor with hints of black cherry and currant, as well as bell peppers and green olives.
Cab is deep in color and is often blended with other wines to soften its somewhat astringent taste. Some winemakers prefer to make their Cabernets sweeter-tasting, but it's generally known as a dry red wine. Cabernet Sauvignon is often cellared for several years as well, to create a softer and more palatable flavor.
Mourvèdre/Mataro
Mourvèdre (or Mataro) is a Mediterranean red grape that's popular in Spain and France. Wines made from it have a slightly spicy taste to them, as well as strong notes of cherry. The most well-made also feature an earthy, mineral-like taste.
Pinot Noir
Pinot Noir is a well-known dry red wine, but it's also a very difficult one to get right.
Among winemakers, it's known for being demanding and unpredictable due to the fragility of the grapes, which can take on a weedy flavor in some cases.
When it's well-made, Pinot Noir features a unique taste that has tomato leaf, pale cherry, blackberries, plum, and even cola. It's very delicate but can also hold up to being aged for decades.
Tempranillo
Tempranillo is one of the most-grown grape species per acre. It's a popular Spanish grape that also thrives in other warm climates, including California, Australia, New Zealand, and Texas.
In Spain, there are very strict laws surrounding the growth of Tempranillo grapes to ensure they're cultivated and classified in the proper way.
Tempranillo grapes absorb higher-than-average levels of potassium, which yields a red wine with a higher level of acidity. This wine can be served right away, but it also holds up well to bottle aging. It's a dark wine with notes of plum, leather, tobacco, and berries.
Red Wine Types Video
Before moving on, let me show you a video on the red wine types:

Acidity
The acidity or pH balance of a red wine will have a significant impact on its color, as well as its taste. The higher the acidity level, the brighter red the color. Lower-acidity reds, on the other hand, may develop a blue or purple shade.
In some cases, they can even take on a brown color due to oxidation. Wines with a higher pH tend to oxidize faster than those with a lower pH.
Wines with high levels of acidity have a crisper, more tart taste to them. Lower-acidity reds, on the other hand, have a smoother and rounder taste.
Red Wine Styles
Red wines come in three primary styles: light-bodied, medium-bodied, and full-bodied.
Light-Bodied
Light-bodied reds contain fewer tannins and have a lighter flavor. They're less demanding and won't compete with very flavorful or rich foods. A good example of a light-bodied wine is a Gamay.
Medium-Bodied
Medium-bodied red wines contain more tannins than their light-bodied counterparts. They're not terribly bitter, though, and won't produce the same amount of lip-puckering that some reds are known for.
Examples of medium-bodied reds include Shiraz, Merlot, and Sangiovese.
Full-Bodied
A full-bodied red wine will have the highest tannin content as well as, in most cases, the highest alcohol content.
Full-bodied wines have a heavier feeling in the mouth, more like if you're drinking milk, while light-bodied wines feel more like if you're drinking water. Cabernet Sauvignon and Cabernet Franc are good examples of full-bodied reds.
How to Choose the Best Red Wine
Knowing your preference when it comes to the flavor and weight of the wine is essential if you want to choose a bottle that you'll enjoy.
There are other factors to take into account, too, that will help you identify a great wine for you. Let's check out another video and then get into those factors.

So going back to the factors, they include the following:
Complexity
The better a red wine is, the more complex its flavor will be. When you take a sip of it, you'll be able to detect several different flavors at once.
When you're drinking a high-quality Cabernet Sauvignon, for example, you can easily pick up on hints of cherry, green pepper, and currant. If the wine has more of a flat taste and doesn't bring out these different notes, it might not be a very good one.
Intensity
Consider the intensity of the wine's flavors, too. It should be easy for you to clearly identify the different notes in a good glass. The more obvious they are, the better the wine's intensity, and the higher its overall quality.
Balance
There should also be a balance between the different flavors in a glass of good red. If one flavor overpowers all of the others, that's not a great sign. It should feel well-structured and, while the flavors should be obvious, you also shouldn't get a sense that one flavor is overwhelming.
Tips for Serving Red Wine
Once you've chosen your ideal red wine, the next step is to serve it in the proper way. The way you serve your wine, from the type of glass you use to the foods you pair it with, can have a significant effect on the taste and drinking experience.
In general, reds taste the best when they're consumed from a glass that provides adequate room. A glass that has an oval or egg-shaped bowl with a slight narrowing at the top will yield a better taste than a narrow, flute-shaped glass. The most popular red wine glasses can hold between 10 and 22 ounces of wine, while still leaving room for the drinker to swirl it and let the wine breathe.
Red wine also tastes best when it's served at a temperature somewhere between 60 and 65 degrees Fahrenheit. If it's too warm, the alcohol taste will be too strong. If it's too cold, the wine will have a bitter and astringent taste.
Food Pairings
As for food pairings, there's a lot of variety when it comes to the foods that taste best alongside red wine. The ideal food pairing depends on the type of red you're serving.
A good rule of thumb is to consider the weight of the wine alongside the richness of the food. For example, if you're serving a rich, full-bodied red wine such as a Cabernet Sauvignon, it's best to pair it with rich food like a nice steak. Light-bodied reds, on the other hand, work better with lighter foods such as chicken and vegetables.
Another good rule to keep in mind is the "what grows together, goes together" rule. This means that the foods from a particular region will pair well with the wines from that region. Dishes that feature traditional Italian tomato sauce, for example, will taste great when served with a high-acidity red wine from Chianti, which is a rural part of the Tuscany region in Italy.
Summing Up the Red Wine Types
Yes! Now you have the knowledge to choose the best red wine for you. Try some, experiment, drink, and be merry!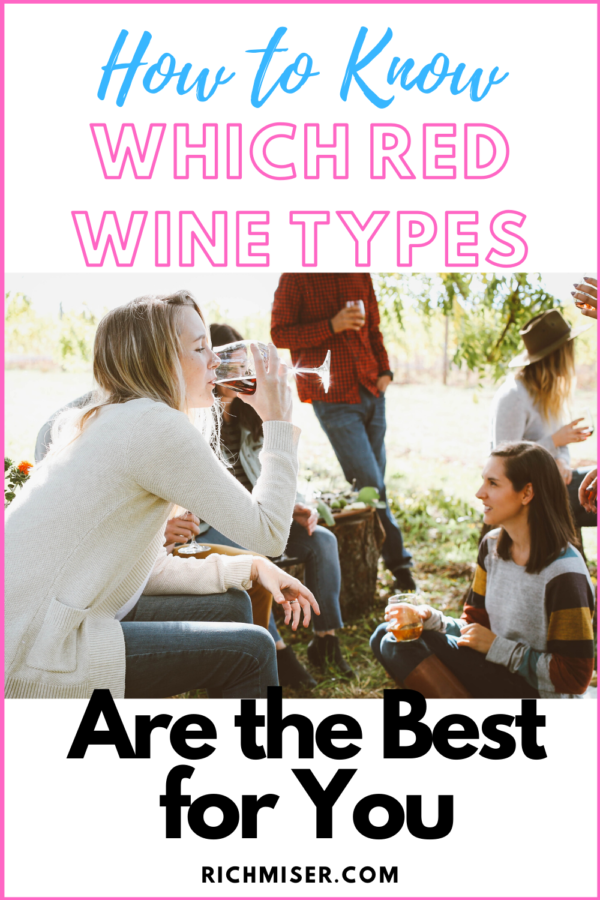 What are your favorite red wine types? What do you think is the best red wine?
---
Additional credit: