A backyard, a beautiful, shimmering pool, and a hot barbecue grill full of delicious, juicy, tender steak. Picture some of the best cuts of beef on that grill: prime rib, hanger steak, picanha. Is your mouth watering yet? Mine is!
But how do we transport this picture from your mind to your reality? Obviously, one of the key ingredients is the steak. What kind of steak, though? I'm glad you asked.
To find out, today we're going to learn about many of the different cuts that you can cook up for yourself and your family, friends, and love interest (and which ones you may want to skip). Let's review their taste, marbling, origin, price, and other attributes.

Where Do the Cuts of Beef Come From?
From a cow, mmkay? More specifically, take a look at this nifty internet graphic to get an idea of the parts of the cow where different cuts originate: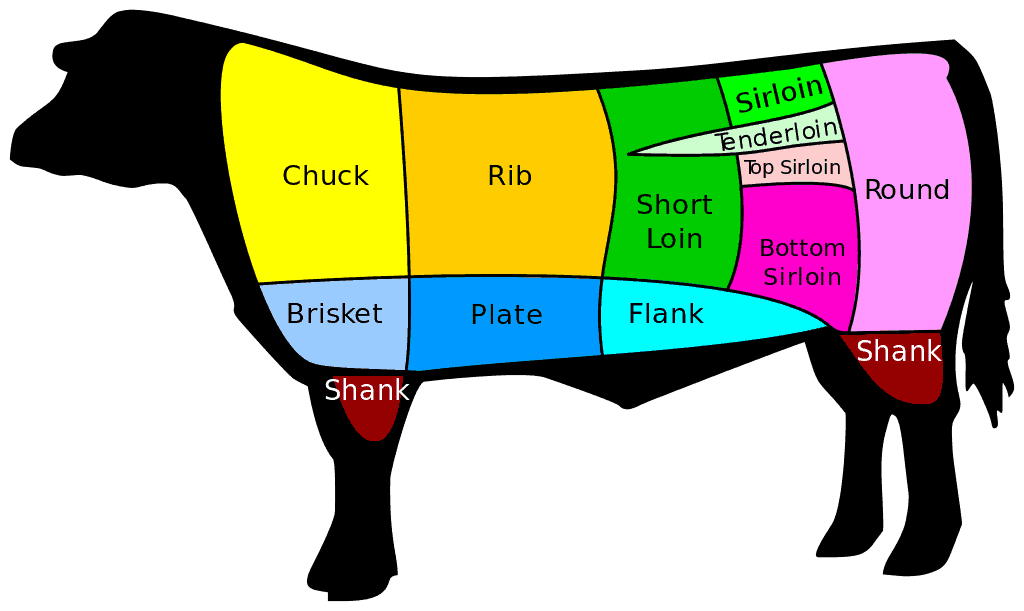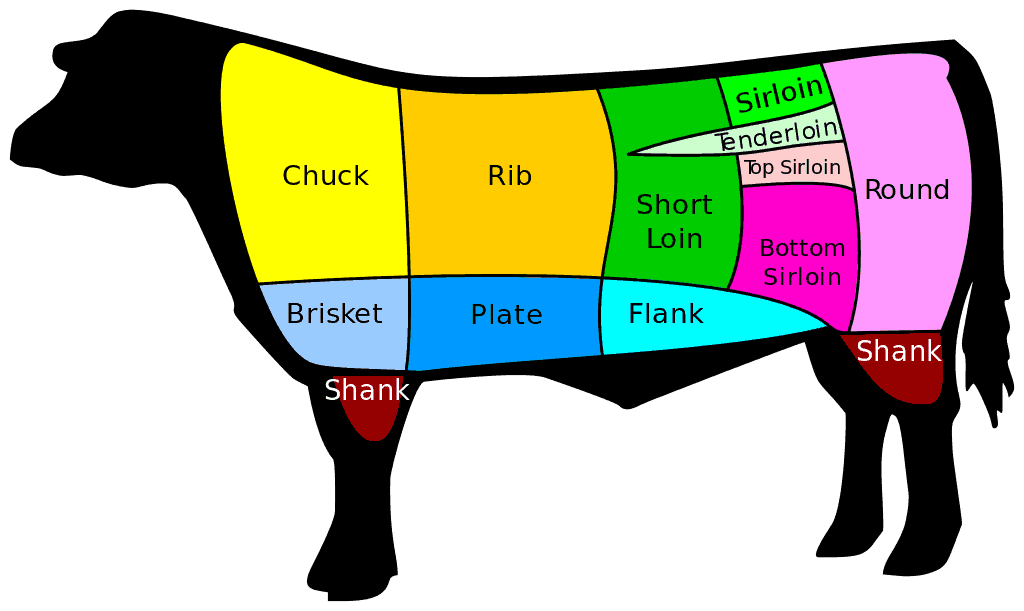 And here's a cool video showing how each cut of beef is obtained from a whole cow:

Plus one more:

With that, let's move on to the cuts!
Prime Rib
Prime rib holds the distinction of being one of the best cuts of meat that you can buy. Sliced from the center of the rib section, prime rib offers a tender, flavorful roast. As a matter of fact, according to Serious Eats, prime rib is only beaten out by filet mignon when it comes to tenderness.
This cut contains a great deal of marbling both around the central eye as well as within the muscle. It makes prime rib tasty, juicy, and tender.
When buying prime rib, Serious Eats advises you to opt for a bone-in piece that has been dry-aged. That way, you'll enjoy the most flavor. While prime rib can be pricey when compared to other meats, this cut certainly makes up for it when it comes to taste.
Grilling isn't the standard option for preparing prime rib. Instead, it's normally roasted in the oven. However, when done right, grilled prime rib can be a delicious choice.
Approximate US Price: $15 per pound.
Beef Tenderloin
Telling the difference between beef tenderloin and filet mignon can be a bit confusing for those unfamiliar with each and every cut of meat. Delishably, however, clears up any confusion with their explanation – beef tenderloin "is the name of the large cut of beef before it is sliced into steak. Once it is cut into steaks, those steaks are known by the French name, filet mignon."
The price of beef tenderloin varies depending on whether you opt to buy this cut of beef trimmed or untrimmed. When it's trimmed, some fat and waste will have been removed. That extra butchering will come at a higher cost.
As one of the tenderest cuts of meat, you might be able to cut it with a fork! That said, you will have to be mindful of the fact that beef tenderloin has almost no marbling, so you will have to employ some tips and tricks to get your barbequed beef tenderloin done perfectly. Otherwise, you will end up with a flavorless, mushy piece of meat.
Personally, I love filet mignon just because it's so soft and tender. However, on its own, it's not as flavorful as other cuts (probably due to the lack of marbling).
Approximate US Price: $12+ per pound (and can easily reach $29+).
Hanger Steak
The hanger steak is a savory cut of beef that was previously known as a butcher's steak. It got this name because butchers would keep it and enjoy it on their own dinner table since their customers were largely unaware that this flavor-filled cut existed.
Despite including a long inedible membrane that runs down its center, the hanger steak is one of the tenderest cuts of meat. With a delicious flavor that is similar to that of a skirt steak, the hanger steak is rich with marbling that helps to make it both juicy and tender.
Today the hanger is much more well-known. While it was previously often sold in supermarkets as a budget cut, it has recently become more prized by chefs and home cooks alike.
Because of this, the hanger steak isn't quite the bargain that it once was. However, it is still an affordable option that Serious Easts considers to be one of the best inexpensive steak cuts that you can get.
Approximate US Price: $13 per pound.
Here's a neat video on how to barbecue a hanger steak:

Flat Iron Steak
Flat iron steaks have only recently come to be considered one of the best cuts of meat to buy. To understand why it wasn't a popular choice until now, we need to get a bit of backstory on the flat iron steak from none other than Omaha Steaks.
As they tell it, "the top blade roast was actually ignored for years due to a tough connective tissue that runs through its center." However, when butchers began removing this tough connective tissue, the roast was cut into two pieces. One of them is the flat iron steak that so many enjoy today.
The flat iron steak is a perfect cut for barbequing because its extensive marbling makes it nearly as tender as tenderloin and full of flavor. It is also an attractive choice because, according to FoodBeast, it can be purchased at a much more affordable price than ribeye or the New York strip.
Approximate US Price: $12 per pound.
Here's a video on cooking a flat iron steak:

Beef Brisket
Beef brisket is a large cut that is made up of two pieces which are separated by fat. The flat cut is more expensive and less fatty. Conversely, the point cut contains more fat, which means that it offers more flavor and texture.
When buying a beef brisket, don't judge it for its lack of marbling because that doesn't signal a flavorless piece of meat. Fat is often located in a single layer on a brisket due to the way that it's cut. So, in this case, less marbling throughout isn't a deal breaker. Still, the point cut does have more marbling than the flat cut.
Because it is a tough cut, beef brisket is best prepared through slow cooking since that process will work to turn it into a rich, tender main course.
Approximate US Price: $4 to $8 per pound.
T-Bone Steak
Whenever anyone thinks of the best cuts of steak, the T-bone is one that always comes to mind. The T-bone is actually made up of two steaks. They are the strip steak, which is the larger section, and the tenderloin, which is the smaller bit. So you get two steaks with different flavors and textures – all in one cut of beef.
However, having two steaks in one also makes T-bones more difficult to cook. Because each side of the T-bone has different fat levels, that can make cooking tricky but, when barbequed correctly, a T-bone steak will be both flavorful and juicy.
So, with the T-bone being among the most expensive steak cuts that exist today, it pays to get your cooking technique down so that you don't spoil the taste and quality of this prime cut of beef.
Approximate US Price: $8 to $14 per pound.
Check out this video on grilling a T-bone:

Beef Ribs
When you think of barbequing, beef ribs are sure to come up. With them becoming an increasingly popular choice, this cut of beef is no longer as cheap as it once was. However, it is still a much more affordable option than some of the other cuts that you might be thinking of choosing for your next BBQ.
While often a barbeque staple, beef ribs can easily become chewy if not prepared correctly. That's because, while well-marbled, this section of muscle is well-worked. That means that it's filled with connective tissue and sinew.
So, although beef ribs can be a delicious grilling option, it does take effort to make sure that they're tender and succulent. If you're hoping to have 'em on the menu at your next BBQ, the team over at Amazing Ribs offers up four ways to transform beef ribs from a tough cut into delicious tenderness.
Approximate US Price: $6 per pound.
Here's a video on how to cook some superior ribs:

Ribeye Steak
Like the T-Bone, when you think of high-end steaks, the ribeye comes to mind. While you will have to spend good money to get a ribeye, Serious Eats certainly thinks this cut of beef is worth it for those special occasions.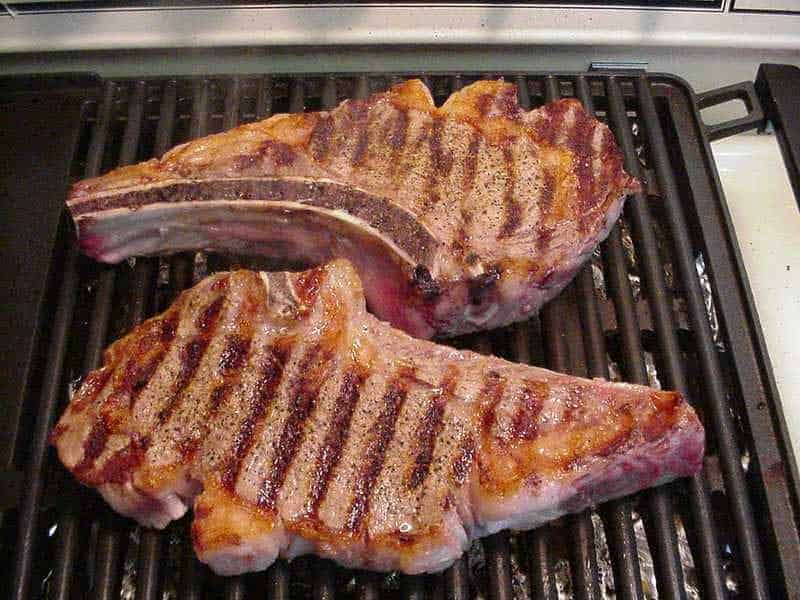 When purchasing a ribeye, look for one that contains a great deal of marbling, because this is what lends a lot of the rich, beefy flavor to this cut of meat. Also, be aware that there are two types of ribeye steaks: bone-in and boneless. The boneless variety is known as a Delmonico Steak.
When choosing between the bone-in and boneless, you might want to keep in mind that there has been some debate as to whether the bone works to add more flavor during the cooking process. For this reason, you might want to opt for the bone-in variety to ensure that you're getting the maximum amount of flavor from your steak.
According to Our Everyday Life, because the ribeye is "so tender and marbled, they are best suited for dry cooking methods like grilling."
I personally find that ribeye can be somewhat chewy, so it's very important to buy a quality piece and cook it right.
Approximate US Price: $14 per pound.
Here's how to grill an impressive ribeye:

Sirloin Steak/Top Sirloin Steak
These are two of the most well-known cuts of meat, with both often appearing as featured staples on steakhouse menus.
Sirloin steak is a leaner cut with a high level of protein and low level of fat. While sirloins are delicious, their lower fat content means that they aren't quite as flavorful as other cuts.
Top sirloin differs from sirloin when it comes to quality, with the Chicago Steak Company calling it "one of the most beloved sirloin cuts, with bones and tougher muscle removed for a more tender and juicy steak."
Overall, a sirloin is going to be the less expensive of the two. Meanwhile, you should find that the price of a top sirloin is slightly less than that of a ribeye, which makes it a more affordable choice.
Approximate US Price (Top Sirloin): $10 per pound.
This is how to grill sirloin:

Round Steak
Inexpensive round steak is a particularly lean cut of meat. Therefore, it can be quite tough and chewy. While some round steaks can be quite flavorful, none of them are as tender as a sirloin.
According to Delishably's grilling recommendations, the inexpensive top round, when grilled as-is, will produce an acceptable steak. Meanwhile, the bottom round will need marinating to reduce its level of chewiness. Finally, it's best to completely skip the eye of round when barbequing. It will simply be too tough when prepared on a grill.
Approximate US Price: $3 per pound.
Picanha
For those unfamiliar with this cut, The Online Grill calls picanha one of South America's best-kept secrets. While this type of steak is known as picanha throughout both Brazil and Latin America, it is known as sirloin cap, rump cover, or rump cap in other regions of the world.
This triangular wonder includes a layer of fat that works nicely to create a juicy, tender piece of meat once it's been cooked. Because picanha has very little fat within the meat, you must cook it carefully to ensure that it doesn't become tough and inedible. With a taste and texture that is somewhat similar to sirloin, picanha is a frequent staple at any Brazilian BBQ.
Pichana can be difficult to get outside of Latin America since North American and European butchers tend to break this cut down into other smaller cuts while discarding the fat cap that gives pichana so much of its flavor. So, you may have to find a butcher who supplies it in order to give it a try. (Whole Foods may have it, though).
I eat picanha fairly often (it's easy to find here in Miami). When it's cooked right, I think it's absolutely delicious!
Approximate US Price: $11 per pound.
Here's how to cook an impressive picanha, from a man who loves it:

Flank Steak
Flank is a relatively inexpensive type of steak. As a matter of fact, this cut of meat is considered by Bon Appetit to be one of the four steaks that you can actually afford and enjoy.
It's a lean cut with little marbling. This means that it will require a bit more chewing, but remains a worthy choice for barbequing. Indeed, Melissa Clark of The New York Times extolls this cut's virtues when she says that "what flank steak lacks in softness, it makes up for with a deeply mineral brawniness that can stand up to the spiciest, tangiest, most pungent marinades."
Clark highly recommends this cut for those who enjoy their steaks cooked medium-rare. She advises those who prefer that their steaks be cooked a bit longer to opt for another cut, since flank steak can become dry.
Approximate US Price: $15 per pound.
See how to grill it:

New York Strip
The delicious New York strip steak has good fat marbling and a buttery flavor. Known for being juicy and tasty (though relatively firm), it is well-suited for grilling.
Indeed, as described by The Spruce, it "…is considered among the higher-end cuts of beef, along with the filet mignon, the rib-eye, and the porterhouse or T-bone steak. The strip steak comes from the beef short loin subprimal, and it starts off with a short loin that has had the tenderloin removed, to produce a bone-in strip loin…The primary muscle in the strip loin is the longissimus dorsi, which also happens to be the main muscle in a rib-eye steak. It extends from the hip bone all the way up to the shoulder blade, and it's a very tender muscle".
Tender, well-marbled, juicy, and tasty. What's not to like?
Approximate US Price: $14 per pound.
And here's how to cook it:

Summing Up the Cuts of Beef
Now I want to go to a barbecue and devour a steak! Seriously, while mediocre meat abounds, having an exceptional steak is one of life's pleasures. To ensure such pleasure and satisfaction for yourself and your guests and frenemies, cook up some of these awesome cuts on your BBQ:
T-Bone
New York Strip
Flank (maybe)
Picanha (with caipirinhas!)
Top Sirloin
Flat Iron
Hanger
Ribs
Ribeye
And that's the beef!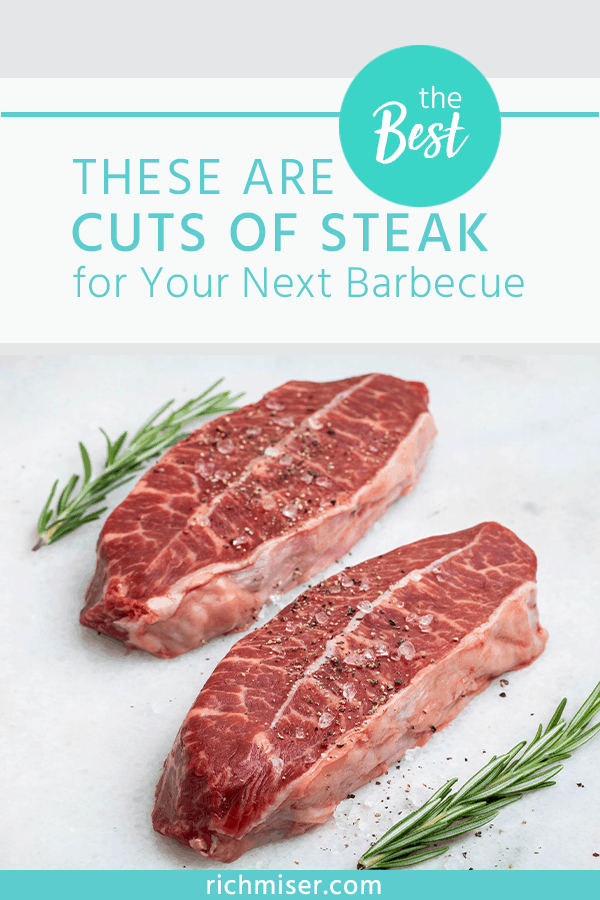 What are your favorite cuts of meat?