Did you think quartz and granite were the eternal kings of kitchen countertops? Nope, there's a challenger in the form of sintered stone countertops. So what is it and why would you use it?
Well, they say the kitchen is the heart of a home – you know, the place where you cook and entertain, and where your guests first fix their judgy gaze. When it comes time to renovate it, one of the most important choices you'll face is determining your countertop material. There, it seems as though the high-end countertop game has, for a long time, been dominated by quartz and granite.
But wait, there's more! It turns out that a newer player has been wending itself into the market. I'm talking about sintered stone, which to me kind of looks like Quartz 2.0. It promises to strong, durable, and resistant to nearly anything; indeed, as I'll soon show you, it may be an absolutely badass material. It's rumored that you can even cook on it!
So, without further ado, let's find out what it's all about.
Note: For sources and credits, please scroll down to the bottom.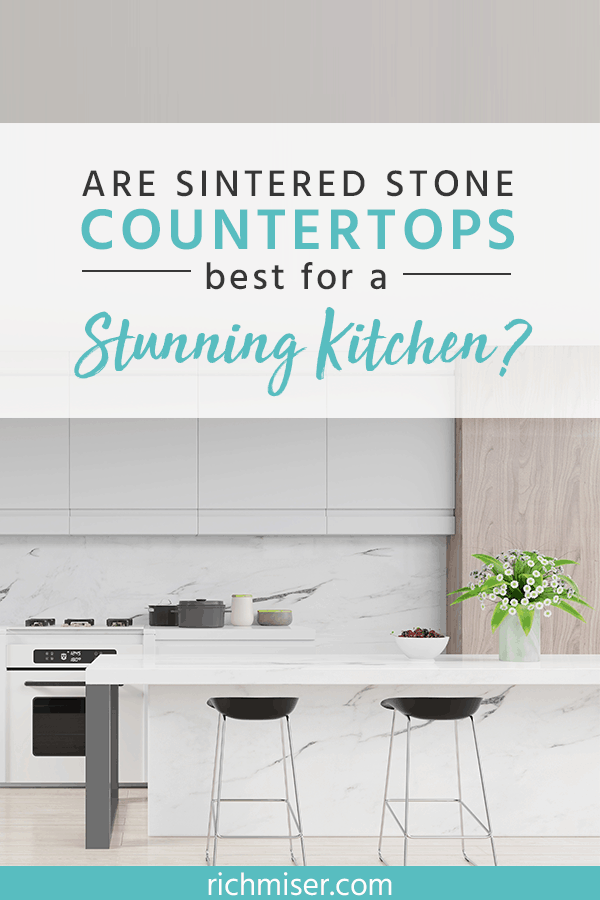 What is Sintered Stone?
Sintered stone is a stone-based surface material that is often made to look like other materials. It can be made to resemble natural stones, tiles, wood, and other smooth or textured surfaces.
Also, it can be made to be a variety of colors, textures, and sizes. And, it's almost always lighter than other materials, too. Sintered stone usually weights around 1.1 – 1.5 pounds per square foot. This makes it very light yet durable.
You may see the stone as kitchen counters, vanities, stairs, and flooring. It can also provide surfaces for massive areas like outdoor flooring, swimming pools, and at spas.
Check it out:
|
How is Sintered Stone Manufactured?
The manufacturing process mimics the way natural stones are made, but it doesn't take thousands of years! Rather, with modern technology, sintered stone can be put together far more quickly.
To make it, workers take stone particles and introduce them to heat and pressure that mimic what happens in the earth; the result is man-made stone, and the previous particles are bonded together permanently.
Particles are chosen based on what the finished product will look like. The color and quality of the particles are tested and then sent to become the final product. Next, workers take their time to make precise cuts into the material. Cutting is the longest part of the process, but the part that costs the most if messed up.
Indeed, the stone can get heavy and it is hard to cut, so it makes it difficult to cut off excess at the project site. This is also why you'll normally need to go with professional installation.
Here's a video of the manufacturing process:

Here's another promotional video from the same company:

The Pros and Cons of Sintered Stone Countertops
Sintered stone countertops come with many advantages. However, nothing is perfect. Check out the pros and cons of using the stone for your countertop.
It's Weatherproof and Waterproof
Sintered stone is waterproof. You can use the material to create pool flooring for inground pools. Some companies can make sinks and make it look like other stones. This can provide a nice contrast to the countertop.
It's also weatherproof since rain, hot weather or freezing temperatures don't bother the stone. It's almost completely unaffected by heat or cold. So if you wanted to create an outdoor kitchen area, then sintered stone would be a great choice for the countertop.
|
It's Very Easy to Clean
It is very easy to clean sintered stone. Since it's non-porous, it doesn't need sealing. So without that maintenance, cleaning takes less time.
Plus, it's also resistant to harsh chemicals, so lots of cleaning products can be used to clean the surfaces.
It's Food-Safe
Sintered stone is food-safe. Since it's easy to clean, using the stone as your kitchen counter is hygienic.
The non-porous material also helps reduce germs and bacteria. Preparing food on the counter is generally safe although not recommended – cutting boards are needed to reduce the risk of damage.
Still, if you wanted to cook on it, you could. Just look at these mad lads:

And this unique cast of characters:

It Resists Heat and Staining
This stone can withstand high temperatures, making it resistant to burning. Since it is non-porous and doesn't need to be sealed, sintered stone is highly resistant to staining.
Here is a short video on testing different staining agents on sintered stone. See how well it holds up:

Does Sintered Stone Chip?
Not really. Under normal use, it's quite resistant to chipping and scratches.
Here's another video for your viewing pleasure:

Cost
It's kind of hard to find prices, but this site puts the price around the same level as quartz or granite.
The Downsides to Sintered Stone
Though not many, it has some important cons:
It is not recommended that you install it yourself since it is tough and can be very heavy due to size. This can lead to inconvenience and extra expenses for labor.
The stone can crack under pressure if it is not leveled properly. Another reason professionals are recommended.
Repairs are hard and expensive. Since cutting needs to be so precise per project, a repair would be inconvenient and costly. The material is durable, but if it does break, repairing it can be difficult. Look into the warranty of your countertop when purchasing.
*Note that Consumer Reports found that the Dekton brand "…excelled in some of our tough tests, but during others, it cracked into two pieces and edges chipped off". In more detail, Dekton
…resisted damage from heat, stains, chopping and cutting, scoring excellent in these tests, and was very good at resisting abrasion. But in our impact tests, pieces of the edges chipped off, and Dekton cracked into two pieces on samples that were 2 centimeters thick, the manufacturer-recommended thickness. Our impact tests simulate what could happen if a heavy pot fell from a shelf or pot rack up to 2 feet above the counter. None of the other 13 materials we tested cracked this way.
To make matters worse, Consumer Reports noted that "Dekton comes with a 25-year warranty, which does not cover cracks or chipping due to impact from heavy objects".
Popular Brands
Here are some popular brands that make sintered stone. Some brands can be purchased by consumers, but others are hard to find because they are in other countries or deal with businesses only.
Be sure to look for a "Where to Buy" section on the website to see if you can purchase the brand near you.
Dekton
Widely available in the USA, Dekton is a popular brand that makes countertops, flooring, and siding out of sintered stone. They have a large variety of textures and colors to choose from.
You can learn more about Dekton here, but I'd suggest that you carefully research this brand, since it cracked in some Consumer Reports tests.
Lapitec
Lapitec is a big brand in the business. They deal with small projects like kitchens and bathrooms all the way up to pavements and swimming pools. They've won many awards in design and architecture.
See their designs here.
DuraLosa
DuraLosa is a popular brand that makes countertops. You can view their collection here.
Neolith
Neolith is an international, award-winning brand with elegant designs. They are experts on large surfaces, making entire walls, flooring, and staircases with their stones.
However, they also deal with smaller projects like kitchens, bathrooms, and furniture.
You can learn more about them here.
|
Sintered Stone vs. Quartz
Although both are excellent materials, they do have their differences:
The seam quality of quartz tends to be better.
Sintered stone has better resistance to stains, impacts, heat, and chemicals.
Quartz is slightly easier to repair.
Quartz is not UV proof so it is not recommended to use the material outdoors. Sintered stone works great as an outdoor material and is weatherproof.
Sintered Stone vs. Granite
Here are some of the big differences between these two materials (for a comparison of quartz and granite, click here):
Since granite is a natural stone, it's harder to achieve a single-piece appearance. (Though some people consider that natural variability of granite more beautiful).
Granite's stain, impact, and chemical resistance is inferior.
Granite is porous and must be resealed from time to time.
Sintered stone is lighter than granite.
Sintered Stone vs. Marble
Let's do one last comparison:
The seam quality with marble tends to be lower.
Marble is less resistant to abrasions, stains, impacts, heat, and chemicals.
Sintered stone is easier to maintain and to repair.
Marble is very porous. It absorbs spills very easily and it is prone to stains. Marble needs to be sealed and the seal needs to be maintained as it can wear away.
Marble is heavier.
Sintered stone can be more expensive than marble.
Overall, marble is probably the lesser choice. Sintered stone is resistant to spills, scratches, and breakage. It can also withstand harsh chemicals in cleaning products.
My Big Concern
I love the promise of this material (and it looks amazing) but I'll confess that I'm a bit uneasy. Why? Because there seems to be an absence of information from unbiased sources; a lot of what I've found is marketing stuff from people that make and sell it.
So if you're considering a big investment in sintered stone, my advice is that you do more research, and try to find people that have actually installed it in their kitchen. In fact, your contractor can be a good source of information – ask them if they've done other kitchens with it, and whether their clients have been happy. You can even request that they put you in touch with such clients so you can give them a call.
Also, if you want, get some samples and take a hammer to them, and see what happens. Make sure that the particular brand you choose has a great warranty and a solid company that stands behind it.
(By the way, I don't have any relationship with Neolith; they just have a lot of pretty pictures on Pinterest).
If at the end of the day you're still uncomfortable, though, I'd say don't buy it. Go with quartz, which many would agree is an excellent, time-tested choice in terms of stone countertops. If not, get granite, which has the disadvantage of needing periodic resealing, but is still a first-rate material.
Summing Up Sintered Stone Countertops
So are sintered stone countertops the new quartz? All I can say is that it looks like it shows a lot of potential. It's supposed to take a King-Kong beating and come out unscathed, promising years of strength, beauty, and durability.
I'd suggest, then, that you give it serious consideration. Order up a few samples and see if it's the right material for your amazing new kitchen!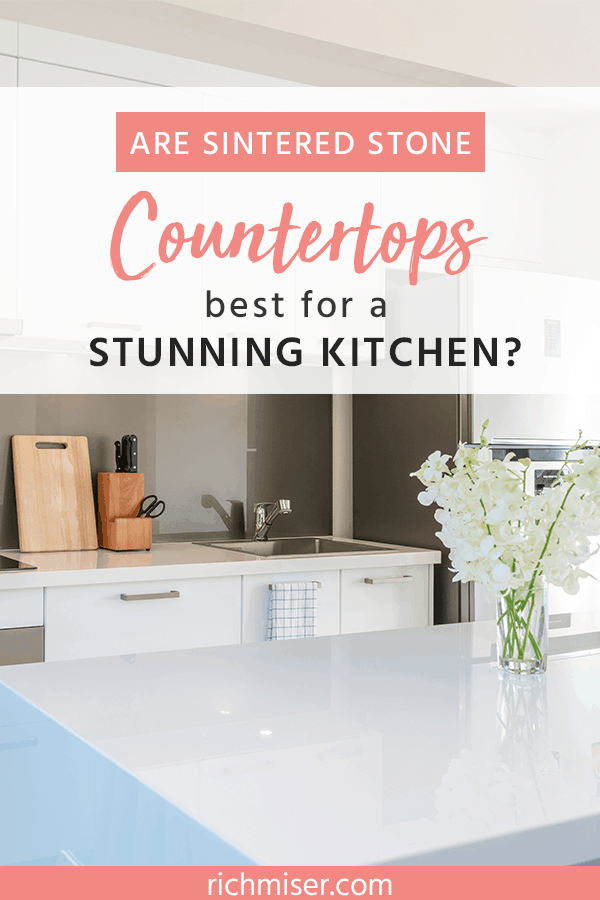 Would you consider sintered stone countertops?
---
H/T: Reddit users JohnCenaLunchbox and ThunkAboutIt
Sources and Credits: