Have you been thinking of adopting a dog? I know my wife Lily and I have been for years, but as busy city slickers with limited time, space, and budget, we've always hesitated. Perhaps that's why we've focused our research on small dog breeds, which seem to be the most manageable and easy to take care of.
Within the world of small dog breeds, there are a few that keep popping up, and have become the most popular small dogs in the US. For this reason, it's fairly easy to find a responsible, reputable breeder and other pooch parents to share your wonderful adventures with.
Today, I've collected a wealth of information on these petite bundles of joy, so you can make an informed decision on what kind of small dog is best for you and your family. Let's get into it!
What You Need to Know About the 10 Most Popular Small Dog Breeds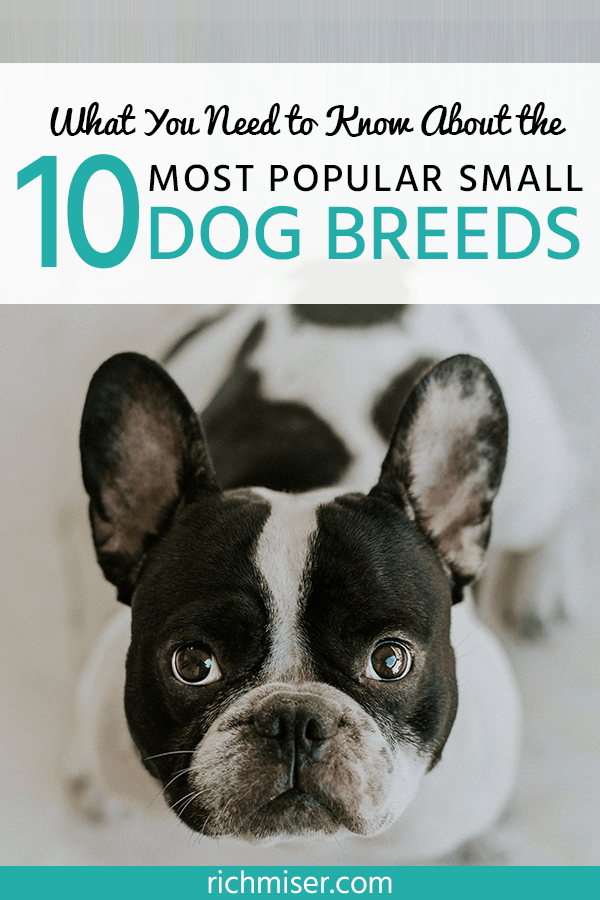 How This Guide on Small Dog Breeds is Organized
To bring you the best and most accessible information, each of the small dog breeds is listed in the following format:
Name
Picture
Description
Second picture
List of characteristics
Link to a Reddit community for that breed
Informative videos
The idea is that you can both read about and see the dogs, in still pictures and in live video. I'm also linking to Reddit communities for each breed, where you can talk to actual dog parents and get their take.
Each Dog Is An Individual
Although I've included a lot of information here, remember that these are generalizations, and that each dog is an individual that can conform to the general breed characteristics to lesser or greater degrees. There are few (or no) guarantees.
A Note on Sources
The information in this article is sourced from the websites of the American Kennel Club (AKC), Animal Planet, and/or The Kennel Club (United Kingdom). Please see the links at the end and throughout the article. You'd also do well to check out the Dogs Reddit community.
And now, without further ado, here are the 10 most popular small dog breeds in the US, in order of popularity:
French Bulldog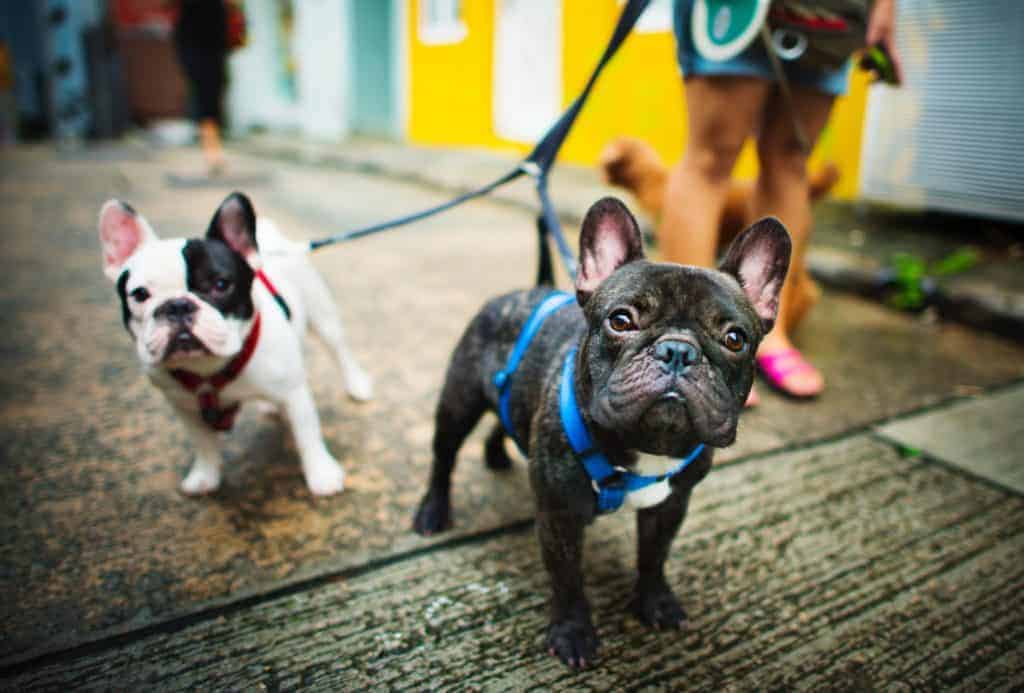 The most popular small dog breed is the lovable French Bulldog. They're known for being funny little creatures with a goofy personality, who will light up anyone's day.
Also called "Frenchies", they have short coats, and so need to be groomed about once a week. As well, their facial folds should be kept dry and clean (and need to be taken care of as often as once per day). Still, they're not really high-maintenance dogs.
French Bulldogs aren't particularly protective and they don't bark often, so watchdogs they are not. Frenchies can be stubborn, so training classes as early as possible are often recommended.
These awesome little dogs need up to one hour of activity per day, but should never exert themselves in hot or humid weather due to this breed being prone to breathing issues. Also, they can sometimes develop eye problems such as cherry eye, entropion, or juvenile cataracts.
They are front-heavy and so usually cannot swim, and should not be left unattended in any body of water, including the bathtub. Frenchies can live approximately ten years or more, and are prone to obesity so be careful not to overfeed, giving dog treats in moderation and avoiding table scraps.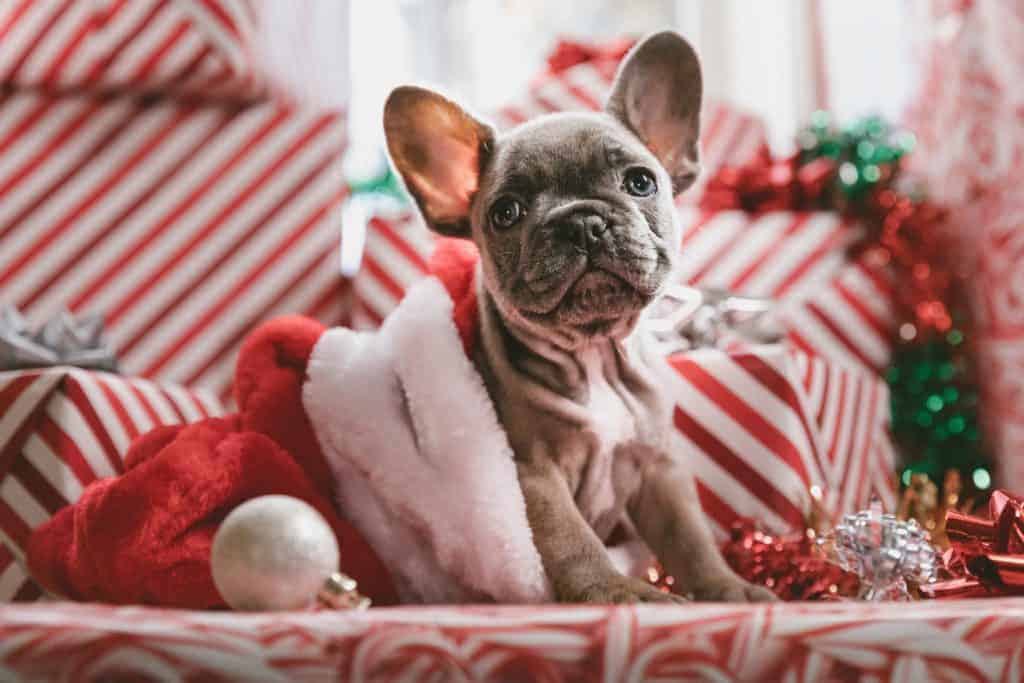 French Bulldog Characteristics (Per the AKC & Animal Planet)
Temperament: "Well behaved, adaptable, and comfortable companions with an affectionate nature and even disposition; generally active, alert, and playful, but not unduly boisterous" (AKC).
Hypoallergenic: No.
Shedding: Sheds regularly.
Grooming Frequency: Occasional bath/brush.
Ease of Training: Fairly easy to train/agreeable.
Energy Level: Calm.
Barking Level: Rarely barks.
Reddit Community (so you can talk to actual Frenchie parents).
French Bulldog Videos
From the AKC:

And from one of my favorite YouTube-ers, Laura Price:

Beagle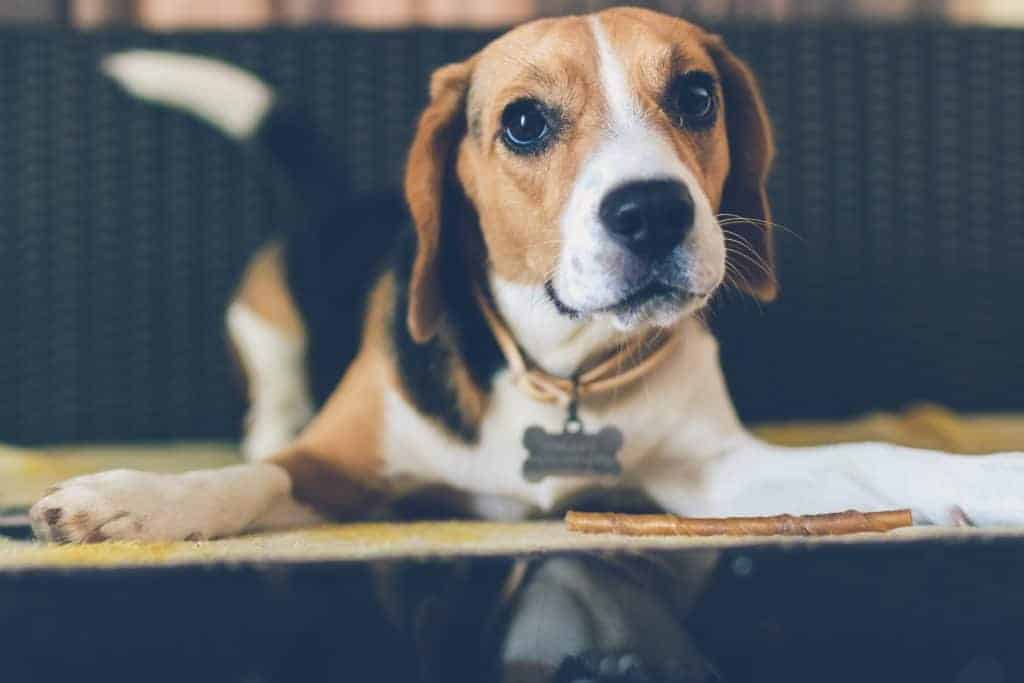 Beagles are part of the Hound group, and their noses have over 200 million scent receptors. They were bred to hunt in packs and as hunting companions, so they love company.
Speaking of company, beagles are very friendly, curious, and affectionate small dogs, and they have an undeniably cute face. Their disposition makes them great family members. However, if they are left alone -inside or outside- for too long, they have a tendency to become destructive. Having a human or animal companion around often will keep them entertained.
Beagles have a dense, short double coat that sheds seasonally; it gets thicker in the winter, so shedding is more obvious in spring. A good brushing two or three times a week will help control the shedding and keep their coat healthy.
These are energetic dogs and need about an hour of physical activity each day. Running around the backyard won't suffice for a Beagle; they need to be walked, and because they have such great noses you will want to always walk them on a leash to keep them from chasing an interesting scent.
Any unleashed area should have a fence at least 5 feet high that extends underground to keep your beautiful Beagle from tunneling underneath the fence; they are fantastic escape artists. Beagles don't typically have any major health issues, although they are prone to overeat as they can be food-motivated dogs. They can typically live past the age of 12.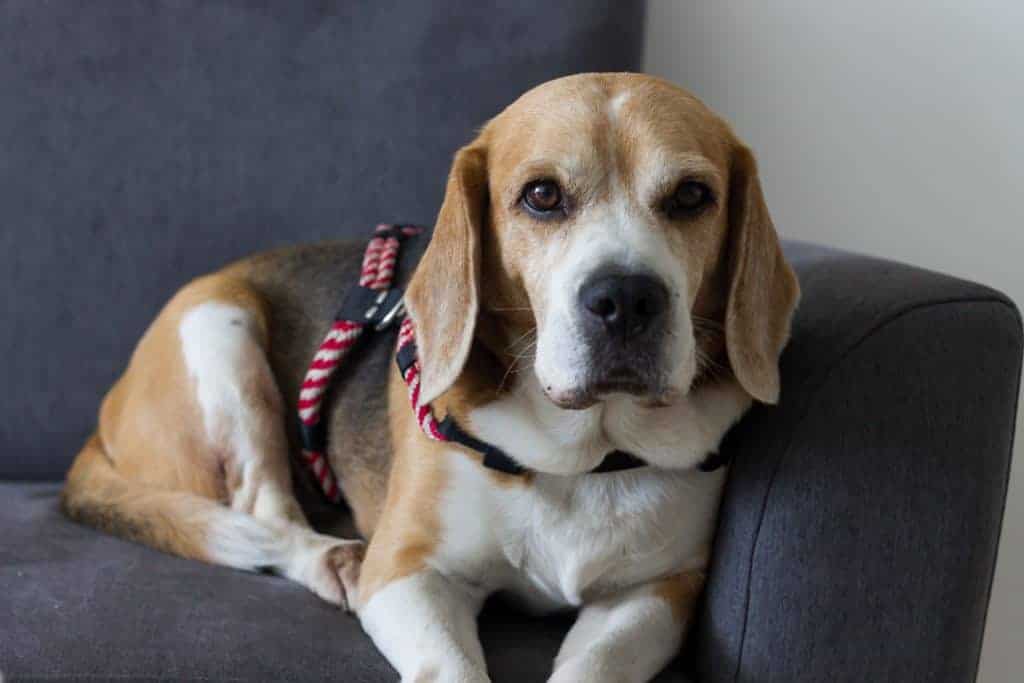 Temperament: Friendly, curious, and merry.
Hypoallergenic: No.
Shedding: Seasonal.
Grooming Frequency: Should brush 2-3 times per week.
Ease of Training: Fairly easy to train/agreeable.
Energy Level: Energetic.
Barking Level: Barks often.
Reddit Community (so you can talk to actual Beagle parents).
Beagle Videos
Yorkshire Terrier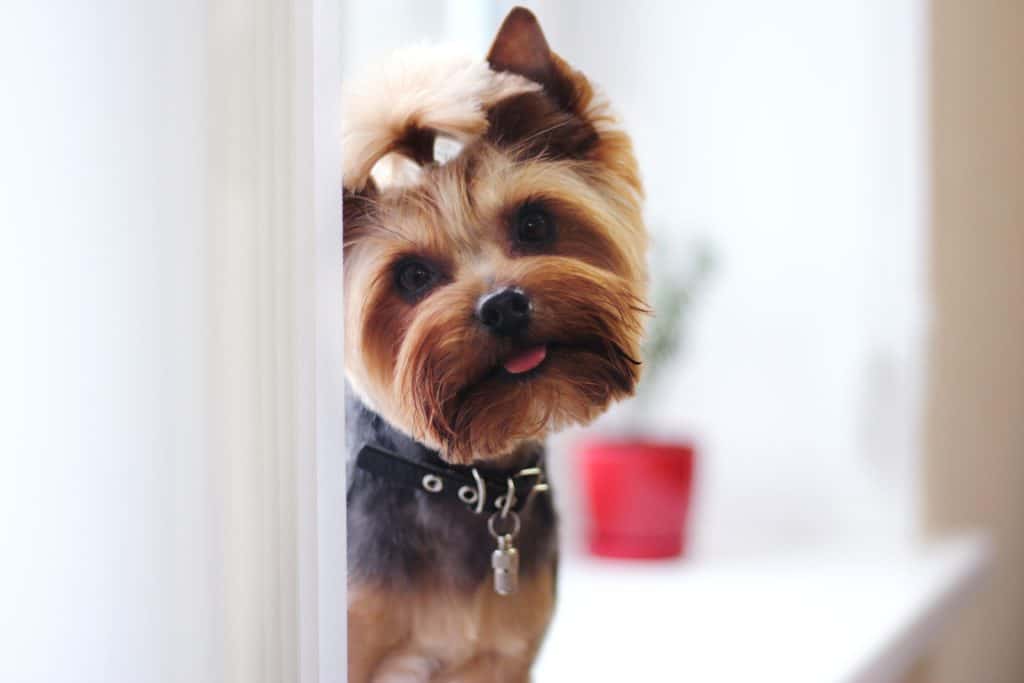 Yorkshire Terriers are a Toy breed that often loves affection. They are very intelligent and adore their owners, so training with lots of praise, treats, and positive reinforcement will go a long way. Also, Yorkies are often shy with other dogs and pets, but frequent barkers.
These popular little dogs have long coats that are debatably hypoallergenic, but can require daily brushing. Moreover, make sure to give them a weekly bath and check their ears regularly.
As to exercise, Yorkshire Terriers need about at least 30 minutes of physical activity per day. This could include moderately-paced walks or short bursts of activity such as chasing a ball.
On health, eye anomalies and luxating patella (a dislocated kneecap) are common to the breed. To prevent this from developing, try to minimize the amount of jumping that your Yorkie does onto and off of the furniture.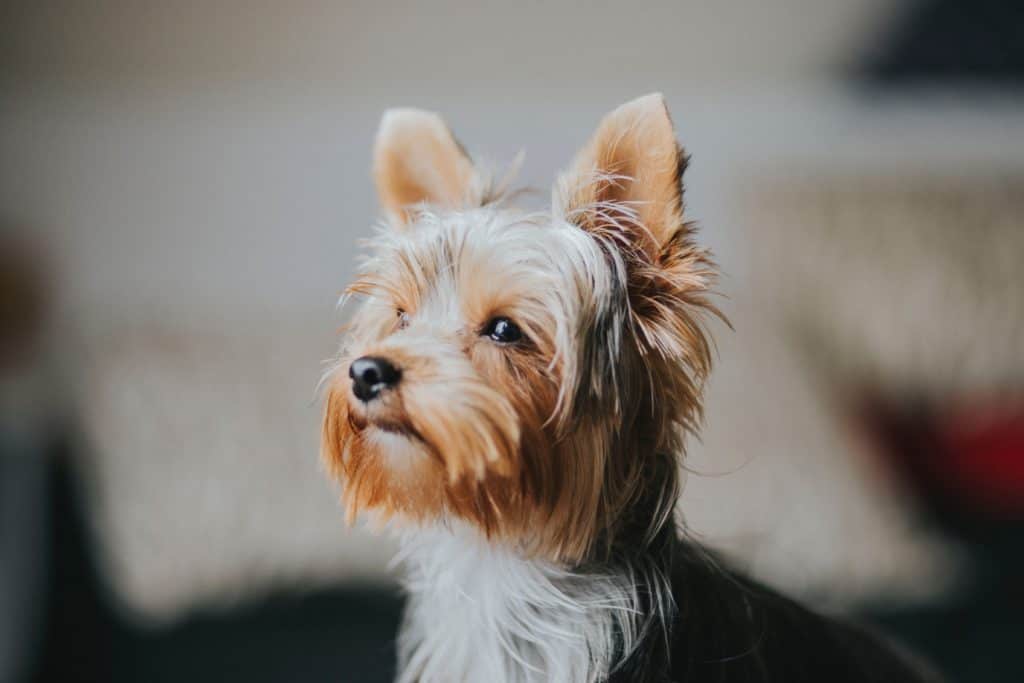 Yorkshire Terrier Characteristics (AKC & Animal Planet)
Temperament: Affectionate, sprightly, and tomboyish.
Hypoallergenic: Not officially (per the AKC), though some experts say yes.
Shedding: Infrequent.
Grooming Frequency: High; often needs professional grooming.
Ease of Training: Fairly hard to train/stubborn.
Energy Level: Moderate; needs about two short walks per day.
Barking Level: Barks often.
Reddit Community (so you can talk to actual Yorkie parents).
Yorkshire Terrier Videos
Dachshund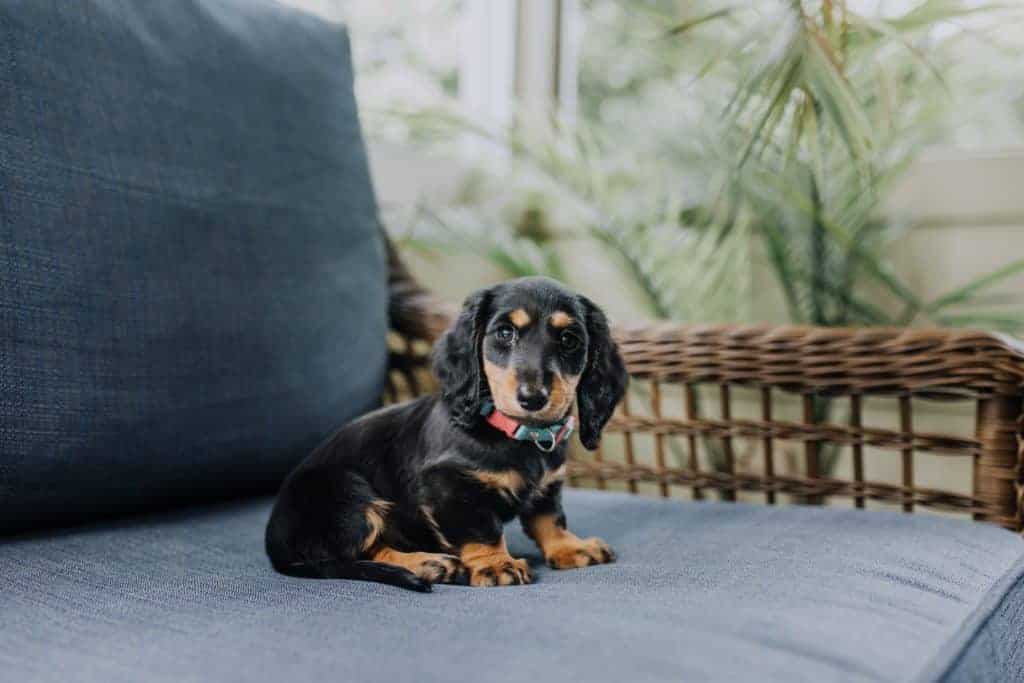 Ah, the amazing Dachshund. One of my favorite small dog breeds!
So there are two sizes of Dachshund -standard and miniature- each with further variation based on coat length: the smooth-haired, the long-haired, and the wire-haired. Furthermore, Dachshunds are a Hound breed that was originally used for independent hunting; they have excellent noses and are great diggers.
They were bred to remain focused on a trail without distraction, so they may not always focus on you if something else has caught their attention. Very brave and sometimes stubborn, they're very social dogs that prefer to be near you rather than left outside.
The grooming needs of the Dachshund vary depending on their coat. Long-haired Dachshunds need more frequent brushing than wire-haired or smooth-haired ones in order to keep their coats looking nice. All types are moderate shedders with little to no body odor.
Your Dachshund will need about an hour of activity each day, and not just running around the house. It's important to build strong muscles so that he/she can support his or her back.
On that note, and being a "Weiner Dog," the Dachshund's long body is prone to spine injuries, so help them reach higher surfaces and discourage jumping onto or off of furniture, as well as running up and down stairs. It is also extremely important that their weight be monitored; extra strain on their back can cause slipped or herniated disks. So, avoid giving table scraps and only feed your Dachshund the recommended amounts of their food. Keep other food far out of their reach.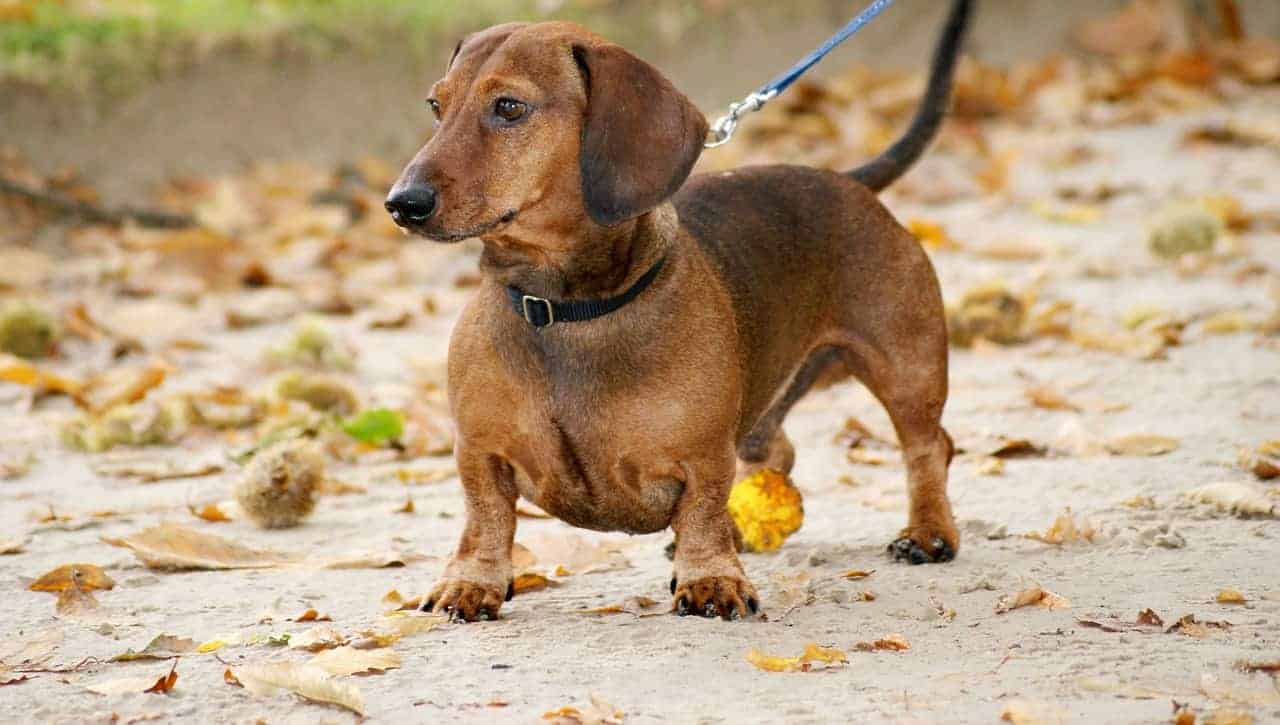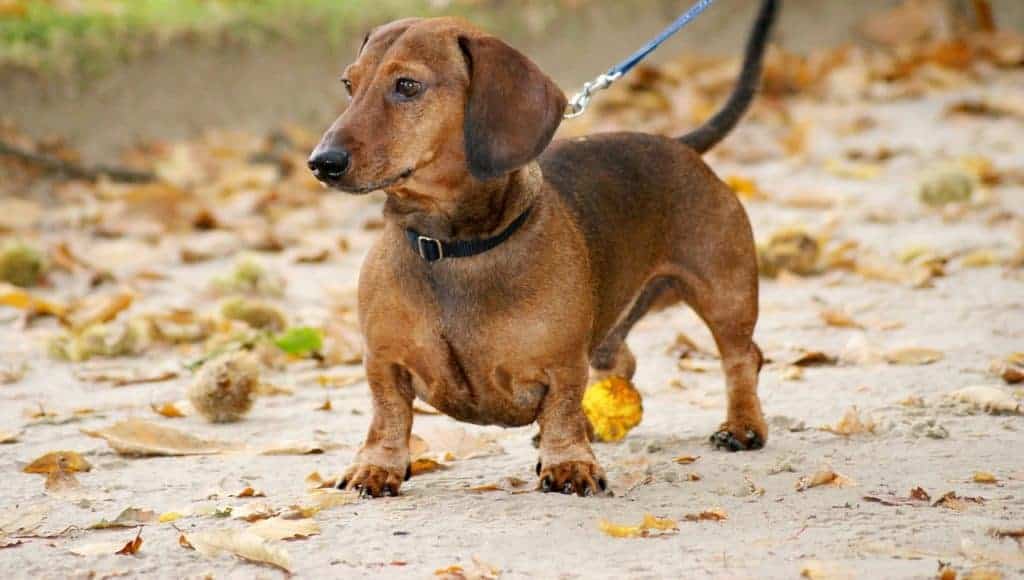 Temperament: Friendly, curious, and spunky.
Hypoallergenic: No.
Shedding: Sheds occasionally.
Grooming Frequency: Weekly brushing.
Ease of Training: Fairly easy to train/agreeable.
Energy Level: Needs regular exercise (around two walks per day).
Barking Level: Moderate.
Reddit Community (so you can talk to actual Dachshund parents).
Dachshund Videos
Pembroke Welsh Corgi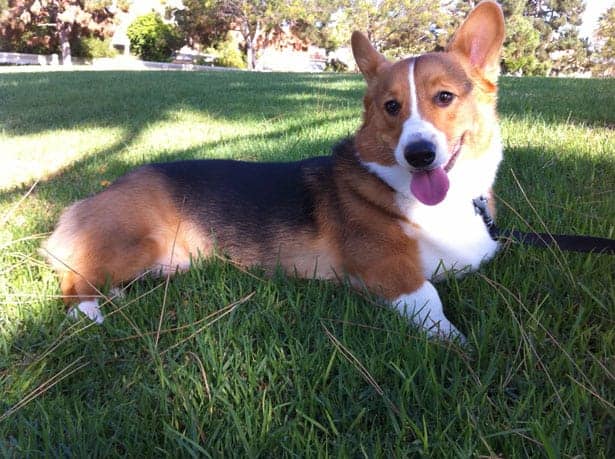 The Pembroke Welsh Corgi is a Pastoral breed who typically worked with cattle, sheep, and reindeer. They are very quick, brave, and independent, and have powerful legs. They also boast a weatherproof double coat (with a soft undercoat and coarse, short outer coat) which helps protect them from the elements.
Corgies shed pretty much every day, so they need a weekly brushing. In the spring and summer shedding is most frequent; at this time of the year, you might find that bathing more often helps to loosen the dead hair – but be sure your Corgi is completely dry before you begin brushing.
These amazing canines are very friendly and affectionate. They are also highly intelligent and energetic, and respond well to training if you focus on positive, reward-based instruction.
Bred as working dogs, Pembroke Welsh Corgis love physical activity and are very happy when they have a job to do. They enjoy long walks or even brief jogs, but can't keep up with a bicycle (on account of their short legs).
In terms of their health, watch out for issues such as epilepsy, progressive paralysis, cardiac problems, degenerative myelopathy, hip dysplasia, and von Willebrand's disease (a bleeding disorder).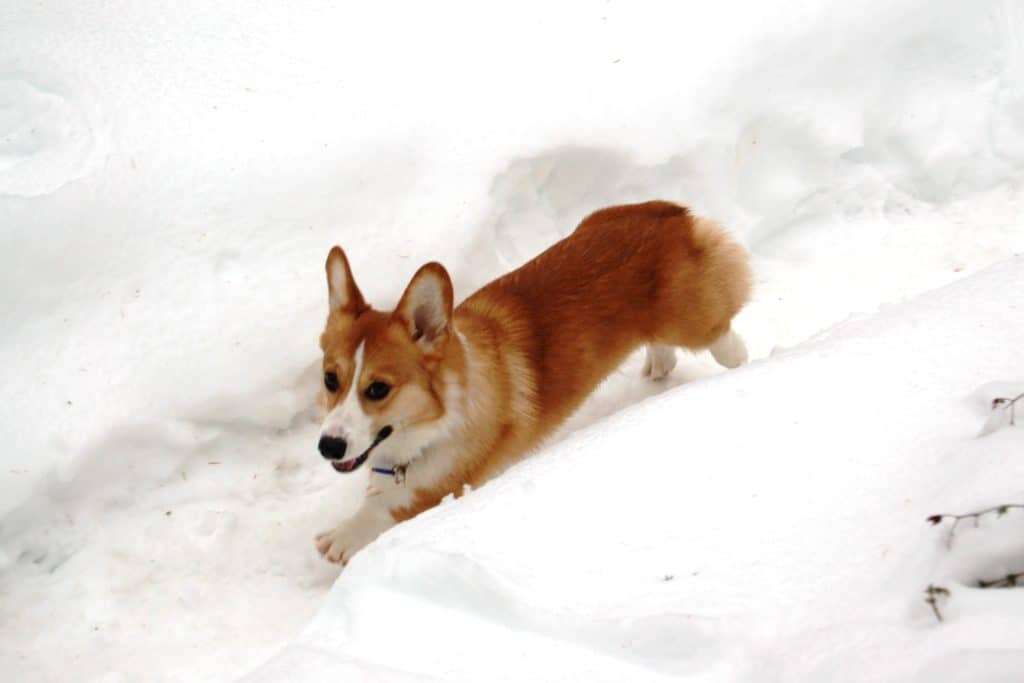 Pembroke Welsh Corgi Characteristics (AKC & Animal Planet)
Temperament: Affectionate, outgoing, and alert.
Hypoallergenic: No.
Shedding: Sheds regularly.
Grooming Frequency: Weekly brushing.
Ease of Training: Fairly easy to train/agreeable.
Energy Level: Energetic, needs moderate daily exercise (like a long walk or slow jog).
Barking Level: Moderate.
Reddit Community (so you can talk to actual Corgi parents).
Pembroke Welsh Corgi Videos
Miniature Schnauzer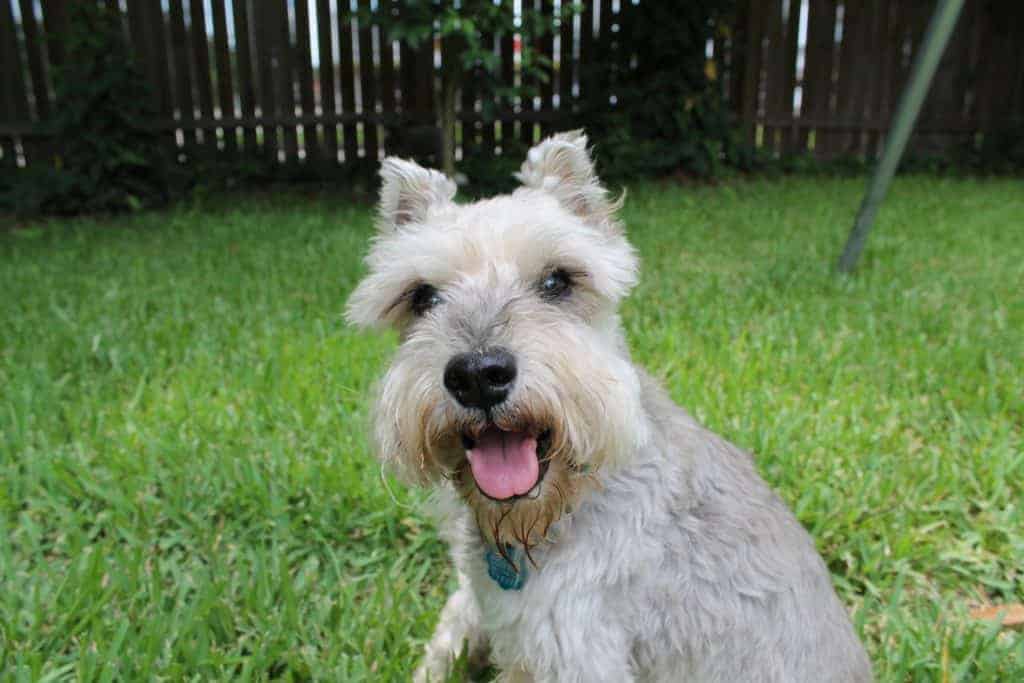 Miniature Schnauzers have excellent hearing and love to make noise. They are friendly, playful, and make great watchdogs since they are fearless and tough without behaving aggressively.
Your Miniature Schnauzer will require exercise each day to keep up her/his physical and mental health. They enjoy chasing a ball in the backyard or running and playing with their family. What's more, they were bred as hunters and still have a very strong prey drive, so it's not recommended to let them off-leash in an unfenced area.
These cute canines learn very quickly and are highly intelligent, so vary your training to keep them from getting bored. Although Miniature Schnauzers are generally healthy, they can be prone to some diseases, including pancreatitis, hyperlipidemia, cataracts, liver shunts, and urinary stones. They can typically live past the age of ten.
Your Miniature Schnauzer will have a double coat: a medium-length, wiry, thick topcoat with a soft undercoat. It requires frequent brushing, combing, and grooming. If you choose to have his/her coat trimmed by a professional groomer, it should be done every five to eight weeks to help keep your dog looking their best. They do not shed much, but require a bath about once a month.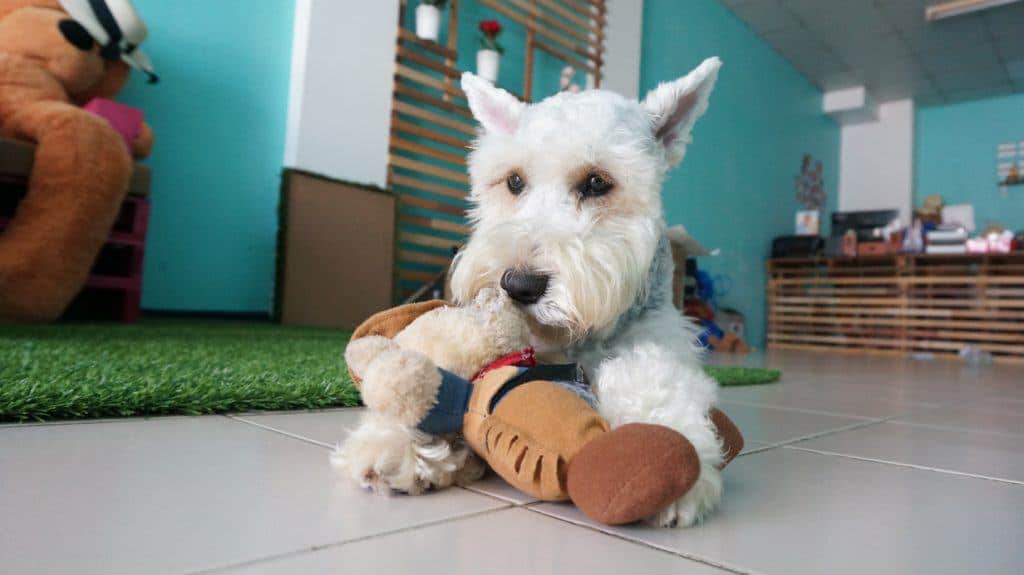 Miniature Schnauzer Characteristics (AKC & Animal Planet)
Temperament: Friendly, smart, and obedient.
Hypoallergenic: Yes.
Shedding: Very little.
Grooming Frequency: Needs professional-level grooming.
Ease of Training: Very easy, if trained skilfully.
Energy Level: Moderate.
Barking Level: Frequent.
Reddit Community (so you can talk to actual Miniature Schnauzer parents).
Miniature Schnauzer Videos
Cavalier King Charles Spaniel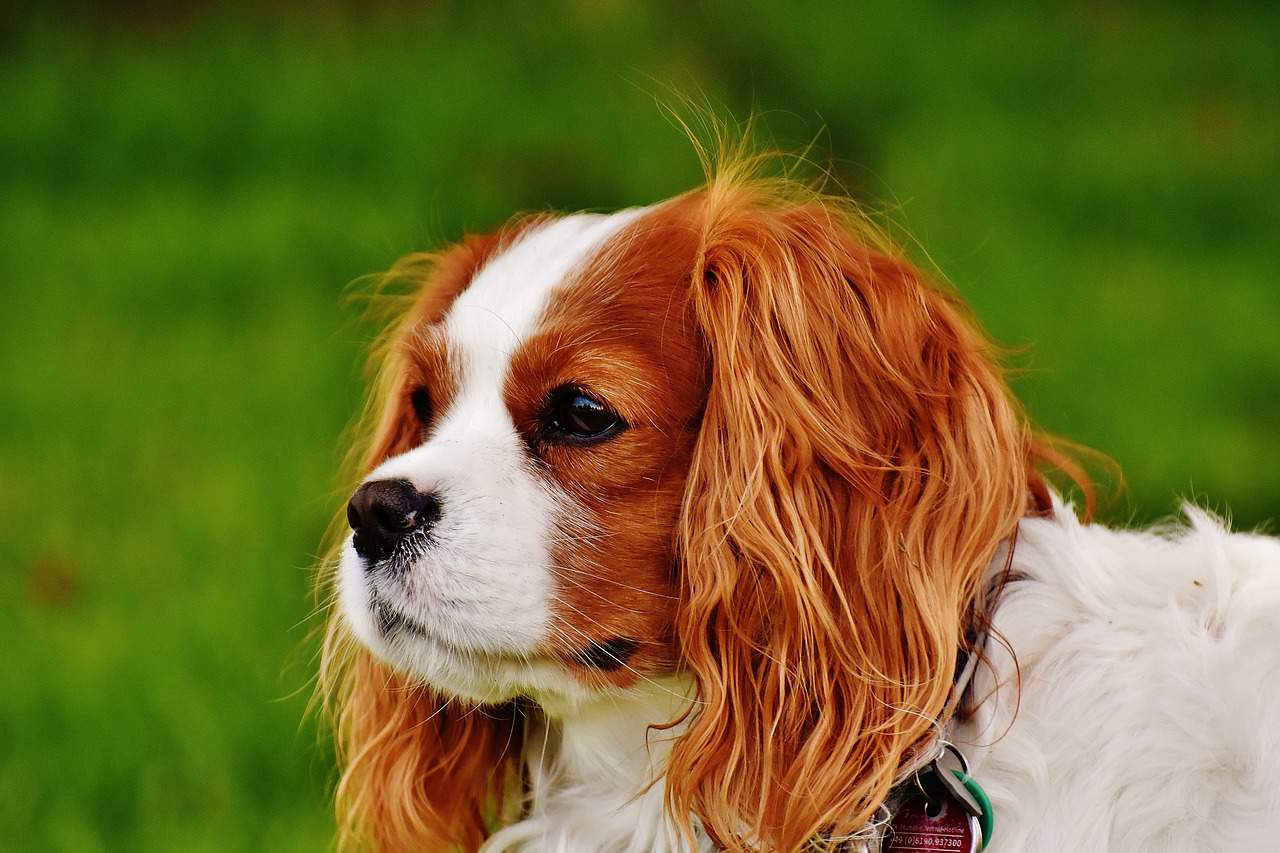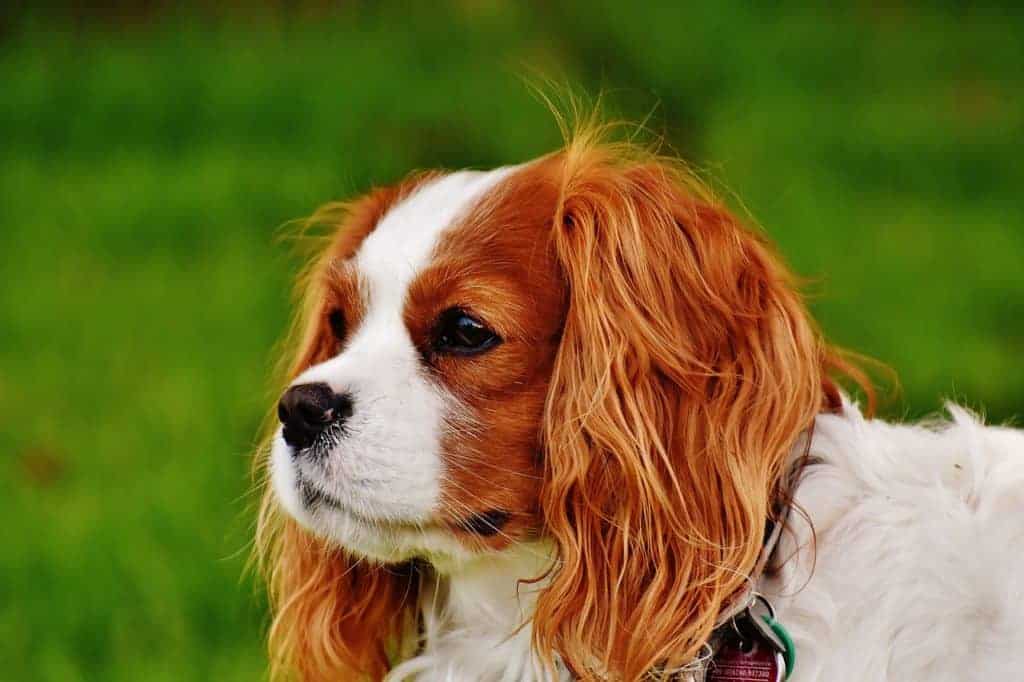 Cavalier King Charles Spaniels are very gentle, sweet, and affectionate dogs. They are very loving and great with families.
As you can tell from looking at one of these lovable companions, they have medium-length coats. Also, they're seasonal shedders and should be brushed regularly to prevent mats (especially near their ears). When bathing, make sure not to get water into their ear canals.
These little dogs were bred to be lapdogs, but still retain some of their hunting abilities. They are content to snuggle on the couch or to play outside with you. Take care letting them off leash, as they may find an interesting scent to chase. Cavalier King Charles Spaniels are smart dogs that take to training very easily; they are eager to please and super friendly.
Only feed your Cavalier King Charles Spaniels the recommended amount of their food, as this breed is prone to becoming overweight. Do not give them any table scraps and provide treats in moderation, even when training. They can live between nine to fourteen years or so.
This breed is prone to a number of health issues, including eye disease, heart disease, cancer, and orthopedic problems.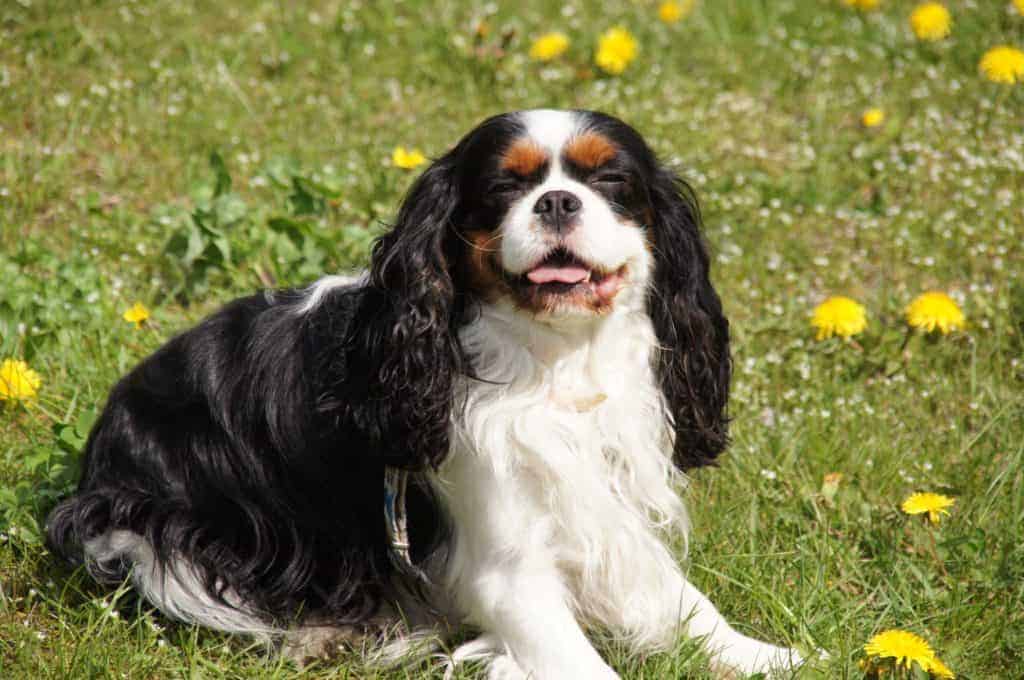 Cavalier King Charles Spaniel Characteristics (AKC & Animal Planet)
Temperament: Affectionate, gentle, and graceful.
Hypoallergenic: No.
Shedding: Occasional.
Grooming Frequency: Needs weekly brushing.
Ease of Training: Easy to train.
Energy Level: Calm.
Barking Level: Moderate.
Reddit Community (so you can talk to actual Cavalier King Charles Spaniel parents).
Cavalier King Charles Spaniel Video
Shih Tzu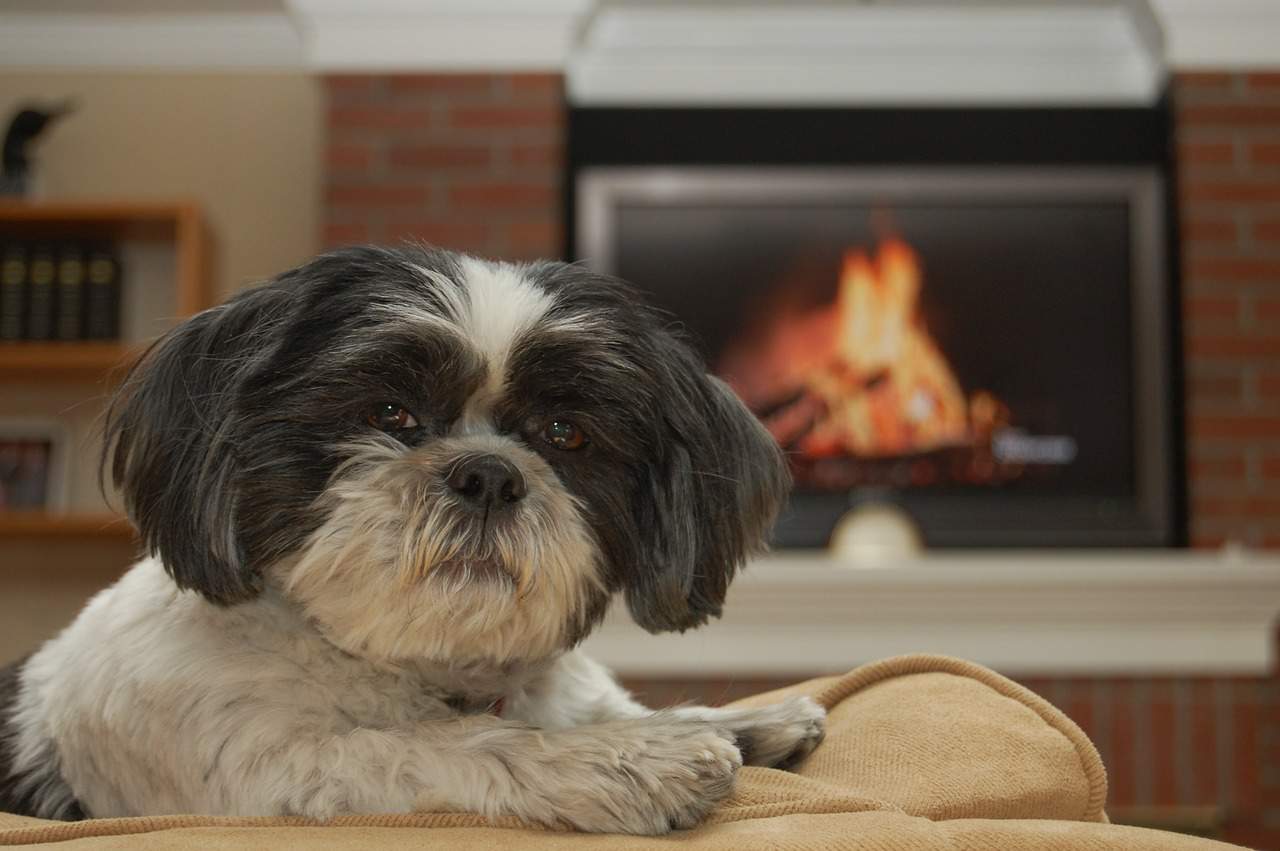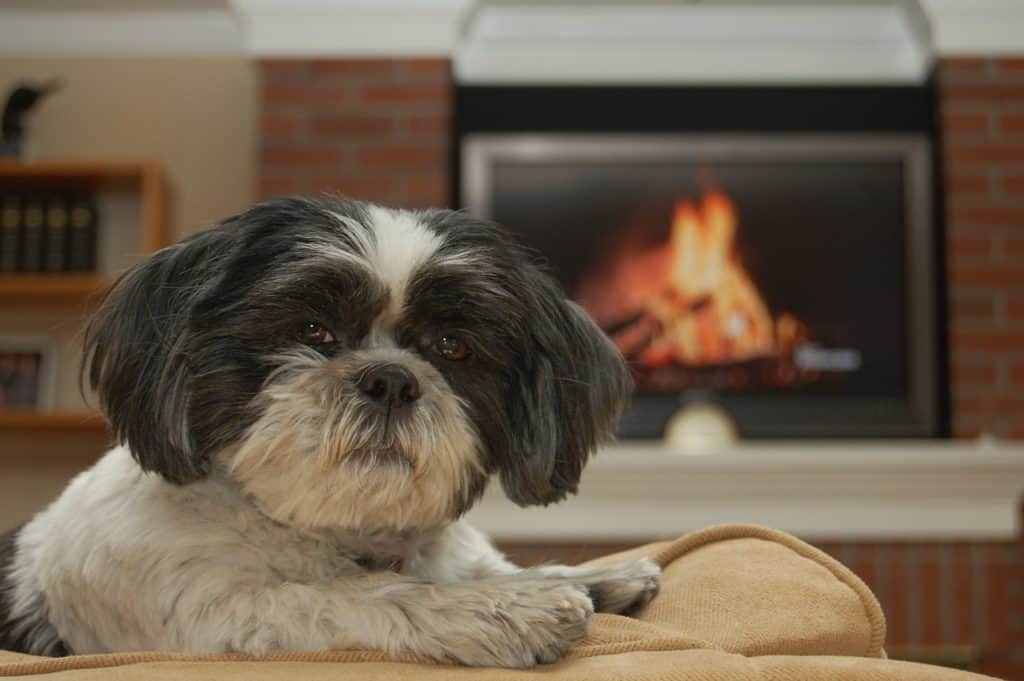 What a curious, pensive looking dog: the Shih Tzu.
This wonderful breed is friendly and affectionate, especially with children. They are more than happy to snuggle in your lap on the couch, rather than chase a ball or dig a hole in the yard. Still, your Shih Tzu will need about an hour of physical activity per day. A short daily walk and some playtime inside will be enough.
Shih Tzu can live between ten to sixteen years or so, and will grow to about 9-16 lbs. Generally, Shih Tzu are a healthy small dog breed, although they can develop kidney issues, hip dysplasia, and slipping kneecaps. Eye anomalies are also a possibility in Shih Tzu, including retinal detachment, progressive retinal atrophy, and cataracts. Their eyelids can fail to close properly, so the excessive exposure to air can lead to dryness and irritation of the cornea.
These long-haired canines should be groomed every day if you keep their coat at a long or show cut, though they don't shed much. A good wire brush with flexible pins is probably the best tool for the job. When brushing, be sure to lift the hair in layers so that you can brush close to the skin.
The hair on top of your Shih Tzu's head should be cut short or tied up in a topknot, so as to keep the dog's eyes from being irritated by the hair. A bath every three to four weeks will keep the coat clean.
Also, remember to wipe of the corners of the eyes with a cloth every day. If the coat maintenance is too much for you, you can choose a "puppy trim" from a professional groomer. Their long coats make Shih Tzu poor swimmers, and they have a low tolerance for heat.
Because Shih Tzu are so agreeable and friendly, they respond best to praise and rewards during training. New behaviors should be introduced one at a time, slowly. Don't give in when the dog misbehaves and tries to charm you into doing something else. Be firm but never be harsh.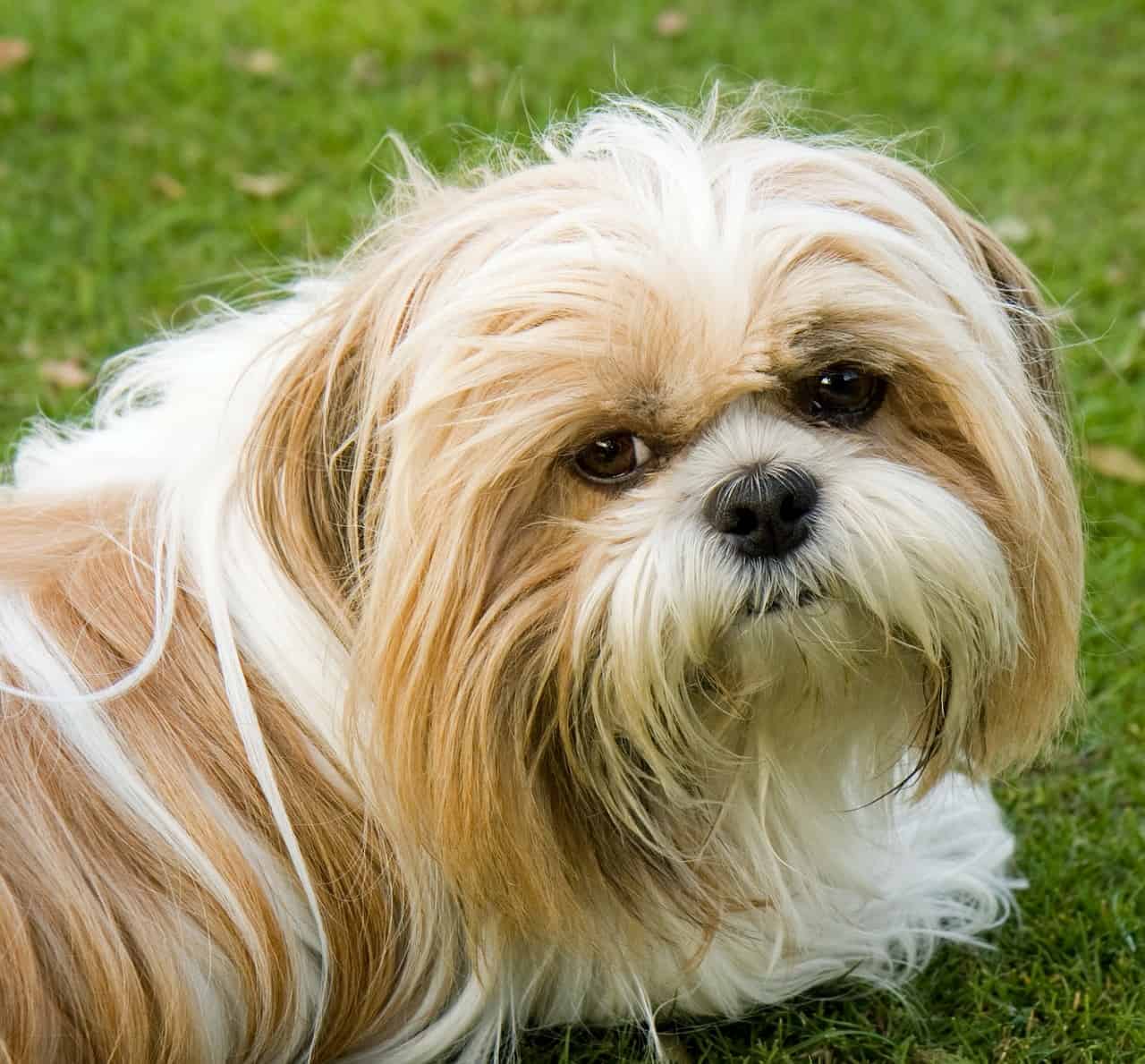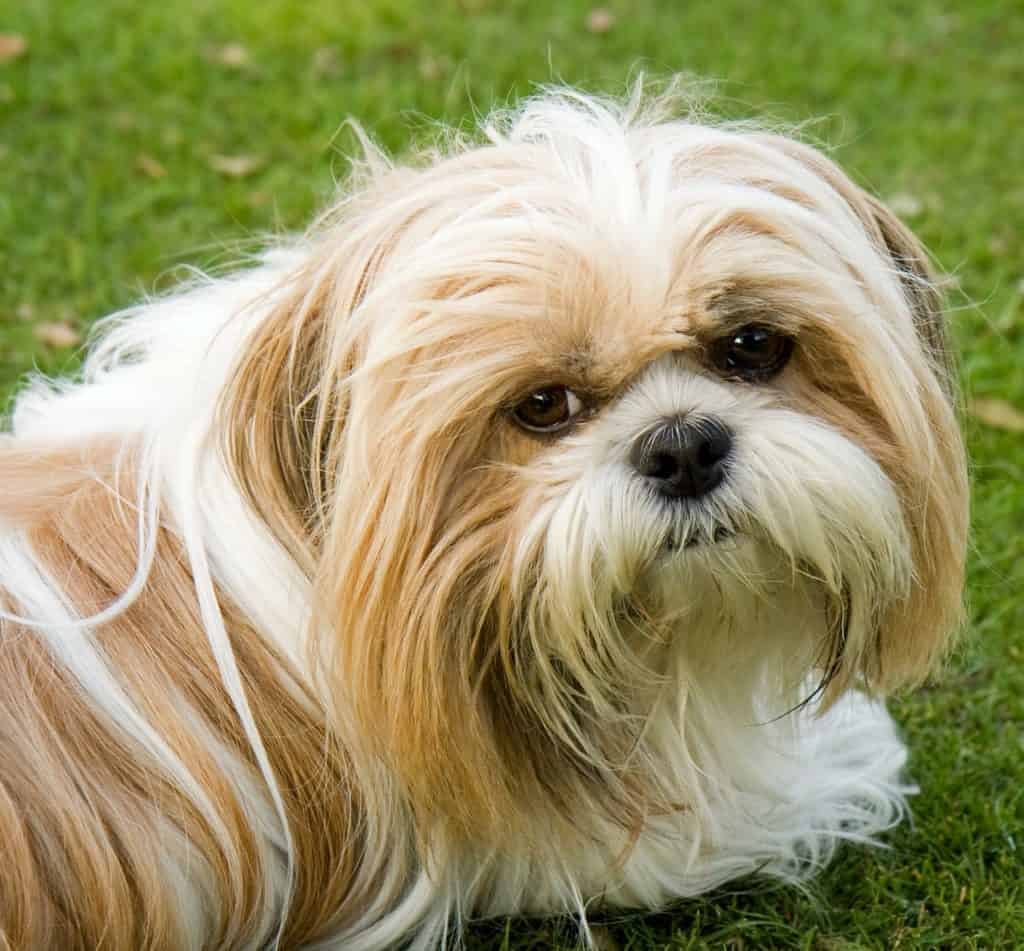 Temperament: Affectionate, playful, and outgoing.
Hypoallergenic: No.
Shedding: Infrequent.
Grooming Frequency: Needs daily brushing.
Ease of Training: Somewhat easy to train/agreeable.
Energy Level: Calm; needs minimal exercise (short daily walks and indoor playtime).
Barking Level: Moderate.
Reddit Community (so you can talk to actual Shih Tzu parents).
Shih Tzu Videos
Boston Terrier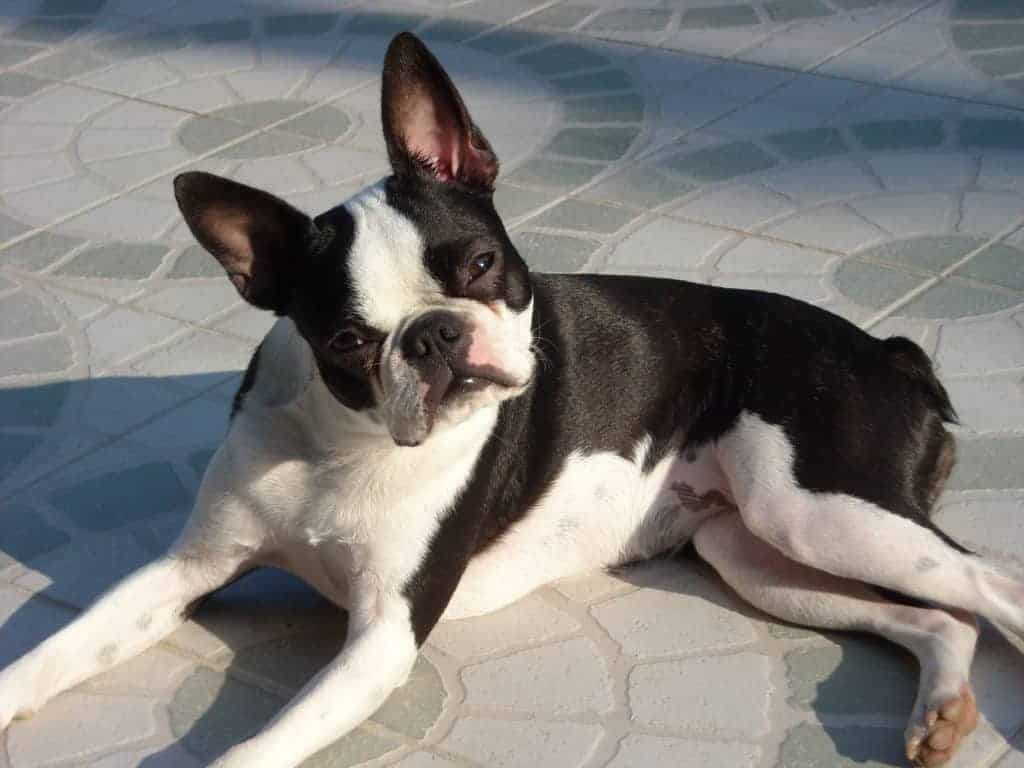 The spunky Boston Terrier is the smallest of all Bulldog breeds, weighing around 10-25 lbs. They are very friendly and rarely bark, but they do tend to grunt, snore, and pass gas. These dogs have a big personality in a small package; they are very outgoing.
(Indeed, my cousin used to have a Boston Terrier, and that little dog used to lick every house guest up and down as if they were a lollipop).
Boston Terriers are extremely eager to please, so when training it's important to cater to their sensitivity; any gentle correction should then be followed by lots of praise and affection.
Their short hair does shed, but not much. They will need to be brushed once a week to keep their fine, sleek hair healthy. Baths don't need to be too frequent unless your Boston Terrier has gotten into something.
The Boston Terrier's need for physical activity will vary from one pooch to the next, with one requiring one or two brisk walks daily, and another needing extra playtime to run around in addition to the walks.
Don't think you can get away with letting your Terrier run around in the backyard alone, either. If you play with them or throw a ball they will happily run around with you. If Boston Terriers are left alone for too long, you may notice some undesirable behaviors developing out of the dog's frustration.
Boston Terriers will typically live to between 13-15 years old. Common health issues involve their eyes, which should be checked every day for any sign of redness or irritation. In fact, you may decide to carry saline eye drops with you in case you need to flush any dust or debris out of your Terrier's eyes. Some other eye issues that Boston Terriers can develop are cataracts, glaucoma, and corneal ulcers.
Watch out for other health problems such as deafness and patellar luxation. Due to their flat faces, Boston Terriers can experience breathing problems in high heat or humidity.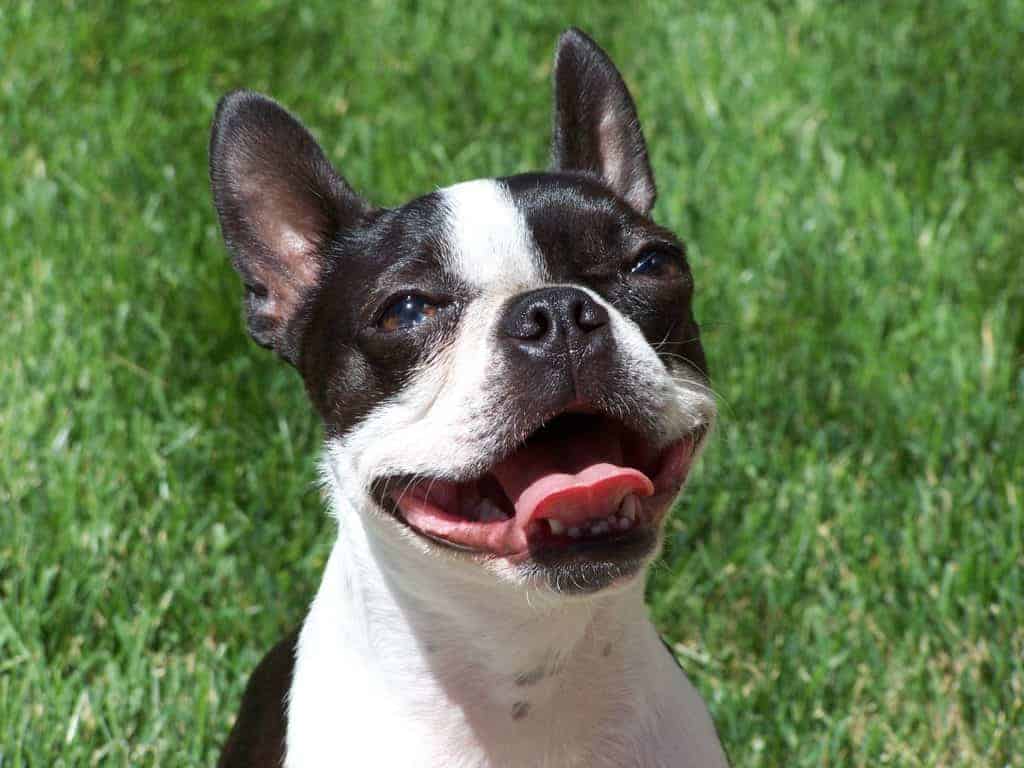 Boston Terrier Characteristics (AKC & Animal Planet)
Temperament: Friendly, bright, and amusing.
Hypoallergenic: No.
Shedding: Infrequent.
Grooming Frequency: Weekly brushing.
Ease of Training: Easy to train; eager to please.
Energy Level: Fairly energetic; some need daily walks, others need even more than that.
Barking Level: Rarely barks.
Reddit Community (so you can talk to actual Boston Terrier parents).
Boston Terrier Videos
Pomeranian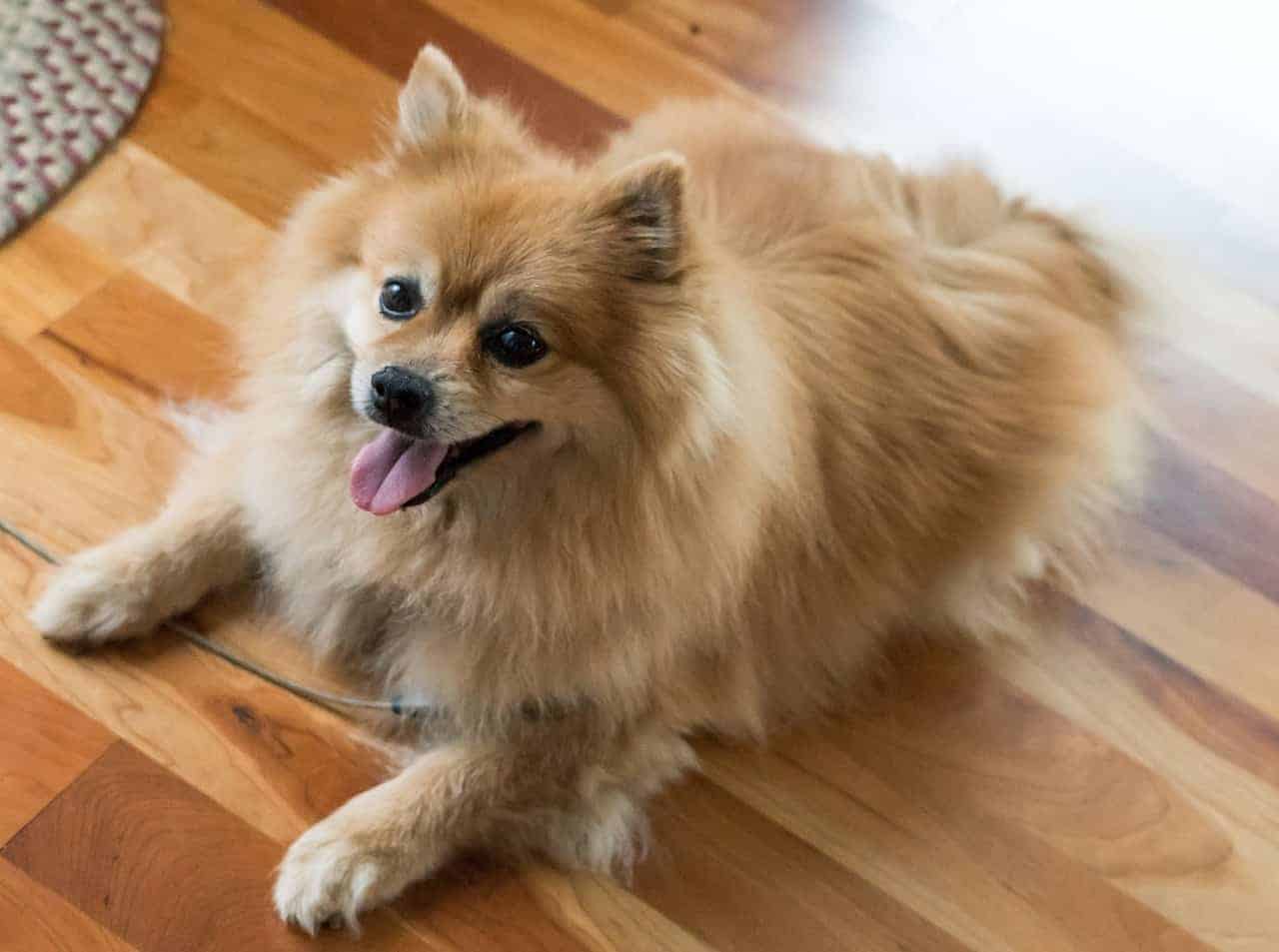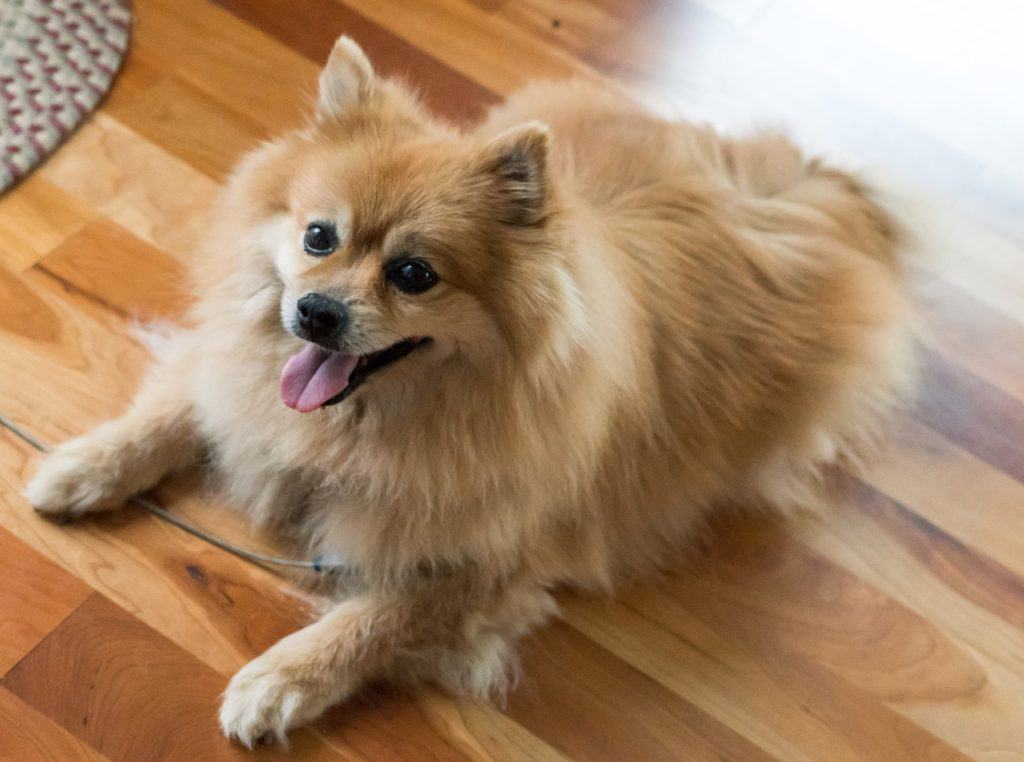 The Pomeranian is the smallest of the Spitz breeds, and they are often referred to as "Poms" for short. Poms are one of the most popular small dog breeds in the world.
Pomeranians only weigh up to about seven pounds and grow to between eight and eleven inches tall, but their double coat may make it seem like they are a bit larger. In fact, it may be their most identifying feature. Poms' double coat consists of a dense, short undercoat and a medium-length top coat.
Frequent brushing is essential in order to keep your Pomeranian looking their best. A pin brush and a slicker brush should be used once (or preferably more) per week, being sure to brush down to the skin to prevent mats. Their coat sheds as well, so regular care is essential to help control it.
Every four to six weeks, grooming should include giving your Pom a bath, a brushing, trimming their nails, brushing their teeth, and expressing their anal glands. You may choose to find a groomer to take care of this routine maintenance for you.
Poms are very intelligent and alert, and will learn new tricks and games easily. Housebreaking may be a challenge as they have small bladders, but consistency is key.
They live between 12 and 16 years and need about 30 minutes of physical activity daily. Poms like to run, play, and go for walks. Take care when your dog is outside and off leash, as predatory birds like hawks and owls can mistake your Pom for a rabbit or squirrel.
Other dogs that are off leash and uncontrolled can easily hurt Pomeranians. Not only do you have to watch out for the safety of your Pom around birds and other dogs, but you also have to keep an eye on them as they can be little Houdinis. They are small enough to fit through little gaps in fences, or can climb over short fences.
Don't allow Pomeranians to jump onto or off of furniture such as couches and beds, as they can injure themselves with the stress on their joints, or even break a bone. Poms are prone to hypothyroidism, congestive heart failure, collapsing tracheas, alopecia X, and seizures.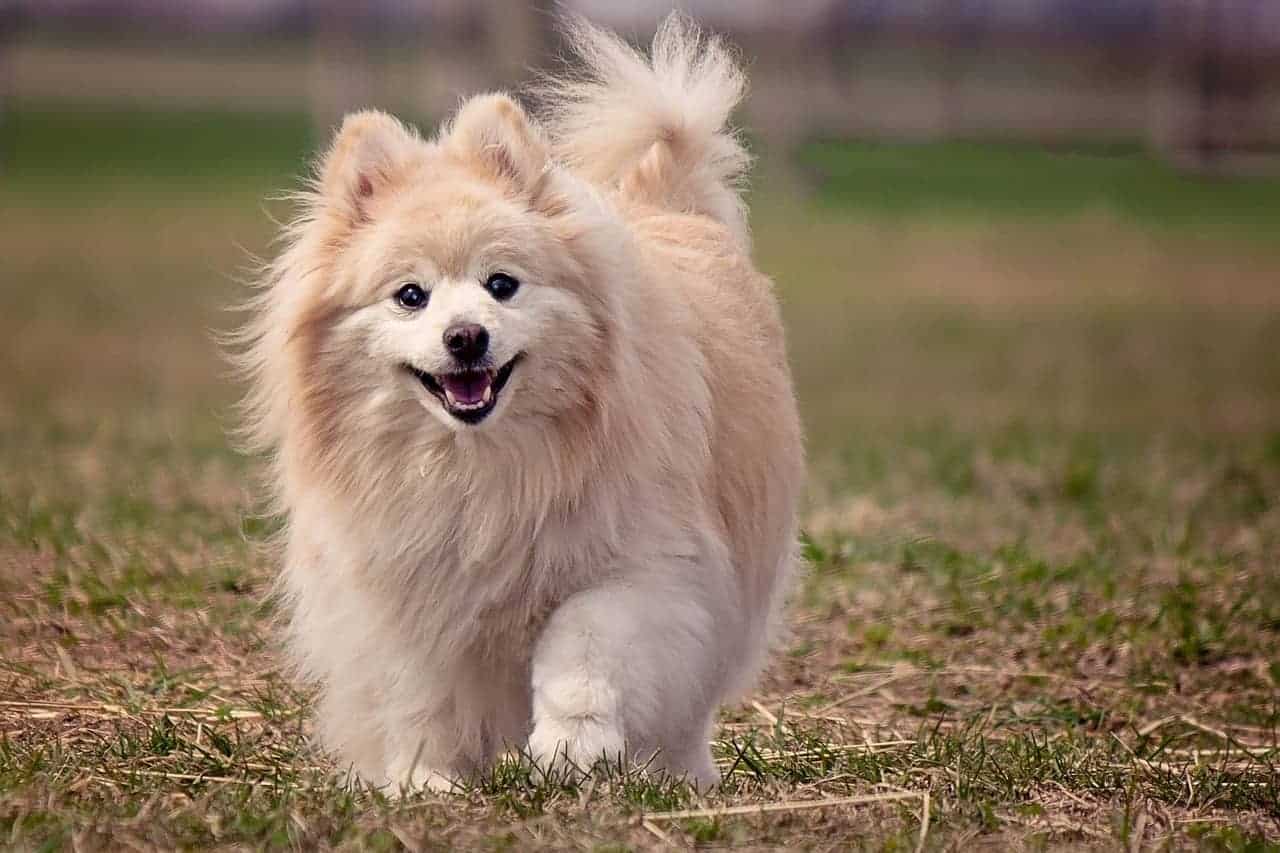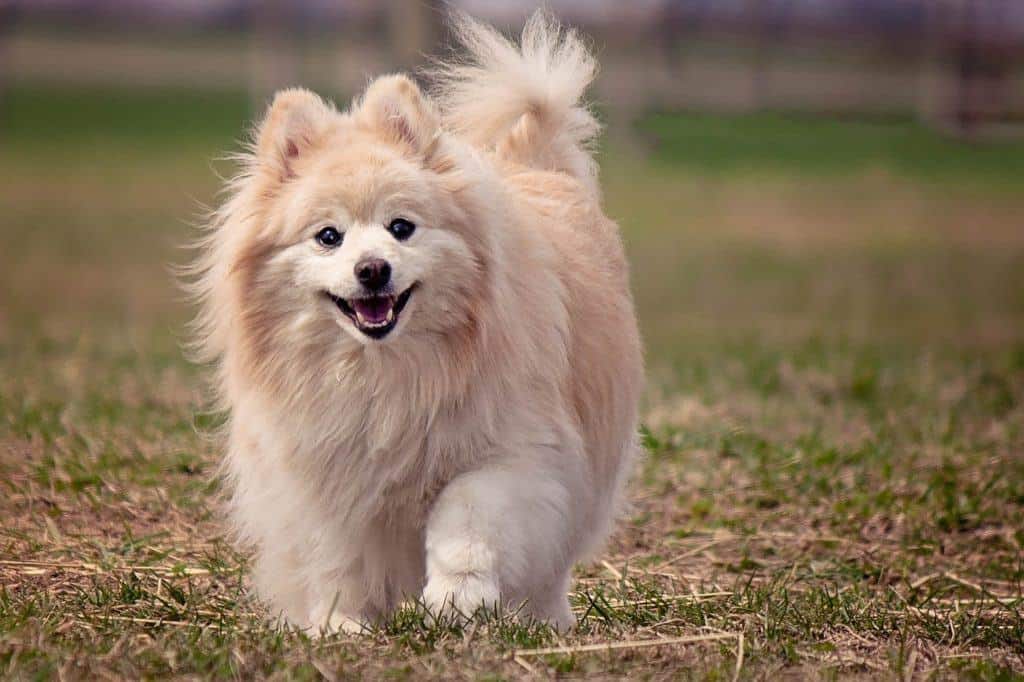 Temperament: Inquisitive, bold, and lively.
Hypoallergenic: No.
Shedding: Seasonal.
Grooming Frequency: Needs brushing 2-3 times per week.
Ease of Training: Fairly easy to train/agreeable.
Energy Level: Moderate, though they do need regular exercise.
Barking Level: Moderate.
Reddit Community (so you can talk to actual Pomeranian parents).
Pomeranian Videos
How to Choose the Best Small Dog Breed
As we've seen, even a little dog is a huge commitment, so it's important to choose your breed wisely. Therefore, I say get as informed as you can, and realistically asses your life to determine whether you can devote the daily time and resources needed to keep both yourself and your dog happy. No matter the breed, any dog will need, among other things:
Some daily exercise, play, and interaction.
Food, water, and a place to poop and pee.
Some training, even if minimal.
Grooming.
Boarding if you travel or go on vacation.
Regular veterinary care.
Toys, crate, leash or harness, and other items.
Only after you determine that you can provide all of this for the next decade or so do I recommend considering specific breeds. Start by reading the profiles here and watching the videos, and then continue to seek other information. Watch more videos, talk to dog parents online or in person, etc. Just do as much research as possible before making the big commitment.
Buy Small Dog Breeds from a Reputable Breeder or Adopt Carefully
When you decide to bring an amazing new canine into your family, I suggest that you find one that exemplifies the best of his/her breed by buying from a reputable breeder or adopting carefully. After all, it's unfair to both you and the dog to adopt a dog that doesn't work out for you, and whom you wind up returning or living unhappily with. Plus, buying from incompetent or sloppy breeders can result in dogs that have more health problems.
If you settle on buying a purebred puppy from a breeder, the AKC PuppyFinder is a good place to start. There, you can find breeders in your area with numerous AKC awards and designations, which should indicate that you're dealing with a reputable and responsible breeder. The puppy might be more expensive, but it will probably cost you less (both in terms of money and grief) over the long run.
Alternatively, you can also rescue an awesome dog in need of a loving home. If you go this route, I recommend seeking the help of someone experienced with dogs in general (and, ideally, with your preferred breed in particular), so that you can find a great match for your family. Again, what you want to avoid is choosing a pet that's not a good fit, and wind up traumatizing both yourself and the dog.
Summing Up the Small Dog Breeds
Man's best friend indeed! Unlike many humans, dogs will love you unconditionally, and can liven up most any household. But of course, in order for both you and your canine friend to have the best experience possible, you should each be a good fit for the other. Oftentimes, ascertaining this "fit" starts with selecting a breed.
If you want a pet parenthood experience that's probably on the easier side, I'd suggest a small dog, as it may mean less effort and expense in terms of things like feeding, grooming, and exercising. If that sounds like a good idea, be sure to check out these 10 popular breeds, since each has unique pros and cons. Most likely, one will be a great fit!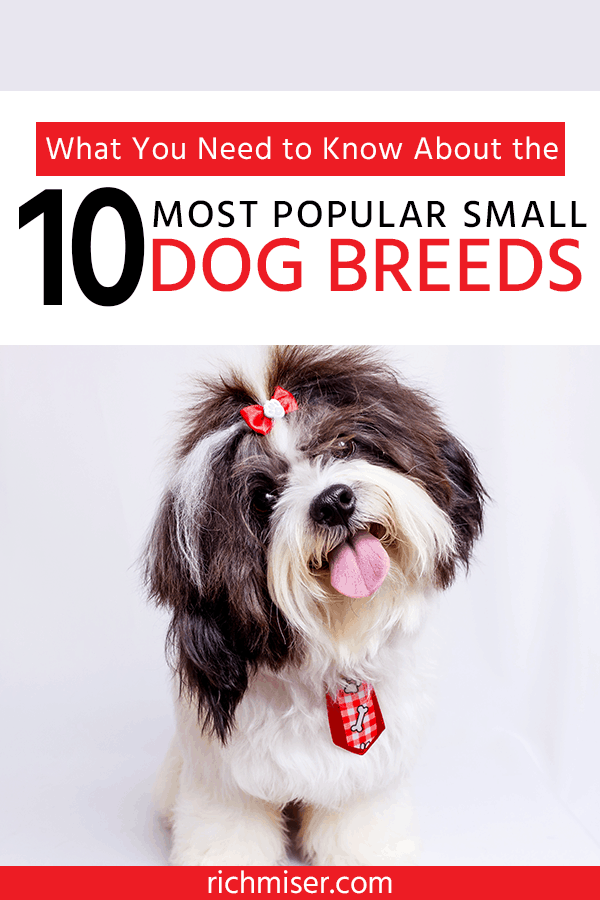 What are your favorite small dog breeds? Have you adopted a small dog?
---
Sources: