Although this is my Zocdoc review, I want to start by talking about why it's necessary software. And that's because finding a doctor oftentimes an incredible hassle (especially if you don't have a "Dr app")? You know how it goes: you start calling doctors all over town, and the pain starts: some don't answer, many don't have appointments available for months, a couple won't take your insurance, and some have even moved away!
This has happened to me even when I use my insurance company's preferred-provider directory. It's not up to date, and sometimes the phone numbers in it go straight to voicemail, or are disconnected, or there's always a busy signal.
Ugh…there's got to be a better way, right?
Well, I've found one, and it's a "Dr app" /website called Zocdoc. Let me tell you what it's all about in this Zocdoc review.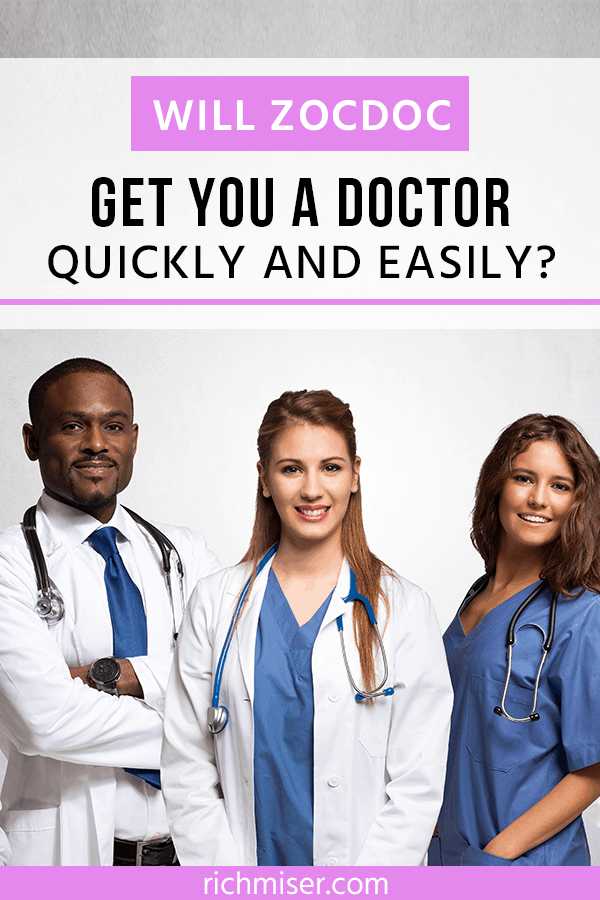 My Zocdoc Review, In A Nutshell
Zocdoc is an app and website that lets you find doctors and schedule appointments. I've used it twice and found it to work excellently. My only complaint is that not too many doctors use it in my area (Miami). I give it 4 out of 5 stars.
Read on for more details:
What is Zocdoc and What is it Used for?
Zocdoc is an app and website that lets you look for doctors in your area and make appointments with them directly. It includes doctors and dentists, both for telemedicine and in-person appointments.
You can search by specialty, illness, availability, and many other criteria.
Here's a screenshot of a sample search for cardiologists in my area (Miami):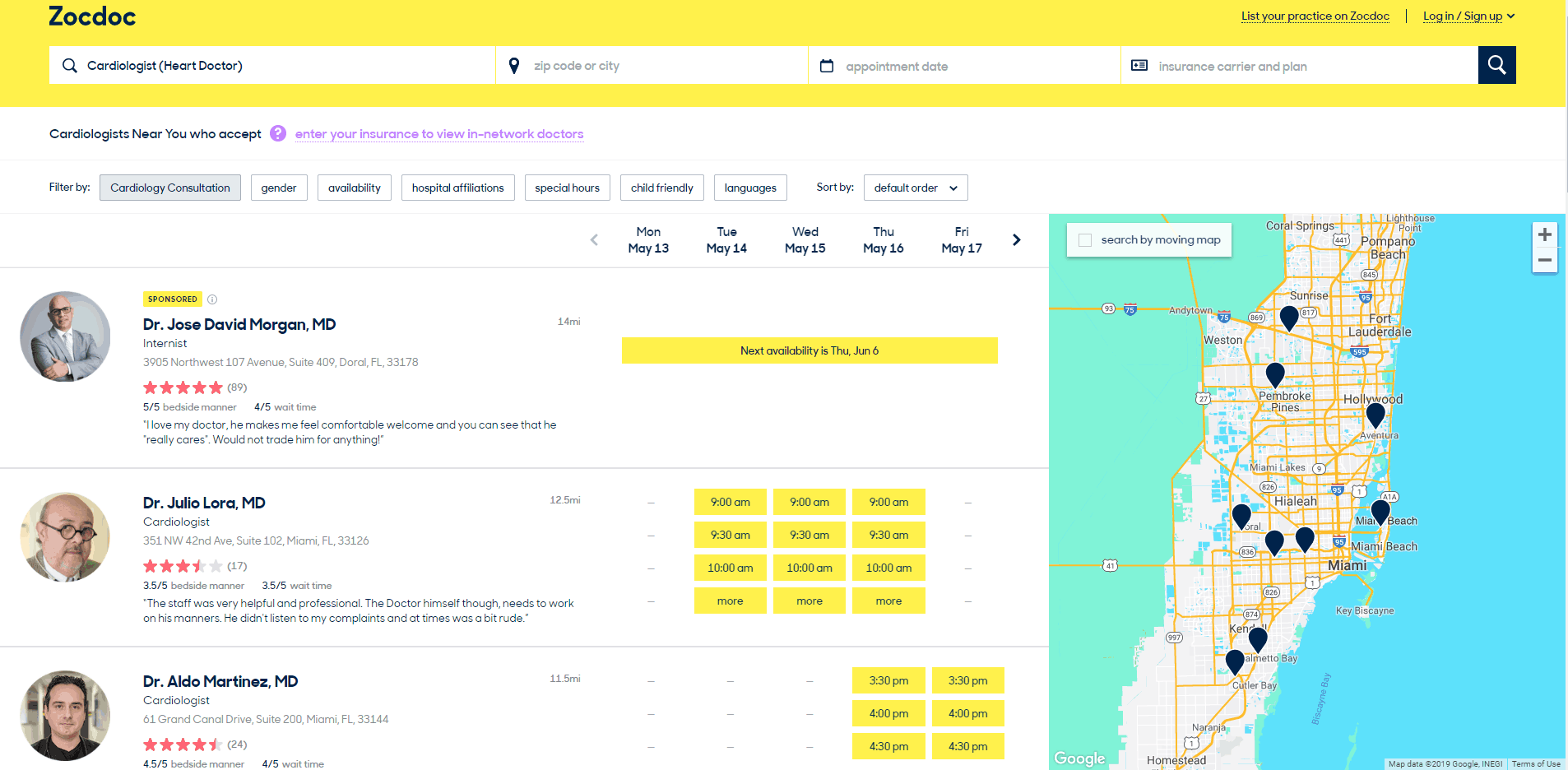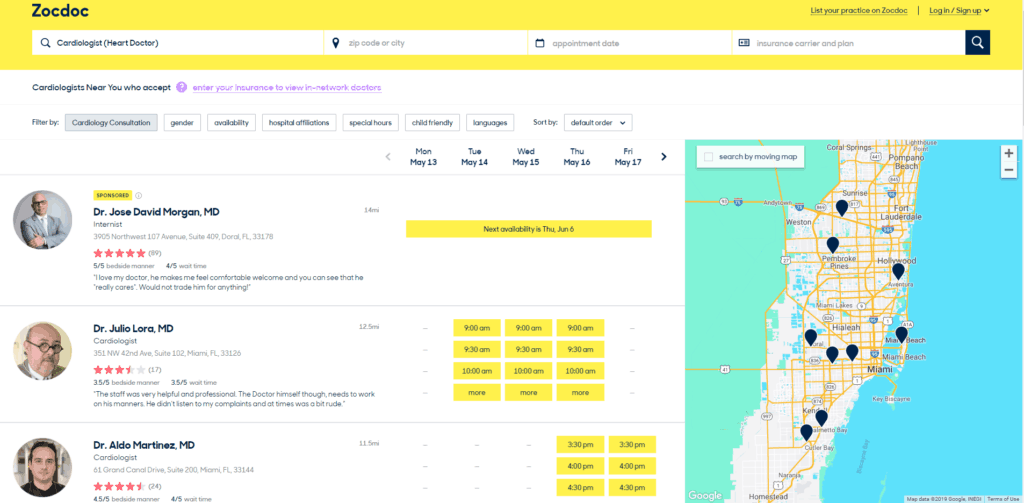 Where is it Available?
Currently, it seems like lots of US cities, including New York, Los Angeles, Chicago, Miami, Atlanta, Houston, Minneapolis, and many others.
Tell Me More About Zocdoc
Apart from being a doctor finder and scheduler, the app has a host of other features.
For example, each physician has a profile, many of which are actually quite extensive and a bit reminiscent of online dating profiles. Indeed,  you'll be able to see multiple photos of them and their office, sometimes in comical poses. Then you can peruse their bio and read about their training or history, their specialties, any hospital affiliations, and other useful tidbits.
You'll also be able to see at a glance what other people think about this provider thanks to their Yelp-like review system for the medical industry.
There are also great filtering features. The system can automatically check to see if a provider is in your insurance network, and if not, it will provide many other suitable substitutions, instantly solving what is likely one of the most frustrating aspects of finding a new doctor.
Once you've found a doctor, the app will, of course, allow you to book an appointment in just a few clicks, letting you pick your appointment time without ever calling the office. (Though I've found that the appointment is usually booked provisionally until the doctor confirms, which can take a few hours).
Also, other useful features include giving you reminders about your appointments and checkups, and allowing you to scan your insurance card to make sure your information is being entered correctly.
Here's a Zocdoc video. It's directed at doctors, but I still found it useful:

How does Zocdoc Work and How do you Use it?
Using Zocdoc is very easy for patients. You can either visit the website or download the mobile app and then begin searching for what you need help with. Its search function allows you to search in multiple ways. You can, for example, search based on:
Symptoms/conditions
Location
Appointment date
Insurance plan
Medical specialty
These specifications are part of what makes Zocdoc such an effective solution. I've found it to be extremely useful, especially if you have a very limited time frame for making the appointment, or if your insurance network is annoyingly particular about who you can see.
Once you've found a provider, all you need to do is follow the steps on the screen to book an appointment. You'll get a confirmation of your booking (though it can take a while for the doctor's office to reconfirm), and then after the visit you'll be invited to leave a review for that provider.
Here's the basic search screen:


Is Zocdoc Legitimate?
A crucial part of this Zocdoc review, right? The answer is yes.
So the service seems to do a good job of vetting medical professionals. While in the early days they apparently did have some problems with missed appointments, they quickly remedied this by teaching their in-network doctors how to properly use the software.
The level of transparency involved with the Zocdoc application makes it very easy to see what to expect from every provider and how you'll be treated once you visit the office.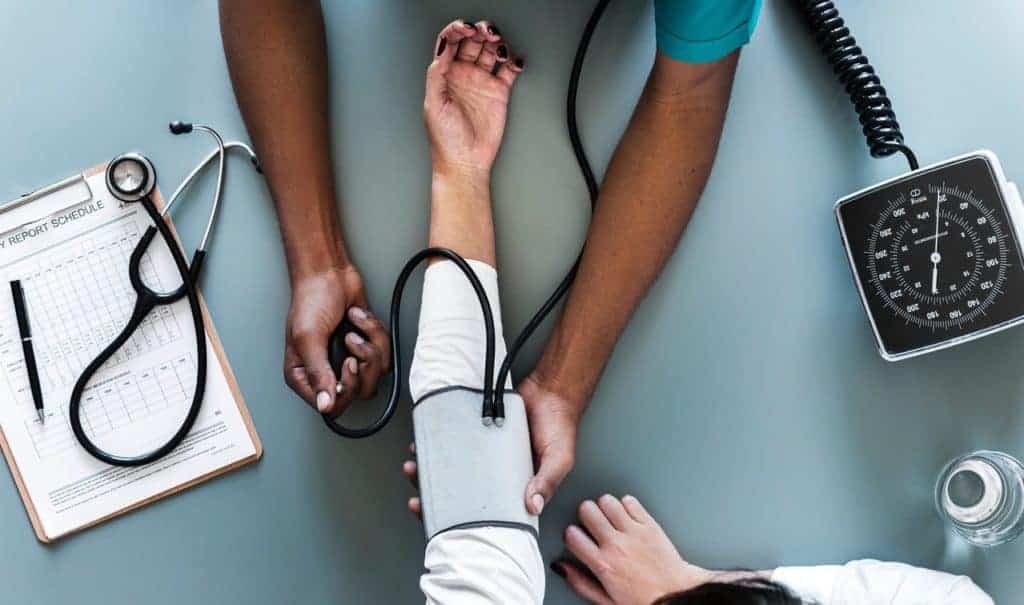 Can I Cancel or Reschedule Appointments with Zocdoc?
Yep. You can cancel or reschedule appointments if you need to. There's no fee for this, but do it too often, and you could get your account locked.
You should also keep in mind that while Zocdoc doesn't charge you for canceling or rescheduling, some doctors may do this independently.
Is Zocdoc Free for Patients?
So, how much can you expect to pay for a service like this? The answer is zero dollars. Zocdoc is 100% free for patients, but for many, that may actually be a head-scratcher.
While free tools are always nice, you may be wondering exactly how Zocdoc makes money if they don't charge patients anything to use it. They obviously are earning revenue somewhere, but where?
How Does it Make Money?
Zocdoc does charge a fee, actually. It just doesn't charge one to you. Instead, they charge the medical providers who want to be included in their database. For lots of doctors, this fee is a no-brainer, because it's estimated that 1 in 5 new patient-doctor relationships are established on Zocdoc in New York alone.
Essentially, it's a more advanced form of the business directory, which is nothing new, but their service does offer some exceptional features, like the built-in appointment scheduler. That makes it a pretty good deal for small practices that are hurting for more customers but don't want to turn to more expensive forms of advertising.
The software also prioritizes doctors who have open appointment slots. This allows providers to fill appointment times which would have otherwise remained empty.
How Does It Handle my Private Information?
Another indispensable part of any Zocdoc review.
You should be aware that Zocdoc does collect information on you; however, this is all handled in accordance with HIPPA regulations and is probably safe. Zocdoc's app will ask you for general information like your name, date of birth, insurance information (you can take a picture of your insurance card), etc.
It shares this information with your doctor, but does not sell it to third parties.
They do however also collect what they call "non-identifying" information. They use this mostly for their own purposes, like seeing which emails connect best with users or how Zocdoc patients prefer to get their notifications.
However, they also analyze and aggregate data for projects that study disease patterns and contribute to public health initiatives. It's unclear what exactly will be collected here, but your information is not sold, and it cannot be used to identify you in any way.
Zocdoc uses strong encryption procedures and also undergoes third-party audits to verify that proper data protection procedures are being followed at all times.
What Information does It Collect?
Personal Information
Zocdoc collects basic personal information which it sends to your doctor such as name, date of birth, etc. You also have the option of providing additional medical data to save yourself time on paperwork, but it's not required.
Device and Usage Information
Zocdoc collects information about how you use the app and the devices through which you access it. This is used to improve the app's user experience and for in-app behaviorally-targeted advertising, but it is not given to third parties.
Medical Data Collection
Zocdoc may also collect information on which specialists you see and what they call "de-identified data", or data which is not individually identifiable. Some of that data may be used in projects which study disease patterns or contribute to public health initiatives.
Who Created It?
Cyrus Massoumi and some partners started Zocdoc in 2007 after his eardrum ruptured on a flight. Unfortunately, Massoumi couldn't manage to see a doctor for four grueling days of agony and intense ringing.
While for most people, it would be hard to find a silver lining to a situation like this, Massoumi did. He saw an opportunity to create a product which would solve this problem for himself and for many other people.
So, he quit his job and partnered up with fellow McKinsey employee Oliver Karraz, a neurologist, and Nick Ganju, a tech expert who would help make the app a reality.
They worked day and night at Ganju's apartment, struggling to create a functional website that would eventually become Zocdoc. Karraz taught himself to code, and he and Ganju tag-teamed the website's two facets: the doctor and patient portals.
However, Massoumi had possibly the most important task because he was in charge of going door-to-door and trying to get doctors to actually use their software on the streets of New York.
It worked, and now over 6 million people use the app every month to book appointments with medical professionals.
My Zocdoc Review, Based on My Own Personal Experience
So far, I've used the app three times, to book appointments with three specialists.
Each time it worked great. I was able to find physicians with the specialties that I needed, and book right from the app. The doctor's appointments were quickly confirmed and then honored when I got to the office.
One of the doctor's assistants told me not to use Zocdoc after the first appointment, which I found odd. But whatever – I guess it's easier for them when I book direct, or they were being charged per appointment. That would be an issue if it was one of those offices where they don't pick up the phone, but I didn't have that problem with that doctor.
Overall, it did what it promised: I was able to find a specialist and book an appointment within minutes.
In fact, let's do another test. Let's see if I can find an endocrinologist in New York City within the next few days (it's Tuesday, May 14 as I'm writing this):
Bingo! There's eight that could see me between tomorrow and this Friday. Much better than calling around!
Does it Guarantee You'll Have A Good Experience?
Not really; all it does it help you make a quick appointment, with doctors that have good reviews. What happens at the doctor's office, however, is out of Zocdoc's control.
Tips for Getting the Most Out of Zocdoc
Make sure the doctor's appointment is confirmed before showing up at the office.
If the doctor has multiple offices, double-check that your appointment is at the right one.
Enter the most information possible to reduce paperwork.
Double-confirm that your insurance company works with the doctor, even if the app says it does. Make sure that the physician is a "preferred" provider that will not result in unexpected bills.
Use the "well guide" feature to see if you're due for a physical or other procedure you might have overlooked.
Feel free to do further research outside of Zocdoc.
My Zocdoc Review Rating
I give Zocdoc 4 out of 5 stars. While I love the app, I find the doctor selection to be too limited, at least in my area (Miami).
For example, when I search for a neurologist, I only get 15 results, and some are not in Miami. (They're in nearby Broward and Palm Beach counties, which can be well over an hour away). Also, for some reason, they slipped a family physician in the search results, who is obviously not a neurologist.
Still, these are minor quibbles, since there are neurologists near me that could see me soon. If Zocdoc recruited more doctors, I would not hesitate to give it five stars.
What I'd Like to See in the Future
I think this app has a lot going for it, but could benefit from additional features in the future. One would be the ability to make a profile with your medical history within a standardized form that doctors agreed to use. That way, paperwork at the office would be minimized or eliminated. (Both times I've used the app, I've been required to fill out extensive paperwork at each doctor's office).
Another good idea would be to let you pay your co-pays and deductibles within the app, and have some sort of reward system or loyalty program.
Summing Up My Zocdoc Review
I've used this app thrice in Miami, and so far love it. It's worked flawlessly, and beats spending hours calling offices all over town for doctor's appointments, only to find out that there are no slots available for months. It's genuinely made my life better.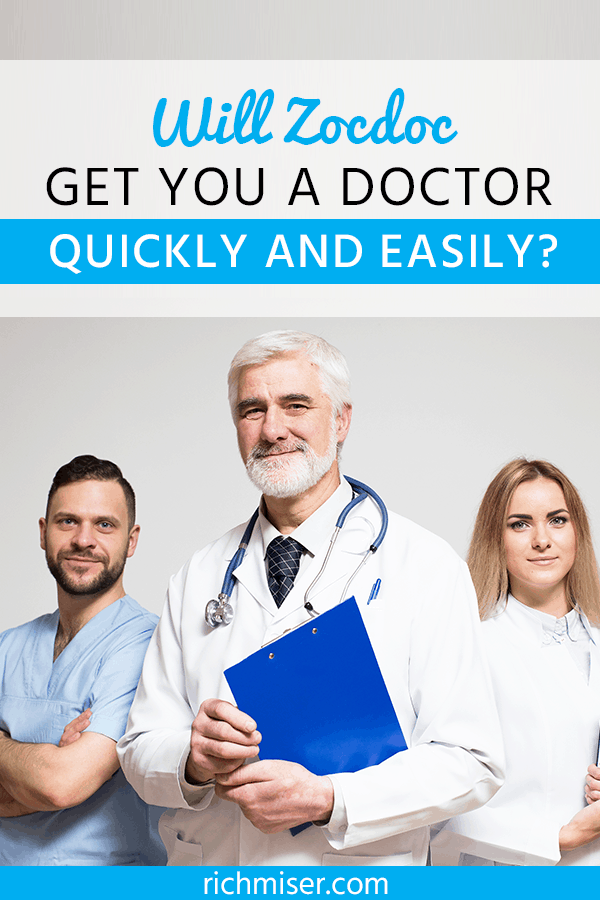 Would you try Zocdoc to book a doctor appointment? How would you review Zocdoc?