You know what they say: you are what you eat. But how do you know what to eat? It seems like even the experts' opinions are evolving and changing all the time. In fact, the USDA has, since 1916, published at least eight food guides, culminating in something called MyPlate today.
So what to do? Honestly, I don't know, since I'm not a doctor or nutritionist. I'd still think that following current medical advice is the best path; after all, these people study this every day.
That said, I've come across my fair share of unique, unusual, extreme, and downright crazy-sounding diet plans in my readings and conversations. So much, that I thought it'd be fun to take a little tour of extreme diets (and that's what this post is meant to be – fun, lighthearted reading, not medical advice). Here goes!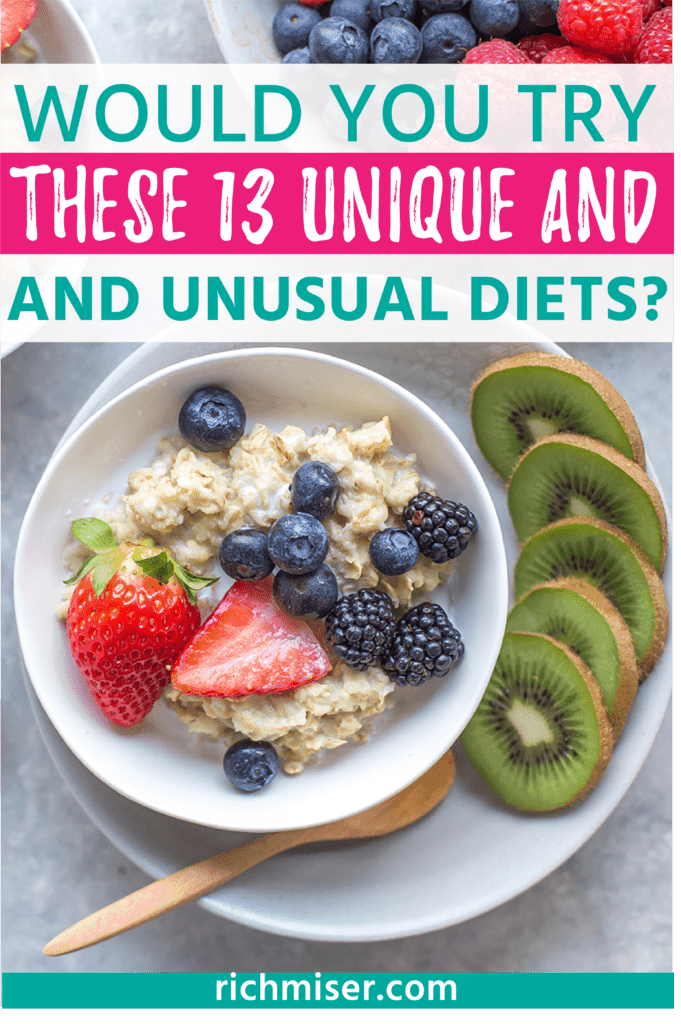 13 Unique and Unusual Diet Plans You Might Want to Try (Or Not!)
The Raw Meat Diet
Ok, I started with what might be the most extreme. Yup, you read that right. Raw meat and absolutely nothing else!
Unbelievably enough, there are people that follow this diet, as VICE reported here (NSFW). The dude featured in that article eats things like pieces of raw lamb flesh and fat for dinner, and says he feels great. Apparently, one theory behind this extreme diet plan is something along the lines of reconnecting with our "animal nature". As in, if lions eat raw meat all the time and are healthy doing it, then maybe we should, too.
Um, no. Until the day that there's a scientific consensus saying that this is actually good for you, I'm staying far away from an all-raw-meat diet.
The Vegan Diet
Veganism is basically the polar opposite of the raw meat diet. Under a vegan diet plan, you eat zero animal products; not even milk or cheese, or honey! Oh, my!
There's a problem, however. Although diets consisting mainly of plant-based foods seem to be good for you, it is a fact that a 100%, no-exceptions vegan diet is not. The simple reason for this is that a total vegan diet will result in a vitamin B12 deficiency. As even the Vegan Society admits, "B12 is the only vitamin that is not recognised as being reliably supplied from a varied wholefood, plant-based diet with plenty of fruit and vegetables, together with exposure to sun".
A vitamin B12 deficiency is no joke, since WebMD reports that symptoms can include vision loss, nerve problems, mental problems, and heart palpitations. My take? If we were meant to be vegan, the diet would not be impossible to follow without taking B12 supplements.
The Soylent Diet
So Soylent is a brand of meal-replacement drink. As The New York Times reported some time ago, some hard-core tech workers in Silicon Valley believe that eating is a waste of time that draws them away from their work. Therefore, they might replace several meals a day with these drinks.
As with most extremes, problems tend to turn up eventually. It turns out that Soylent has had to reformulate some of its products after customers reported gastrointestinal issues.
My take? It's OK to have an artificial meal-replacement drink every once in a while, but long-term reliance is a risk I'm not willing to take. Plus, I enjoy food too much!
The Ketosis Diet
These have gone pretty mainstream, probably starting with the Atkins Diet. I'm referring to any carbohydrate-deprived diet that puts your body in what is called ketosis, because your body makes ketones in order to use fat (rather than carbs) for energy.
As WebMD describes it, "[k]etosis is a normal metabolic process, something your body does to keep working. When it doesn't have enough carbohydrates from food for your cells to burn for energy, it burns fat instead. As part of this process, it makes ketones". Ketones are composed of acid, and your muscles and other tissues can use them for fuel (WebMD).
Hmmm. While ketosis-based diets do, apparently, lead to weight loss, they still make me a little nervous. After all, your body has to do something out of the ordinary (make ketones) to cope and sustain your life. Even though I love a great steak, I'll be careful to avoid taking this one too far:

The Pescatarian Diet
A pescatarian is basically a vegan that also eats fish. In other words, the diet is comprised of plant-based foods, plus fish.
It seems like a pescatarian diet is actually quite healthy, in that it avoids the drawbacks and difficulties of strict veganism, but also steers clear of the health problems that eating too much land-animal meat can cause. It can also be rich in nutrients that are very good for you, such as omega-3 fatty acids.
However, it still has risks, such as the over-consumption of mercury and other toxins that can be found in some seafood. So, if you do it right, it looks like it can be a great, sustainable diet, but that's the key: you have to be careful and do it right, lest you wind up getting too much mercury.
The Microwave Diet
I'd like to take credit for this diet plan, though I probably don't deserve it. It's the most reliable way that I've personally found to lose weight.
What I do is try to have Lean Cuisine-type microwave meals for lunch every day, and eat lighter-than-usual for other meals. Together with exercise, it works for me in that I gradually lose weight without too much suffering, plus it's super convenient and crazy cheap, especially when I buy the meals on sale! Plus, it's professor-approved:

All kidding aside, I'm not sure if this is healthy, so I like to limit this diet to no more than a month or two at a time.
The App Diet
So this is the diet you do by using a food-logging app such as Lose It! or Fat Secret. Basically, you sign in to the app every time you eat something, and log the food in. It tallies your calories, fat, and other nutrients, so you know when you've met your daily allowance.
I used Fat Secret for a few days, and honestly couldn't stick with it because I eat a lot of homemade and ethnic food. For example, I went to a Mediterranean restaurant and had some hummus and falafel. That's an absolute pain to log, because you have to figure out the amount and whatnot; it's much easier when you go to a chain restaurant like Olive Garden or whatever, because it usually has the menu pre-programmed in the app.
So you can definitely give the App Diet a try, but might find it had to stick with if it's too much work to be whipping out your cell phone every time you have a bite.
The Subway Diet
Inspired by those old Subway ads where someone ate Subway sandwiches for months on end, this diet consists of eating "healthy" fast food from places like Subway and Panera. Since they have menu options that are quite low-calorie, you could probably lose weight if you were very consistent with it, and did not "cheat" too much when you didn't eat at the sandwich place.
I think this one might work if you frequently find yourself very close to one of these restaurants, and are willing to eat there alone most every day (or have a diet buddy who commits to doing it with you).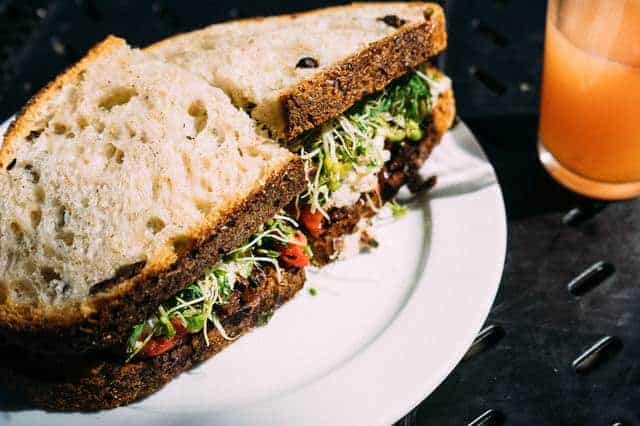 The Bread and Chicken Diet
I used this one successfully to lose a lot of weight during law school. The idea is to eat super lean, basic protein (chicken) and carbohydrates (bread) for most meals. Don't dress it up with sauces or anything else, to stay as close as possible to pure protein and carbs. You don't have to limit yourself to bread and chicken – you can also have plain fish and pasta, for example, so long as you mainly eat plain protein and carbs.
The main problem with the bread and chicken diet is that the food tastes terrible, since it's so plain. Because of this, it's really a temporary diet that you can go on for a few weeks or months to meet your weight loss goals. You can't keep it up indefinitely, though, unless you've got extraordinary discipline or are a masochist.
The Measuring Cup and Scale Diet
I know a lot of competitive bodybuilders follow this one when they're preparing for competition. Somewhat similar to the App Diet, it requires that you precisely measure and weigh everything you're going to eat, so you know the exact amount of nutrients that you're taking in. Like this famous bodybuilder probably did:

This is really a niche diet plan and extremely difficult to follow, since you have to measure and weigh everything. It's also basically impossible to do if you eat at restaurants, unless maybe you go to places where there's posted data on the exact nutritional content of each dish. Count me out!
The Fat Counting Diet
This was probably the first one I ever did; my mom had a book that advised that, instead of counting calories, you count grams of fat (kind of as a proxy for calories). I believe that the recommendation was that, to lose weight, women eat no more than 40 grams of fat a day, and men no more than 60.
I think this diet works if you really stick to those numbers, and is far easier to follow than a calorie-counting diet, because it's easier to keep track of fat grams. I'll add them up in my head since the amounts are small (20 here, 15 there), as opposed to calories, where you're tracking much bigger numbers. The main drawback would probably be that you can kind of do an end-run around it if you drink a lot of beer, since it contains little or no fat but lots of calories.
The Fake Diet
This diet plan is all about trickery. The goal is to trick your body by feeding it stuff that has flavor, but little or no calories. Think diet soda, iceberg lettuce, sugar-free Jello-O, and black coffee.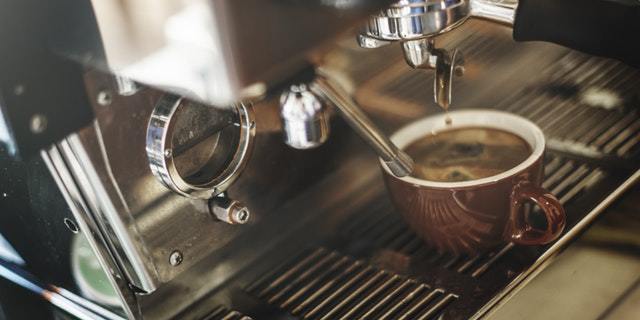 The Fake Diet might work if what you crave is flavor, rather than nutrients. If not, you'll still be hungry (if not wired like some maniac) after consuming all of that coffee and Diet Coke. And of course, you can starve yourself if you take it too far.
The Punishment Diet
This is kind of a meta diet plan. What you do is choose any other diet, and punish yourself each time you cheat. For example, you think of someone you can't stand, and you commit to paying them $20 every time you break your diet.
For this to work, you obviously have to hate the punishment more than you like cheating on your diet. It also helps to tell other people about it, so they can hold you accountable. Kind of like the old "Swear Jar", but for your eating!
Summing It Up
My take from reading about these diets (and trying some of them) is that one should be wary of extremes, which are rarely a good thing in life. While they have their adherents, most seem to take things a bit too far for my taste. If you've done any, let me know how it went!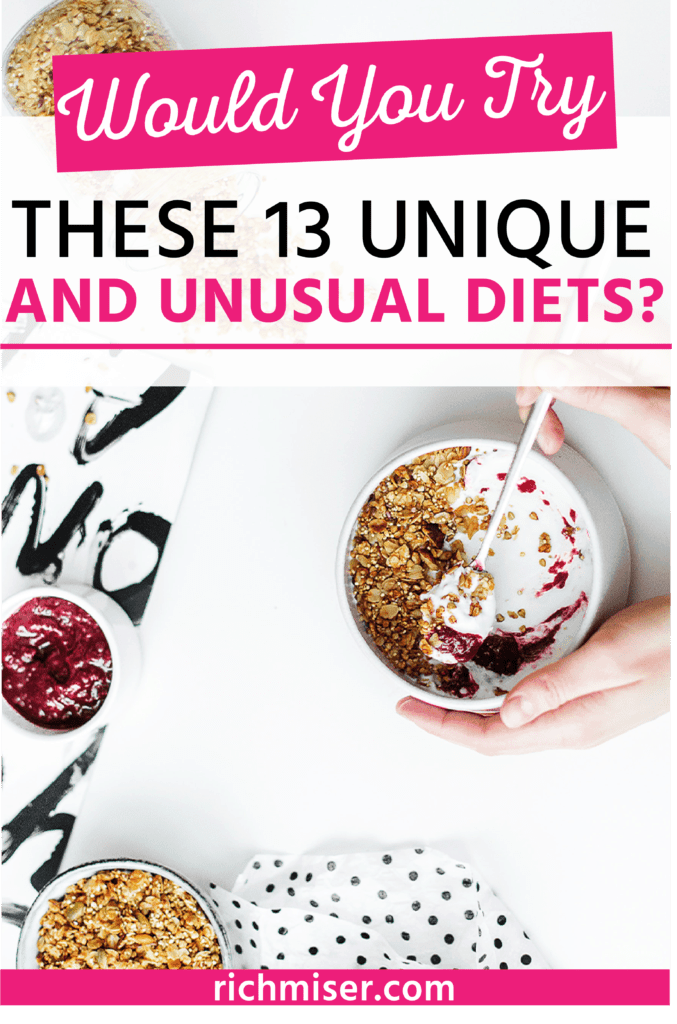 Would you try any of these diet plans? What has worked for you?