Buon giorno, la vita e' bella – good morning, life is beautiful! Italy is one of those dream destinations, right? The food, the beauty, the history, oh my! To start planning an amazing Italian adventure, it's good to prepare a bit, beginning with learning some interesting and fun facts about Italy and Italian culture.
So, here's an article full of them, plus pictures and videos to whet your appetite even more. Let's go!
These Interesting and Fun Facts About Italy Will Make You Want to Be There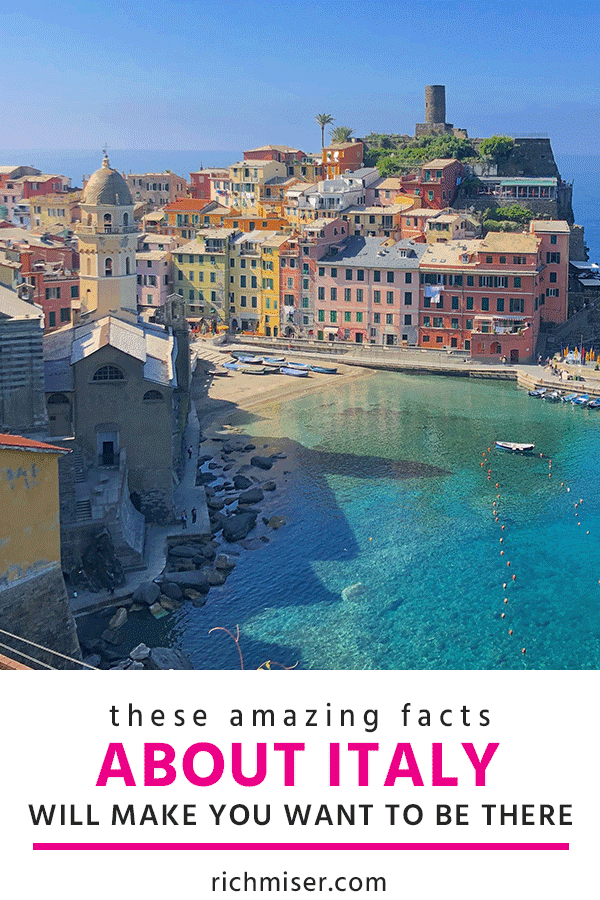 Italy has the Most UNESCO World Heritage Sites in the World
According to World Atlas, "Italy has the most UNESCO World Heritage Sites of any country in the world, due to its history as the birthplace of the Roman Empire and the Renaissance".
Among these 55 treasures are palaces, archeological areas, botanical gardens, entire cities, the Amalfi Coast, and mountains. More than enough for any culture or history buff!
Prepare to Hug it Out
For the most part, Italians are very affectionate people. It's part of the Italian culture to greet each other with a kiss on each cheek you meet. This is true for most any Italian, regardless of age or gender.
If you want to feel like a local while you're visiting the country, this is an important fact to keep in mind. Failing to greet a friend or loved one in this way will definitely cause you to stick out like a sore thumb.
Remember, the concept of a lot of personal space is a bit foreign to most Italians. You'll need to prepare ahead of time for this is you're the type who prefers to have a bit of a bubble around you (it's almost guaranteed to get popped shortly after you arrive).
Here's a video on greetings in Italian culture:
Don't Order an Afternoon Capuccino
The cappuccino (made with espresso and steamed foamed milk) is one of the many coffee drinks that originated in Italy, so it's natural that you'll want to try one out while you're there.
Remember, though, that there's a right and wrong time to order this beverage. In Italy, the cappuccino is considered a morning drink. So here's a fun fact about Italy: ordering one after 11 am is a no-no if you don't want to stick out.
You'll likely still be able to get one after this hour, especially at larger coffee chains. There's a good chance you'll be the recipient of some strange looks, though.
Keep in mind, too, that an Italian cappuccino may taste different from an American one. Italian cappuccinos are usually made with a 1:1 ratio of espresso to milk. Americans often use more milk for a milder drink, so don't be surprised if you feel more wired after drinking the Italian version.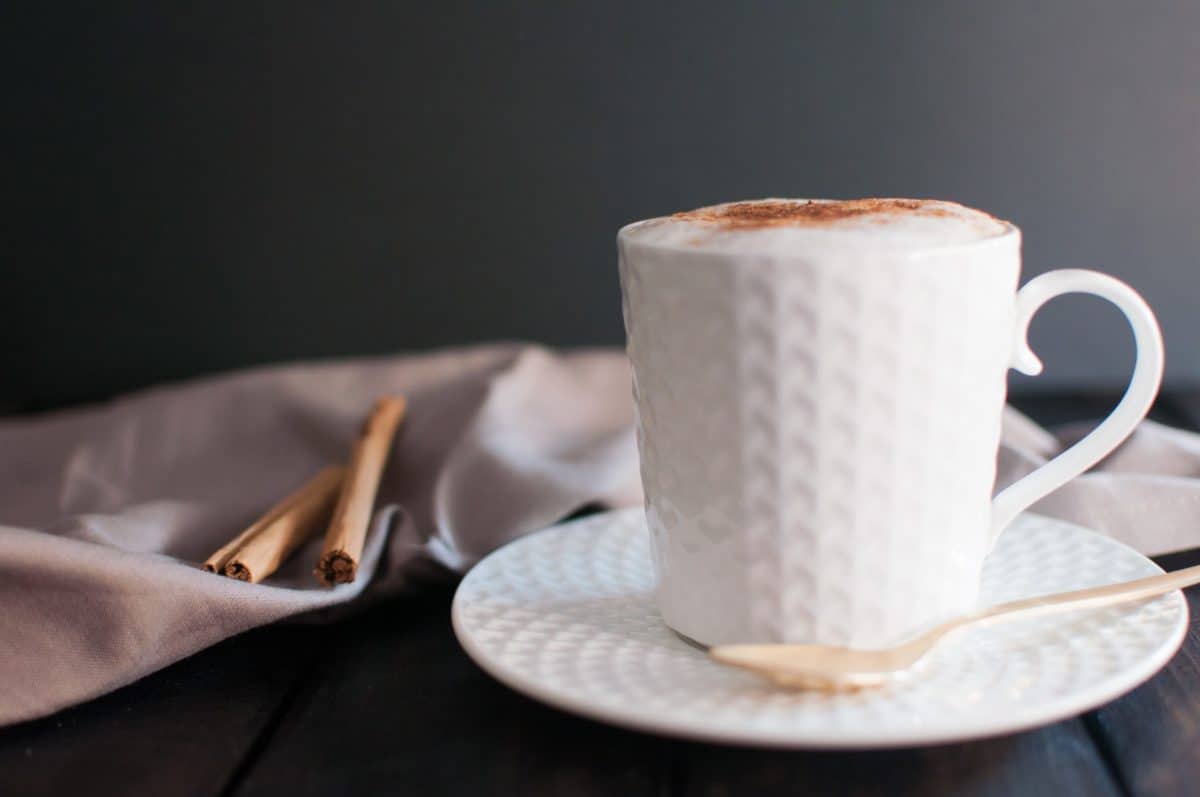 Interesting and Fun Fact About Italy – Plan on Enjoying a Riposino
When researching Italy, many people are surprised to learn that, as in places like Spain and Mexico, an afternoon nap is part of Italian culture. This nap is known as a riposino.
A riposino allows Italian workers to enjoy a rest in the middle of the day when temperatures are at their highest.
Some tourists complain about the fact that many stores and restaurants close down around lunchtime. It can be hard to get used to at first, but try to see these closures as an opportunity to embrace the Italian culture. Take some time to rest before heading back out for evening adventures. Who says you have to be on the go for the entirety of your vacation?
Be Wary of Visiting During the Summer
Every year, more than 400 million people visit Italy from all over the world. It's definitely a popular travel destination. Keep in mind, though, that some times of the year are better to visit than others.
For example, most travel experts advise against visiting Italy during the summer. This is especially true for those who want to enjoy a more authentic Italian experience.
Many Italians actually leave the country during the summer, leaving it wide open for tourists. As a result, prices for attractions and hotels tend to skyrocket.
If you want to immerse yourself in the culture and avoid high prices, consider visiting during the spring or fall instead. The weather will be milder at this time, and the country will be far less crowded.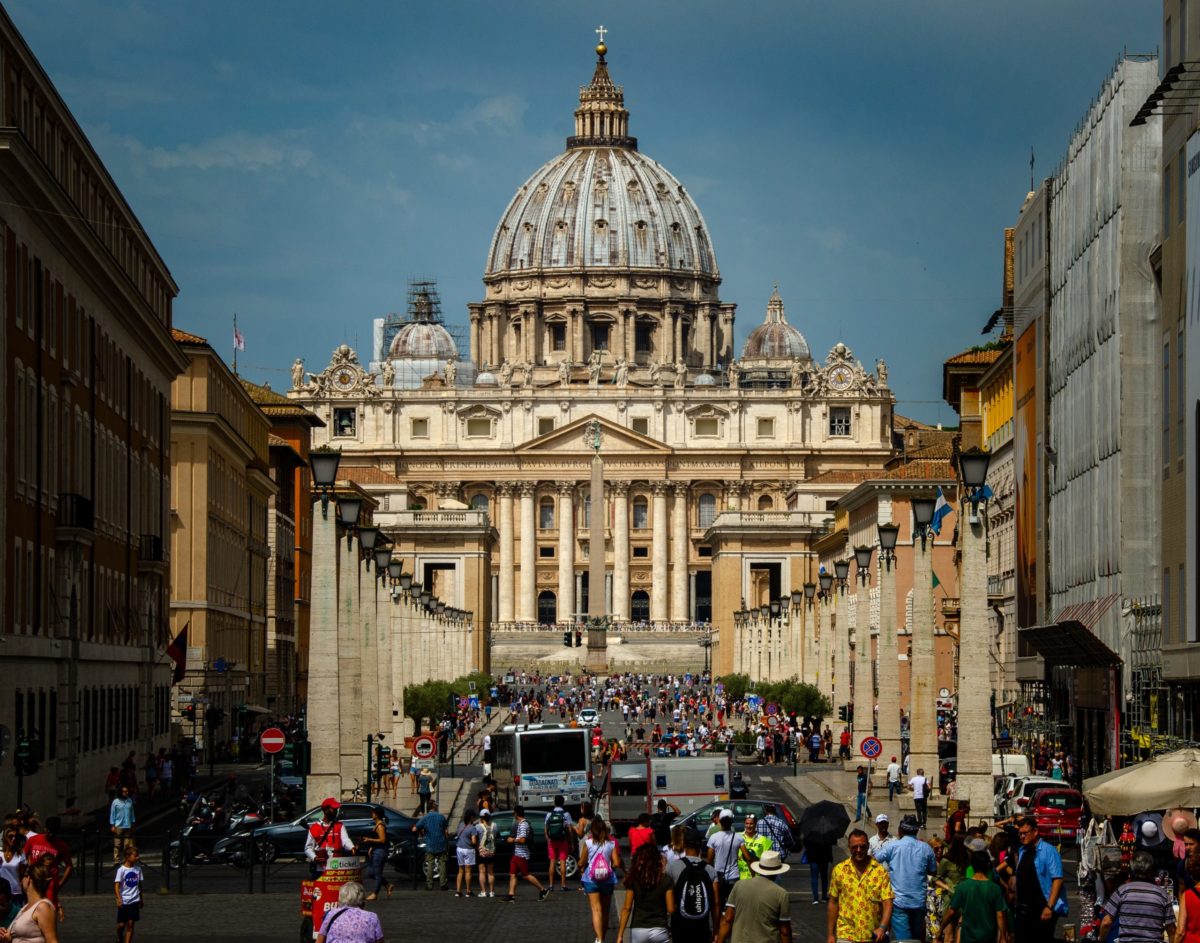 Super Interesting and Fun Fact About Italy – The Carnival of Venice
This carnival is held in Venice every year, from the end of January through the beginning of February. It is world-famous for its elaborate masks, which go as far back as the 13th century. The Carnival ends with the Christian celebration of Lent, forty days before Easter. It was a way for people to indulge in food and music before that time came around.
Here's a Venetian's guide to Carnival.
The magic really happens at night!
Vatican City
One of the most interesting facts about Italy is that it landlocks Vatican City, probably the smallest country in the world. You can take a picture with one foot in Italy and another in the Vatican!
Word of caution: Do not wear shorts and tank tops when you visit Vatican City, they WILL NOT let you in.
Wine
Italian wines are mainly divided between the Northern and Southern regions. This ultimately determines the type of wine, its characteristics (whether rustic or fine), and what to best enjoy it with.
A good rule of thumb is to ask your server, sommelier, or Maitre d' for a recommendation, but you can also go with your gut (or maybe do a quick Google search) and enjoy the experience. The answer to what is the best wine is different for everyone – it's a matter of personal preference and in truth, the best wine is whichever one you like the most.
If you're going to go all the way to Italy, however, it would be a good opportunity to try local stuff or wines from the top regions, which are Tuscany and Piedmont.
Here's a video with this and more information:
Not a wine fan? No problem, you can always ask for a birra, Italian for beer. 😉
Fun Fact About Italy – Aperitivos Are a Way of Life
There are tons of things to love about Italy. One of the best, though, is the aperitivo, a meal that occurs between lunch and dinner (sort of like an Italian-style happy hour).
It's an opportunity for you to relax, enjoy some tasty snacks and drinks (with the Aperol spritz being one of the most popular options), and socialize with your friends and family. Depending on where you are, it's easy for this meal to extend itself into dinner, too.
There are plenty of great places throughout Italy where you can enjoy an aperitivo to remember. One of the best spots to visit, though, is La Bottega Del Caffe. Located in the center of the Piazza Madonne dei Monti, this cafe is the perfect place to visit if you want to have a real Italian aperitivo. They serve a variety of beers, wines, proseccos, and spritzes, plus snacks, small plates of sandwiches, and mini pizzas.
Here are some useful tips for understanding menus while in Italy and some useful phrases to take with you; like remembering to ask for the bill –Il conta per favore– otherwise, they might not bring it to you assuming you want to hang out longer!
It's Okay to Stop and Chat
With their mid-day riposinos and pre-dinner aperitivos, you've probably started to gather that the Italian culture, as a whole, is pretty laid back. In general, Italians often aren't in a hurry to get from Point A to Point B. When you're visiting this beautiful country, you don't have to be, either.
It's okay to stop and smell the roses or chat with the locals on your way to an attraction or meal (just be mindful of your reservations, of course). More often than not, locals have no problem chatting and talking to you about their culture and what it's like to live in Italy. They might even be able to share some facts about Italy that you won't get from a guidebook or Google search.
Say "hello" when people greet you on the street, too, and don't forget to use the phrase "Buona Giornata," which means "Have a good day" when you leave.
Be Aware of Italian Superstitions
As with any country, Italians have some interesting superstitions of which you ought to be aware.
For example, Italians believe that the number 17 is unlucky because it's associated with death. As a result, many hotels and other buildings don't have a 17th floor. Keep this in mind in case you get turned around trying to find something.
To Italians, it's also back luck to place a hat on a bed. Historically, priests would do this when they visited folks who were dying and needed to hear their last rites.
Don't tell someone "best wishes" while in Italy, either. Instead, say, "In bocca al lupo," which literally means "into the wolf's mouth." This is how Italians wish each other good luck.
La Scala
La Scala in Milan is one of the most famous and celebrated opera houses in the world and a hugely important part of Italian culture.
Milan is also Italy's financial capital and one of the most important fashion capitals of the world, alongside Paris. Leonardo Da Vinci lived in Milan, where you can see The Last Supper, one of the most well-known artworks in the world. It is located in its original place, on the wall of the dining room of the former Dominican convent of Santa Maria delle Grazie.
Fun Fact About Italy – You Can Tour the Ferrari, Maserati, and Lamborghini Factories
Few things are sweeter than Italian exotic sports cars. So, when in Italy, seize the opportunity to tour at least one of these factories!
You can take a tour of the Museo Ferrari in Maranello, the Lamborghini Museum in Bologna, and a Maserati Factory in Modena. Way, way cooler, though: you can take driving lessons at Maserati's course near Parma.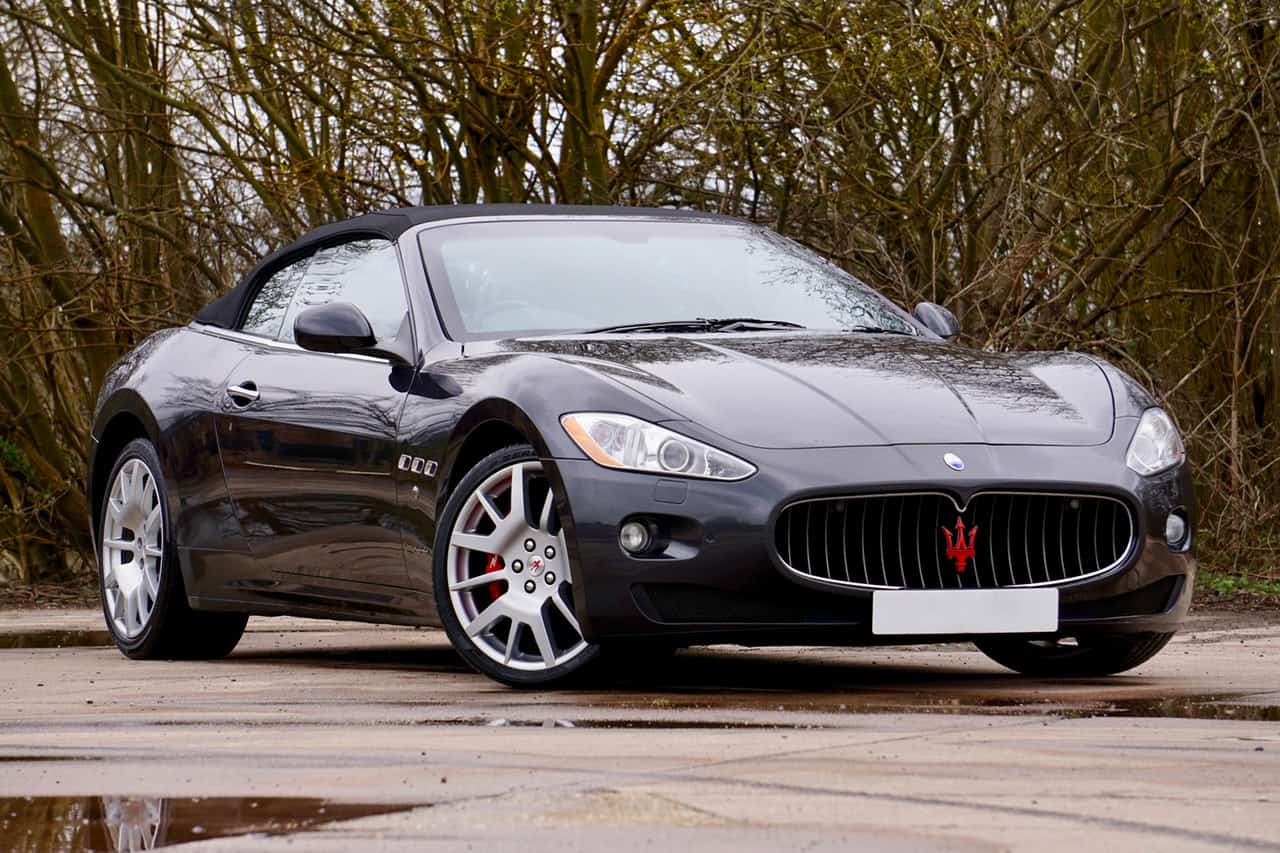 Remember These Italian Laws
When you're getting ready to visit any foreign country, it's a good idea to make yourself aware of that country's laws. Italy is no different.
There are some specific laws that you ought to know as a tourist to avoid getting into trouble. For example, you can face a hefty fine if you eat or drink while sitting on a church's steps or while in a church courtyard. On certain beaches, it's illegal to build sandcastles or other structures.
As for everyday rules and regulations, be sure to always validate your bus or train tickets when using local transportation. If you don't do this, you could face a fine and "not knowing" won't get you out of it.
Not Fun Fact About Italy – Prepare to Pay Tourist Taxes
It often comes as a surprise to tourists that they have to pay a tourist tax for every city they visit during their trip.
Hotels collect these taxes, and many Airbnbs do as well. They usually cost somewhere around 2 euros per person per night (some may be more expensive, though, depending on where you're staying).
Some larger hotels will let you charge this tax on your credit card. Many places require you to pay it in cash, though, and it's generally the preference even if charging it is an option.
You may have to pay tourist taxes on day trips, too. This is especially common among very popular, tourist-heavy excursions.
Know What to Expect at Hotels
It's important to do your research before booking a stay at an Italian hotel. Certain things that might be a given in the U.S. or other countries aren't guaranteed in Italy.
For example, many Italian hotels do not have air conditioning. You'll want to double-check this, especially if you're traveling in the late spring, summer, or early fall when temperatures are higher.
Accessibility can be a challenge, too. Due to the ancient nature of many of the structures in Italy, plenty have steep staircases and aren't ideal for those with mobility issues. If you use a wheelchair or have concerns about mobility for any reason, you'll need to do some digging to find hotels that can accommodate you.
Don't panic about attractions, though, as there are plenty of wheelchair-friendly experiences, including the guided tours of Santa Margherita and Portofino.
Plan on a Food Tour (or Two)
One of the best ways to enjoy all the delicious food Italy has to offer is by participating in a food tour (or two). Food tours allow you to try a wide range of dishes and also learn the history behind the food you're enjoying.
There are dozens of different food tours available in Italy that are worth trying. One of the most popular, though, is the Parma Delicacies Tour.
This tour lasts for 7.5 hours and costs $129.90 US dollars. As part of the experience, you'll get to visit a factory that produces Parmigiano Reggiano, Parma ham, and traditional balsamic vinegar. You'll also get to enjoy a traditional Italian lunch.
Learn the Right Way to Eat Pasta
There is definitely a correct way to eat pasta, and it'll be obvious that you're a tourist in Italy if you don't learn this part of Italian culture before you arrive.
First, don't eat your pasta with a spoon. You'll use the spoon to add sauce/cheese and mix everything together, but you do the actual eating with your fork alone. Don't cut your pasta with your fork, either. The goal is to twirl it around your fork tightly so that no strands of pasta are danging when you go to take a bite.
There is one exception to the spoon rule, according to some Italian restaurant owners. If the pasta comes with a particularly liquid sauce, you may use a spoon to prevent it from splattering.
Interesting and Fun Fact About Italy – Naples is the Birthplace of Pizza
Ah, pizza. It's probably the most famous food in the world. But did you know that it was invented in Naples, which is considered the world's pizza capital? So, arguably, you'll find the best pizza on earth in Naples. And the place that makes it -also subject to debate, of course- is Pizzeria di Matteo.
In any case, if you want to go on a pizza-eating tour, there's no better place than Naples!
Now I'm going to torture you a bit by presenting this YouTube video of pizza in Naples. Don't watch it if you don't want an appetite!

Avoid Grocery Shopping Faux Pas
Unless you want to pay to dine out for every meal while in Italy (not a bad thing, just a more expensive option), you'll likely need to take a trip to a supermarket or two during your stay.
There are some cultural differences between Italian supermarkets and other markets, and you'll want to be aware of these idiosyncrasies of Italian culture before you start shopping. For example, it's customary to wear plastic gloves when handling produce in most places.
It's also your responsibility as a shopper to weigh your produce before you go to pay — this won't be done for you, and you'll end up extending your shopping trip longer than you'd planned if you forget to do it.
Plan Your Museum Trips with Care
There are more than 4,500 museums in Italy. Clearly, you won't be able to visit all of them, but the following are some of the most popular that you may want to add to your itinerary:
Galleria Degli Uffizi in Florence: This is one of the world's oldest museums, and tickets cost 3-4 euros apiece.
Museo Archeologico Nazionale di Napoli in Naples: This is Italy's most important archeological museum; it costs 18 euros for full admission.
Museo Egizio in Turin: This is one of the only museums in the world dedicated solely to Egyptian artifacts; it costs 15 euros for full admission.
Include the Islands in Your Itinerary
Many people make the mistake of forgetting about the islands when they travel to Italy. Fun and interesting fact about Italy: it's comprised of much more than "the boot." There are also the islands of Sicily, Elba, Sardinia, Levanzo, and more.
If you want to branch out and see parts of the country that a lot of travelers neglect, the islands definitely should be on your travel itinerary.
Head to Sardinia to check out Neptune's Grotto, a stunning underground cave that's open all year-round. It costs 13 euros per person (7 for children), but the price is well worth the experience.
Also, check out the Capuchin Catacombs of Palermo, found in Palermo, Sicily. They cost just 3 euros to enter and will provide you with a fun and eerie experience that will make you the envy of all your thrill-seeking friends.
What's the Best Time to Go?
To summarize this excellent article on The Points Guy:
July tends to be an expensive time to visit, while February and November are much cheaper.
Summer is considered high season, fall and spring shoulder season, and winter low season. To avoid the crowds, avoid the summer.
To attend the best festivals, go in February for Carnevale in Venice, or September (Venice Film Festival), or May (Biennale in Venice).

You can also check out the Salone del Mobile, a huge design fair in Milan that takes place in April.

For the beach, go in April and May or September and October, to avoid the summer crowds.
Summing Up the Interesting and Fun Facts About Italy and Italian Culture
So as we've seen, Italy is an incredibly varied country with an almost infinite variety of things to see and do. From ancient cities to unique, world-famous art, you can spend years in Italia and still not scratch the surface.
What are you waiting for? Start planning your trip to this amazing country today! 🙂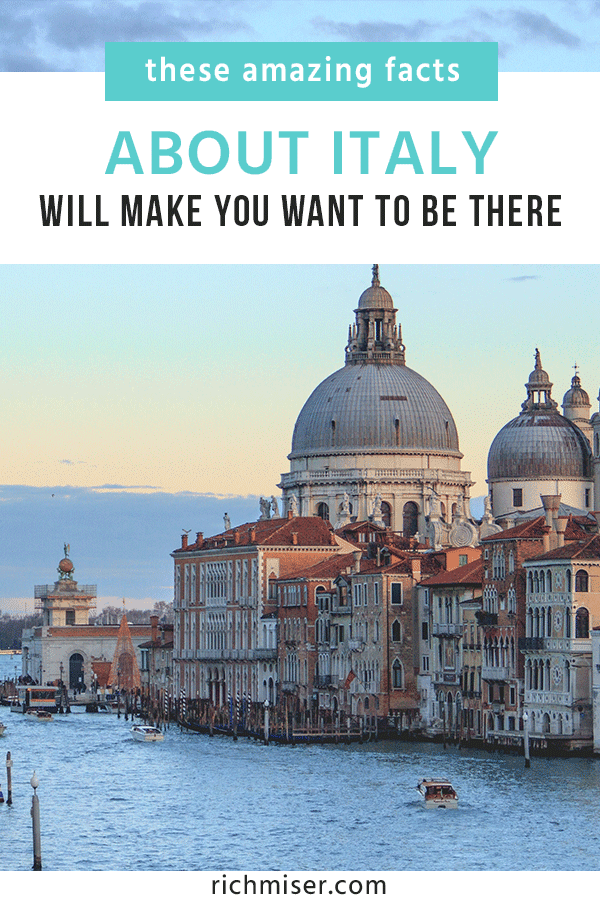 What do you most look forward to in Italy? Any interesting facts about Italy that you want to add? What's your favorite part of Italian culture?
---
Sources and Credit
Wikipedia
Embedded YouTube videos
World Atlas
The Spruce
The Local
Walks of Italy
Culture Trip
TripAdvisor
Take Lessons
La Scala
Ferrari
Lamborghini
Maserati
Italy Vacations
Sage Traveling
Get Your Guide
The New York Times
Food & Wine
Conde Nast Traveler
Istat
Le Gallerie Degli Uffizi
Coop Culture
Museo Egizio
Sardegna Turismo
CheckOutSam
The Points Guy