Are you looking for quick and effective job interview tips that'll help you crush those hard questions? From what to read beforehand to your attire (plus other stuff), we've put together this list of handy tips that'll help you be prepared, polished, confident, and charming!
These tips have proven useful in individual and group interviews alike. Not to toot my own horn, but I learned them from my own good experience. After every single job interview I've ever had, I've been offered the position; and I've worked many jobs, from selling almonds at the mall to working for the government and being an attorney at two big law firms. Also, I've prepped friends for successful interviews.
So, follow these tips to come out of that interview with a great big smile!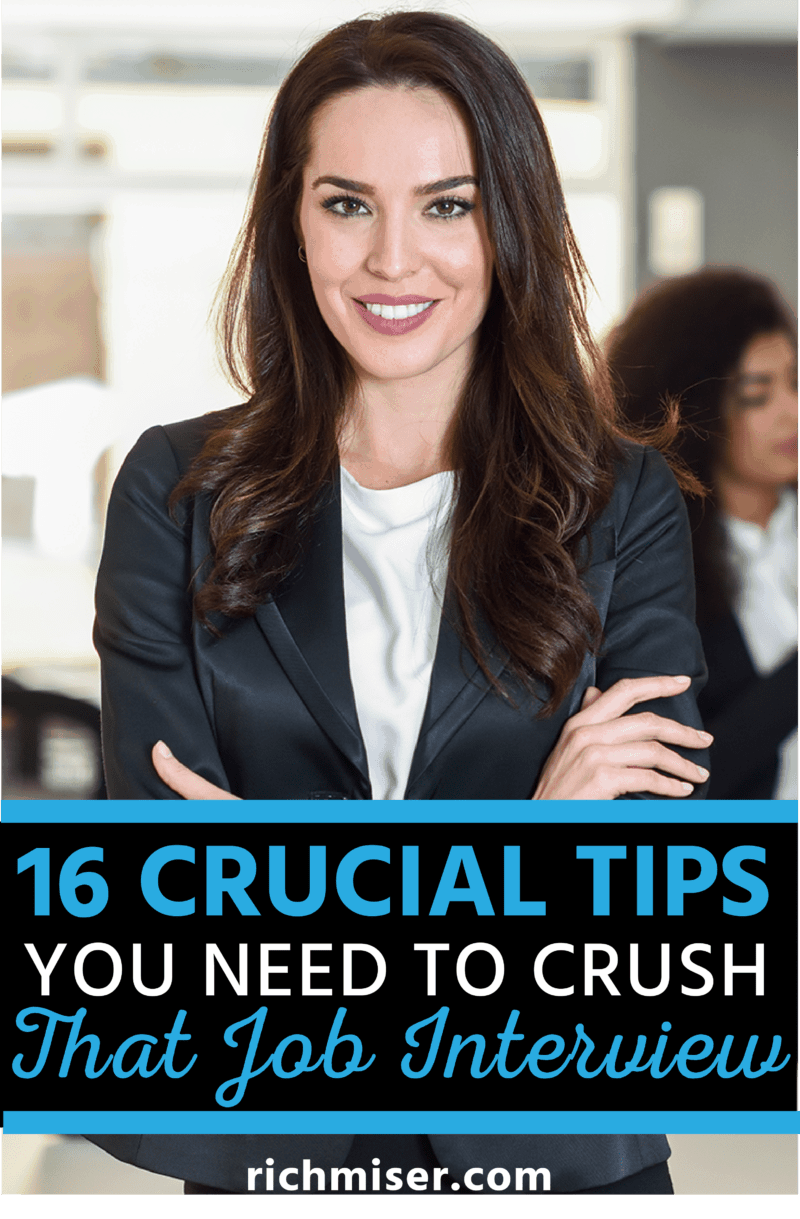 Get Ready With These Job Interview Tips:
I have used this book for interviewing people and to prep for my own interviews. It never disappoints. Don't be fooled by the title because, while it is a guide for employers, in reality, it's also a cheat sheet for anyone being interviewed.
Here's why it's so great: it features a simple Q&A format to help the interviewer get ready to question you effectively and without having to spend too much time coming up with questions. You'll find many of the most common (but hard) queries that usually come up in an interview, with ideal responses.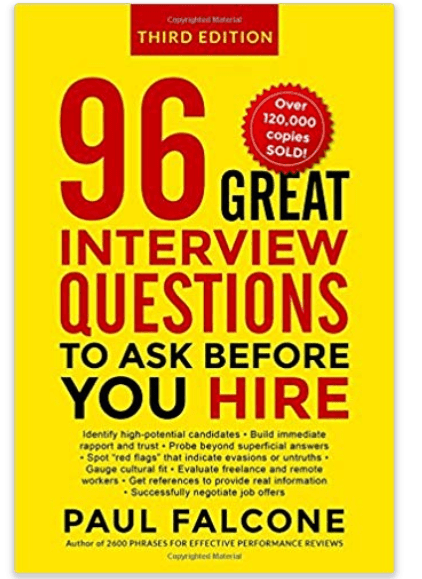 *Here's the quickest and most effective way to use this book:
So you'll probably want to consult this book in a discrete manner so that your current employer doesn't notice you're planning to jump ship, right? Or keep it on the down low so as not to let your competitors know about the book.
If so, here's what to do: buy the Kindle version and download the Kindle app on your phone. Whenever you have a chance throughout the day, read a few questions and highlight what you find most relevant. You can do this while you're in line waiting for coffee, on the train, and even in the potty.
The day before the interview, go to the Kindle app, open any page in the book, and click on the icon in the shape of a lined paper located at the top right. It will show all of your annotations and highlights, one after the other. This is a great way to fine-tune your skills, and master the hardest questions.
Even if you only have a day before the interview, give it a try and skim through it. It's like having a glimpse of the interviewer's mind.
Spend Two Weeks to a Month Reading up on News from the Same Industry
Visit websites that usually have the latest news for this industry. Know what the happenings are, and keep abreast of the latest innovations, pitfalls, trends, and jargon. In other words, become a microexpert on the subject.
This simple hack will let you look like someone who's knowledgeable and whose brain others would like to pick. You'll impress your interviewer, speak their same language, and make them feel like they need you.
Another interview tip is to create an alert for flash news in the same industry on the Flipboard app.
Talk to Yourself in Front of a Mirror and Practice the Language (If Not Your First Language)
It's a good idea to practice talking to yourself in front of a mirror. It helps you gain more confidence and gives you more fluidity. You can also see your body language.
This is even more important if the job interview will not be in your first language and you don't speak the other language on a daily basis. Practicing in front of the mirror and talking in the language that you'll be interviewed in will help you with word pronunciation, and to speak more confidently.
Purge your LinkedIn and Social Media
This might seem obvious, but it's still sometimes overlooked. Take a close look at your LinkedIn profile to update it and get rid of any typos or include your latest achievements or specialized skills.
Also, purge any other social media accounts of embarrassing pictures or posts. (Or change your name or privacy settings, if necessary).
Make sure to check not only on your computer but also on the mobile version, since sometimes embarrassing pictures may continue to appear even after you've deleted them!
Plan Your Outfit and Try It On
Even if you've worn the outfit before, sometimes clothes shrink in your closet (or you might've gained a few extra pounds). Either way, trying on your outfit will give you an opportunity to confirm the condition of the garment, plus look for any holes or pilling, yellow stains, and problems with the fit.
Make sure you're able to sit comfortably and walk around in it without any issues. A trip to the dry-cleaner might also be a good idea to refresh the garment.
If you'll be traveling to another city, make sure to pack your clothes well, and allow time to de-wrinkle.
Treat Yo' Self (Make Sure You Look Good and Appropriate for the Position)
Make sure you're perfectly groomed for the day, including with a fresh haircut. Avoid perfumes – the last thing you want is to trigger your interviewer's allergies.
Ladies, if you're getting your nails done, make sure they're in neutral colors that resemble skin tones. Never, never, ever wear hoop earrings. Also, closed-toe shoes are a must; no one should be able to see your toes. And unless you're looking to work in the fashion industry, avoid toe cleavage (this is when you wear closed-toe shoes, but the beginning of your toes is visible).
Depending on the industry, you might have more leeway in terms of how formal or casual your look may be. There are some creative industries where you can get away with a more creative, bold look.
As a general rule, you can almost never go wrong with wearing black, navy, or charcoal gray. Even if you spice things up a bit with a bolder and brighter tie, bowtie, necklace, or purse, make sure that it conforms to the standards in that industry.
These colors also flatter most (if not all) skin tones, and just make you look more professional and put together. This is a personal preference but, generally, beige, brown, and any color resembling oatmeal or earth tones should be avoided. These colors are usually not compelling enough to make you stand out in a good way, and can easily make you look tired or worn out. And, frankly, they're boring!
Watch This Video from Amy Cuddy For a Confidence Boost
In this 12-ish minute video, called "Your Body Language May Shape Who You Are", social psychologist Amy Cuddy shares her theory of "power posing", described as "standing in a posture of confidence, even when we don't feel confident". Doing it "can boost feelings of confidence, and might have an impact on our chances for success".
At 7:41, she shows a powerful pose to do right before you walk into the job interview. Beware, though: you might want to go to the bathroom and do it in private! 🙂 Either way, it only takes a minute and it'll boost your mood and confidence right away.
Research the Company Well, Including its Website, Accomplishments, and (If Possible) Those Who Will Interview You
With the world's knowledge at your fingertips, it's only reasonable for you to spend some time online researching the company, and see what you can find out about your potential interviewer. You can also cross-check this with Google, Facebook, Twitter, and LinkedIn searches for the person, and see if anything related to their hobbies comes up.
It's fair game for you to know any information out there. Sometimes you'll find great tidbits about their hobbies, accomplishments, and projects. So do your due diligence, because if you don't, someone else will!
Pack an Emergency Bag for Your Car (Extra Underwear, Napkins, Water, Protein Bars)
Life happens! The day of an interview for a job that you really want is a big day. Plan and prepare to have an extra outfit, a hard copy of instructions on how to get there in case your GPS fails, caffeine pills, Immodium, and the other unusual things included in this list.
Oh, and let's not forget how taking a sip from your bottle of water might help you make a "natural", casual pause to break the flow of the conversation and allow you 4 extra seconds to think before you respond! More on that at #5 here.
Of course, everybody's emergency bag can be tailored to one's individual's needs. Like this fella here:
Plan Your Breakfast (Eat Something True and Tested

 By You)

The morning before a job interview is not the time to try new stuff to eat because you don't know how your body and your stomach will react to it. It's better to stick to something that you know works for you and has the right balance of carbs and protein so that you're able to stay alert and focused; avoid a sugar crash, and avoid having your stomach growl mid-interview.
Get a Good Night's Sleep
This is one of those things that if you don't do it, you'll end up wishing you had! Just simple, good, old advice that never fails. Do it! You'll be sharper and think a lot better in the morning.
Wake Up Earlier than Necessary to Give Yourself Wiggle Room
Because life happens and you can't risk being late for the interview. Allow yourself some margin of error and plan to have at least an hour of wiggle room in case you have a coffee spill, you're stuck in traffic, or Murphy's Law strikes!
Don't Go Empty-Handed
Strike the right balance by holding just the right amount of things, so that you have one hand free and readily available for a handshake or holding a door. These are simple tips that apply to men and women alike. A good idea for both men and women is to have a portfolio like this one, to always looks polished and professional.
I like that it allows you to control your body language better, without the awkwardness of not knowing what to do with both hands. This way, you also avoid odd handshakes!
Never use a Junior Pad
This is a pet peeve of mine; I think for important meetings where looks and first impressions matter, you shouldn't use a junior pad. A junior pad is a 5×8 legal pad like this one. I think junior pads look a bit too informal for a job interview, as they look more appropriate for to-do lists, quick notes, and informal tasks.
And never use a clipboard!
Ask 1-2 Smart Questions, Even if You Don't Care for the Answer
The book referenced in tip #1 might help you with this! You might want to ask about a typical day at the office, neutral questions about office culture, or what is the company's most sought-after quality or skill in their employees.
At any rate, do not make the mistake of failing to ask a question because you want the interview to be over. Not only will asking a question make you appear interested in the company, but it will also help to shift the focus away from you and put the interviewer in a different mindset.
Send a Personalized Thank You E-mail Later, the Same Day
Make sure you have the interviewer's e-mail address so that, later in the day, you can send a short, thank you e-mail. The e-mail should be brief but not look generic.
The Lowdown
Even if you have a month (or a day) to put any of these job interview tips into practice, you'll be ahead of the game if you have these things on your mind and are ready. In today's fast-paced world, we have an overload of information and over-prepared candidates. Like college acceptance rates, the workplace has gotten more competitive and you need every little thing you can do to stay ahead of the game.
Sometimes, with equally qualified candidates, the interviewer will choose the one whose personality they liked more or the one who seems to be more aligned with the organization's culture. Why? Well, because at the end of the day, you might all be coworkers and work is already tough and tedious as it is! So people would rather work with like-minded individuals that'll make them smile from time to time.
Here's to an awesome job interview. Break a leg!
That's my take!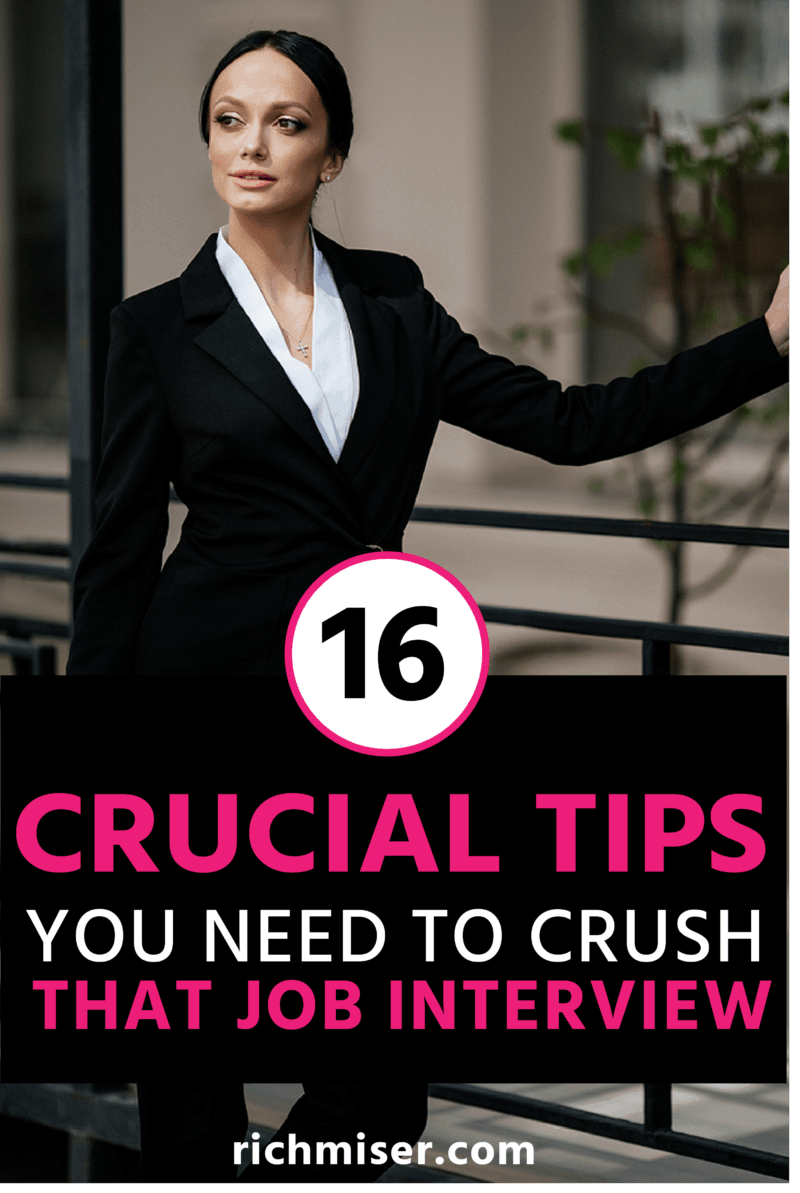 Do you have any job interview tips? What are the most memorable hard questions you've had to answer in a job interview? Any war stories you'd like to share with us?