I'm always on the lookout for low-effort or free money. As part of that quest, I've come to love cashback apps and programs, especially those that require little or no effort on my part after I sign up. On this fine day, I want to talk about one of those apps, called Dosh, and write up a Dosh review.
So Dosh is an Austin, Texas-based startup that works on a very simple model: you shop and dine, and get paid cash back when you swipe your card at a participating merchant. That's all there is to it.
Sounds too good to be true, right? That's why it took me some months to finally sign up for Dosh, and do my research on what it really is, who is behind it, and whether it truly works in a way that benefits us, the consumers.
I've now put in that effort, used it myself, and made this Dosh review with what I've found. Let's dig in.
Disclosure: This post contains referral links.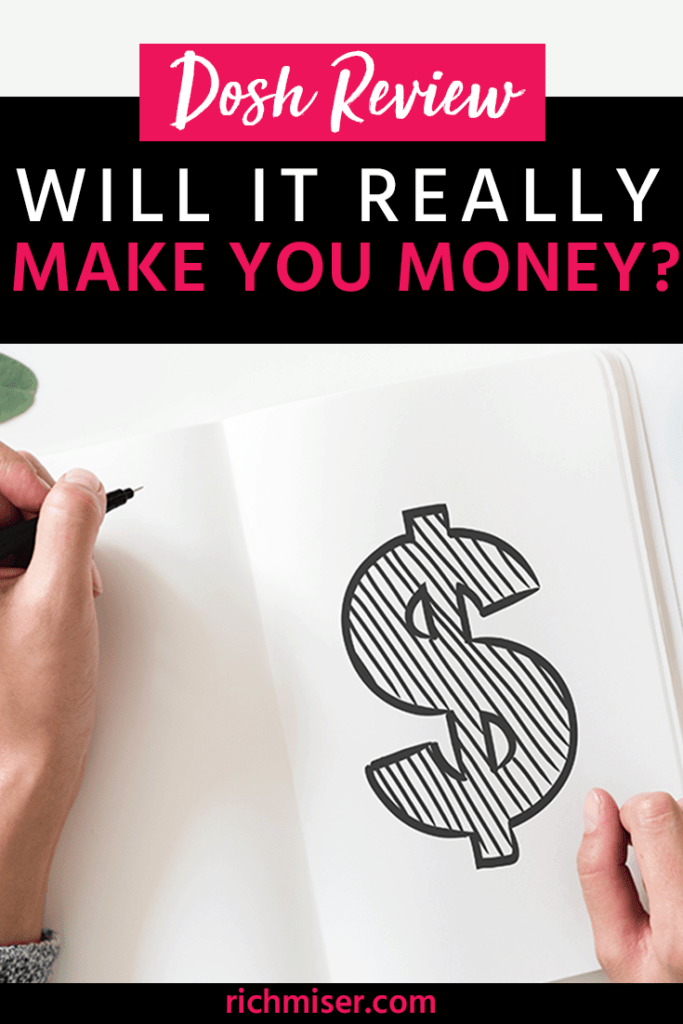 Dosh Review: What Dosh Can Do For You
Give you money, quite simply. As you go about your life and spend, you'll get cash back when you happen to swipe your linked card at participating merchants. Also, it'll pay you for referring friends and family (and total strangers). It's not life-changing, but it can represent a small, incremental improvement to your financial situation, for an almost nonexistent investment of your time.
How Does the Dosh App Work?
Dosh works in at least three ways: by card link, by apps and websites, and with hotel bookings. Let's take a look at each
By Card Link
It's a pretty simple process. You download the app, create an account, and link your credit cards by inputting your credit card number. That's it. Then, when you shop or dine at a participating merchant, you get a percentage back of whatever you spent. In my experience, it can take 3-4 days for your cash back to show up in your Dosh app.
That means that using Dosh is essentially a zero-effort proposition, aside from signing up, linking your cards, and withdrawing your money. It monitors your transactions automatically, and credits you when you shop or dine at a participating merchant.
Can You Use Debit Cards With Dosh?
Yes, though it can be tricky in that you should always have the merchant run it as a credit card. Swiping it as a debit card (with a PIN), may not result in automatic cash back.
By Apps and Websites (Dosh Review Update)
So I'm updating this Dosh review to note that it now works via apps and websites.
Via Apps
To earn with apps, you start on the Dosh app. You'll see some offers that are described as "Mobile":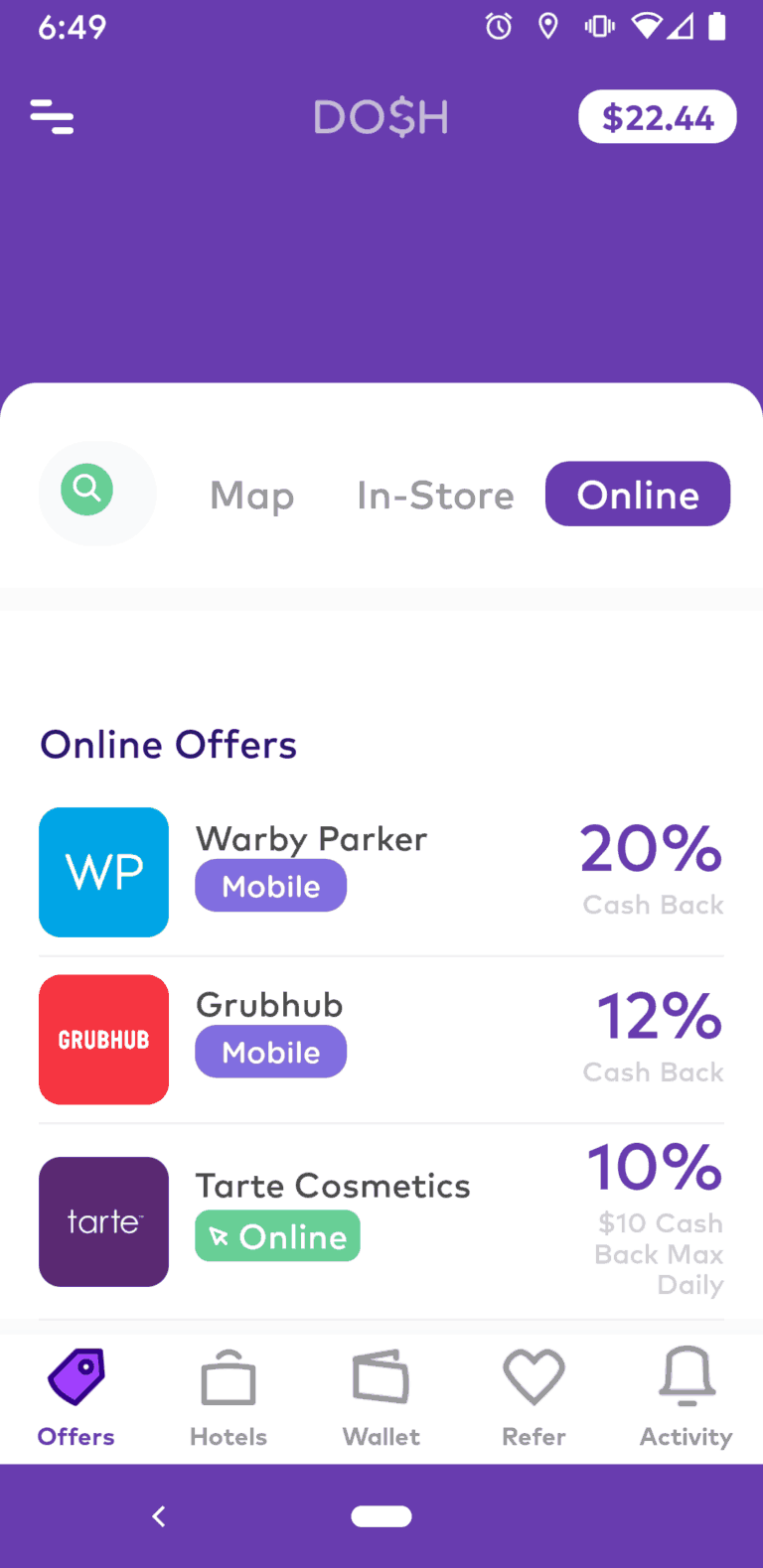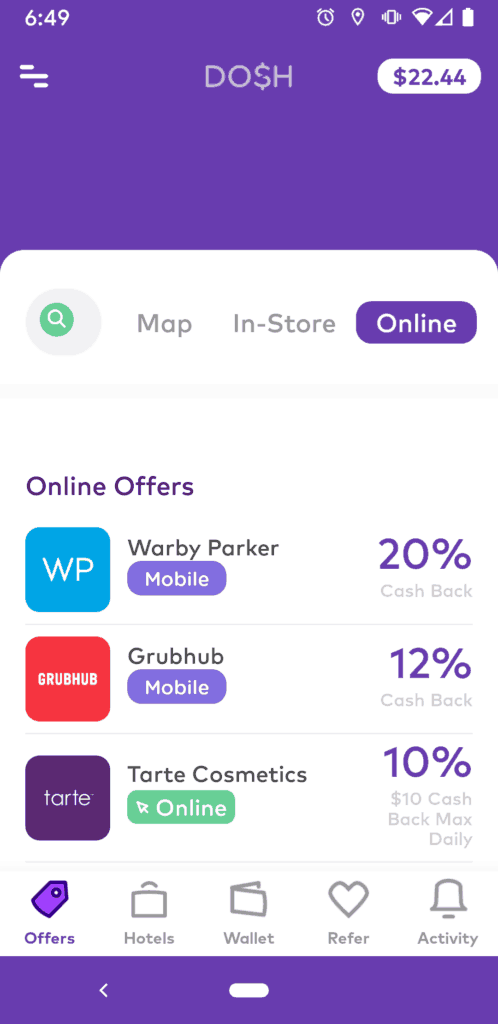 When you click on one, you'll get to a second screen: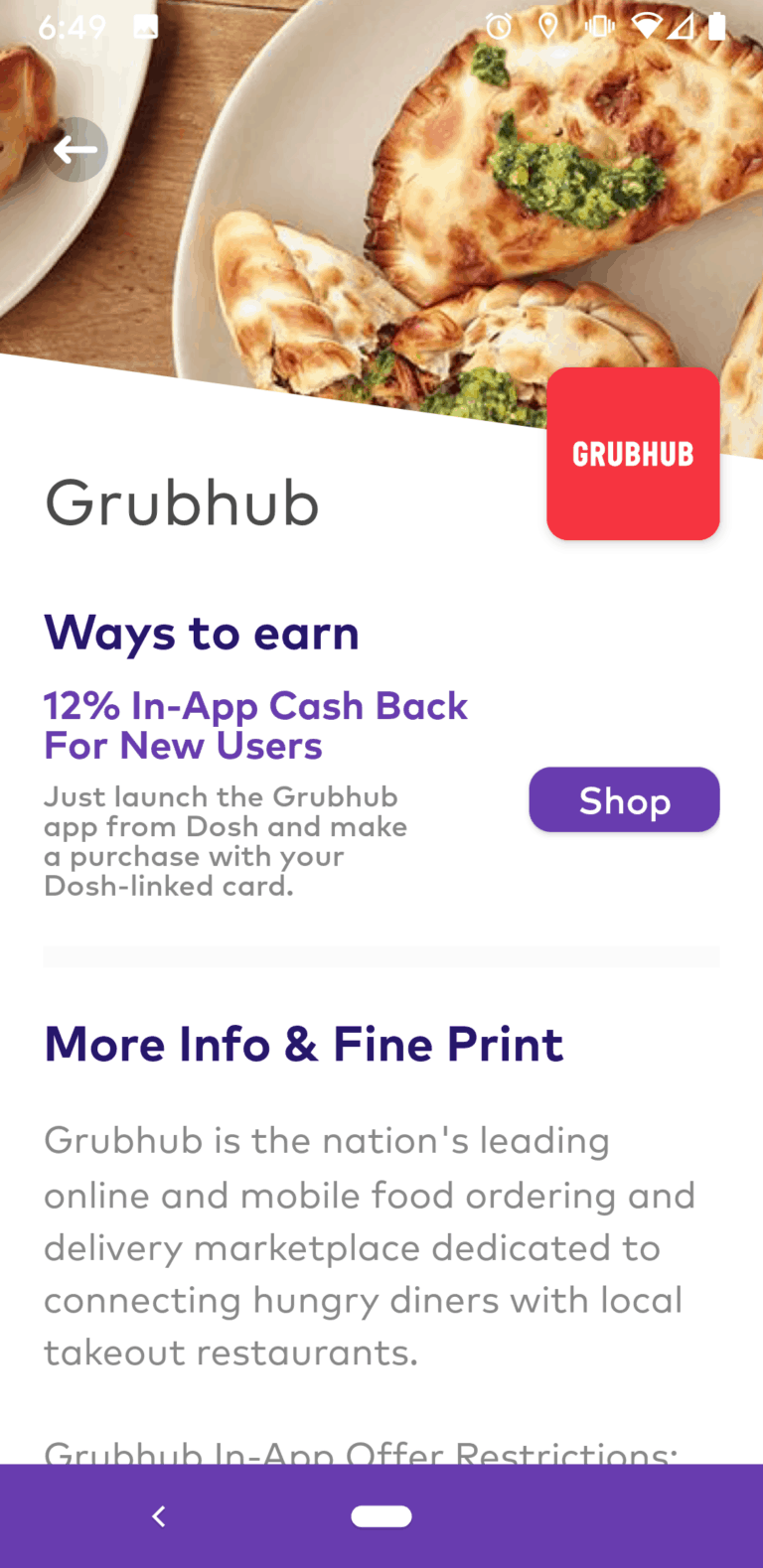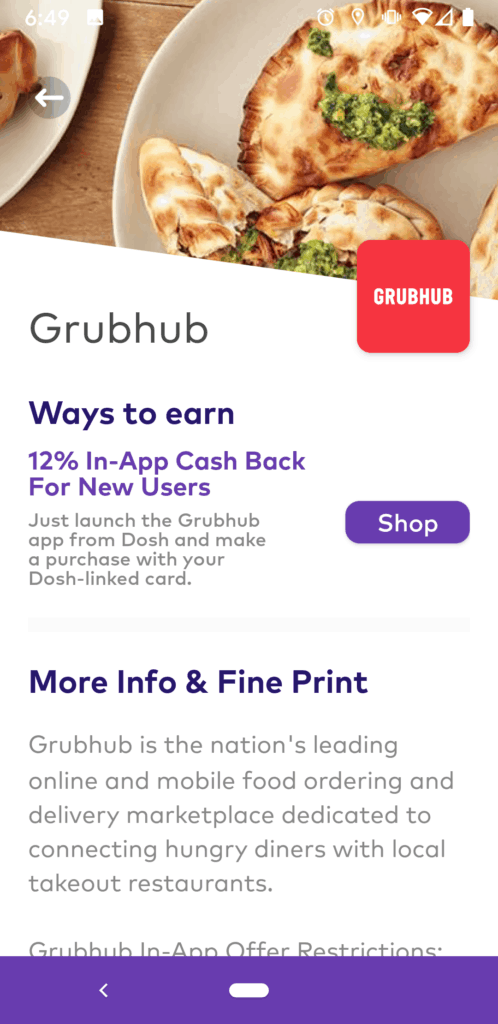 Then, if you click on "Shop", you'll be taken to the app (in this case, Grubhub), to make your purchase. Note that you still have to use a Dosh-linked card to earn your rewards.
Via Website
The process is similar. You start in the Dosh app, but, rather than click on one of the "Mobile" offers, you click on one of those that says "Online". Then, you'll see a screen instructing you to either click on a "Shop" button (which will take you to the store's website on your browser), or just go directly to the website and shop. Either way, you still need to use your Dosh-linked card.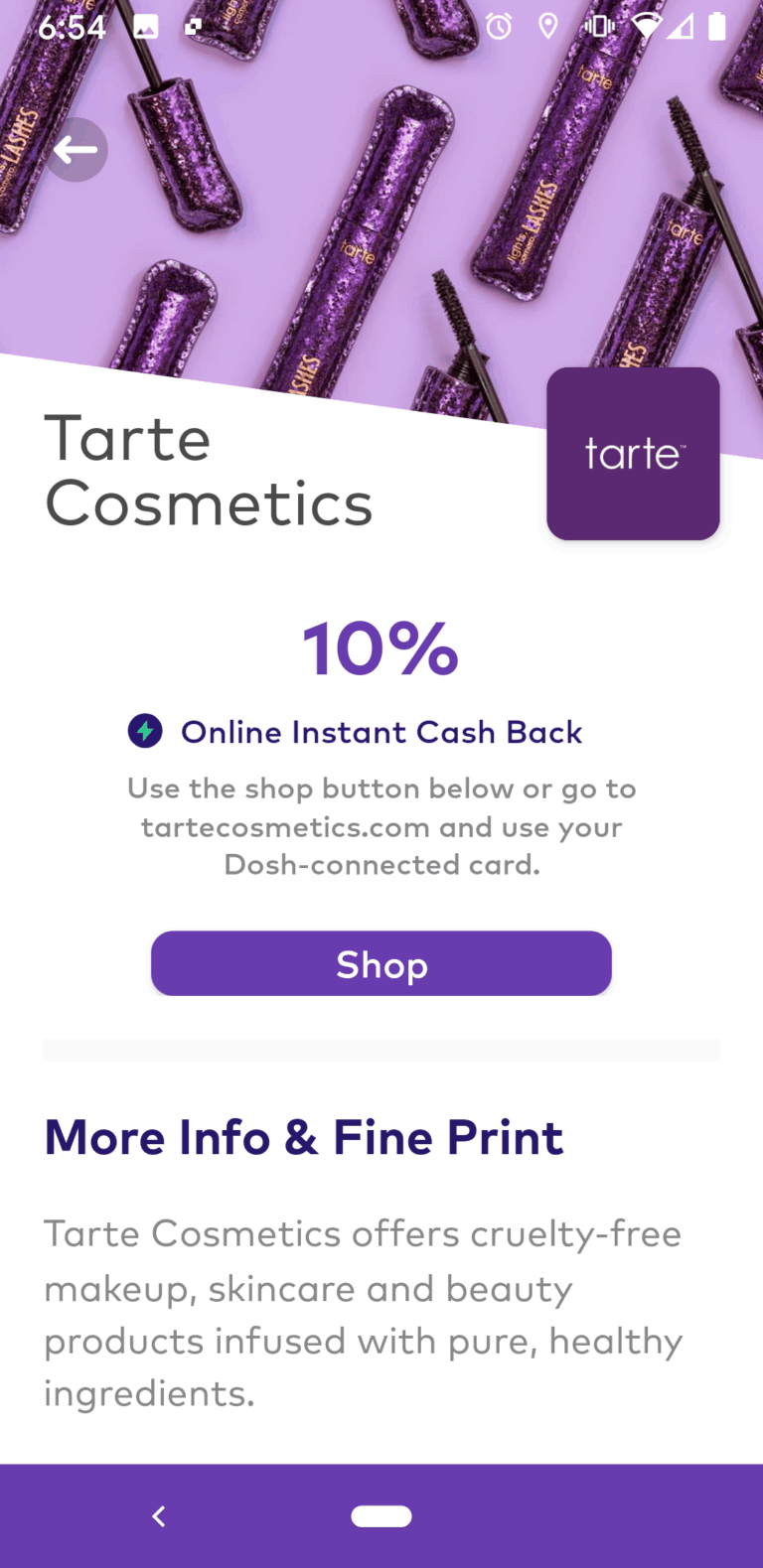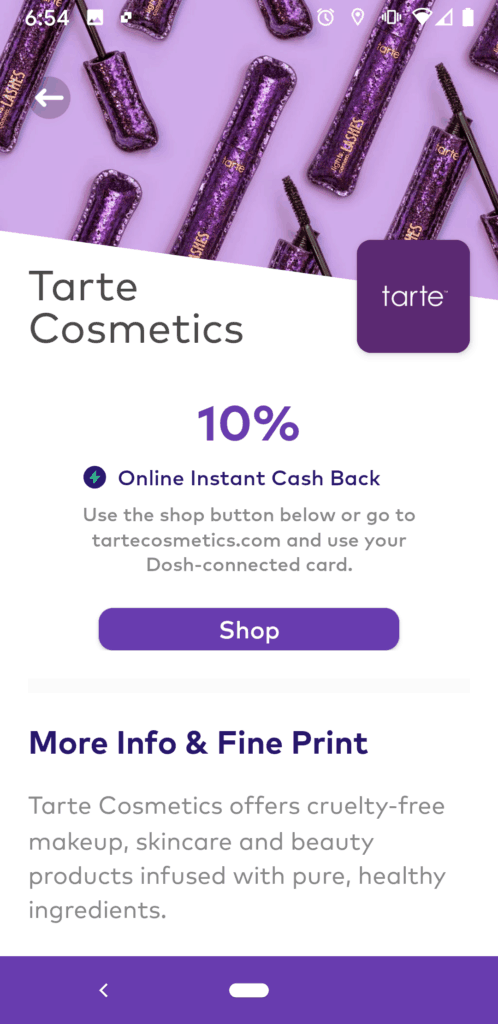 Since this still works through the card link, I don't think it'll interfere with extension-based services like Rakuten and Swagbucks. So, you can probably triple-dip:
Dosh
Rakuten, Swagbucks, etc.
Your credit card rewards.
With Hotel Bookings
Another way to use Dosh is with hotel bookings. You can start by running a search right in the app. Here, I did one for Miami, Florida, staying from November 18-22.
Dosh found me a suite at the Mayfair Hotel in Coconut Grove (a nice area) for $143 per night, plus $10.24 cash back (plus at $20 first-booking bonus). It would be a refundable booking: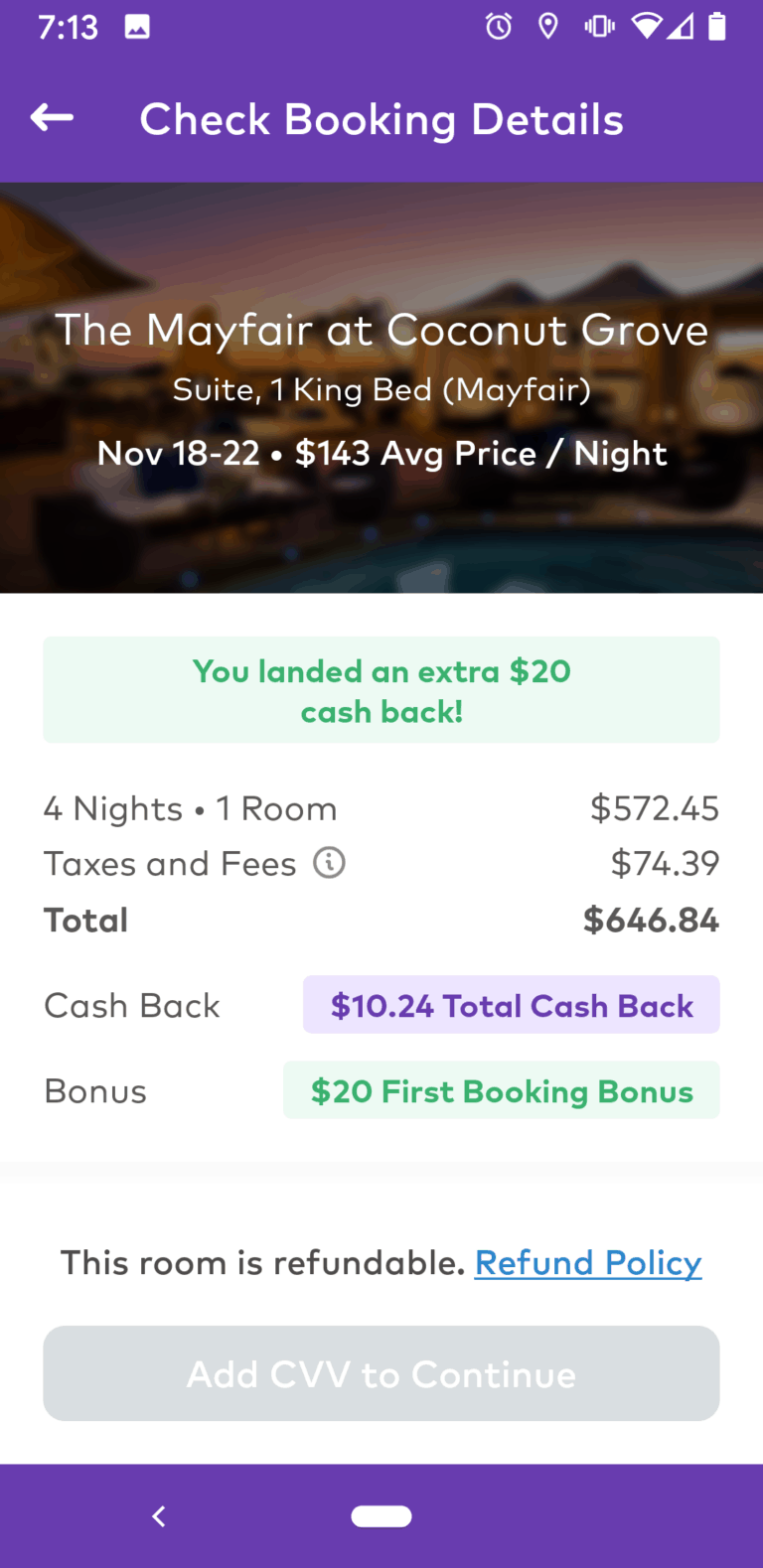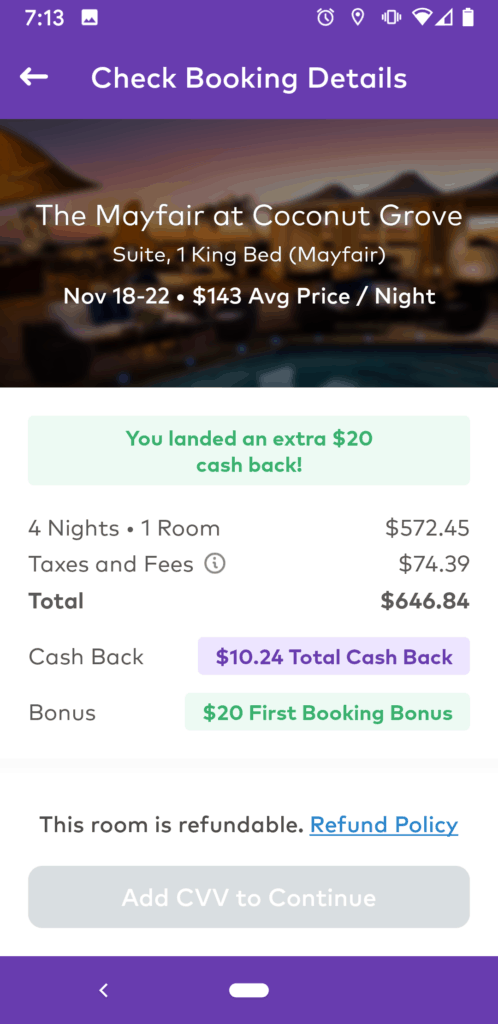 However, for a standard double room and non-refundable booking the nightly rate was the same, but I would get a whopping $163.69 cash back!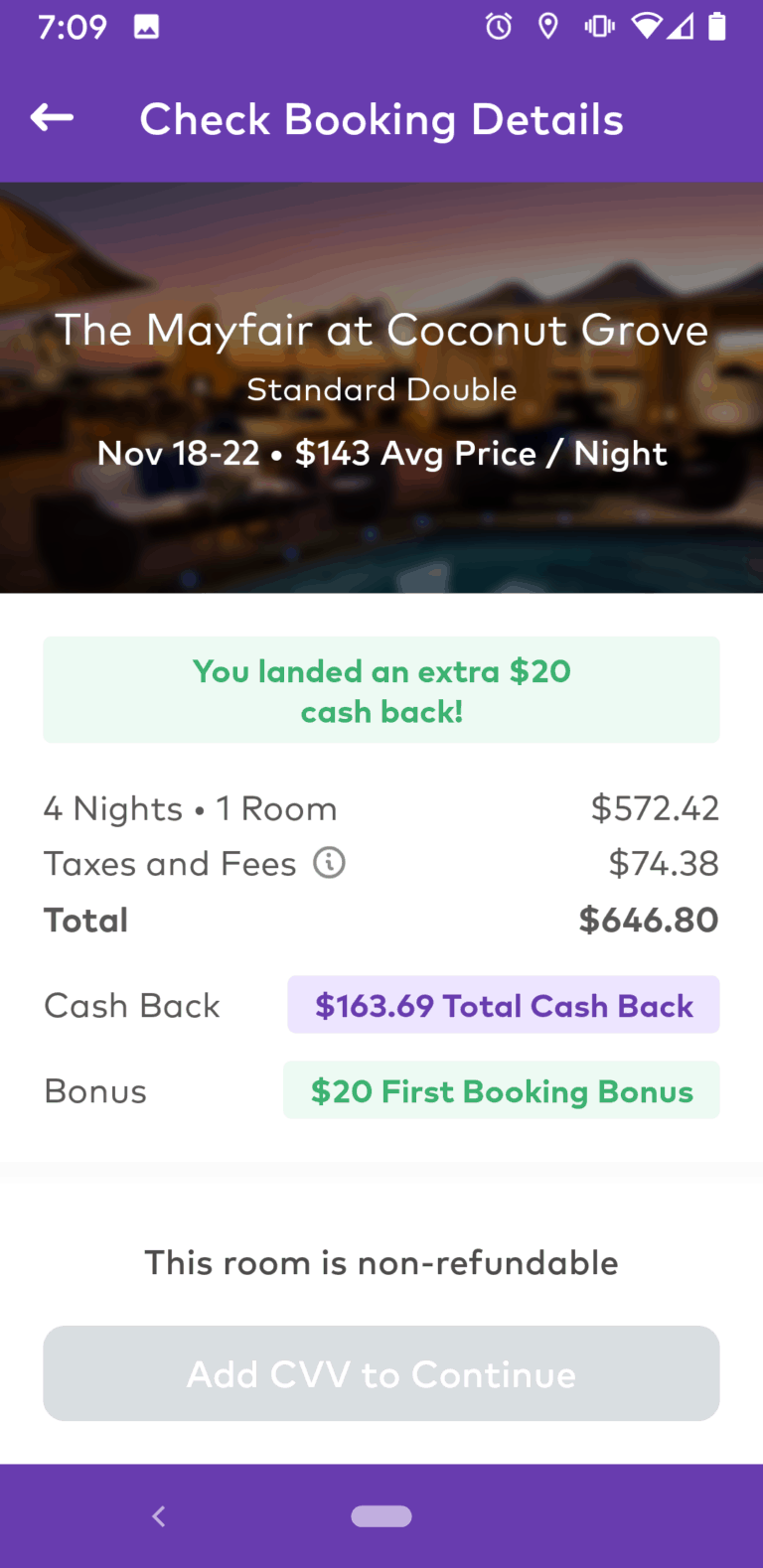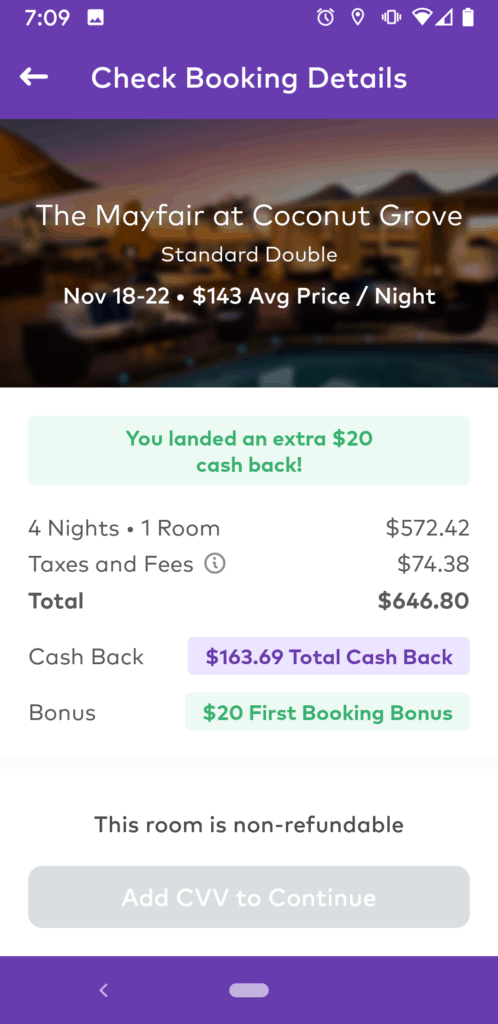 For comparison, I also checked the hotel's website. The terms were worse: the same $143 per night for the suite, nonrefundable, with no cash back:
So, I have to conclude that the Dosh offer is better. Just bear in mind that, when booking through a third party, you usually can't take advantage of hotel loyalty programs. Plus, it can be much harder to make changes to a reservation.
But anyway, it looks like if you're willing to make a non-refundable booking, you can get loads of money back!
Dosh Review: Where Does Dosh Work?
In addition to hotels, Dosh works at many popular, big-name merchants, both online and in-store. As I write this, here are some of the ones I'm seeing on the app:
In-Store:
Walmart – 6% back
Sephora – 8% back
Brio Tuscan Grille – 5% back
Pizza Hut – 3% back
Chevron – 3% back
Exxon – 1% back
Mattress Firm – 3% back (up to $20)
Sam's Club (sometimes) (4% back)
Also, I spy a lot of local, non-chain restaurants in the app, which pleases me. It allows me to support local business owners and eat great, unique food, while also getting an extra reward.
Online:
Guess – 5% back
Sam's Club (membership) – $20 cash back
BarkBox – 5% back
Overall, Dosh seems to be stronger with in-store merchants. I see far more local shops and restaurants in my app than I do online.
Where Does the Money Come From?
Presumably, Dosh charges a commission to merchants to participate in its program. It then shares that commission with you. Indeed, according to TechCruch, its CEO and founder said "…that Dosh makes [money] by taking a percentage on transactions, although he wouldn't specify the number".
When Does Dosh Pay?
Once you accumulate $25 in cash back, you can link a bank or PayPal account and get paid; cue happy dance!

You can also get paid via Venmo, by linking your Venmo account.
Is There a Signup Bonus?
Yes! Dosh will deposit $5 into your app account once you link your first card. There's also a referral bonus of $5 when your friends and family sign up with your link (in my case, it was $10 for like 15 hours after I signed up, after which it reverted to the standard $5 bonus).
You can refer your spouse and other close family members, so go ahead and make those first $5 or $10!
However, know that "…in order to make a transfer to bank accounts or PayPal, Doshers must have had their first cash back redemption at an in-store or online Dosh merchant". I take this to mean that you cannot just redeem a bunch of referral bonuses without ever having "used" the app. In order to get that referral cash, you must have actually used the app at a merchant, at least once.
Dosh Review: Does It Stack With Other Programs?
Here's where this Dosh review gets a little tricky. The general answer is that yes, it does stack with other programs, but that comes with caveats.
So here's the thing – as a general rule, Dosh will stack with other programs, as long as they don't use a third-party data processor called Empyr. A lot of other money-back apps also use Empyr (which Dosh apparently uses), and Empyr will normally not allow you to have more than one program linked to one credit card.
For example, Swagbucks Local seems to use Empyr, and so you can't use it together with Dosh. On the other hand, Amex Offers functions with a different backend (you do it all through Amex), and Rewards Network doesn't use Empyr. So, those you can apparently stack with Dosh.
Here's proof of how I recently stacked Dosh with Amex Offers at Brio Tuscan Grille, for a whopping $13.24 back on one meal: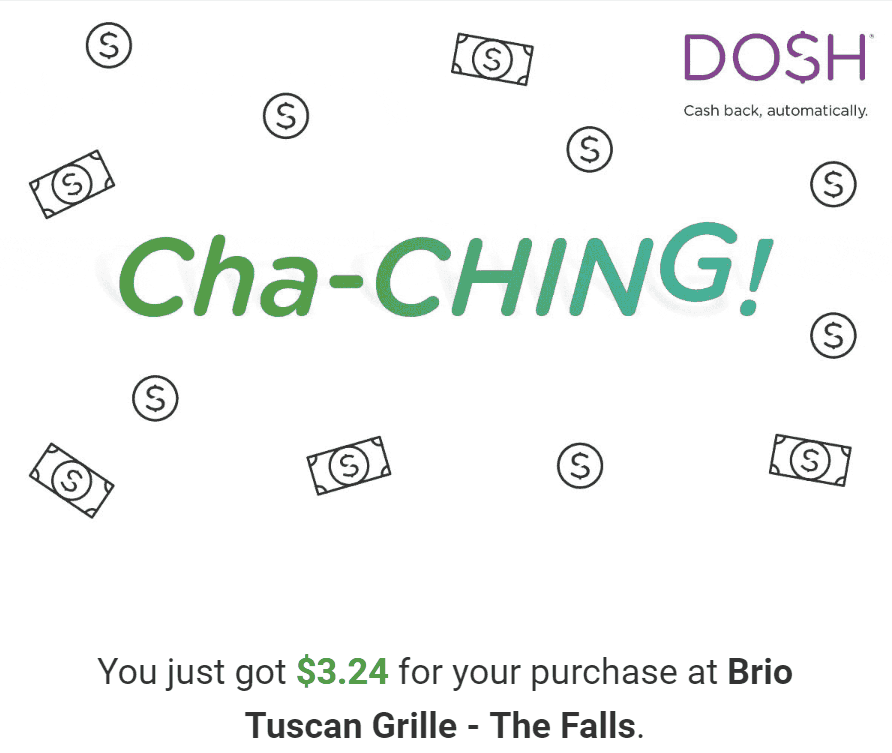 Amex Offers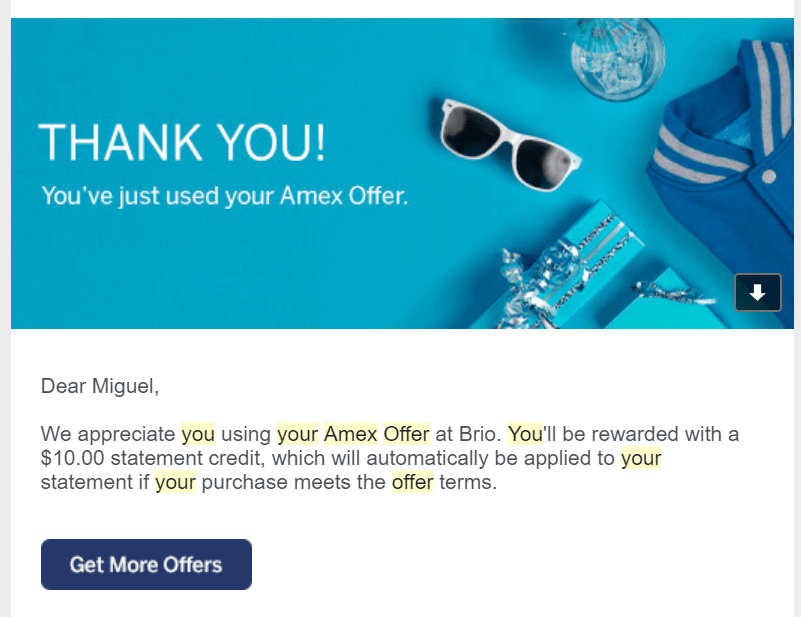 To maximize your rewards, I suggest these two strategies:
Use whatever program partners up with the merchants you shop at the most. If your favorite restaurant participates in Dosh, go with Dosh. If it's Swagbucks Local, go with Swagbucks Local.
Link one credit card to Dosh, and one to another program. Then, pay with the appropriate card when you go shopping or dining.
Also, note that Dosh and other card-linked programs should always stack with:
Direct credit card rewards (points, miles, and cash back provided by your credit card).
Amex and Chase offers.
For a list of programs and their payment processors, check out Doctor of Credit. Furthermore, per TechCrunch:
Dosh has its own direct connections into the credit card networks such as Visa, Mastercard and American Express to enable card registrations. It has also developed its own IP and technology for merchants and brands…it also works with third-party aggregators like Rewards Network, Empyr, iDine and others, which also work with other rewards/cashback apps.
Still, my experience is that, in the real world, it does not stack with Empyr-based programs like Swagbucks Local, nor with Rewards Network programs like American Airlines AAdvantage Dining (even though it should, since Rewards Network doesn't use Empyr).
It's weird – there's a local restaurant where I've successfully stacked AAdvantage Dining with Swagbucks Local, but Dosh apparently will not stack with AAdvantage Dining. There's a lot of trial and error to this, truth be told.
Do You Want Cash, Points, or Miles?
Another thing that I have to note as part of this Dosh review. You should consider, when choosing a rewards program that excludes others (like Dosh), whether you'd prefer to get your rewards in the form of cash, or points, miles, or some other "token", so to speak.
In that sense, many might find it more useful to get straight cash money with Dosh, rather than something like Swagbucks and airline miles, which can be harder to redeem. My wife exchanges Swagbucks for Amazon gift cards all the time, but airline miles can be a hassle to actually use.
So, a good policy might be to have one credit card linked to Dosh and one to another program. If the place partners up with Dosh, use that credit card. If it does not, use the other card. That way, you get cash back whenever possible.
Will Dosh Encourage You to Over-Shop at More Expensive Places?
This is another danger. If you over-shop or go to more expensive stores and restaurants just because they're affiliated with Dosh, then you're only fooling yourself. I think the trick to resist this temptation is to "set it and forget it", and try not to change your behavior just because you have Dosh; don't go overboard:

Shop like you normally would, and check the app maybe once per month to see how much money you're getting back.
Dosh Markets Itself Pretty Aggressively to Companies
I think it's important to mention this in a Dosh review, since some might consider this a negative.
If you check out its business site, Dosh markets itself quite aggressively to merchants, stating that "[w]hen Dosh subscribers shop they're proven to spend more, return more frequently, and become your most loyal customers". It goes on: "[s]hift advertising dollars directly to consumers and generate more purchases, repeat customer visits, and positive brand propagation…Leverage access to behavioral and transactional data to drive in-store transactions".
So yes, one of Dosh's goals is to have you spend more money at Dosh-linked merchants, thereby increasing its fees (and the merchants' revenue).
Is that a bad thing? I don't think so, as long as you don't fall into an overspending trap just to get cash back. That's why, again, I recommend a set-it-and-forget-it approach. Don't think about it; just collect your cash back. If you are deciding between dining at two comparably-priced restaurants and one has Dosh while the other doesn't, by all means go to the one with Dosh. Just don't go to a place that's twice as expensive just to get 5% cash back.
Also, remember to have a different card that's linked to another program. That way, you can go shop and dine wherever you want, and just pay with the card that's linked to whatever program that establishment accepts. It's not as hard as it sounds, since most of us tend to frequent a few places we really like. So, you only have to know the rewards programs that work at those specific places.
Many Programs Overlap
As part of this Dosh review, it's important to note that indeed, you can find a lot of overlap between programs, making things even easier for you and making it less likely that you'll miss out on rewards. For instance, I can see that Brio Tuscan Grille partners with both Dosh and Mogl, at a 5% reward rate:
Dosh: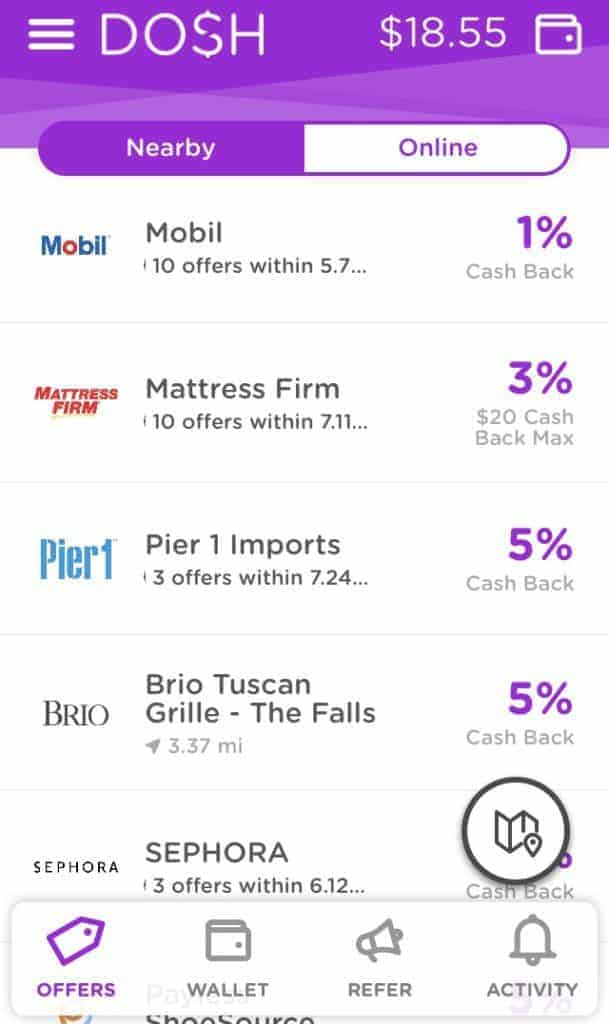 Mogl: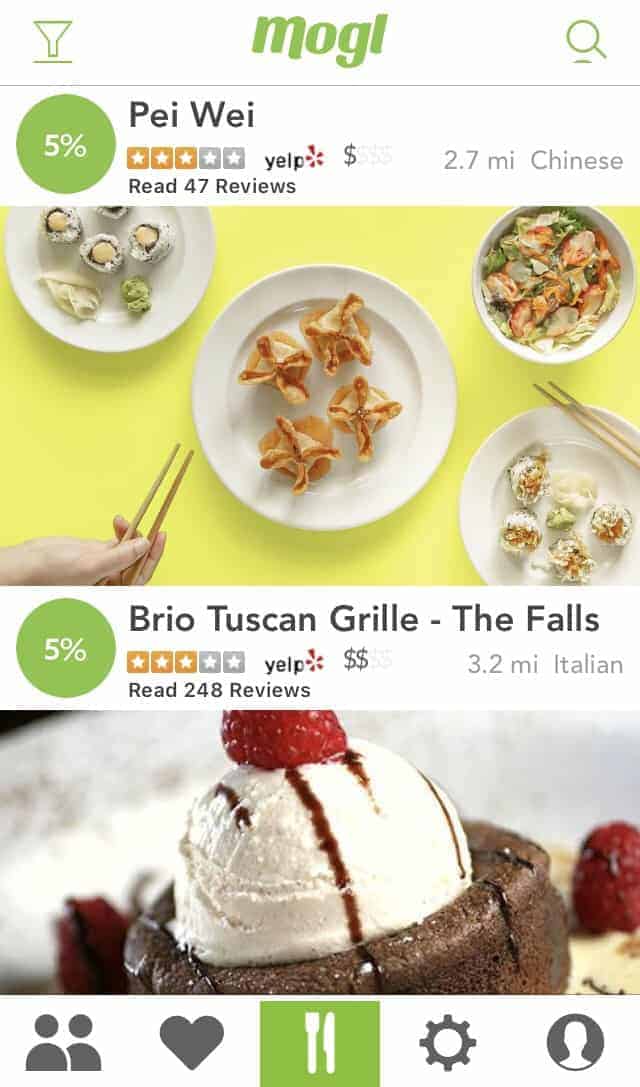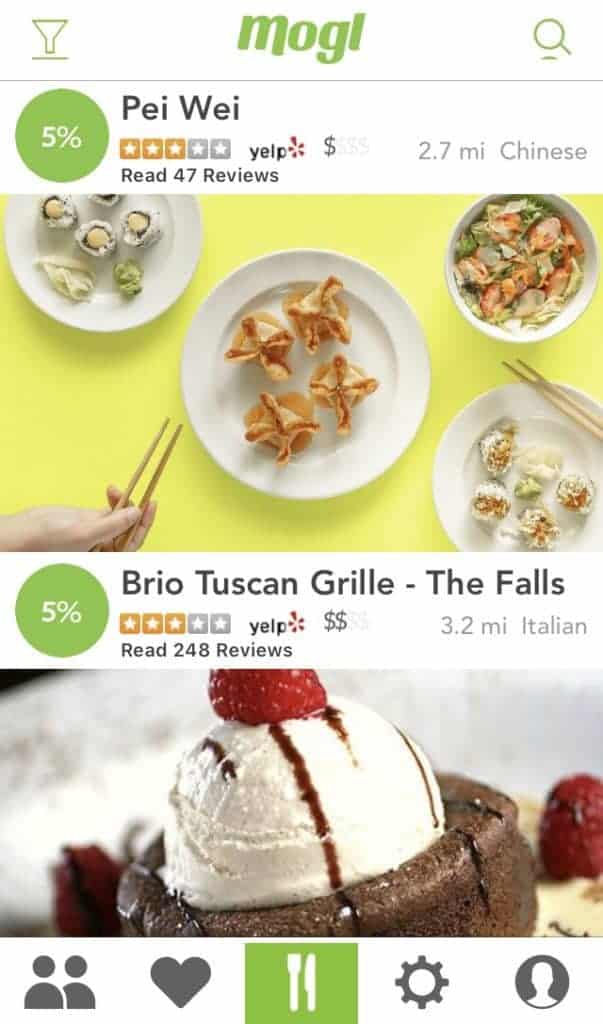 However, if you look at Sephora, Dosh offers 8% back, while Mogl only has 4%:
Dosh: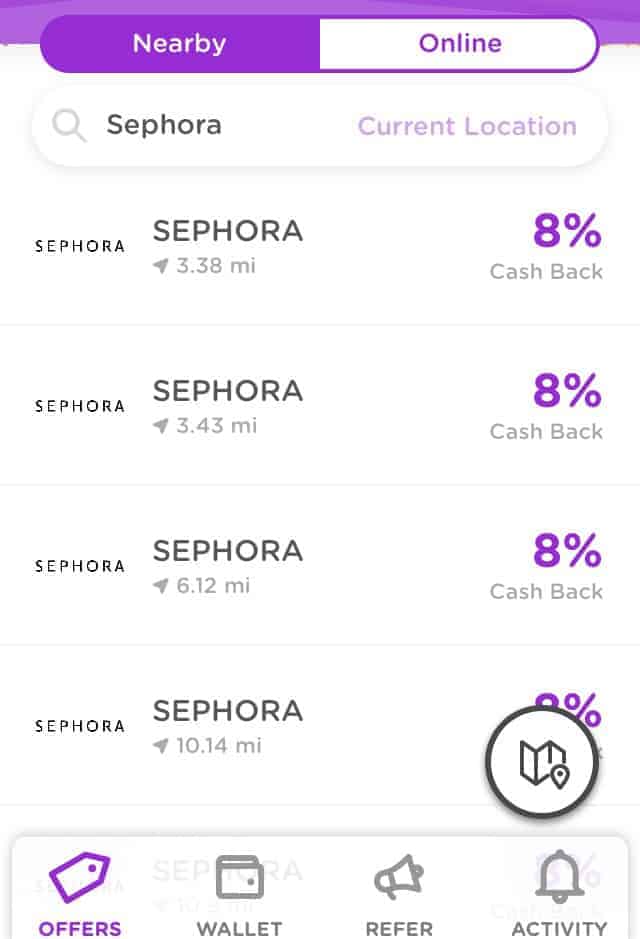 Mogl: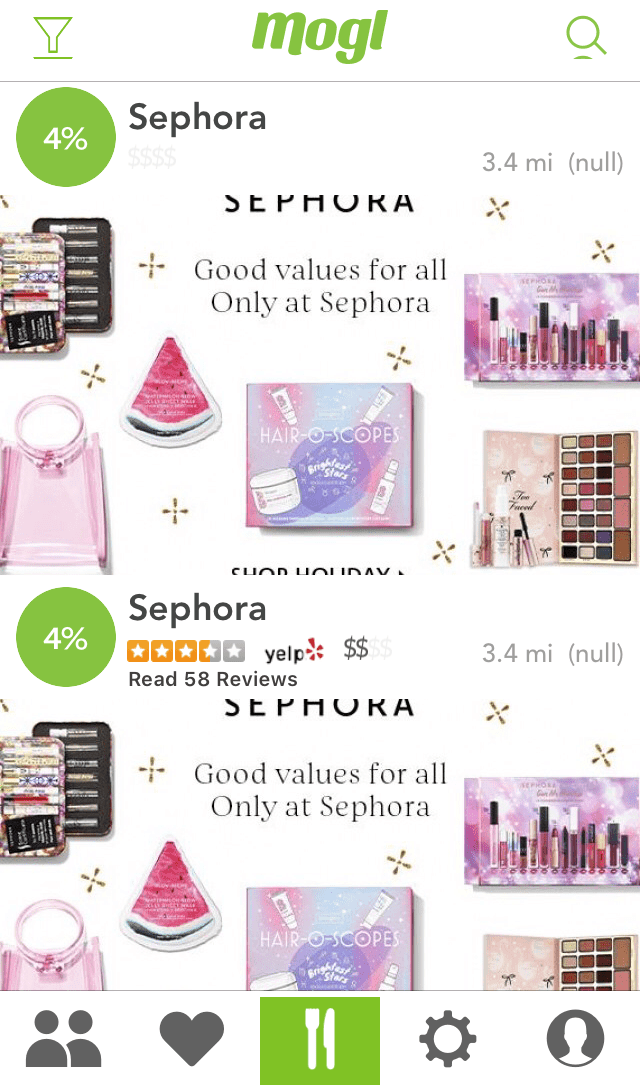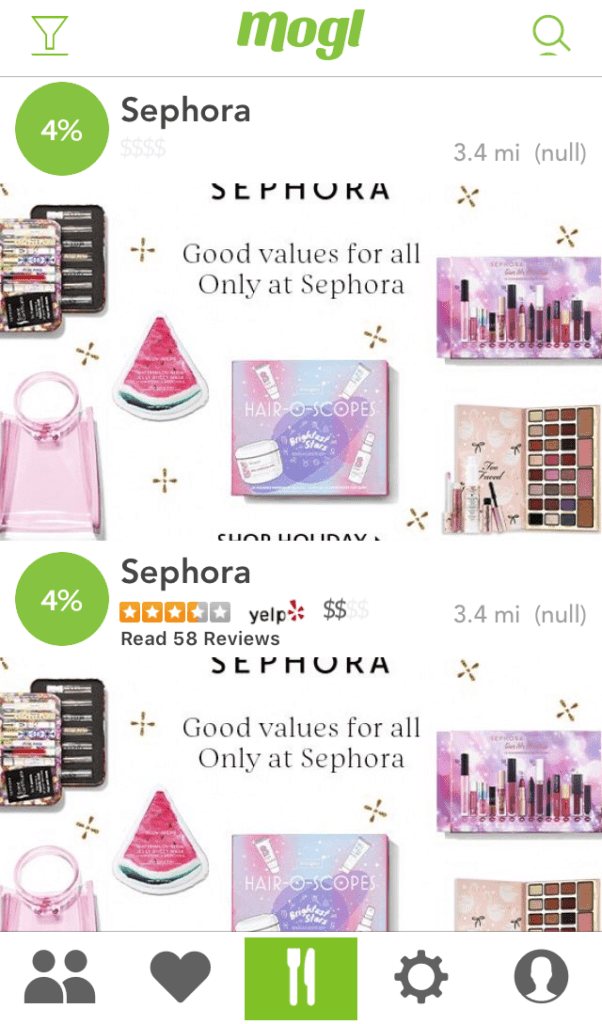 So, it does take a little work to find the best deal, but it can be worth it.
Is Dosh Available for Non-US Residents?
Not at the moment. Per its Terms of Service, you must be "…be 18 years of age or older, reside in the United States, and have a U.S.-based, non-VoIP mobile phone number".
Dosh Review: About the Company
Since it doesn't seem to be a publicly-traded company, it's hard to know, exactly. However, some investors include PayPal and Goodwater Capital. Overall, the company has raised at least $56 million in capital (TechCrunch).
Per that same article, it is said to be valued at around $240 million.
Can Dosh Be Trusted, or Is Dosh a Scam?
I think it can be trusted. Here's why:
It has raised tens of millions of dollars from prominent investors who do their due diligence, including PayPal.
Large, national retailers and restaurants partner with it. Again, these are companies who do their due diligence.
It is accredited by the Better Business Bureau, and currently has an "A" rating.
It's not led by some shady anonymous dude. Rather, we know who its CEO is (Ryan Wuerch), and where its offices are: 13501 Galleria Cir. #240, Austin, TX 78738:
Also, your information is protected via 256-bit encryption—one of the most secure methods in existence. Via Braintree, a PayPal service, 100% of credit card information is tokenized and vaulted.
Dosh addresses another concern for consumers in how they handle personally identifiable information, as they do not sell data to third parties. I take this to mean that they can sell aggregated data to others, but not individualized data that can be traced back to you, personally.
Here's the founder himself:

Dosh Review Summary
Purchasing with the Dosh app means upwards of 4% cash back at a wide range of establishments, from clothing retailers to restaurants and many more. Also, Dosh is quite secure and safe, taking every measure to secure its systems from fraud and protect data.
Really, it's easy money, but it's not perfect. Let's do a quick review of the main pros and cons:
Pros
Incredibly easy to use – it requires virtually zero effort on your part.
Rewards are in the form of cash back, and not subject to complicated redemption processes or devaluations.
It partners with lots of merchants, especially local stores and restaurants.
Probably stackable with portal-based programs like Ebates, as well as Amex and Chase Offers, and your normal credit card rewards.
All indications are that the company is serious and trustworthy.
You can get $5-$10 per person that you refer, plus a $5 signup bonus.
Cons
Does not seem to stack with Rewards Network and Empyr-based programs like Swagbucks Local.
You have to accumulate $25 before cashing out.
Does not seem to currently partner with many online merchants.
It may use subtle persuasion to get you to spend more money than you otherwise would.
Cash back is not necessarily instantaneous; it can take days to appear in your Dosh account.
It can also take days for a payment from Dosh to go through to you.
Dosh Review Overall Rating and Final Verdict
I give Dosh 4 out of 5 stars. Despite its drawbacks, I think it's a great, pro-consumer program that can put extra cash into your pocket, especially if you resist the temptation to spend more money just because you have it.
I especially like that Dosh has added Sam's Club as a merchant, since it's basically possible to get more than 10% back at Sam's, and it's already very cheap.
So, sign up here to give it a try!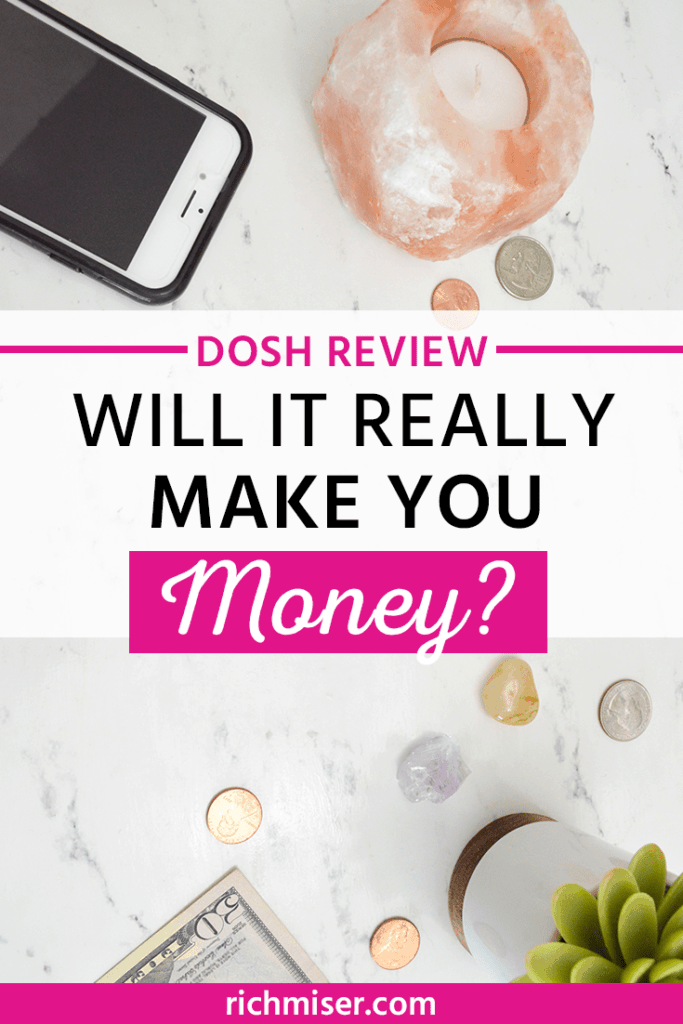 What do you think of Dosh and other rewards programs? If you did your own Dosh review, how would you rate it? 
---
This post contains referral links. If you click on them and sign up for the product, I might get a small commission at no cost to you. 
Last update: 11/2/2019